Finding the Best Mattress For You
Everyone has different sleep preferences and there is no one solution for every sleeper.  If you are a side, back or the rare stomach sleeper we have solutions for you.
We have compiled a list of the best mattresses we have tested and separated them into different categories to help you choose. The prices listed are before discounts on a queen size mattress, as of 11/14/17.
Top Foam Mattresses 2017
Top Foam Mattresses
For how much I hated the Purple Pillow, no way did I expect to actually like this. Turns out it is a great choice for a small side sleeper like me. In addition, if you have an adjustable frame the Purple Mattress will take it to a new level.
Read full review
Cons
waterbed like motion transfer
may not be suitable for heavier people
Pros
Nice support for side sleepers
Works well on an adjustable bed
2
Nest Bedding Alexander Signature
I had trouble coming up with cons for this mattress. I have tested more than 20 mattresses this year and this is the only one that had the ability to change me from a side sleeper into a side & back sleeper. With three levels of firmness, you should be able to find the one that is right for you, I highly recommend this mattress!
Read full review
Cons
No zipper, I really didn't want to destroy the mattress by cutting it open
Pros
11" of Quality
Stays Cool
Soft Cover
Great Level of Support (3 Options)
Converted me from a side sleeper to a combo sleeper
Enter the code for $100 off your purchase
Cons
When standing on it you feel a bit of sinkage
Pros
Air Flow Layer keeps it cool
Amazing Cover, so amazing they used the same materials for a blanket and pillow
1 in 10 program is unique to the industry
The flip-able Layla Sleep offers 2 levels of firmness in one bed. It has copper infused memory foam and cooling gel for great sleep.
Read full review
Cons
no handles on the mattress
Pros
Sleeps Cool
Firm side of soft side?
Copper infused memory foam
5
Brooklyn Bedding #bestmattressever
In early 2018 they upgraded their signature product by adding individually wrapped coils to the mattress. It was a huge upgrade! It is made in the USA and shipped directly to the consumer. Since they don't have a middleman, this allows Brooklyn Bedding to ship out a great mattress at an amazing price.
Read full review
Cons
The cover is glued to the top layers so it doesn't work on an adjustable frame
Add some handles to the boxes to make it easier on the UPS/Fedex people
Pros
You can feel the value right away. I haven't found a better value at this price.
Handles on the sides of the mattress, none on the box though.
Built to support heavier people, no chance of bottoming out unless you are really large
If they can improve their shipping and customer service they would be a highly recommended company, as they make a great mattress. Update March 2018. Both their shipping and customer service have improved as Nectar has grown. I purchased one for my MIL in Feb of 2018 and she received it in 4 days.
Read full review
Cons
Long shipping delays (solved, they increased production)
Poor customer service (improved, as any good company they learned from their mistakes)
Pros
Sturdy Mattress
Exceptional Value
Amazing Value (Best budget mattress available)
It's hard not to give Casper a try, I enjoyed it and would recommend it to anyone who is not too large.
Read full review
Cons
A good amount of sinkage/very large people may have problems
A touch more expensive than it could be
It's difficult to find a mattress of this quality at this price, well done Eve!
Read full review
Cons
Heavy people may sink too much
Pros
What a fun box!
Great Value
It's probably because I'm a side sleeper, but I have been a bit sore since I started testing the Bear.
Read full review
Cons
May be a bit to firm for side sleepers
Pros
Who doesn't love Bears?
Firm, built for Athletic people
Coupons & Discount Codes $50 Off
Top Hybrid (Coils or Innersprings, with Foam) Mattresses

1

Tomorrow Sleep Hybrid Mattress

I'm still shocked that I couldn't find the coil part of the hybrid construction. I'm sleeping better than I have on just about every mattress I have tested this year.

Read full review

Cons

The corners didn't fill out the cover for 2 days

Pros

Can't feel the wrapped coil system

backed by serta, warranty and trial period are solid

Conforms nicely with an adjustable frame

Top 2 layers of gel memory foam keep you cool, hug you, and most importantly hide the wrapped coils from you.

Take $125 off a purchase of $500 or more

A sturdy luxury hybrid mattress. It pulls from many of the things that Leesa does well to form a high end mattress. This mattress is designed to cater to people who feel that the Leesa may have too much sink for them. So if you are an athlete, or on the heavier side, this is a must try!

Read full review

Cons

You can feel the pocket springs when you sit on the edge

Pros

Cover has the same feel as the Leesa

Avena foam layer keeps it cool

Independent pocket springs work well with adjustable frames

Designed for heavier people & athletes, yet soft enough for a petite side sleeper like me

The first bed in a box I have tested without an odor upon opening

3

Brooklyn Bedding Aurora Hybrid

After more than 2 weeks of sleep testing this, I love it! It's screams luxury, is perfect for an adjustable base, and will provide you with a great sleeping experience.

Read full review

Cons

The standard brown box that it comes in doesn't scream luxury

Pros

13.5" of Luxury Feel

Cool, stretch cover

Great on an adjustable frame

4

Nest Bedding Alexander Signature Hybrid

They just redesigned the Alexander Signature, I wonder if they are going to add handles to the Hybrid?

Read full review

Cons

The stitched cover makes it difficult to use on an adjustable frame.

Pros

Sturdy Hybrid

Added handles to the sides this year!

$150 off Alexander Signature Hybrid

I wish I would have ordered the blended version rather than the dual comfort one.

Read full review

Cons

Dual Comfort is a problem if the sides are drastically different

Cons

The materials surrounding the coils could be better, some of the coils show through

You can feel the bottom layer of coils when you touch the side of the mattress

Pros

Made with recycled materials

Copper infused memory foam

Before I bought the Keetsa had had 2 straight disappointments from my local mattress store.

Read full review
Our Testing Criteria
We use 10 categories to rate the mattresses we buy and test.
Packaging/Shipping:
First Impressions count right?  Some of the mattresses come in boxes, and some come in over sized bags.  I prefer boxes as they are much easier to move around.  Some boxes have cute logos and some have really fun quotes, and yes I really made a video called box vs. box vs. box in a box.  Try saying it fast three times in a row.  Did you get tongue tied?

Smell
On the subject of first impressions, some of the mattresses will have a bit of an odor when they are unboxed.  Most people use the term off-gassing to describe it.  Some of the mattresses take a few days for the smell to go away and sometimes it is barely noticeable.
Comfort
When you lay on a mattress and it's not comfortable that's surely something that we should point out right?
Support
I have had a ton of mattresses which fail to give me the proper support.  There is nothing worse than falling into a deep depression that you have to climb out of.  Sometimes you can even get multiple sinking parts and huge mountains in between, clearly not ideal for restful sleep.
Recently we added adjustable base tests to our review process.  How do different mattresses stand up to the test?
Edge Support
When testing for this I like to walk on the sides and corners of the mattress.

Sometimes I will sink almost to the floor, which means that if you roll over at night there is a chance you just may fall out of bed!
Motion Transfer
In the video above you can see how the glass doesn't move when I walk near it, which is great for when you have a partner who is tossing and turning and not disturbing you.  On our scale from 1-10, one is a waterbed, 10 is; wait what? There is someone in the same bed as me!
Sleep Quality
If I'm not able to sleep on a mattress, then it's possible that you may have the same issues.
Stays Cool
I live in Scottsdale, Arizona and I'll tell you a little secret about the weather here…  It gets hot in the summer.  Having a breathable mattress is a must here.  There aren't a ton of things worse than having extra heat rising up from your mattress making your back or side sweat.
Materials/Durability
Surely what's inside the mattress matters right?  I also pay close attention to the covers.
Value
You really have to look at the prices of the mattress vs. the competition.  Not just the direct to consumer, bed in a box model, but the in store values as well.  The bed in a box model offers consumers huge cost savings vs. buying from the store.  This is because the middle man is cut out and the companies don't have to pay electricity and rent.
We give each category a score from 1-10 with 10 being the highest.  Now that I have tested 23 mattresses this year I have adjusted my scale a bit.  I am using a 10 point must system.  The mattress that preformed the best in a category gets a 10 and all other mattresses are judged against that standard.  Previously some categories didn't have 10s, as I didn't want to set anything up as a 10 unless I was sure that it was the best in class.
We also assess the overall firmness of a mattress from 1-10 with 10 being almost rock hard firm.  Since different people have different preferences on the firm level that works best for them, that number doesn't go into the total ratings.  Here is our Firmness scale as of 10/4/17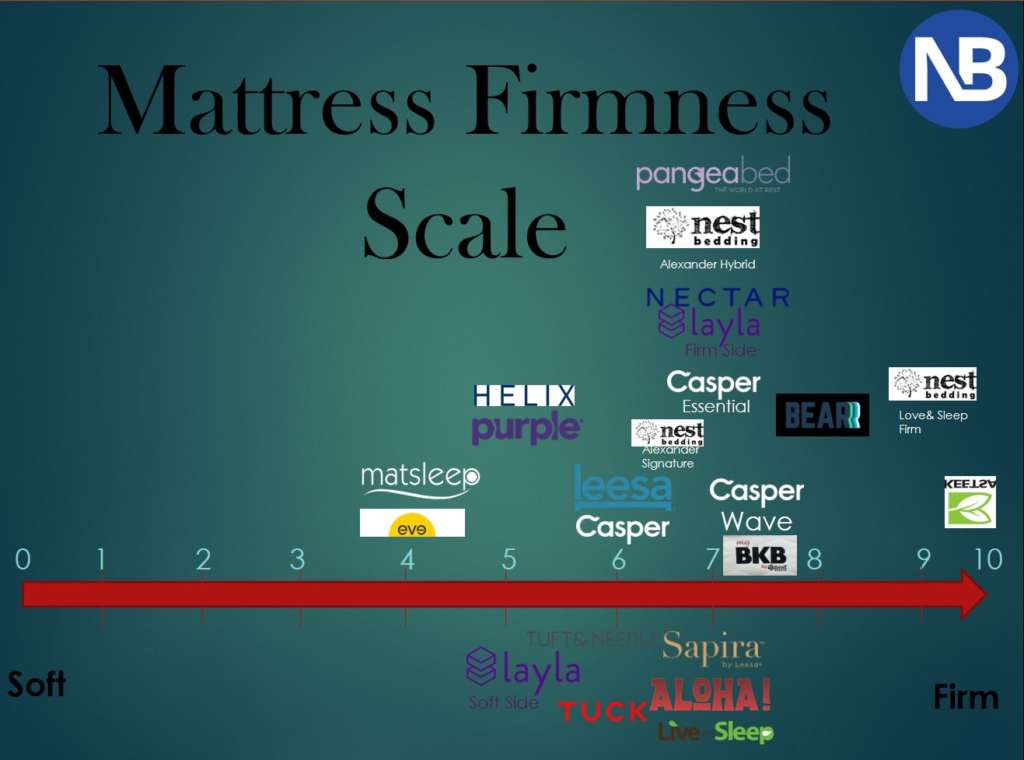 Recently, we noticed that just about every mattress you see in the store is staged on an adjustable frame.  These giant retailers must be on to something right?  So we decided that every mattress we test should also go through a few cycles of adjustments with our adjustable bed.  Currently we are using a Rize Verge.  We assume that other adjustable frames will have many of the same characteristics.  What we have found is that some mattresses don't fare well on an adjustable frame, while others take a step up to a new level.
If you haven't been on an adjustable frame you are really missing out, so we feel that it is crucial to our review process to add this wrinkle.  We understand that everyone doesn't have an adjustable bed, but if you are considering one with your next mattress purchase we feel you should be prepared.  If a mattress is too thick or sturdy, it likely won't preform well on an adjustable base.  If it has interlocked coils, forget about it.
Want to do your own comparison?  Just drag and drop the mattresses you want to put side by side, from the table below:
Photo
Company
Mattress
Type
Features
Height
Sleep Test Rating
Queen Price
Coupon Code
Current Discount
Purchase
Thinking about buying the items we have reviewed? Help Non-Biased Reviews out if you do. Just click on any of the seller links above and the seller will contribute a portion of the sale to help support this site. It won't cost you anything extra and is a simple way to help us fund more items to review. Thank You
Summary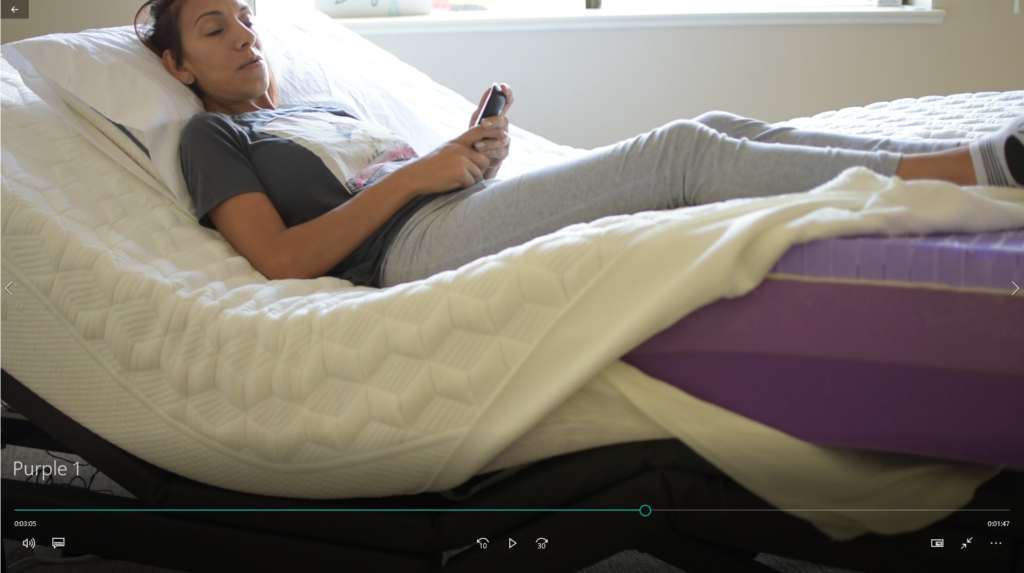 Article Name
Non Biased Reviews Best Mattresses
Description
A Look at our top rated Mattresses in 2017
Author
Publisher Name
Publisher Logo