Finding the Best Mattress For You
Everyone has different sleep preferences and there is no one solution for every sleeper.  If you are a side, back or the rare stomach sleeper we have solutions for you.
We have compiled a list of the best mattresses we have tested and separated them into different categories to help you choose. The prices listed are before discounts on a queen size mattress, as of 11/14/17.
Top Foam Mattresses 2017
[wpsm_colortable color="blue"]
[/wpsm_colortable]
[letsreviewlist title="Top Foam Mattresses" design="modern" order="2″ source="1″ postid="6925,4041,3810,2376,2198,1776,1765,1759,1749″ proscons="on"]
 [wpsm_colortable color="blue"]
[/wpsm_colortable]
[letsreviewlist title="Top Hybrid (Coils or Innersprings, with Foam) Mattresses" design="modern" order="2″ source="1″ postid="4332,4091,2220,1780,5635, 6489,1772″ proscons="on"]
Our Testing Criteria
We use 10 categories to rate the mattresses we buy and test.
Packaging/Shipping:
First Impressions count right?  Some of the mattresses come in boxes, and some come in over sized bags.  I prefer boxes as they are much easier to move around.  Some boxes have cute logos and some have really fun quotes, and yes I really made a video called box vs. box vs. box in a box.  Try saying it fast three times in a row.  Did you get tongue tied?

Smell
On the subject of first impressions, some of the mattresses will have a bit of an odor when they are unboxed.  Most people use the term off-gassing to describe it.  Some of the mattresses take a few days for the smell to go away and sometimes it is barely noticeable.
Comfort
When you lay on a mattress and it's not comfortable that's surely something that we should point out right?
Support
I have had a ton of mattresses which fail to give me the proper support.  There is nothing worse than falling into a deep depression that you have to climb out of.  Sometimes you can even get multiple sinking parts and huge mountains in between, clearly not ideal for restful sleep.
Recently we added adjustable base tests to our review process.  How do different mattresses stand up to the test?
Edge Support
When testing for this I like to walk on the sides and corners of the mattress.

Sometimes I will sink almost to the floor, which means that if you roll over at night there is a chance you just may fall out of bed!
Motion Transfer
In the video above you can see how the glass doesn't move when I walk near it, which is great for when you have a partner who is tossing and turning and not disturbing you.  On our scale from 1-10, one is a waterbed, 10 is; wait what? There is someone in the same bed as me!
Sleep Quality
If I'm not able to sleep on a mattress, then it's possible that you may have the same issues.
Stays Cool
I live in Scottsdale, Arizona and I'll tell you a little secret about the weather here…  It gets hot in the summer.  Having a breathable mattress is a must here.  There aren't a ton of things worse than having extra heat rising up from your mattress making your back or side sweat.
Materials/Durability
Surely what's inside the mattress matters right?  I also pay close attention to the covers.
Value
You really have to look at the prices of the mattress vs. the competition.  Not just the direct to consumer, bed in a box model, but the in store values as well.  The bed in a box model offers consumers huge cost savings vs. buying from the store.  This is because the middle man is cut out and the companies don't have to pay electricity and rent.
We give each category a score from 1-10 with 10 being the highest.  Now that I have tested 23 mattresses this year I have adjusted my scale a bit.  I am using a 10 point must system.  The mattress that preformed the best in a category gets a 10 and all other mattresses are judged against that standard.  Previously some categories didn't have 10s, as I didn't want to set anything up as a 10 unless I was sure that it was the best in class.
We also assess the overall firmness of a mattress from 1-10 with 10 being almost rock hard firm.  Since different people have different preferences on the firm level that works best for them, that number doesn't go into the total ratings.  Here is our Firmness scale as of 10/4/17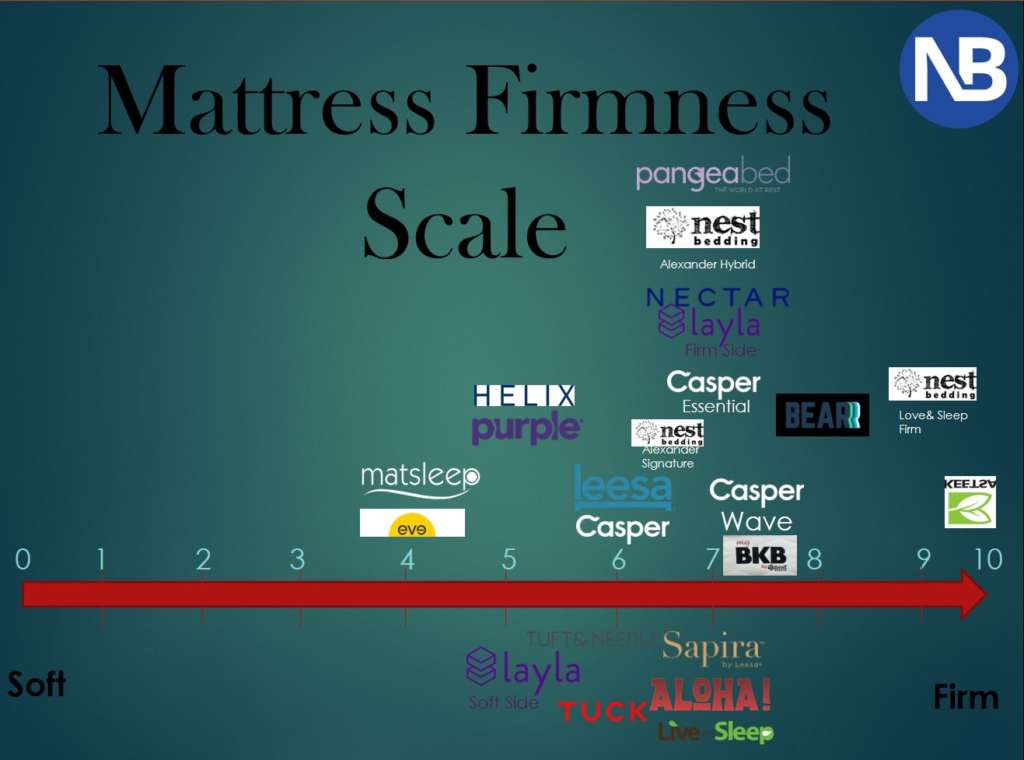 Recently, we noticed that just about every mattress you see in the store is staged on an adjustable frame.  These giant retailers must be on to something right?  So we decided that every mattress we test should also go through a few cycles of adjustments with our adjustable bed.  Currently we are using a Rize Verge.  We assume that other adjustable frames will have many of the same characteristics.  What we have found is that some mattresses don't fare well on an adjustable frame, while others take a step up to a new level.
If you haven't been on an adjustable frame you are really missing out, so we feel that it is crucial to our review process to add this wrinkle.  We understand that everyone doesn't have an adjustable bed, but if you are considering one with your next mattress purchase we feel you should be prepared.  If a mattress is too thick or sturdy, it likely won't preform well on an adjustable base.  If it has interlocked coils, forget about it.
Want to do your own comparison?  Just drag and drop the mattresses you want to put side by side, from the table below:
[wp-compear id="6124″]
Thinking about buying the items we have reviewed? Help Non-Biased Reviews out if you do. Just click on any of the seller links above and the seller will contribute a portion of the sale to help support this site. It won't cost you anything extra and is a simple way to help us fund more items to review. Thank You