The Apollo Neuro is designed to increase you HRV (heart rate variability) by training your body to respond to vibrations. With 7 vibration patterns you can use through the day, the impact of touch therapy to your nervous system will leave you less stressed or anxious, and more focused, in turn preparing you for a longer night of deeper sleep. 
We have tested all 7 modes and used the Apollo Neuro for two weeks before writing our review. This is everything we think about the Apollo Neuro – the drug-free way to rebalance your body's natural nervous system.
Apollo Neuro Company Policies
30-day trial
Free shipping in the USA
1-year warranty
Assembled in the USA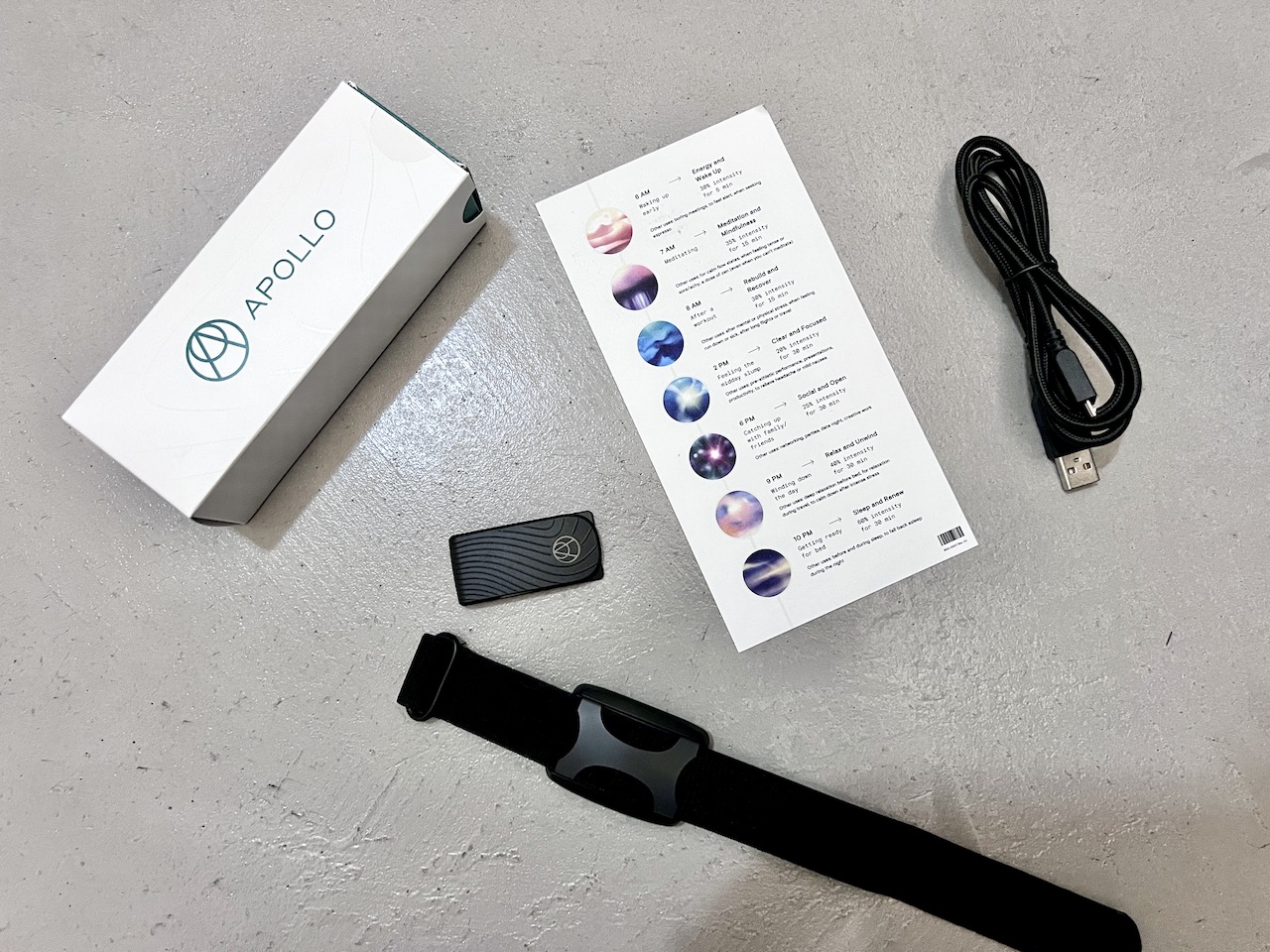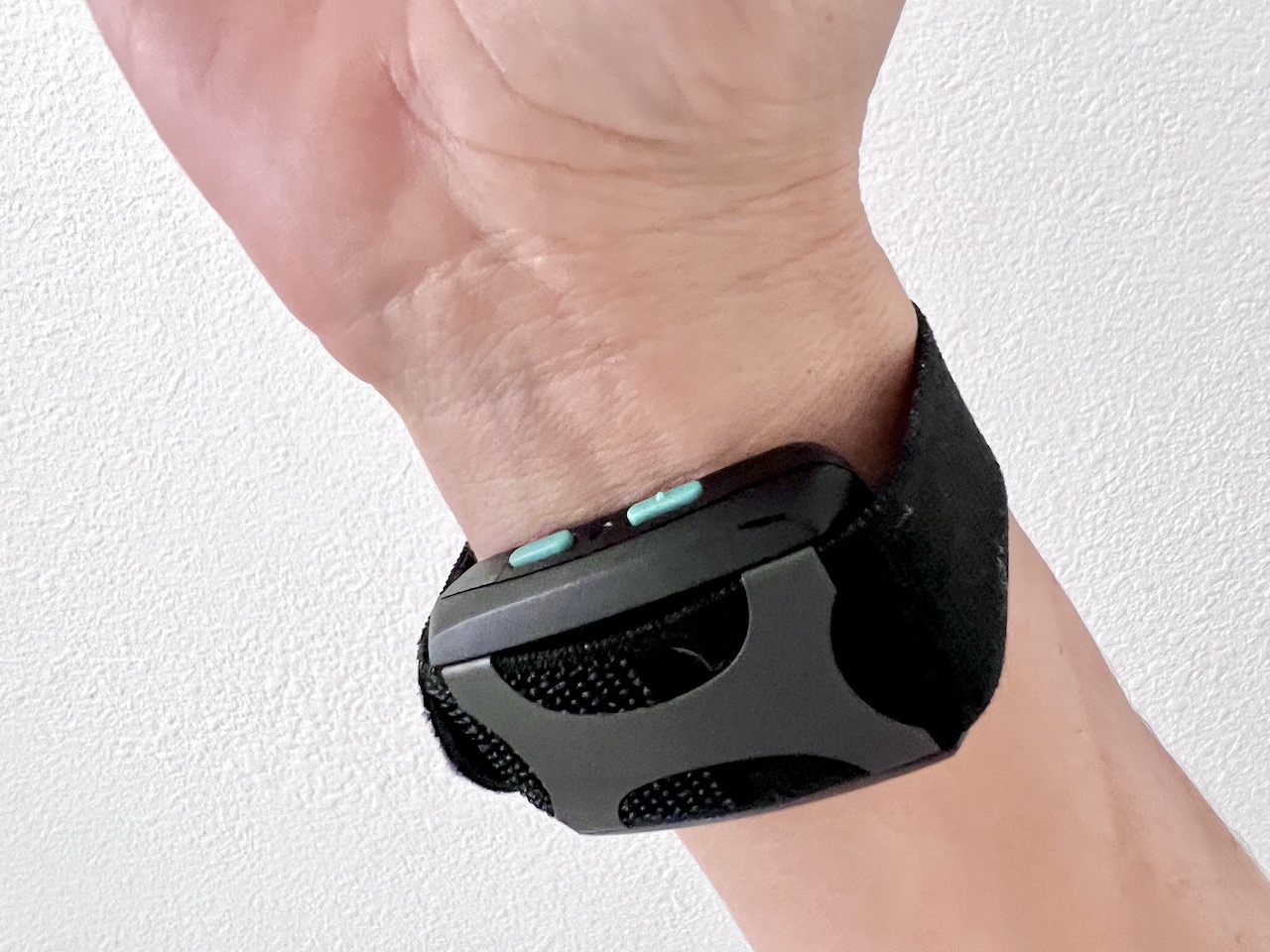 What's Inside The Apollo Neuro Device
In a nutshell:
1 Apollo Neuro device
1 band + 1 clip
Apollo app
 Micro-USB charger
1 Apollo Neuro Device
The Apollo Neuro device is a small rectangular device (about 2 in. long x 1.5 in. wide) with a slight curve to comfortably fit around your wrist or ankle. 
The Apollo Neuro is the device that you wear, and which gently vibrates to provide touch therapy. It comes in several different colors – black or white plastic with several color belts. 
1 Band + 1 Clip
You should try to wear your Apollo Neuro as close as possible to a bone. The larger the bone, the bigger the benefits of the vibrations. 
Wearing the Apollo Neuro against your hip bone or spine is easier done with using the clip provided and clipping the device to a bra, back of a shirt, or belt. If you decide to wear on smaller bones, use the band to wear around your wrist or ankle. 
When ordering, choose the size band that best fits you. Most adults will find the Medium size comfortable. Smaller adults and children under 12 may benefit from the Small band, while the Large band measures 6″ to 11″ in circumference. 
Both bands and clips are available in white or black.
Apollo App
We love a product with a good app integration. The Apollo Neuro app is free and available on iOS and Android. The device connects to the app effortlessly and you will use the app to launch modes throughout the day, as well as create a daily schedule to automate your Apollo Neuro. 
Micro-USB Charger 
The Apollo Neuro uses a rechargeable battery. Its micro-USB charger is included in the package and based on regular use, you can expect the battery to last for about 2 days of use.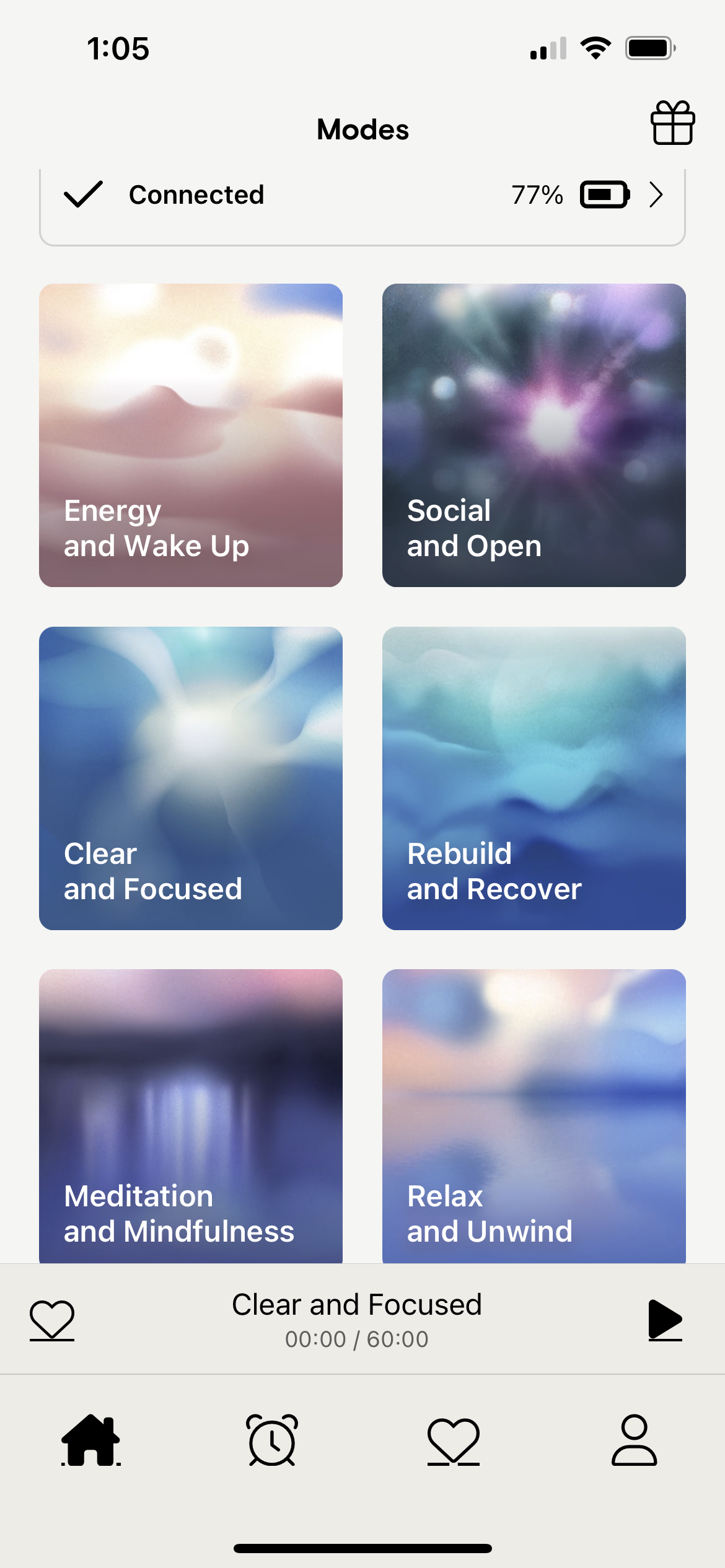 Everything we felt in one box
| Ease of Use | Relaxation | Falling Asleep |
| --- | --- | --- |
| The Apollo Neuro is incredibly to use. While everything can be managed from the app, you can also use the buttons on the side of the device to repeat the last cycle. Simply press both side buttons simultaneously to repeat (that comes in very handy in the middle of the night, if you use Apollo Neuro to fall back asleep). You will be using the Apollo app, however, to control your Apollo Neuro. Linking your device to the app takes seconds the first time you pair it. After that, simply open the app and select a mode, based on your mood and what you would like to achieve. Our favorite part is the ability to schedule sessions throughout the day, for each day of the week! That allows you to use the Apollo Neuro on auto pilot - simply wear it and relax as the different modes activate at your preferred times of day or night. | It does take practice for your body and nervous system to get the full benefits of the Apollo Neuro. It may take up to a month of regular use (~3 hours / day) for your nervous system to get the cue. Eventually, the gentle feel of the sound waves will be the cue to your body and mind, that you are safe and in control. It will increasingly relax you, improve your focus, and eventually deepen your sleep, as you will be in a more positive and balanced state of mind going to sleep at night. Note that each mode acts with a different purpose. While some modes are made to help you relax, unwind, and fall asleep (i.e., Meditation & Mindfulness, Relax & Unwind, Sleep & Renew), other modes are made to help you wake up positively, give you a boost after lunch, help you recover from a workout, or get ready for social life (i.e., Energy & Wake Up, Clear and Focused, Rebuild & Recover, Social & Open). You will find the vibrations to be more energetic in the latter modes, and more soothing in calming and sleep programs. | By training your nervous system to feel in control and relaxed, you are helping your body and mind fall asleep faster and deeper. By using your Apollo Neuro throughout your day, you are setting up your mind to fall asleep faster at night. There is also a "Sleep and Renew" mode that is recommended for use as you go to sleep. It is set up as a 120-minute mode at 40% intensity, to quiet your mind and easy you into sleep. Remember, if you wake up in the middle of the night, that you can simply press both side buttons to repeat the last mode played. We have "Sleep and Renew" scheduled 7 nights a week a 11:30PM as a reminder to go to bed and stay in a healthy routine! |
Racing Thoughts ——– Relaxation
Apollo Neuro Prices & Discounts
The Apollo Neuro was designed by doctors of medicine, neuroscientists and psychiatrists. Since its inception, it has gone through multiple study trials, testing its performance on hundreds of people, and it is currently being tested on thousands more across different groups (i.e., stressed physicians, metastatic cancer patients, college athletes, and more). 
Due to the amount of research and the quality of results noted in users so far, the Apollo Neuro sells at a premium and you will find discounts throughout the year, sometimes deeper when purchasing multiple devices. 
Currently, you can choose from a white or black Apollo Neuro, with different color bands and rings, giving you 6 different choices at checkout. All are priced the same and come with a band and a clip. You can customize the length of the band prior to purchasing. 
You may also purchase extra bands if you intend on wearing on different parts of your body with large size differences, as well as clips, egift cards, or a certified refurbished Apollo Neuro. 
Make sure to click the box above to claim the deepest discounts on Apollo Neuro products. 
Price List updated: December 2022 – Pre-discounted prices
Detailed Apollo Neuro Review Conclusion
Apollo Neuro aims at solving a common problem that involves our nervous system operating on "Fight-or-Flight mode," a constant or semi-constant state of stress that keeps our bodies and minds from resting and relaxing. While some may take up to a month of regular use to start ripping the benefits of the device, I started feeling relief within 48 hours of using Apollo Neuro. Going through high stress at the time of testing, I immediately got into the habit of starting a 30- or 60-minute mode when a stress wave came near, and I soon found the gentle pulsation to be a relief – like an ally on my side, picking me up and bringing 
Let's look at everything we found out about the Apollo Neuro sleeping device. Find all of our Apollo Neuro reviews HERE. 
Apollo Neuroscience was invented by Dr. David Rabin, MD, during his PhD research at the University of Pittsburg. A specialist in PTSD, depression, anxiety, and substance use disorders, he helps his patients take control over their stress response. 
Studying the biology of stress and the strain it puts on the whole body by over-activating the nervous system, making the body release excessive cortisol (the stress hormone), increasing heart rate, and decreasing heart rate variability, he wanted to find a drug-free solution to sleeplessness, restlessness, and distraction caused by stress. 
Dr. Rabin's goal was to help people take control of their stress to live a happier and healthier life. By creating wearable technology that follows you all day and night, you are able to receive scheduled sessions, or ad-hoc ones when you need them. With practice, touch therapy improves your resilience to stress, sleep, focus, and recovery. The nervous system can be trained to be balanced and calm, and is the key to a healthier being, physically and mentally. 
Since launching, Apollo Neuro has gone through numerous trials in different clinical specialties, and has proven clinically effective to improve heart rate variability, cognitive performance, sleep, physical recovery, and more. 
What Is Inside The Apollo Neuro?
The Apollo Neuro device is designed to be worn in different ways. The goal is to get it as close to as large of a bone as possible. The hip bone and spine are probably the two best spots to locate your Apollo Neuro device. In order to do so, use the clip that comes with the device! 
If you prefer to wear around your wrist (preferably the inside of your wrist) or ankle, use the band that comes in the box. When ordering, choose the size that will work for you. A useful sizing guide can be found on the order page. 
Inside the Apollo Neuro box, you will also find the user manual, a sample schedule recommended when you start using your device, as well as a micro-USB cable to recharge your wearable device. With a battery lasting 6 to 8 hours, you should be able to get about 2 days of use out of each charge. Higher intensity modes will drain more battery, and charging the device takes 2 to 4 hours. 
How Does The Apollo Neuro Work?
Sound Wave Aid
The Apollo Neuro is wonderful for its ease of use. From a simple design, you get an easy device to use. It is a no-frill, no extra-tracking, get-the-job-done kinda device, and exactly what you need without all the technological bells and whistles that can add stress to your life. 
For a user perspective, once you have placed it on your body, you have several choices: 
use the Apollo app to create a schedule of modes throughout the day. In the app, create a daily schedule based on the day of the week and what you believe your recurring needs will be. From there, wear the band day and night, and ensure it is always charged. The app will connect to your band at the times you have selected, to push the sessions you have selected for the day. It will be on auto-pilot and you can simply relax as you retrain your nervous system 
Manually go into the app to push a mode to the device. This is especially helpful if you feel stress or anxiety rise and need a session to bring your emotions back down
Press both side buttons at once to launch the last mode you played. This is especially helpful if you wake up at night and used the Sleep and Renew mode to fall asleep. A quick push of the buttons will start that session back up, without having to log into your phone and come up to full consciousness
Once a mode is in session, you can change the intensity of the vibration by clicking the raised-dot button to increase the intensity in 5% increments, or clicking the flat button to decrease the intensity in 5% increments. 
What Vibration Intensity Works Best To Decrease Stress?
The one that feels right to YOU. Higher intensity does not equal to higher relaxation in any way. Apollo Science uses a useful comparison – you would not use the same volume on a silent night at home and in a loud public place. Similarly, based on your activity and mindset, you may need to adjust the intensity of the vibrations to fit your needs. 
You want to be able to feel the vibrations as they start, and later be able to push them to the background. I recommend starting on the modes the way they are originally designed, and simply pressing the side buttons to increase or decrease intensity as needed in that moment. 
Does Apollo Neuro Work?
Apollo Neuro lacks the biometrics tracking ability, which we think is actually a benefit. More data can be a source of stress, with the setting of unreasonable goals, etc. If you wanted to see actual numbers and data confirm improvements in heart rate and heart rate variability, you would have to other devices (i.e., tracking watch, Eight Sleep Pod at night, etc.). 
Note that you can link your Apollo Neuro device to Apple Health and the Oura Ring sleep tracker if tracking is of importance to you.
As far as the Apollo Neuro working, you will feel the improvements in your daily life. It may take a few days, it may take a month or longer, but you will soon feel better equipped to combat stress. Your natural response will kick in, thanks to your nervous system being in a more balanced state. 
We love the ability to launch a quick session on the go for a "quick fix" when we need it! 
How Much Should I Wear The Apollo Neuro?
The easiest is to wear the device all day and night and let your pre-selected schedule do the work for you. 
To be honest, I like to wear mine on my wrist, but since it needs to be set on the inside of the wrist, I do find it a little bothering to wear all day as I spend most of it typing on the computer. And while the band is easily washable with soap and water, I also like to take it off before going for a jog in the Florida heat. 
The great thing is that the app will send you a reminder 10 minutes before the start of a session. I typically remove my bracelet about 30 minutes after a session and put it back on when the app reminder comes through! 
Sleeping Style
You can wear the Apollo Neuro no matter your sleep position. Some prefer to wear it around their ankle over night, while I wear mine around my wrist, when I keep it on at night. I do not often wake up at night and do not need the Apollo Neuro to fall back asleep. However, if you do, I recommend keeping it on through the night! 
Wearing the device with its band is going to be more comfortable than with the clip, in most cases. You will also be less likely to find it detaching from your body, if you wear the band. 
The PLUSES

The MINUSES

Natural, drug-free, sleep aid
You train your body and nervous system to react to stress
Your control increases the more you wear the Apollo Neuro
Small enough to wear all day, every day, and travel with
Has an airplane mode, should you be worried about EMFs
Fall asleep faster and deeper with a quieter mind and body
Wake up more rested 
Comes with micro-USB charger and can be used within minutes of receiving
Easy to understand and use
No frill, just what is needed to achieve a better health naturally 
Try out for 30 days and get your money back if unsatisfied

A bit of an investment, but the benefits warrant it
Share this deal with a friend!