BEST MATTRESSES MADE IN THE USA
Our Top Mattress Picks - Updated Yearly
There is something special about buying mattresses made in the USA.
It is about knowing where the products come from. Resting assured that the mattress companies stand close to their production lines and understand what goes into the mattress you bring to your home. And lastly, there is some pride in supporting our national economy, creating jobs in the country, and supporting local families.
Mattresses made in the USA may not always be your cheapest bet, but they'll almost always be your best buy. So here's our list for this year's Best Mattresses Made in the USA, organized in different categories to help you make the best choice for your personal needs!
Why Buying Mattresses Made In The USA
Have you ever been put in front of 2 seemingly similar products, one with a "Made in China," one with a "Made in the USA" tag? How did that make you feel?
At the same time as you noticed that tag, you probably noticed the difference in price. And I get it… typically any product made in the USA, including mattresses, is going to be more expensive than those made outside of the country.
So why should you spend extra and buy an American made mattress, you ask?
Anytime you purchase a product made in the USA, you know that the workers involved in the design and production have been held to a higher standard. You can confidently purchase a mattress, knowing that the employees and manufacturing processes are in line with the highest labor values – no child labor, slavery, trafficking, or dangerous working conditions.
Remember that you are about to spend about 1/3 of your life laying one that mattress… when you purchase a mattress made in the USA, the products going into that mattress are always going to be of higher quality. They will last longer, protecting your investment, and held to higher product safety and quality standards, making sure you are sleeping safe and sound every night.  The USA has consumer protection laws and safety standards in place to protect your, and your family's health. 
You are supporting America and your fellow Americans. With every purchase of an American made mattress, you are reinvesting your money into our economy, ensuring your fellow Americans stay employed, injecting dollars into a neighbor's honest wage, and contributing to the American trade deficit.
For all of those reasons, the higher price tag of ~$200-$400 is worth the investment. And remember: investing in a quality mattress is an investment you make once every 7 to 10 years. Your purchase can have a big impact and spread over those 10 years, the $400 you are spending today are a $40/year investment towards a healthier purchase, healthier planet, healthier country.
Without further ado, here is our list of Best Mattresses Made In The USA 2023.
Please note that this article is informational and consists, in no way, in medical advice. Personal preferences vary and we cannot ensure that any of the mattresses listed below will result in better sleep. Mattresses in this list will however be some of the best mattresses made in the USA in 2023, and are based on my personal opinions and knowledge of the mattress industry.

Best Mattress Made In The USA 2023
Non-Biased 2023 Favorite Pick - Best Mattress Made In The USA
Nolah Evolution - Luxury Firm
$750 OFF + 2 FREE Pillows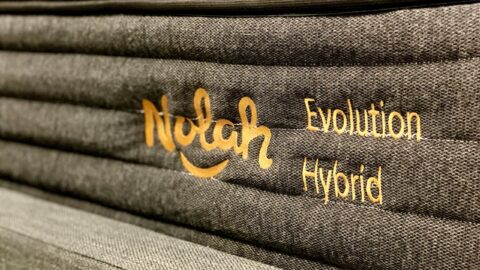 Nolah Evolution 15
$750 OFF the Evolution + 2 FREE Pillows with our exclusive coupon code (click to reveal)
$750 OFF the Evolution + 2 FREE Pillows with our exclusive coupon code (click to reveal)
Show Less
Nolah came out with the Nolah Evolution in late 2020, which our mattress specialists immediately took to the top of our charts. It currently sits at the top of our Best Mattress 2023. It is only natural to list it as our favorite for Best Mattresses Made In The USA!
This USA-made mattress offers 3 firmness levels, making it an ideal mattress for all sleepers, no matter your favorite sleep position. The Nolah Evolution Plush will work well for side-sleepers looking for extra pressure relief. The Luxury Firm is our favorite mattress for side-sleepers and some back-sleepers liking the extra plushness. And the Nolah Evolution Firm works wonders with back and stomach-sleepers!
The quilted Euro top is designed to keep sleepers cool without the use of harsh chemicals, while the Nolah AirFoam provides cool sleep as well as pressure relief to high-pressure areas.
The Nolah Evolution (and all other Nolahs, as a matter of fact) is 100% made in the USA. Not only are the mattresses made in one of 8 factories located the United States, but all materials used (foams, covers, latex) are 100% made in the US. 
Make sure to click the Nolah coupon box above for an exclusive coupon code for our readers only, getting you the deepest discounts currently available!
Read the full Nolah Evolution Review.
Nolah Sleep Trial – 120 nights
Shipping – FREE
Warranty – Lifetime
Best Mattress Made In The USA For Side Sleepers
Purple makes a very unique mattress and you have most likely heard of them, or even seen their off commercial on TV. If you haven't, we re-created and tested it here. 
We are big fans of the Purple mattress, especially for side-sleepers. The original Purple mattress is the one we recommend for side-sleepers looking for a mattress made in the USA. Its upper 2-inch layer is made of the famous Purple Grid, which is a unique gel polymer providing pressure relief to side-sleepers' high-pressure areas in the hips and shoulders, while evenly distributing sleepers' weight and aligning their spine. 
Purple is headquartered in Utah and handcrafts its mattresses in the USA. Its manufacturing plants are located in Alpine, Grantsville, and McDonough, GA.
Read the Purple Mattress review
Purple Sleep Trial – 100 nights
Shipping – FREE
Warranty – 10 years
Best Mattress Made In The USA For Stomach Sleepers
15% OFF + 2 FREE Pillows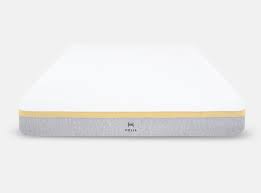 Helix Dawn
15% OFF site wide + 2 FREE Dream Pillows ($150+ value)
15% OFF site wide + 2 FREE Dream Pillows ($150+ value)
Show Less
If you are one of only 16% of Americans sleeping on their stomachs, our favorite Mattress Made In The USA for stomach-sleepers is the Helix Dawn. 
A hybrid mattress made of several layers of latex foam, high-grade polyfoam, and an 8-inch layer of individually-wrapped coils, the Helix Dawn provides slight contouring and cozy pressure relief in the hip and torso areas, while providing support to the entire body thanks to the coils beneath the foam layers. 
This makes the Helix Dawn one of our favorite Made In The USA mattress for stomach sleepers. We love the comfort of this Helix and never had the feeling of sleeping on a plank of wood!
Handmade in the USA, all Helix Mattresses are 100% US made, hand-assembled and custom-built in their facilities throughout the country. Their team of engineers, designers, and craftsmen have been manufacturing beds for over 30 years with a singular focus on quality. If your are wondering which Helix mattress might best suit you, make sure to take their Helix Sleep Quiz to see which Helix mattress they recommend for your personal sleeping preference!
If you need more options as a stomach-sleeper, check our list of Best Mattresses For Stomach Sleepers here. 
Helix Sleep Trial – 100 nights
Shipping – FREE
Warranty – 10 years (15 years for the Helix Dawn Luxe)
Best Mattress Made In The USA For Back Sleepers
Brooklyn Bedding Aurora Luxe
25% OFF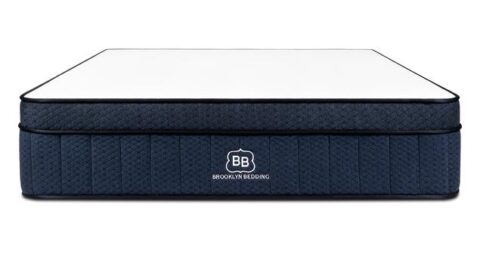 The Brooklyn Bedding Aurora Luxe is a piece of sleep engineering wonder and we love that it is 100% Made in the USA – in Arizona to be exact! 
A luxury hybrid mattress, it has a layer of copper-infused foam, infused with TitanCool, a proprietary technology keeping your body at a constant 88 degrees, making it a fantastic mattress for hot sleepers. With 3 top layers of foam and 8 inches of pocketed coils, the Brooklyn Bedding Aurora mattress is the perfect sleeping partner to back sleepers. 
You will find just the right amount of contouring for a comfortable sleeping surface, with all of the support you need to keep your spine and neck aligned throughout the night. We recommend choosing the Brooklyn Bedding Aurora Luxe in Firm for back sleepers, unless you like a little extra plushness, in which case the Medium can work really well too!
All Brooklyn Bedding mattresses are handcrafted, on demand, and shipped direct to customers' doors from their factory in Phoenix, Arizona. It was announced, in 2022, that Brooklyn Bedding would build a new 600,000-square-foot factory in Phoenix, to meet the ever-growing demand for their high-quality mattresses. 
Read the Brooklyn Bedding Aurora Luxe review
Brooklyn Bedding Sleep Trial – 120 nights
Shipping – FREE shipping
Warranty – 10 years
Best Organic Mattress Made in the USA
$700 OFF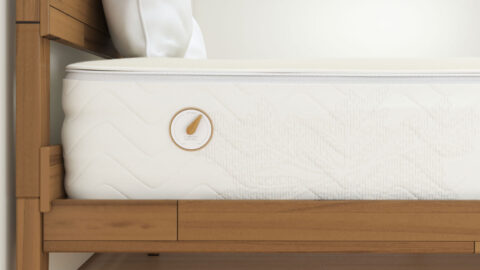 Natural Form Refresh Mattress
$550 OFF your NaturalForm Mattresses + $150 OFF your first order when you sign up for emails! Grand total of $700 OFF!
$550 OFF your NaturalForm Mattresses + $150 OFF your first order when you sign up for emails! Grand total of $700 OFF!
Show Less
The Natural Form Refreh is one of our favorite mattresses of all time. Its technology and quality are incredible, and if organic matters to you (and it should!), the Natural Form Refresh should be top of your mind. 
Remember that you spend about 1/3 of your life laying on your mattress. Just as you care about your mattress being made in the USA, I am sure you care about the materials going into the manufacturing of your favorite sleeping partner. 
The Natural Form Refresh is made of the highest quality materials, including a top layer of Merino wool, 3 inches of Certi-PUR US foam, and patented helix air pods, allowing each sleeper to customize the firmness of his/her side of the bed. Not only does the Natural Form Refresh mattress naturally sleep cool, but it is soft on our planet, good to our health, and amazing if sleeping with a partner with a different sleeping style. 
In fact, Natural Form's history starts with 30 years in the medical field, designing mattresses for medical institutions. Their mattresses are recognized by chiropractors as reducing back pain and relieving an array of common sleep conditions.
Natural Form is a family-owned business manufacturing its mattresses in Vermont, where its plant boasts 3+ acres of rooftop solar power. All Natural Form mattresses are made with 100% renewable energy – I told you they are soft on our planet!
Natural Form Sleep Trial – 100 nights
Shipping – FREE
Warranty – 10 years
Best Luxury Mattress Made in the USA
20% OFF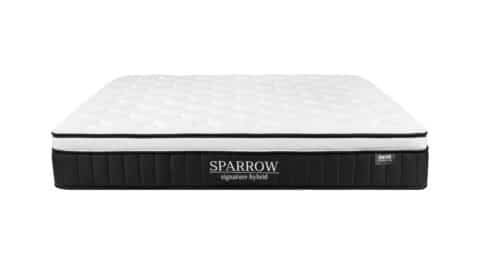 Nest Bedding Sparrow
20% OFF through 1/31. Use NBR10 for 10% OFF non sale items!
20% OFF through 1/31. Use NBR10 for 10% OFF non sale items!
Show Less
The Nest Bedding Sparrow is one of those mattress you remember testing. We test dozens of mattresses every quarter, and a few of them leave that special impression. The Nest Bedding Sparrow is one of them, and it hit us with an overwhelming feeling of luxury!
Its 14 inches of layers are made of technologically-advanced materials working together to offer ultimate comfort. Starting with its thick, gel memory foam infused, phase-changing cover to the Energex temperature-responsive foam layer, everything is engineered with the sleepers' comfort in mind.
The plus that makes all the difference and helps the Nest Bedding Sparrow truly stand out? The Dual-Split option allowing each partner to order the Energex layer in his/her preferred firmness (available in King and Cal King only). No more compromising. No more sweating at night. No more morning aches. And purchasing with confidence since you can exchange the Energex layer for a different firmness during your 100-night at-home trial period!
Nest Bedding is another family-owned company, manufacturing its mattresses in Phoenix, Arizona! All Nest Bedding mattresses are designed and manufactured in the USA using high-quality certified clean materials to be free of the nasty chemicals prevalent in modern-day mattresses. They use renewable designs that provide a longer mattress lifespan and come with a lifetime warranty.
Read the Nest Bedding Sparrow Mattress review
Nest Bedding Sleep Trial – 365 nights
Shipping – FREE
Warranty – Lifetime
Best Mattress Made in the USA for Hot Sleepers
50% OFF + 2 FREE Pillows
We are big fans of GhostBed in general and recommend the GhostBed Luxe as the Best Mattress Made In The USA For Hot Sleepers. 
Made up of 7 layers, the cooling effect starts right at the mattress cover. A touch of the hand reveals a cool-to-the-touch cover, designed to react to your body's temperature to keep you comfortable all night long. From cooling fibers to cooling gel memory foam, the patented Ghost Ice layer and phase-change Ghost Ice Fabric, the GhostBed luxe is impressive at ensuring a comfortable body temperature and cool night of sleep. 
All GhostBed mattresses are 100% designed and manufactured in the USA. With over 15 years of design, research, and development, we can recommend all of GhostBed mattresses. If you are not sure which one would best fit your sleeping style, make sure to take the GhostBed Mattress Quiz first!
GhostBed Sleep Trial – 101 nights
Shipping – FREE
Warranty – 20 years
Best Mattress Made in the USA Under $1,000
$820 OFF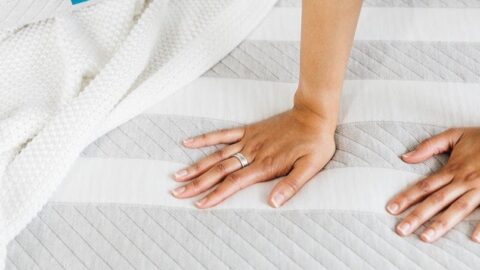 Leesa Original Mattress
$700 OFF mattresses + 2 FREE pillows ($120 value), and 15% OFF bedding. Or use our exclusive discount code NONBIASED for 15% OFF your entire order!
$700 OFF mattresses + 2 FREE pillows ($120 value), and 15% OFF bedding. Or use our exclusive discount code NONBIASED for 15% OFF your entire order!
Show Less
Finding a mattress designed and manufactured in the USA under $1,000 in Queen, is something to celebrate. You know that the mattress company is operating as lean as possible and passing all of the savings of online selling onto its customers. 
The Leesa Original Mattress is a great example and with its queen-size mattress currently selling for $949, it is a fantastic deal for a US-made mattress. Made up of 3 layers of foam, it has your typical low motion transfer, hugging but supportive feel. You will find the perfect amount of pressure point relief in the upper layer of foam, giving you all of the cozy contouring you are looking for in a foam mattress, while the lower layers of foam provide support to the entire body and ensure a healthy sleep position. 
We like that we never over-heated in this all-foam mattress and that it had enough bounce to never feel stuck in the foam either. The Leesa Original mattress is a great mattress for side sleepers and can work well with lighter back sleepers who know they prefer a plush mattress. 
Leesa makes all of its mattresses to order, in the USA. They are then compressed, rolled, and boxed, and further shipped to your door. You should also know that for every 10 Leesa mattresses sold, the company donates 1 mattress to a child in need. With nearly 40K donated mattresses, that is the kind of corporate responsibility worth mentioning. Each one of your purchases matters and does good!
Read the Leesa Original Mattress review
Leesa Sleep Trial – 100 nights
Shipping – FREE
Warranty – 10 years
Best Mattress Made In The USA 2023 - Recap
I hope you found this guide helpful. Of course, each sleeper has his/her own sleeping preferences and what feels right to me, might feel different to you. I have based my selection of Best Mattress Made In The USA on my industry testing experience and knowledge of the materials used in each model, and further vetted my selection sleep testing over 100 mattresses in the last few years.
All of the mattresses included in this list are mattresses that I would personally sleep on. They provide the comfort of high-pressure point relief and a healthy support of the entire body. Some of them let you customize the firmness level, which is amazing to accommodate your personal preference. 
And the great thing about all of those mattresses made in the USA – all can be ordered online, which means that you benefit from a long (generally ~100 nights) at-home trial. There is no sales pressure, no one staring at you as you lay 5 micro-seconds on a mattress, and are then married to it. With any of the mattresses included in this list, order it, test it at home for as long as the sleep trial lets you, and if you are not entirely satisfied, return it. Check each brand's return policy, most let you do free returns, but some may have you pay for shipping. And with most, you are asked to test the mattress for 30 nights prior to initiating return 🙂 
What Mattress Is Right For Me?
Did you know that, if you lay on your bed 8 hours each day, you spend over 121 entire days on it each year? That's right – 2,912 hours each year, laying on your mattress. You better make it good! 
Each person has their own set of preferences when it comes to mattresses and comfort levels, and while I can't make the decision for you, I do my best to give you enough information to help in your buying process. 
Each sleeping style has its own requirements for comfort:
What Should I Be Looking For In A Mattress As A Side Sleeper?
Side sleepers generally require the softer mattresses – think a 4 to 6 out of 10 on the firmness scale. The extra plushness provides increased pressure relief in the high-pressure points on your shoulders and hips, helping align your spine in a healthy position. Make sure that below the softer foam, there is a reinforced, firmer layer, that will provide support to those shoulders and hips, as well as the rest of your body. 
What Should I Be Looking For In A Mattress As A Back Sleeper?
Back sleepers are our middle-of-the-pack sleepers when it comes to mattress firmness. A firmness of 5 to 7 out of 10 will work really well. Back sleepers generally enjoy some contouring a mild plushness, but also need a firm foundation to align their spine. 
Back sleepers are the most versatile however, and could sleep on softer or firmer mattresses based on their personal preference. A medium-firm mattress is generally recommended however. 
What Should I Be Looking For In A Mattress As A Stomach Sleeper?
Stomach sleepers generally require the firmer mattress to sleep pain free. By choosing to sleep on a medium-firm to firm mattress (firmness of 7/10 and above), you are able to align your entire spine throughout the night. Of course you will want an upper layer of  1 to 2 inches of softer foam to provide relief to your knees, chest, and belly, but underneath should be a firmer foundation to support all areas of your body.
That does not mean that you need to settle down for a brick… today's technology allows you to find layers that will make your nights comfortable and give you that sought-after feeling of floating on top of your mattress.
Why Buy A Mattress Online?
I hear you. I am telling you that this is one of the most important purchases you will be making in the next 5 to 10 years, yet I am encouraging you to buy from a website, with no chance to see, feel, or lay on the mattress. I promise you it's worth it, though! Feel free to read over our Guide To Buying An Online Mattress, but let's also look at the benefits of buying a mattress online vs. in store:
When walking inside a mattress store, you are limited to the brands and models carried by the store. Not only are they limited, but the store needs to survive and higher margin products will probably take the store-front, which doesn't always work in favor of the buyer. However, when shopping online, you will find dozens of online mattress brands.
Now of course, more options means that you need to educate yourself a little more, to understand which mattress brands will be worth your money, and this is where I come in. I test hundreds of mattresses for you each year, and when you read the reviews of an independent mattress reviewer such as Non-Biased Reviews, you get unbiased mattress reviews. Many mattress review websites are now owned by large mattress companies, so make sure you use the services of independent mattress reviewers!
Buying a mattress can feel as stressful as buying a car these days. You walk into the mattress store and get overwhelmed with sale tactics, straight out of the car lot! Online, you get the benefit of time and peace. Once you have narrowed your choices down to a brand or mattress style, take your time to read the details and do deeper research on the brand sites and right here. See all of the brands we have reviewed so far. Any questions, feel free to email me directly at laura@nonbiasedreviews.com and I'll be happy to brainstorm ideas with you!
By purchasing a mattress online, you are cutting the middle man. You do direct business with the mattress brands and they save on labor, rent, and other overhead costs. It is a win-win and you put the savings in your pocket! You also have many more options, and while you can buy extremely luxurious and expensive mattresses online, you also have access to a large number of cheaper options!
This one might seem counterintuitive. I bet that your first resistance to buying a mattress online is linked to the lack of testing. You can't see nor touch the mattress for yourself and you're not sure whether you can truly believe the edited photos you see online. 
Think about it for a second. You walk into a mattress store, lay on a mattress, shoes on, fully clothed, with an adult salesperson staring at you, while trying to keep your kids from taking the store for a trampoline arena. You've awkwardly laid on that mattress a total of 50 seconds before making a long-term decision… 
When purchasing your mattress online, it nearly always comes with a 100 to 365-night trial. You get to sleep full nights on your investment for several weeks before deciding whether it is adapted to your sleeping needs and preferences. I recommend sleep testing your mattress for at least 30 nights before making your final decision, to give your body a chance to adjust to the new sleeping surface.
Still unhappy, most online mattress companies will arrange for your mattress to be picked up from your home and donated, and your money will be refunded. There is generally no restocking fee and most of the time, your return shipping is free as well. If you buy a Purple mattress at MattressFirm, for example, your return will be subject to MattressFirm's return policy and restocking fees. Buy directly from Purple and your return is free!
When you buy a mattress online, it ships directly to your home, most of the time for free! Nearly all mattresses ship in a box, making them easy to transport to the room of your choice. 
Forget about renting a truck or trying to tie a king-size mattress to the roof of your car, then asking a friend to come help you to get it inside. Instead, a regular carrier drops off a manageable box by your front door, you set the vacuumed mattress on your bed, rip the plastic wrap, and watch it expand in seconds!
Share this deal with a friend!