PURPLE HYBRID MATTRESS REVIEW
Are you wondering if the Purple Hybrid Mattress is worth it and deserves all of the hype it's been getting? We sleep tested it and are ready to give you our unbiased review of one of America's favorite mattresses. And for our friends north of the border, good news – the Purple Hybrid Mattress ships to Canada!
$400 OFF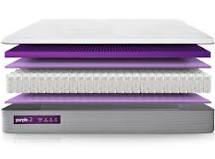 Purple Hybrid Mattress
$400 OFF the Purple Plus Mattress with coupon code (click to reveal) and 20% OFF Pillows
Made in the USA
100-night home trial
Free shipping and returns
10-year warranty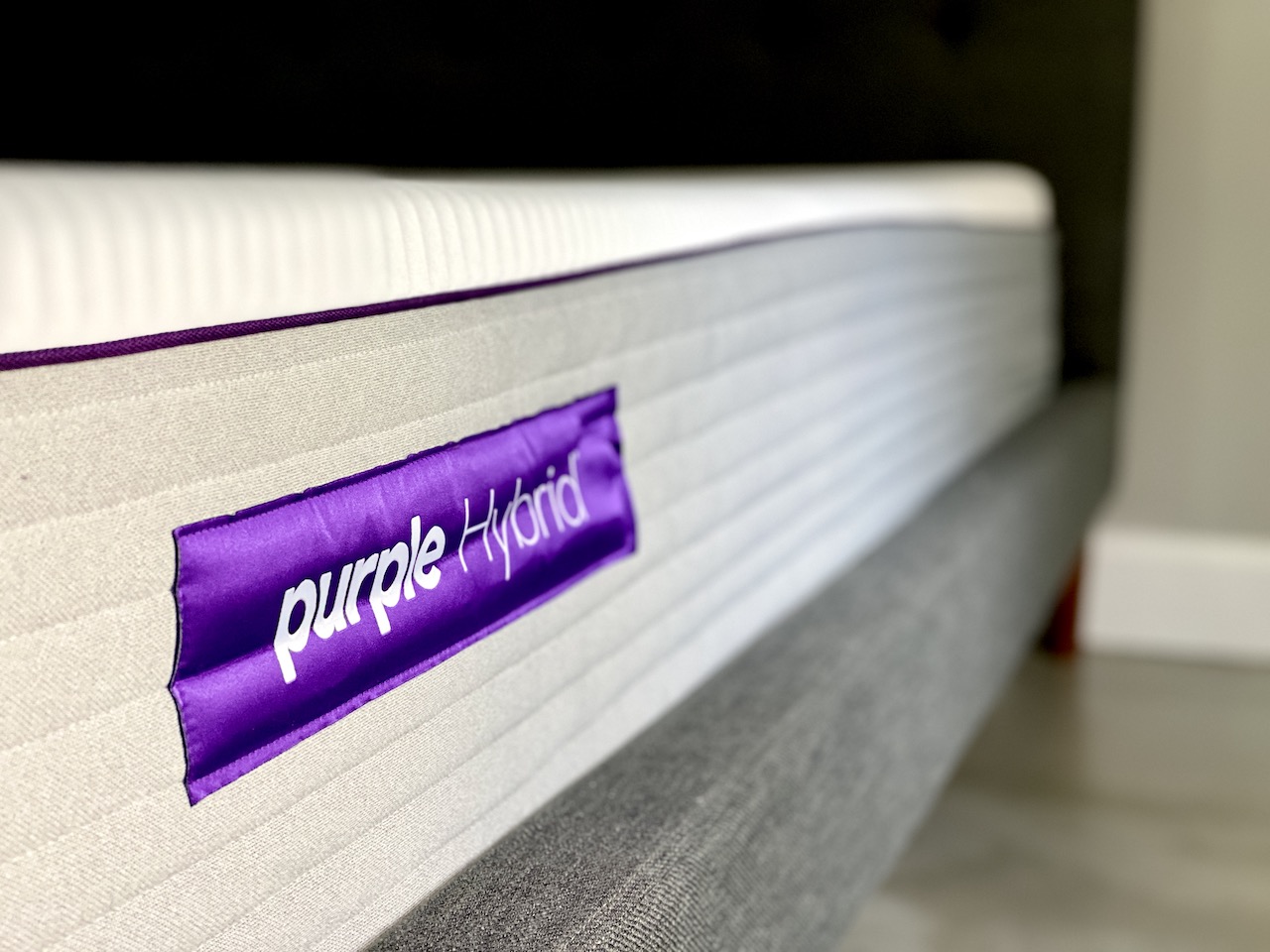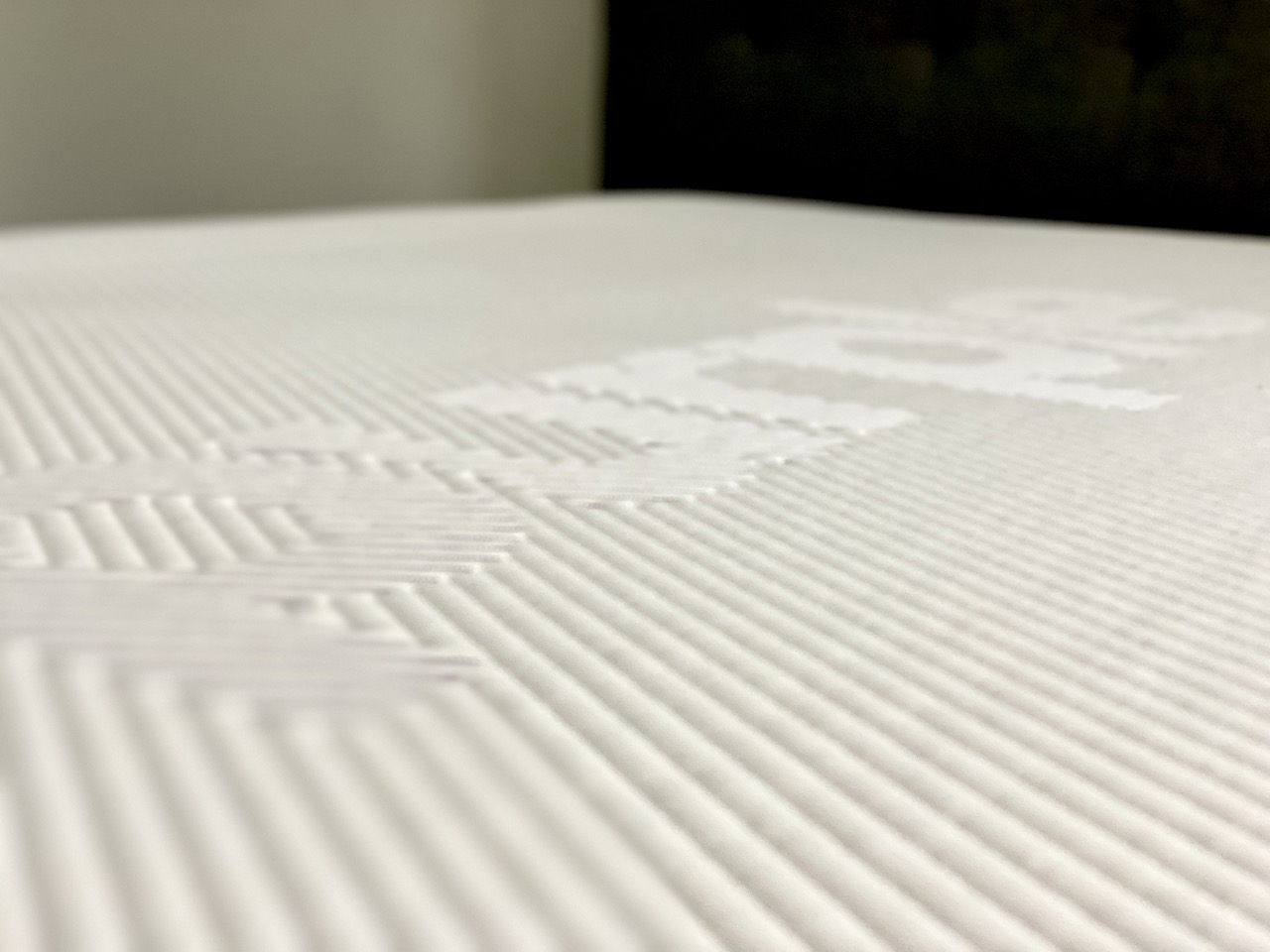 What's Inside The Purple Hybrid Mattress
In a nutshell:
StretchMax cover
2″ Purple Grid
7.5″ individually-wrapped coils
2 layers of transition foam
StretchMax Cover
The Purple Hybrid Mattress' cover is made of polyester and viscose for ultra-stretch. It lets you rip the full benefits of the Purple Grid below. It is also breathable, which allows for cool sleep and airflow from the coils, through the Purple Grid and up the cover.
2″ Purple Grid
Oh the Purple Grid… that magical feeling of sleeping on a soft cloud, while getting all of the support you need for a healthy night of sleep. The feeling is so unique that I can't quite explain it, but believe me, it becomes quite addictive and your mattress quickly becomes your favorite spot in the house!
7.5″ Individually-Wrapped Coils
It wouldn't be a hybrid mattress without the coils, and the Purple Hybrid Mattress has 7.5 inches of them. They provide incredible support along the spine, allow airflow for a cool night of sleep, and help isolate your partner's motion for a peaceful night of sleep. 
2 Layers Of Transition Foam
The Purple Hybrid Mattress has 2 layers of transition foam. One between the Purple Grid and the coils, and one underneath the coils. Those layers add stability, comfort, and life to the mattress.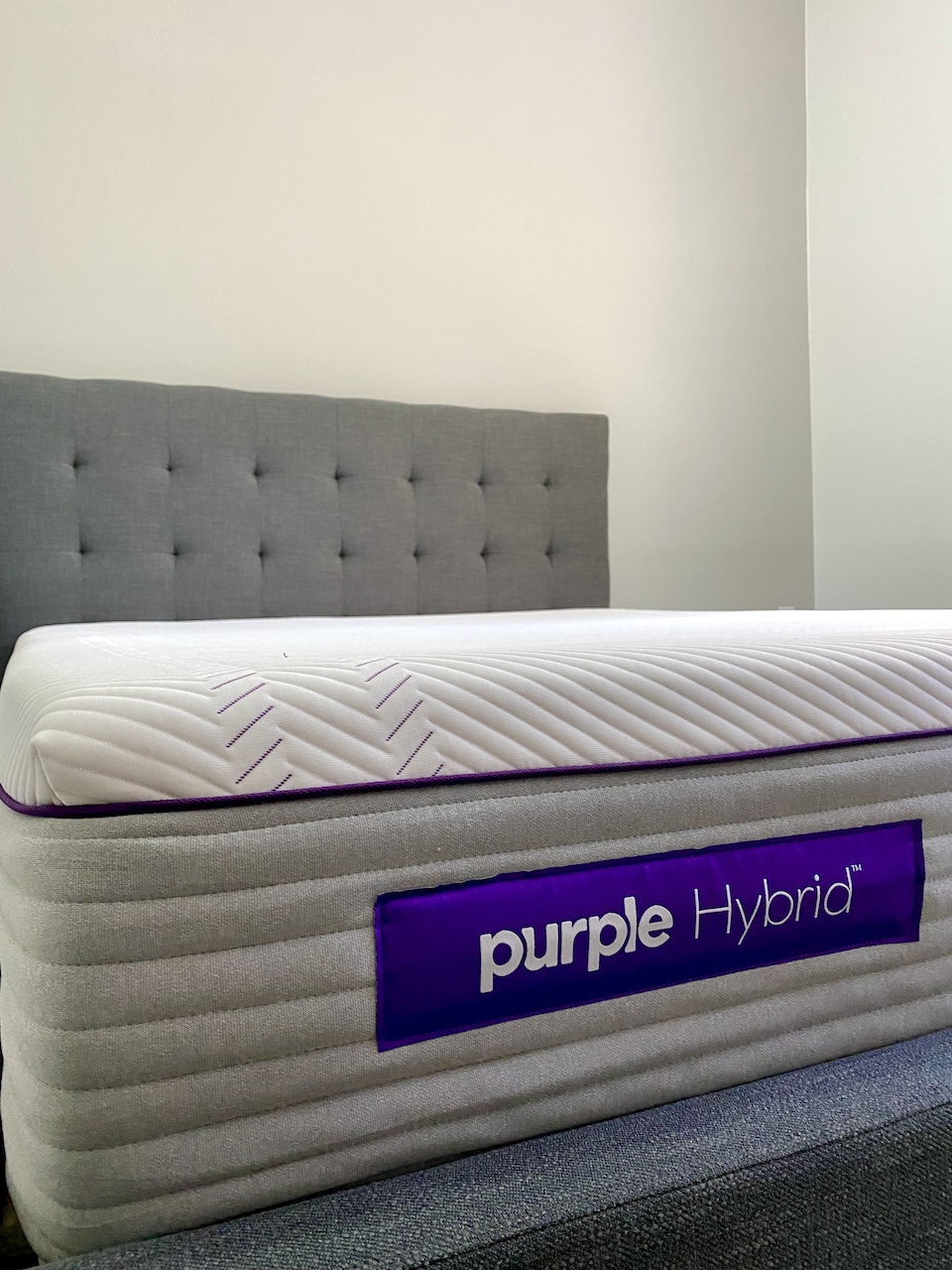 Purple Hybrid Mattress Sleep Tests
Everything we felt in one box
| Firmness | Temperature | Maintenance | Sleeping Style | Bed Base |
| --- | --- | --- | --- | --- |
| The firmness of the Purple Hybrid Mattress is really hard to describe. The Purple Grid is so unique that it makes it hard to rank its firmness on a 1 to 10 scale. If I had to, I'd give it between a 6 and 7. That's about an average firmness with some mild contouring and great spinal support. | The Purple Hybrid Mattress sleeps completely temperature-neutral - you will not get hot on this mattress. The Purple Grid is full of large holes by design, which let the air rise and flow through to the cover, which itself, is ultra-breathable, allowing the cooler air to reach you. Below the Purple Grid are 7.5 inches of coils, which allow airflow to rise through the thin layer of transition foam and into the Purple Grid. | While the Purple Hybrid's cover is removable, Purple does not recommend washing it. I would say do it at your own risk... I recommend that you treat stains by spot cleaning with mild detergent. The earlier you can tend to the stain the better, and it is recommended to blot the stain instead of rubbing it. Rubbing it could spread it further. | The Purple Hybrid Mattress is incredible and I could see all types of sleepers having a good night of sleep on it. Back sleepers would probably like this mattress best, enjoying support and spinal alignment. Stomach sleepers, who typically prefer a firmer sleeping surface can sleep comfortably here, unless you are heavier-weight sleeper or someone who likes the hardest of mattresses. Side sleepers will find enough pressure relief to sleep well on the Purple Hybrid mattress. If you are heavier weight or looking for increased plushness, consider the Purple Hybrid Premier, with either 3" and 4" of Purple Grid. | You can lay your Purple Hybrid Mattress on any flat base - slats, box spring, foundation, adjustable bases, and even the floor will work great with this mattress. |
Purple Hybrid Mattress Prices & Discounts
$400 OFF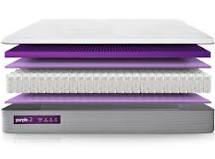 Purple Hybrid Mattress
$400 OFF the Purple Plus Mattress with coupon code (click to reveal) and 20% OFF Pillows
So how much does a Purple mattress cost?
All Purple mattresses sit at a premium on the market. They all use the proprietary Purple Grid – a layer of hyper elastic polymer foam, with a very unique feel and only available at Purple. 
If your budget allows, however, it is an incredible mattress for its support and pressure-relief properties. 
Since this mattress ships to Canada, I am adding the Canadian Dollar price on here. Note that shipping is free to the U.S. and Canada. You will be charged a premium in Canada however, which I am assuming is heavily influenced by the costs borne by Purple for shipping such a heavy mattress. Also note that the Full and California King sizes are not available for purchase in Canada. Find our full list of Best Mattresses In Canada here. 
Note that the Purple Hybrid Mattress is 11 inches thick and available in Twin XL to Cal King at this time (no Twin size). 
I also love that Purple has special discounts (10% OFF your order) for military, healthcare professionals, first responders, truckers, and educators. 
Price List updated: March 2021 – pre-discounted prices (not including any current discounts or promotions)
Detailed Purple Hybrid Mattress Review Conclusion
All the craze is well deserved in my opinion. Purple has developed a proprietary material – the Purple Grid – that is phenomenal and nearly impossible to describe, and we have fallen in love with the Purple Hybrid mattress. 
It is beautifully engineered and amazed me with how well it fits all sorts of sleepers. If you are a couple with different sleeping styles, you could both sleep very comfortably on this mattress. It sleeps cool, relieves the main pressure points, and help the spine stay healthy and aligned throughout the night. 
Let's look at our thoughts in more detail. 
Purple was started by 2 brothers – Tony and Terry Pearce. After developing cushions for wheelchair users, that helped with pressure sores, they made a new discovery and invented Hyper-Elastic Polymer. 
That material is not only strong and durable, it can stretch to 15 times its resting size, without ever taking a body impression. 
You have probably used products with the Pearces' patented products (i.e., Dr. Scholl's massaging gel, Jansport backpack straps, etc.) 
In 2013, the 2 brothers decided to give non-medical mattresses a try. After 2 years of development, they had developed a machine capable of producing pieces of hyper-elastic polymer large enough to fully cover a king-size bed. 
And if you wonder why they chose the name Purple? Because this royal color reminds them that their ultimate goal is to treat everyone like royalty!
Find all of our Purple reviews HERE. 
What Is Inside The Purple Hybrid Mattress?
The Purple Hybrid Mattress is made of 4 layers (11 inches total) of Purple Grid, coils, and foam, all working together and in a specific order to bring you comfort and support. Do not flip this mattress, as all layers are meant to stay put in a specific order.
StretchMax Cover
The closest layer to your skin is the StretchMax Cover. It is a made of a mix of polyester, viscose, and lycra, giving it an ultra-stretch to help you rip the full benefits of the Purple Grid below. By being so stretchable, your body is able to fully sink into the Purple Grid and feel its cradling and pressure relief properties to the fullest.
Additionally, the Purple StretchMax cover is highly breathable, allowing air to travel from the inner layers in the mattress, up through the cover to keep you sleeping cool at night. 
2″ Purple Grid
Then comes the famous, 2-inch layer of Purple Grid. This is why you're here, right? Well, let me tell you about why it makes the Purple mattresses so different. 
It is actually hard to describe the true feeling of the Purple Grid. It is a mixture of precise body contouring, extreme pressure-point relief, and instant responsiveness. In other words, it perfectly molds to your body's shape as you lay down on it, to provide the highest-quality pressure relief to your shoulder and hip areas. You get the perfect amount of cradling and cozying to comfortably lull yourself to sleep and you will never feel stuck in the Purple Grid, thanks to its responsiveness. As soon as you switch position, the hyper-elastic polymer pops right back up to its original shape, allowing for a mattress that is more durable, does not trap the heat, and makes moving at night, effortless. 
The Purple Grid is, by design, a layer that sleeps cool. With thousands of air channels, your excess body heat is channeled and dispersed into the mattress, while cool air is brought up from the coils and through the StretchMax cover. You will not overheat on the Purple Hybrid Mattress and I would call it a temperature-neutral mattress. 
Transition Foam
Directly beneath the Purple Grid is a thin 1-inch layer of high-density foam, which provides a comfortable transition from the Grid to the coils, while protecting the Purple Grid and adding life to the Purple Hybrid Mattress. 
You will find another layer of transition foam underneath the coils, which provides an outlet for the coils to compress into, extending the life of the mattress as well. 
7.5″ of Pocketed Coils
The bottom of the Purple Hybrid Mattress is made of 7.5 inches of individually-wrapped coils. Those coils provide spinal support down your entire spine. It also allows air to circulate freely through the mattress throughout the night. Additionally, since the coils are pocketed, they absorb a lot of the motion. preventing you from getting woken up by your partner's movement. 
How Does The Purple Hybrid Mattress Sleep?
Firmness
In short, the Purple Hybrid Mattress provides a medium-firm sleeping surface, coupled with an ultra responsive layer of Purple Grid that makes switching position effortless. 
The upper layer provides 2 inches of soft cradling, while the lower layer of coils reinforces the feeling with lots of spinal support. While the firmness is hard to describe, I am giving it a 6.5/10 on the firmness scale, making the Purple Hybrid Mattress just a little firmer than the average mattress.
Sleeping Style
The Purple Hybrid is such a unique mattress that I think it can work with different sleeping styles. 
I do believe that back-sleepers will be the most enthusiastic about this mattress. The amount of spinal support is incredible and will work with back-sleepers of all weights. 
Stomach-sleepers generally need a firmer mattress and are looking for a sensation of floating above their mattress. The Purple Hybrid Mattress can be a good option for lighter-weight stomach-sleepers (below 200 lbs). There is definitely a feeling of floating on top of that mattress when sleeping on your stomach! Heavier stomach-sleepers will likely sink in too much in the hips, leaving them with potential lower back pain.
Lastly, side-sleepers (over 70% of the American population), will enjoy the extra clearance and cradling in the hip and shoulder areas. The Purple Hybrid Mattress definitely provides enough pressure relief for a comfortable night of sleep, but I would recommend the Purple Hybrid Premier with 3 inches of Purple Grid if your budget allows. That mattress will give you an extra inch of pressure relief when sleeping on your side. If you are a heavier side-sleeper, the Purple Hybrid Premier with 4 inches of Purple Grid will work best for you!
Temperature
The Purple Hybrid sleeps temperature neutral. You will not be overheating on this mattress thanks to the amount of air flowing through the coils, Purple Grid, and breathable cover. 
The extreme responsiveness of the Purple Grid also means that the Grid pops right back up after you move out of it, so you are never trapped in your own body heat – a big difference from most memory foams.  
Motion Transfer
The Purple Grid is extremely responsive, which typically means that you would feel your partner move. However, the Purple Hybrid Mattress has an extra stretchable cover that helps isolate the motion, and the individually-wrapped coils do a wonderful job at preventing motion transfer. 
We did the kid-jumping-on-the-bed test and only the closest side of my body actually moved when the child was jumping right next to me and I was not woken up by my husband moving, and he moves hard!
The Purple Hybrid Mattress is a good mattress for couples, with fairly low motion transfer. 
How Do I Care For The Purple Hybrid Mattress?
The best way to care for your Purple Hybrid Mattress is to treat stains as soon as possible. Use a clean cloth, clear water, and mild detergent to blot the stain. Do not rub it as it would risk spreading the stain further!
Purple does not recommend washing your mattress cover in the washing machine / dryer. Should the need absolutely arise, know that it is a removable cover and you could decide to soak it. Watch for its tendency to shrink, however. 
$400 OFF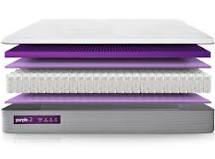 Purple Hybrid Mattress
$400 OFF the Purple Plus Mattress with coupon code (click to reveal) and 20% OFF Pillows
The PLUSES

The MINUSES

Hypoallergenic
Made in the USA
Extra durable, will not sag
Amazing spinal support
Unique, hard-to-describe feeling - only available at Purple
Great pressure relief
Ultra-responsive makes moving easy
Sleeps cool / temperature-neutral
Non-toxic (not chemically treated) knit barrier fire retardant
Works on all bases

Priced at a premium
Canadians will pay a premium vs. U.S. customers
Share this deal with a friend!
Silk & Snow Organic Mattress Review 2023 | Non Biased Reviews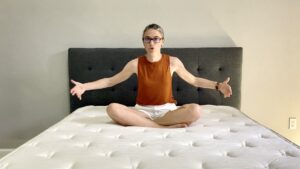 Looking for a 100& organic mattress that won't break the bank? The Silk & Snow Organic Mattress should be top of your list! This is our unbiased review!
Product SKU: Organic Mattress
Product Brand: Silk & Snow
Product Currency: USD
Product Price: 700
Price Valid Until: 12/31/2025
Product In-Stock: InStock