BEST MATTRESS FOR OSTEOPOROSIS
Our Top Mattress Picks - Updated Yearly
Living with osteoporosis presents unique challenges and requirements, including the need for a mattress that provides adequate comfort and support. If you suffer from osteoporosis, you know the importance of a gentle, yet supportive mattress.
In this article, we will explore the key factors that make a good mattress for individuals with osteoporosis. By considering these factors, you can improve your sleep quality and overall well-being.
This Non-Biased Best Mattress for Osteoporosis list is updated yearly, and we hope it brings you hope and comfortable nights of sleep.
Without further ado, here is our list of Best Mattress for Osteoporosis 2023.
Please note that this article is informational and consists, in no way, in medical advice. Personal preferences vary and we cannot ensure that any of the mattresses listed below will result in better sleep. Mattresses in this list will however be some of the best mattresses for osteoporosis patients, and are based on my personal opinions and knowledge of the mattress industry.

Best Mattress For Osteoporosis 2023
Non-Biased 2023 Favorite Pick - Best Mattress For Osteoporosis
Up to 50% OFF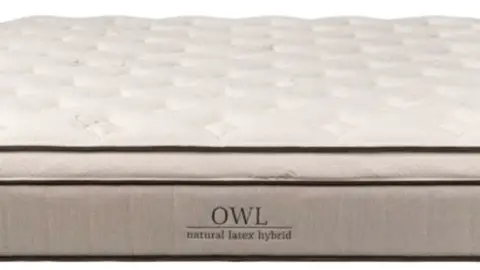 Nest Bedding Owl
Up to 50% Off Mattresses + 30% Off Sheets and Duvet Sets with coupon code (click to reveal)! Rest of the website is 20% OFF! Use NBR10 for 10% OFF non...
Show More
Up to 50% Off Mattresses + 30% Off Sheets and Duvet Sets with coupon code (click to reveal)! Rest of the website is 20% OFF! Use NBR10 for 10% OFF non sale items!
Show Less
Our #1 mattress for osteoporosis is one of our favorite mattresses on the market today. In order to fully support the needs of sleepers living with osteoporosis, we have picked a mattress that perfectly balances the pressure relief your body needs for comfort, and the support it requires to support your bones and spine. 
The Nest Bedding Owl has two more benefits for osteoporosis patients – you can pick your firmness level, and if you purchase a King-size Owl, each partner can customize the firmness for their side of the bed. That way, if one partner does not require the extra support, he/she can pick the Plush or Medium firmness. We do recommend the Firm Owl for those suffering from osteoporosis, in order to properly support the spine.
The Nest Bedding Owl's comfort layer is made of latex, which is our preferred material for osteoporosis, as it provides gentle pressure relief, while evenly distributing the body weight, and boasts lost of responsiveness, which makes moving at night easy and effortless, a huge plus when moving is difficult due to osteoporosis!
What else is there to love about the Nest Bedding Owl? It's 365-night trial, giving you a whole year and 4 seasons to ensure you love! It is also made in the USA, which ensures that Nest Bedding keeps a close eye on what exactly goes into the mattress. With their Lifetime Renewal Exchange program, you get to exchange the comfort layer of latex once, free of charge, during your ownership of the mattress. This is a great program if you foresee your needs changing, or to simply double the life of your mattress.
Make sure to click the Nolah coupon box above for an exclusive coupon code for our readers only, on any Nest Bedding products that is not currently discounted!
Read the full Nest Bedding Owl Review.
Nest Bedding Sleep Trial – 365 nights
Shipping – FREE
Warranty – Lifetime
Best Hybrid Mattress For Osteoporosis
Up to $1,200 OFF + $50 OFF + FREE Pillows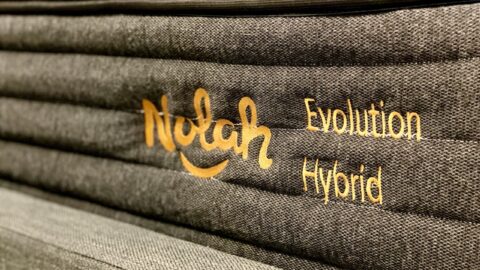 Nolah Evolution 15
Up to $1,200 OFF based on mattress size + 2 FREE squishy pillows (valued at $198). Add another $50 OFF your $800+ Nolah purchase with our exclusive...
Show More
Up to $1,200 OFF based on mattress size + 2 FREE squishy pillows (valued at $198). Add another $50 OFF your $800+ Nolah purchase with our exclusive coupon code (click to reveal)
Show Less
People suffering from osteoporosis can benefit from the superior support of a hybrid mattress. A hybrid mattress is made with upper layers of foam, on top of a thick layer of pocketed coils. Those coils have two major benefits: they provide support to high-pressure points (shoulders and hips) while aligning the full spine. They also allow for plenty of air to flow through the mattress, providing a cooler sleeping experience, preventing your body from overheating.
The Nolah Evolution is another mattress that lets you pick your preferred firmness level. We recommend the Nolah Evolution Firm for osetoporosis, as it provides 6 inches of deep, yet firm, pressure relief, before your bones and joints hit firmer foam, and eventually the aligning properties of pocketed coils. If you have a strong preference for plush mattresses, or if you are low-weight, the Nolah Evolution Luxury Firm can also be an option.
Nolah is headquartered in Denver, CO, and makes all of its mattresses in the USA, manufacturing high quality mattresses and kindly providing for the local communities around them.
Read the Nolah Evolution review
Purple Sleep Trial – 120 nights
Shipping – FREE
Warranty – Lifetime
Best Memory Foam Mattress For Osteoporosis
45% OFF + FREE Gift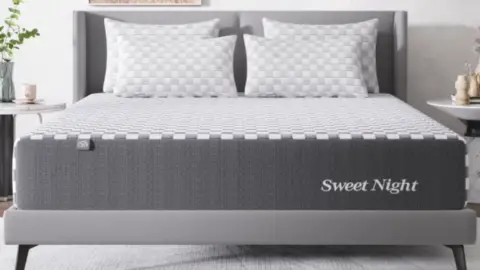 SweetNight Prime Mattress
45% OFF the SweetNight Prime Mattress + 2 FREE Pillows! Only $769 for a 12" Queen!
45% OFF the SweetNight Prime Mattress + 2 FREE Pillows! Only $769 for a 12" Queen!
Show Less
A memory foam mattress can be an excellent option for osteoporosis, especially if you can find a firmer foam mattress, that allows your body to sink in for a few inches, before being supported by firmer foam. A great benefit of memory foam is its excellent motion isolation, so a moving partner would not wake you up after you have finally fallen asleep.
It can however be difficult to say which firmness if best for your own needs, as your sleeping style, size, and personal experience with osteoporosis will heavily impact what you define as comfortable. Thankfully today, some mattresses are designed to provide several sleeping comforts and the SweetNight Prime is one of those. In fact, it is the most impressive multi-comfort mattress. While most are flippable, with a soft and a firm side, the SweetNight Prime offers four different firmnesses, depending on how you flip or rotate the mattress.
The SweetNight Prime Mattress can sleep anywhere from a 5/10 to 8/10. We recommend sticking with the firmer side and rotating the mattress to find which firmness (medium-firm or firm) feels comfortable to you. It is however the best memory foam mattress for people suffering from osteoporosis as it will allow you to adjust the firmness with your evolving needs and condition.
One amazing plus of the SweetNight Prime is its fiberglass-free construction. We also love the excellent motion isolation and its anti-slip mattress cover, that makes it a safe mattress to get in and out of bed from, avoiding an extra risk for slip and fall.
Read the SweetNight Prime review
SweetNight Trial – 100 nights
Shipping – FREE
Warranty – 10 years
Best Organic Mattress For Osteoporosis
Silk & Snow Organic Mattress
$150 + FREE Pillows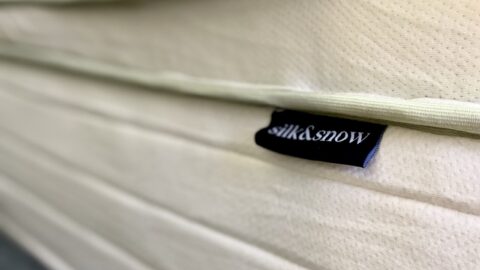 Silk & Snow Organic Mattress
$150 OFF + FREE Pillow with your mattress purchase. Up to 15% OFF site wide.
$150 OFF + FREE Pillow with your mattress purchase. Up to 15% OFF site wide.
Show Less
If we told you that you can have an organic mattress, made in Canada by experienced craftsmen, for the same price as a regular mattress, would you consider it? Often times, organic products come at an unattainable premium, but Silk & Snow, the Canadian mattress manufacturer, is keeping their margins low and passing on the savings and healthy benefits to its sleepers.
The Silk & Snow Organic mattress is the best organic mattress for osetoporosis, as it provides about 3 inches of healthy pressure relief in a thick layer of organic latex that provides a similar feeling to zero-gravity, evenly distributing your body's weight, and is very responsive to allow for easy movement. When you suffer from osteoporosis, turning around on your mattress should be easy and as effortless as possible. This is exactly what this organic latex from Sri Lanka does.
Underneath the latex, zoned pocketed coils gives each part of your body the support it needs, so your hips feel supported, but not too much pressure is applied on your fragile bones.
So what exactly is the Silk & Snow Organic Mattress made of? You will find an organic-certified cotton cover, made of cotton harvested by a family business in Toronto, Ontario. As fire retardant, you will find none of the chemicals and none of the fiberglass. Instead a thin layer of sustainable wool from New Zealand is used underneath the cover. Of course, GOLS-certified latex from Sri Lanka, makes up the comfort layer in the mattress, followed by double-tempered steel crafted in Canada.
Read the Silk & Snow Hybrid Mattress review
Silk & Snow Sleep Trial – 100 nights
Shipping – FREE shipping
Warranty – 15 years
Best Luxury Mattress for Osteoporosis
Brentwood Home Oceano Luxury Hybrid
10% OFF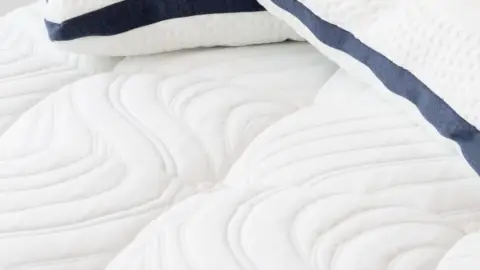 Luxury mattresses come in different shapes and styles. So what makes a mattress luxurious when looking for the best mattress for osteoporosis, you ask?
It is a combination of high-quality products that are organic and non-toxic, and a unique construction that makes the mattress insanely comfortable. The mattress needs to be an oasis, your peaceful haven, with utmost comfort and all the feels of a luxury hotel.
The Brentwood Home Oceano Luxury Hybrid Mattress comes with 2 layers of coils, which makes it very unique, but also provides the targeted support osteoporosis patients need to relieve the pain they may feel in their body. Strong support is the foundation of waking up free of aches, or in the case of a fracture, the foundation to reaching a neutral and as-comfortable-as-possible sleeping position.
Next, pressure relief and cozy contouring should be top of the line. The Brentwood Home Oceano includes several layers of organic materials all the way through its construction, to provide just the right amount of pressure relief, and a firmness level of about 7/10, which is ideal for osteoporosis. You will find pressure-relieving foams at the top of the mattress, as well as in between the coil layers and at the bottom of the mattress, ensuring that the coils give out the support you need, without ever being too bouncy or pushing too much pressure against your bones.
Another thing to love about the Oceano Mattress is its cool-sleeping gel-infused foam, which grabs your excess body heat and dissipates it, so you sleep temperature-neutral all year long.
Lastly, you will enjoy the year-long home trial on this Brentwood Home mattress, which allows you to sleep test the mattress, in the comfort of your own home, for an entire year to make sure it is comfortable to you, no matter the season.
Brentwood Home is one of only 6 mattress manufacturers that are MADE SAFE certified – the highest U.S. certification for non-toxic products – making it one of the safest mattresses to bring into your home, safe to sleep on no matter your age or health condition.
Brentwood Home Sleep Trial – 1 year
Shipping – FREE
Warranty – 25 years
Best Non-Toxic Mattress for Osteoporosis
Avocado Eco Organic Mattress
10% OFF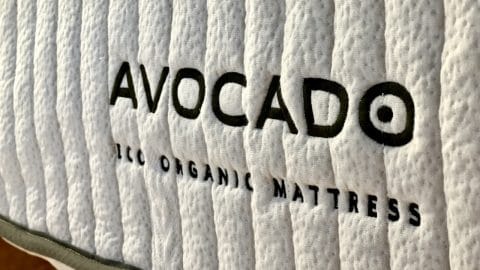 Avocado Eco Organic Mattress
Save 10% OFF Mattresses and 30% OFF all Latex Mattresses, 20% OFF Adjustable Bases and Bedding, and 10% OFF Wood Furniture and more with coupon code...
Show More
Save 10% OFF Mattresses and 30% OFF all Latex Mattresses, 20% OFF Adjustable Bases and Bedding, and 10% OFF Wood Furniture and more with coupon code (click to reveal)
Show Less
Sleeping on a certified non-toxic mattress, made with the utmost respect for our planet and our health, you can feel good about where you lay your head every night. Since we spend 1/3 of our lives laying on our mattress, and potentially more if you suffer from weakened bones and frequent fractures, you want to make sure that your mattress is a safe place to lay.
Avocado is an organic mattress and bedding manufacturer that builds all of its mattresses in the U.S. They are one of 6 MADE SAFE certified bedding companies, and happen to own 3 of those 6 companies. They are also the most vertically-integrated mattress company in America. Impressively, they own or co-own all of their factories, fields, forests, and herds they source their materials from.
In the Avocado Eco Organic Mattress, you will find organic Dunlop latex from Avocado's co-owned rubber tree forests, wool from Avocado's co-owned herds living on pesticide-free pastures in the Himalayas, organic cotton, and coils from recycled steel, manufactured in their L.A. factory. Additionally, the Avocado Eco Organic Mattress is the only mattress in the industry wrapped in up-cycled paper, instead of plastic. The only plastic used is the material in which the mattress is vacuumed-sealed. Everything else is up-cycled paper, saving up to 30 feet of plastic wrap, and can be recycled.
Because Avocado is vertically integrated, it saves money on its raw materials and manufacturing, passing the savings onto its sleepers. This makes the Avocado Eco Organic Mattress one of the best value mattress on this list!
We love the lack of fiberglass and use of organic wool for its hypoallergenic properties, working great with those suffering from allergies, while also repelling smell, dust mites, mold, and mildew.
With a firmness level of 6/10, this is one of the softest mattress we recommend in this list of best mattress for osteoporosis. If you are a light-weight sleeper, a side-sleeper, or someone requiring extra pressure relief, this Avocado mattress will be a good fit. We feel comfortable recommending it as it uses Dunlop latex as its comfort layer, which evenly spreads your body weight and provides a slightly firmer sleeping experience than memory foam. It allows for easy movement and its 6/10 has a very different feeling that a memory foam 6/10.
Read the Avocado Eco Organic Mattress review
Avocado Sleep Trial – 100 nights
Shipping – FREE
Warranty – 10 years
Best Pillowtop Mattress for Osteoporosis
40% OFF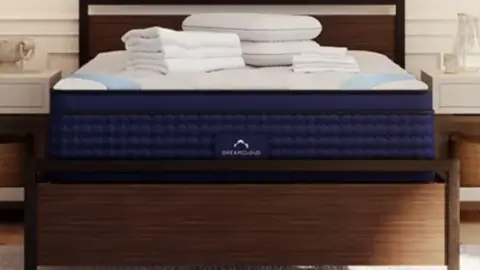 DreamCloud Premier
40% OFF with our exclusive coupon code (click to reveal)
40% OFF with our exclusive coupon code (click to reveal)
Show Less
Do not settle for less because you have osteoporosis. A pillowtop mattress can be a great choice, as long as it has the support mechanism to tend to your specific needs. Out of all DreamCloud mattresses, the Premier provides just the right amount of gentle pressure relief and strong support, to ensure that you get the healthiest rest you can.
A 14-inch hybrid construction, your body will receive about 2 inches of deep pressure relief, which is especially important if you have osteoporosis and sleep on your side or back. Then comes a firmer layer of foam that gives those high-pressure points some support, followed by one of the thickest coil layer in the industry – a whooping 8.5 inches of coils with edge support.
The coils align your spine, bones, and joints, while allowing air to flow through the mattress so you do not overheat during the night. But what truly makes the DreamCloud Premier mattress special, is its pillowtop (aka. DreamCloud Euro top) that includes 2 inches of contouring, pressure-relieving foams, that lull you into a dream of cozy sleep.
A medium-firm mattress (7/10), it is the perfect firmness to ally comfortable plushness and support to your bones and spine.
Read the DreamCloud Premier review
DreamCloud Sleep Trial – 365 nights
Shipping – FREE
Warranty – Lifetime
Best Mattress For Osteoporosis Under $1,000
50% OFF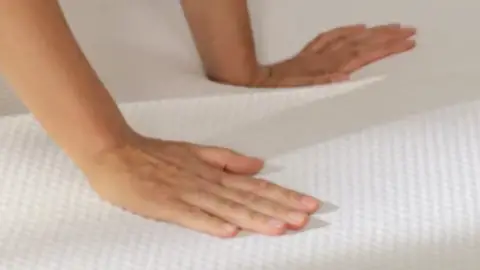 Emma Mattress
Up to 45% OFF + 5% OFF Emma mattresses with our exclusive coupon code (click to reveal)
Up to 45% OFF + 5% OFF Emma mattresses with our exclusive coupon code (click to reveal)
Show Less
Being diagnosed with osteoporosis may come with unexpected costs. From diagnosis to fracture treatments, physical therapy and potential mental support, you probably had not planned on having to purchase a new mattress. All of those costs add up in an unexpected way, as osteoporosis often comes with no warning signs or symptoms.
You deserve quality sleep without breaking the bank, and the Emma Original Mattress is exactly what you may be looking for. Make sure to use our exclusive coupon for an extra 5% OFF the deepest online discounts.
The Emma Original Mattress has average firmness and provides soft pressure-relief. If osteoporosis is creating pressure build-up, the Emma mattress will gently cradle your body to sleep, relieving it of pressure when your bones may stick out, especially in the hips and shoulders.
Under the soft foam is high-density foam, that aligns your entire spine and provides your bones and high-pressure points with the support they need to sleep aligned and in an healthy position.
All of that for under $700 in Queen and under $800 in Queen and California King. You will also love the 365-night sleep trial, that lets you try the mattress at home for a full year to make sure it works for you throughout all seasons.
Read the Emma Original Mattress review
Emma Sleep Trial – 365 nights
Shipping – FREE
Warranty – 10 years
Best Mattress For Osteoporosis 2023 - Recap
Choosing a mattress that caters to the unique needs of individuals with osteoporosis is crucial for promoting restful sleep, spinal alignment, pressure relief, and overall well-being. By considering factors such as firmness level, pressure relief, spinal alignment, motion isolation, temperature regulation, and personal preferences, you can find the perfect mattress to support your comfort and sleep health, no matter your condition.
Remember to consult with healthcare professionals and consider trying out different mattresses to find the best fit for your needs. Thankfully, when ordering a mattress online, you are given anywhere from 100 to 365 nights to sleep test the mattress in the comfort of your home. If during this time, you are dissatisfied with your purchase, you can initiate a return. Note that each mattress manufacturer offers a slightly different mattress trial – we recommend researching the exact terms (i.e., restocking fees, shipping fees, etc.) prior to purchasing your mattress.
With the right mattress for osteoporosis however, you can enjoy a more comfortable and rejuvenating sleep experience, and expect to feel more energized at the start of your day.
Understanding Osteoporosis And Its Impact On Sleep
Overview of osteoporosis and its effects on bone health
Osteoporosis is a condition characterized by weakened bones due to a decrease in bone mineral and mass density, or a change in structure and strength, making the bones more prone to fractures.
Osteoporosis can significantly impact an individual's overall health and quality of life, as most often, the hip, wrist, and spine bones break. Those fractures can be painful and debilitating, and leave the patient with limited mobility, pain, and a state of depression or anxiety.
While osteoporosis is often believed to hit women more than men, men over the age of 70 are at high risk as well. The disease hits both genders across all races, with a higher prevalence in white and Asian women, as well as white men.
How osteoporosis can affect sleep quality
The discomfort caused by fractures and the need for proper spinal and bone support can make it challenging for individuals with osteoporosis to find a comfortable sleeping position. Sleep disturbances may arise due to pain and discomfort, leading to decreased sleep quality and time, and increased fatigue.
Poor sleeping hygiene will often lead to a decreased mental state, as well as decreased quality of life in the patient, which can quickly create a downward spiral, that could be avoided if the correct mattress can help the person sleep better. Additionally, lack of sleep can reduce alertness throughout the day, which can lead for increased frequency of falls and fractures.
The importance of a suitable mattress for individuals with osteoporosis
Choosing the right mattress is crucial for individuals with osteoporosis, as it can help alleviate pressure points, promote proper spinal alignment, and improve overall sleep quality. The right mattress can provide the necessary support, comfort, and pressure relief needed for individuals with fragile bones.
Optimal Mattress Firmness Level For Support With Osteoporosis
Finding the right balance between support and comfort
When selecting a mattress for osteoporosis, it is important to find the right balance between support and comfort. A mattress that is too firm may create excessive pressure on the bones, creating excessive pains and aches, and keeping the sleeper awake while looking for a comfortable way to lay.
On the other hand, a mattress that is too soft may lack the necessary support, and leave the sleeper with an unnatural bend in his/her spine, creating another kind of pain.
Finding the right balance between support and comfort is the key to accessing deep and restorative sleep. While there is a part of personal preference, those suffering from osteoporosis need to ensure that they pick a mattress with adequate pressure relief from soft foams, and strong spinal support, typically obtained from a thick layer of coils or high-density foam.
Medium-firm to firm mattresses: the ideal choice for osteoporosis
For people with osteoporosis, we recommend a medium-firm to firm mattress. When looking at firmness ratings, focus on 7 to 8 out of 10. These mattresses provide a sufficient level of support to help distribute body weight evenly and reduce pressure points. They will give you the feeling of floating on top of the mattress while providing a very slight sink for comfort and pressure relief.
If you are a side sleeper, you can consider a 6.5, which is about average firmness in the mattress industry.
Avoiding excessively firm or soft mattresses
We advise avoiding mattresses that are excessively firm (>8.5/10) or soft (<6/10). Extremely firm mattresses may not contour to the body's curves, leading to increased pressure in the hip and shoulder areas. While very soft mattresses may not provide the support the bones and spine need, resulting in improper spinal alignment.
Optimal Pressure Relief For Sensitive Areas
Importance of pressure relief in osteoporosis
Pressure relief is the process of allowing the heavier and wider parts of your body, space to sink it deeper in softer foam, to avoid pressure being applied. Imagine laying on a concrete floor – there would be no pressure relief, and pain would quickly appear in the heavier and/or wider parts of your body. For side-sleepers especially, deep pressure relief is necessary in the hip and shoulder areas, to avoid pressure from building up and to avoid waking up with pains and aches.
Pressure relief is crucial for people suffering from osteoporosis. It helps reduce the risk of developing pressure ulcers and minimizes discomfort caused by bony prominences, especially in the hip and shoulder areas, but also in the knees, heels, and chest, depending on your sleeping position.
Just how much pressure relief you need, is mostly impacted by your personal preference, sleeping style, as well as weight and size. Lighter-weight sleepers will generally benefit from softer mattresses, as will side-sleepers. Back-sleepers and heavier-weight sleepers should aim for a firmer mattress. While stomach-sleepers require the least amount of pressure relief, and should focus on some of the most supportive (and firmer) mattresses.
Mattress materials and technology for enhanced pressure relief
Memory foam and latex mattresses are well-known for their ability to distribute pressure evenly and conform to the body's contours, as the closest layers to your body, are made of foam and provide pressure relief.
These materials help reduce pressure on sensitive areas such as hips, shoulders, and heels, promoting optimal comfort for individuals with osteoporosis. Though they present slightly different properties and feels, both provides a good amount of pressure relief for comfortable sleep with osteoporosis, without compromising support in the lower layers.
Memory foam mattresses are designed to respond to body heat, allowing them to mold and contour to the body's shape. Memory foam mattresses also come in a variety of firmness levels, allowing you to target the exact sleeping comfort you are looking for. Latex mattresses, on the other hand, offer a responsive and supportive surface that provides pressure relief while maintaining proper spinal alignment.
Spinal Alignment and Posture Support
Maintaining proper spinal alignment during sleep
Once you understand the amount of pressure relief your body needs to sleep comfortably, you need to start thinking about providing support to those high-pressure points, as well as to your spine in general.
Maintaining proper spinal alignment is crucial for individuals with osteoporosis to prevent further stress on weakened bones and to alleviate back pain. The goal is to use a combination of mattress + pillow to align your spine from head to romp, in a neutral position. Avoid your hips digging too deep if you sleep on your back or stomach, or poking up if you sleep on your side, for example. Aim for a neutral spine position.
Mattress features that promote healthy posture
Innerspring and hybrid mattresses with targeted support systems are known for promoting spinal alignment. These mattresses typically feature individually wrapped coils or pocketed springs that contour to the body's shape, providing support where it is needed most. You may even find zoned coils in higher-end mattresses, that provide more or less support based on whether they lay below your top-, mid-, or low-section.
Innerspring and hybrid mattresses: promoting spinal support
Innerspring mattresses consist of interconnected coils that offer a responsive and supportive surface. The coil system helps distribute body weight evenly and supports proper spinal alignment. We do not recommend innerspring mattresses, however, as they tend to not isolate motion well, can be bouncy, loud, and all-around not comfortable.
Hybrid mattresses combine innerspring coils (typically individually wrapped) with additional comfort layers, such as memory foam or latex, providing a balance of support and pressure relief. Hybrid mattresses are our recommend type of mattress for osteoporosis, as they provide an excellent balance of pressure relief and spinal support.
Motion Isolation For Undisturbed Sleep
The impact of motion transfer on sleep quality
For individuals sharing a bed with a partner, motion transfer can be a significant concern. Motion transfer is the transfer of one partner's motion onto his/her partner's side of the bed. In other words, a partner moving/turning/tossing on a mattress with motion transfer, will wake up his/her partner throughout the night, sending him/her bouncing up and down with every one of his/her movements.
Osteoporosis can make the bones more sensitive, leading to increased discomfort from even slight movements. For that reason, we recommend purchasing a mattress with excellent motion isolation if you have osteoporosis. It will lead to undisturbed nights of sleep, no matter your partner's activity next to you!
Mattress types known for superior motion isolation
Memory foam and pocketed coil mattresses excel in minimizing motion transfer. Memory foam absorbs and isolates movement, preventing disturbances from transferring across the bed. Pocketed coil mattresses, with individually wrapped coils, provide excellent motion isolation by minimizing the spread of motion. Note however, that some memory foam mattresses lack "bounce" or "responsiveness," giving you the impression of feeling stuck in your mattress. A latex mattress (hybrid or not), will typically bring decent motion isolation and allow you to easily toss and turn, require less effort to move on your part.
Temperature Regulation for Sleep Comfort
Temperature regulation and restful sleep
Maintaining an optimal body temperature during sleep, is important for individuals with osteoporosis, as extreme temperatures can affect comfort levels and exacerbate pain or discomfort. While memory foam mattresses were generally known to trap heat, many manufacturers now design foams that sleep cool by pulling and dispersing your excess body heat from your body.
Mattress materials for temperature control
Cooling gel memory foam mattresses are specifically designed to dissipate heat and regulate body temperature during sleep. The cooling gel infusion helps prevent overheating, allowing for a more comfortable and restful night's sleep.
Latex mattresses, with their open-cell structure, provide enhanced breathability, allowing for better airflow and temperature regulation. They naturally sleep temperature neutral.
Pocketed coils allow for plenty of air to circulate through the mattress, resulting in air exchange where your hot body heat escape through the coils, and cool air rises up to the upper foam layers.
Lastly, some mattress covers are made of natural materials such as organic cotton or bamboo, which naturally sleep cool, while others use proprietary technologies aimed at keeping you cool at night.
Personal Preferences and Sleep Positions
Preferred sleep positions
It is essential to consider personal preferences and preferred sleeping styles when choosing a mattress for osteoporosis. Different sleeping positions require varying levels of support and pressure relief.
As mentioned above, back sleepers generally benefit from a medium-firm mattress that provides adequate support and spinal alignment. Side sleepers may find relief with a slightly softer mattress that cushions the shoulders and hips. Stomach sleepers typically need a firmer mattress to keep the spine aligned and prevent excessive sinking.
Customizable and adjustable mattress options
Some mattresses offer customization or adjustable features, allowing you to modify the firmness or support level according to your preferences, which can change over the years, or as your condition progresses. These mattresses often have separate firmness levels for each side of the bed, accommodating different sleep partners or varying comfort needs. They also allow you to customize your mattress as your personal needs change.
Why Buy A Mattress Online?
I hear you. I am telling you that this is one of the most important purchases you will be making in the next 5 to 10 years, yet I am encouraging you to buy from a website, with no chance to see, feel, or lay on the mattress. I promise you it's worth it, though! Feel free to read over our Guide To Buying An Online Mattress, but let's also look at the benefits of buying a mattress online vs. in store:
When walking inside a mattress store, you are limited to the brands and models carried by the store. Not only are they limited, but the store needs to survive and higher margin products will probably take the store-front, which doesn't always work in favor of the buyer. However, when shopping online, you will find dozens of online mattress brands.
Now of course, more options means that you need to educate yourself a little more, to understand which mattress brands will be worth your money, and this is where I come in. I test hundreds of mattresses for you each year, and when you read the reviews of an independent mattress reviewer such as Non-Biased Reviews, you get unbiased mattress reviews. Many mattress review websites are now owned by large mattress companies, so make sure you use the services of independent mattress reviewers!
Buying a mattress can feel as stressful as buying a car these days. You walk into the mattress store and get overwhelmed with sale tactics, straight out of the car lot! Online, you get the benefit of time and peace. Once you have narrowed your choices down to a brand or mattress style, take your time to read the details and do deeper research on the brand sites and right here. See all of the brands we have reviewed so far. Any questions, feel free to email me directly at laura@nonbiasedreviews.com and I'll be happy to brainstorm ideas with you!
By purchasing a mattress online, you are cutting the middle man. You do direct business with the mattress brands and they save on labor, rent, and other overhead costs. It is a win-win and you put the savings in your pocket! You also have many more options, and while you can buy extremely luxurious and expensive mattresses online, you also have access to a large number of cheaper options!
This one might seem counterintuitive. I bet that your first resistance to buying a mattress online is linked to the lack of testing. You can't see nor touch the mattress for yourself and you're not sure whether you can truly believe the edited photos you see online. 
Think about it for a second. You walk into a mattress store, lay on a mattress, shoes on, fully clothed, with an adult salesperson staring at you, while trying to keep your kids from taking the store for a trampoline arena. You've awkwardly laid on that mattress a total of 50 seconds before making a long-term decision… 
When purchasing your mattress online, it nearly always comes with a 100 to 365-night trial. You get to sleep full nights on your investment for several weeks before deciding whether it is adapted to your sleeping needs and preferences. I recommend sleep testing your mattress for at least 30 nights before making your final decision, to give your body a chance to adjust to the new sleeping surface.
Still unhappy, most online mattress companies will arrange for your mattress to be picked up from your home and donated, and your money will be refunded. There is generally no restocking fee and most of the time, your return shipping is free as well. If you buy a Purple mattress at MattressFirm, for example, your return will be subject to MattressFirm's return policy and restocking fees. Buy directly from Purple and your return is free!
When you buy a mattress online, it ships directly to your home, most of the time for free! Nearly all mattresses ship in a box, making them easy to transport to the room of your choice. 
Forget about renting a truck or trying to tie a king-size mattress to the roof of your car, then asking a friend to come help you to get it inside. Instead, a regular carrier drops off a manageable box by your front door, you set the vacuumed mattress on your bed, rip the plastic wrap, and watch it expand in seconds!
Share this deal with a friend!