The New Purple Hybrid Mattress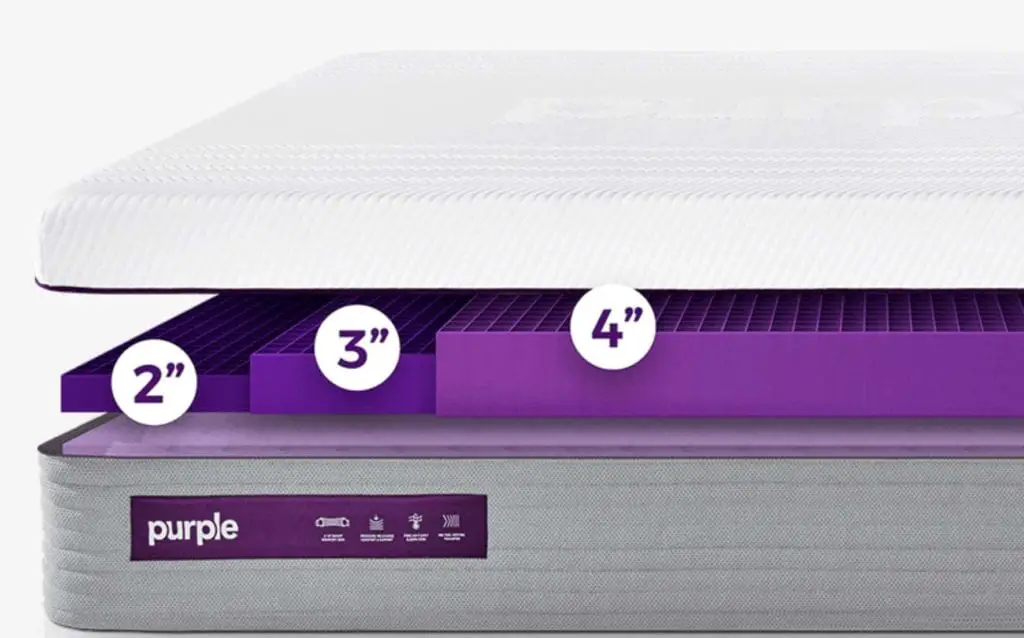 The Original Purple Mattress is still for sale, but they have added a new member to their family.
The New Purple mattress has three options, the 2, 3 and 4.  The system is pretty straight forward, at the lower end you can choose the one with a 2″ polymer section (just like the original purple mattress).  Below is a picture of my original Purple's top polymer layer.
You can beef up the polymer section to a 3″ or 4″ section.  Here is the CRAZY part the 4″ polymer section costs a full $1,200 more than the 2″ polymer section.  They just released this product on their website, and I'm honestly not sure if it is a joke!  I mean the queen sized hybrid with a 4″ polymer section is $2,799!
Besides the choice that you now have for the polymer section, the new purple mattress now has individually wrapped 7″ coils.  This will provide sleepers with the additional support that some fell that the original purple may not provide.
You can think of the New Purple as a beefier option for larger/heavier sleepers.  I'm a side sleeper and they say that their 4″ polymer section is ideal for side sleepers.  So for my queen size they are suggesting I fork over $2,799 to try this.  I don't have an affiliate relationship with Purple and I'm not anywhere near considering paying $2,799 for it.  I guess we have a bit of a Mexican stand off huh?
Menu:
What is Inside the Mattress?
This comes down to your choice of how much you are willing to spend.  The 2″ polymer layer with the transition foam and 7″ coils is $1,599, which is on the high side for a hybrid coil foam mattress.  However, this isn't really foam is it?  I mean you do get the egg catching capabilities of the Purple polymer layer.  The big question is; are you willing to almost double your cost to double up on their polymer layer?
Sleep Test Results
CONS:
•Purple.4 is 168 lbs for a queen size.  The original purple is 110 lbs and I HATE to move it around, it tacos on me (imagine it bends like a taco and falls over on me when I move it) •Did I mention that it is EXPENSIVE?
Who Should Buy the Mattress?
What Type of Bed Frame Works for this Mattress?
Solid Platform
Solid Foundation
Slatted Base
Adjustable Frame: I'm expecting good things as the regular Purple does really well on an adjustable frame.
Price Table
| Polymer Size | Twin XL | Queen | King | California King |
| --- | --- | --- | --- | --- |
| 2″ | $1,299 | $1,599 | $1,899 | $1,899 |
| 3″ | $1,899 | $2,199 | $2,699 | $2,699 |
| 4″ | $2,499 | $2,799 | $3,499 | $3,499 |
Current Specials
I don't have an affiliate relationship with Purple, so I don't have any exclusive coupons to share with you.  I believe that the price will come down by either a permanent price change or by an evergreen coupon.  The pricing on this is just ridiculous.
100 day trial period though so I guess I could "rent one"…
Thinking about buying the items we have reviewed? Help Non-Biased Reviews out if you do. Just click on any of the seller links above and the seller will contribute a portion of the sale to help support this site. It won't cost you anything extra and is a simple way to help us fund more items to review. Thank You!
Unboxing
Unboxing Video
Unboxing Pictures
More about Purple:
Read the Original Purple Mattress Review
Read about the:
Get the latest details on the Purple Vs. Honest Mattress Reviews Lawsuit
Purple trades under the ticker PRPL for about $11.50.  Their price to earnings multiple is an astounding 474.58 times their earnings.  For perspective, the S&P 500 is trading around 20 times earnings…It currently pays a dividend rate of 0%.  I would be a buyer of purple stock at around $1 or so, so I'll have to wait.  You can read their 10-K (2017 annual financial report) Purple 2017 annual report
Highlights from their annual report:
Purple had a net loss of $2,327,000 in 2016 and they turned that around to a $803,000 gain in 2017
Total assets dropped from $155,821,000 to $122,281,000
Mattress Comparison Tool
Photo
Company
Mattress
Type
Features
Height
Sleep Test Rating
Queen Price
Coupon Code
Current Discount
Purchase
Summary
Reviewer
Review Date
Reviewed Item