New Purple.3 Mattress Review 2019
The Original Purple Mattress is still for sale, but they have added a new member to their family.
The New Purple mattress has three options, the 2, 3 and 4.  The system is pretty straight forward, at the lower end you can choose the one with a 2″ polymer section (just like the original purple mattress).  Below is a picture of my original Purple's top polymer layer.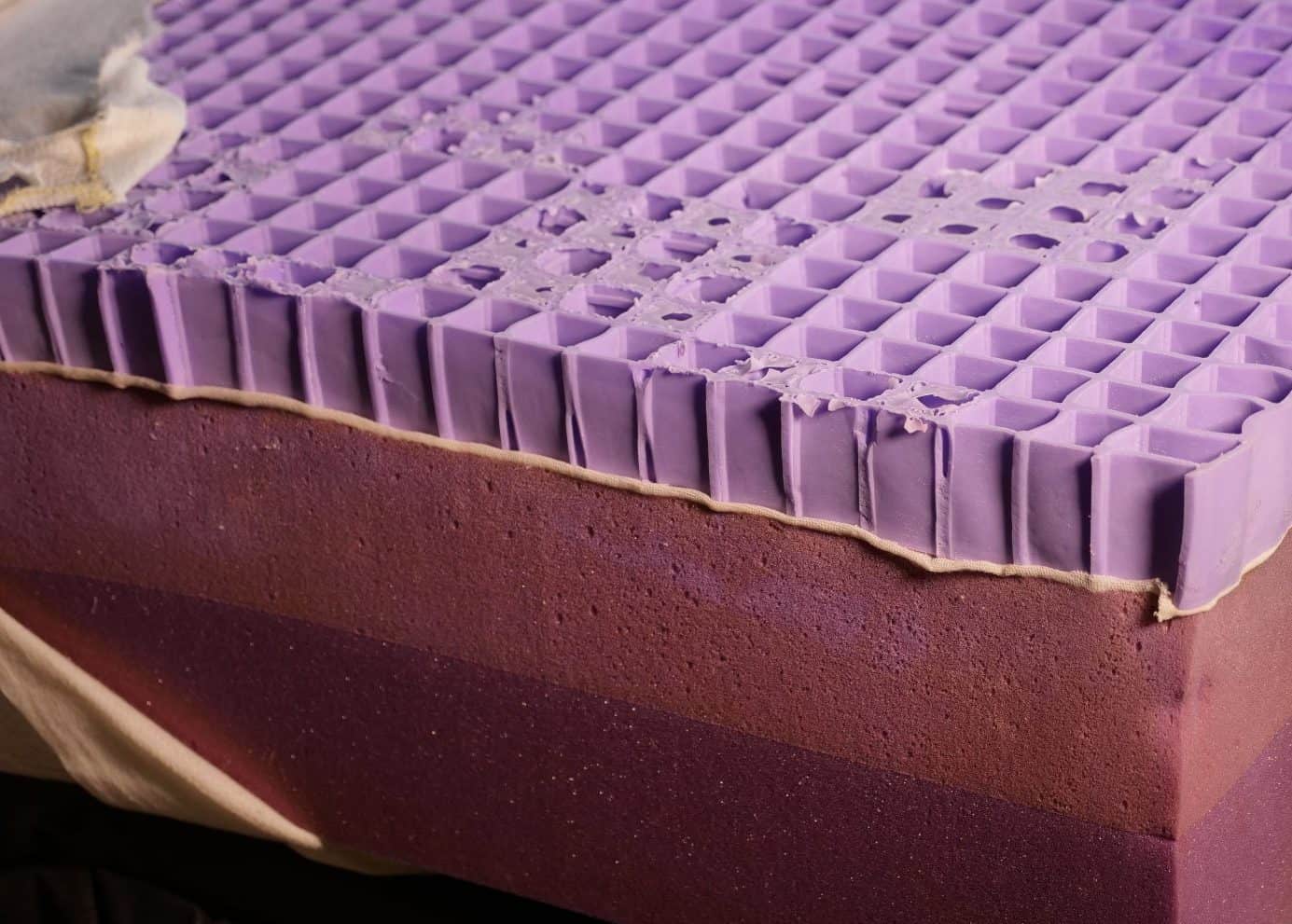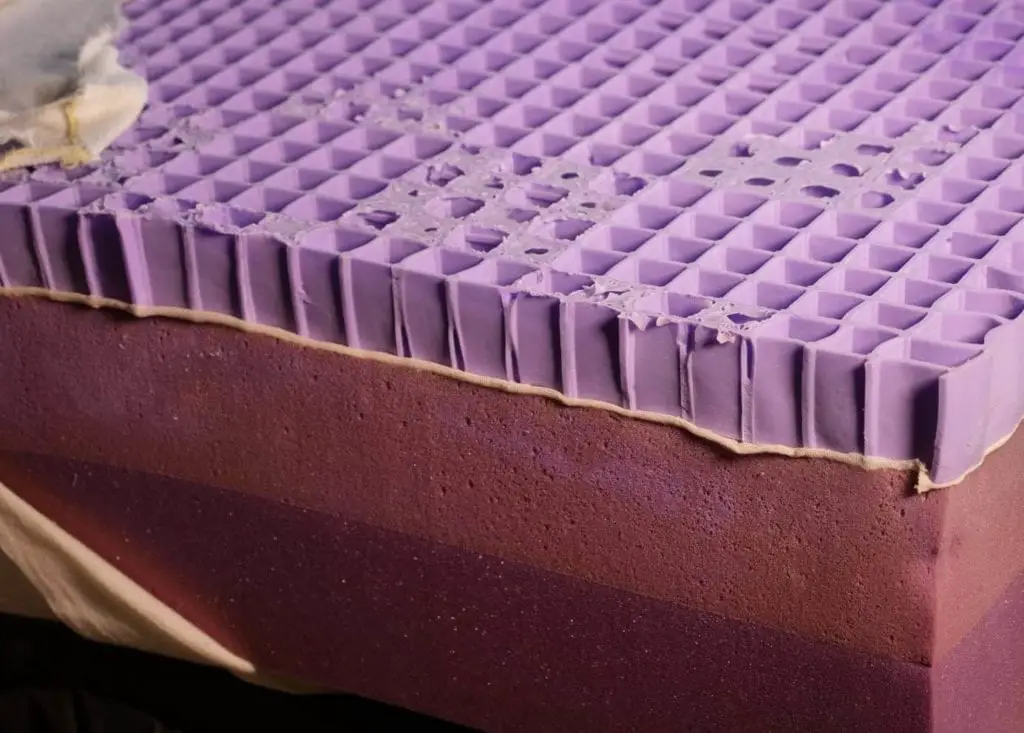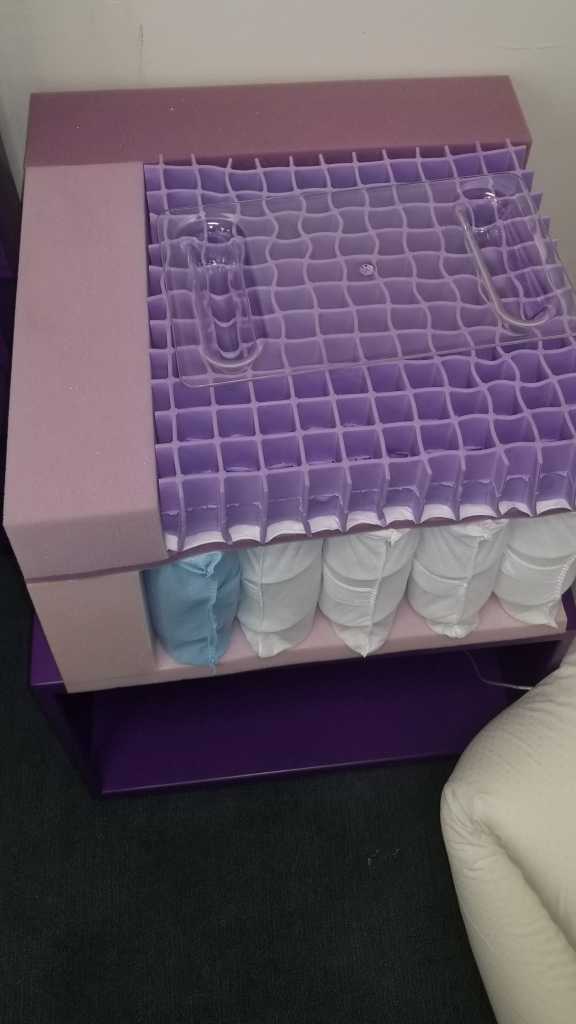 In the second picture notice how the coils are wrapped in some poly foam on the sides.  This will ensure that you don't feel the coils from the side.
You can beef up the polymer section to a 3″ or 4″ section.  Here is the CRAZY part the 4″ polymer section costs a full $1,200 more than the 2″ polymer section.  Yes, the queen sized hybrid with a 4″ polymer section is $2,799!
Besides the choice that you now have for the polymer section, the new purple mattress now has individually wrapped 7″ coils.  This will provide sleepers with the additional support that some feel that the original purple may not provide.  This may be the game changer that Purple was seeking.
You can think of the New Purple as a beefier option for larger/heavier sleepers.  I'm a side sleeper and they say that their 4″ polymer section is ideal for side sleepers.  So for my queen size they are suggesting I fork over $2,799 to try this.  At the same time, I'm not heavy so I'm not sure I'm the ideal candidate for the .4.  I am a bit tempted by the thought of floating on an extra 2 inches of the egg catching polymer layer.
As usual, Purple came out with a fantastic Human Egg Drop Test commercial.  What was I going to do just sit back and enjoy it?  Nah, I needed to try it myself.  So I moved my Purple mattress from the spare bedroom to my bedroom.  Then I asked my son if he wanted to have some eggs strapped to him to test out the Purple's egg catching powers.  He happily agreed, and here are the results.  Thanks to Ray Landreth for being a good sport:
Menu:
What is Inside the Mattress?
This comes down to your choice of how much you are willing to spend.  The 2″ polymer layer with the transition foam and 7″ coils is $1,599, which is on the high side for a hybrid coil foam mattress.  However, this isn't really foam is it?  I mean you do get the egg catching capabilities of the Purple polymer layer.  The big question is; are you willing to almost double your cost to double up on their polymer layer?
What I really want to know is, how crazy is the .4 on the purple powerbase's massage feature?
One of the things that I always test for on a hybrid mattress is if I can feel the coils when I rub my hand on the sides of the bed.  The Purple hybrid has foam between the coils and the cover, so you won't be able to feel the coils, and it will give the mattress nice edge support.  Personally, I don't tie my shoes or get dressed on the side of a bed, and I'm pretty light, so edge support isn't nearly as important to me as other factors.  That said, I'm impressed that they took the extra step to "hide the coils".
Sleep Test Results
PROS
• When you lie down on the Original Purple and then the Purple.2 and then the Purple.3 you find yourself drawn to the .3 and even tempted to get the .4.  Purple is really on to something.
CONS
•Purple.4 is 168 lbs for a queen size.  The original purple is 110 lbs and I HATE to move it around, it tacos on me (imagine it bends like a taco and falls over on me when I move it)
•Did I mention that it is EXPENSIVE?
Who Should Buy the Mattress?
People who have been considering the original Purple, but may be on the heavy side should look into the Purple.2. Personally, I LOVE the Purple.3. At my size I am able to sink into the 3 inches of hyper-elastic polymer on my side and back without feeling the springs inside the mattress. The purple.4 is for side sleepers also, but I think you need to be quite a bit heavier than I, to need that extra inch of polymer.
What Type of Bed Frame Works for this Mattress?
Solid Platform
Solid Foundation
Slatted Base
Adjustable Frame: The regular Purple does really well on an adjustable frame.  The Purple.3 that I tested is ok on an adjustable frame. The cover scrunches up a bit and the bottom doesn't stick to the frame the same way that the original purple does.
Price Table
| Polymer Size | Twin XL | Queen | King | California King |
| --- | --- | --- | --- | --- |
| 2″ | $1,299 | $1,599 | $1,899 | $1,899 |
| 3″ | $1,899 | $2,199 | $2,699 | $2,699 |
| 4″ | $2,499 | $2,799 | $3,499 | $3,499 |
Current Specials
For Father's Day they are offering up to $300 savings.  In addition, I'll throw in a $25 gift card if you use my links to buy one.
Thinking about buying the items we have reviewed? Help Non-Biased Reviews out if you do. Just click on any of the seller links above and the seller will contribute a portion of the sale to help support this site. It won't cost you anything extra and is a simple way to help us fund more items to review. Thank You!
More about Purple:
If you are lucky you can try out many of the Purple products at your local Mattress Firm, there is a chart below for your reference.
Read the Original Purple Mattress Review
Read about the:
Get the latest details on the Purple Vs. Honest Mattress Reviews Lawsuit
Purple trades under the ticker PRPL for about $11.50.  Their price to earnings multiple is an astounding 474.58 times their earnings.  For perspective, the S&P 500 is trading around 20 times earnings…It currently pays a dividend rate of 0%.  I would be a buyer of purple stock at around $1 or so, so I'll have to wait.  You can read their 10-K (2017 annual financial report) Purple 2017 annual report
Highlights from their annual report:
Purple had a net loss of $2,327,000 in 2016 and they turned that around to a $803,000 gain in 2017
Total assets dropped from $155,821,000 to $122,281,000
Purple's stock shot all the way up to $13.90 before the announcement that Sam Bernards had stepped down as the CEO on 3/15/18.  That announcement coupled with the release of the 8-K sent stocks down to $9.33 as of 3/19/18.  It's now in the $5 dollar range after weaker than expected results in both the 1st and second quarters of 2018.
I listened to their last 2 quarterly report calls and my take on the calls was that they are growing so fast that they are prioritizing growth over profit at the moment.  What that signals to me, is that they are in it for the long term, they aren't interested in just a cash grab.  Now, why would that be important to you?  I think this makes them more likely to be able to back up any manufacture defects or other issues that could benefit consumers.
The PE ratio is still crazy high, but their revenue growth of over 200% from 2016 to 2017 is extremely impressive.  Something spooked investors, and my bet is that the CEO change had the largest impact.
Reminder: not investment advice, just pointing out stuff that is public knowledge.
| Chicago | Phoenix | SF Bay Area | Sacramento |
| --- | --- | --- | --- |
| Skokie | Dysart | Mt View | Arden |
| West Fullerton | Tempe | Colma | Zinfandel, RC |
| Orland Park | Camelback, Scottsdale | Pleasant Hill | Citrus Heights |
| Addison | Mountain View, Scottsdale | Richmond | Florin Town Center |
| Northlake | Happy Valley Peoria | Van Ness, SF | Natomas |
| Lawrence | Mesa | South San Francico | Elk Grove |
| Oak Lawn | Surprise | Fremont | Roseville |
| Clybourn | Chandler | Dublin | Rocklin Crossing |
| South Loop | Paradise Valley | Vallejo | Blue Oaks |
| Chicago (river north) | Prescott Valley | Brentwood | Folsom |
| Forest Park | Buckeye | Milpitas | Vacaville |
| Park Place Plaza | Sonora Village, Scottsdale | Daly City | Wemento |
| Melrose Park | Happy Valley | Stevens Creek | Madison |
| Roscoe Village | Glendale | Santa Rosa | Rocklin |
| Broadway Square | S Power Rd, Gilbert | Gilroy | Lincoln |
| Mount Prospect South | Gilbert Commons | Geary | Town & Country |
| Broadview | Crossroads, Chandler | NA | Davis |
| Pulaski Promenade | Town & Country, Phoenix | NA | Citrus Heights |
| Wicker Park | Flagstaff | NA | Truxel Rd |
| Ford City Mall | Desert Ridge, Phoenix | NA | Iron Point, Folsom |
| Crystal Lake | NA | NA | Hazel, RC |
| Evergreen Park | NA | NA | Woodland |
| Lincoln Park | NA | NA | 5 Star, Rocklin |
| Lakeview West | NA | NA | Auburn |
| Niles | NA | NA | Laguna, Elk Grove |
| Riverpoint | NA | NA | Stanford Ranch |
| Skokie (touhy ave) | NA | NA | NA |
| State Street | NA | NA | NA |
| Park Ridge | NA | NA | NA |
Summary
Rana Landreth
Review Date
Reviewed Item
Author Rating