Sapira Luxury Hybrid by Leesa
Leesa decided to jump into the hybrid market by launching the Sapira, a mattress which took them over a year to develop.  It's really an amazing sight to see a hybrid mattress pop out of the box and take shape.  In the unboxing part of the review, pay attention to the hissing and popping sounds that the bed makes when the coils spring into action.  Hybrid mattresses are generally heavier than their all foam counterparts, due to the coils.
It's time to skip the uncomfortable process of having a mattress salesman stalk you while you test out a bed.  You no longer need to have the salesman twist your arm into going over your budget.  Leesa has the answer for you, it will ship directly to your door, for free.  We all sleep differently, and Leesa recognizes this and offers a 100 day trial period.  If for some reason it just isn't the right fit for you, Leesa will have your mattress donated to a local shelter and give you a full refund.  They deliver piece of mind without the awkwardness of a hovering salesman.
Here is my review of the Sapira

The Sapira uses over 1,000 individually wrapped (pocketed) springs.
On top of those pocketed springs you are going to find two 1″ layers of memory (polyurethane) used for stability and comfort.
The top layer is 2″ of Avena foam, just like the Leesa.  What you will notice is that the avena foam on the Sapira isn't contoured like it is on the Leesa.
The Sapira cover has 4 horizontal stripes, just like the older sibling.
When I was testing the Leesa I sometimes left the sheets as the cover was really comfortable.  They actually sell the cover as a blanket, so those of you who have either tried the Leesa or their blanket know what I'm talking about.  I'm crossing my fingers that the Sapira cover is just as comfy, spoiler it is!
Sapira Mattress has a Removable Cover
Why is this important?  Well, if you are like me and you have a three year old, accidents can and will happen.  I'm so embarrassed to say that I didn't have a mattress cover on when the incident took place.  So at the very least I learned a valuable lesson about potty training.
Since the cover is removable, I followed the instructions and washed it.  I then did a bit of tumble drying, and finished it off with some nice Arizona sunlight.  As you can see in this video the stain is completely gone.  I'm not saying you should find your own 3 year old and let them pee on your Sapira.  I'm just saying that you still have a chance, in the event of an emergency.
Pros and Cons of the Sapira Mattress
Pros
Similar look and feel to the cover of the Leesa.  The 4 stripes design is present, but the Sapira one is a bit more fun.  Although the cover feels really similar to the Leesa's, in my opinion, its a bit more luxurious.  You can sleep on it without sheets, I'm sure they don't suggest it but that doesn't stop me from trying.
Like the Leesa the cooling Avena foam of the Sapira has a density of 3.65 PCF.  I live in Arizona, and it's hot here…  I didn't have any issues with feeling hot or sweaty on the Sapira.
I have tested this on a flat surface and on an adjustable bed.  In both cases the Sapira preformed well.  The foam layers have enough give to contour to the various angles that an adjustable frame will use.  While the pocketed springs are individually wrapped so they have the ability to flex with the frame.
It's a sturdy luxury hybrid, so it's really designed for athletes and heavier people.  So, at my size I may not be their target market, but I loved it.
Their website says that they have low volatile organic compound (VOC).  Like anyone else, I take that kind of a claim for granted until I get the chance to test it.  I kid you not, there was no smell when it was initially un-boxed.  I left the room a couple of times and came back, stuck my nose in the mattress, still nothing.  Typically, after opening a mattress you will smell something. Ranging from mild to "smells like a cake" that my son pointed out when I unboxed the Purple mattress.  But the Sapira had no smell at all.
It has a zipper!  Which completely saved my mattress from the ravages of a 3 year old's potty training accident.
Made in the USA, in Tupelo Mississippi.
Cons
I don't know that a mattress with any kind of springs won't have this issue, but I just don't like to know that there are springs inside when I'm sitting on the edge.  I don't do it often but if I sit down on the edge to get dressed I can feel the springs.  It's not like they are going to bite me, just that I know that they are there.  Of course, the alternative (an all foam mattress) may sink too much when you sit on the edge making it awkward to get dressed.  I think the moral of the story is just don't get dressed on the side of any mattress.
Who should buy a Sapira Luxury Hybrid Mattress?
If you liked the Leesa but felt that you just sink too far into it, you need to try their sister mattress.  The pocketed coils will prevent that sinking feeling.  You still get the benefit of the nice cover, cool Avena foam top layer along with the memory foam feel of the second layer.  The Sapira combines all of what makes the Leesa great and takes it into the luxury level.
If you are on the heavy side or you are built like an NFL player this is the kind of mattress you are searching for.  It comes with a 100 night trial period so the folks at Leesa are confident you are going to like their Sapira.
See how the Sapira Compares to the Leesa
With the tool below select the Sapira and Leesa and any other mattress that I have sleep tested to see how they compare:
Price Table
Where was it made?
If you are curious about where the Leesa and Sapira are made fast forward to 2:48 on my where was your mattress made video.  Or you can watch the whole thing here.

Alright, I'm sure a few of you didn't watch the video, so I'll cut to the chase and tell you that Leesa and Sapira come from the USA!
What kind of base should I have with a Sapira?
The instructions say it should be on a solid platform, or a sturdy slatted base.  I discussed using an adjustable frame with the team at Leesa and they said it would work great on one.  Here are some pictures of it on my Rize Verge adjustable frame.  I'm almost done editing a video showing how different types of mattresses work on an adjustable frame.  The Sapira is in the great category, which means there are some that did better, but most preformed worse than the Sapira. 
Other fun facts about Leesa
Leesa has a one in ten program, which donates one mattress for every 10 they sell.  These mattresses go to non-profit organizations which serve the homeless or at-risk adults and children.  This program just hit a milestone of 18,000 donated mattresses.  Which, for those of you who are really good at math, means that Leesa has sold around 180,000 mattresses since they launched this program.  Assuming that everyone who owns a Leesa mattress has a sleeping partner, Leesa has sold enough mattresses for the entire city of Honolulu, Hawaii to be on one.  Which also means that they have donated enough mattresses to individually sleep the entire city of Sheridan, Wyoming.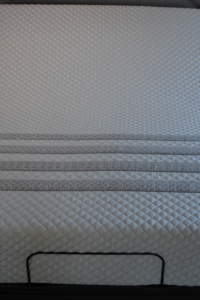 You can test out a Leesa mattress in West Elm locations near you.
For every mattress sold, Leesa plants a tree.  Let's stick with the 180,000 mattresses sold and assume that they have planted 180,000 trees
Assume that each tree gets ten feet of space in a row and 15 feet between columns.
Every acre of Leesa's trees would hold a little over 290 trees.
Therefore, they have planted around 620 acres of trees.
Imagine you can run 10 minute miles.  You set off and run for ten minutes then you take a right turn and run for another 10 minutes.  Then you get bored and take another right turn and run for another 10 minutes.  Not content yet you decide to run for another ten minutes after yet another right turn.
The square that you ran around, was it large enough to fit all of the trees Leesa has planted?
Based on the 180,000 mattresses sold number, just barely.  In a few months the answer will be no.  When you think about the scope of the project that they are doing it is amazing.
Ordering Process
 We placed our Sapira order on 9/1/17.  We received a quick response from them telling us that it will be shipped out once it is built.  It is Labor Day weekend so my guess is that we will get it around the 11th of September.
 We have it! It's open and in testing.
 Update 08-07-2018
I have mentioned previously that you can try your Leesa mattress available at your local West Elm.
Well Hybrid Mattresses fans, I have some Great News for you. Now you can try the Sapira at your Local West Elm. Because that's what I did a couple of weeks ago. That way at least you have an idea on what to expect from the Sapira Mattress if you are thinking about buyimg it.
Thinking about buying the items we have reviewed? Help Non-Biased Reviews out if you do. Just click on any of the seller links above and the seller will contribute a portion of the sale to help support this site. It won't cost you anything extra and is a simple way to help us fund more items to review. Thank You!
My Sapira made an appearance on my video for the best mattress protectors.  While making that video the mattress protector didn't fail, but I did.  While taking the protector off I spilled a good deal of wine on it…  I'm highly disappointed.