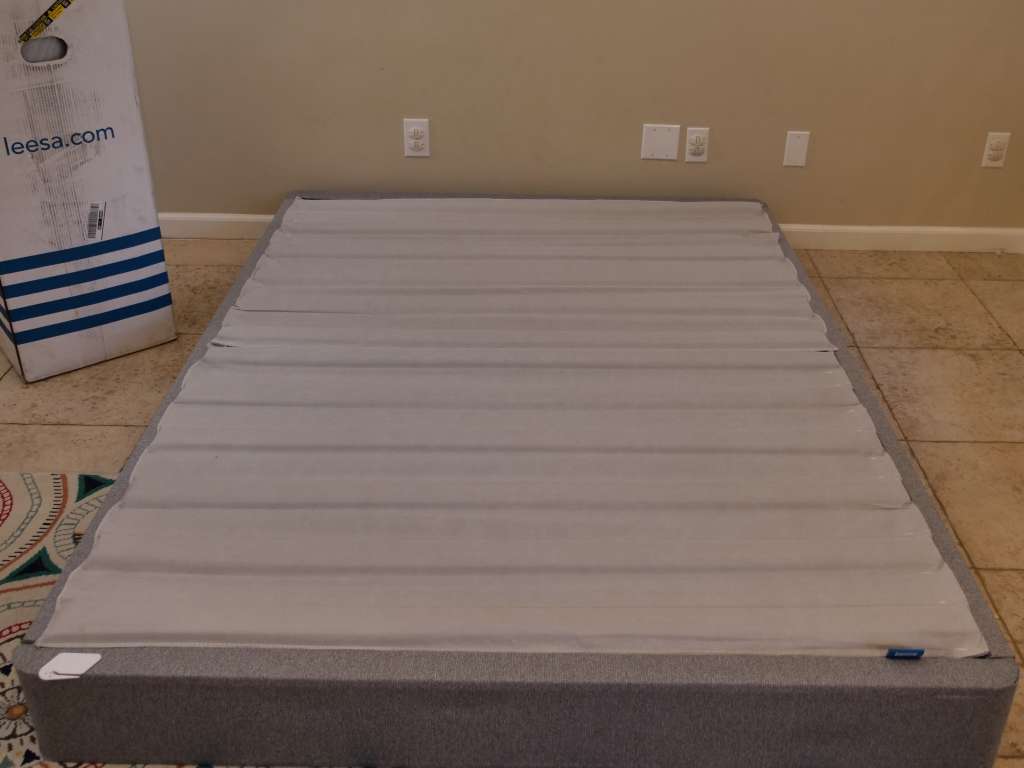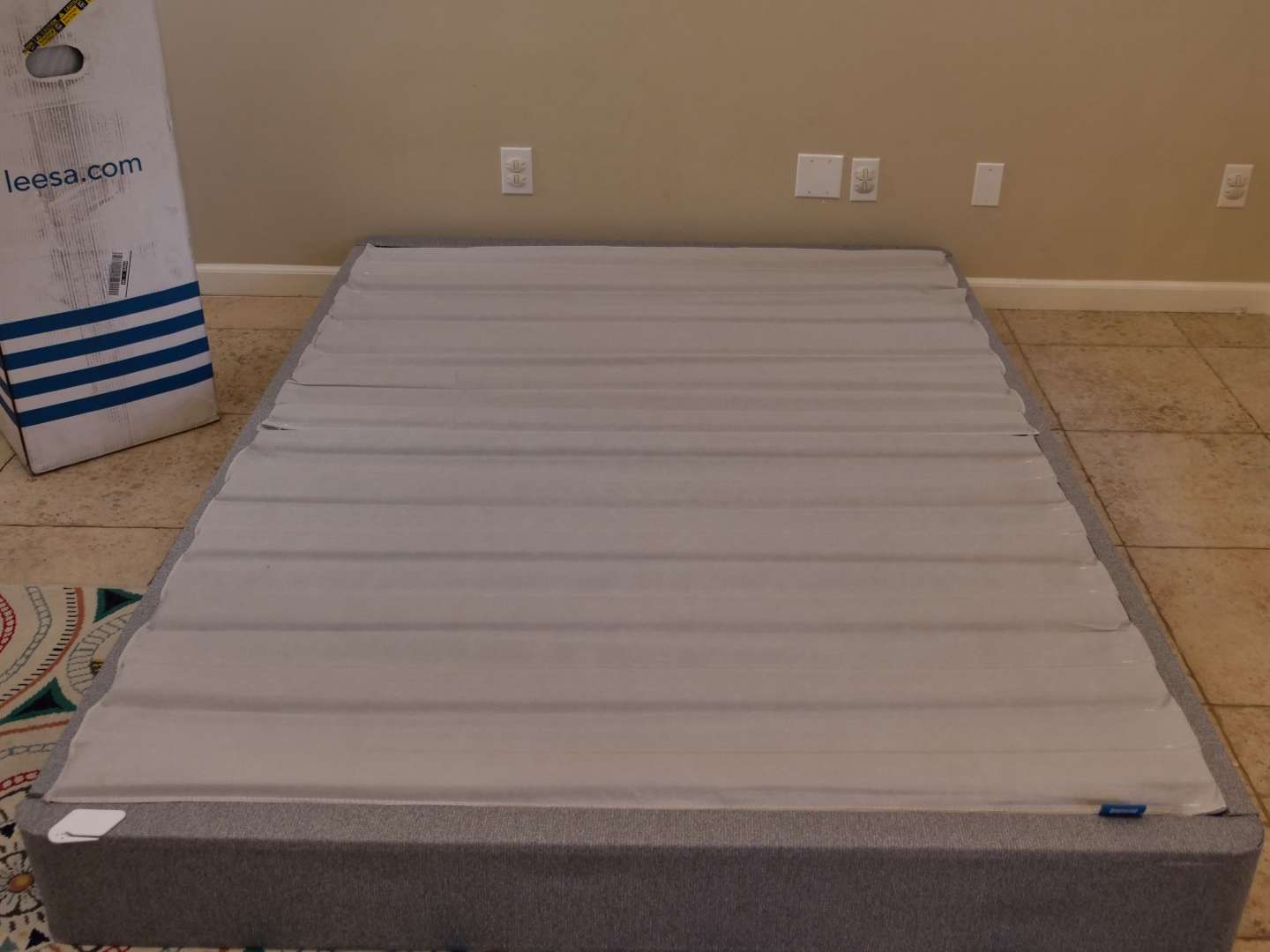 The Leesa foundation is specifically designed for Leesa mattresses with perfectly spaced slats, a beautiful upholstered finish and made in America materials.  It took me about 30 minutes to assemble, but I was also filming which slows me down by about half or so.  Assume that assembly will take you 10-15 minutes.  It is really easy as long as you make sure that you align the corners properly. The Leesa foundation carries on the beautiful design found in: the Leesa mattresses, as well as the pillows and the Leesa Blanket.
Leesa Foundation Review Menu
Up to $700 OFF + 2 FREE Pillows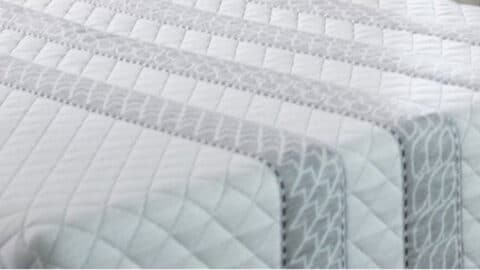 Leesa Hybrid
Up to $700 OFF + 2 FREE PillowsOr use our exclusive discount code NONBIASED for 15% OFF your entire order!
Up to $700 OFF + 2 FREE PillowsOr use our exclusive discount code NONBIASED for 15% OFF your entire order!
Show Less
Leesa Foundation Video Review
I assembled the Leesa Foundation by myself.  It is super easy to put together and take apart.
Leesa Sleep Company Policies
This comes with a 100 night trial and free shipping.
For an additional fee, they will set it up for you.  However, you should just watch the video above to see how easy it is to set it up by yourself.
What's Inside the Foundation?
Inside the package you will find: four outside borders 4 Pegs Support beam (1) 2 Covered Slats (1) Queen size or larger will have an additional support beam which goes down the center. Assembly is pretty simple, and should take less than 15 minutes.  You align the four corners and then place a peg to join each corner.  If the foundation is for a queen size or larger you slide the support beam in the middle.  Lastly, you unroll and place the slats.  There are three things to look out for when assembling the Leesa foundation. In each corner there are three interlocking rings, which need alternated with the three rings on the other piece of the foundation. Each of the side pieces has a little indent where the slats will fit into it.  Make sure that they are towards the top of the foundation. If the foundation is Queen size or larger you will have a support beam.  It slides from the top down, so if you see metal at the top you need to switch the foot and head beams around.
It looks great and matches the rest of the Leesa products.  Now you are asking, how does it perform?  You can see on my video that I am able to walk on it without any issues, although I don't encourage you to do that!  When sleeping on it (well the mattress on the foundation) I couldn't feel any bumps or ridges.  The base is solid and does what it is designed to do.  I typically sleep on an adjustable base, and this is not compatible with one, nor would you need one if you had an adjustable base.
The Leesa Foundation is a huge step up from putting your mattress on the floor and a large step up from the old style box springs.  Box springs are flimsy and don't ship to you in an easy to assemble/disassemble and move fashion.  I cut open a box spring to show you the difference between a foundation and a box spring.
Pros
• Easy to assemble
• Blends in with the Leesa and Leesa Hybrid mattress covers
• Easy to move, just take off the slats, remove the center insert, pull the 4 pegs and reassemble in your new house.
• Light Weight
• Sturdy, I walked on it with no problems
Cons
• not compatible with an adjustable bed
Leesa Foundation Review Conclusion
Say goodbye to your box spring.  Do you remember your last move?  How fun was it to move your heavy mattress and your boxspring?  This foundation can be broken down into small pieces and transported to your new home.  This is a stylish addition to your Leesa mattress and will give you that extra 7.5″ lift that you have been searching for.  
People always ask me, "Do I need a box spring with a Leesa mattress?"  The answer is clearly no.  If you are looking for a bit of extra height for your bed just go with the Leesa Foundation or their larger 15″ Platform Bed.
Up to $700 OFF + 2 FREE Pillows
Leesa
Up to $700 OFF + 2 FREE PillowsOr use our exclusive discount code NONBIASED for 15% OFF your entire order!