GRAVITY COOLING WEIGHTED BLANKET REVIEW
Gravity has come up with a cooling version of their successful weighted blanket. Wondering if it will keep you cool at night? Let's look at what this Cooling Blanket is made of, and who it is a good fit for.
20% OFF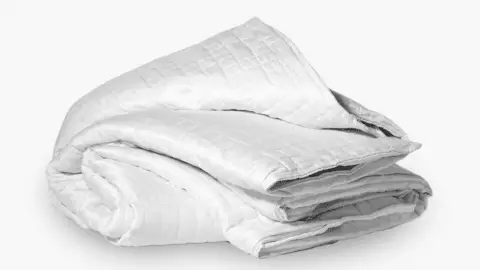 Free shipping on U.S. orders
30-day return policy 

customer responsible for return fees and packaging
must be returned in original plastic case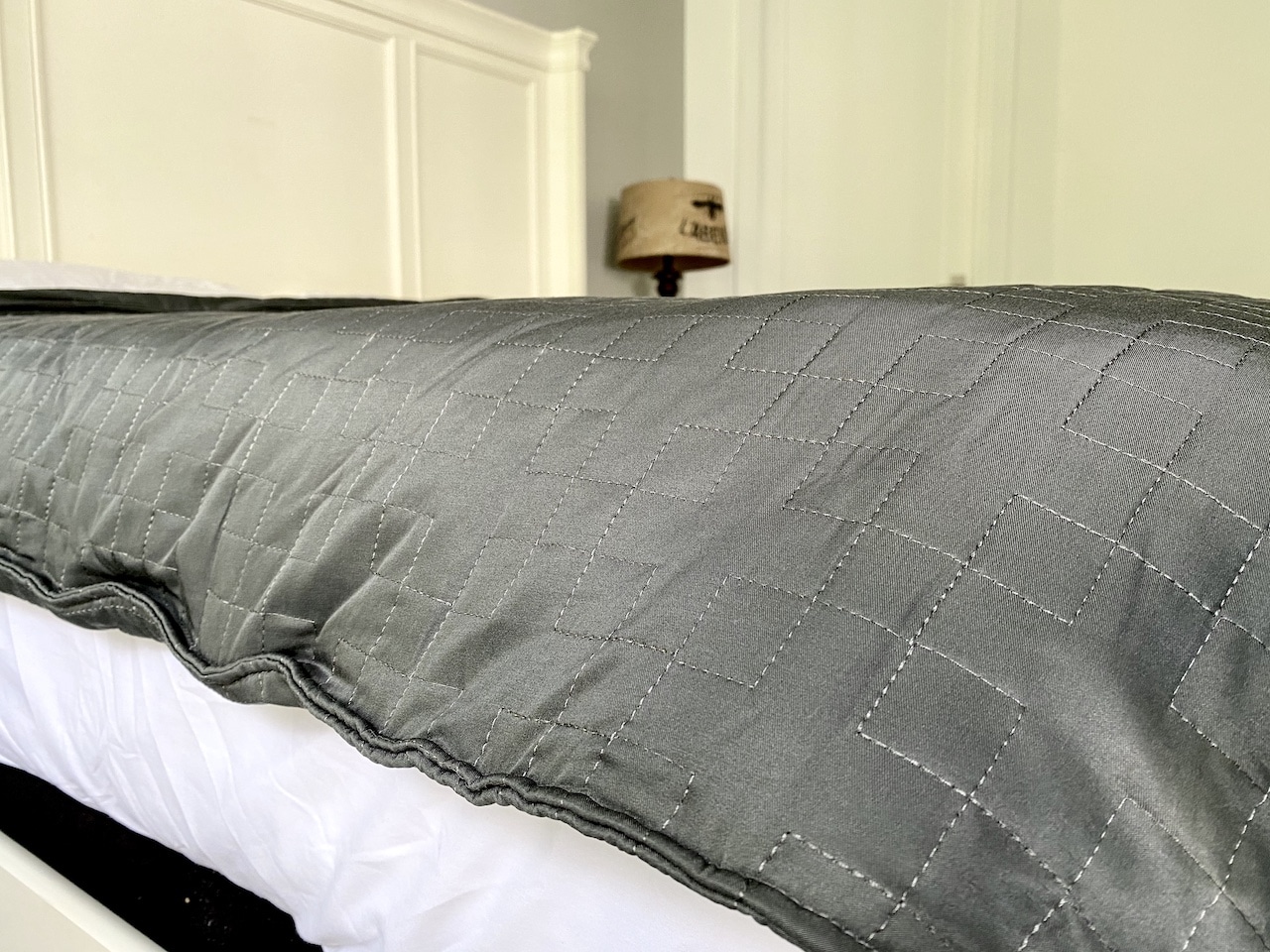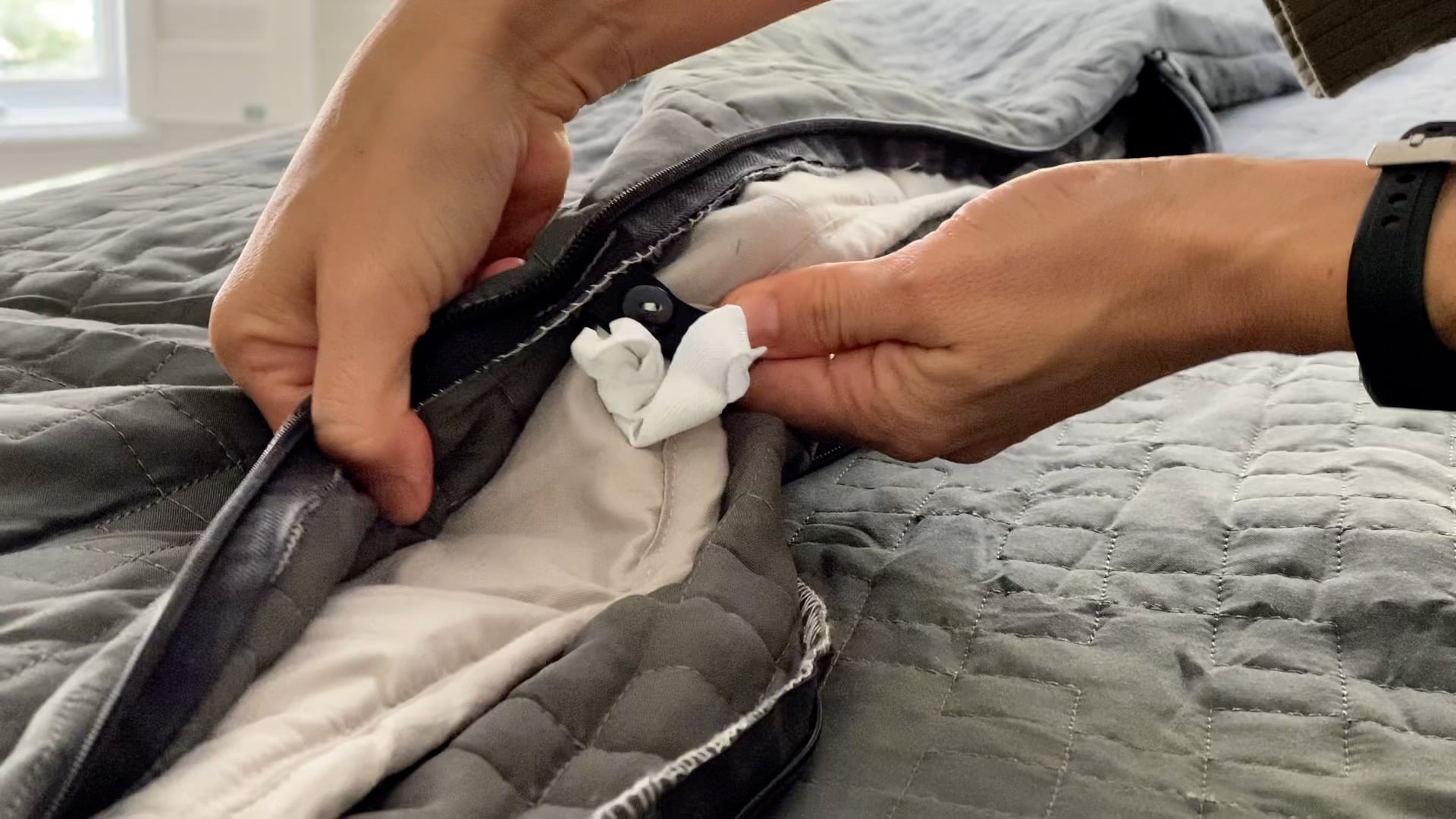 What's Inside The Gravity Cooling Weighted Blanket
In a nutshell:
Breathable moisture-wicking cover fabric
Hypoallergenic fine-grade glass beads
Gridded stitch on the weighted blanket
2-way ties to secure the blanket inside its cover
Breathable Cover
The Gravity Cooling Weighted Blanket is Gravity's original and successful weighted blanket, inside a new, breathable and moisture-wicking, cover. If you are a hot sleeper but seeking the comforting weight of a weighted blanket, you know that most of those blankets can carry weight and extra warmth. This cooling weighted blanket takes care of your night sweats with its revolutionary fabric.
Hypoallergenic Glass Beads
Very fine-grade glass beads are making up the weight you feel in the Gravity Cooling Weighted Blanket. The beads are so small that you won't feel them, even when squeezing the inner weighted blanket. Those beads are the same you will find in the original Gravity Weighted Blanket.
Gridded Stitch
The inner blanket is the weighted one. It uses a gridded stitch to enclose a smaller number of glass beads in each pocket. This design ensures that the glass beads remain uniformly distributed inside the blanket. There is no waking up with the weight stuck in one corner of this cooling weighted blanket!
2-Way Ties
There is nothing worse than waking up to an empty blanket cover. That can even wake me up in the middle of the night… Gravity has added 2-way ties to securely fastened the weighted blanket inside its cover. Use the ties and elastic-button connectors to ensure everything stays in place night after night! Note that the third generation of Gravity weighted blankets will replace the 2-way ties with a zipper for even more stability.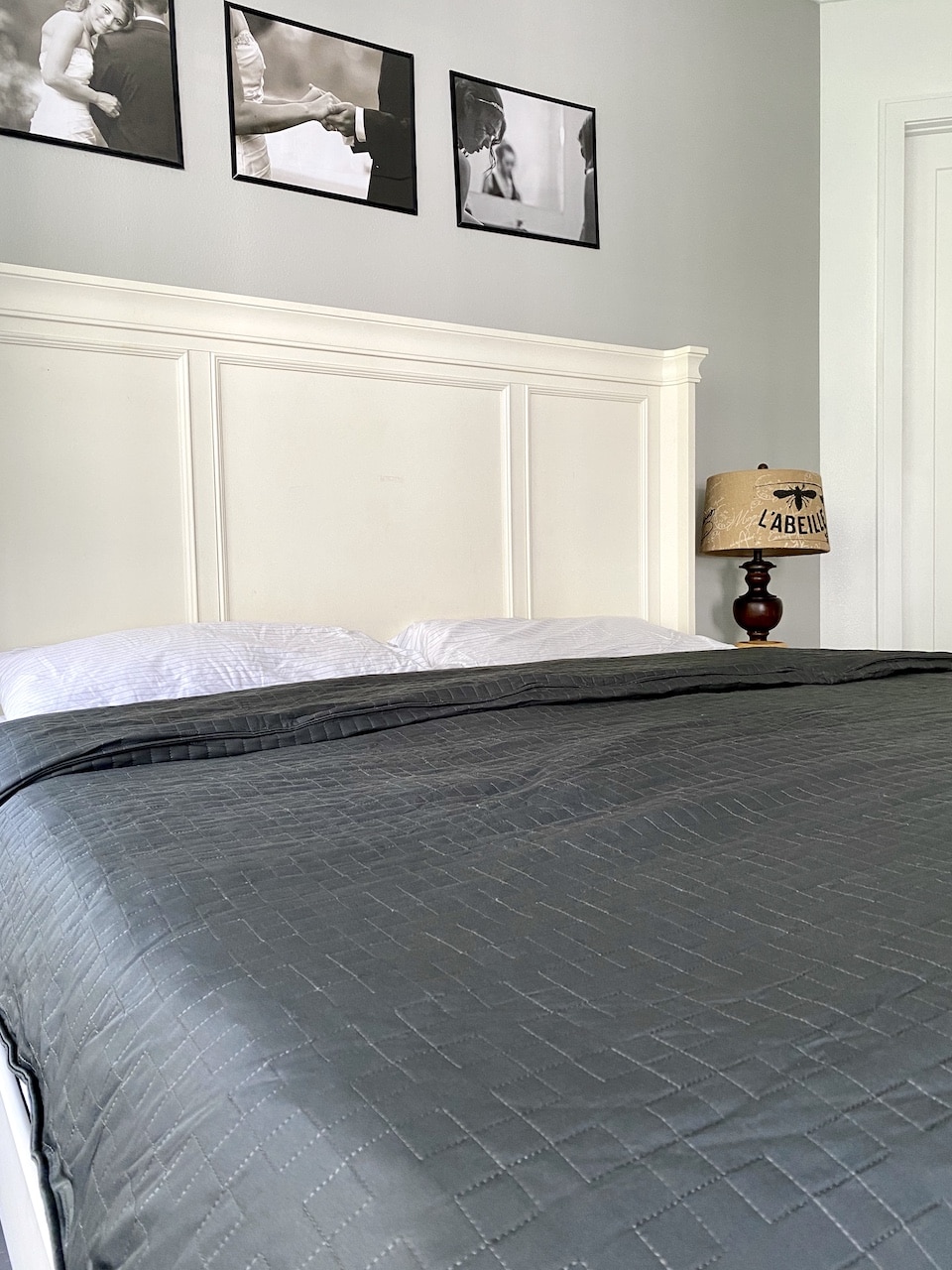 Gravity Cooling Weighted Blanket Sleep Test
Everything we felt in one box
| Softness | Temperature | Maintenance | Breathability | Weight |
| --- | --- | --- | --- | --- |
| The outer cover of the Gravity Cooling Weighted Blanket is a mix of rayon and polyester. It also has a cross-like decorative stitch, which adds to its luxurious look, but gives it a crispier feel. Additionally, the weighted insert is made of glass beads, which has a thinner and not-so-plush feel.. If softness is a big thing for you, I'd recommend either adding a cotton flat sheet between you and the Gravity Cooling Blanket, or going with the original Gravity Weighted Blanket, which comes in a micro-fleece duvet cover for all of the plushness, but that won't be a cooling option. | The whole idea behind the Gravity Cooling Weighted Blanket is to provide a cooling sleep experience, and it does! We sleep tested this blanket for three weeks in hot Florida weather. My husband is a very hot sleeper and always had doubts that he could sleep under a weighted blanket. I am happy to report that the Gravity Cooling Blanket converted him. He never felt hot and looked forward to the weight every night! | The outer cooling cover is machine washable on cold and you can tumble dry on low. The inner cover, which is the weighted blanket itself, should be hand-washed only and air dried. (I don't think that my washing machine could handle 35 lbs of blanket anyways) 🙂 I wouldn't expect it to get stained easily however. | The fabric used to produce the outer cover is breathable and cooling. It allows you to get all of the therapeutic benefits of the heavy weight without sweating all night. You will find that the moisture is wicked away and you won't feel like your body is trapped and overheating. | Gravity offers 5 weights for its Gravity Cooling Blanket. The single blankets come in 15, 20, and 25 lbs. The Queen/King blanket we are reviewing here, comes in 35 lbs. Additionally, Gravity sells a Kids Weighted Blanket, in the same cooling material as the one reviewed here, and it weighs 10 lbs and is perfect for kids 7+. |
Gravity Cooling Weighted Blanket Prices & Discounts
20% OFF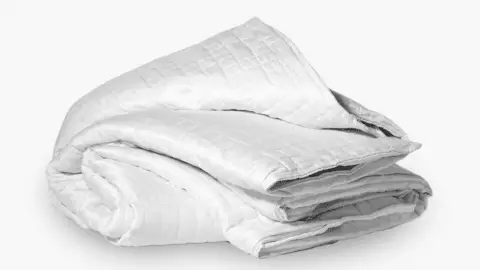 The Gravity Cooling Weighted Blanket comes in 3 sizes – Kids, Single, and Queen/King. Each size has its own dimension and price. The single cooling blankets give you an option to pick your weight (15, 20, or 25 lbs).
Below are the prices for each size. You can choose from 4 colors: 
grey (tested here)
white
navy 
Note that the Kids Weighted Blanket comes in a pink or green.
Make sure to click the box above to claim the deepest discounts and use coupon code NONBIASED for 10% OFF. 
Price List updated: November 2020
Detailed Gravity Cooling Blanket Review Conclusion
We have been sleep testing the Gravity Cooling Blanket for three weeks and we're happy to report that we really enjoy sleeping with it. We didn't have to make this test last three weeks, but we've had no reason to take the Gravity Cooling Blanket off of our bed! It's been sleeping cool and heavy – which is exactly the reason why you would purchase this blanket. 
Overall, if you are looking for extra weight to prevent over-flipping in bed, lower anxiety, fall asleep faster, and benefit from a natural therapeutic way to fall asleep, the Gravity Weighted Blanket will work well for you. If additionally, you are a hot sleeper, or live in hot climate, then I can highly recommend the Gravity Cooling Weighted Blanket. 
Now let's look at all of the details behind our sleep test!
Gravity launched with a successful kickstarter in 2017 and is most well-known for its weighted blankets. 
Today, they lead the way with their science-backed sleep solutions. While their weighted blanket is their flagship product, they also sell a kids' weighted blanket, this cooling weighted blanket, a weighted eye mask and robe, a pillow, bedding items, and their newest addition – the Gravity Ice Hybrid Mattress. 
Their mission is to bring relaxation to sleepers' nervous system and they are known for using high-quality materials in their products. 
Find all of our Gravity reviews HERE. 
What Is Inside The Gravity Cooling Weighted Blanket?
The Gravity Cooling Weighted Blanket is made of two independent parts: the inner weighted blanket, which is the same in their Weighted Blanket, Modernist Cotton Blanket, and Cooling Blanket; and the outer cover. 
The amazing thing about Gravity, is that you can swap outer covers with the seasons, and keep the same weighted inner. The original weighted blanket uses a micro-fleece cover for cold nights, and you can keep a cooling cover on hand for warm nights, as well as a 100% cotton Modernist cover for when you need a slightly softer hug.
The inner weighted blanket is made of fine-grade glass beads grid-stitched in 100% cotton. The grid stitch ensures that the weight remains uniformly distributed through the night. The stitched pockets are small and filled enough, that you won't notice any weight shift. 
The outer cover in the Gravity Cooling Blanket is made of rayon and polyester, for a breathable and moisture-wicking feeling. While not the softest material, it looks luxurious and you will notice a bit of a shine to it. 
How Does The Gravity Cooling Weighted Blanket Sleep?
Softness
The outer cover is not extremely soft. I would call it crisp. If you wanted to retain the cooling properties but add a bit of softness to the Gravity Cooling Blanket, I would recommend adding a flat sheet between you and the blanket. 
We slept with it directly on us to give you our best thoughts, and weren't bothered by the crispier feel. Just know that the material used in the cover, coupled with the fine-grade glass beads, give this blanket a harder, less enveloping, feel. I am ready to bet that the Gravity Modernist Cotton cover is a lot softer.  
Temperature
The innovative fabric used in the Gravity Cooling Weighted Blanket does a very good job at keeping its sleepers cool at night. We tested the cooling blanket in hot Florida nights and raised the A/C to 79 degrees to give this a good test. 
My husband, who is a very hot sleeper and was worried about a weighted blanket test, never suffered from the heat during our sleeping test. I can confidently say that Gravity did an amazing job at developing a blanket that is one of the coolest weighted blankets on the market, without requiring the use of power!
Weight
We sleep tested the 35-lb Queen/King Gravity Cooling Weighted Blanket and I must say that, the moment I carried the blanket out of the box had me a little worried… That blanket felt HEAVY! It's definitely not the kind of weighted blanket you fluff up in the morning. I tried that, and it went nowhere!
But remember that the Queen / King is thought as a 2-people weighted blanket and you will be sharing its weight with a partner on a larger sleeping surface, which will help spread the weight. 
Expect at least 2 or 3 nights to get used to the weight, and you might be hooked after that! My husband jokingly said that the first night was a workout but after that, his body had built up the muscles 🙂 In reality, I think that our bodies quickly adjusting to less tossing and twisting. Our combined weights are just under the 350-lb mark,  and the weight works well for us.
If you purchase a single blanket, pick from 15, 20, or 25 lbs and I would definitely stick to the 10% of body weight rule-of-thumb when picking a weight for your blanket. If you don't know what I'm talking about, check the last section in this review. 
Is It The Coolest Weighted Blanket On The Market?
The number of weighted blankets appearing on the market each day could have me testing out a new weighted blanket every night. 
From the ones we have tested, Gravity did a really good job at keeping us cool. 
I like to put weighted blankets in two different buckets: the hand-knitted 100% cotton ones and the glass-bead ones. The cotton ones tend to sleep cool since so much air makes it through the knits and the cotton is a material that naturally keeps you cool. The glass beads weighted blankets tend to sleep a lot hotter and in this category, the Gravity Cooling Weighted Blanket does sleep nice and cool, even in the hottest of weathers. 
How Do I Care For My Gravity Cooling Weighted Blanket?
The outer cover is machine washable on cold and can be tumble dried on low. That is a big plus for me. Whatever makes laundry day easier, is a huge plus! 
The inner weighted blanket, filled with glass beads, can only be spot cleaned and should NOT be washed in the washing machine. That is not too much of a drawback, as I would not expect it to get too dirty since it is enclosed in its zipping cover. 
Ideal Weight For Weighted Blankets
The general rule of thumb for the ideal weight for weighted blankets is 10% of your body weight, plus or minus a couple of pounds.
Let's look at an example: you weigh 150 lbs and 10% of your body weight is 15 lbs. If you add or remove a couple of pounds, the ideal weight for your weighted blanket would likely be 13 lbs to 17 lbs. 
The other way to think about this is to look at a 15-lb weighted blanket. It would comfortably soothe a person weighing between 130 and 170 pounds. 
Your preference in terms of weight and hugging sensation will impact the ideal weight for your weighted blanket. Most importantly, you need to be able to remove the blanket from your body unassisted.
20% OFF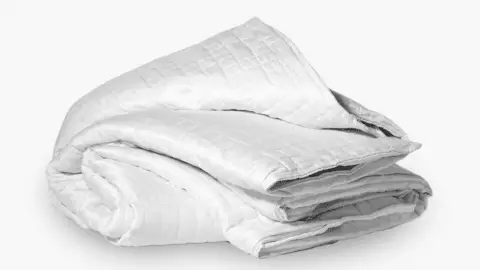 The PLUSES

The MINUSES

Benefit from the therapeutic power of the weight without overheating
Several weights and colors to choose from
Cooling without the use of power
Natural way to de-stress
Breathable - no feeling of heating
Love that Gravity has a children version of this weighted blanket
All Gravity covers fit the inner weighted blanket (make sure you buy a cover of the same generation as your weighted inner since Gravity is coming out with a new zipping mechanism to tie the insert into the cover)
Machine-washable cover

If you're looking for a soft blanket to snuggle in, the Cooling Blanket is not for you. Try the Original Gravity Blanket or go with an all-cotton from a different brand
The cheapest adult blanket nears the $200 USD, which might be a little high for some, but if you can comfortably afford it, this is a great product worth the price 
Share this deal with a friend!
Gravity Cooling Weighted Blanket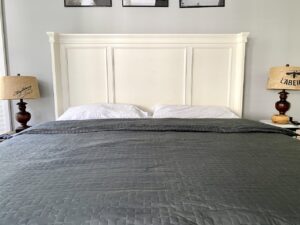 We've tested the Gravity Cooling Weighted Blanket. Did it keep us cool as it claims? Find out and get our feature coupon for 10% OFF!
Product SKU: Cooling Weighted Blanket
Product Brand: Gravity
Product Currency: USD
Product Price: 205
Product In-Stock: InStock