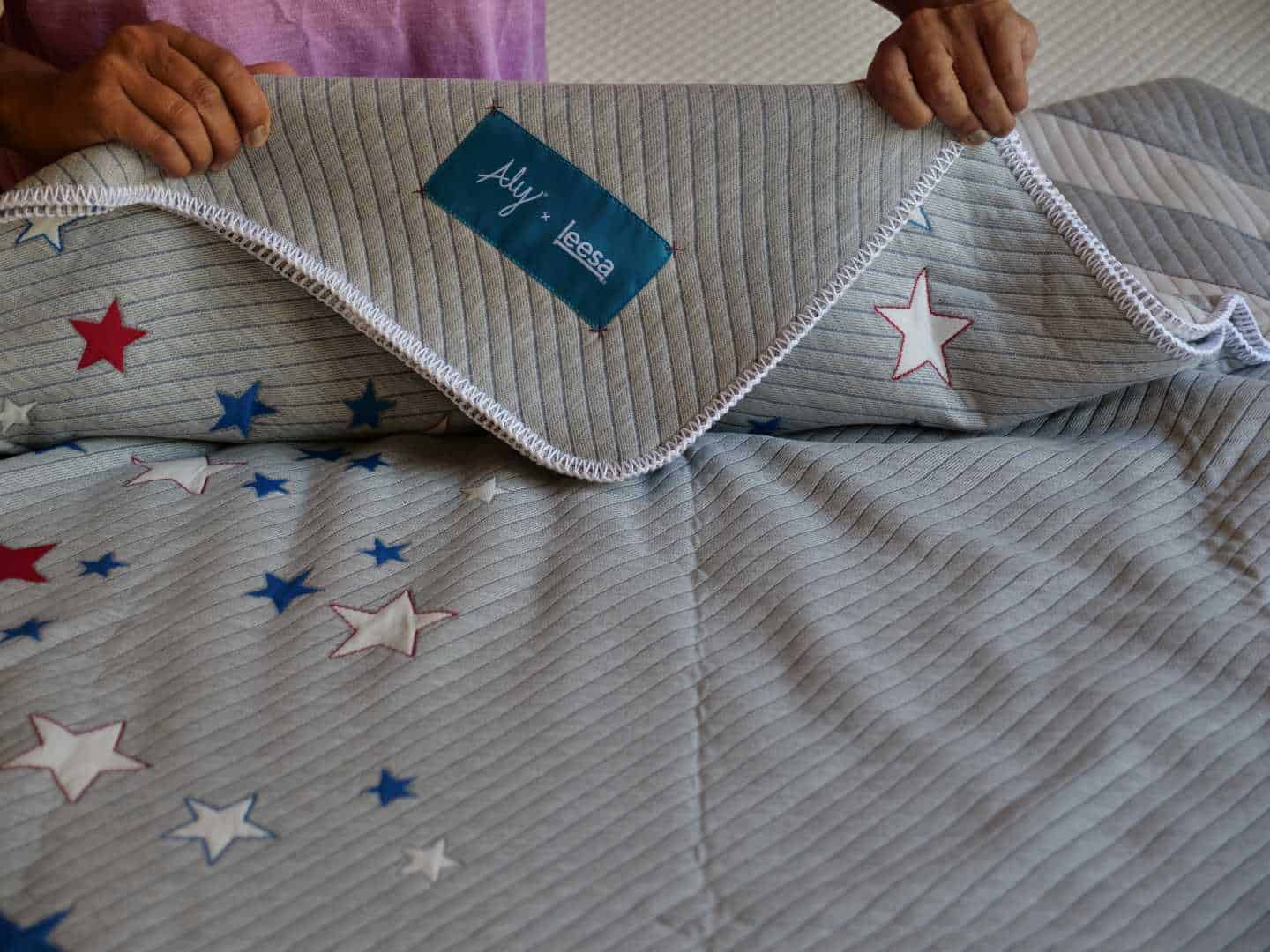 Anyone who follows me knows that my Leesa Blanket is never far from me.
Seriously, in the winter I am attached to it just like Linus is to his (Charlie Brown).  But that doesn't explain what I did today.
I knew that Aly Raisman was a brand ambassador at Leesa and I knew that she had a special limited edition blanket for sale on their website.  What I didn't know was why.  So, I started surfing the Leesa website until I found that ah ha moment.  On their page they have a Aly X Leesa logo, and then "For every-limited edition blanket sold, a percentage of profits will be donated to Heading Home."  You can read more about Aly's involvement with Heading Home.
At that point two things crossed my mind.  First, there has to be more to the Aly Raisman story than just that of the Olympic hero with 6 medals.  Second, if she found a cause worthy of her time and attention the least I could do was help out by buying one myself.  The added benefit is that if one of my family members runs off with my favorite blanket, now I'll have a backup.
While buying Aly's special blanket, I also noticed something cool.  In the checkout cart Leesa offers Military, First Responder, Teacher and Student Discounts of 12.5%.  Seriously, the more time I spend examining the way that Leesa does business the more I love them.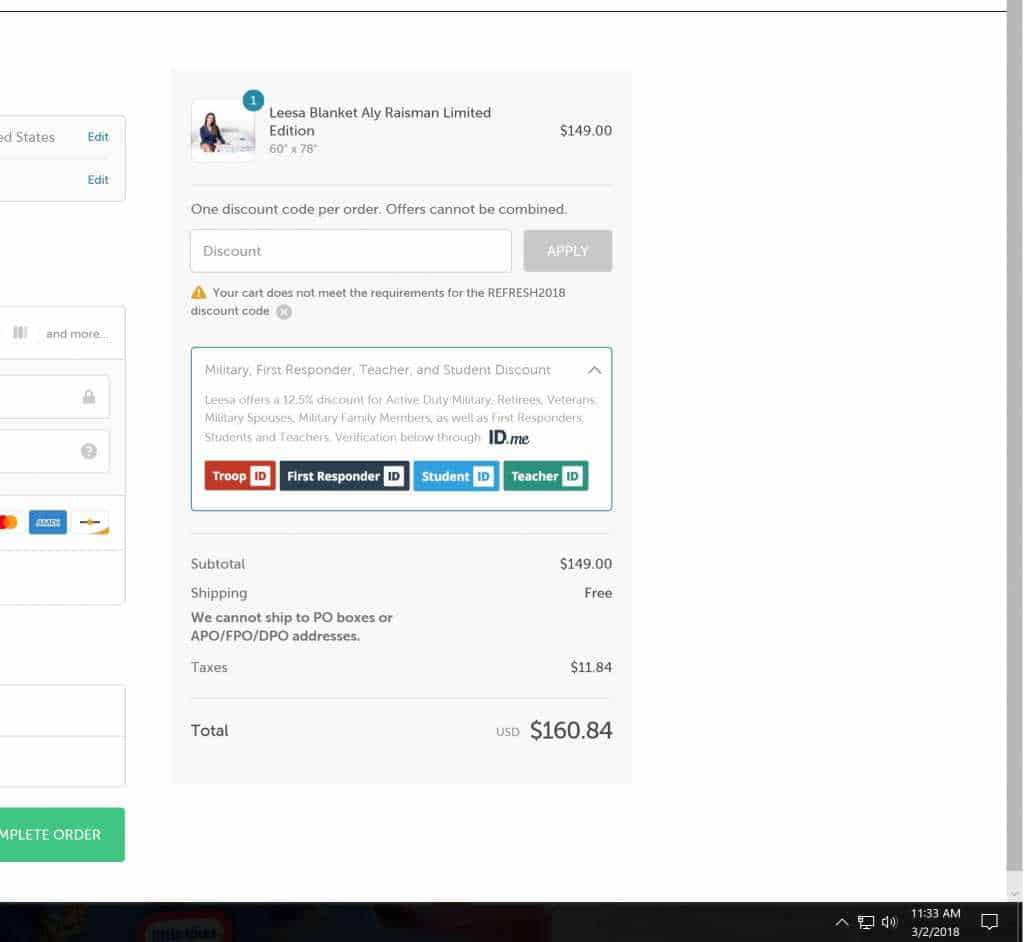 Here is my plan, I'm going to shoot a few pictures and a video of the new blanket and show you a comparison to the original Leesa Blanket.  Depending on shipping and my schedule that video probably won't come out for a couple of weeks.  In the meantime, I have reached out to Leesa to let them know that I bought the Aly blanket and that I plan on shooting a review video of it.  I asked them if I could do an interview with Aly to discuss her inspiration behind the design and her involvement with Heading Home.
Aly Raisman Interview
Huge thanks to Aly for doing our sleep interview.  Here are the highlights from interview:
What was it about Heading Home that was so special to you?
I really enjoy spending time at Heading Home, the women there are so kind. It was so special to see the kid's faces light up as they opened up their new mattresses and put them on their beds.
My dog tends to sneak in at night and he takes over half of my bed, do you share your bed with any pets?
I love spending time with my dogs. I definitely let them sleep with me. I have two little dogs so they don't take up half of the bed! Once my dogs are ready to go to sleep, they like their space. Gibson usually sleeps at the foot of the bed.
Are you a side/ Back or Stomach sleeper?
Just depends. I usually start on my back and wake up on my stomach.
Travel back in time: You're on an airplane and one of your Olympics teammates is cold, you obviously have your blanket. Who do you share it with?
I am always freezing! I love having blankets on an airplane so I would remind them to bring their own so I don't have to share!
Is there anything else you would like to share with our readers?
Get some rest and make sure to take some "me" time. We all deserve it.
Unboxing Video
Unboxing Pictures
Here is the standard Leesa blanket on a Leesa mattress on a Leesa foundation.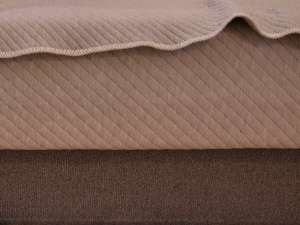 Below I am holding the Aly blanket as it rests on the one that I have had all winter.  I'm a bit embarrassed by how much wear I have put on my original blanket, but I didn't realize it until I unwrapped the Aly one.
Purchase an Aly Raisman Blanket by Leesa here.
Non-Biased Reviews is supported by our readers through affiliate links.  However, none of the proceeds from sales of Aly by Leesa blankets will go to us.  We want to ensure that Heading Home receives the maximum amount of support from Leesa.
Want to know more about Heading Home?
Here is the video that Aly and Leesa put together while dropping off some mattresses at Heading Home.
Here is their mission and brief history of the organization.
Heading Home's mission is to end homelessness in Greater Boston by providing a supported pathway to self-sufficiency that begins with a home, together with critical services such as life skills, financial literacy and job training. Since 1974, Heading Home has been ending homelessness in Greater Boston. Over the past decade Heading Home has quadrupled in size. Today, under the leadership of CEO Danielle Ferrier, Heading Home is one of the Boston area's largest providers of housing and shelter for homeless individuals and families. They provide emergency shelter, transitional housing, permanent housing, and supportive services to homeless and formerly homeless families and individuals in the Boston area. Their housing is created in two ways: purchase and rehabilitation of buildings and renting apartments on behalf of our clients. Heading Home currently own and operates 10 properties that both house and serve clients. In addition, they secure rental vouchers from both state and federal sources and use them to rent apartments on the private rental market. They stress permanent housing with wraparound services as the best model for disrupting the cycle of homelessness, reflected in our strong permanent housing retention rates.