Saatva Classic Mattress Review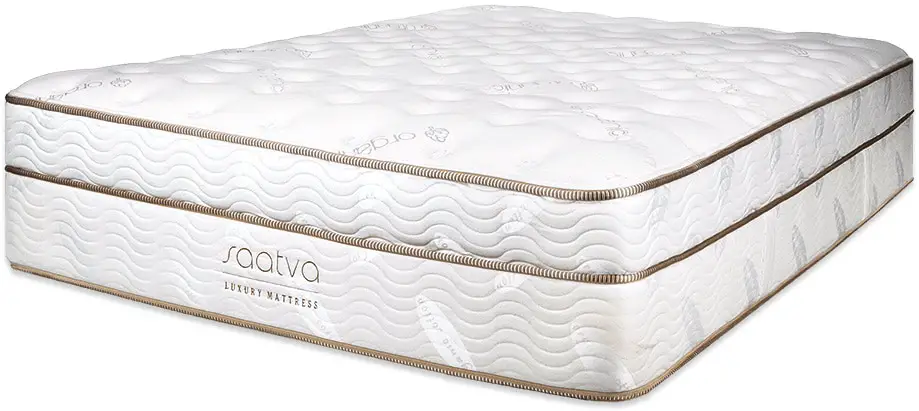 The Saatva Classic mattress is the perfect example of Luxury Comfort in your bedroom!
Available in three different comfort levels to make your purchasing experience easy.
The star of the show: The Individually Wrapped Comfort Coils. Even though they are located on the top part of the mattress, they still are perfectly tucked in. You can feel the reaction, but you cannot be bothered by the annoying feeling of innerspring. Which tells you they are manufactured and inserted inside the mattress in a very professional way. Also that the coils are high quality, providing that bounce and comfort without disturbance.
I have tried a number of hybrid, or innerspring mattresses. Some of them did not do a great job at hiding the coils, You can feel them, which is super annoying! Especially on the sides. Not the Saatva Classic Mattress! 
The coils have a mission, to respond to every movement and contour you body properly no matter the shape – of your body- or sleep positions. 
Menu:
Sleep Test Results – Our Saatva Classic Mattress Review
I am always worried about the outcome when it comes to testing a mattress. They all promise you nothing but the best. Best quality , best materials and best products. All that does matter, but what matters the most is the sleep experience. Maybe I shouldn't worry much since I get to try them and tell you exactly what I feel about them.
I have mentioned at the beginning, I have tried many hybrid mattresses, (with all the sweet dreams promises of course).  You can talk about your product as much as you want but it is not proven it's going to be a decent one until I try it!
Here is my full Saatva Classic Mattress review and why I was happy to test it.
There was so much relief,  especially when I slept on my back. You know that heavy lift we talk about sometimes and it's gone. That's how it felt literally on the Saatva Hybrid Mattress.
Available in three comfort levels.
Individually wrapped high quality coils respond to your body movement comfortably.
 When you look at it, you can see perfection.
I didn't really like how my adjustable bed reacted to the Saatva hybrid.
I think Saatva was designed with so much attention to the details inside out!
What is Inside the Mattress?
Organic Cotton Cover and Euro Pillow Top.
The Saatva Classic Mattress is topped with an organic cotton cover, soft yet smells so earthy! And a Euro Pillow Top which gives it better and more cushioning.
Individually Wrapped Comfort Coils
Individually wrapped coils in the top portion of the mattress are the most advanced coil system in the luxury mattress market. These coils respond and contour to every body shape.
Dual Perimeter Edge Support System
Foam encased anti-sag edge support for better durability and more sleep surface. The Saatva Mattress uses a Dual Perimeter Edge Support System. The upper comfort coils are foam encased. This is a quality that only the most durable and best mattresses have.
Lumbar Support Enhancement
Lumbar support enhancement made of high quality memory foam layer, providing additional pressure relief while helping reduce stress and tension from the lower back.
Steel Coil Base Support System
All Saatva's luxury mattresses are built with a tempered steel support lower coil base. This creates a long lasting, sustainable mattress with increased durability and is the best design to prevent sagging.
Who Should Buy the Mattress?
Everyone should try it! I am saying this with all confidence. Also, you can't go wrong since it is available in three different levels of comfort.
Their best seller is the Luxury Firm, then there is the firm and plush soft.
The Luxury firm falls in between, it's like the perfect balance between the firm and plush soft. I suggest you try it if you are a back sleeper, side sleeper or a sleeper who likes to switch sleeping positions. It is always a good choice for stomach sleepers.
You will find comfort and relief no matter what. It's like the perfect balance if you like your mattress with a  touch of Hug & Support. The secret sauce? The individually wrapped coils perfectly layered with soft foams creating that extra "hug" in the Saatva Classic mattress. As soon as you lay your back down on it you get that right amount of firmness that conforms to your body while preventing you from sinking.
The Luxury Firm comfort level turned out to be what my body was able to respond to comfortably since I switch between my back and side when I sleep.
Below are recommendations on who should go with the Firm and Plush Soft:
Choose Firm if: 
You prefer to sleep on your back OR stomach.
Prefer a mattress that you float on top instead of sink into.
And if you simply prefer a firmer mattress.
Firm in this case doesn't necessarily mean that annoying cement block or hard firm feel! It's firm enough that when you lie down it gives you that initial push to keep you leveled.
Choose Plush Soft if:
You like to feel wrapped up in your bed with an extra touch of soft and perfect amount of hug.
You like to sleep on your side mainly! Doesn't mean you cannot switch between side and back.
This level of comfort was made to conform to your body making sure it won't disturb you as it's giving you this comfort and pressure relief you are looking for.
What Type of Bed Frame Works?
The Saatva works with any standard bed frame. As for the King and Queen size, center support is recommended! After all it is a heavy mattress.
Better be safe than sorry, plus you will get all the real Saatva benefits if you do so.
The Saatva is supposed to be compatible with all adjustable bases. I have found out that the 11.5″ thick works on an adjustable base, but the 14.5″ are meant to go on a sturdy standard bed frame! I would suggest a great center support, the kind of bed frames with at least 5 legs with 1 in the center.
My personal opinion, if I had a Saatva I would put it on a traditional bed frame. It will last longer. I also worry about the coils and the fact that I may be destroying a great quality mattress slowly on an adjustable bed. Plus it will looks WAY MORE ELEGANT on a bed frame.
However they do carry their own line of adjustable bases, it's called the Lineal. Haven't tried it yet, but it may work better with their Saatva mattresses than any other average adjustable bed. Mine ( I own a Rize), did show an OK reaction to the Saatva Hybrid I was testing.
Saatva Classic Mattress Review – Price Table For 11.5″

Price list updated: July 2022

| Twin | Twin XL | Full | Queen | King / Cal King |
| --- | --- | --- | --- | --- |
| $912 | $1,198 | $1,670 | $1,770 | $2,170 |
| 180 Night Trial | 180 Night Trial | 180 Night Trial | 180 Night Trial | 180 Night Trial |
Is Saatva mattress a good mattress?
Saatva has put together a very luxurious mattress for their base model. The Saatva Classic Mattress is their entry-level mattress and you will find it available in 3 firmness levels. It supports all sleeping styles and ranks as one of our top 2021 mattresses.
What mattress is comparable to Saatva?
The Saatva Classic mattress is a hybrid mattress, with a combination of foam and coils. It provides great back and joint pain relief, while keeping the spine aligned and supported. We find it to have similar characteristics and comfort levels as the Nolah Evolution mattress - another hybrid mattress, great for people suffering from back pain.
Do any stores sell Saatva mattresses?
The Saatva mattresses ship straight to your door and are white-glove delivered to the room of your choice. They are not available to test in store. They do come with a 180-night home trial, giving you ample time to test the mattress and hopefully fall in love with it.
Which mattress is better Saatva or DreamCloud?
While we can't say which mattress you will prefer sleeping on, we do like the Saatva and DreamCloud was different reasons. The DreamCloud feels a little more responsive, making moving during the night easier and sleeping with a partner a little less bouncy. The Saatva offers a little more lumbar support and pressure relief in the center of the mattress. The DreamCloud is significantly cheaper and has a 365-night home trial, while the Saatva offers a 180-night trial.
Do Saatva mattresses sag?
No, the Saatva Classic mattress does not sag. Its perimeter is reinforced with firmer edges to prevent sagging. It also widens the sleep area and allows sleep from edge to edge. Additionally, Saatva provides a 15-year warranty, standing behind the high quality of their product!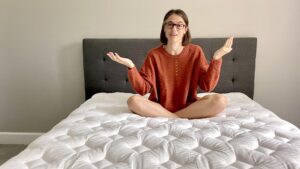 NEST BEDDING SPARROW REVIEW The Nest Bedding Sparrow Mattress (former:...
Read More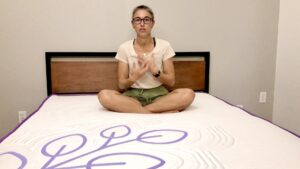 SHEETS AND GIGGLES EUCALYPTUS MATTRESS REVIEW How do you feel...
Read More