AIRWEAVE MATTRESS ADVANCED REVIEW
We love discovering and testing unique mattresses. The mattress industry has come a long way with new proprietary materials and technologies, over the last few years. 
But when we stumble upon an innovative product like Airweave, we get very excited!
If you are looking for an at-home customizable mattress, easy to move if you're a frequent mover, and 100% washable, please meet your new mattress! 
Priced at a premium, with qualities second to none, and seen in no other mattress, let's take a look at whether we think the Japan-made Airweave Mattress Advanced is worth the price tag!
$300 OFF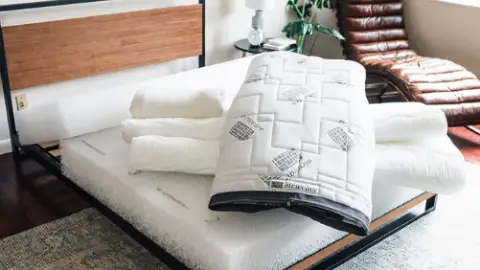 Airweave Company Policies
Free shipping and returns
100-night trial
10-year limited warranty
Made in Japan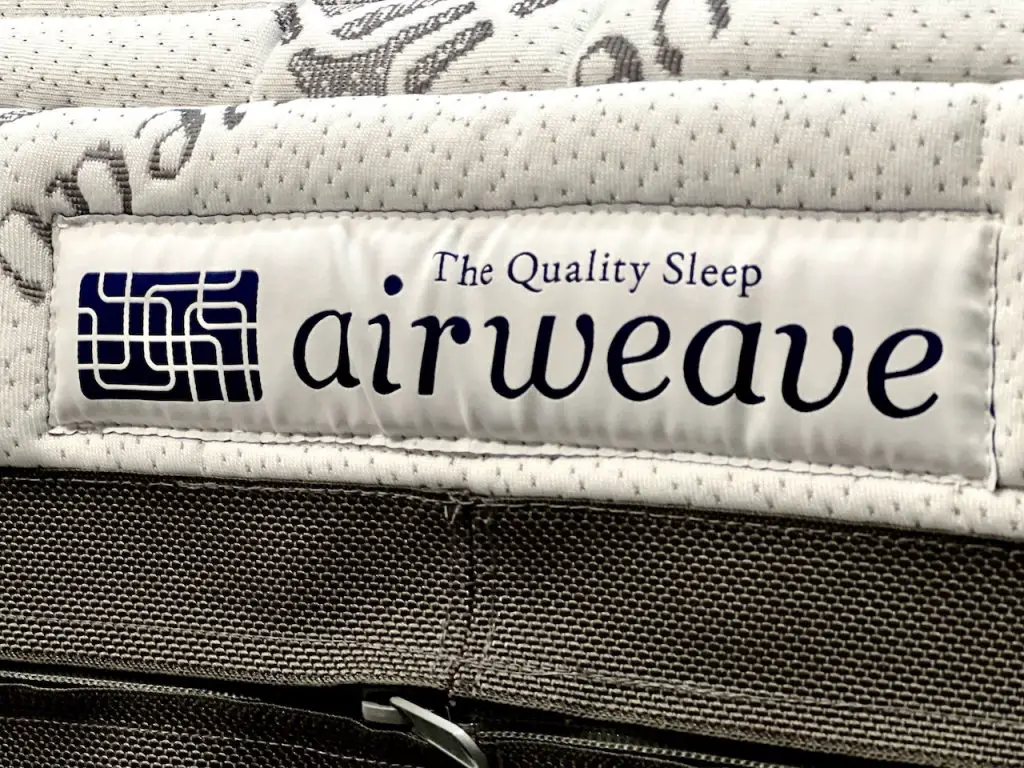 What's Inside The Airweave Mattress Advances
In a nutshell:
Outer + inner covers

2 comfort layers

3 airfiber flip & rotate blocks

MattressFit web-based app
Outer + Inner Covers
Airweave is the mattress you build yourself, up to your personal specifications and preferences. The outer cover is a soft and thick polyester cover, adding plushness to the Airweave Mattress Advanced, while the inner cover, which keep the AirFiber blocks together, is a thin rayon / glass fiber cover. Both layers are completely washable.
2 Comfort Layers 
Under the outer cover, add one, two, or none of the comfort layers, based on your plushness preference. Made of polyester, they add comfort and coziness to your Airweave Mattress Advanced. Both of those layers are washable.
3 Airfiber Flip & Rotate Blocks
The 3 airfiber blocks (food grade non-toxic plastic) are what make the Airweave Mattress Advanced so unique. Flip the block until you reach your preferred firmness. The head and feet blocks can be flipped between soft and moderate, while the more supportive block under your back and hips can be flipped between moderate and firm. 
MattressFit Web-Based App
Before setting up your mattress, use the free MattressFit web-based app for a customized firmness recommendation based on 2 photos of your body. The system will return the configuration they think will work best for you. You can further customize your mattress if you are looking for a different feel!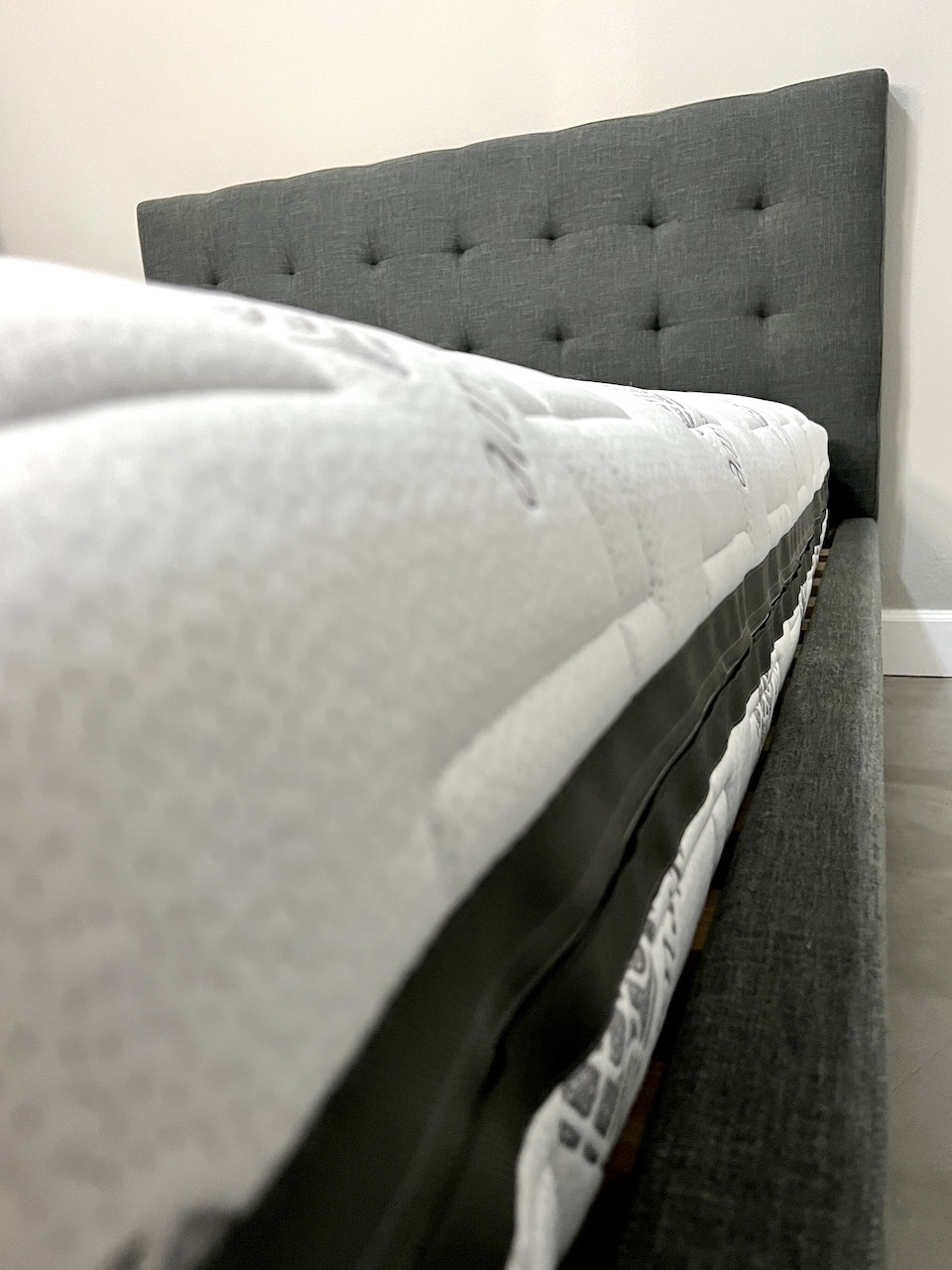 Airweave Mattress Advanced Sleep Tests
Everything we felt in one box
| Firmness | Temperature | Maintenance | Sleeping Style | Bed Base |
| --- | --- | --- | --- | --- |
| The Airweave Mattress Advanced's firmness can be customized by flipping the airfiber blocks to their softer, or firmer sides. Overall, this is a fairly firm mattress. When using the softer sides of all three blocks, we rated the firmness a 6.5 to 7 out of 10. On its firmest setting, you are looking at an 8 out of 10 on the firmness scale. | The airfiber used in the Airweave Mattress Advanced is very open cell, letting lots of air flow through the thickest layer of the mattress. This bring cool room air up to the comfort and cover layers, and help disperse your excess body heat, for a temperature-neutral mattress. | This is the first mattress we ever rate a 10 / 10 in the maintenance category. Every part of the mattress is detachable and can be washed (except for the inner cover)! Maintenance is super easy and you can have a perfectly clean mattress anytime you decide to wash it. The outer mattress cover and 2 comfort layers can be machine washed and air dried, while the airfiber blocks should be rinsed with cool water and a mild detergent. | Thanks for the at-home customization option, the Airweave Mattress Advanced fits several sleeping styles. If you are looking for a very plush / lots of pressure relief, as a side-sleeper, you may find this mattress too firm. I would say that heavier-weight side-sleepers may be the only group this mattress is not designed for. But light-weight side sleepers, all back and stomach sleepers, should find the Airweave Mattress Advanced very comfortable to sleep on! The airfiber has a special property that allows it to bounce up and conform to your exact body shape, making it an ideal partner for most sleeping positions and body shapes. | The Airweave Mattress Advanced can be laid on any flat surface: flat platform beds, slatted beds, boxsprings or foundation, adjustable beds, or even the ground. |
Airweave Mattress Advanced Prices & Discounts
$300 OFF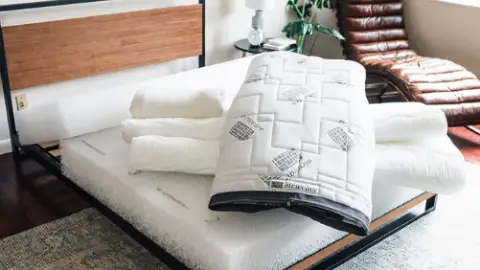 The Airweave Mattress Advanced is a very unique mattress, offering at-home customization options, so your mattress adapts to your changing needs and preferences. 
Priced at a premium, you are spending more than on a regular mattress, however, when comes the time for a new mattress, save money by only switching out the parts that need replacements (i.e., airfiber block(s), mattress cover…). Instead of buying a whole new mattress 8 years down the road, you will get all the feels of a new mattress for a portion of the cost. 
Lastly, as the Airweave Mattress Advanced is the only fully-washable mattress we have ever tested, it will last you several years longer. Simply wash the blocks, comfort layers, and covers as needed. You will not be getting rid of this mattress for un-removable stains!
Make sure to click "SHOW CODE" above to claim the deepest discounts!
Price List updated: June 2022 – PRE-DISCOUNTED PRICES

Detailed Airweave Mattress Advanced Review Conclusion
The Japanese Airweave Mattress Advanced mattress is a very interesting and one of the most unique mattresses on the market today. Airweave invests a lot in sleep research, aiming at creating mattresses that support joint and back health by manufacturing technologically-advanced materials. 
Fully customizable from home, you can adjust it as your needs and preferences change. It is also the only fully-washable mattress we have ever tested, with every single pieces, including the airfiber blocks, completely washable. 
We love seeing everything that goes inside this mattress. There is no hiding under seams and covers. You build the mattress yourself, and see and feel everything that goes inside of it. 
Let's a look at our detailed review of the Airweave Mattress Advanced.  
Find all of our Airweave reviews HERE.
Airweave was started in 2007 by Japanese businessman Motokuni Takaoka, after taking over his uncle's fishing line business upon graduating from Stanford University. He soon realized that the resin fiber used in fishing lines could be applied to the mattress industry to create a new sleeping surface built for health and recovery. 
The Airweave mattresses ally innovative technologies and the traditional idea behind Japanese futons, which makes it easy to move and store when not in used. Today,  Airweave sells a collection of mattresses, mattress toppers, airline toppers for lay-flat premium seats, pillows, and seat cushion. 
Airweave is the trusted partners of several elite athletic teams, including the Opéra National de Paris (Paris Opera) and the IMG Academy, which both furnish their athletes' dorm rooms with Airweave mattresses. If you stay at the Ritz-Carlton Paris, Andaz NYC, the Kitano Hotel, or fly premium classes on Japan Airlines, you can request an Airweave mattress for your room. Dancers of the Royal Ballet School, skiers of the U.S. national team, and runners on the British olympic teams, all sleep on Airweave mattresses. 
What Is Inside The Airweave Mattress Advanced?
Since you will be building the Airweave Mattress Advanced upon receiving it, you will get a close look at every component, which is incredible. 
Note that the Airweave Mattress Advanced is shipped in 3 boxes, which is very unique in the mattress industry. Instead of receiving 1 large and heavy box, the 3 boxes are much easier to move around your home. If you are a frequent movers, you will love the option to unbuild your mattress and to move it with ease!
The delivery is done via a private carrier, who truly cares for your shipment and won't be tossing the boxes by your front door. You will be receiving a call to schedule your delivery and your signature will be required. 
In box 1/3 are the outer and inner covers, as well as a 2 comfort layers. In boxes 2/3 and 3/3 are the three airfiber flippable blocks. Building the Airweave Mattress Advanced, following the steps included in the box, and with no prior knowledge of the product, took about 10 minutes, and was an easy and straight-forward process. Once built, the mattress is ready to immediately be slept on, has no off-gassing, and does not need time to decompress. 
Outer Mattress Cover
The outer mattress cover, which will be the closest to your body at night, is made of a soft polyester. With a modern stitched design, it is a soft and plush first layer to lay on, adding comfort on top of the two comfort layers coming below. 
The Airweave mattress cover can be fully unzipped and washed when you need it. By easily keeping your mattress cover clean, you get cleaner sleep and if you are suffering from from allergies or skin conditions, this is a big plus. 
Two Comfort Layers 
The next two layers are optional and you can decide whether you want to add them inside your Airweave Mattress Advanced. They are two thin and soft layers made of polyester, which create a plush barrier between the firmer airfiber blocks and the mattress cover. 
Add one, both, or none, depending on the comfort level you are looking for. We put both into our test mattress and enjoyed the extra inch or so, of softness to craddle into. The Airweave Mattress Advanced is a fairly firm mattress and we found those two comfort layers to be very comfortable, adding just enough softness to the mattress. 
Three Flippable Airfiber Blocks
Airfiber makes Airweave shine! It is Airweave's proprietary technology and the innovative material that makes the Airweave Mattress Advanced as performing as it is. 
With the mattress, you will receive 3 blocks. The head and foot blocks can be flipped on their Soft or Moderate side. The mid-section, supporting the heavier parts in your body (hips, buttocks, stomach) can be flipped from Moderate to Firm. I recommend using the MattressFit free web-based app prior to unboxing the mattress. With the help of a second adult, the app will use two pictures of your body (wear tight clothing for best results) to give you a customization recommendation. 
Use that recommendation as you first build your Airweave Mattress Advanced. If you decide to skip that step, no worries – test out the airfiber blocks as you take them out of the box and build the mattress as you think will work best. You can flip and rotate the blocks as many times as you'd like, until you find the perfect configuration. All it takes, is unziping your mattress! 
What is airfiber? 
I am so glad you asked 🙂 
Airfiber is an incredible layer of polyethylene that is food grade non-toxic plastic and hypoallergenic! It was designed and developed by Airweave. It is has properties that help your body get better rest and recover quicker. 
Because of its open cell design, it lets lots of air flow through the mattress, ensuring that you never sweat on your Airweave mattress. It allows your body to maintain a healthy resting temperature, which helps you fall asleep faster and stay asleep deeper and longer. 
Airfiber is a very responsive material, which is great for three reasons: 
 It fills up all the gaps in your body and conforms to the exact shape of your, and your partner's bodies. In doing so, you receive support from head to toe. Your spine is aligned naturally and your body (bones, joints, back) recovers quicker, allowing all body parts to sleep relaxed, instead of engaged and contracted to remain aligned. If you suffer from back or join pain, the Airweave Mattress Advanced is a fabulous option and should be top of your list! 
 We've talked about airfiber sleeping much cooler than foam, due to its open cell design. However, because of airfiber's responsiveness, it makes switching positions as effortless as possible. You will never feel stuck in the Airweave mattress. And because your body is fully supported in its natural position, you will notice a great decrease in muscle activity throughout the night, and are less likely to get hot. Except to feel more rested when you wake up! 
Lastly, airfiber is a very clean material to sleep on. Made of food grade non-toxic plastic, it is hypo-allergenic Not only can you fully wash it as needed, but airfiber repels mold, mildew, dust mites, and bedbugs. If you suffer from allergies and skin conditions, you should find noticeable improvement when sleeping on the Airweave Mattress Advanced.  
Inner Cover
The last piece of the Airweave Mattress Advanced is the inner cover, which holds the three airfiber blocks in place and prevents them from splitting apart when you sleep on them, as well as create a fire barrier. The inner cover is a soft and thin layer made of 70% rayon and 30% glass fiber, and this is the only part of the mattress that should not be washed.  
How Does The Airweave Mattress Advanced Sleep?
Firmness
The new Airweave Mattress Advanced is firmer than most mattresses, though you can rearrange the airfiber blocks to create a mattress as soft as a 6.5 out of 10 on the firmness scale, and as firm as an 8 out of 10. 
The beauty of the Airweave Mattress Advanced is the unlimited times you can flip and rotate the airfiber blocks. If your needs (i.e., injury, illness, pregnancy) or preferences change with time, simply open up your mattress and reconfigure the airfiber blocks to change your mattress firmness. 
Sleeping Style
The only sleeping style for which this mattress might be too firm, is side-sleeping heavier folks. They may find that their hips and shoulders require a little more pressure relief than the Airweave can provide, even in its softest configuration. 
However, most side-sleepers 200lbs or lighter, who prefer a firmer mattress, as well as all stomach and back-sleepers, will find the Airweave Mattress Advanced to be very comfortable. It will align your body in its natural and healthy position.
If you suffer from back pain, the Airweave is great option for a healthier back. 
Temperature
Thanks to the large amount of air flowing through the airfiber, the temperature will stay temperature neutral throughout the night. The different layers do not retain body heat and even the hot sleepers should find that they have comfortable nights of sleep.   
Motion Transfer
While airfiber is naturally bouncy and responsive, it works really well in helping your body spend less energy moving around and conforming to your body's shape. Thanks to its three-piece design, motion transfer is very limited and a moving partner should not be disturbing you during your sleep. 
How Do I Care For The Airweave Mattress Advanced?
Nearly 100% of your Airweave Mattress Advanced can be washed. Here is how:
the outer mattress cover and 2 comfort layers can be machine washed and air dried
the airfiber blocks are easily washed in your shower or tub, by rinsing with cool water and a mild detergent. If you need to disinfect, wipe them down with a cloth and ethyl alcohol (bleach can even be used for special sanitization) – they are made of food grade non-toxic plastic and air dry quickly. 
$300 OFF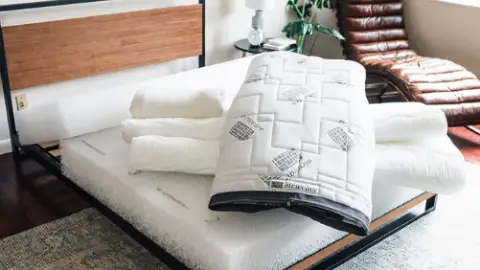 The PLUSES

The MINUSES

Helps align entire spine / bones / joints into healthy sleep position
Allows muscles to relax for more rest 
Allows for easy tossing 
Great for those suffering from back and joint pain
No motion transfer, great for couples 
Sleeps temperature neutral 
Easy and light to move when disassembled, for the frequent movers
Hypo allergenic and fully-washable, great for allergies and skin conditions 
Customizable at home
Appeals to nearly all sleeping styles and body shapes
No off-gassing
Easily replace parts instead of the whole mattress

Firmer mattress, might be too firm for heavier-weight side-sleeping folks 
Premium price point
How do you clean the Airweave mattress?
The NEW Airweave Mattress Advanced is fully washable (except for its fire-retardant inner cover). The outer mattress cover and 2 comfort layers can be machine washed and air dried. The airfiber blocks can be run under cool water and with mild detergent, or be cleaned with ethyl alcohol for disinfecting.
What is Airweave mattress made of?
The NEW Airweave Mattress Advanced is made of airfiber blocks, a food grade non-toxic plastic, which have incredible airflow and responsiveness. The covers and soft layers are made of polyester.
Where is the Airweave mattress made?
Airweave is a Japanese mattress manufacturer, designing and manufacturing its mattresses in Japan.
Share this deal with a friend!