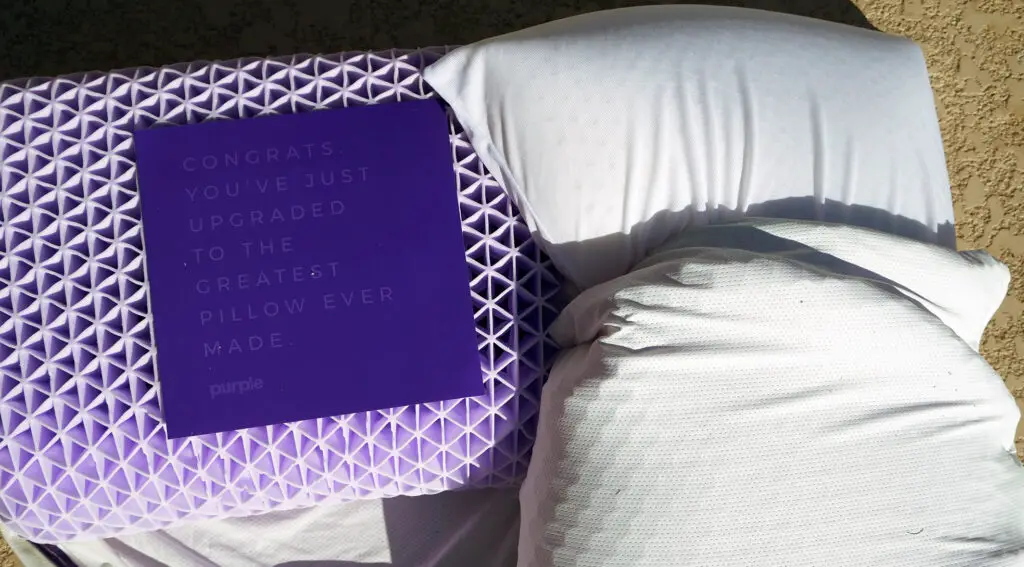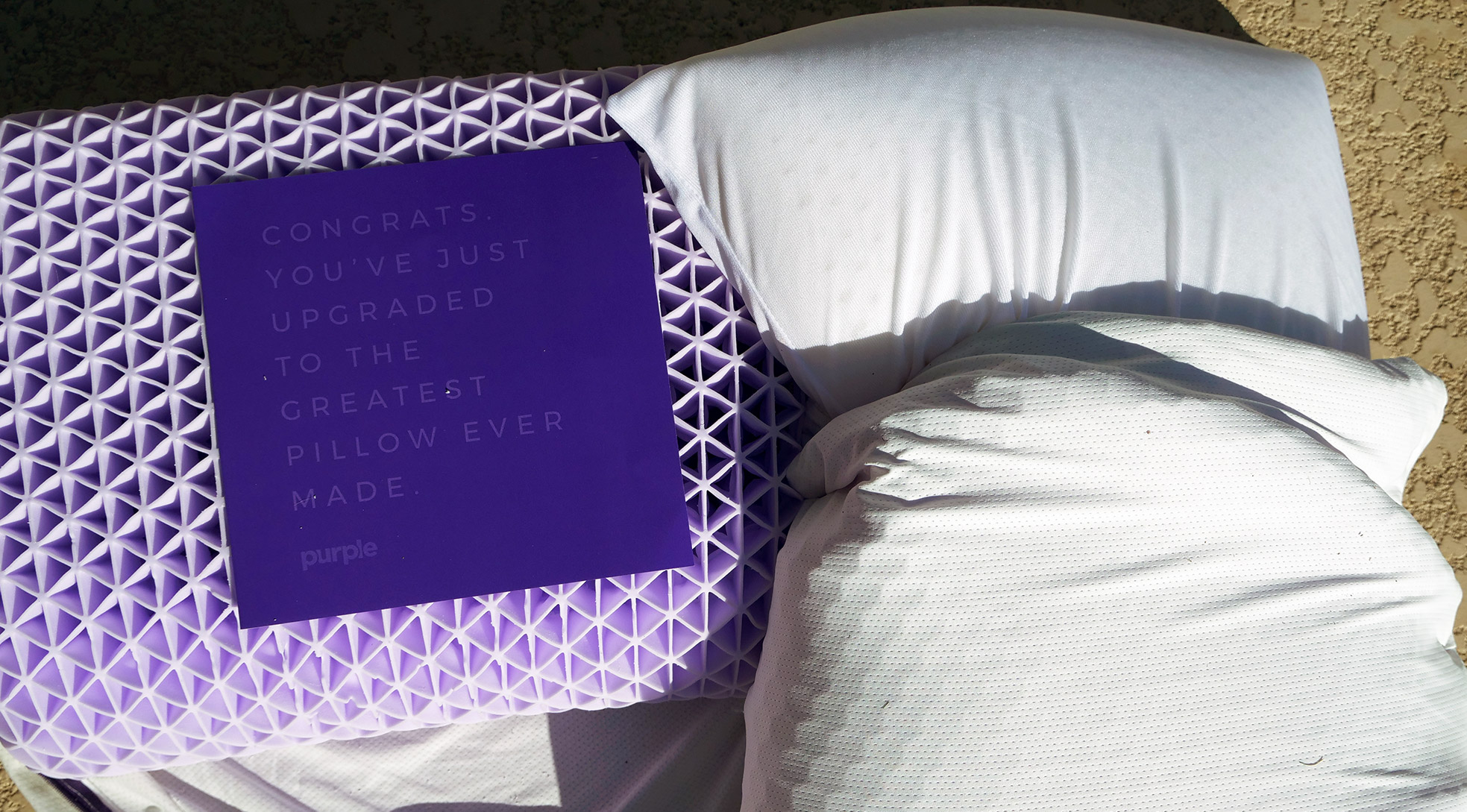 Purple Pillows: Which Should You Choose?
Purple currently sells 3 types of pillows.  The original grid pillow, a traditional plush pillow (no purple grid) and they just launched the Purple Harmony pillow.
Purple is known for their egg catching Grid, but this time it is different.  They introduced 360 degree purple grid hex technology and paired it with talalay latex.
Purple Pillow Review Menu
Purple Pillow Video Review
This video focuses on the Purple Pillow and the new Purple Harmony Pillow.  Which is better in a pillow-fight?  Which is better to use as a pillow for sleeping?  Find out!
Not shown in this video, the purple plush pillow.  I haven't purchased one, but they are basically your traditional poly foam pillows with zippers on each side so that you can adjust the firmness of the pillow.
Purple Innovations Company Policies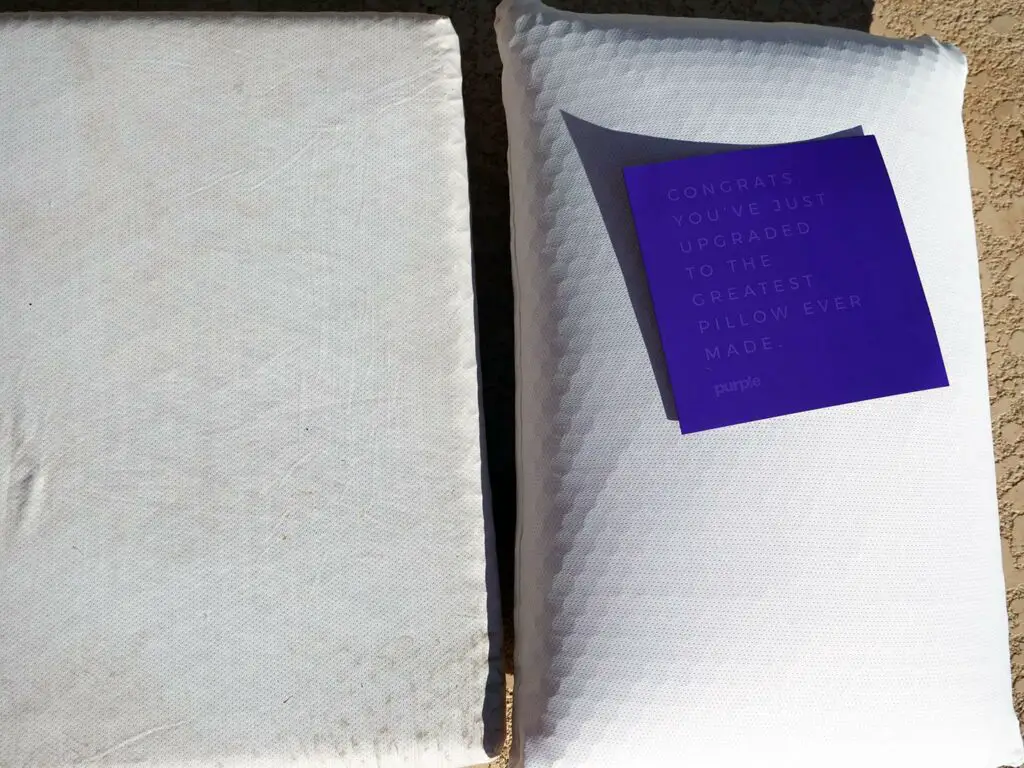 Purple innovations offers:
100-Night Trial Period
1-Year Warranty
Free Shipping
Free Returns
I have personally tested out their return policy a couple of years ago.  I purchased a Royal Seat Cushion and sent it back during the trial period.  After receiving a full refund I purchased an Everywhere Seat Cushion, which was much easier to take on the go.
What's Inside the 3 Purple Pillows?
Let's start with my new favorite purple pillow, the Harmony.  It has a moisture wicking removable cover, which can be washed on cold settings.  This means you don't have to fear this purchase if you tend to sweat on your pillows or are a drooler, or even have a dog that will find a way to drool on it. 
I'm not sure which of these two components really bring the HARMONY, but there is a magical concoction that the people at Purple discovered.  At the core you have a Talalay Latex foam.  For those of you not familiar with Talalay latex, it is an all natural product that comes from rubber trees.  It is extremely bouncy, durable, long lasting, and helps keep away bed bugs and dust mites.  Surrounding the core is a 360 degree hyper elastic polymer grid layer.  Which has been refined to be much lighter than the Purple Pillow.  Together the pillow is both supportive and bouncy.  
The Purple Pillow is a 10 pound pillow full of the famous egg catching grid.  The grid keeps it cool, but the weight prevents me from using it as a traditional pillow.  That doesn't mean that I don't get a ton of use out of it.  I use the purple pillow as a seat cushion, as a ultimate weapon in pillow fights and to smother my husband when he snores too loudly.  I realize that those aren't the intended uses for the pillow, but I'll leave it as "it just isn't for me".
The purple plush pillow is firmer when zipped up on both sides and softer when the zipper is unzipped.  The material has more space when it's unzipped.  It does not contain Purple's Proprietary grid like structure.  Although, I would bet that in the future they upgrade the plush pillow into a hybrid with the outside cover from the harmony cover.  This would give them 2 versions of the harmony, one with latex and one with poly fiber balls.
Purple sells three pillows so let's start by saying that I have not slept on their plush pillow.  I have had the Purple Pillow for over 2 years now and I can say that I have not once made it through an entire night of sleeping on it.  It is way too heavy (10 pounds) and it's flat. 
Where does that leave us?  With the Purple Harmony pillow, which is AMAZING!  You get the bounce of a latex pillow, but with the weight and egg cradling HEP grid.  Which allows your head to sink in just enough to sleep comfortably without needing to flip it to the other side, or adjust the fluff throughout the night.  The cover has the added bonus of being cool to the touch.  I can't even guess how many pillows that I have tested and reviewed in the last few years, but I do know this: I haven't been this excited about a pillow EVER.  Seriously, the Harmony jumped all the way to number one on my best pillow list.
Purple Pillow Price & Discounts
These are the prices of their three pillows as of 10/8/2020.
Purple Pillows Review Conclusion
If you want a truly unique pillow the Purple Harmony is the clear choice.  Even though it has a hefty price tag, the materials inside are both long lasting and durable.  I would expect this pillow to last in excess of 10 years based on my experience with the purple grid over the last 2 and a half years and the proven quality of talalay latex.  The cool to the touch cover and the hex grid can be separated from the latex inside.  This means that if the people at purple could expand on this pillow and make a non latex version of it if they wanted to.  They could either fill it with the materials that they are already using for the plush pillow or go to a shredded memory foam style pillow.
The purple plush pillow has an innovative zipper concept, which allows the user to adjust the overall firmness of the pillow.  For an adjustable pillow I find the pricing to be competitive, so I'll probably purchase one to update this review.
As for the original purple pillow, I highly recommend that you own one so that you are prepared to dominate in your next pillow fight.  I personally like to use mine in my weight lifting routine, but don't use it for it's original purpose of sleeping on it.

$400 OFF
Purple
$400 OFF the Purple Plus Mattress with coupon code (click to reveal) and 20% OFF Pillows