BEARABY NAPPLING WEIGHTED BLANKET REVIEW
We love bedding products specially made for kids. The Bearaby Nappling is a weighted blanket designed for kids, with everything we love in a product: 100% organic cotton, no fillers, beautiful calming colors, and 8 pounds engineered to help children fall asleep faster and deeper naturally. This one has found a permanent home in our young daughter's room! Let's look at what we loved in the Bearaby Nappling!
Free shipping and returns
30-night, risk-free home trial
No artificial fillers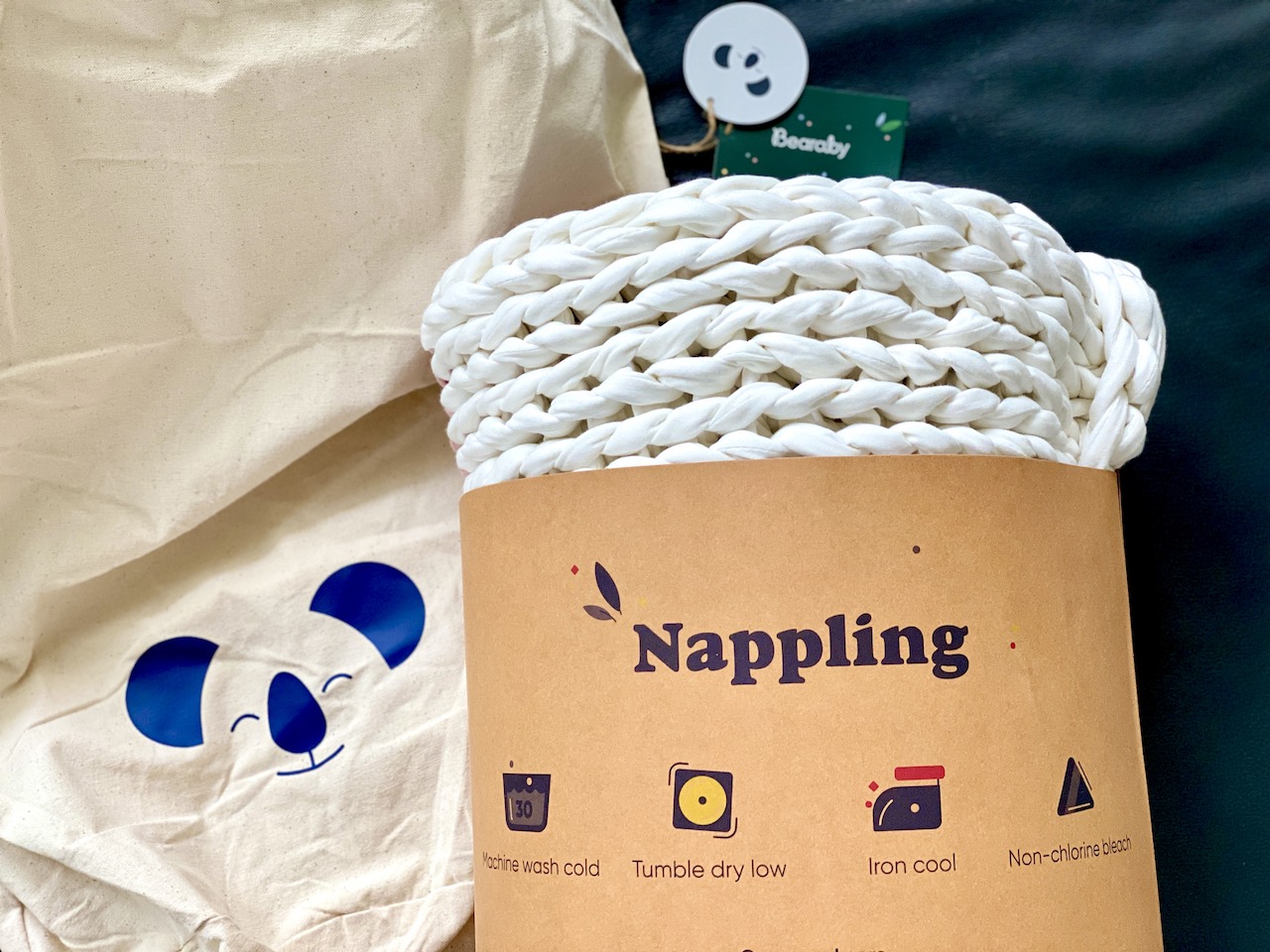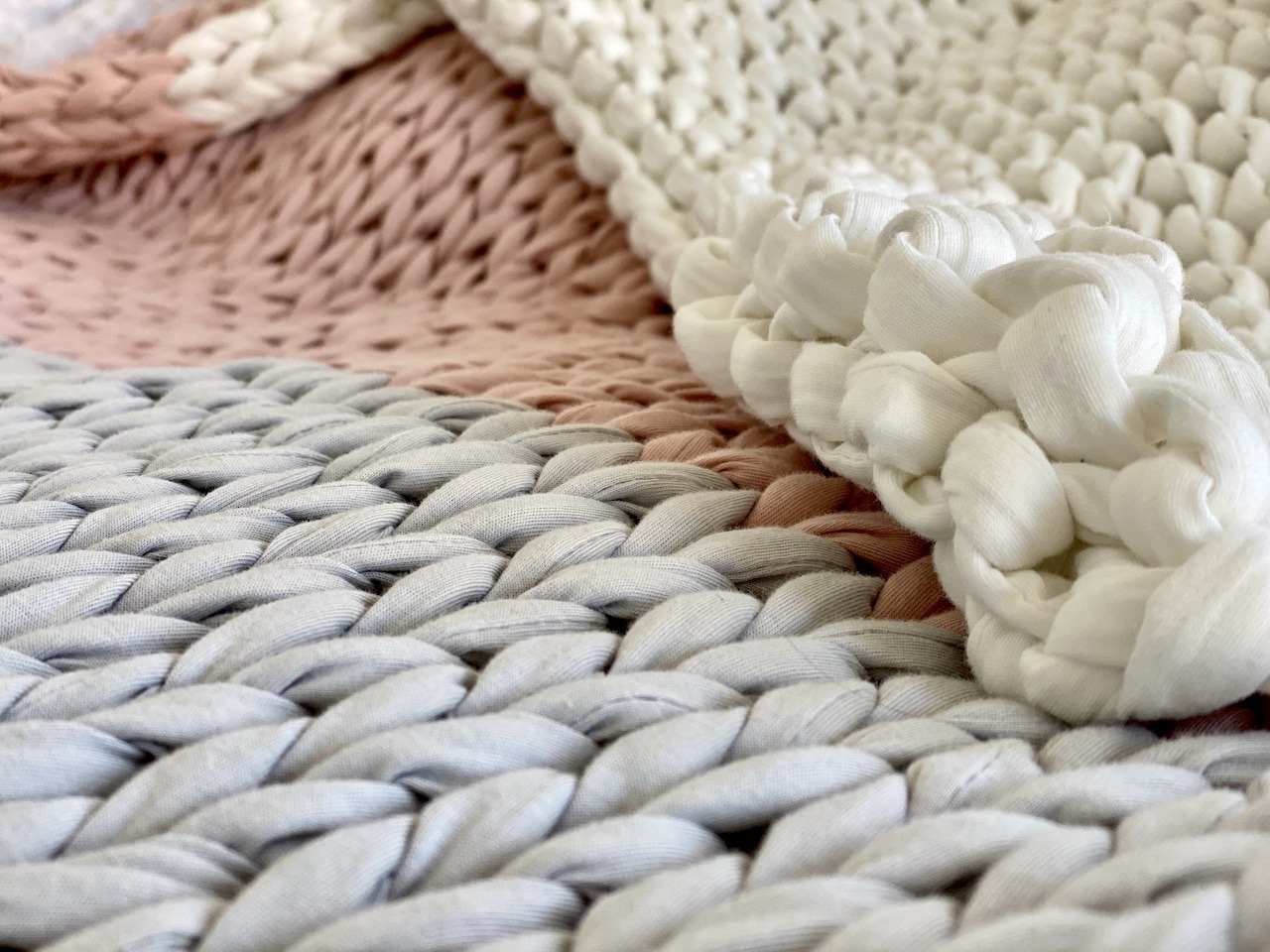 What's Inside The Bearaby Nappling Weighted Blanket
In a nutshell:
100% organic cotton
8 lbs / 40″ x 60″
Machine washable
100% Organic Cotton
The Bearaby Nappling weighted blanket for kids is nothing but 100% organic cotton. Unlike many weighted blankets, it has no artificial fillers. Its weight is made up of several threads of organic cotton. It is entirely vegan and plant-based, which makes it softer than most weighted blankets, and ideal for kids and their sensitive skins.
8 lbs / 40″ x 60″ 
When Bearaby created the Nappling, they designed a weighted blanket for kids. With a weight of just 8 lbs, it is ideal for children ages 4 to 14. I can recommend it for kids up to 100 lbs. Its size of 40″ x 60″ makes it the perfect size for a child's twin-size bed, perfectly covering the mattress and naturally lulling the child to sleep.
Machine Washable
Because children are prone to accidents and parents need easy and convenient products, we loved that the Bearaby Nappling is machine-washable. Wash it on cold and tumble dry it on low. If needed, you can even iron it on cool. Super easy to care for, especially in case of accidents or spills!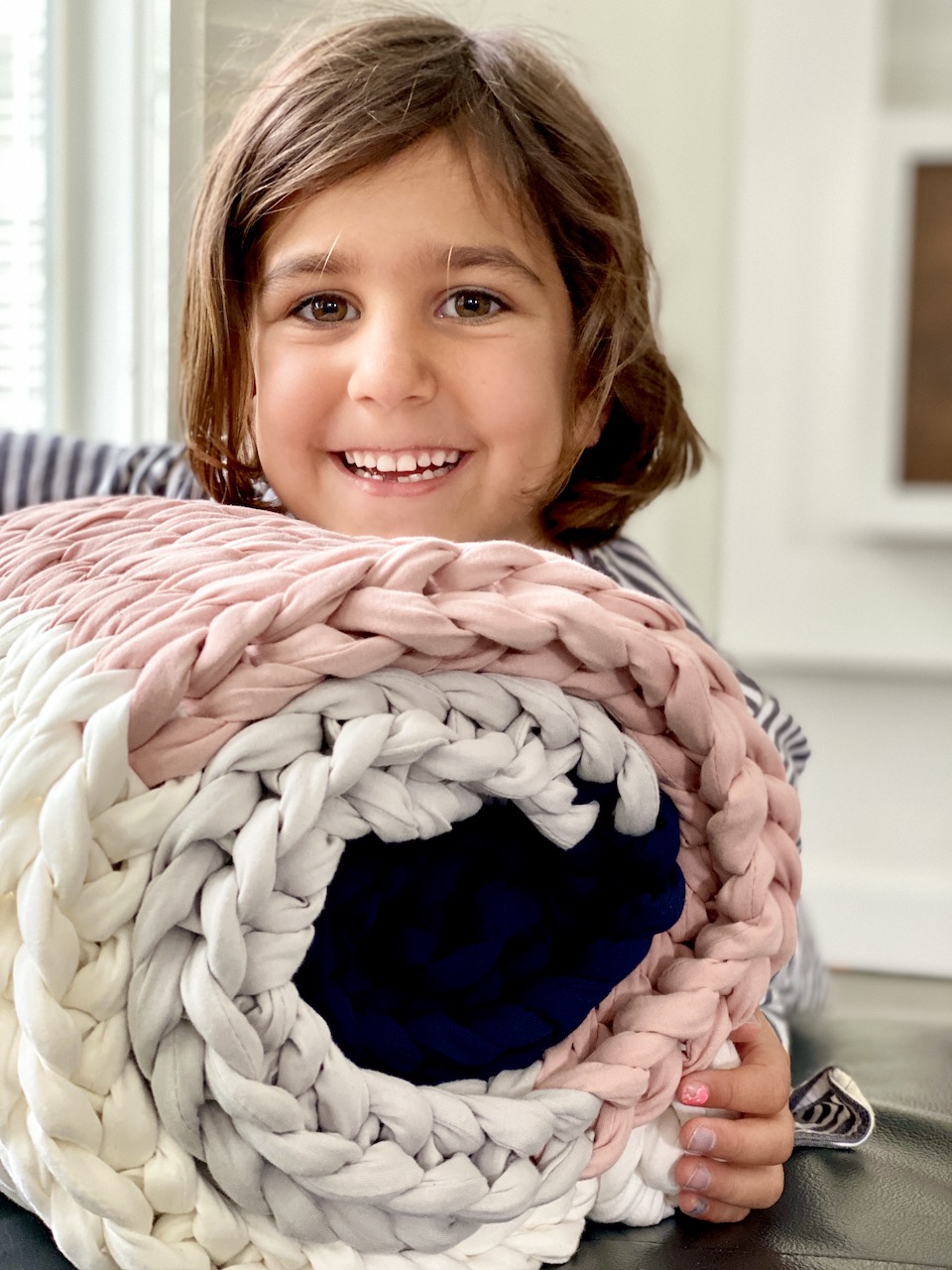 Bearaby Nappling Weighted Blanket Sleep Test
Everything we felt in one box
| Softness | Temperature | Maintenance | Breathability | Weight |
| --- | --- | --- | --- | --- |
| Since the Bearaby Napplyin Kids Weighted Blanket is 100% organic knitted cotton, it feels much softer than other weighted blankets we have sleep tested. The weight is made by threads of organic cotton intertwined into one another, creating a perfect little cloud of softness cocooning the kids to sleep. | There is no feeling hot under the Bearaby Nappling blanket! It is hand-knitted in large knits, that let air pass through. On colder nights, add it on top of the child's comforter to rip the benefits of the weight on his/her body. In the summer, either lay the Nappling on top of a flat sheet, or directly on the child, since it is 100% organic cotton and safe for their skin. | 100% cotton means that it is super easy to care for the Bearaby Nappling Weighted Blanket. It is machine washable on cold (30C), as long as your washing machine can take the weight. I personally prefer to wash it alone, to avoid anything tempering with the hand knitting and color. For drying, lay flat to air dry or tumble dry on low for 2 or 3 cycles. DO NOT hang dry... that would damage the chunky knit structure. | The knits are chunky and wide, and since it is made of 100% organic cotton, the Bearaby Nappling Weighted Blanket is one of the most breathable ones we have tested. All our child felt, was a natural way to de-stress and a comfortable and therapeutic way to fall asleep faster and deeper. | This weighted blanket is specifically designed for children. With 8 pounds of organic cotton, it works really well for kids until about 100 lbs (after what, I'd recommend moving onto a 10-lb weighted blanket). The Bearaby Nappling will work really well for kids ages 4 to 14. It is designed to fit a twin-size bed really well and should be used on just one child for ultimate benefits. |
Bearaby Nappling Weighted Blanket For Kids - Prices & Discounts
The only question you need to ask yourself when choosing a Bearaby Nappling Weighted Blanket for your child, is which color to pick. 
Bearaby only offers one weighted blanket for kids. It is 8-lb heavy and 40″x60″. It comes in 5 absolutely gorgeous and calming colors, that are earth tones and will fit most kids room decors very naturally!
Midnight Blue: a deep navy blue
Moonstone Grey: beautiful gender-neutral light grey, great for baby shower gifts
Evening Rose: blush pink in a calming tone
Butternut Bliss: earthy and grounding (one of my favorite tones!), can work beautifully with forest or animal-themed rooms
Confetti: split in 4 quarters lengthwise, with an equal amount of Midnight Blue, Moonstone Grey, Evening Rose, and White. It is the one we tested as picked by our 5-year old as her favorite
Make sure to click the box above to claim the deepest discounts on Bearaby discounts. The Nappling Weighted Blanket for kids is sometimes out of stock, and worth waiting for!
Price List updated: April 2021
Detailed Bearaby Nappling Weighted Blanket Review Conclusion
We have been testing the Bearaby Nappling weighted blanket for kids for nearly a month, with our 5-year old. She had been begging for one and we loved that Bearaby designed a weighted blanket for kids specifically, made of 100% organic cotton! 
If you are looking for a natural way to help your child fall asleep faster and deeper, weighted blankets are a must. Our 3 kids now use them, and we noticed a world of a difference as soon as they started using them. Unlike us, adults, they got used to their blankets immediately, and none of them will let us take them off of their beds. 
They truly look forward to sliding underneath the heavy weight at night, and we use either 8 lbs or 10 lbs, depending on their size. When I ask my oldest daughter (age 9), she says that she finds comfort under the weight, "kind of like a hug" and it prevents her from excessively tossing around. I see it as the big-kid swaddling solution. Their weighted blankets keep them safe and secure and have become a routine in their lives.
Bearaby is an American company known for their high-quality weighted blankets. All of their products are hypoallergenic 
They take great pride in the materials they use in their products. Their organic cotton is OEKO-Tex 100, BCI, GOTS, and Fair-trade International certified. It is farmed and sourced in sustainable farms in India. 
They offer 4 weighted blankets for adults, and the Nappling for kids. Their Tree Napper, a weighted blanket for adults, is made of Tencel, a sustainable fabric made of wood pulp from trees grown in Austria. 
Additionally, Bearaby is a zero-waste company, committed to zero plastic in their production line. You will find that their weighted blankets are delivered in 100% organic cotton bags and held together in paper. 
Find all of our Bearaby reviews HERE. 
What Is Inside The Bearaby Weighted Blanket?
The Bearaby Nappling Weighted Blanket is different than most other weighted blankets. While most are made of a gridded stitched polyester insert enclosing glass pellets, Bearaby has designed a product that is safe for the planet and our kids, all around. 
The Nappling weighted blanket for kids, has none of the synthetics, artificial fillers, and no glass at all. Instead, it is made of 100% organic cotton, handwoven in a large and chunky knit. 
The organic cotton makes this blanket sustainable and is the softest kind of material. It is health-conscious and avoids the harmful effects of synthetic textile production on our planet, making it good for us and the Earth. 
How Does The Bearaby Nappling Weighted Blanket Sleep?
Softness
Organic cotton always feels softer than regular cotton to me. The Bearaby Nappling weighted blanket feels very soft and makes you want to snuggle right with it. The quality is visible and touchable! I also loved the beautiful little pouch it came in – great for storage or to fill with the kids toys and plushes!
This weighted blanket cries softness and your child will want to snuggle right underneath it for comfort and safety.
It is definitely on the top of the softness scale when it comes to weighted blankets.
Temperature
The organic cotton and large hand knitting style make the Bearaby Nappling weighted blanket naturally very breathable. Expect your child to feel the therapeutic weight, without the warming effects of synthetics. 
Weight
With no glass pellets in it, the Bearaby Nappling has a very evenly distributed weight. It feels very comfortable and was designed for children. 
Bearaby recommends it as a weighted blanket for kids from ages 4 to 14. We have been testing it with our average-size 5-year old daughter, and it has worked wonders for her. Ever since sleeping with the Nappling, she no longer wanders around her room and the house before falling asleep. And as a child who always slept on top of her covers, she has been naturally sleeping under her Bearaby weighted blanket on almost every night of the last month! 
Based on the 10% of body weight rule-of-thumb when picking a weight for your blanket, the Bearaby Nappling should work really well until a child reaches about 100 lbs of body weight. Beyond that, you can start transitioning them into a 10-lbs weighted blanket. BAsed on average weight, that takes a girl to age 13/14, and boys to age 13.
If you are unsure about the weighted blanket weight rule of thumb, check the last session in this review. 
How Do I Care For My Bearaby Nappling Weighted Blanket?
Bearaby has designed a weighted blanket that is extremely easy to care for, since made of 100% organic cotton. Since it is designed as a weighted blanket for kids, it is a wonderful thing. Accidents happen with kids, and being able to quickly and conveniently throw the Bearaby Nappling in the washing machine is amazing!
For washing, use your washing machine on its cold and gentle cycle. I always recommend washing weighted blankets on their own due to their weight and the sensitive nature of their knit. Also check that your washing machine can wash a load as heavy as the wet weighted blanket you are putting in it. Use a gentle detergent and avoid fabric softener. 
For drying, either let air dry flat – do not hang the Nappling weighted blanket to dry… you would damage the handwoven knits and design. You also have the option of putting it in the dryer, but expect at least 2 dryer loads to do the trick! My recommendation is to do 1 dryer cycle to get most of the water out, and laying it flat to fully dry after that.
Ideal Weight For Weighted Blankets
The general rule of thumb for the ideal weight for weighted blankets for adults is 10% of your body weight, plus or minus a couple of pounds. For children, you will find that they generally enjoy 10% to 30% of their body weight on them. Before letting a child sleep with a weighted blankets, ensure that they can safely remove themselves from the blanket on their own!!
Let's look at an example for most adults: you weigh 150 lbs and 10% of your body weight is 15 lbs. If you add or remove a couple of pounds, the ideal weight for your weighted blanket would likely be 13 lbs to 17 lbs. 
The other way to think about this is to look at a 15-lb weighted blanket. It would comfortably soothe a person weighing between 130 and 170 pounds. 
Your preference in terms of weight and hugging sensation will impact the ideal weight for your weighted blanket. Most importantly, you need to be able to remove the blanket from your body unassisted.
The PLUSES

The MINUSES

Designed for kids
Natural and organic
Hypoallergenic and safe
Handwoven
Super soft
Calming and earthy colors
Natural way to de-stress
Breathable - no feeling of heating
No synthetics
No glass pellets 
Eco-friendly and health-conscious

Sometimes out of stock
Rarely discounted (but the price is great value as is!)
Share this deal with a friend!
Silk And Snow Weighted Blanket Review (2022) | Non Biased Reviews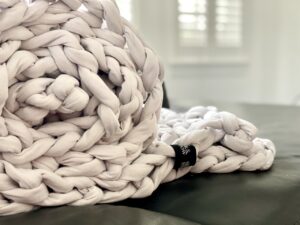 Looking for a soft and natural way to fall asleep? The Silk and Snow Weighted Blanket is one of our favorite on the market. Come see what we love about it!
Product Brand: Silk & Snow
Product Currency: USD
Product Price: 210
Product In-Stock: InStock