Nectar Adjustable Frame Review 2019
Not too long ago I put together a list of one stop shopping for bedding products.  After I put it together, I thought that Nectar needed to expand their product line.  Sure enough they just announced that they have added an adjustable frame to their line up.  I'm on the west coast so the shipping time was amazing, just 2 days.  Of all of the adjustable frames that have shipped to me this box was the least damaged.  It has just two minor scrapes on it, typically the boxes will have holes in them and once an adjustable bed came to me damaged.  I can tell right away that this one was not damaged during the shipping process.
This adjustable base is built by Classic Brands LLC, and is shipped and sold through Nectar's website.  I have tried this model before, so I knew what to expect when I opened up the box.  First, it is priced way below the competition.  For all of the features that come with this bed, you should really expect to pay about 30-50% more.  Of course, there is a bit of a catch.  You need to do some assembly to transform this from the box into your bed frame.  It isn't complicated and I did 99% of it by myself, and I weigh 115 pounds.  One of the features that I love about this is that the two heavy pieces ship unattached.  This allowed me to take it out of the box downstairs and move it piece by piece into the bedroom.
Nectar really has the shipping aspects of this figured out.  Their mattress ships in a tube, rather than a box.  At first I thought that was a problem, then I realized that the way that it is compressed and packaged meant that it would fit into impossible spaces.  So I put it to the test and put a Nectar mattress on a boat.
Menu:
What is Inside the Adjustable Frame?
3 Zone Massage
Head and Foot Movement
Program Your Favorite Postion
Wireless Remote
USB plugs
Free Shipping
Here is what it looks like after I assembled it.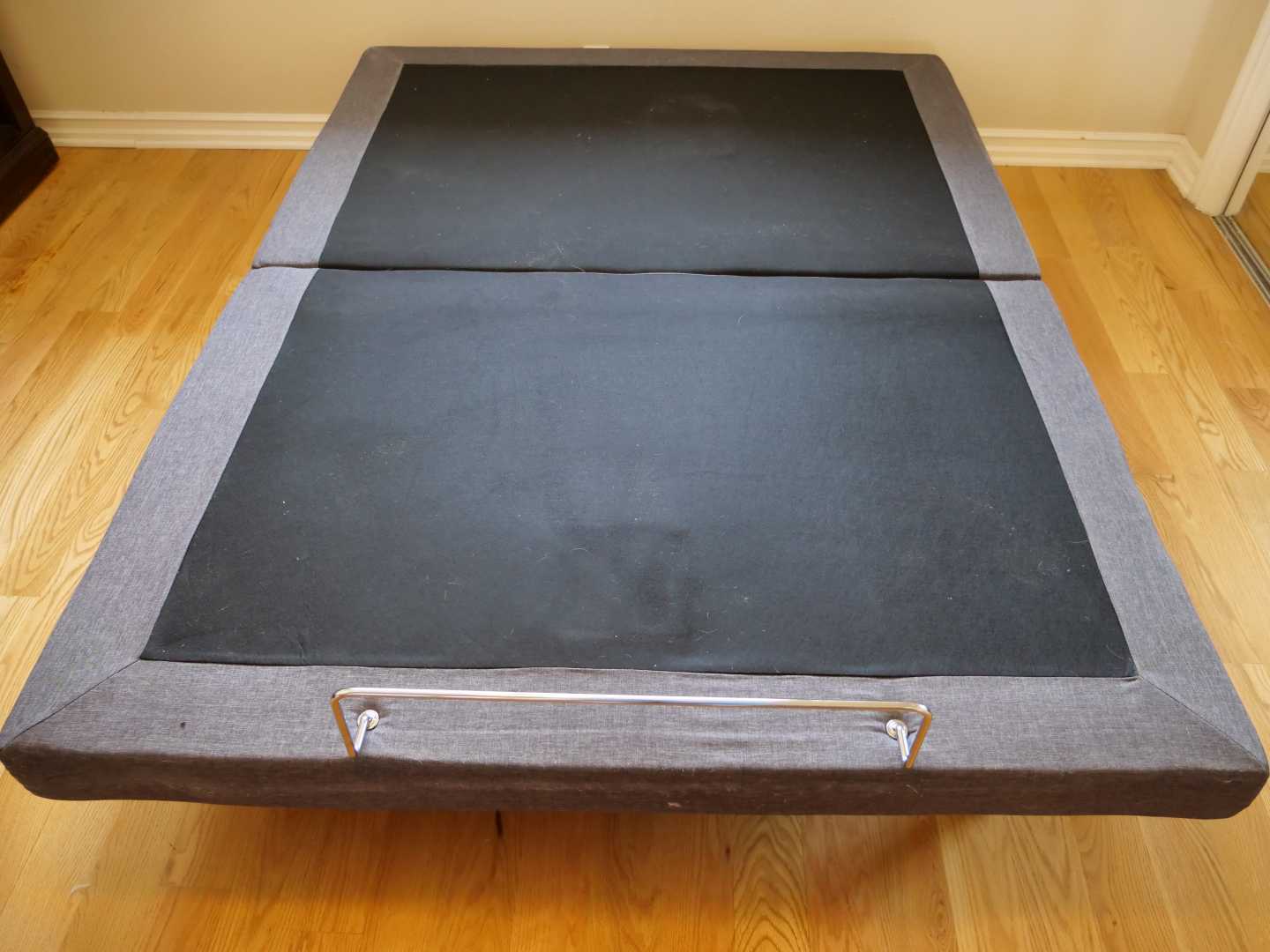 Sleep Test Results
You can see from the video that I was able to take it from the delivery down stairs up to the upstairs bedroom for assembly.  I did almost all of the work, but the cameraman helped just a little bit on the way up the stairs.  It took about 45 minutes start to finish, but it should take you about 30 minutes unless you also want to shoot a video.
It should be pretty clear from the video that this is the best adjustable base that I have tried so far.  I have tested this model on dozens of different mattresses and it is capable of working with mattresses that are 15 inches thick.  You should have no problem using your 11 inch Nectar mattress on this adjustable base.
PROS
• Massage Feature
• Ships in one box, but you can open it and carry the 2 large pieces separately to your bedroom before assembly
• Best value adjustable bed on the market
• Dual USB ports
• Priced below most competing products
CONS
• No under bed light
• You have to assemble it, budget for about 30 minutes or so.
To summarize, you get the best adjustable bed for the money, but you have to do a bit of work to realize the savings.
Who Should Buy the Adjustable Bed?
This is a solid budget option that will pair nicely with a Nectar mattress
You may notice similarity between the new Nectar Adjustable Bed and the Dream Cloud Adjustable Bed. Nothing's wrong with your eyes. DreamCloud was launched by the same team that launched NECTAR, however, it operates as a fully separate business and brand.
The wireless remote represents the ultimate customized comfort at the tip of your fingers:
The Nectar adjustable frame is loaded with many features. It allows you to raise your head and upper body to read or watch TV, or elevate your legs for added comfort. You can raise both separately, or together – You can do it just the way you like it!
Zero Gravity, or Zero G.
Relieve all the pressure on your back while improving circulation with one click of a button. Zero G. is ideal for rejuvenation and resting, it absolutely makes you feel like you are floating!
Say Bye Bye to snoring and acid reflux 
Raising your head while you sleep opens up the air passages, allowing for easier inhalation to reduce snoring. The added elevation has also been proven to relieve acid reflux symptoms. It's an instant WIN WIN right there!
We also do not want to forget a very important feature a THREE ZONE MASSAGE! It works like magic~
Oh and USB plugs because they are A MUST . Plug in your device and let it charge overnight so you are ready to roll when you wake up.
Bottom line, if you are looking for an adjustable bed that is easy to assemble – no tools required-  that is able to provide customized sleep positions and perks like Three Zone Massage, TV Recline and Zero Gravity settings as well as USB plugs for comfort and convenience and many other perks , all in just one adjustable frame, you are at the right place right here!
Most of all IT IS AFFORDABLE! I mean you get a great, top of the line durable adjustable bed with all the extras, seriously EVERYTHING YOU WANT IN ONE FRAME  for a reasonable price. Nectar Sleep was able to make sure your adjustable bed comes with all the bells and whistles possible at an affordable price. The perfect mate for your Nectar Mattress and the perfect addition to their one stop shop
What Type of Mattress Works with this Frame?
Foam
Latex
Hybrid with Individually wrapped coils
Do not use with a mattress that has interlinked coils
You won't need a foundation or box-spring if you go with an adjustable frame.
Price Table
| Twin XL | Full | Queen | King | Split King |
| --- | --- | --- | --- | --- |
| $649 | $775 | $799 | $1,199 | $1,298 |
| 100 Day Trial | 100 Day Trial | 100 Day Trial | 100 Day Trial | 100 Day Trial |
Current Specials
There are no specials on the adjustable frame, however you can get $125 off a mattress and 2 free pillows if you are looking for a one stop shopping experience.  This product will be eligible for my additional $25 off if you use my links.
Other Fun Nectar Articles
Unusual Places to set up a mattress
Unboxing
Unboxing Video
I'll let you in on a secret, it is the same product as you can see in this video that I shot recently.  Here is the catch, it is $100 cheaper if you buy it through Nectar than it is if you buy it through DreamCloud.
Unboxing Pictures
This part is important, you will need someone to help you move around the box and flip over the base once it is assembled.  Did you catch that part?  You will need to assemble it.  The good news here is that I was able to do all of the assembly (except the flipping) by myself.  Don't believe me, then watch the unboxing video above.