The Bed Frame from Nectar Sleep features a luxurious button-tufted upholstered headboard, elegant metal frame with real wooden slats, and a timeless design.
This bed frame with headboard will absolutely elevate any bedroom! We love that it is super easy to put together, NO TOOLS REQUIRED. 
33% OFF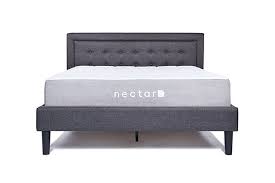 Nectar Sleep Company Policies
For its Nectar Bed Frame and Headboard, Nectar Sleep provides:
50-night at-home trial
3-year warranty
ree shipping and returns
The assembly is easy and manageable for one person. The Nectar Bed Frame and Headboard is durable, so you probably don't need to worry too much about returns. 
I have had the same product from DreamCloud for just about a year now, and it is set up in my son's room.  He finds a way to break just about everything, but this headboard still looks new.
What Is Inside The Nectar Headboard?
I absolutely love the fact that all parts, from frame to wood slats and tools (yes all of it), are hiding inside the headboard itself, which confirms that it is easy to take this bed frame apart and take it with me when I need to change location.
The stylish low-profile frame and sturdy wooden slats function as the perfect foundation to support your mattress, while the 8-inch legs provide an ideal height to get in and out of bed smoothly. The total height on the Nectar Bed Frame with Headboard is 40 inches.
The Nectar Bed Frame with Headboard is built to last but has easy set up and can be disassembled quickly for storage or moving. All parts, instructions, and tools are neatly packed inside. This not only makes the shipping super easy, as it all fits in one box, but if you move you could put all of the pieces back into the headboard and move it as one piece.
It took me close to an hour to assemble it, but I was recording the process, which slowed me down, and I took the extra step and put my Nectar Adjustable Base inside this bed and headboard. If you are interested in that process, skip to 20 seconds of the video above, and you can see that the Nectar Adjustable Frame fits inside the Headboard if you take the slats out.
Nectar Bed Frame Sleep Test
As I mentioned before, my son has been using the Nectar Bed Frame and Headboard for close to a year with no complaints or damage. I used it for a few weeks with Nectar's Adjustable Frame inside of it, which of course, means that it fits. If you want a truly luxurious experience, add the Adjustable Frame to your Nectar Bed Frame and Nectar mattress. You will be guaranteed some of the best, and coolest sleep of your life!
Who Will Love The Nectar Bed Frame
People who want a stylish bed frame on a budget
Owners of an adjustable base

Both the Nectar and DreamCloud adjustable base fit inside the frame (I have tried it)

People who dislike box springs


All you need is this frame and your favorite mattress
People who don't want to assemble their bed frame

It's not hard to assemble, I did it by myself

Owners of really thick mattresses


If your mattress is thicker than a Nectar mattress (13 / 14 inches), part of the headboard will be covered up
Nectar Headboard + Frame Price & Discounts
33% OFF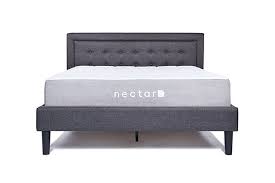 Nectar is a division of a larger furniture company called Resident Home. They offer discounts throughout the year and we are excited to be able to offer our readers with an exclusive discount code for the deepest discounts.
The Nectar Bed Frame comes in two colors. The upholstered, button-tufted headboard can be ordered in Grey or Linen (as seen in our review video).
You can choose from 3 sizes – Full, Queen, or King. All come with a metal frame with wooden slats to support your mattress, so you don't need to buy anything else. Your mattress of choice will lay directly on the wooden slats, which will give it all of the support it needs. No need to purchase spring boxes or any additional frame!
Make sure to click the box above to claim the deepest discounts, and use discount code NONBIASED for the deepest current discount!
Price List updated: May 2021
Nectar Headboard Review Conclusion
When the bed-in-a-box revolution started, people were just getting used to the idea of home delivery rather than in-store shopping.  Now that we all love the concept, we are more interested in how heavy the box is. 
As far as the Nectar Bed Frame with Headboard is concerned, it helps to have someone help you to move it, unless you want to take it out of the box piece by piece. We definitely recommend being 2 adults to transport the Nectar box to your room of choice.  
Can I assemble the Nectar Frame and Headboard on my own?
Easy Peasy! Yes, it is an easy done job for one adult on his/her own! 
Will I be able to move the Nectar Bed Frame if I move houses or want to switch it room?
Yes, absolutely!
Have you considered the Nectar Mattress and brand-new, 2021, cool-sleeping, Nectar Premier?
Do I need a boxspring or any extra frame?
NO! The Nectar Bed Frame and Headboard comes with everything you need, and all you have to do is add your mattress of choice on top! The wooden slats will ensure that it gets all of the support it needs and you don't need to add anything to the Nectar frame.
I have assembled, and put together, the Nectar Bed Frame and Headboard by myself 3 times now. First, when I got it from DreamCloud, then I took it apart and stored it for about a month. I put it back together in my son's room.  Then I got my Nectar one, to make sure that they are the same (they are), and put that one together.  So yes, it is absolutely doable for one person to assemble this bed frame and it does well with disassembly and re-assembly!
I am very pleased with the Nectar Bed Frame and Headboard and I highly recommend it to accompany your Nectar Mattress.  However, the headboard part is a little bit to small for the DreamCloud mattress, which is 4 inches thicker than the Nectar mattress.
And make sure to check out all of our Nectar reviews right here. 
Most frequent questions and answers
Share this deal with a friend!
Nectar Bed Frame With Headboard
This Nectar bed frame comes from Nectar, but is also sold on the DreamCloud website. Ships directly to you, no tools required, and I assembled it by myself!
Product SKU: Bed Frame With Headboard
Product Brand: Nectar
Product Currency: USD
Product Price: 300
Price Valid Until: 12/31/2050
Product In-Stock: InStock