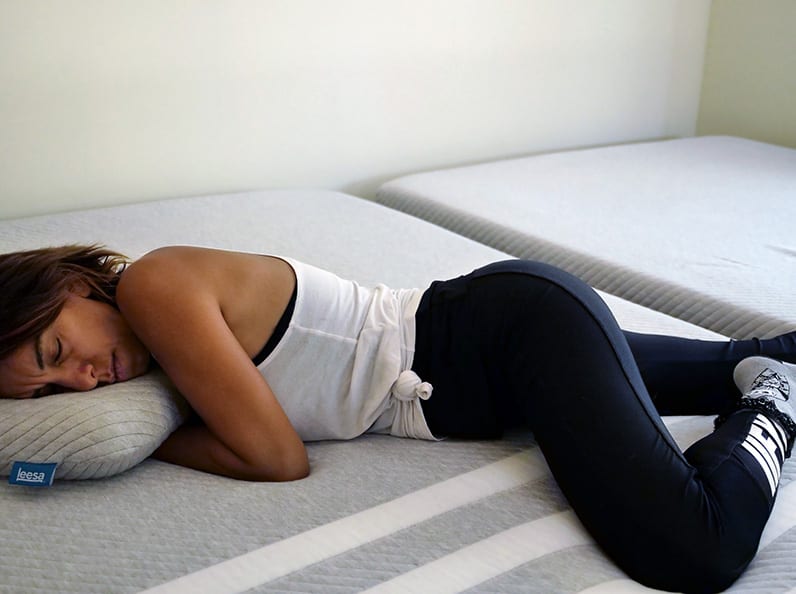 Why did I have 2 Leesa mattresses in my bedroom?  Well, to do a full review of the new model of the Leesa I had to put it next to my old one to see if my sleep experience would be different.
Was sleeping on the New Leesa Mattress different?  You can Skip ahead to the sleep testing if you want.
Up to $700 OFF + 2 FREE Pillows
What's going on here?  Why am I on 2 different Leesa mattresses?  Well, I'm going to let you in on a little secret.  Leesa redesigned the top layer of their mattress.  After three years they decided to make an improvement, and I spent 6 weeks flipping and flopping between the two versions to figure out why they made this change.  It took me awhile, but now I know why and I completely understand their decision.  DON'T Panic if you have the older version, it is a small upgrade, and I certainly approve of it, but I wouldn't throw out my old one. As you can see the Leesa 2.0 is remarkably similar to the Leesa that we have all come to know. It now looks a little bit sharper once you unbox it, so the wow factor goes up quite a bit. In addition, you will find that the hug that it gives you is just a bit better than it was for those of you who are side sleepers.
Leesa Mattress Review Menu
Leesa Mattress Video Review
We try to do a video review of the mattresses we test to give you a better understanding of their look and feel.  I have a unique take on mattress reviews as I am a petite side sleeper and this is shot in my bedroom.  My opinions may be different than yours, especially if you are much larger than I am.
There are 2 video reviews of the leesa original mattress below.  The first one was shot just yesterday as I wanted to show how it is holding up after 3 years and a move to a new house.
Leesa Sleep, LLC Company Policies
What really separates Leesa Sleep from their competition is their commitment to the community.  They operate within a 1 in 10 principle.  They choose to donate 1 mattress for every 10 that they sell.  This means that to date they have donated over 35,000 mattresses.  If you are good at math, then you know that they have sold over 350,000 mattresses so far.  They offer:
100 Night risk free trial
Free Shipping
Optional In-Home Delivery
Affirm Financing
You can test in person at West Elm
What's Inside the Leesa Mattress?
The cover is nice, so nice that they actually sell Leesa mattress covers as blankets.  Yeah, that's not a joke, when you feel the cover you will know what I'm saying.
It's made in the USA, I fast forwarded a where is my mattress made video to the Leesa section.
I live in Arizona so sleeping on a cool mattress is a must.  While sleeping on it I have never been too hot, which is a big plus for me.
Leesa is 10″ of all foam, unlike the larger sibling the Leesa Hybrid, which has pocketed coils.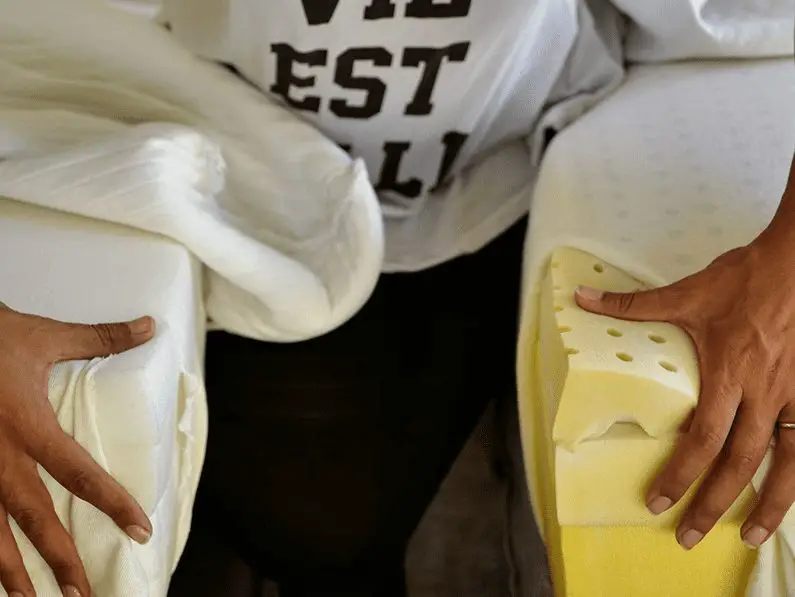 1. Cooling LSA200 Foam Technology.  This new foam has an IFD rating of 13 and a density of 3 PCF.
Pictured above, you can see the Avena foam at the top of the Leesa on the right and the new LSA200 foam on the top of the Leesa mattress on the left.
The LSA200 isn't as impressive when you look at it, there was something cool about the structure of the Avena foam.  After 3 years of using it they switched.  At first, I wondered why would they go away from something that they new worked?  Surely, they made this decision for a reason.
I figured out why they made the change after I woke up on it this morning.  The original Leesa design was already my top pick for side sleepers, and this is a huge improvement.  If you are a side sleeper and you are under 200 pounds, this is the mattress for you.
2. Pressure Relieving Memory Foam
The 2" memory foam layer provides the body contouring and pressure relief you've come to expect from memory foam.
3. Dense Core Support
The 6" dense core support foam adds strength, durability and structure to support sleepers of all sizes, without feeling too firm on top.
The top layer is where you find the 2″ of cooling foam.
The middle layer is 2″ of memory foam (polyurethane).
Rana, 2+2 equals 4 and you promised me a 10″ mattress.
Right, that means that the bottom layer is 6″ of dense core support foam for durability and edge support.  This layer has an IFD rating of 32 and a density of 1.8 PCF.
The Leesa mattress is a completely redesigned mattress offering a Universal Adaptive Feel™ that adapts to all body shapes and sizes and all sleeping styles. Most sleepers find this to be the most defining difference with a Leesa. Each layer of foam is carefully selected to provide core strength, memory foam pressure relief as well as cooling and bounce.
The Leesa mattress is 10″ thick. The 6" foam base allows for a solid, supportive base that helps the Leesa maintain long-lasting stability both as you sleep and when you sit on the edge of the bed. The 2″ memory foam center provides that signature cloud-like feel to hug to you as you sleep. Strategically positioned below the cooling layer, the memory foam is free to live up to its reputation of blissful comfort without the risk of over-heating the sleeper. The 2″ top layer of cooling foam, is designed for a cooler night's sleep.
Now that it has been redesigned and is even better for side sleepers do I need to replace my older version of the Leesa?
No, as you can see from my bedroom set up I have both beds side by side.  I have had the original Leesa for well over a year and it holds up just fine.  The improvement for side sleeping is great, the cover is either improved a bit or my old one is just worn a bit more.  So the new design is a better value, but I wouldn't toss the old one in order to upgrade.
Leesa Mattress Sleep Tests
I spent a few weeks alternating days on the old leesa design and the new leesa design.  The new one is clearly an improved mattress and I haven't felt the need to switch it out for one of the three mattresses that I have in my house that I haven't unboxed yet.  Long story short, I'm not doing my job as I keep coming back to my new leesa.  I know that I need to move on, I just haven't been able to pull myself away from it.
Leesa Mattress Price & Discounts
| Size | Measurements | Leesa Price | Leesa Hybrid Price |
| --- | --- | --- | --- |
| | | | |
| | | | |
| | | | |
| | | | |
| | | | |
| | | | |
Up to $700 OFF + 2 FREE Pillows
Leesa Mattress Review Conclusion
The Leesa Mattress is one of the best mattresses you can buy.  You feel great sleeping on a mattress from a company that does so much to support the community.
But how does it feel?  The cover is without a doubt one of the top 3 covers that I have tested.  If you could you would wrap yourself in the cover like a blanket.  Oh wait you can, the Leesa Blanket solves that.  In the winter time you can find me wrapped up in it at all times.
As for the mattress, if I didn't test other mattresses I would get to spend much more time on the Leesa Mattress.  It is one of my top overall picks, especially for side sleepers.
Up to $700 OFF + 2 FREE Pillows
Leesa
Up to $700 OFF + 2 FREE Pillows. 10% OFF all Bedding.Or use our exclusive discount code NONBIASED for 15% OFF your entire order!
Leesa Mattress Review 2019 | Non Biased Reviews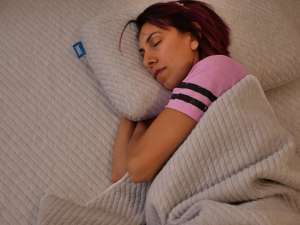 Leesa tweaked their secret sauce a bit. I have an older model leesa and the new verison. Find out if it still sleeps the same in my leesa mattress review.
Product SKU: Leesa Mattress Queen
Product Brand: Leesa
Product Currency: USD
Product Price: 849
Price Valid Until: 2025-12-31
Product In-Stock: InStock