Best seller
Leesa Mattress Review
Leesa Mattress Review 2018
The Leesa Mattress is one of the best mattresses you can buy.  You feel great sleeping on a mattress from a company that does so much to support the community.  Leesa donates one mattress and one pillow for every ten they sell.  This means that they have furnished over 23,000 mattresses to those in need.
But how does it feel?  The cover is without a doubt one of the top 3 covers that I have tested.  If you could you would wrap yourself in the cover like a blanket.  Oh wait you can, the Leesa Blanket solves that.  In the winter time you can find me wrapped up in it at all times.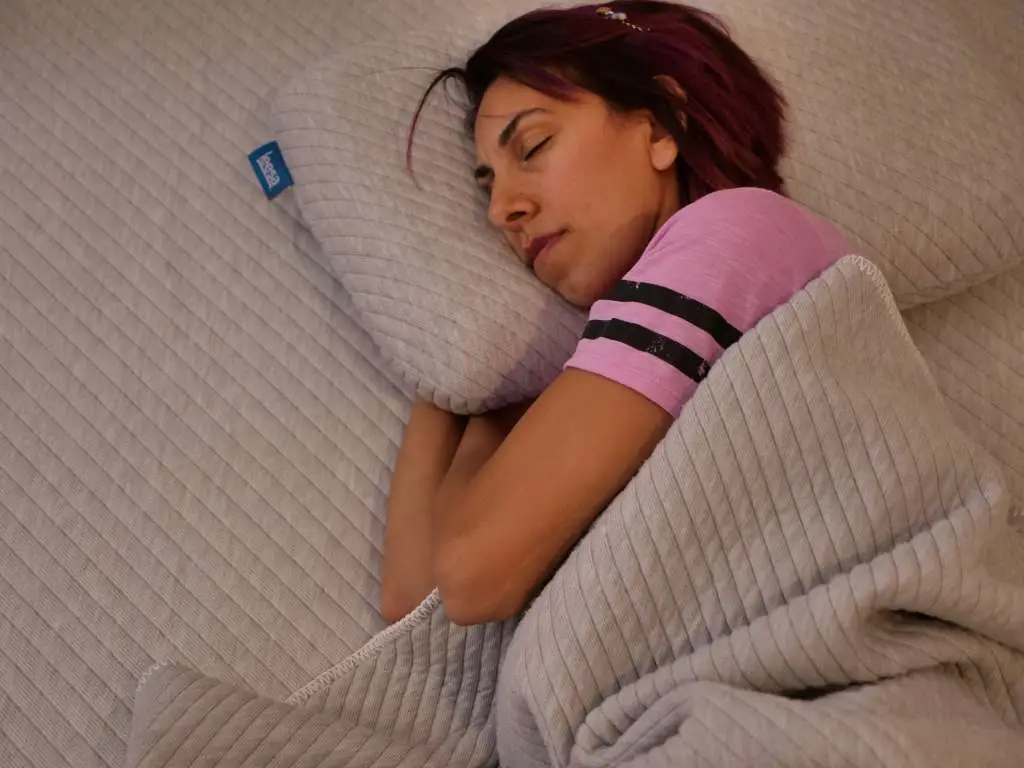 As for the mattress, if I didn't test other mattresses I would get to spend much more time on the Leesa Mattress.  It is one of my top overall picks, especially for side sleepers.  I'm going to spend a couple of weeks sleeping on it this year to refresh my memory and see how it stacks up to some of the other mattresses that I have tested since I originally tested the Leesa.

Menu:
What is Inside the Mattress?
The cover is nice, so nice that they actually sell Leesa mattress covers as blankets.  Yeah, that's not a joke, when you feel the cover you will know what I'm saying.
It's made in the USA, I fast forwarded a where is my mattress made video to the Leesa section.
I live in Arizona so sleeping on a cool mattress is a must.  So I'm a fan of the top air flow Avena foam layer.  While sleeping on it I have never been too hot, which is a big plus for me.
Leesa is 10″ of all foam, unlike the larger sibling the Sapira luxury hybrid, which has pocketed coils.
1. Cooling Avena® Foam
The two inch top layer allows air-flow for a cooler night's sleep. The Avena foam also provides enough bounce for freedom of movement.
2. Pressure Relieving Memory Foam
The 2" memory foam layer provides the body contouring and pressure relief you've come to expect from memory foam.
3. Dense Core Support
The 6" dense core support foam adds strength, durability and structure to support sleepers of all sizes, without feeling too firm on top.
The top layer is where you find the 2″ Avena foam, although they have taken the time to shape this layer so that it's only about 1″ in some parts.  The reason why they did this was to create some additional air flow to let some of your body heat out.
The middle layer is 2″ of memory foam (polyurethane).
Rana, 2+2 equals 4 and you promised me a 10″ mattress.
Right, that means that the bottom layer is 6″ of dense core support foam for durability and edge support.
The Leesa mattress is a completely redesigned mattress offering a Universal Adaptive Feel™ that adapts to all body shapes and sizes and all sleeping styles. Most sleepers find this to be the most defining difference with a Leesa. Each layer of foam is carefully selected to provide core strength, memory foam pressure relief as well as cooling and bounce.
The Leesa mattress is 10″ thick. The 6" foam base allows for a solid, supportive base that helps the Leesa maintain long-lasting stability both as you sleep and when you sit on the edge of the bed. The 2″ memory foam center provides that signature cloud-like feel to hug to you as you sleep. Strategically positioned below the cooling layer, the memory foam is free to live up to its reputation of blissful comfort without the risk of over-heating the sleeper. The 2″ top layer of foam, Avena™ is designed to allow constant air flow for a cooler night's sleep. A true breakthrough in comfort technology, Avena™ provides better support than memory foam alone, sleeps cool, is inherently fire retardant and is hypo-allergenic.
Sleep Test Results
I am in the process of shooting and editing an updated 2018 Leesa Mattress Review, please check back soon!
PROS:
• Works well with an adjustable bed massage feature
• Amazing Cover, with a zipper (you can dry clean the cover if needed)
• Avena Foam keeps the mattress cool in the summer.
• 10″ all foam mattress.  For an all foam mattress this is on the thicker side.
CONS:
• You get a bit of sinkage when standing on it.  Here's a hint though generally you sleep on mattresses not stand on them…
Who Should Buy the Mattress?
This is the best mattress for side sleepers, I am a side sleeper so we were meant to be together.  It also works well for back sleepers, but I don't feel like it is firm enough for stomach sleepers.
If you buy one Leesa is going to donate 1/10 of the sale to a local charity, so right there you have an extra incentive to get one.  With a 100 day risk free trial period you will have plenty of time to decide if it is the right mattress for you.  Leesa has one of the lowest return rates in the industry, that's a part of their secret sauce.  People are generally pleased with their purchase of a Leesa mattress.  Leesa is made in the USA, buying from them helps keep other Americans on the job.
 What Type of Bed Frame Works for this Mattress?
Solid Platform
Solid Foundation
Slatted Base
Adjustable Frame
Floor
Leesa Foundation
You can see how the Leesa works on an adjustable frame. If I were a little taller, the feet section wouldn't lift up as much. This isn't the top preforming mattress on an adjustable bed, but it isn't too far off.
 Price Table
The discount has been increased to $160 off through Memorial Day.
Fun Facts about Leesa
I just went to the Leesa Dream Gallery in New York
If you want to test out a Leesa before you buy one, head to your nearest West Elm location.
Leesa has a one in ten program, which donates one mattress for every 10 they sell.  These mattresses go to non-profit organizations which serve the homeless or at-risk adults and children.
---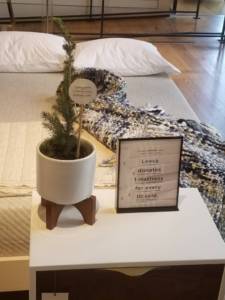 leesa donates a mattress for every 10 they sell
---
This program just hit a milestone of 23,000 donated mattresses.  Which, for those of you who are really good at math, means that Leesa has sold around 230,000 mattresses since they launched this program.  Assuming that everyone who owns a Leesa mattress has a sleeping partner, Leesa has sold enough mattresses for the entire city of Honolulu, Hawaii to be on one.  Which also means that they have donated enough mattresses to individually sleep the entire city of Sheridan, Wyoming.
For every mattress sold, Leesa plants a tree.  Let's stick with the 230,000 mattresses sold and assume that they have planted 230,000 trees
Assume that each tree gets ten feet of space in a row and 15 feet between columns.
Every acre of Leesa's trees would hold a little over 290 trees.
Therefore, they have planted around 793 acres of trees.
Imagine you can run 10 minute miles.  You set off and run for ten minutes then you take a right turn and run for another 10 minutes.  Then you get bored and take another right turn and run for another 10 minutes.  Not content yet you decide to run for another ten minutes after yet another right turn.
The square that you ran around, was it large enough to fit all of the trees Leesa has planted?
Based on the 230,000 mattresses sold number, nope!  You need to get out there and run for another ten minutes or so.  When you think about the scope of the project that they are doing it is amazing.
Current Specials
Leesa is currently offering $130 off their mattress and a free Leesa Pillow.  This has been tweaked a bit for Memorial Day.  It is $160 off if you use these links.
Thinking about buying the items we have reviewed? Help Non-Biased Reviews out if you do. Just click on any of the seller links above and the seller will contribute a portion of the sale to help support this site. It won't cost you anything extra and is a simple way to help us fund more items to review. Thank You!
Unboxing
 Shipping time was great, it took four days to arrive at my door.
Unboxing Video
Below is the shortest stop motion video ever on what is inside the Leesa X third sheet set.  By the way if you have never done a stop motion video it is so fun.
My eight year old son does most of the work on these and loves it.
Skip to 5:30 to see the mattress unboxing.

Unboxing Pictures
---
Here is the full line up of Leesa products.  From the bottom you will see the Leesa foundation, above it the mattress, the blanket and the pillow in the background.
Mattress Comparison Tool
Photo
Company
Mattress
Type
Features
Height
Sleep Test Rating
Queen Price
Coupon Code
Current Discount
Purchase
More Leesa Reviews:
Leesa is my best mattress for side sleepers
You can find Leesa on my best mattress page
Leesa is a great place for One Stop Shopping
Leesa Is Available in West Elm
Leesa at the Phoenix Dream Center
Leesa ships to Canada, perhaps I should shoot a Leesa review in French?  I'll do it if I get enough comments below.
Summary
Reviewer
Review Date
Reviewed Item
Author Rating
Pros
Amazing Cover, so amazing they used the same materials for a blanket and pillow
Avena foam layer keeps it cool
1 in 10 program is unique to the industry
Cons
When standing on it you feel a bit of sinkage
One of My Favorites
It's hard not to root for Leesa. As a B-Corp their mission is to serve the community, and they go above and beyond their duty. In addition, the cover on this mattress is so great that I use their blanket everywhere I go. As a side sleeper I feel like the Leesa gives me the perfect hug. Living in Phoenix is hot, but the Leesa's avena foam keeps me cool.