SILK & SNOW ORGANIC MATTRESS REVIEW
Did you know that most people spend 1/3 of their lives sleeping? It can't be a bad idea to lay your head and body on natural materials. Many mattresses use heavy chemicals as fire retardant, but Silk & Snow has found a way to keep their Silk & Snow Organic Mattress natural and 100% organic. 
$200 OFF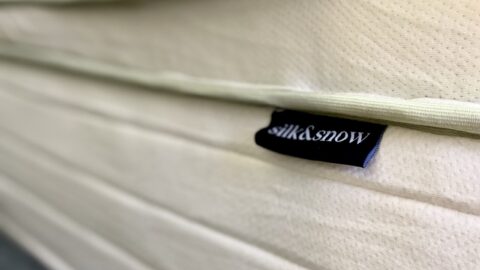 Silk & Snow Company Policies
Made in North America
100-night risk-free home trial
Free shipping and returns
15-year warranty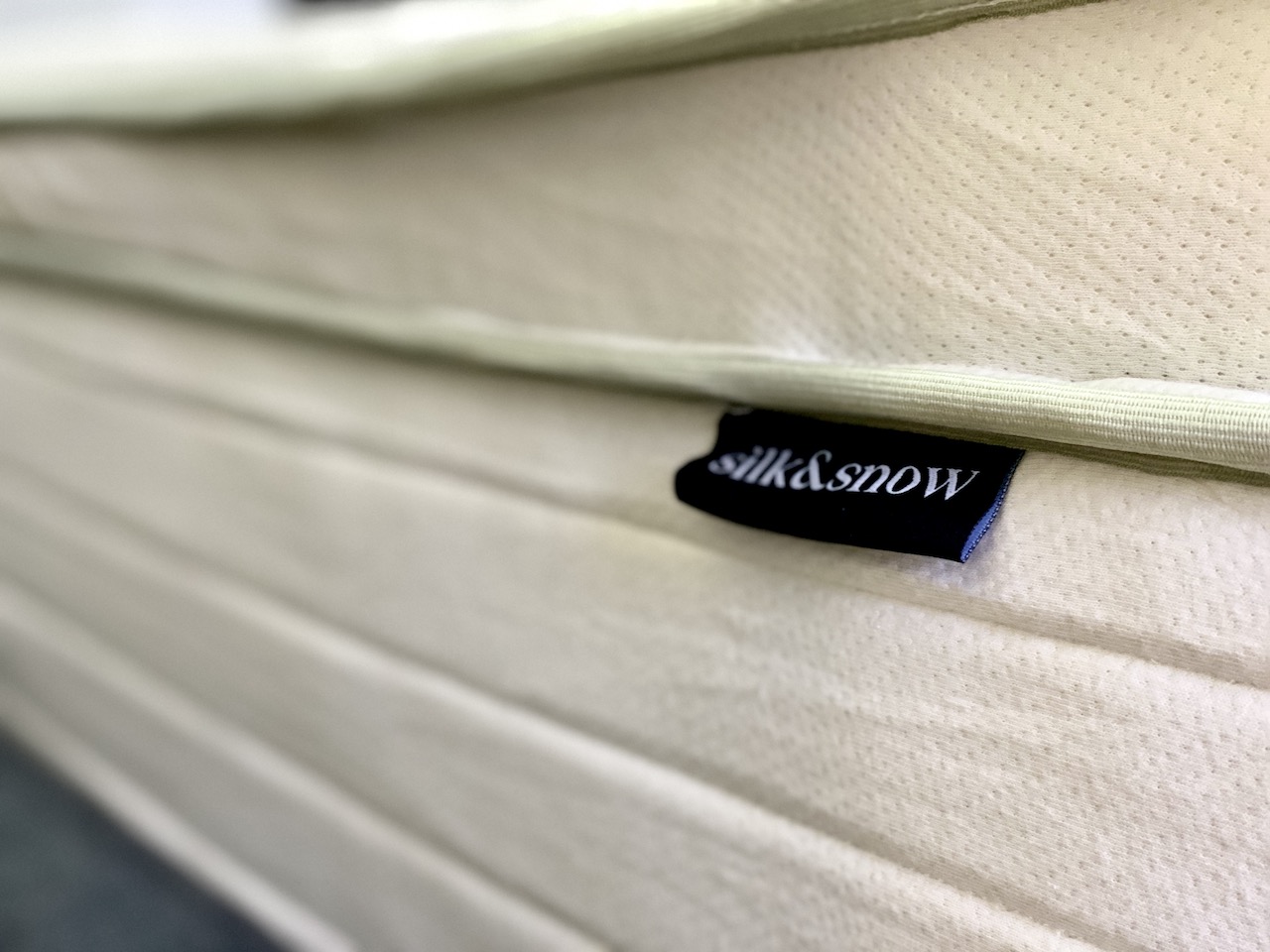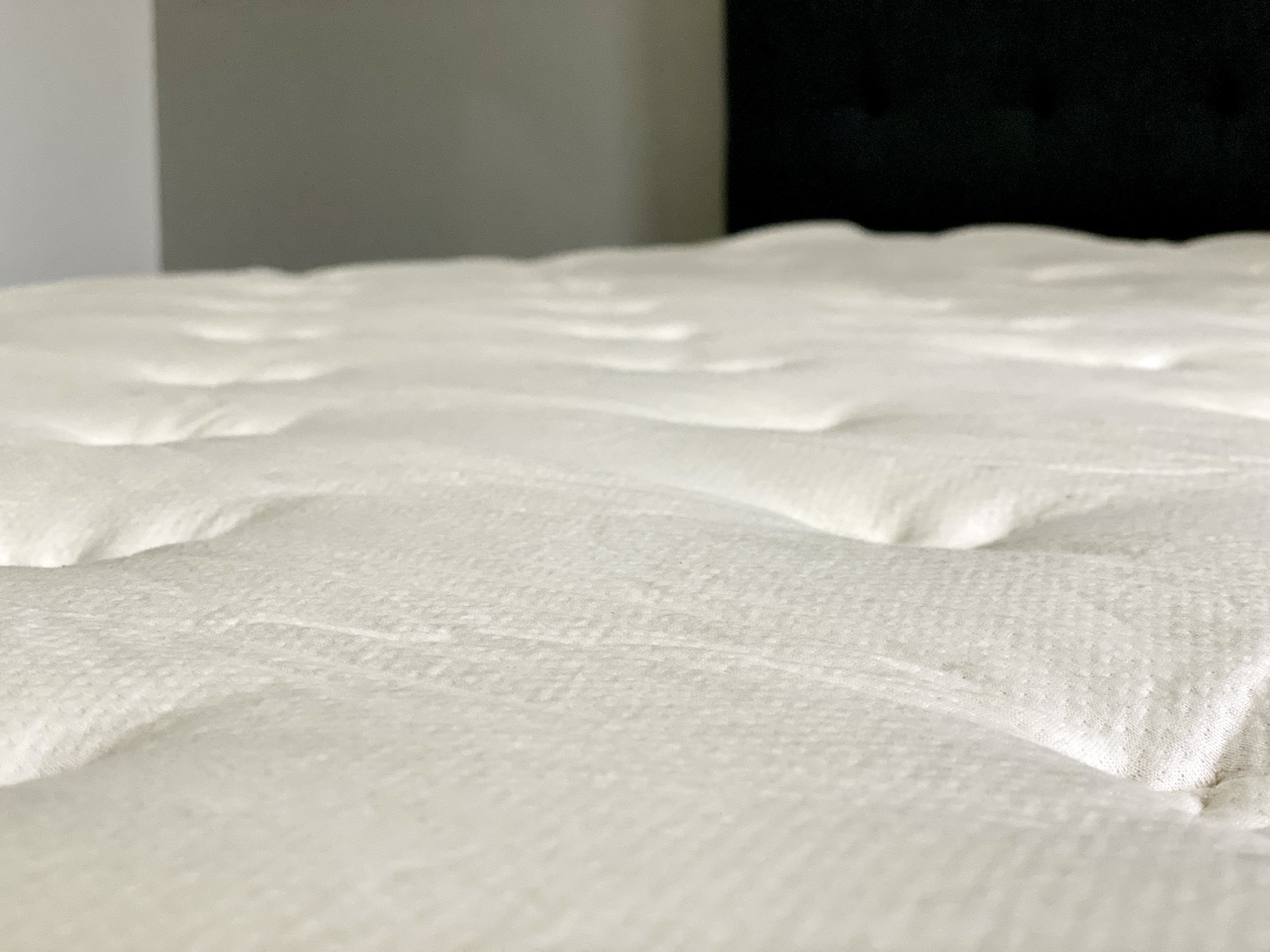 What's Inside The Silk & Snow Organic Mattress
In a nutshell:
100% organic cotton mattress cover
100% natural New Zealand Joma wool quilt cover
2.5″ of organic latex
Zoned lumbar support
Pocketed coils
Firm edge support
100% Organic Cotton Mattress Cover
The Silk & Snow Organic Mattress' cover is 100% GOTS certified organic cotton. It carries the ultra soft and super breathable properties of organic cotton I love!
100% Natural New Zealand Joma Wool
Most mattresses use chemicals as fire retardant in their inner layers. The Silk & Snow Organic Mattress uses a thick layer of New Zealand Foam wool quilt instead. It has natural fire retardant properties and ensures the mattress is chemical free and natural.
2.5″ Organic Latex
The Silk & Snow Organic Mattress has a 2.5-inch layer of organic latex. It is the layer your body will experience and feel the most. Durable, medium-firm, and responsive, natural latex is one of my favorite materials in mattresses – ideal for stomach, back, and heavier sleepers. This one uses the Dunlop method, making it 100% organic.
Zoned Lumbar Support Pocketed Coils
This mattress is made of a combination of latex and coils. The middle zone is firmer, providing zoned lumbar support and making this mattress ideal for people looking for extra hip and lower back support. The edges of the coils are firmer as well, allowing for side-to-side sleeping, eliminating sagging, and creating a wider sleeping surface.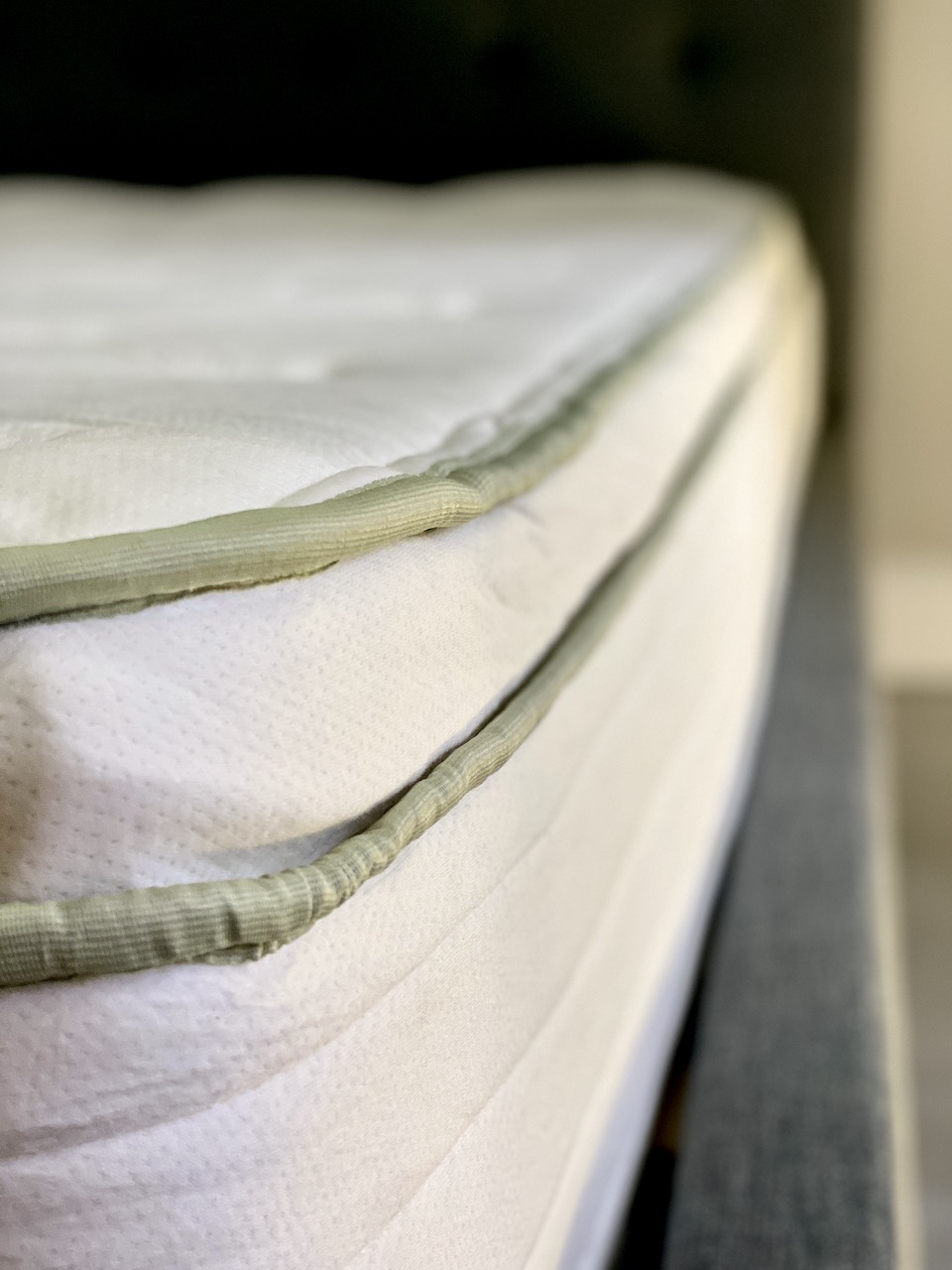 Silk & Snow Organic Mattress Sleep Tests
Everything we felt in one box
| Firmness | Temperature | Maintenance | Sleeping Style | Bed Base |
| --- | --- | --- | --- | --- |
| The pocketed coils, coupled with the natural latex, give the Silk & Snow Organic Mattress a firmer-than-average feel. I am giving this mattress a 7.5/10 on the firmness scale. If you like increased support and a responsive sleeping surface, you will love this Organic Mattress. It bounces right back up when you move, letting you toss around effortlessly and giving you all the support your spine needs to remain healthy and aligned | The Silk & Snow Organic Mattress sleeps temperature-neutral. The latex is responsive and firm enough to not cradle your body heat around you. The organic cotton cover is ultra breathable, allowing your body to remain cool at night. You will not be sweating on this Organic Mattress! | The organic cotton cover on the Silk & Snow Organic Mattress is firmly attached to the mattress, and cannot be removed to be washed. In case of a spill or stain, blot it with a clean cloth, fresh water, and a mild detergent as quickly as possible. | The Silk & Snow Organic Mattress brings in lots of support, thanks to its 1,000 pocketed coils and the firm zoned lumbar support. The organic latex is a layer that provides great support as well, and this mattress is firmer than the average. It is an ideal mattress if you sleep on your stomach or back, and want a sensation of floating above the mattress. It is also a great mattress for heavier sleepers who need a little more support. The firmer coils around the perimeter of the mattress prevent rolling off - another great point for heavier folks. | I love how universal the Silk & Snow Organic Mattress is. It will work with most of your existing frames – flat platform bed, adjustable bed, slatted base, and box spring. You can even take it to the floor and enjoy its full comfort! It makes it an easy mattress to buy and set up without investing more into it. |
Silk & Snow Organic Mattress Prices & Discounts
$200 OFF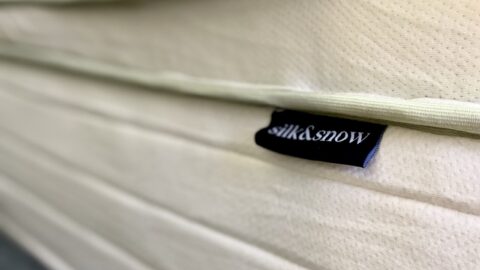 Organic Mattresses are always priced at a premium, but Silk & Snow offers very competitive pricing and a real value for the quality of their Organic Mattress. Their current (Mar. 2021) discount is $200 OFF mattresses – to be added to the pre-discounted prices below! Check the current discounts by clicking the GET THE DEAL button above.
Note that the Silk & Snow Organic Mattress is currently not available in California King. But you can find all sizes from Twin to King. 
Since it is a Canadian manufacturer, I am adding the current $CAD pricing to the table below. 
Price List updated: November 2020
Detailed Silk & Snow Organic Mattress Review Conclusion
I love looking into organic mattresses. They are better for the planet in their manufacturing, and better for our health, releasing little to no chemicals in the air and allowing our bodies to sleep safely. They usually come with a tough price tag, but Silk & Snow has done an amazing job at sourcing its materials and keeping their prices reasonable and affordable. 
We absolutely loved how the Silk & Snow Organic Mattress slept and can't wait to give you the full download below! But overall, this is a beautiful, eco-friendly and non-toxic product at a very accessible price point. 
Silk & Snow is a Canadian mattress and bedding company, established in 2017, by founders obsessed with good nights of sleep, who wanted to create a mattress-in-a-box of higher quality than anything available on the market. 
Several years in, they now produce 2 mattresses, 3 bed frames, duvets, sheets, amazing pillows, and a super soft weighted blanket. In late 2020, they came out with a third mattress – this Organic Mattress. 
I love that they provide full transparency in where all of the materials, used to make their products, are sourced.  As an example, they highlight the rich heritage of all of the generational family run businesses that are involved in making some of their most popular products such as their mattresses.
Find all of our Silk & Snow reviews HERE. 
What Is Inside The Silk & Snow Organic Mattress?
The Silk & Snow Organic Mattress is made of 4 layers of organic materials. Each part of the mattress has a purpose and works with your body to bring you comfort and support. 
Silk & Snow is very transparent when it comes to the provenance of their materials, which I really appreciate. Their coils and organic cotton are always sourced and manufactured in North America, namely Ontario, Canada. The owners of Silk & Snow have developed products that are sustainable, produce less waste, and are easy on our planet, while ensuring they meet health standards and are CertiPUR-US and OEKO-TEX certified. The natural Joma wool comes from New Zealand farms specialized in organic bedding, while the organic latex is sourced from Sri Lanka and GOLS certified.
The mattress cover in the Silk & Snow Organic Mattress is made of 100% organic cotton. The cotton is GOTS certified and comes from a family-owned and operated textile company in Toronto, Canada. 
The top layer of New Zealand Joma wool is a natural fire retardant that does not include chemicals or synthetics, though still providing the safe properties required in a mattress. You do slightly feel the wool through the mattress cover, and it is a soft and comfortable layer to lay on. 
Next come 2.5 inches of natural latex. This latex from a Sri Lankan farm, using the Dunlop method. It is the most energy-efficient way to produce latex, while keeping it 100% organic and free of synthetic latex blends. That layer has bounce and responsiveness, allowing you to never feel stuck in your mattress. Unlike memory foam, you won't overheat, as the heat does not get trapped around your body. It is a slightly firmer feeling than foam and ideal for back, stomach, and heavier sleepers. 
The coils are forged in small batches in Ontario and can go up to a whooping 1,200 in the King mattress. They are tri-zoned, providing more support in the center area of the mattress, where your hip and lower back need it most. The coils are also firmer along the entire perimeter of the Silk & Snow Organic Mattress, giving the feeling of a wider sleeping surface, as well as preventing sagging the mattress. If you are someone who likes to sit on the side of the bed, you will love those coils!
How Does The Silk & Snow Hybrid Mattress Sleep?
Firmness
In short, the Silk & Snow Hybrid Mattress provides a medium-firm sleeping experience, coupled with an ultra responsive layer of latex that makes switching position effortless. 
The zoned support works really well. The hips and lumbar (lower back) areas are supported by a zoned lumbar support which adds a firmer middle zone to the mattress for extra support, while the coils under the shoulders are softer, giving your spine the ideal alignment throughout the night. 
Sleeping Style
The Silk & Snow Organic Mattress is ideal for back and stomach sleepers, as well as for heavier folks. I will be adding it to my list of Best Mattresses For Big And Tall very soon!
I do believe that side sleepers would find the sleeping surface too hard, and that it could create pain in the hip and shoulder areas. If you are a side-sleeper, consider the Silk & Snow Hybrid Mattress instead. 
Stomach sleepers, however, need a firm sleeping surface that gives them a feeling of floating on top of the mattress, which is exactly what the Silk & Snow Organic Mattress provides. 
If you are a back sleeper who enjoys a slightly firmer sleep, you will do really well on this mattress as well. 
As far as heavier folks are concerned, this Organic Mattress will provide amazing support alongside the entire spine. It will support your weight in all places and make moving during the night pretty easy. Additionally, the firmer coils around the perimeter of the mattress will do an amazing job at keeping you inside the mattress and preventing it from sagging. Getting and out of bed will be much easier with that extra support!
Temperature
No cooling gel, cooling foam, graphite or anything in this mattress. Tons of organic materials though, that are extra breathable and natural keep you from overheating. 
The organic cotton in the mattress cover is your first barrier against sweating. Then come the wool, which is one of my favorite materials, and one that I have used on my kids since they were newborn, instead of creams and chemicals. Wool has amazing properties, including the ability to keep you dry and wick away the moisture. It is odor resistant, as well as a biodegradable and renewable material that you can feel good about. 
Motion Transfer
Thanks to the pocketed coils, each partner's motion is isolated inside the mattresses and prevents any disturbance to the other sleeper. Wool also absorbs most of the motion and you will not be bothered by your partner during the night. 
How Do I Care For The Silk & Snow Organic Mattress?
Silk & Snow recommends that you rotate your Organic Mattress every three months to ensure optimal feel and increase the longevity of the mattress. You should however never flip the mattress, since the layers are meant to stay positioned in a certain order. 
The top cover is unfortunately not removable, so you can't remove it and wash it. So instead, soak up the liquid with a cloth if the spill is large. Then blot clean immediately with cold water and a gentle cleaning solution. Just make sure you don't rub, as that could spread the stain. If the stain is large, you might also want to let the mattress air dry completely in a well-ventilated area. 
$200 OFF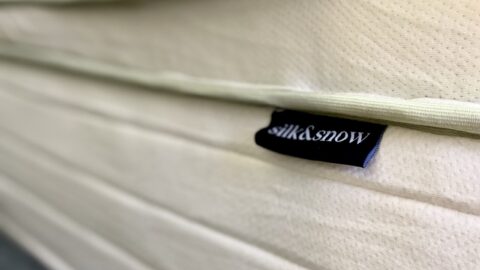 The PLUSES

The MINUSES

100% natural
Non-toxic and chemical-free
Accessible pricing for an organic mattress
Sleeps temperature-neutral
Ideal option for back and stomach sleepers
Ideal for heavier folks
Ultra responsive latex makes switching positions effortless
Extra support to the hips and lumbar region
No flattening when sitting on the side + side-to-side sleeping, thanks to a firm edge support

If you are a side-sleeper, or a back-sleeper who enjoys softer and contouring sleep, consider the Silk & Snow Hybrid Mattress
If you are a side-sleeper who likes soft mattresses, the Silk & Snow Original Mattress is for you
Can only be spot cleaned since the cover does not come off
Share this deal with a friend!
Silk & Snow Organic Mattress Review 2023 | Non Biased Reviews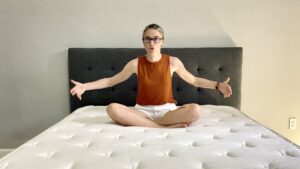 Looking for a 100& organic mattress that won't break the bank? The Silk & Snow Organic Mattress should be top of your list! This is our unbiased review!
Product SKU: Organic Mattress
Product Brand: Silk & Snow
Product Currency: USD
Product Price: 700
Price Valid Until: 12/31/2025
Product In-Stock: InStock