BELLY SLEEP PILLOW REVIEW
Are you a stomach sleeper struggling to find a comfortable pillow? Do you often wake up with neck pain and can't seem to find the right pillow height? Well, this is all most likely due to not sleeping on a pillow designed for stomach sleepers. Belly Sleep makes three variations of ONE pillow – it is designed with the belly sleepers in mind. We've tested it and are telling you what we thought about it!
Belly Sleep Company Policies
Free shipping
30-night home trial
Forever warranty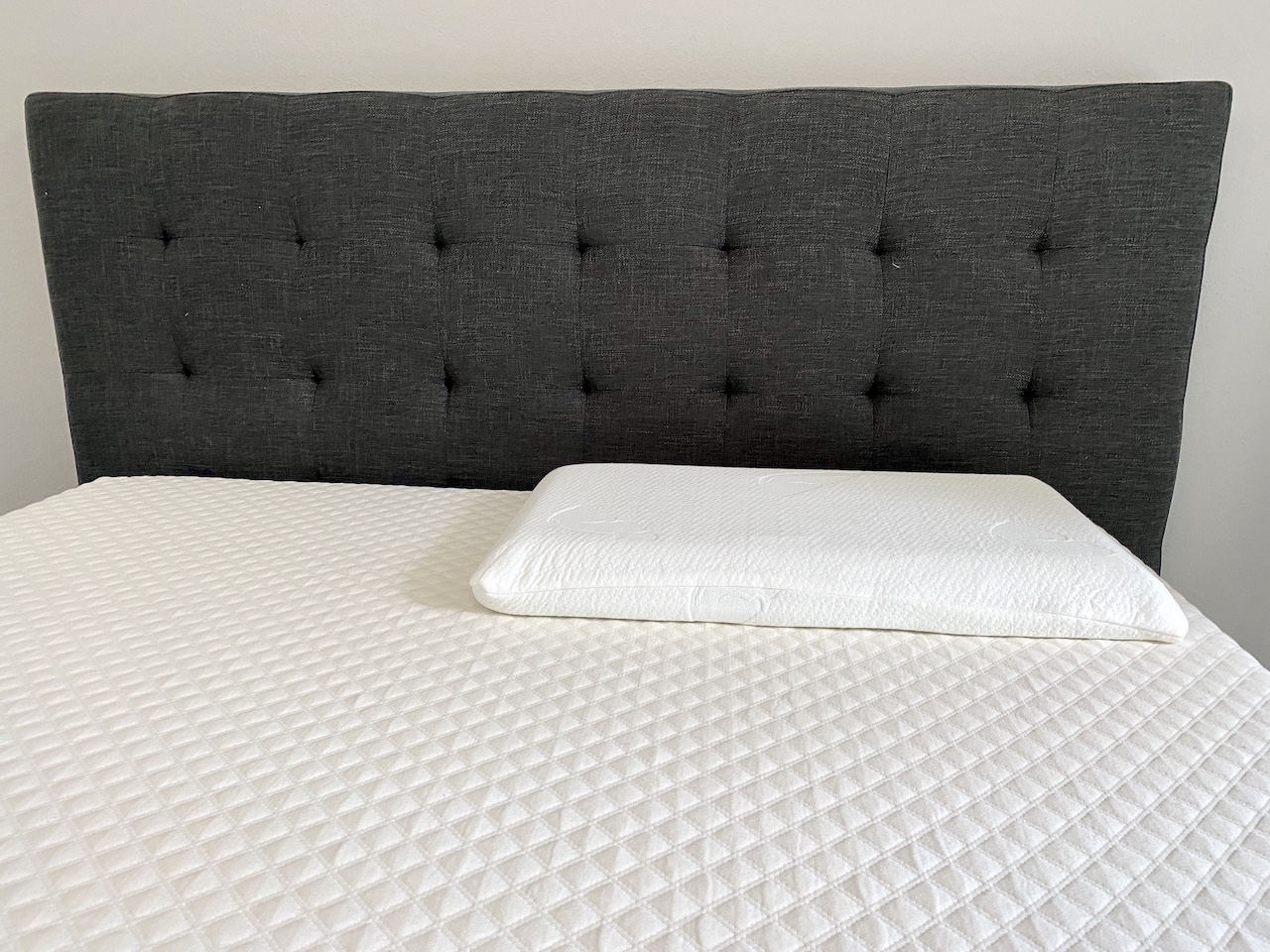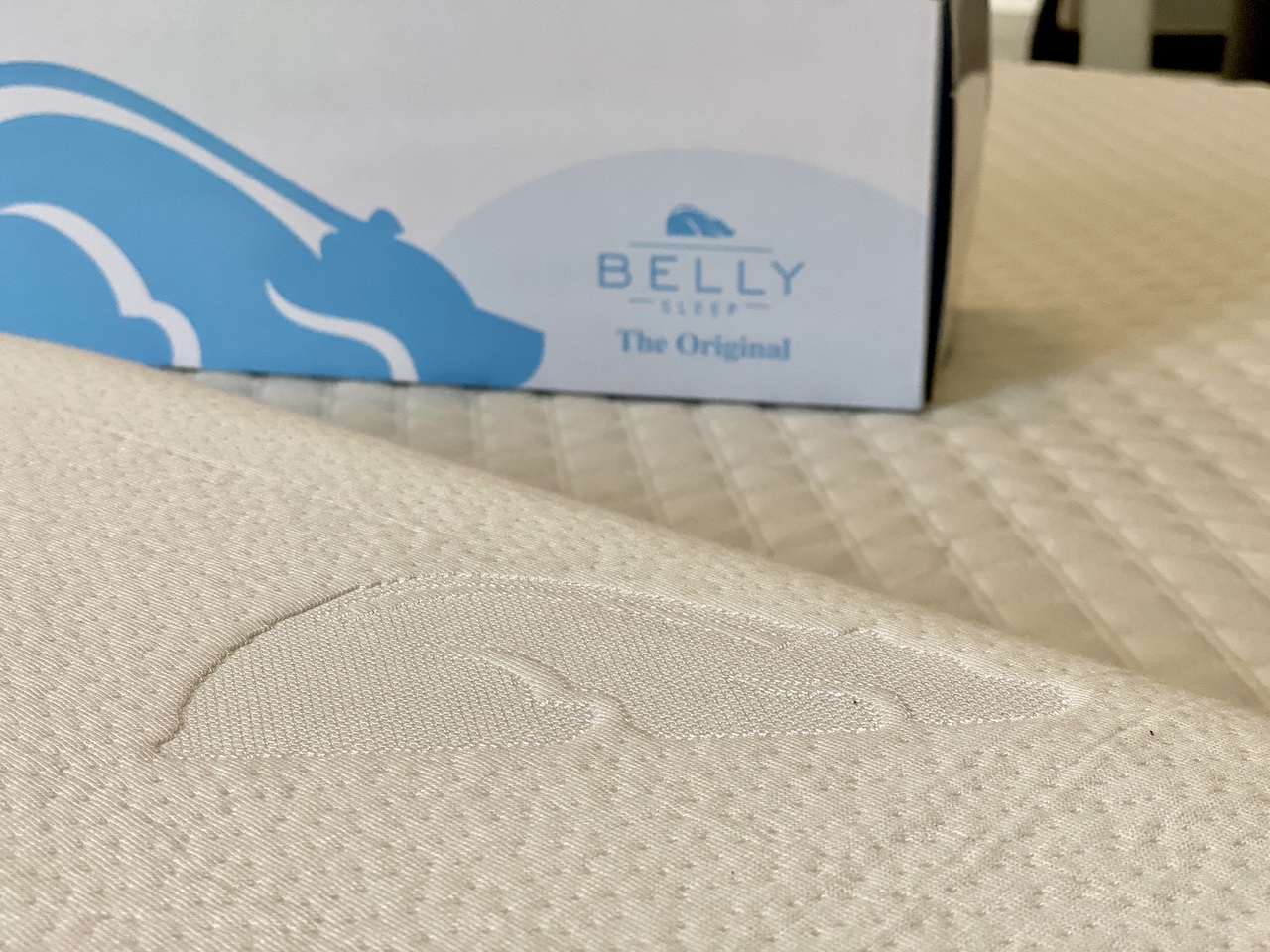 What's Inside The Belly Sleep Pillow
In a nutshell:
2.5″ memory foam
Cooling gel particles
Removable cover
2.5″ Memory Foam
The pillow insert is made of 2.5″ of cooling gel particle-infused memory foam. The thin profile offer the support the neck and head of a stomach sleeper need for ideal spinal alignment. The cooling gel particles provide a cool night of sleep to prevent overheating in the memory foam. The insert is a naturally hypoallergenic and antibacterial sleeping surface with all of the properties important to stomach sleepers.
The Removable Cover
The Belly Sleeper Pillow comes with a removable cover of bamboo and polyester. It wicks away moisture and is extremely odor resistant. Easily thrown in the washing machine, it provides a clean sleeping surface for stomach sleepers to snuggle their faces in, night after night!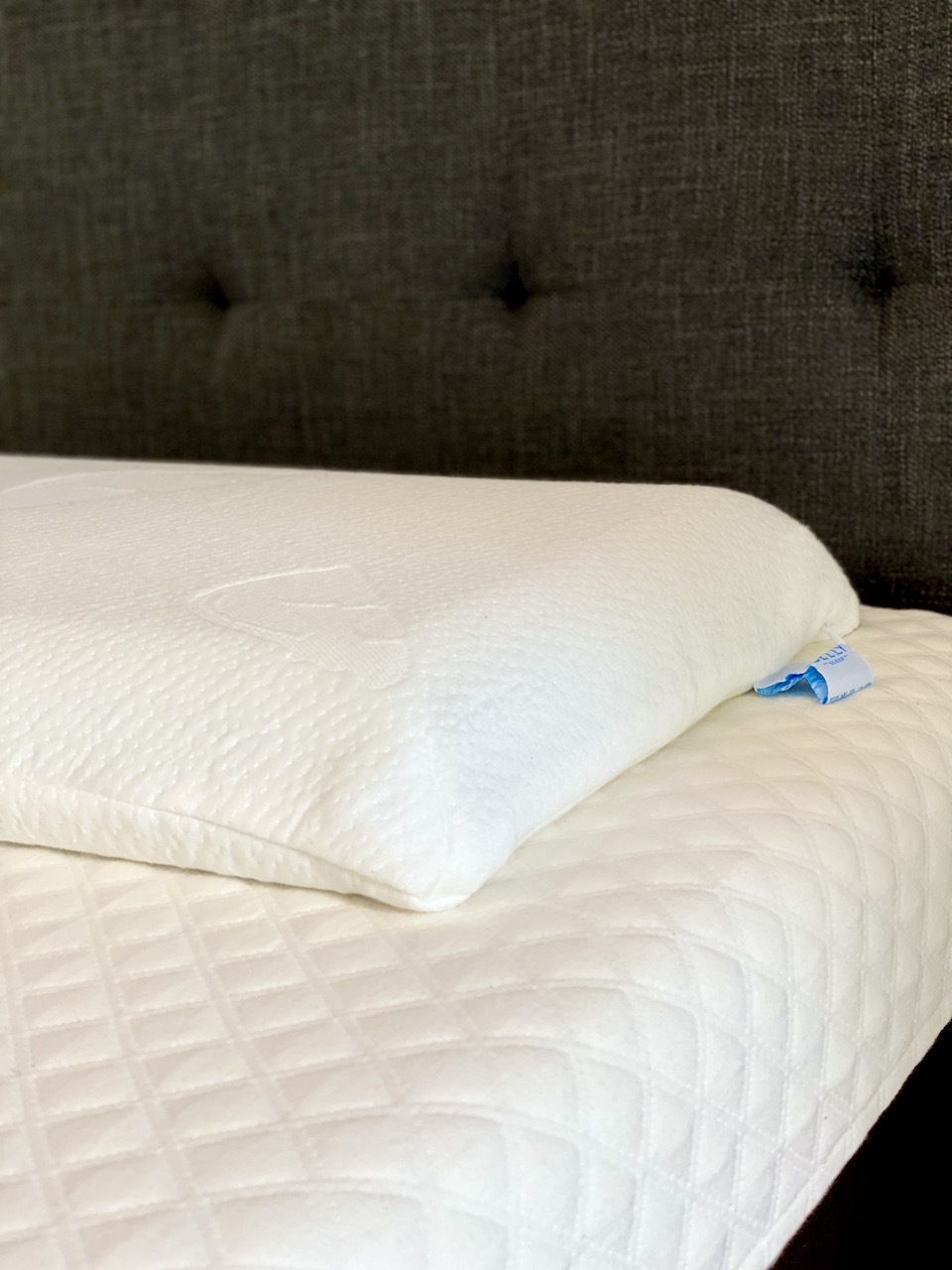 Belly Sleep Pillow Sleep Tests
Everything we felt in one box
| Firmness | Temperature | Maintenance | Sleeping Style | Materials |
| --- | --- | --- | --- | --- |
| The Belly Sleep Pillow is extremely soft - think of a little cloud. With only 2.5 inches of thickness, its memory foam provides contouring and pressure relief to the face and support to the neck area, to align the entire spine and prevent back pain. | Belly Sleep infused cooling gel particles in their original Belly Sleeper Pillow to keep the foam from overheating and prevent nighttime sweats. We sleep tested it in Florida and never felt hot. | An amazing perk of the Belly Sleep Pillow is the ease of maintenance. Belly Sleep understands that stomach sleepers lay their entire faces on the pillow and that keeping the sleeping surface clean is of utmost importances. The pillow comes in a removable bamboo cover that can be unzipped and machine washed. The memory foam also provides a naturally hypoallergenic and antibacterial sleeping surface. | If you are a stomach sleeper, this pillow is made for you. It was designed to ensure pressure relief of the head and neck, contouring of the face, ergonomic support of the neck, and proper alignment of the entire spine. | The insert of the Belly Sleeper Pillow is made of 2.5 inches of cooling gel infused memory foam, for a cool night of sleep, pressure relief, and contouring. Its removable and washable cover is made of bamboo and polyester for odor resistance and moisture-wicking. |
Belly Sleep Pillow Prices & Discounts
Belly Sleep has designed one pillow and currently manufactures three variations: 
– the Belly Sleeper Pillow: their original pillow and the one we tested here
– the Belly Sleeper Pillow – Cool Gel: with and added layer of cooling gel across the entire top of the pillow
– the Mini Belly Sleeper Pillow: a smaller version of the original Belly Sleeper Pillow in a smaller size, easier to transport and take on trips  
Make sure to click the SHOW CODE box above to claim the deepest discounts.
Price List updated: November 2023 – Pre-discounted prices
Detailed Belly Sleep Pillow Review Conclusion
The Belly Sleep Pillow fills an incredible gap in the pillow and bedding industry. They were able to engineer a pillow that caters to the stomach sleepers and turns that specific style into a comfortable and healthy sleeping position.
I personally fall asleep on my stomach and always had the hardest time finding a pillow that would not leave me waking up with a stiff neck. I have slept on the same (and probably long expired), thin down pillow for years. Sleeping at hotels has always been a nightmare and sure to make me uncomfortable. So when I discovered Belly Sleep, I had to get my hand on one and see whether a pillow was finally working with the needs of a stomach sleeper. And it does! 
Its thin profile and ergonomic edges ensure that the neck is positioned in a way that aligns the entire spine – leaving stomach sleepers with a pain-free neck and lower back. The memory foam's slight contouring also means that no material ever covered my mouth or nose, as in other pillows. We loved testing the Belly Sleep Pillow and highly recommend it to all stomach-sleepers out there!
Over at Belly Sleep, the team understands the particular needs of stomach sleepers. Sleeping on your stomach is often regarded as unhealthy, yet many fall asleep on their stomachs every night. If it is your most comfortable position, you know that it can reduce snoring and sleep apnea, but also leave you with aches in your neck and down your spine. 
The team of stomach sleepers, at Belly Sleep, has been on a mission to design the perfect pillow for their fellow belly sleepers, and they've come up with a product that solves many of the common issues reported by stomach sleepers. They were tired of the lack of options and wanted a pillow that makes sleeping pain-free and comfortable for the belly sleepers. While Belly Sleep currently only sells one pillow (3 variations: one with cooling gel particles reviewed here, one with a cooling gel layer, and a smaller version to take on trips), they mention the Belly Sleep Pillow being just the "tip of the iceberg". 
At this time, you can also purchase extra bamboo covers for your pillow, cotton pillowcases, and silk pillow cases.
I am excited to follow Belly Sleep and see what else they come up with for belly sleepers!
Find all of our Belly Sleep reviews HERE. 
What Is Inside The Belly Sleep Pillow?
The Belly Sleep pillow comes in two parts – the inner memory foam insert, and its removable cover. Let's look at each piece individually: 
1- the inner insert is made of 2.5 inches of memory foam, infused with cooling gel particles. This memory foam provides the right amount of support to the head and neck, to ensure perfect spinal alignement of a stomach sleeper. The cooling gel particles ensure a cool night of sleep, keeping the memory foam from overheating and leaving you sweating. 
2- the removable cover is made of bamboo and polyester, and is easily unzipped for washing. The bamboo is naturally moisture wicking and extremely odor-resistant. It is easy to maintain and provides a clean surface for lay your head on night after night. 
How Does The Belly Sleep Pillow Sleep?
Firmness
The Belly Sleep Pillow is truly designed for stomach sleepers. With its thin 2.5-inch profile of memory foam, it provides a thin and soft contouring of the face. It is soft while providing the exact support of the neck and head a stomach sleeper needs.
Temperature
Because memory foam can a heat-trapping material, Belly Sleep has infused their foam with cooling gel particles. They are spread everywhere inside the foam, providing a temperature-neutral sleeping surface and prevent sweating and overheating. 
Maintenance
The Belly Sleep Pillow comes with its own cover. You will still want to fit it inside a pillowcase, but the pillow you receive comes with a 2.5-inch memory foam insert and its bamboo/polyester removable cover. 
The bamboo cover is machine washable and simply needs to be unzipped before washing. The memory foam insert should never be machine washed. Instead, you could vacuum clean it occasionally and spot clean stains with a cloth and mild detergent. More details can be found further down.
Sleeping Style
The Belly Sleep Pillow is 100% designed with stomach sleepers in mind. A back sleeper preferring a thiner pillow, might also find it a comfortable option. Side sleepers will definitely need a much thicker option to get the full neck / spine / head support for healthy sleep. 
If you are a side sleeper however, you will get all of the support your neck needs to keep your entire spine in alignment. The curved edges and unique to the Belly Sleeper Pillow and provide an ergonomic support of the neck area. You will also find that your head lays fairly flat and free of awkward angles, leaving your airways free of blockage. 
How Do I Care For My Belly Sleep Pillow?
I love how easy it is to care for the Belly Sleep pillow. The easy maintenance is huge plus, especially since stomach sleepers have a large portion of their faces lay right onto their pillow. 
After you remove the pillowcase, you will find that the Belly Sleep pillow's own cover is removable and washable. Simply unzip it and machine-wash it separately.
Since the pillow insert is made of 2.5 inches of memory foam, you shouldn't see dust mites moving in. However, it is a good idea to gently vacuum the pillow insert once a week to keep it clean of dirt, grime, and potential mites. Should there be a stain on the memory foam insert, DO NOT machine wash it. Instead, spot clean it with a cloth and mild detergent and blow-dry the area afterwards. 
How Does The Belly Sleep Return Policy Work?
Belly Sleep has a 30-day home trial, during which you can return the pillow, should you not be satisfied. It is recommended to give at least a 15-night trial to the pillow, as the body can take a couple of weeks to adjust to a new pillow, especially when switching over from a different material into memory foam. 
Should you decide to return the pillow, you need to do so within 30 days of receipt, and only pillows purchased directly from Belly Sleep are eligible for return. The pillow must be clean and not damaged, and you need to show your original receipt as proof of purchase. 
Lastly, the return policy limits the number of returns to 1 per household per year, and you will be responsible for the return shipping charges.
The PLUSES

The MINUSES

Designed for stomach sleepers
Thin profile
Soft contouring 
Sleeps cool
Excellent neck and head support of the stomach sleepers
Pressure point relief on all areas of the head and neck
Enables proper spinal alignment 
Removable and washable cover
One-size fits most bed sizes

This pillow is exclusively targeting stomach sleepers - if you are a side sleeper, you will need a much higher and firmer pillow. If you are a back sleeper and like a very thin pillow, you could find it comfortable
Share this deal with a friend!