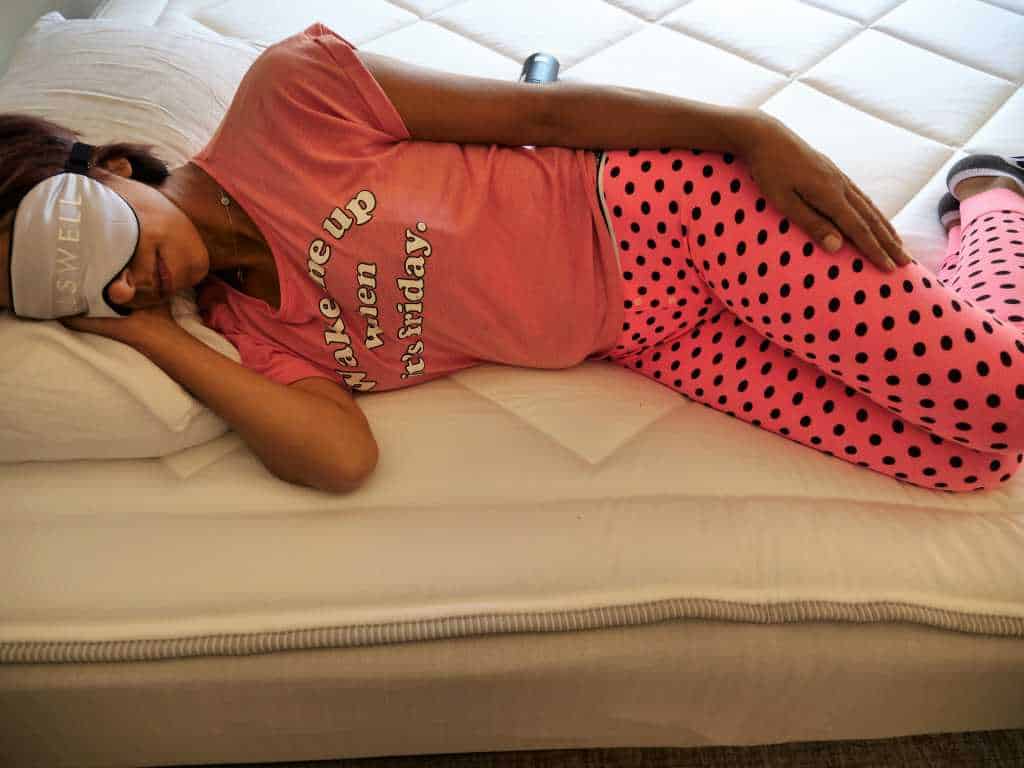 Walmart entered the Bed-In-A-Box world when they launched the Allswell Mattress. Everyone needs a little support and some like a little more than others. Allswell made sure they provide both options in two different mattresses. Softer or Firmer? You decide.
You can go with the soft Allswell. This one is their all foam mattress and gives you that medium-soft feel with innovative memory foams layers. 
THE FIRMER ONE is the Allswell Hybrid mattress.  A foundation of individually wrapped coils provides medium-firm support.
While both mattresses measure a full 12-inches tall, they do provide two different comfort options: The Softer One is a medium-soft mattress created from 5 carefully chosen layers of memory foam to provide a great balance of comfort and support.
The Allswell Luxe Classic Firmer One is a medium-firm mattress which combines 3 layers of memory foam with hundreds of individually wrapped coils so you can rest easy and still get that extra bit of support.
Both are topped with a built-in plush topper to help you get the quality rest you deserve. They also come with a built-in plush topper and are encased in a woven fabric designed to feel cool to the touch, finished with a silver cording that is as beautiful as it is sturdy.
Take a peek at the Allswell Hybrid in the video that I shot below.
What's Inside the Allswell?
Their Softer mattress, also known as the Allswell Luxe Classic, is 12 inches thick. Under the cover there's 5 Layers of memory foams for the perfect medium-soft support. Those layers all together provide cooler nights, comfort and support. Here's what's exactly underneath that built in plush topper:
1" of 2lb. memory foam (9 ILD)
1.5" of 2lb memory foam (9 ILD)
1" of 2.75lb air flow foam (9 ILD)
3" of 1.7lb super soft foam (26 ILD)
5.5" of 1.625lb HD foam (38 ILD)
Allswell Review Conclusion
Neither of their mattresses are too soft nor too firm and most people would be happy sleeping on either. I personally sleep on my side and wake up on my back! I switch in between.
That being said, here are some general guidelines to help you choose:
Side sleepers generally like a Softer mattress as a little extra give is helpful to support the curves of your body.

Back sleepers can have their cake and eat it too. Either a softer or firmer mattress will work for these folks.

Stomach sleepers generally like a firmer mattress. (If you sleep on your stomach on a mattress that's too soft, your back will arch and you may wake up with back pain.)
If you do a lot of sitting up in bed, having a little extra support will make it more comfortable to do so. For those who use their bed for reading/watching TV/working, I recommend their firmer mattress.
The more people that sleep in your bed, the more support you need. If you sleep with another adult, or even share your bed with larger pets, their firmer mattress would be ideal.
Allswell sent us this for testing purposes.  All of the opinions expressed in this review are mine.
It was made in China when I tested mine, however, I recently saw them in production at a facility in Phoenix, AZ while I was on a tour.