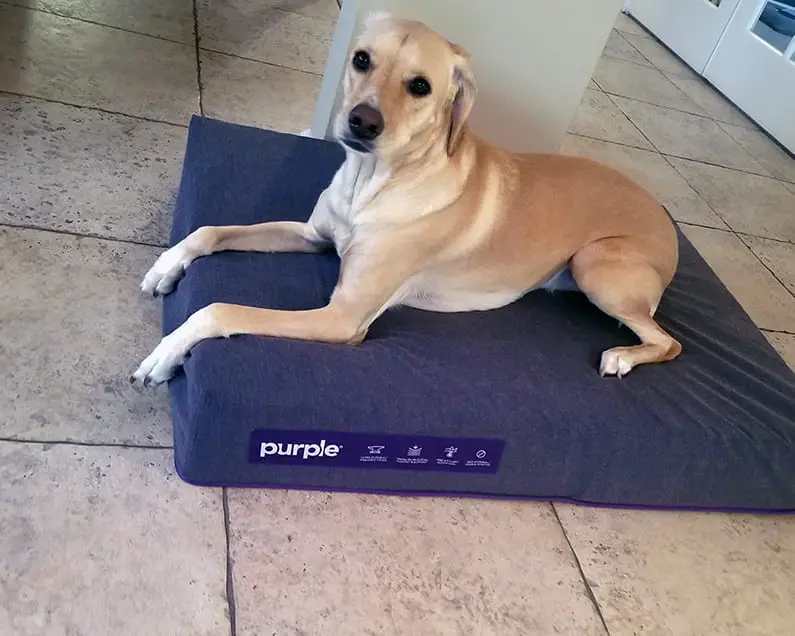 Purple Introduces: The Purple® Pet Bed
It had been available through a kickstarter program, but you can now get it directly from the purple website. Sorry, the kickstarter campaign is now closed. I bought mine on 6/20/18, let's see if they are in stock and how long it takes to get here. It arrived on 7/19/18, so it took a month to show up at my door.  Here are the results.
DescriptionPrice
Subtotal$ 189.00ShippingFreeTaxes$ 14.65TotalUSD $ 203.65
Order #ZZZZ
Thank you Rana!
Replace that lumpy, ugly, smelly chew toy of a cushion with a bed your pet will actually want to sleep on.
Pledge to reserve your Purple® Pet Bed now with Kickstarter-exclusive pricing! Early bird gets the worm and the SWAG — supplies are limited so pledge now before you miss out!
 Made from Hyper-Elastic Polymer®, the Smart Comfort Grid™ is non-toxic, hypoallergenic, and vegan. Simply put, it's not only super comfortable, but it's actually good for whoever, or whatever, is sleeping on it. 
Pet parents' pleas were heard. Especially those who owned a Purple Mattress.
Let's face it, when your mattress is too good you do not want to share it with your pet, or your partner! You want it all to yourself.
And that's when the first bed designed with humans in mind was created!
Finally, No more pets hogging your bed — Your beloved furry friends can now experience all the ridiculously amazing comfort of Purple without crowding you out of your own bed or mucking it up with their fur and deep-sleep drool.
The Purple® Pet Bed is antimicrobial, moisture-resistant, odor-neutralizing, and hypoallergenic. It kills the bacteria most pet beds harbor so both your living room and your furry companion smell awesome.
The multi-layer protection blocks moisture and is super easy to clean, so the accident-resistant Purple® Pet Bed will stay like new for the life of your little buddy.
What should we expect from the bed?
Top Layer: 1" Hyper-Elastic Polymer® Smart Comfort Grid™
This is the secret sauce that makes Purple unique.  The original Purple mattress has a 2″ layer of their polymer.  The new hybrid mattresses vary from 2″-4″.  One inch of polymer is more than enough for your dog to practice the art of egg catching.
Middle Layer: 2" 1.8 lbs density polyurethane foam
Base Layer: 2" 2.0 lbs density polyurethane foam
Inner cover: 85% Polyester, 15% Spandex
Outer cover: 85% Polyester, 13% Viscose, 2% Spandex
So it has been over 2 weeks I have placed an order for a Purple Pet Bed!
It is July 19, and the bed has arrived. Will my dog like it? Stay tuned for some photos and of course a video of Rider's reaction to his new bed. I am intrigued to find out.
Up to $900 OFF

Purple
Up to $900 OFF a Mattress + Adjustable Base set with coupon code (click to reveal), $300 to $500 OFF collections, 20% Off Pillows, Bedding + Kids…
Show More
Up to $900 OFF a Mattress + Adjustable Base set with coupon code (click to reveal), $300 to $500 OFF collections, 20% Off Pillows, Bedding + Kids Mattress
Show Less