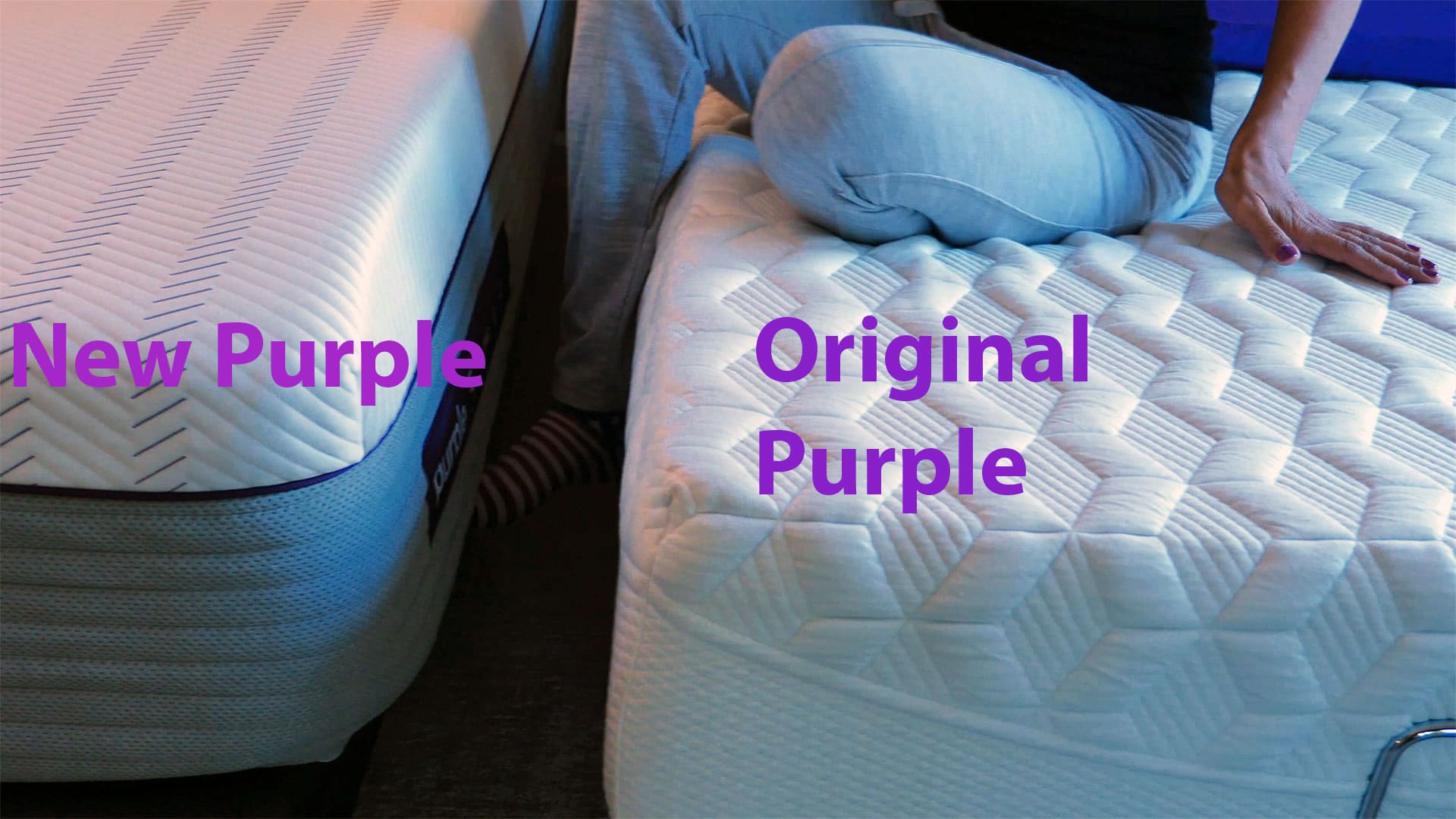 October 2019, time to update my Purple Mattress Review.
I'm sure that you have read a lot of Purple mattress reviews, I assure you that this one is different.  I am a long time lover and user of the original Purple mattress that I bought over 2 years ago.  I have 2 beds set up in my bedroom where I shoot most of my video reviews.  The original Purple is in there most of the time.  Unfortunately, I need to test other mattresses so that means that I have to move it back and forth to storage frequently.  
I have basically beaten my Purple up WAY more than the average person in the last 2 years.  Guess what?  It is still amazing, no sags, still the perfect level of comfort.
It's pretty simple, they are the only ones using their proprietary hyper-elastic polymer.  They doubled down on this material by producing funny commercials featuring catching eggs with this "egg crate" like material.
It all started with their Goldilocks commercial.
After they released the Purple.2-Purple.4 they decided to do a similar egg test, except they call this one the human egg test.
Purple Mattress

Review Menu
I included the original Purple and the Purple.3 in this video.  If you subscribe to my YouTube channel you can find my older videos.  I PURCHASED my original Purple in the summer of 2017 (if you look closely you can see the manufacture date from the factory 6-20-17), so it may look a bit beat up.  Don't worry, it still sleeps like it did when I first opened it over 2 years ago.
Purple Mattress

Company Policies
Purple Innovations is a publicly held company (stock ticker PRPL) so it is fairly easy to get details about how they operate.  They have quarterly conference calls with analysts and investors where they will share tons of information about their rapid growth and the hiccups that come with that growth.
They manufacture their beds in Utah, USA.
Offer a 100 Night Trial
10-year limited warranty
Free Shipping
They don't sell bed in a box mattresses, because the Hyper-Elastic Polymer "HEP" is too heavy.  They ship in long thin tubes, so don't be shocked when it arrives at your door and isn't packaged in a box.
Inside the Purple Mattress

It took me a couple of days on the purple before I decided that I liked it. The feel of the hyper-elastic polymer section is unusual and it's possible that everyone won't like it. The easiest way to explain it is that you feel like you are weightless/on a waterbed. This means that it doesn't do a good job of motion isolation, but don't worry too much about that.
After a couple of days I realized that I no longer had any hip or back pain. I just kind of sunk into my side and had a great 2 week test run back in the summer of 2017. I test tons of other mattresses so I can't always sleep on the Purple, but I do still have it and take it out of storage frequently. Let that part sink in, I choose to sleep on this mattress when I'm not testing other mattresses. To say that it is my favorite is an understatement. Get this, I also was fortunate enough to get a free Purple.3 mattress, and the original (much less expensive one) is still my favorite.
For you to understand why it is my favorite, I probably need to talk a bit about myself. I'm petite and a side sleeper and that is what the Purple specializes in. The mattress itself is VERY heavy as the polymer section is heavier than the typical polyfoam that you would find in a mattress. This leaves the original Purple with 3 downsides:
It is hard to move (good luck moving a queen size by yourself, don't try it…)
It will TACO on you if you put it on it's side. Think of it this way, the top is heavier than the bottom. Fortunately, nobody sleeps with a mattress that is on it's side. But, you need to be careful when moving it.
A LARGE person may find that their combined weight with the polymer section are just too much for the bottom layers of polyfoam to handle. So, if you are in the 250 pound plus category you probably want to look into the Purple hybrid mattress.
The Purple bed does an exceptional job of pressure relief, especially on my hips and shoulders while sleeping on my side.
The HEP layer does a good job of keeping it cool, they say that it is a temperature neutral mattress, potato potatoe right?
Inside the New Purple Hybrid Premier Mattress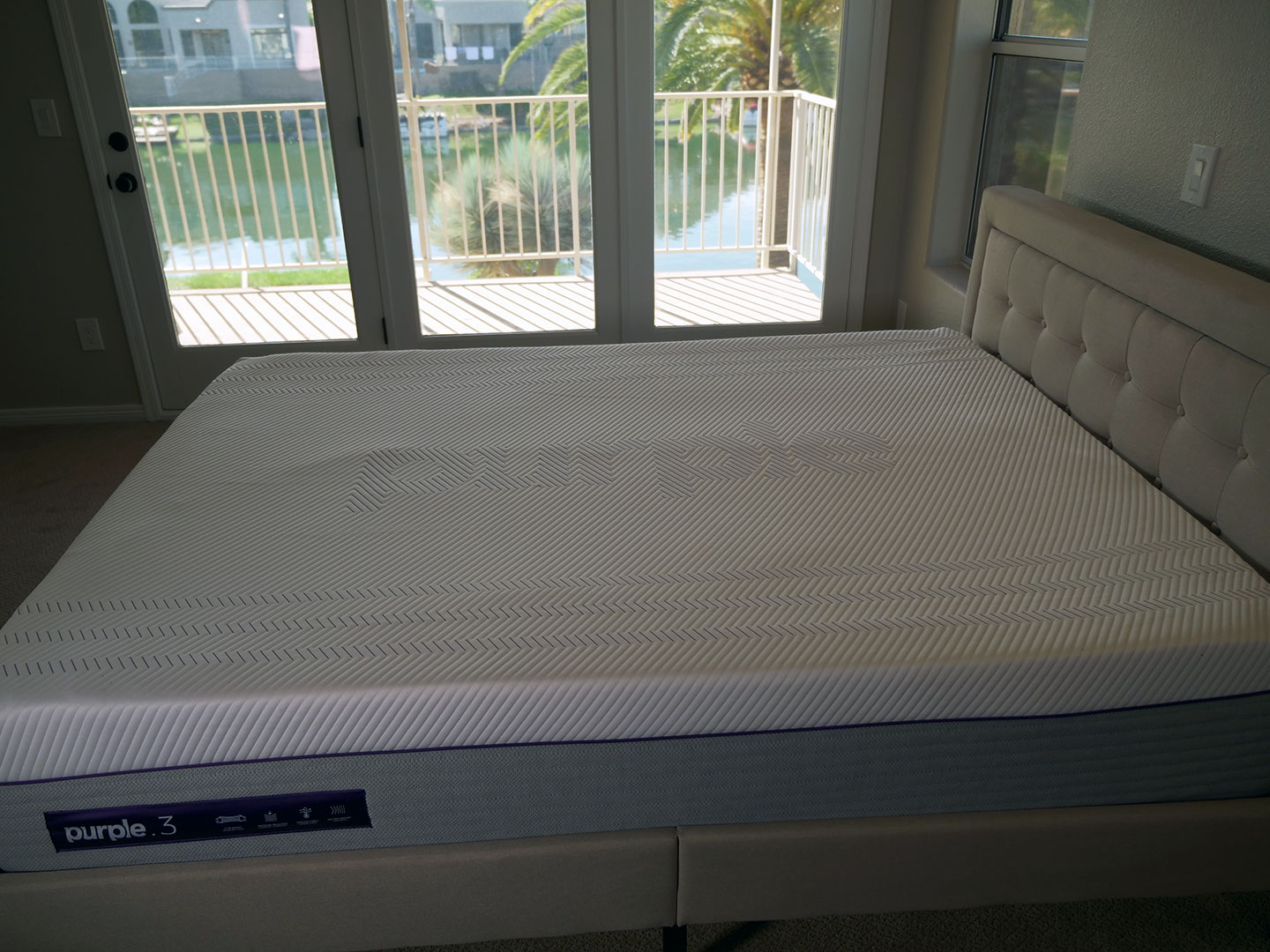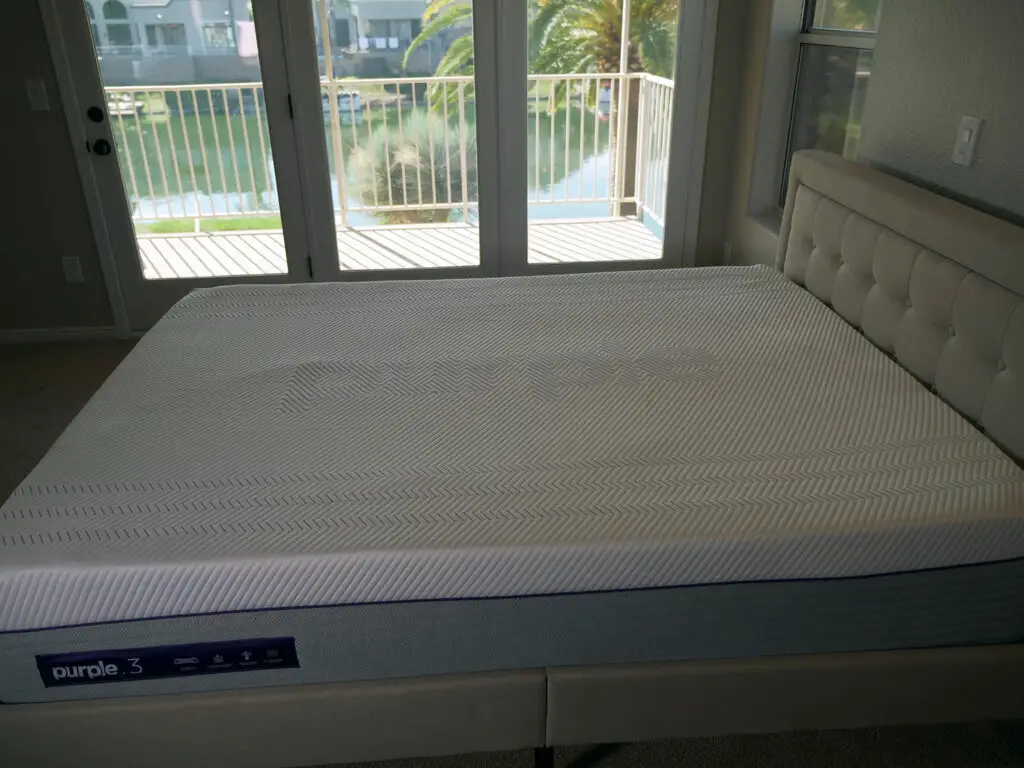 The NEW Purples are a blend between their Unique HEP and an innerspring mattress.  They added 7.5″ coils and gave consumers the choice of how large of a hyper-elastic polymer section that they desire.  The purple hybrid premier comes in 2 options.  You can choose a 3 inch HEP layer of a 4 inch one.  
How much of the HEP do you want to sleep on?
You don't have to go all the way up to the Purple.4 you could get the polymer section down to a 3″ or 2″ section. Here is the CRAZY part the 4″ polymer section costs a full $1,200 more than the 2″ polymer section (called the purple hybrid). The polymer section is what the Purple is all about, so I do get why they would double down on it to provide the option to get all the way to 4″. I wonder if they have considered additional thickness on their original mattress as well?
Besides the choice that you now have for the polymer section, the new purple mattress now has individually wrapped 7.5″ coils. This will provide sleepers with the additional support that some fell that the original purple may not provide. I feel like the "Raw Egg Test" video had a section about how coils weren't good, so I went and watched the video. How much egg is on my face? I was wrong there is no mention of coils being bad in that video. Meaning, this expansion into the hybrid world may have been planned for the last couple of years.
The choice between which version of the Purple hybrid you choose comes down to your choice of how much you are willing to spend. The 2″ polymer layer with the transition foam and 7.5″ coils is $1,599, which is priced in the middle of hybrid coil foam mattresses. However, this isn't really foam is it? I mean you do get the egg catching capabilities of the Purple polymer layer. The big question is; are you willing to almost double your cost to double up on their polymer layer? The 4″ purple hybrid premier is priced at the luxury end of the market of the direct to consumer market. Generally, you can double the price of a direct product to get the price that you would pay in store, meaning that they think highly of their flagship 4 inch mattress. They are a really bold company and certainly know how to market, so as much as I'm unsure of the price, they must have launched it for a reason.
The Base: Foam vs Responsive Support Coils (RSC)
The biggest difference between the original and the new mattresses, aside from the depth of Purple, is the base upon which the Smart Comfort Grid™ is set.
The original is set on two high-quality layers of polyurethane foam and the New Purple Mattress is set on individually-encased Responsive Support Coils.
Original Purple® Mattress | Foam
Slightly Firmer Feel – for those who prefer a more firm sleep surface.
Less Bounce with ideal motion isolation – foam is naturally less springy and a tad more motion-isolating than coils are, so you'll feel your partner move less in the night.
Smart Comfort Grid™ – adds a medium-firm support layer beneath the Purple® grid.
New Purple® Mattress | RSC
More Immersive – the coils are designed to compress under specific pressure points, so you sink into the mattress for more immersive comfort.
Bouncier with near-perfect motion isolation – individually wrapped coils make the bed more responsive to motion, without sending movement across the entire mattress.
More Edge Support – both the coils and the auxiliary foam border provide excellent edge support all the way around the mattress.
Better adapted to all body types – The responsiveness of coils, paired with the Smart Comfort Grid™, adapts more readily to all body types and sleep positions.
Smart Comfort Grid™ – Designed to complement the Purple® grid for perfect pressure relief and support.
Which Purple Should I Pick?
To answer that question I needed to spend some time sleeping on both of them before I felt good about sharing my opinion. I bought the original purple in the summer of 2017, and Purple sent me a Purple.3 in November of 2018. I put them side by side and spent some time sleeping on both before I put together the video above. 
Fair warning, I'm a huge fan of the original purple mattress so I was a bit skeptical of the New Purple mattresses at first.  When I received the Purple.3 I was instantly in love with it.  However, after a few weeks I ended up moving it to storage and I'm not sure when I'll take it out again.  I encountered an issue with it and ended up going into more details about the polyfoam that they have on the edges of the mattress.  Personally, I would choose the Original Purple over the New Purple's and it is mainly due to my frame, I'm just not big enough to justify the extra cost of moving up to their hybrid mattresses.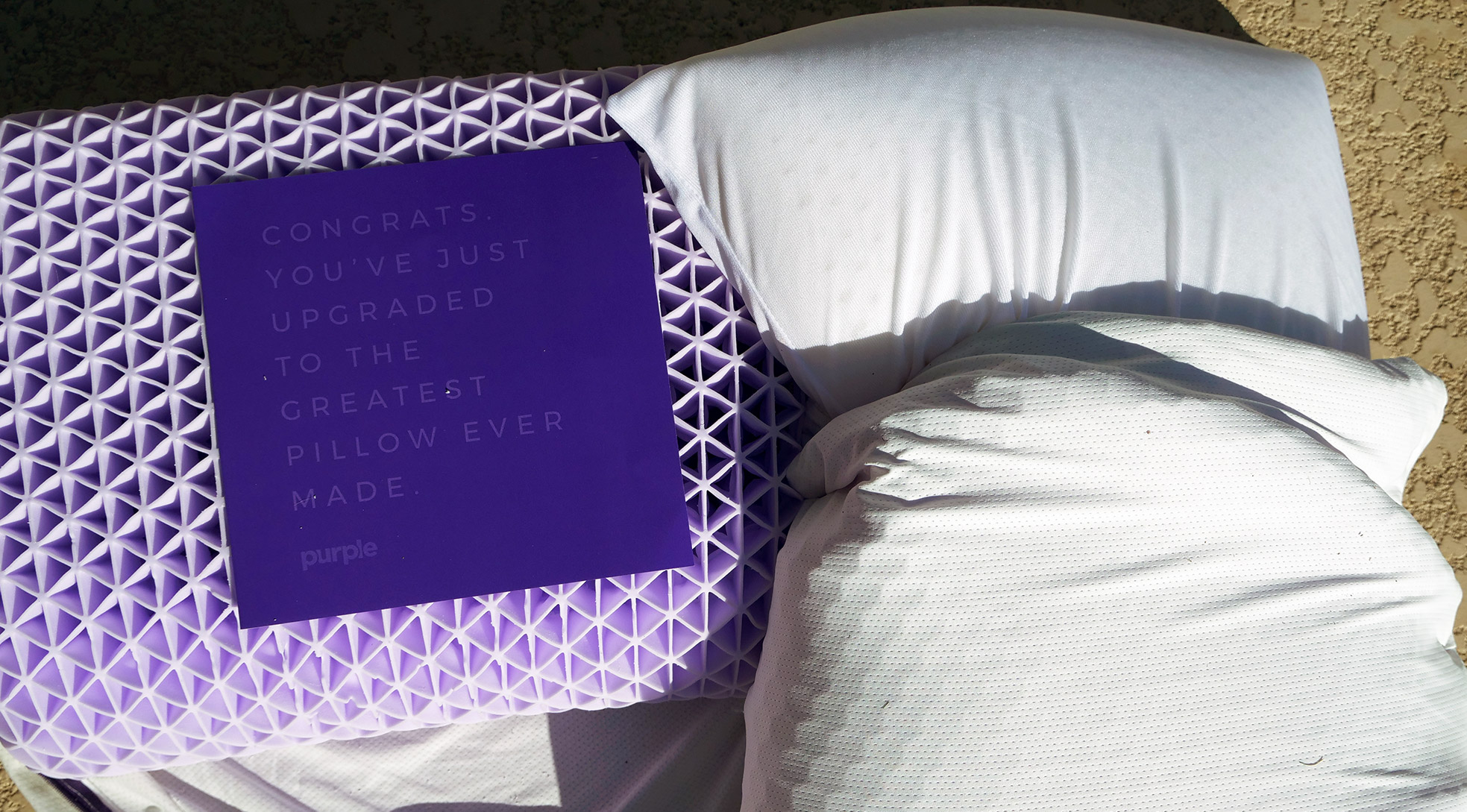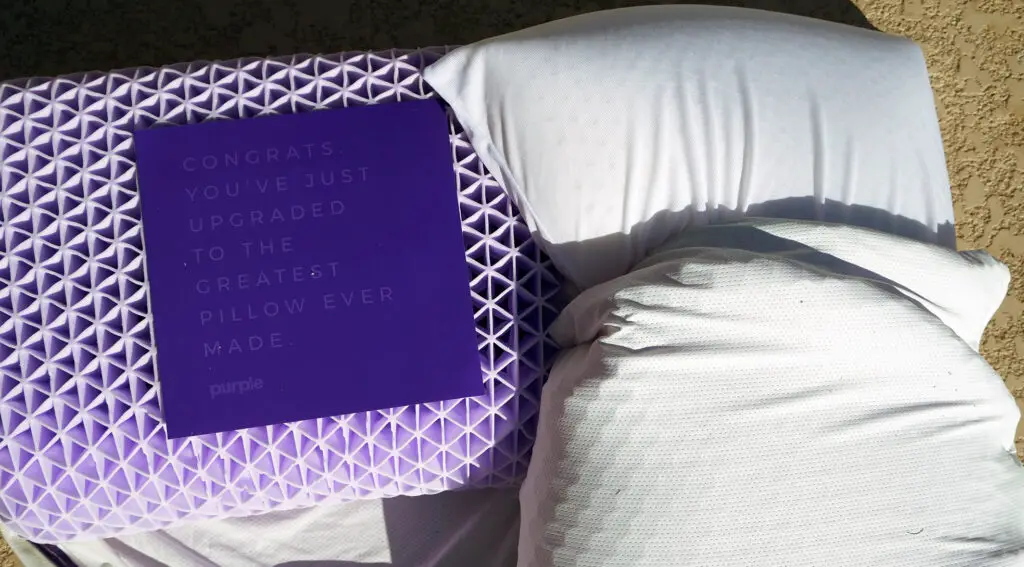 Purple Mattress

Price & Discounts
Here are the Prices of the Purple Mattress and the new Purple hybrid as well as the 2 options of purple hybrid premier as of 10/12/2019.
| Size | Measurements | Original | Purple Hybrid | Purple Hybrid Premier 3" | Purple Hybrid Premier 4" |
| --- | --- | --- | --- | --- | --- |
| | | | | | |
| | | | | | |
| | | | | | |
| | | | | | |
| | | | | | |
| | | | | | |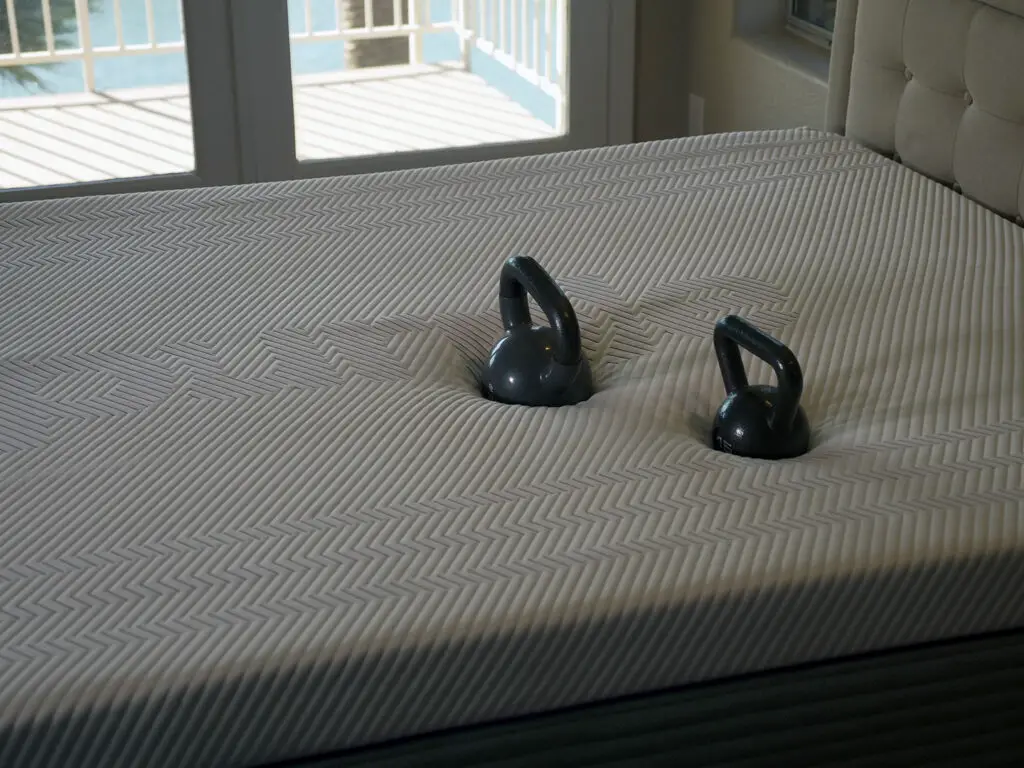 2 Free Pillows and Sheets
Does the Purple Mattress Sag?
That's the most common question or email I get.  I can definitively say NO, the purple mattress does not sag. 
After 2 years of sleeping on, testing, egg dropping, storing, moving and all other violations of their limited warranty.  I can say that mine has not developed sags after 2 years.  Here is the thing, I have beaten it up so much more than anyone could imagine and it's still as comfortable as it was when I first got it. 
Here is a video explaining some of the dos and don'ts of their limited warranty and a little bit of information on both their trial period and on their warranty return policies. 
The tag on the cover says NO.  So don't do it.  My cover was disgusting, just imagine how much dirt and grime you would get if you moved a mattress into storage and then back into your house.  Now imagine doing that like 12 times over 2 years.  GROSS!  That's just the half of it…  You can see more in the video below.
SO don't try this at home, surely it violates the terms of the limited warranty agreement.  If you have issues with your cover just contact the Purple customer service line and purchase a new cover.  They told me it would be $189 for a new queen size cover.
I washed mine using the cold setting in my washing machine and then air dried it outside.  Did it work?  Can I save you $189 with a DIY technique? 
Even though it worked-DON'T TRY THIS AT HOME (wink, wink).
Purple Mattress Review Conclusion
If you haven't tried a Purple yet then what are you waiting for? It is available in some stores to try unlike many other mattresses (see FAQ section below to find out where). Here's what i have to say about the Purple Original: It's got my back! And my hips and shoulders. Tired Moms and Dads, Yogis, hikers, runners and bikers, you will feel the difference once you lay down on a Purple. Sometimes at the end of the day that's all I want, my Purple mattress. And I don't like to share it. It makes my body float and takes away my aches and pain. I am so lucky to own one.
You will see from the rating below that this is my absolute favorite mattress, the original purple.  I think you get what I'm saying by now…