Purple Mattress Review 2019
I purchased my Purple mattress in the summer of 2017, if you look closely at the 2nd video below you can actually see the manufacturer's time stamp on the inside of the mattress.  Even though I test mattresses and have more of them than I can possibly sleep on, I chose to buy this one.  Purple mattresses are so unique that I just had to try it even though I didn't (at that time) have any relationship with Purple Innovations.  At the end of 2018, I received a New Purple.3 mattress to test (for free, thanks Purple).  So this review will cover my experience with both mattresses.
Why is Purple so Unique?
It's pretty simple, they are the only ones using their proprietary hyper-elastic polymer.  They doubled down on this matieral by producing funny commercials featuring catching eggs with this "egg crate" like material.  
It all started with their Goldilocks commercial.
After they released the Purple.2-Purple.4 they decided to do a similar egg test, except they call this one the human egg test.
Of course my husband and son got in the act and decided to test it out as well.  Below you will find a 3 second teaser video of the test.
Original Purple Mattress Review 2019
It took me a couple of days on the purple before I decided that I liked it.  The feel of the hyper-elastic polymer section is unusual and it's possible that everyone won't like it.  The easiest way to explain it is that you feel like you are weightless/on a waterbed.  This means that it doesn't do a good job of motion isolation, but don't worry too much about that. 
After a couple of days I realized that I no longer had any hip or back pain.  I just kind of sunk into my side and had a great 2 week test run back in the summer of 2017.  I test tons of other mattresses so I can't always sleep on the Purple, but I do still have it and take it out of storage frequently.  Let that part sink in, I choose to sleep on this mattress when I'm not testing other mattresses.  To say that it is my favorite is an understatement.  Get this, I also was fortunate enough to get a free Purple.3 mattress, and the original (much less expensive one) is still my favorite.
For you to understand why it is my favorite, I probably need to talk a bit about myself.  I'm petite and a side sleeper and that is what the Purple specializes in.  The mattress itself is VERY heavy as the polymer section is heavier than the typical polyfoam that you would find in a mattress.  This leaves the original Purple with 3 downsides:
It is hard to move (good luck moving a queen size by yourself, don't try it…)
It will TACO on you if you put it on it's side.  Think of it this way the top is heavier than the bottom.  Fortunately, nobody sleeps with a mattress that is on it's side.  But, you need to be careful when moving it.
A LARGE person my find that their combined weight with the polymer section are just too much for the bottom layers of polyfoam to handle.  So, if you are in the 250 pound plus category you probably want to look into the Purple.2 or Purple.3
The Purple bed does an exceptional job of pressure relief, especially on my hips and shoulders while sleeping on my side.  
For those of you who like to see the mattresses in action there is a video below with both the original purple and the Purple.3.  If you can stick around to the end there is also a raw egg human egg test.  Without spoiling the surprize, I'll tell you that all dozen eggs were broken.
New hybrid Purple 2, 3 and 4 (Updated 2019)
They added 7.5″ coils and gave consumers the choice of how large of a hyper-elastic polymer section that they desire.  They say that the Purple .4 is ideal for side sleepers.  Look at the price table below, I'll wait for you!  OUCH! They want me to fork over $2,799 to upgrade to a queen sized Purple .4…
How much of this do you want to sleep on?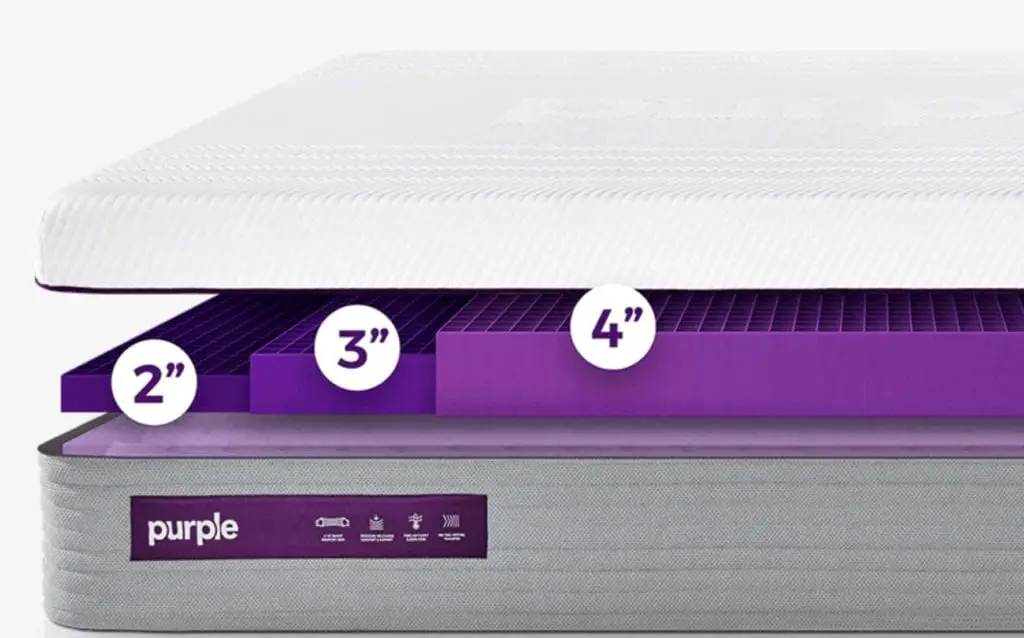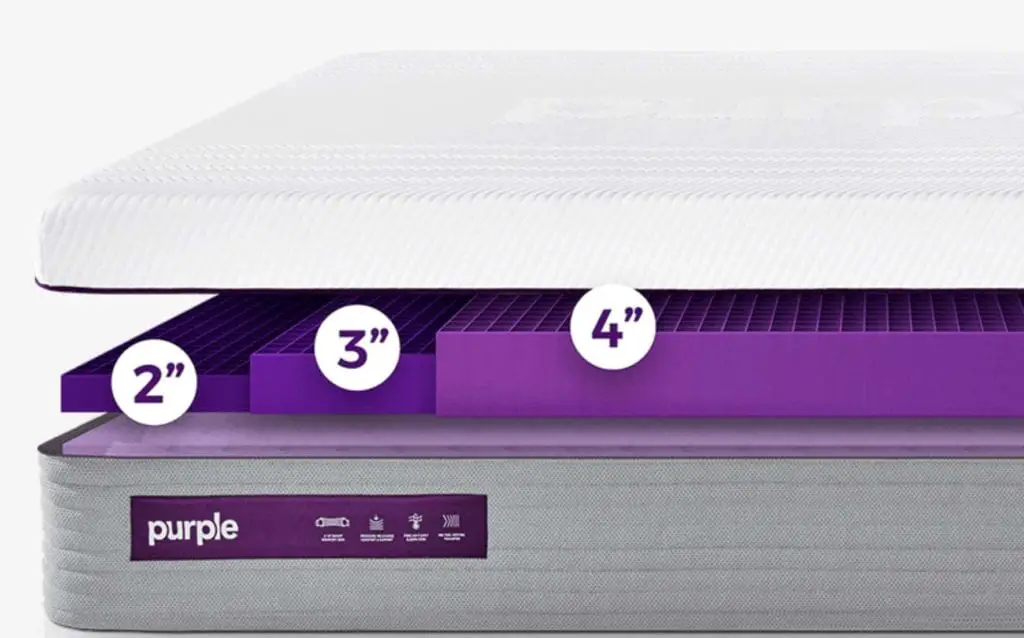 You don't have to go all the way up to the Purple .4 you could get the polymer section down to a 3″ or 2″ section.  Here is the CRAZY part the 4″ polymer section costs a full $1,200 more than the 2″ polymer section.  The polymer section is what the Purple is all about, so I do get why they would double down on it to provide the option to get all the way to 4″.  I wonder if they have considered additional thickness on their original mattress as well?
Besides the choice that you now have for the polymer section, the new purple mattress now has individually wrapped 7.5″ coils.  This will provide sleepers with the additional support that some fell that the original purple may not provide.  I feel like the "Raw Egg Test" video had a section about how coils weren't good, so I went and watched the video.  How much egg is on my face?  I was wrong there is no mention of coils being bad in that video.  Meaning, this expansion into the hybrid world may have been planned for the last couple of years.
The choice between which version of the new Purple you choose comes down to your choice of how much you are willing to spend.  The 2″ polymer layer with the transition foam and 7.5″ coils is $1,599, which is priced in the middle of hybrid coil foam mattresses.  However, this isn't really foam is it?  I mean you do get the egg catching capabilities of the Purple polymer layer.  The big question is; are you willing to almost double your cost to double up on their polymer layer?  The 4″ .4 is priced at the luxury end of the market of the direct to consumer market.  Generally, you can double the price of a direct product to get the price that you would pay in store, meaning that they think highly of their flagship .4.  They are a really bold company and certainly know how to market, so as much as I'm unsure of the price, they must have launched it for a reason.
The Base: Foam vs Responsive Support Coils (RSC)
The biggest difference between the original and the new mattresses, aside from the depth of Purple, is the base upon which the Smart Comfort Grid™ is set.
The original is set on two high-quality layers of polyurethane foam and the New Purple Mattress is set on individually-encased Responsive Support Coils.
Original Purple® Mattress | Foam
Slightly Firmer Feel – for those who prefer a more firm sleep surface.
Less Bounce with ideal motion isolation – foam is naturally less springy and a tad more motion-isolating than coils are, so you'll feel your partner move less in the night.
Smart Comfort Grid™ – adds a medium-firm support layer beneath the Purple® grid.
New Purple® Mattress | RSC
More Immersive – the coils are designed to compress under specific pressure points, so you sink into the mattress for more immersive comfort.
Bouncier with near-perfect motion isolation – individually wrapped coils make the bed more responsive to motion, without sending movement across the entire mattress.
More Edge Support – both the coils and the auxiliary foam border provide excellent edge support all the way around the mattress.
Better adapted to all body types – The responsiveness of coils, paired with the Smart Comfort Grid™, adapts more readily to all body types and sleep positions.
Smart Comfort Grid™ – Designed to complement the Purple® grid for perfect pressure relief and support.
Which Purple Mattress is Best For Me?
To answer that question I needed to spend some time sleeping on both of them before I felt good about sharing my opinion. I bought the original purple in the summer of 2017, and Purple sent me a Purple.3 in November of 2018. I put them side by side and spent some time sleeping on both before I put together the video above. Fair warning, I'm a huge fan of the original purple mattress so I was a bit skeptical of the New Purple mattresses at first.  When I recived the Purple.3 I was instantly in love with it.  However, after a few weeks I ended up moving it to storage and I'm nost sure when I'll take it out again.  I encountered an issue with it and ended up going into more details about the polyfoam that they have on the edges of the mattress.  Personally, I would choose the Original Purple over the New Purple's and it is mainly due to my frame, I'm just not big enough to justify the extra cost of moving up to their hybrid mattresses.
Price Table
| Type | Twin XL | Queen | King | California King |
| --- | --- | --- | --- | --- |
| Purple | $699 | $999 | $1,299 | $1,299 |
| Purple.2 | $1,299 | $1,599 | $1,899 | $1,899 |
| Purple.3 | $1,899 | $2,199 | $2,699 | $2,699 |
| Purple.4 | $2,499 | $2,799 | $3,499 | $3,499 |
Current Specials
Both the original and hybrid purple beds come with 100 night sleep trial and free shipping.  In addition, Purple is currently offering free sheets with the purchase of a mattress.  I just received my Purple sheets a couple of days ago.  Purple mattresses are also eligible for a $25 gift card from me, if you purchase using these links.
Thinking about buying the items we have reviewed? Help Non-Biased Reviews out if you do. Just click on any of the seller links above and the seller will contribute a portion of the sale to help support this site. It won't cost you anything extra and is a simple way to help us fund more items to review. Thank You!
Can I try them before I buy one?
Some Mattress Firm locations carry both Purple mattresses.  The US is a large place and Mattress Firm locations are in 49 of our states.  Unfortunately, they haven't incorporated Purple into all of their locations.
Here are some of the locations where you can try a Purple mattress and compare it to the New Purple mattresses Purple .2, Purple .3 and Purple .4:
| Chicago | Phoenix | SF Bay Area | Sacramento |
| --- | --- | --- | --- |
| Skokie | Dysart | Mt View | Arden |
| West Fullerton | Tempe | Colma | Zinfandel, RC |
| Orland Park | Camelback, Scottsdale | Pleasant Hill | Citrus Heights |
| Addison | Mountain View, Scottsdale | Richmond | Florin Town Center |
| Northlake | Happy Valley Peoria | Van Ness, SF | Natomas |
| Lawrence | Mesa | South San Francico | Elk Grove |
| Oak Lawn | Surprise | Fremont | Roseville |
| Clybourn | Chandler | Dublin | Rocklin Crossing |
| South Loop | Paradise Valley | Vallejo | Blue Oaks |
| Chicago (river north) | Prescott Valley | Brentwood | Folsom |
| Forest Park | Buckeye | Milpitas | Vacaville |
| Park Place Plaza | Sonora Village, Scottsdale | Daly City | Wemento |
| Melrose Park | Happy Valley | Stevens Creek | Madison |
| Roscoe Village | Glendale | Santa Rosa | Rocklin |
| Broadway Square | S Power Rd, Gilbert | Gilroy | Lincoln |
| Mount Prospect South | Gilbert Commons | Geary | Town & Country |
| Broadview | Crossroads, Chandler | NA | Davis |
| Pulaski Promenade | Town & Country, Phoenix | NA | Citrus Heights |
| Wicker Park | Flagstaff | NA | Truxel Rd |
| Ford City Mall | Desert Ridge, Phoenix | NA | Iron Point, Folsom |
| Crystal Lake | NA | NA | Hazel, RC |
| Evergreen Park | NA | NA | Woodland |
| Lincoln Park | NA | NA | 5 Star, Rocklin |
| Lakeview West | NA | NA | Auburn |
| Niles | NA | NA | Laguna, Elk Grove |
| Riverpoint | NA | NA | Stanford Ranch |
| Skokie (touhy ave) | NA | NA | NA |
| State Street | NA | NA | NA |
| Park Ridge | NA | NA | NA |
Summary
Rana Landreth
Review Date
Reviewed Item
Author Rating