BEST MATTRESS FOR STOMACH SLEEPERS 2022
Our Top Picks - Updated Yearly
Did you know that only about 16% of Americans sleep on their stomach? And if you are a stomach sleeper, I see you! I sleep on my stomach most of the night myself, and have compiled this list of Best Mattress for Stomach Sleepers 2022 to help you find a healthy mattress for your favorite sleeping position.
Sleeping on your stomachs adds a few requirements for finding a comfortable mattress that won't create lower back pain, so here we go! Our Best Mattress for Stomach Sleepers 2022!
Finding The Best Mattress For Stomach Sleepers
While stomach sleepers seem to be a minority (16% of sleepers, only second to the back sleepers making up 10% of sleepers), there are many options on the market today.
As a stomach sleeper, your back can have the tendency of arching backwards. Sleeping on the wrong mattress can lead to serious and on-going lower back and neck pain.
When sleeping on your back, you need increased support. Where a side sleeper look for extra pressure relief in the hip and shoulder areas, you need extra support. The goal is to find a combination of layers that will work together in keeping your hips aligned with the rest of your body so your spine can lay straight and in a healthy position.
While we are looking at the Best Mattress for Stomach Sleepers here, it is equally important to consider your pillow, especially if you suffer from neck pain! Look for a low pillow such as the Belly Sleep pillow, specially designed with stomach sleepers in mind, or a pillow you can customize and make your own, such as the Silk & Snow pillow.
This is what stomach sleepers should look for in a mattress:
full body support with reinforced areas in the hips and shoulders
a firmer feel for a feeling of floating on top of the mattress
a thin layer of pressure relief to allow knees, chest, and bellies to dig in a little further
Without further ado, here is our list of Best Mattress For Stomach Sleepers 2022.
Please note that this article is informational and consists, in no way, in medical advice. If you are experiencing acute or chronic back or joint pains, consult your physician as soon as possible. Personal preferences vary and we cannot ensure that any of the mattresses listed below will result in better sleep. Mattresses in this list will however be some of the best mattresses for stomach sleepers in 2022, and are based on my personal opinions and knowledge of the mattress industry.

Best Mattress For Stomach Sleepers 2022
Non-Biased 2022 Favorite Pick
$750 OFF + 2 FREE Pillows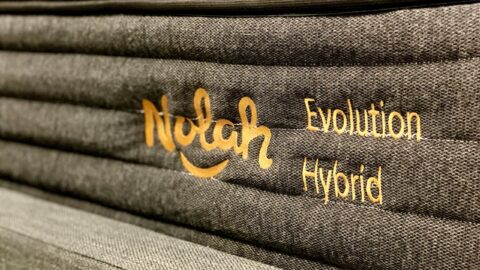 Nolah Evolution 15
$750 OFF the Evolution + 2 FREE Pillows with our exclusive coupon code (click to reveal)!
$750 OFF the Evolution + 2 FREE Pillows with our exclusive coupon code (click to reveal)!
Show Less
Nolah came out with the Nolah Evolution in late 2020, which immediately climbed up our charts to Best Mattress 2022. But it wasn't until they added two firmness levels to the Evolution that we ranked it Best Mattress for Stomach Sleepers.
In the Spring 2022, Nolah made the game-changing decision to offer a Firm version to their 15-inch thick technological wonder, making it the ideal mattress for stomach sleepers.
This USA-made mattress offers ample support down the entire spine. We rated it an 8 out of 10 on the firmness, giving stomach sleepers the firmness required to keep the spine aligned through the night.
The quilted Euro top is designed to keep sleepers cool without the use of harsh chemicals, while the top 2 inches of Nolah's own AirFoam provide cool sleep as well as pressure relief to the knees, chest, and belly.
Make sure to click the Nolah coupon box above for an exclusive coupon code for our readers, getting your the deepest discounts currently available!
Read the full Nolah Evolution Review.
Nolah Sleep Trial – 120 nights
Shipping – FREE
Warranty – Lifetime
Best Organic Mattress For Stomach Sleepers
30% OFF + FREE Gifts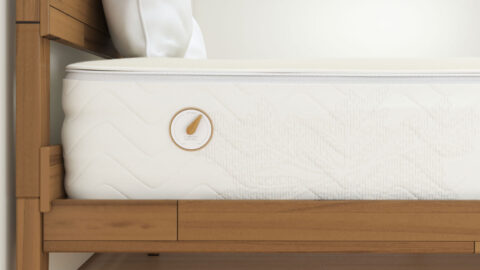 Natural Form Refresh Mattress
30% OFF Mattresses + FREE Sheet Set and Seat Cushion with your mattress purchase
30% OFF Mattresses + FREE Sheet Set and Seat Cushion with your mattress purchase
Show Less
The Natural Form Refresh mattress will sit towards the top of the price range, and if you can afford it, you will be getting yourself one of the best mattresses on the market. This is one of those "you get what you pay for" and the value remains excellent.
Natural Form started making mattresses for the medical industry years ago and is today the trusted mattress partner to over 1,200 health organizations around the world. Natural Form is the only mattress that lets you bring medical-grade mattress technology into your private home. We love the Natural Form Refresh Mattress so much that it made our list of Best Mattress For Lower Back Pain!
The Natural Form Refresh mattress is made of a proprietary  pressure-free technology that allows sleepers to choose their most-ideal firmness level by the turn of a knob. That technology displaces your weight to put your spine in its natural position.
If your partner is not a stomach sleeper, you will be pleased to learn that each sleeper can control his/her own side of the bed thanks to that knob dial, making the Natural Firm Refresh mattress ideal for couples of different sleeping styles.
The mattress' thick Australian Merino Cover will probably be the first thing you will notice when unpacking the Natural Form mattress. That natural material not only sleeps cool during warm nights, but warm during cool nights, thanks to its natural moisture-wicking properties. It is washable and exchangeable, and is just one of the things we absolutely love about this mattress.
The layers of foam are high-resilience foam, which are firmer than the average foam. Their purpose is to align your body and when you dial the firmness level up to Firm, you will get the perfect amount of support a stomach sleeper needs to rest pain free.
This is an all-around excellent mattress for the stomach sleepers and worth the extra spending if you can afford it!
Read the Natural Form Refresh Mattress review
Natural Form Sleep Trial – 100 nights
Shipping – FREE
Warranty – 10 years
Best Luxury Mattress For Stomach Sleepers
Nest Bedding Sparrow - Firm
25% OFF + FREE Comfort Bundle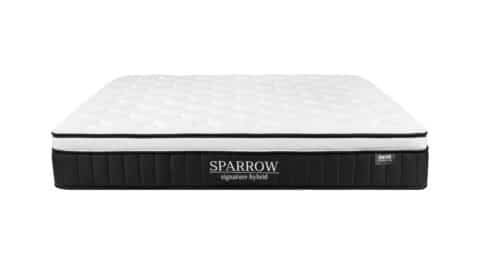 Here is another of my favorite mattresses for stomach sleepers. The Nest Bedding Sparrow hybrid mattress by Nest Bedding is unique for two reasons:
1- pick from three firmness options and if you are a stomach sleeper, pick Firm to start with. After you receive your Nest Bedding Sparrow, you have 365 nights to test sleep it at home. If you find it too firm for your personal preference, exchange the Energex™ Temperature Responsive Foam for the Medium version
2- If your partner has a different sleeping position (highly likely since only 16% of Americans sleep on their stomachs), you have the option to each choose a different firmness level for your own side of the bed. This only works if you order a King or California King Sparrow, but the dual-comfort is definitely worth the upgrade in size in my opinion
So why is the Nest Bedding Sparrow great for stomach sleepers? You get all of the support your spine needs to stay aligned, without giving up on the plush comfort needed for a comfortable night of sleep.
The 1-inch thick Gel Memory Foam & Quilted THERMIC® phase change cover gives you just the right amount of plushness to not feel like you are sleeping on bricks. It is also an impressive layer of technology that works with the below 3 inches of Energex™ Temperature Responsive Foam to keep you cool at night.
Read the Nest Bedding Sparrow Review
Nest Bedding Sleep Trial – 365 nights
Shipping – FREE
Warranty – Lifetime
Best Cool Sleep Mattress For Stomach Sleepers
30% OFF + 2 FREE Pillows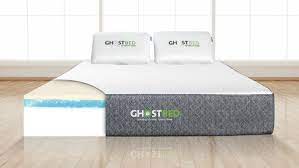 GhostBed Classic
30% OFF your GhostBed Mattress + 2 FREE Pillows ($190 value) & FREE Silk Pillowcase ($109 value) on orders $1.5K+
30% OFF your GhostBed Mattress + 2 FREE Pillows ($190 value) & FREE Silk Pillowcase ($109 value) on orders $1.5K+
Show Less
The GhostBed Classic is the original, and cheapest, of the GhostBed mattresses. It is also the best suited for stomach sleepers, thanks to its superior firmness and support system for people preferring to sleep on their bellies.
We rated the firmness a 7/10, which is on the plusher end of what I would recommend for stomach sleepers. Since it is made of a top layer of latex however, you will get the responsiveness and spring back against your body that you need for a comfortable night of sleep on your stomach. But if you prefer a softer sleeping mattress, the GhostBed Classic will be a great option.
It has made our list as best mattress for cool sleep, so if you are a stomach sleeper who tends to sleep hot, this GhostBed will be a clear winner. The 1.5-inch aerated layer of foam works with the 2 inches of proprietary gel memory foam to ensure that you never wake up from heat at night, let alone sweat!
GhostBed Sleep Trial – 101 nights
Shipping – FREE shipping
Warranty – 20 years
Best Mattress Designed Sprecifically for Stomach Sleepers
$200 OFF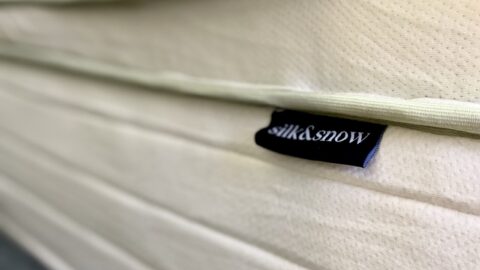 Silk & Snow Organic Mattress
$200 OFF your Silk & Snow Organic Mattress - 100% organic and natural mattress!
$200 OFF your Silk & Snow Organic Mattress - 100% organic and natural mattress!
Show Less
Helix offers a wide range of mattresses for all kinds of sleepers. They do have a few mattresses designed specifically for stomach and back sleepers and one specifically that I think works really well for stomach sleepers.
Take the Helix Sleep mattress quiz here to find which one is recommended for your personal preferences.
The Helix Dawn sleeps firm and provides the lumbar support stomach sleepers need to prevent back and neck aches. You are getting a thin layer of comfortable and contouring foam to bring comfort to your sleep.
Underneath, the high-grade polyfoam reinforced by hundreds of pocketed coils ensures that your spine is aligned throughout the night. The Helix Dawn has fantastic stability and offers all of the comfort you need for a comfortable night of sleep.
If your budget allows, I find the Helix Dawn Luxe to be an even better option. With the Queen priced $750 more than its younger sister the Helix Dawn, it does offer an extra 2-inch layer designed to support and cushion your body.The zoned lumbar support coils add support in the right areas of your body, and the Helix Dawn Luxe comes with a premium pillow top cover for added luxury. Lastly, the Helix Dawn Luxe comes with an extra 5 years of warranty over the Helix Dawn.
Helix Sleep Trial – 100 nights
Shipping – FREE
Warranty – 10 years (15 year for the Helix Dawn Luxe)
Best Budget Mattress for Side Sleepers
The OkiFirm is a simple, no-frill, mattress by OkiOki. You simply cannot beat the value of this mattress and in a blind test, it can easily take first place for comfort.
Its design is pleasing and you do not pay for what you don't need. At $550 for a Queen mattress, I challenge you to find better mattress for the price.
OkiOki uses 10 inches of a high-density graphite foam that is as supportive as it sleeps cool. Your body is supported and receives pressure relief in just the right places. You will be impressed with how cold its Ice Yarn cover is to the touch. There is no chance of sleeping hot or sweating on the OkiFirm and it is a fantastic mattress if you find yourself limited with budget. 
And guess what? With a 365-night home trial, you have an entire year to figure out whether the OkiFirm is the best mattress for your needs! Sleep on it through all seasons to be sure you love it, or return it.
Read the OkiFirm Mattress review
OkiOki Form Sleep Trial – 365 nights
Shipping – FREE
Warranty – 10 years
Best Mattress For Stomach Sleepers 2022 - Recap
I hope you found this guide helpful. As I mentioned earlier, each sleeper has his/her own sleeping preferences and what feels right to me, might feel different to you. I have based my selection of Best Mattress For Stomach Sleepers on my industry testing experience and knowledge of the materials used in each model, and further vetted my selection sleep testing over 100 mattresses in the last few years.
All of the mattresses included in this list are medium-firm to firm and provide the comfort of some pressure-relief and a strong support of the entire body, including your pressure areas in the shoulders and hips, which require a little extra support to prevent back and neck pain in the morning.
What Mattress Is Right For Me?
Did you know that, if you lay on your bed 8 hours each day, you spend over 121 entire days on it each year? That's right – 2,912 hours each year, laying on your mattress. You better make it good! 
Each person has their own set of preferences when it comes to mattresses and comfort levels, and while I can't make the decision for you, I do my best to give you enough information to help in your buying process. 
Stomach sleepers have specific needs related to their preferred sleeping position. See below for a list of mattress requirements for stomach sleepers to get a comfortable night of sleep:
What Should I Be Looking For In A Mattress As A Stomach Sleeper?
Someone sleeping on their stomach needs a lot of support, especially in the hips and shoulder areas. Those body parts are heavier than the rest of the body, and a soft mattress will see them sinking down too deep and arching your body in a painful position. You may not feel the discomfort before you fall asleep, but you are guaranteed to wake up with back and/or neck pain in the morning. You do not want to sink in too deep and will need to gravitate towards firmer mattresses.
By choosing to sleep on a medium-firm to firm mattress (firmness of 7/10 and above), you are able to align your entire spine throughout the night. Of course you will want an upper layer of  1 to 2 inches of softer foam to provide relief to your knees, chest, and belly, but underneath should be a firmer foundation to support all areas of your body.
That does not mean that you need to settle down for a brick… today's technology allows you to find layers that will make your nights comfortable and give you that sought-after feeling of floating on top of your mattress.
You will hear me talk about support a LOT when it comes to finding the right mattress for stomach sleepers. You want your entire spine supported and aligned – from neck to your thighs. The goal is to ensure no pressure is put on your spine and you can sleep with all of the support stomach sleeping deserves.
A supportive mattress with firmer high-density foam layer, reinforced coils, a strengthened lumbar zone, or latex, will ensure that your body is supported in a healthy position throughout the night.
I find latex to be a great material for stomach sleepers, as it offers more bounce and responsiveness than memory foam and tends to better support you in the heavier hip area.
The fact that stomach sleepers need a firm sleeping surface is one thing.. but it doesn't mean they should settle for a brick for a mattress. In fact, they need enough plushness to gently contour their chest, belly, hip bone, and knees.
There are many mattresses on the market today that provide the strong support your sleeping position requires and the soft comfort you are looking for a good night of sleep. Reach for the clouds! … because you can!
Look for mattresses that include an inch or two of cool-sleeping foam. Remember that pure memory foam sleeps really warm. Ensure that top layer of foam is either cooling gel-infused or aerated open-cell.
Why Buy A Mattress Online?
I hear you. I am telling you that this is one of the most important purchases you will be making in the next 5 to 10 years, yet I am encouraging you to buy from a website, with no chance to see, feel, or lay on the mattress. I promise you it's worth it, though! Feel free to read over our Guide To Buying An Online Mattress, but let's also look at the benefits of buying a mattress online vs. in store:
When walking inside a mattress store, you are limited to the brands and models carried by the store. Not only are they limited, but the store needs to survive and higher margin products will probably take the store-front, which doesn't always work in favor of the buyer. However, when shopping online, you will find dozens of online mattress brands.
Now of course, more options means that you need to educate yourself a little more, to understand which mattress brands will be worth your money, and this is where I come in. I test hundreds of mattresses for you each year, and when you read the reviews of an independent mattress reviewer such as Non-Biased Reviews, you get unbiased mattress reviews. Many mattress review websites are now owned by large mattress companies, so make sure you use the services of independent mattress reviewers!
Buying a mattress can feel as stressful as buying a car these days. You walk into the mattress store and get overwhelmed with sale tactics, straight out of the car lot! Online, you get the benefit of time and peace. Once you have narrowed your choices down to a brand or mattress style, take your time to read the details and do deeper research on the brand sites and right here. See all of the brands we have reviewed so far. Any questions, feel free to email me directly at laura@nonbiasedreviews.com and I'll be happy to brainstorm ideas with you!
By purchasing a mattress online, you are cutting the middle man. You do direct business with the mattress brands and they save on labor, rent, and other overhead costs. It is a win-win and you put the savings in your pocket! You also have many more options, and while you can buy extremely luxurious and expensive mattresses online, you also have access to a large number of cheaper options!
This one might seem counterintuitive. I bet that your first resistance to buying a mattress online is linked to the lack of testing. You can't see nor touch the mattress for yourself and you're not sure whether you can truly believe the edited photos you see online. 
Think about it for a second. You walk into a mattress store, lay on a mattress, shoes on, fully clothed, with an adult salesperson staring at you, while trying to keep your kids from taking the store for a trampoline arena. You've awkwardly laid on that mattress a total of 50 seconds before making a long-term decision… 
When purchasing your mattress online, it nearly always comes with a 100 to 365-night trial. You get to sleep full nights on your investment for several weeks before deciding whether it is adapted to your sleeping needs and preferences. I recommend sleep testing your mattress for at least 30 nights before making your final decision, to give your body a chance to adjust to the new sleeping surface.
Still unhappy, most online mattress companies will arrange for your mattress to be picked up from your home and donated, and your money will be refunded. There is generally no restocking fee and most of the time, your return shipping is free as well. If you buy a Purple mattress at MattressFirm, for example, your return will be subject to MattressFirm's return policy and restocking fees. Buy directly from Purple and your return is free!
When you buy a mattress online, it ships directly to your home, most of the time for free! Nearly all mattresses ship in a box, making them easy to transport to the room of your choice. 
Forget about renting a truck or trying to tie a king-size mattress to the roof of your car, then asking a friend to come help you to get it inside. Instead, a regular carrier drops off a manageable box by your front door, you set the vacuumed mattress on your bed, rip the plastic wrap, and watch it expand in seconds!
Share this deal with a friend!