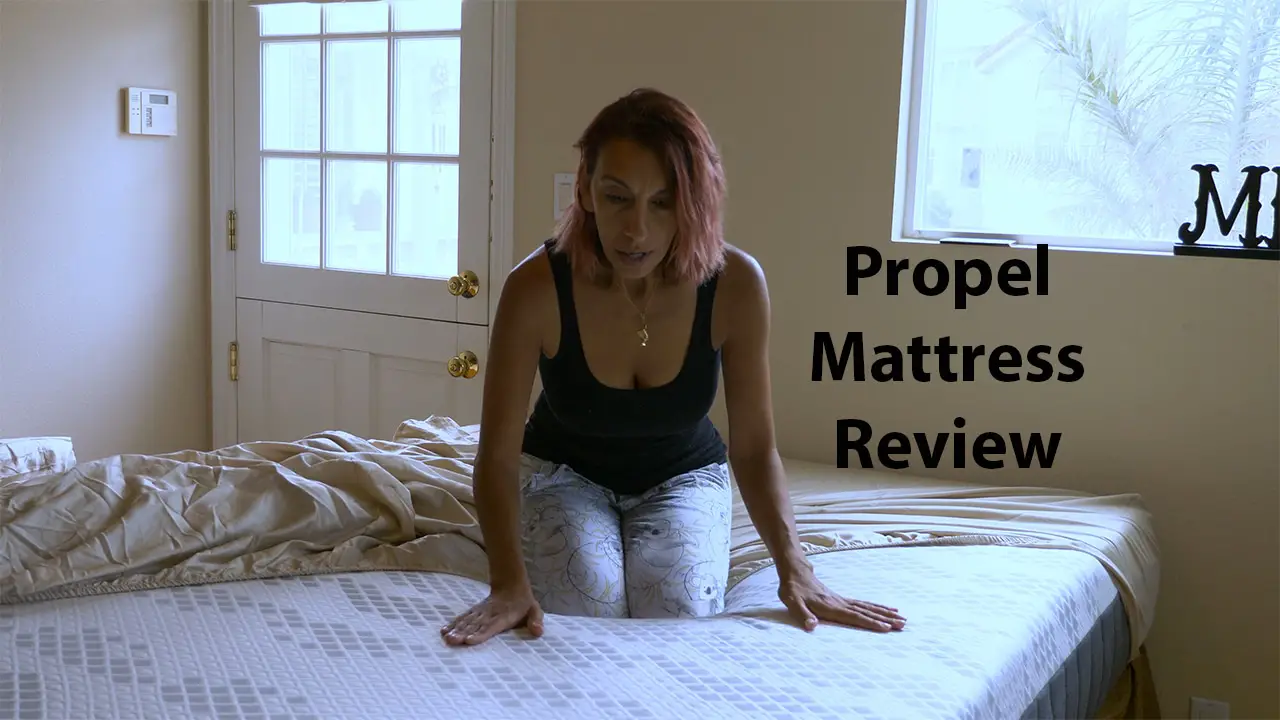 A Step Closer to Smarter Sleep
I am really picky when it comes to testing mattresses and trust me there's a new mattress- if not more- that pops up almost ever single day. But that doesn't mean anything, also that's why I love why I do. By the way, speaking of mattress testing it is not that easy believe me. Sometimes I wake up with aches, some other mattresses I do not want to leave and then you have mattress companies with ethical background backed up by an amazing group of people, from CEO's to employees to the most important humans, the heart of the factory. People that work with love to produce an awesome mattress that delivers a good night's sleep and nothing less.
This is one smart mattress, it made it up the stairs by itself.  Don't believe me?  Watch the first minute of this video.
Brooklyn Bedding Company Policies
One of the companies I take pride in working with is Brooklyn Bedding. Their factory is in the heart of Phoenix, Az and throughout my many visits and factory tours down there, I can safely say that they simply earned the title of World Class Experts in mattress engineering.
The company designs and creates its entire line of high-quality bedding right there in their Az facility. In other words, their products are made in the USA, and that is good enough for me.  Down the road Brooklyn Bedding has launched numerous mattresses and bedding products and today I am happy to share my experience on their recent mattress, The Propel. Shipping is always free, and you get to try it for 120 nights. Enough for your body to get adjusted to it because you can't decide whether a new mattress is the right one for you over night, sometimes you need over 30 days to realize how good (or bad) your new bed is.
What's Inside the Propel?
The top layer has a 1.5" of patented CopperFlex foam providing responsive contouring with targeted pressure point relief. The second layer is 2" of hyper-elastic Energex foam generating this cloud-like comfort with immediate response technology that adjusts to your body every time you move. You will always find the right spot no matter how much you toss and turn. Best part you won't wake up or wake your partner up. The third layer is 1" of swirl gel memory foam for better cooling and plush contouring. Now my favorite part of it all, a 6" base of up 1,024 individually cased Ascension coils promoting increased reaction and amazing support as well as supreme motion isolation. This layer is perfectly hidden between the other layers. You won't feel the coils themselves but will notice that your sleep has gotten better thanks to that layer. Also, as I pushed my hands on the side of the bed, I have noticed how they are not sticking out like some other cheaper hybrid mattresses would. By the way, I have seen this awesome machine that encases individually wrapped coils during my visit to their Phoenix factory, it's pretty cool. This 6" layer of coils sits on an inch of high-density foam base for more durability while reinforcing the coils as they compress.
So many features make the Propel extra special, one of them I have noticed right away as soon as the mattress took shape when I unwrapped and unboxed it, was the cover.
I was able to feel the cover and how instantly cool to the touch it was. Turned out they use Upcycle technology with encapsulate minerals to transform your body's heat into healing energy.
Propel is a Hybrid mattress that delivers responsive contouring with two unique agents: Titan cool for better temperature moderation as well as their copper-infused foam for added airflow and antimicrobial benefits.
No more tossing and turning trying to find the perfect level of firmness!
Not too firm, not too soft. Propel level of firmness is just right, it tends to be on the medium firm side with the perfect amount of pressure for greater support. That's what I like to call universal level of firmness.
The Propel sleep starts at $499, which I think is a great deal when it comes to a product made here in America and backed-up by a great company.
Price list updated: 10/15/2020
30% OFF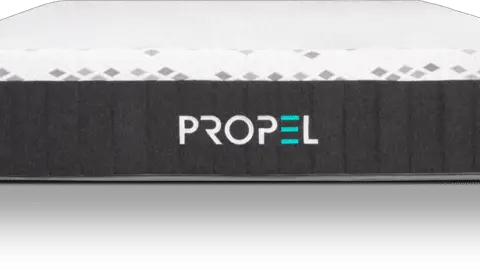 Propel by Brooklyn Bedding
30% OFF the Brooklyn Bedding Propel as final sale for discontinuation. 25% site wide with coupon code (click to reveal). 20% OFF everything else with...
Show More
30% OFF the Brooklyn Bedding Propel as final sale for discontinuation. 25% site wide with coupon code (click to reveal). 20% OFF everything else with our exclusive Promo Code NONBIASED20
Show Less
I can talk forever about the Propel or just briefly go straight to the point and tell you that I enjoyed sleeping on it. Also, I like the way I describe how it feels like better. Here's how it felt like: Sleeping on a Propel was like sleeping on a fluffy cloud that's not too soft to the pint where you sink into it thanks to its layer of bunnies that deliver just the right amount of support! So, if you are one of the millions who suffers from some type of lack of sleep, act now and invest in a smart mattress such as the Propel where they utilize a smart fabric in the process of creating and making it. This specific type of textiles that can sense and respond to changes in their environment, tend to accelerate the recovery process while you sleep. To explain it further, Upcycle technology -mentioned as one of the agents found inside the Propel- is based on the fundamental principle that heat is energy, and that energy is safely and naturally transferred every single day by one of three means: conduction, convection, and radiation. So much science going on right there I know! And that's what makes it so smart. Stay with me because there's more to explain (or you can go back to my fluffy cloud bunnies theory which is quiet enough sometimes). Upcycle uses thermo-reactive process on the surface of the mattress to convert you body heat into far infrared rays, safely released into your body as invisible waves of energy. No wonder I woke up feeling like wonder woman ready to take over the world. Oh, and in case you are worried about off gassing or bad smell when you unwrap the mattress, let me tell you right now THERE'S NO SUCH THING with the Propel. That's because they don't use any chemicals in the process of making their mattresses, not just the Propel. Instead, they use only high-quality fire-retardant socks, made of a non-woven silica/ rayon/ polyester/ cotton blend. Propel ships in box straight to your door and you have 120 nights to try it. Enough for your body to adjust to it. It also works on platform bases, slats, adjustable bases as well as box spring foundations. Any type of support system that provides minimal to no flex will work with the Propel.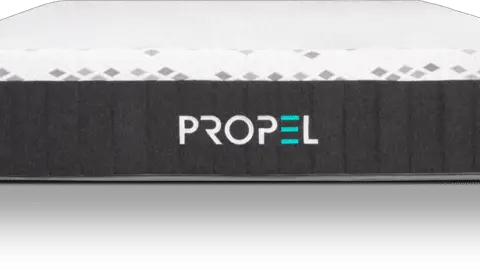 30% OFF
Propel by Brooklyn Bedding
30% OFF the Brooklyn Bedding Propel as final sale for discontinuation. 25% site wide with coupon code (click to reveal). 20% OFF everything else with our exclusive Promo Code NONBIASED20