GHOSTBED SILK PILLOWCASE REVIEW
Do you wonder how some wake up looking refreshed? Full and soft hair, no bed creases, and a hydrated skin? Have you ever given credit to their pillowcase? What if I told you that the GhostBed Silk Pillowcase could give you all of that, and incredible comfort and softness like you've never experienced?
You guys know we're huge fans of GhostBed. Today we are reviewing their Silk Pillowcase and can't wait to share how amazing it is! It does come at a price, but if you can afford it, we're giving it 5 stars!
40% OFF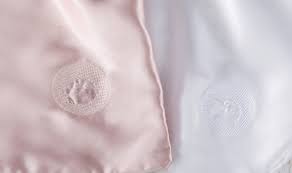 GhostBed Silk Pillowcase
MOTHER'S DAY - 40% OFF GhostSheets, Silk Pillowcase, and Faux Down GhostPillows
GhostBed Company Policies
Free shipping on U.S. orders
1-year warranty
No return on Silk Pillowcase
Note: 101-night trial on mattresses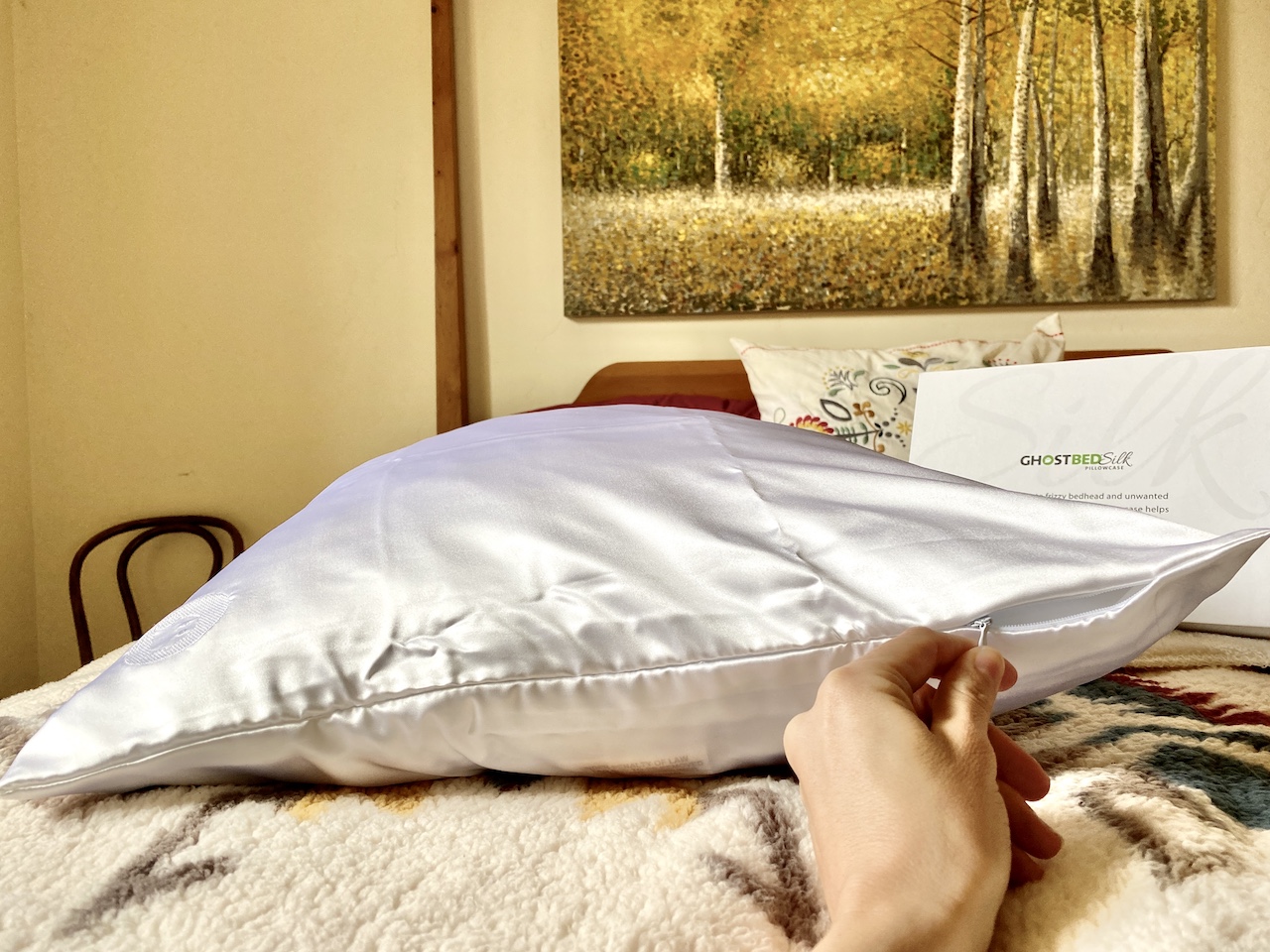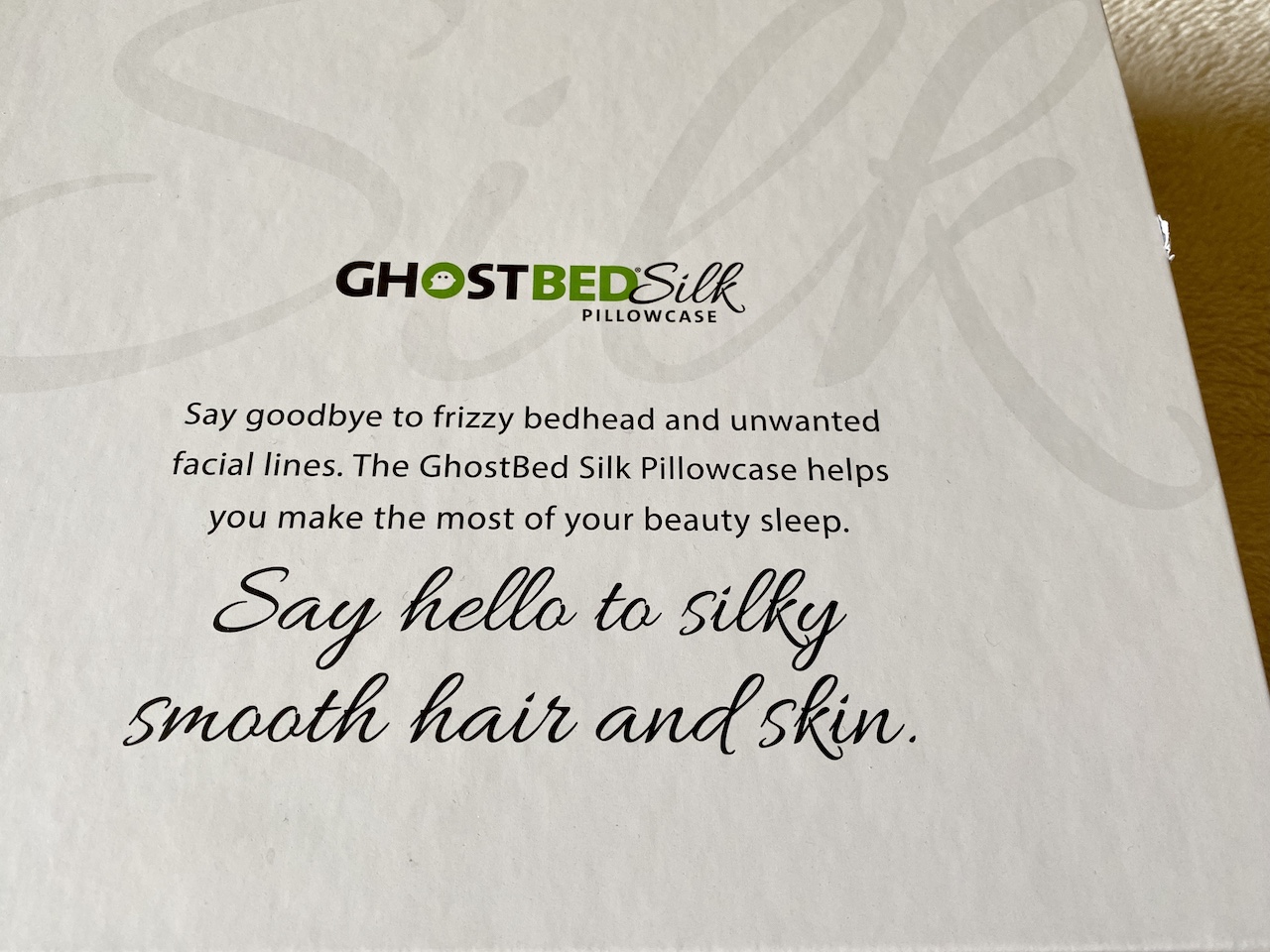 What's Inside The GhostBed Silk Pillowcase
The GhostBed Silk Pillowcase in a nutshell:
100% Mulberry silk
22-momme silk
Internal zipper + double-stitched edges
100% Mulberry Silk

GhostBed uses 100% Mulberry silk in its GhostBed Silk Pillowcase. Mulberry silk is the highest-quality silk available for purchase. It actually comes from the bombyx mori, a larva that feeds on white mulberry leaves. When purchasing 100% Mulberry silk, you will benefit from the highest quality silk and its excellent hypoallergenic properties.
22-Momme Silk

What makes luxurious silk is its weight. A heavier silk (higher momme) is more durable and stronger. GhostBed uses 22-momme silk, which brings maximum luster and sheen. When shopping silk pillowcases, 12 to 19-momme is considered good quality. Above 19-momme is very high quality, which is the case of the GhostBed Silk Pillowcase.
Internal Zipper + Double-Stitched Edges

The GhostBed Silk Pillowcase includes an internal zipper, which ensures that the pillow never slides out of the pillowcase and stays in place. The double-stitched edges give the pillowcase a beautiful and luxurious finish.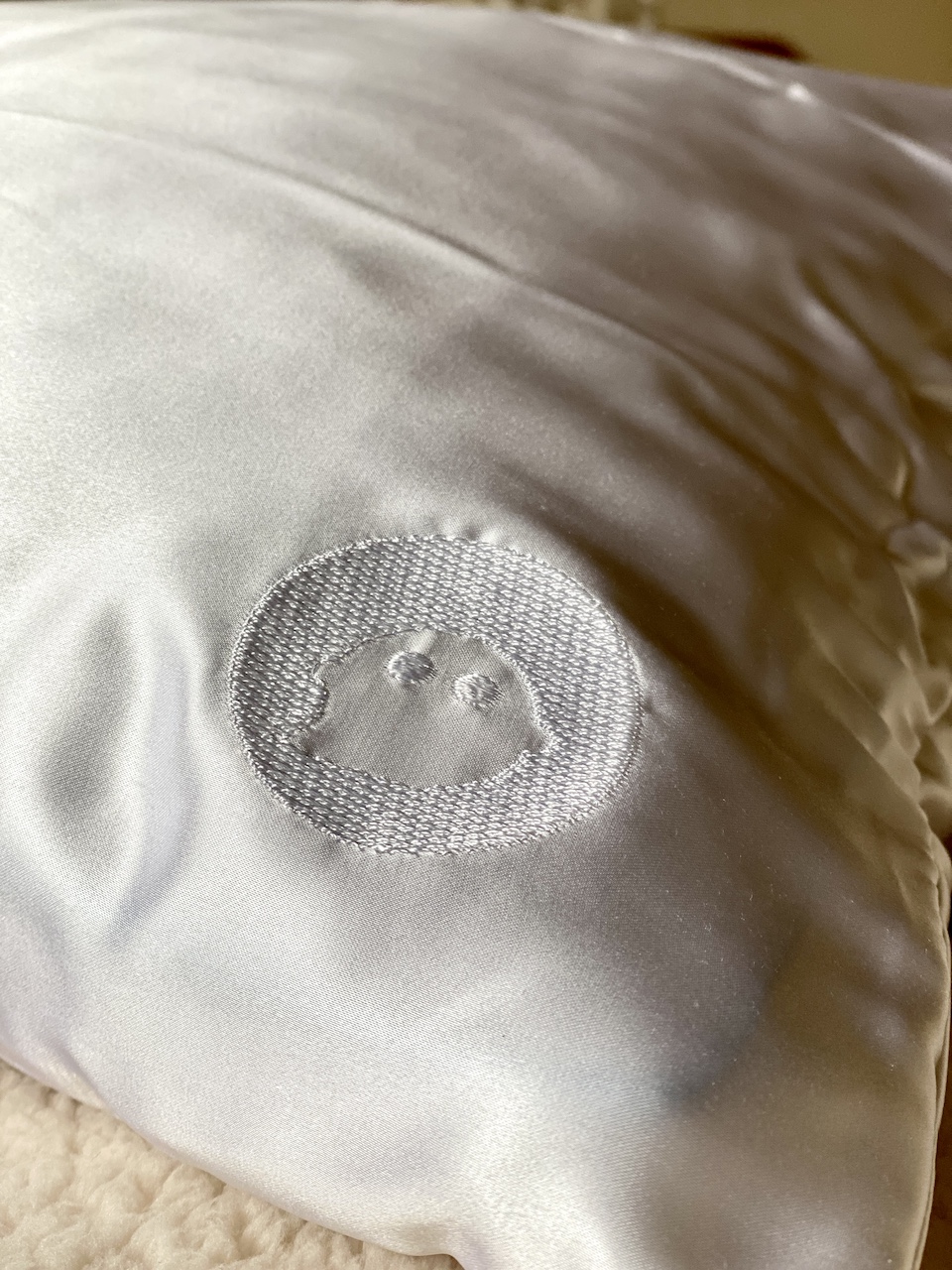 GhostBed Silk Pillowcase Sleep Tests
Everything we felt in one box
| Softness | Temperature | Maintenance | Pillowcase Options |
| --- | --- | --- | --- |
| Until you sleep on the GhostBed Silk Pillowcase, you won't understand the kind of softness you are missing out on. The Mulberry silk used in this pillowcase has long fibers, which creates a very smooth sleeping surface. It is heavy, thick, and some of the softest pillowcase you'll ever sleep on. | When shopping for bedding, it is important to consider the sleep temperature of the products you are purchasing. The GhostBed Silk Pillowcase is made of 100% silk, which is a material that naturally sleeps cooler. You are less likely to experience night sweats on this pillowcase since the silk is breathable and wicks away moisture from your face and head throughout the night. | Silk needs to be handled carefully and respectfully. Since the GhostBed Silk Pillowcase is 100% Mulberry silk, it is delicate and it is recommended to hand wash the pillowcase. It is ok to machine-wash it, but stick to the cold and/or delicate cycle. Only use a mild, or pH-neutral detergent, and line dry or iron on low/silk heat. | GhostBed sells its Silk Pillowcase in Queen or King size. It is currently available in white (reviewed here) and Blush (a pale pink). |
GhostBed Silk Pillowcase Prices & Discounts
40% OFF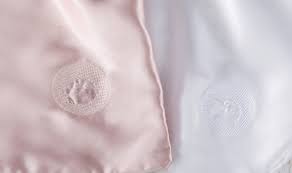 GhostBed Silk Pillowcase
MOTHER'S DAY - 40% OFF GhostSheets, Silk Pillowcase, and Faux Down GhostPillows
The pricing on the GhostBed Silk Pillowcase is easy and straight-forward. There are two sizes to pick from – queen and king. Each size comes in either white or blush pink and both colors are the same price.
You are paying a premium for a premium product. The GhostBed Silk Pillowcase is made with some of the most luxurious Mulberry silk there is and it naturally comes with a slightly higher price tag.
Make sure to click the box above to claim the deepest discounts! The GhostBed Silk Pillowcase is often discounted, so make sure you click on that discount box to get the best pricing.
Price List updated: February 2021 – pre-discounted prices

Detailed GhostBed Silk Pillowcase Review Conclusion
GhostBed makes incredible products in general. Their entire line of mattresses, foundations, and adjustable bases are very high quality. They like to solve pain points and focus on sourcing the best quality materials, which they did here once more. After sleep testing this silk pillowcase for a week, there is probably no going back.
It is an incredible product, not only comfortable, but which actually makes a difference in the way I looked when waking up. Let's look at the GhostBed Silk Pillowcase in more detail!
Click HERE for all of our GhostBed reviews. 
GhostBed was founded by Marc Werner, a man with passion, a problem solver, and 5th generation inventor. You might recognize his name and associate it with the Werner ladders we've all come to own.
In 2001, after three neck surgeries and a life lived in constant pain, Marc realized that no mattress was helping him alleviate his pain and sleeping was of no relief. He decided to found Nature's Sleep, his first mattress company.
An engineering mind at heart, he quickly changed the way the mattress industry operates. Mattress stores felt pushy and more frustrating than helpful. He wanted a pressure-free mattress shopping experience and launched the shop-from-home mattress model. GhostBed was born! Shopped online and delivered to your home, in a box.
Today, GhostBed is backed up by 35 years of mattress and bedding accessory design experience and uses only top-quality and innovative materials, from aerated latex, to gel memory foam infused covers in its mattresses, to Mulberry silk, Tencel, and Supima cotton in its Silk Pillowcase and GhostSheets!
When you purchase a GhostBed Silk Pillowcase, you benefit from 1 year of warranty and exceptional quality. Marc stands behind each one of his products and reads every single review he receives. GhostBed is his pride and I am confident in saying that their customer service is one of the best in the bedding industry. Have an issue, or a question? I promise it will be answered and you will receive personalized attention and answers. I was at the GhostBed headquarters when a customer called in, and I was more than impressed by the way the team handled it!
What Is Inside The GhostBed Silk Pillowcase?
The answer to this question is pretty simple. The GhostBed Silk Pillowcase is made of 100% Mulberry Silk.
When you start looking at silk and the differences in quality on the market, you open up a fascinating world. At GhostBed, the silk pillowcases are made with only the highest-quality Mulberry silk.
The quality of silk is measured by its weight – or momme. You will be pleased with 12- to 18-momme silk, as it is considered good-quality silk. As soon as you move into the 19+ momme, you are looking at high quality silk. GhostBed uses 22-momme Mulberry silk it its silk pillowcase, some of the heaviest and highest-quality silk on the market.
You can see the difference before you even touch the pillowcase. The silk is thick and heavy with an extra shine and luster to it. It reflects light and looks incredibly luxurious. You will also find it to be more durable than other pillowcases.
How Does The GhostBed Silk Pillowcase Sleep?
Softness
I shamelessly gave the GhostBed Silk Pillowcase a 10/10 on the softness scale. I believe it is the first product I rate with a perfect score for softness.
The silk used by GhostBed is so thick and silky-smooth, that you will feel like you are laying your head on a cloud. The hardest part is getting up in the morning. The GhostBed Silk Pillowcase does not make it easy to get out of bed! I promise you it will be one of the softest pillowcases you'll ever lay your head on!
Temperature
Once you lay your head on the GhostBed Silk Pillowcase, you feel a cool and soft surface under your face. The Mulberry silk is moisture wicking, leaving you cool and dry throughout the night. Silk is a naturally breathable material that helps your body regulate its temperature and keeps you comfortable during the night. This pillowcase will not be the reason you wake up with night sweats at night.
Does A Silk Pillowcase Really Work?
Silk pillowcases are a bit of luxury that you can bring to your bedroom and enjoy night after night. GhostBed went above and beyond by sourcing some of the best and heaviest silk available on the market. Now does a silk pillowcase really work?
Let me answer that question with a list of expectations you can have when using the GhostBed Silk PIllowcase:
Remember those mornings of waking up with bed creases? You can put those behind you!
Wake up to hydrated skin thanks to the Mulberry silk absorbing less moisture than regular cotton
Sleep cool and dry thanks to the silk's natural breathability properties
Your hair looks fuller and you wake up to less frizz and tangles, thanks to the smooth surface you lay your head on
How Do I Care For The GhostBed Silk Pillowcase?
You will want to care for your GhostBed Silk Pillowcase with lots of care to retain its properties wash after wash.
Since the pillowcase is 100% Mulberry silk, it is recommended to hand wash. In today's busy world, this might be less than ideal, and you can absolutely throw it in your washing machine. If you decide to machine wash, use the gentle or cold cycle and mild (or pH-neutral) detergent.
You will need to line dry – do not dry in the dryer or you will be damaging the pillowcase.
Lastly, if wished, remove all wrinkles by ironing on low heat, or silk, setting.
40% OFF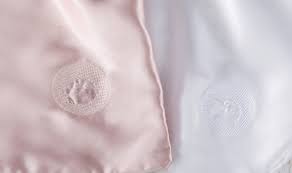 GhostBed Silk Pillowcase
MOTHER'S DAY - 40% OFF GhostSheets, Silk Pillowcase, and Faux Down GhostPillows
The PLUSES

The MINUSES

Soft surface to lay your head on
Wake up with out bed creases on your face
Your hair looks softer and fuller in the morning
Your skin stays hydrated as silk absorbs less moisture than other materials
Zipper keeps the pillowcase in place
Very durable thanks to high-quality silk and double stitch
High-quality Mulberry silk

Higher investment: Queen-size Silk Pillowcase is $109 (before discount)
Needs to be washed with care - either hand wash or machine wash on cold and gentle cycle
Most frequent questions and answers
Share this deal with a friend!
GhostBed Silk Pillowcase Review (2021) | Non Biased Reviews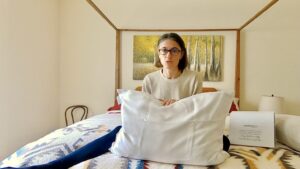 Looking to add affordable luxury to your bedroom? The GhostBed Silk Pillowcase is the softest pillowcase you'll ever lay your head on, come ready why!
Product SKU: Silk Pillowcase
Product Brand: GhostBed
Product Currency: USD
Product Price: 109
Price Valid Until: 12/31/2025
Product In-Stock: InStock