NOLAH NATURAL 11" MATTRESS REVIEW
Nolah's latest mattress is here! The Nolah Natural 11 hit the online store in August 2021 and we are beyond excited for several reasons:
1- we are huge fans of natural Talalay Latex mattresses – great for couples, amazing responsiveness, accommodating to all sleeping styles
2- it is no secret that Nolah is one of our favorite mattress brands – the Nolah Evolution has topped many of our Best Mattress lists
3- the Nolah Natural mattress has several layers of organic materials, from its Talalay Latex to the organic cotton in its cover, and it uses wool as its fire retardant – we are in LOVE!
Ready to learn more about Nolah's latest?
$600 OFF + Extra $50 OFF (w/ our excl. coupon code)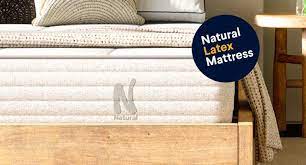 Nolah Natural 11
$600 OFF the Nolah Natural + an extra $50 OFF your mattress purchase with our exclusive coupon code!
$600 OFF the Nolah Natural + an extra $50 OFF your mattress purchase with our exclusive coupon code!
Show Less
Free shipping and returns
120-night trial
Lifetime warranty
100% made in the USA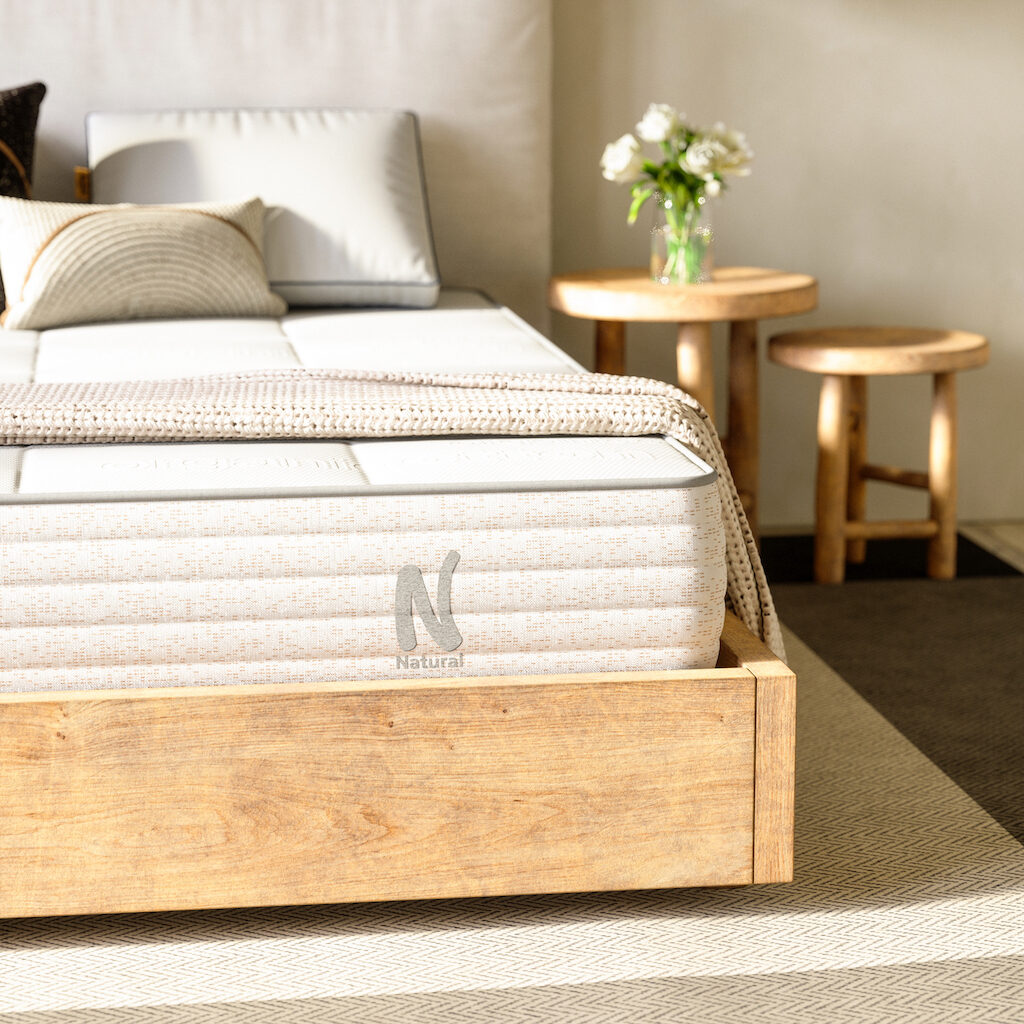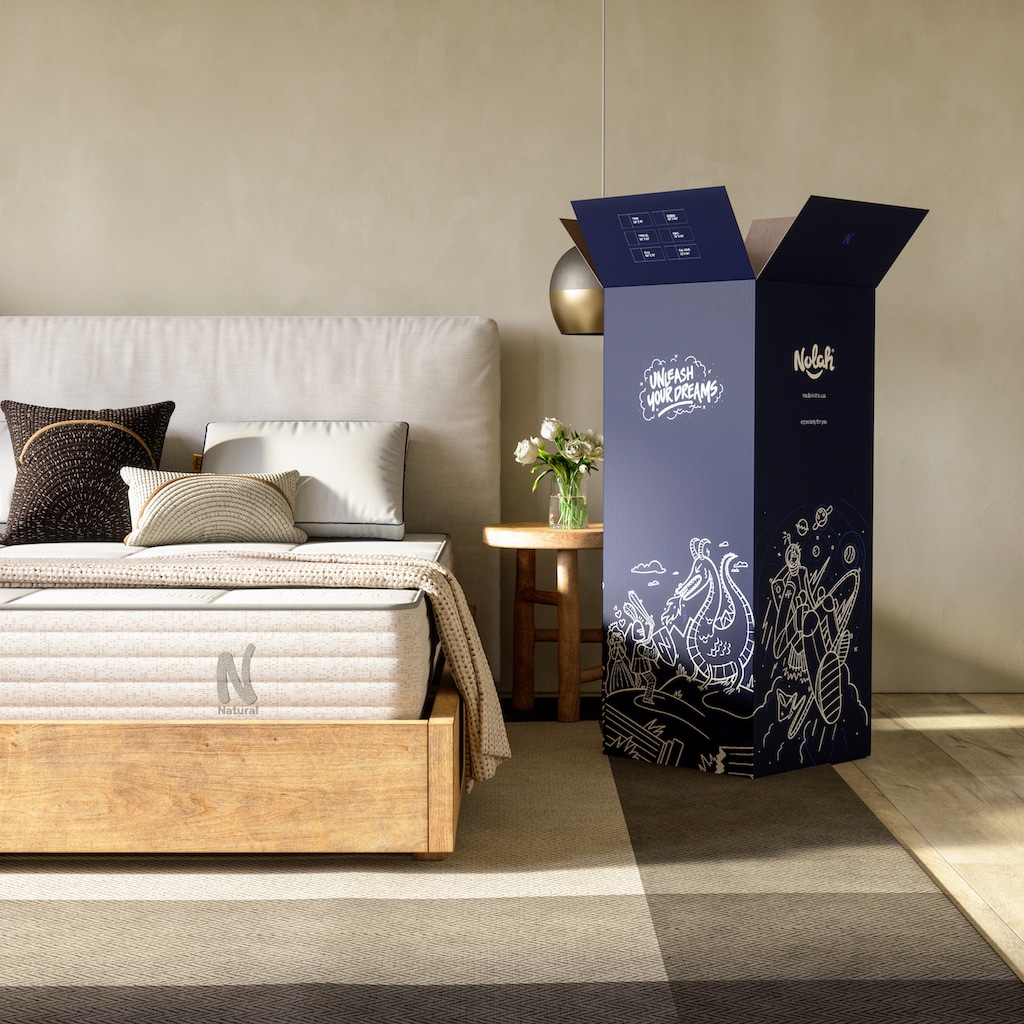 What's Inside The Nolah Natural 11"
In a nutshell:
Organic cotton cover and sides
Wool
2 layers (3″) of natural Talalay Latex
8″ of Nolah's coils
Organic Cotton Cover + Side

My favorite material for mattress covers because you feel the difference. The Nolah Natural comes with an organic cotton cover and sides, making it a wonder of softness and easy on the skin.
Wool

I wish more mattresses were made with wool and love seeing it in the Nolah Natural. Instead of using harsh chemicals, wool is used as fire retardant in this natural latex mattress. Not only better for the planet and bodies, it increases the cooling effect in the Nolah Natural and is found in 2 different layers.
2 Layers (3″) Of Natural Talalay Latex

The star of the Nolah Natural mattress – natural Talalay Latex! Not one, but 2 layers! The top Latex layer provides incredible pressure-relief, reducing pain points in the joints, hips, and shoulder areas, relaxing muscles, and relieving tension. The lower layer provides deep support to all areas in the body, ensuring proper spine alignment. Latex is also very responsive and natural. It allows for easy movement, is great for "bedroom activities", and naturally sleeps cool while providing just the right amount of firmness and body contouring.
8″ Tri-Zoned Support Coils
Here come the coils that make the Nolah Natural a hybrid mattress. Nolah goes above and beyond with this mattress – they don't just add 8 inches of coils – their coils are patented, tri-zoned for increased pressure relief, and provide excellent motion transfer isolation.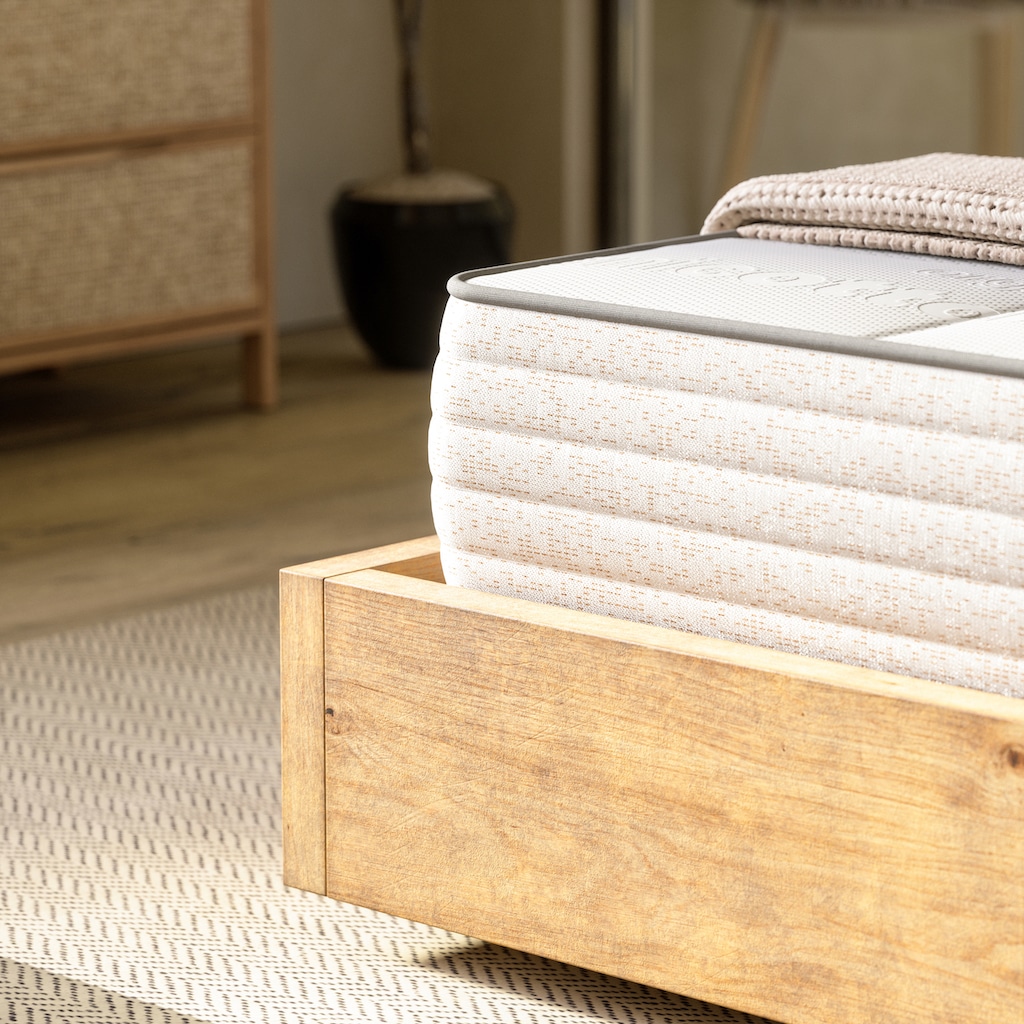 Nolah Natural 11" Sleep Tests
Everything we felt in one box
| Firmness | Temperature | Maintenance | Sleeping Style | Bed Base |
| --- | --- | --- | --- | --- |
| We rated the Nolah Natural a 7 out 10 on the firmness scale, making it a little firmer than the average industry average of ~6/10. It provides the right amount of soft contouring thanks to its incredibly soft organic cotton cover and a layer of wool underneath, with a high-pressure relief layer of natural Talalay Latex, and firmer Latex, as well as coils, providing full-body support. | Nolah's mission is to create cool-sleeping mattresses and they did a great job with their Nolah Natural mattress. Thanks to its organic cotton and wool layers, your body naturally get rid of excess heat throughout the night. The 8-inch layer of coils allows for plenty of air flowing through the mattress, further providing a cool sleeping experience. We are rating the Nolah Natural as a temperature-neutral mattress, where you will sleep cool and never sweat, without having to worry about feeling cold on cooler nights. It work with your body to keep you at the most comfortable sleeping temperature. | The cover of the Nolah Natural mattress cannot be washed. You can spot clean the mattress with mild detergent, clear water, and a cloth. Try blotting the stain, instead of rubbing it. The faster you tend to a mattress stain, the better the outcome. | We love the Nolah Natural mattress for its versatility. Because of the natural responsive properties of Talalay Latex, the mattress adapts to all body shapes and positions. We found the Nolah Natural 11" to be an ideal mattress for back sleepers and a great option for the side and stomach sleepers. We highly recommend it to couples, especially those with different sleeping styles, as well as our taller and heavier folks. | The Nolah Natural mattress can be laid on any flat surface: flat platform beds, slatted beds, boxsprings or foundation, adjustable beds, or even the ground. |
Nolah Natural 11" Prices & Discounts
$600 OFF + Extra $50 OFF (w/ our excl. coupon code)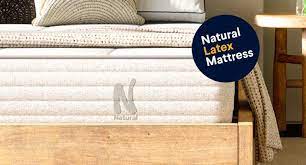 Nolah Natural 11
$600 OFF the Nolah Natural + an extra $50 OFF your mattress purchase with our exclusive coupon code!
$600 OFF the Nolah Natural + an extra $50 OFF your mattress purchase with our exclusive coupon code!
Show Less
Nolah has outdone itself with the Natural hybrid and natural latex mattress. They have come up with a truly luxurious latex / coil combo at a very fair price for the incredible quality.
I love that the combination of its 7 layers makes the Nolah Natural a great options for all kinds of sleepers, and you will find it in all sizes from Twin to California King.
Make sure to click "SHOW CODE" above to claim the deepest discounts and an exclusive coupon for an extra $50 OFF your order $800+!
Price List updated: August 2021 – PRE-DISCOUNTED PRICES

Detailed Nolah Natural 11" Review Conclusion
Nolah is, once again, impressing and showing off with their latest mattress addition. They are innovating and came up with a beautifully-engineered natural Latex mattress – the Nolah Natural 11″.
It is 11 inches of engineered natural, organic, and recycled materials that are, not only good for the planet, but provide a luxurious sleeping experience.
Nolah used materials such as organic cotton for its cover and some stabilizing layer at the bottom of the mattress. The organic cotton adds a touch of luxury, providing incredible softness and one of the most comfortable and cleanest layers to lay your body one.
Instead of using harsh chemicals, Nolah used one of my favorite products – wool – as fire retardant. You will find that the Nolah Natural has received its GOTS and OEKO-TEX certifications from independent companies, making it an environmentally-friendly and hypoallergenic mattress to sleep on.
Lastly, the combination of natural Talalay Latex and tri-zoned coils make the Nolah Natural mattress one of the most versatile on the market today. Appealing to back, stomach, and side sleepers, we also recommend it as one of the best mattresses for couples, and heavier folks.
Find all of our Nolah reviews HERE.
Nolah calls itself a "sleep technology company." It is an online bed-in-a-box company that launched in 2015. All of their products are designed in Denver, CO, and made in the USA. Yet, they are able to keep their prices down and pass on their savings to their consumers – you!
Nolah's aim is to create tomorrow's mattress. After realizing that latex was invented in the 1920's and that the memory foam we still use in mattresses today, had not evolved since the 1970's, they decided to design superior mattresses by leveraging the latest technologies. 
AirFoam™ was born. The Nolah AirFoam™ is 100% temperature neutral, as it does not contain viscoelastic chemicals commonly found in memory foam. It sleeps so cool that it does not require the use of cooling gels in its layers, and has been scientifically-proven to be more durable and provide more pressure relief than its older sister, the memory foam. You will find AirFoam™ in the Nolah Original, Signature, and Evolution.
In August 2021, Nolah came out with its first natural Talalay Latex mattress and added a kid Latex mattress as well – the Nolah Nurture 10 – which is flippable to grow with the child!! The Nolah Natural uses 11 inches of natural, organic, and recycled materials to protect your body and our planet.
Lastly, Nolah cuts the middle man and truly passes on the savings to its buyers, with all Nolah Original 10″ mattresses well below $1,000 after discount and Signature 12″ mattresses in the low to mid-$1,000 range in larger sizes, it has come out with a luxury hybrid mattress – the Evolution – in November 2020, priced in the mid-$1,000 range after discounts, and the natural Latex Nolah Natural in August 2021, priced a little lower.  
What Is Inside The Nolah Natural 11" Mattress?
The Nolah Natural mattress is made of an impressive 7 layers of materials that work together to provide a cool and comfortable night of sleep.
Working our way down into the mattress, the top layer and closest to your skin is the organic cotton cover. Organic cotton is incredibly soft, giving the Nolah Natural a soft and cozy feeling to the touch. Your body lays in luxurious softness and the organic cotton provides the first barrier to overheating at night, wicking your excess body heat away through evaporation.
The second layer is one of my favorite anytime I see it included in a mattress. A layer of wool was added to the Nolah Natural (the only Nolah mattress with wool) as a natural fire barrier, reducing the chemicals used in the mattress, making it easier on the planet and the body. Wool is a natural material to stay cool on warmer nights and warm on cold nights. It is breathable and add a nice layer of cushioning to the Nolah Natural.
Then come the stars of the show – not 1, but 2 layers of natural Talalay Latex, working together to first relieve pressure in those high-pressure point areas, before providing support to them to avoid pains and aches in the morning.
The upper layer of Talalay Latex is 2 inches of a softer latex, providing pressure relief to the heavier parts of your body, generally located in the hips and shoulders. That layer provides just the right amount of contouring for a cozy sleeping experience.
Then comes 1 inch of a more supportive, firmer, Talalay Latex, providing support to those high pressure areas and avoiding too deep of a sink, which could misalign your spine. Those 2 layers of natural Talalay Latex allow your body to sleep in its more natural position, thanks to the responsive properties of latex that bounces up where your body is lighter, allowing support from head to toe.
The fifth layer is Nolah's very own Tri-Zone Support Coil System, made of recycled steel (another way for Nolah to care for our planet). Found in the Nolah Signature and Nolah Evolution, the 8 inches of patented individually-wrapped coils move independently of each other, better isolating movement of each partner and making the Nolah Natural a fantastic mattress for couples. It provides increased support thanks to using 25% more coils than regular mattresses, and its 3 zones allow a little more softness under the hips, which require a more softness to align sleepers' spines.
Nolah added one more layer of organic cotton and wool at the bottom of the mattress, instead of the regular high-density foam we typically find in mattress. That layer provides stability and extra durability to the mattress, using more organic and natural material than most mattresses do.
Lastly, the mattress' bottom cover is made of organic cotton, providing luxury and softness below and around the mattress. You will also find one of our favorite features of Nolah mattresses – handles on the side of the mattress for easy maneuvering.
How Does The Nolah Natural 11" Sleep?
Firmness
The Nolah Natural mattress sleeps medium-firm. We ranked it just a bit firmer than the regular mattress, at a 7 out of 10. 
If you have never slept on Talalay Latex, know that it has a very different feel than the foam you might be used too. It is a very responsive material, and it "bounces" back up as you switch position – making it very easy to move around at night, and with a slightly firmer feel than the foam you typically sink in.
Sleeping Style
Because Talalay Latex is so responsive, it works with more sleeping styles than memory foam. You will find it to bounce up under lighter areas of your body, while providing comfortable contouring to heavier spots.
We recommend the Nolah Natural mattress for most sleeping positions. It is ideal for back sleepers, who generally need a firmer sleeping surface that sinks in a little deeper under the hips and shoulder areas. And because the Nolah Natural mattress has an 8-inch layer of tri-zoned coils, you will find each part of your body ideally supported throughout the night.
Side-sleepers preferring a slightly firmer sleeping surface will enjoy the Nolah Natural mattress. The natural Talalay Latex layer allows for high pressure area relief in your joints and pain points in the hip and shoulder areas. By sinking deeper, you will notice less pain in the morning, especially as a second and more supportive layer of Talalay Latex brings support to those areas, allowing your spine to stay aligned throughout the night.
Stomach sleepers enjoying some contouring will really enjoy the Nolah Natural 11″ mattress. The 2 layers of Latex work together to provide support along the entire body, while the 8 inches of tri-zoned coild provide the extra support stomach sleepers need to align their hips, shoulders, and neck for a comfortable night of sleep.
The Nolah Natural mattress shines in the Couples category! Because the natural Talalay Latex is so responsive, it allows people with different sleeping styles to sleep very comfortably together. The Latex bounces up under bodies independently of the other person's movement. Additionally, the individually-wrapped coils below the two layers of Latex allow for some of the best motion transfer in the industry, where you virtually don't feel your partner's movement, as each coil is separated from its neighbor's and the motion is isolated under the person moving.
Lastly, we highly recommend the Nolah Natural mattress for heavier folks. The 2 layers of natural Latex combined with 8 inches of coils provide great support and the mattress sleeps cool, making it a first choice for taller and heavier folks and couples.
Temperature
Nolah's mission, with all of its mattresses, is to provide you with a cool night of sleep. They have added natural ways to keep sleepers cool at night with the Nolah Natural 11″.
We sleep tested the Nolah Natural in Florida's summer heat and never felt hot or sweaty. It slept very temperature neutral thanks to several natural and organic layers:
The mattress cover is made of organic cotton, so is the entire layer going around the mattress. This GOTS-certified organic cotton wicks away a lot of your body's moisture throughout the night, allowing it to evaporate and keeping your body cool through its natural cooling mechanism
The closest layer to the body, after the mattress cover, is one of my favorites. Made of premium wool fibers, it not only serves as a natural fire retardant, it actually adds cooling and breathability to the mattress, further allowing air to flow through the mattress and cooling your body throughout the night
Lastly, the 8 inches of coils allow for plenty of air to circulate through the mattress, allowing your excess body heat to travel down into the mattress and those top layers to receive fresh air throughout the night
Motion Transfer
The Nolah Natural reacted incredibly well to motion transfer thanks for the layer of wool and the individually-wrapped coils that absorb and isolate each sleeper's movement. I do not expect a partner to wake you up at night from his/her moving around.
How Do I Care For The Nolah Natural 11" Mattress?
The cover of the Nolah Natural is not removable and cannot be thrown in the washing machine. The best way to tend to a stain is to use water, a mild detergent, and blot the stain with a cloth. Do not rub the stain as you'd risk making it larger. A gentle blot on fresh stains should help you clean them up, and as always, the faster you tend to the stain, the easier it will come off.
How Does The Nolah's Return Policy Work?
Nolah's return policy allows you to return your mattress after a 30-day at home trial (not earlier). Getting used to a new mattress can take some time, especially if you switch to latex from a previous foam mattress for example. 
Nolah has a 120-night at-home sleep trial. In other words, it allows free returns within 120 days if you are unhappy with your Nolah Natural mattress. But returns aren't allowed until after you have passed a 30-night testing period. Nolah asks that you give their mattress a full month of sleep before returning it, and I agree that it could take a couple of weeks for your body to adapt to a new sleeping shape.
You can expect at least 3 to 4 weeks for your body to adapt to the new sleeping surface, with potential aches in the morning for that amount of time. You are asking new muscles to contract or relax for 6 to 8 hours a day, which can create some discomfort at first.
If, after 30 days, you are still unhappy or uncomfortable with your Nolah mattress, you have until 120 days to return it, free of charge, no questions asked. 
$600 OFF + Extra $50 OFF (w/ our excl. coupon code)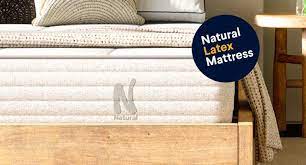 Nolah Natural 11
$600 OFF the Nolah Natural + an extra $50 OFF your mattress purchase with our exclusive coupon code!
$600 OFF the Nolah Natural + an extra $50 OFF your mattress purchase with our exclusive coupon code!
Show Less
The PLUSES

The MINUSES

Cool sleep throughout the night and seasons
Luxurious modern-looking design
Incredibly priced for the quality
Truly appeals to ALL sleeping styles!
Excellent combination of pressure-relief, contouring, and support
Nearly no motion transfer and ideal for sleeping with a partner who moves a lot at night
Works well with heavier folks who want to avoid feeling stuck in their mattress 
Great for "bedroom activities"
Lifetime warranty
100% made in the USA
Proprietary materials you will not find in competitors' products

Cover is not machine washable
Share this deal with a friend!
Nolah Evolution Mattress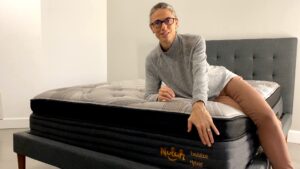 Nolah's new hybrid mattress, the Nolah Evolution 15 mattress was voted Best Mattress 2021 on Non Biased Reviews.
Product SKU: Evolution 15
Product Brand: Nolah
Product Currency: USD
Product Price: 999
Product In-Stock: InStock