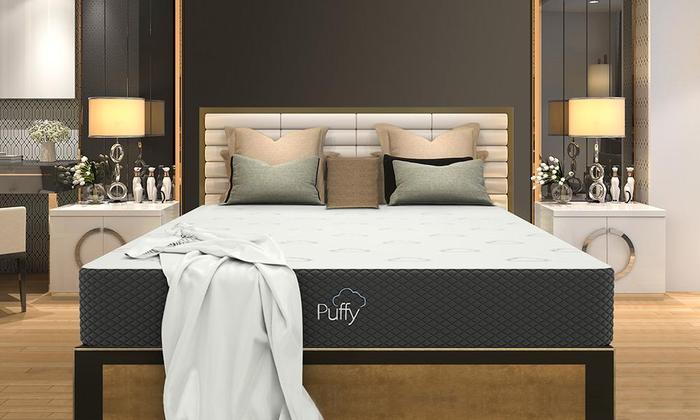 I'm a big fan of the Puffy mattress.  This is a solid choice for those of us on the lighter side of the weight scale.  I had no problem sleeping on my side and back on the Puffy.  It is probably too soft for stomach sleepers and larger folks.  After I was done sleep testing it I gave it to my niece and she is in love with it.
I Received the Puffy Mattress in Queen size. When I heard that name, Puffy, my initial thoughts were" Puffy rhymes with fluffy" and I also imagined marshmallows and cute little bunnies and their soft smooth tails. Funny I know. So here's hoping the Puffy Mattress will turn out to be all the things I have imagined. Because it sounds serene!
Puffy Mattress Review Menu
$750 OFF + $600 FREE Accessories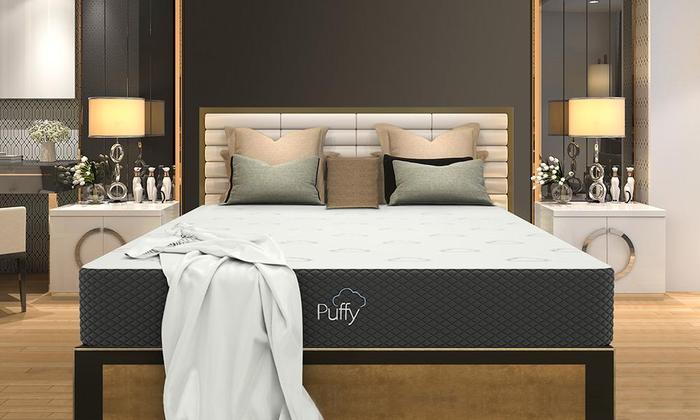 Puffy Mattress
$750 OFF Puffy mattresses + $600 FREE accessories (sheets + pillows + protector) and 15% OFF accessories (except Puffy rug)
$750 OFF Puffy mattresses + $600 FREE accessories (sheets + pillows + protector) and 15% OFF accessories (except Puffy rug)
Show Less
My niece wanted to be the lead tester on the Puffy, because it sounded so fluffy.  Her words, not mine…
Take Puffy home for a 101-night, worry-free trial. If you don't love it, return it free of charge for a full refund. Lifetime Warranty They will guarantee your Puffy for as long as you will own it. Should anything go wrong they will replace it FREE OF CHARGE! And finally, Free shipping and returns.
Who doesn't like to float on a cloud of fluff?
CertiPUR-US Certified Foam
Is what's inside the Puffy mattress.
We will dive in shortly to introduce you to the layers that make the Puffy! But first let me tell you briefly why it is important to invest in CertiPur- US certified materials.
Typically the creation of foams tends to use chemical ingredients what can cause harm to your well being. Thanks to their specialized variable pressure manufacturing process they were able to avoid that typical harmful process. The certification is important here, because it means that Puffy's polyurethane foams have been analyzed by independent testing laboratories exceeding the standards set by CertiPUR-US for foam content and durability.
Quality & Safety hand in hand!
Not only at the end you will get a good night's sleep, you will rest knowing your mattress is made under high quality healthy standards.
As promised, let's dig in deeper into those supreme layers that make the Puffy so far, so good! 
Cooling Cloud Comfort Layer
The Puffy Mattress Cooling Cloud Comfort Layer formula was specifically designed to mold and cradle the sleeper's body in just the right way to relieve the pressure points and stress that a typical mattress places on your hips, shoulders, knees, and joints. Coupled with its incredible breath ability, that top layer will ensure your body remains at a neutral temperature so you can sleep soundly through the night.
Firm Core Support Layer
Where most mattresses can be too soft to properly support your body, Puffy's Firm Core Support Layer adds a unique firmness to ensure correct spine alignment. Unlike your typical foam mattress, their base layer still gives and adapts to your unique body shape to allow for continuous blood circulation and pressure relief to alleviate any tossing and turning while you sleep.
Puffy's Cooling Cloud & Firm Core Support foam will adapt perfectly to every point of your body letting, you forget you're even on a mattress. OMG, my original thoughts! Puffy is Fluffy. It may be better than sleeping on cloud9? I don't know how cloud9 feels like but I bet sleeping on a Puffy is way better.
I spent two weeks on the Puffy and then I gave it to a family member who was looking to upgrade from a bunkbed.  Her mother was searching for something soft for her, and she now loves sleeping on "the cloud".
Puffy tends to up their discounts around major holidays so keep your eyes peeled for those special times of year like:
Memorial Day
July 4th
Labor Day
ThanksGiving
$750 OFF + $600 FREE Accessories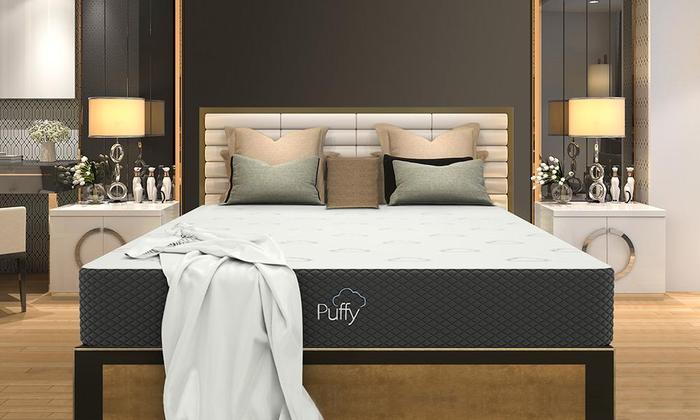 Puffy Mattress
$750 OFF Puffy mattresses + $600 FREE accessories (sheets + pillows + protector) and 15% OFF accessories (except Puffy rug)
$750 OFF Puffy mattresses + $600 FREE accessories (sheets + pillows + protector) and 15% OFF accessories (except Puffy rug)
Show Less
Puffy was designed with a goal in mind ( or core), to MAXIMIZE SLEEP HEALTH. BECAUSE HEALTHY SLEEPING LEADS TO HEALTHIER LIFE IN GENERAL!  After many years of researches trying to implement the best sleep technologies in their mattress to bring healthier sleep, Puffy has promised to deliver a product that would be a good fit for all! As a result, and since the Puffy mattress adapts to your body positions it turned out to be excellent if you are a back or side. Even when you switch between side and back you won't be disturbed or awoken since the body weight is distributed evenly then adapts back to the sleep position you prefer. Puffy mattresses are designed to relieve back and joint pain by eliminating pressure points and improving blood circulation. It's all in the foam! The Cooling Cloud Foam. Thanks to their secret sauce, the Cooling Cloud Foam, and the fact that it is ADAPTIVE and delivers great comfort allowing even weight distribution keeping the heat away for a better slumber! Regardless of your body type and the way you sleep, you should consider The Puffy mattress. Thinking about buying a Puffy? Other factors- or main keys- you should consider I will start with the most important one, I know comfort and durability should be first but they are granted. here's what matters to some consumers: Every part of the Puffy memory foam mattress is proudly made right here in the USA. From Cover to layers, assemble and design IT IS ALL MADE IN THE USA, it is even sewn here in the USA Puffy mattress is Green Using nothing but high quality environmentally friendly manufacturing practices! Puffy is CertiPur- US certified Meaning: ✓ Made WITHOUT ozone depleters ✓ Made WITHOUT PBDEs, TDCPP or TCEP ("Tris") flame retardants ✓ Made WITHOUT mercury, lead, and other heavy metals ✓ Made WITHOUT formaldehyde ✓ Made WITHOUT phthalates regulated by the Consumer Product Safety Commission ✓ Low VOC (Volatile Organic Compound) emissions for indoor air quality (less than 0.5 parts per million) What Type of Bed Frame Works for this Mattress? Solid Platform and foundation! Slatted Base It works great on an adjustable base.  I tried it on a couple of different bases to make sure that it works.
Puffy sent us this for testing purposes.  All of the opinions expressed in this review are mine.
No, fortunately it has a sleep trial so that you can test it at home.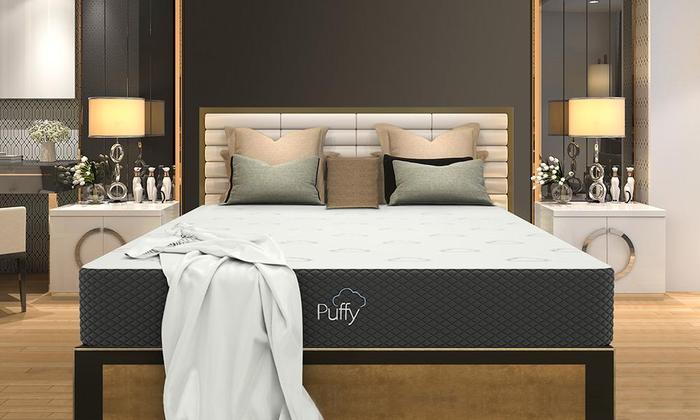 $750 OFF + $600 FREE Accessories
Puffy Mattress
$750 OFF Puffy mattresses + $600 FREE accessories (sheets + pillows + protector) and 15% OFF accessories (except Puffy rug)