GET PROPER REVIEW - NATURAL SLEEP AID
I have been testing Get Proper for 35 nights and am finally ready to give you my full review. I used each of Get Proper's formulations for 5 nights and will be sharing my thoughts and findings on this natural sleep aid with and without CBD. 
Note that this is my personal opinion after testing those products for only 5 nights each and in no way a medical opinion or medical recommendation. I am not a doctor and only report on my personal experience. I recommend checking with a doctor prior to starting any supplements, especially if pregnant or breastfeeding. Proper warns that products are to be used by adults 18 years of age and above only.
Natural ingredients 
FREE shipping for subscribers 
Manufactured in the USA
Oregon-sourced hemp extract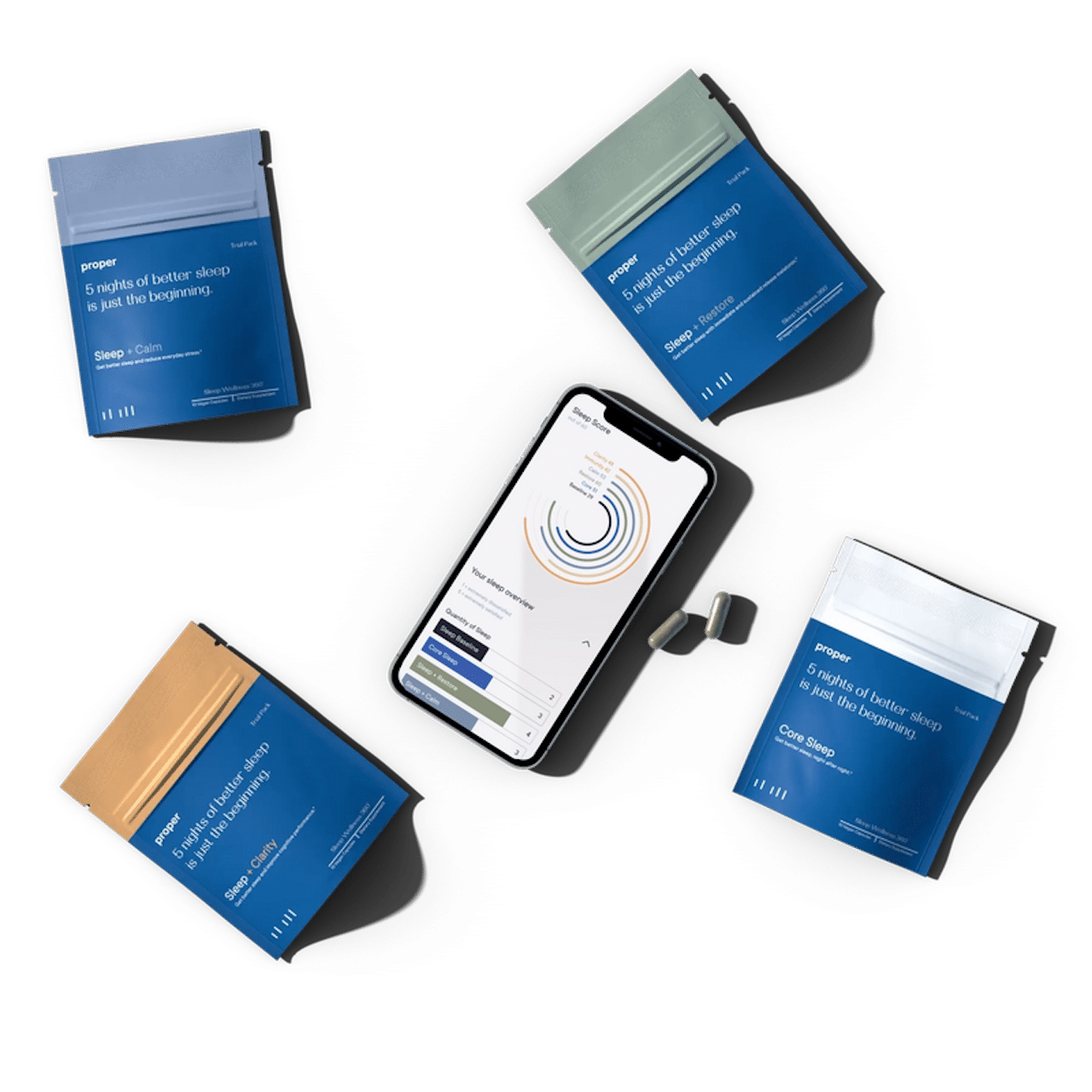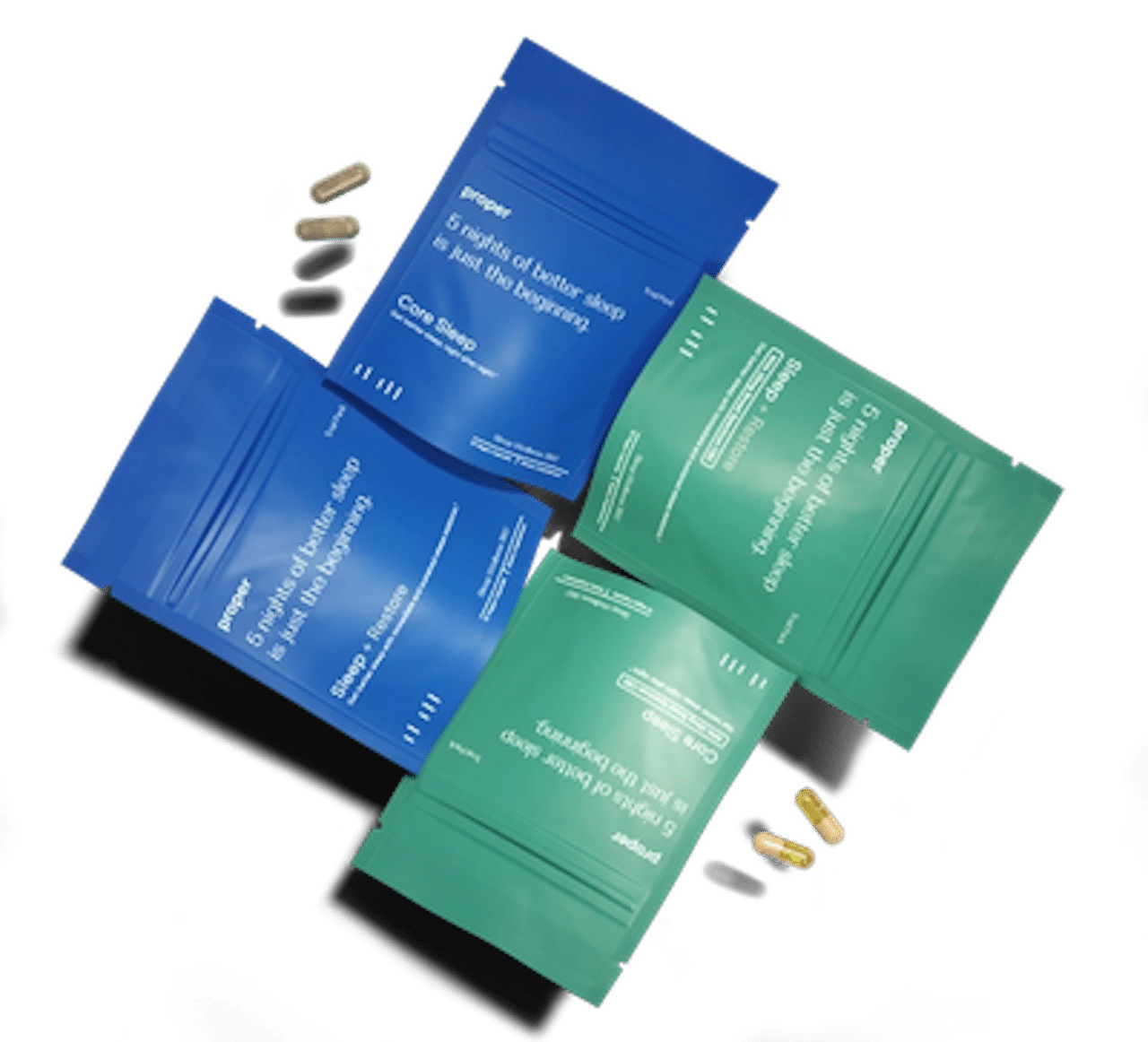 What's Inside The Proper Natural Sleep Aid Device
In a nutshell:
Discovery Pack: 5-night sample of each formulation 
Regular subscription: 1-month supply of one formulation
Safe, clean, and effective
Proper Natural Sleep Aid Sleep Tests
Everything we felt in one box
| Ease of Use | Ingredients | Falling Asleep |
| --- | --- | --- |
| Proper's natural sleep aid is super easy to use - from selecting the right formulation for you, to using the product. I recommend starting with the Discovery Pack. If you know that you want hemp, pick the Discovery Pack with Hemp. If not, the regular Discovery Pack comes with a 5-night supply of each of Proper's 5 formulations. Make use of the 30-minute online consolation with a sleep coach and determine which natural sleep aid formulation works best for you. Once you have, subscribe to avoid shipping fees. On a nightly basis, swallow 2 capsules 30 to 40 minutes before going to bed to help relieve stress and fall asleep faster and deeper, while staying asleep longer. Capsules allow for better tooth and mouth care (vs. chewable gummies), as well as faster absorption. | One thing I really appreciate about the Proper natural sleep aid is the quality of the ingredients used in each of the formulations. The Core Sleep is the basis for all other formulations and it comes with 4 vegan and safe ingredients. They are drug-free and non-habit forming, so you can use as part of your long-term sleeping routine without developing dependency. Proper takes great pride in working with consistent, clean, and quality ingredients. They are free of heavy metals, pesticides, gluten, sugar, GMO's, artificial colors, preservatives, and more. | Proper provides a safe, clean, and natural way to fall asleep faster and stay asleep longer and deeper. From using the different Proper formulations, I found that I fell asleep more serenely. I was happy to try the products, though I have no insomnia problems and don't struggle with falling asleep. While I can't vouch for falling faster (since I fall naturally fall asleep quickly on my own), I did feel a sense of anxiety and nervousness relief, as well as a sense of increased rest in the morning. Interestingly, I found that I woke up a little earlier than usual (8/8:15 instead of 8:45/9AM) and felt a lot more equipped to tackle the day. My nights left me refreshed and rested, which was a welcome feeling! |
No Improvement —- More Rested
Proper Sleep Aid Prices & Discounts
10% OFF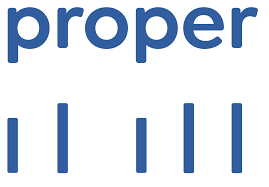 Proper Discovery Pack
5-day supply of each of Proper's 5 formulations - without hemp
Proper has a pretty straightforward pricing structure and you will always pay less when subscribing. 
I recommend starting with a Discovery Pack. The regular Proper Discovery Pack includes a 5-day supply of each of Proper's 5 formulations:
Core Sleep
Sleep + Restore
Sleep + Immunity 
Sleep + Calm
Sleep + Clarity 
By purchasing a Discovery Pack, you are able to test all 5 formulations for 5 nights each and understand which ones works best for you. I think it is an amazing way to feel the difference between the formulations and understand which one will work for you in the long term. 
If you are opened and interested in a natural sleep aid with CBD, get the Discovery Pack With Hemp. That one is $15 more expensive and includes the 2 most popular Proper formulations, with and without hemp. That pack allows you to feel the difference of hemp vs. no hemp and see whether the hemp option is a good one for you. 
Once you are set on the best formulation for your body and needs, start ordering the regular 30-day bottles. And I love that Proper tells you to keep your bottles for refilling! 
Why Should You Subscribe To Proper?
I don't agree to all subscriptions out there – I find them to typically cost a lot of money… but in this case, Proper's subscription actually saves you time and money!
The subscription program works on the regular Discovery Pack option, as well as a 30-day bottles. They get you: 
10% OFF 
a FREE 30-min sleep consultation with a Proper Sleep Coach
FREE shipping (a $5 value each month)
It can be skipped, swapped, or canceled at anytime 
Price List updated: April 2021 – Pre-discounted prices
Detailed Proper Review Conclusion
Proper is a great natural alternative to sleeping pills. It naturally works with your body to help you drift into sleep quickly and safely. I love that the ingredients are safe and reliable. The products are manufactured in the U.S., and non-habit forming, and if you are vegan, you will love knowing that all formulations are vegan and free of all animal bi-products. 
Another great benefit to Proper's, is the variety of products it offers. Proper does not believe in a one-size-fits-all sleeping aid. They have created 5 distinct formulation to help you sleep better, while providing day-time benefits, such as a support to your immune system or a natural mean to deal with anxiety. 
And if you are a fan of hemp, you can order 2 of Proper's most popular formulations with 25mg of broad spectrum, THC-free, hemp extract. 
We have tried all 7 of Proper's formulations over the last month and a half and are ready to let you know exactly what we felt with each one of them!
Proper has one mission – to "help you repair the fundamentals of great sleep at night." To fulfill that holistic mission, their team has put together 7 natural formulations to ensure that you find one that fits your sleeping needs and health goals. 
The ingredients they use are all natural supplements that have been clinically proven to be gentle but effective. They want to make sure you remain in control and not feel groggy by using effective dosages based on clinical research. 
Because you might need to try several of their formulations to find the best one for you, Proper offers a Discovery Pack to try all 5 natural formulations for 5 nights each. They also have a Discovery Pack that includes the Core Sleep and Sleep + Restore formulations with, and without, hemp extract. 
Proper also offers sleep consultations. Those 30-minute 1:1 sessions with a sleep coach help you understand your sleeping patterns and lay out an action plan with recommendations for short-term and longer-term sleep health! If you purchase a Discovery Pack subscription, you receive a free sleep consultation with a coach to find your best-fit formulation. 
What Is Inside Proper Natural Sleep Aid?
Proper uses natural ingredients to help your body sleep deeper and longer, while providing additional health benefits. All of their formulations are vegan and contain no artificial color, sugar or sweeteners, gluten, fish, shellfish, nut, animal bi-product, or preservatives.
They use clinically-studied ingredients such as: 
Valerian root: ensures less stimulus
Sensoril® Ashwaghanda: decreases your cortisol levels, the stress hormone that contributes to sleeplessness 
GABA: to reduce the excitability and responsiveness of your neurons
Venetron®: to help you fall asleep faster and stay asleep longer by reducing your restlessness and overall feeling of stress
Hemp extract: if you choose the Core Sleep or Sleep + Restore formulations with Hemp, the 25mg of hemp are sourced in Oregon and mixed with plant-based vegan algal omega-3 oil originally sourced from Nova Scotia and 4 terpenes. It is natural, non-GMO, sugar-free, and free of artificial colors and binders
No matter the formulation you find best for your needs, all use the same base of 50mg of Venetron® Rafuma Leaf Extract – a patented extract of a wild plant native to Central Asia and warmer Europe. This extract comes from the leaves of Apocynum Venetum L., also knows as Rafuma in Japanese. That plant has been used for centuries as a natural way to fall asleep faster and deeper. When using Proper, you will definitely feel yourself gently and quickly drifting into deep sleep, thanks to the Venetron® Rafuma Leaf Extract. 
The second ingredient used in all formulations is 125mg  Sensoril® Ashwagandha Leaf & Root. Ashwagandha is a plant I have come to absolutely love over the years. It helps relieve stress and fatigue during the day and works very quickly on the body without creating any dependency. It has been used in traditional Indian medicine for hundreds and thousands of years as a mean to relieve stress and anxiety. 
All formulations also use
100mg of GABA
, an amino acid that produces a calming effect  and helps with feelings of anxiety, stress, and fear. 
Lastly, all Proper formulations include
300mg of Valerian Root Extract
, which is another herb native to Asia and Europe, as well as grown in North America. It is often used as a cure for insomnia and helps with anxiety and psychological stress. 
While those 4 ingredients are the base of all Proper Natural Sleep Aid formulation – as well as everything you will find in Core Sleep – each other product includes an array of other ingredients: 
Sleep + Calm: L-Theanine
Sleep + Clarity: CONGIGRAPE Grape Extract
Sleep + Restore: 3mg of Melatonin, Tart Cherry Extract
Sleep + Immunity: Vitamin C, Vitamin D, Vitamin B6, ZincWellmune (Backer's Yeast Beta)
The two formulations (Core Sleep and Sleep + Restore) that include broad spectrum hemp extract use 25mg of No-THC Hemp Extract sourced in Oregon, ensuring non-habit forming.
How Does Proper Natural Sleep Aid Work?
We tested the two Proper Discovery boxes:
The regular Discovery Package with Core Sleep, Sleep + Restore, Sleep + Calm, Sleep + Immunity, and Sleep + Clarity
The Discovery Package with Hemp Extract, which included the regular (non hemp) Core Sleep and Sleep + Restore, as well as Core Sleep with Hemp and Sleep + Restore with Hemp
 
Whether doing the Discovery box or just one of the formulations, you will take 2 capsules each night, between 30 and 40 minutes before going to bed. Now let's look at each of the formulations: 
Core Sleep 
Core Sleep is Proper's flagship product and the base for all other formulations. If you order a Discovery Pack, you will want to start with Core Sleep and later try the other formulations. 
Core Sleep is made of Proper's 4 main ingredients and we found it to provide a very gentle sleepy sensation. Once again, I do not personally have issues falling asleep. I am, however, absolutely exhausted from owning and running two businesses and homeschooling 3 children. While I can't be a great judge of how much quicker Core Sleep made me fall asleep, I can 100% assure you that I felt more rested in the morning. 
I used my watch's sleep tracker to track a difference in my sleep and found that I had less awake / disturbed time at night than before. I felt the difference in the morning when, I naturally started waking up about 30 minutes earlier than usual, while feeling more rested. I am a night owl and typically reluctantly drag myself out of bed around 9AM. With Proper's Core Sleep, I started waking up around 8:15AM, feeling ready to kick off the day, which was an amazing thing!
Sleep + Restore 
Sleep + Restore adds 3mg of Melatonin and Tart Cherry Extract to Core Sleep. It is probably Proper's second most popular formulation because of the melatonin. If you know that melatonin works for you, this is a really option, and the only Proper formulation with melatonin at this time. 
Melatonin is a hormone naturally produced by your body, which has gained popularity over the last few years, as a natural way to help your body adjust to jet lag, night shifts, and insomnia. If your body reacts well to melatonin, you will find that you fall asleep faster and easier. 
The tart cherry extract is an excellent supplement to not only help you sleep better, but with further benefits such as better muscle recuperation after effort, decreased inflammation, arthritis benefits, better brain health and a strengthen immune system.
While testing out Proper's Sleep + Restore formulation, I felt energy and had good days. Not sure that it felt a ton different than Core Sleep, but once again, I would not be the most receptive to melatonin. 
Sleep + Calm
I was most interested in Proper's Sleep + Calm formulation. With a few trying weeks behind me, I was looking forward to seeing whether Sleep + Calm could help me feel less stress and anxiety. It adds 200mg L-Theanine to the Core Sleep recipe. 
While testing Sleep + Calm, I actually felt sharper during the day. Not necessarily a lot more relaxed than usual, but definitely better able to tackle the stress and anxiety. In general, however, I have noticed decreased stress with Core Sleep. I react really well to Ashwagandha, which is an ingredient present in all of Proper's formulations, and I have been feeling a lot more relaxed during the entire duration of my Proper test. 
Sleep + Clarity
Sleep + Clarity adds CONGIGRAPE grape extract to Core Sleep. The grape extract is meant to support brain health and protect against stress. 
I actually really enjoyed Sleep + Clarity. I had no real expectations for it but felt really well, awake, and alert during the day. As with all formulations, my nights were more resting and leaving me refreshed. 
Sleep + Immunity 
There is really nothing wrong with supplementing daily with extra Vitamin C, D, B6, and Zinc during a global pandemic – or really at any other time. 
During this test, we lived pretty much at home 24/7 and I did not get sick. It is hard for me to tell whether Sleep + Immunity made a difference, but once again, those ingredients sound like a safe and a good idea, especially during the winter months, to boost the immune system!
Proper With Hemp
I am not a hemp user, and the Core Sleep + Hemp and Sleep + Restore + Hemp where my very first experience with hemp. 
I enjoyed both products and loved the fact that Proper is using a no-THC, non-habit forming, hemp in their products. 
10% OFF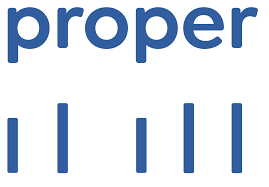 Proper Discovery Pack
5-day supply of each of Proper's 5 formulations - without hemp
The PLUSES

The MINUSES

Natural sleep aid
Non-habit forming
Quality ingredients
Manufactured in the U.S. in an FDA-approved facility
Time and money-saving subscription 
Availability of sleep consultation with board-certified sleep coach
Discovery Packs are amazing to figure out what works best for you 
Drug-free
Vegan
No artificial color, sugar or sweeteners, gluten, fish, shellfish, nut, animal bi-products preservatives, non-GMO
Capsules instead of chewable, better for teeth health
Small capsules are easy to swallow
No refrigeration needed - easy to travel with
Proper sent us 2 Discovery Pack for testing purposes. This review is not sponsored and all opinions expressed in this review are my own.
Proper is now available at CVS.
Proper is maufactured in the USA and if you choose the hemp products, the hemp extract is sourced in Oregon. 
Share this deal with a friend!
Dodow Sleep Aid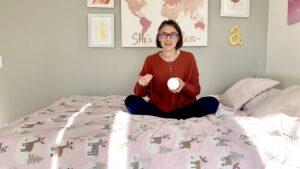 Looking for a natural way to fall asleep faster and smoother? The Dodow sleep aid device is less than $60 and could be your new best friend!
Product Brand: Dodow
Product Currency: USD
Product Price: 59.99
Product In-Stock: InStock