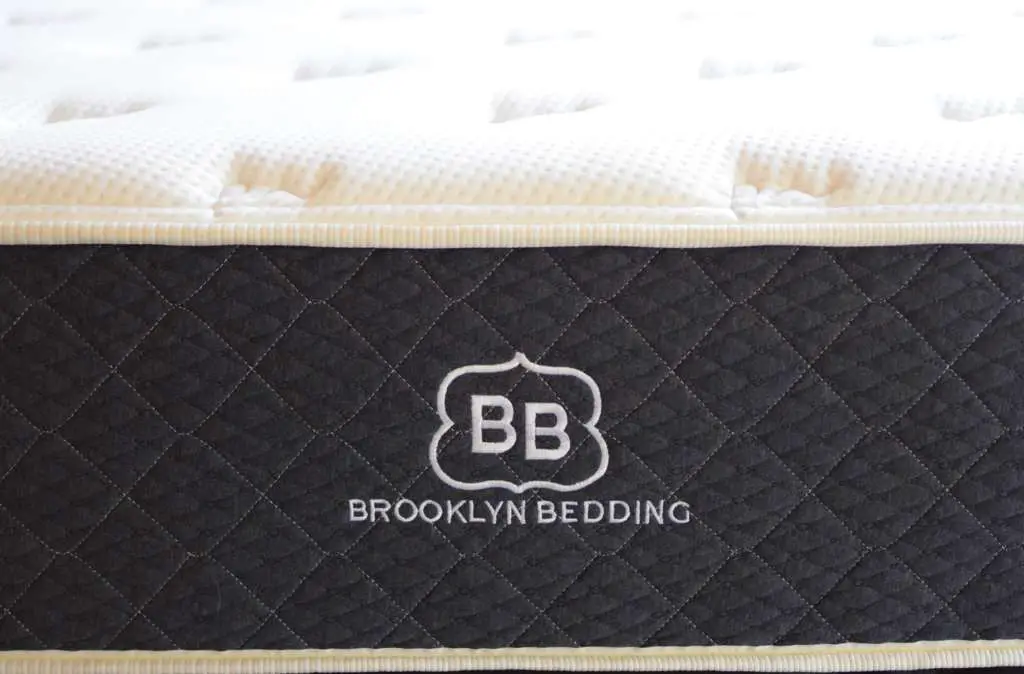 The Brooklyn Bedding Signature Mattress is their flagship product.  Made in Phoenix, Arizona this is the bed that started it all for a couple of brothers who found out that shipping mattresses directly to customers would be good for business.
Brooklyn Bedding Signature Mattress Video Review
Here is the video that I shot which details my sleep experience on the Brooklyn Bedding Signature mattress.
So what's inside a Brooklyn Bedding Mattress (BME)?
First we are going to concentrate on the Brooklyn Bedding mattress that has secured the hashtag #bestmattressever. To clear up confusion, this is the Brooklyn Signature when you are on their website.
I got to try a few of them on the factory tour, those mattresses come in 3 different levels of comfort: The soft, medium and firm. I initially wanted to get the soft one since I'm a side sleeper (and it was so comfy when I laid down on it) but then I reminded myself that I'm these mattresses' guinea pig and must give stomach sleeping a try, it's not my favorite sleeping position but that's what a good reviewer does, we sacrifice to give an honest opinion. So went ahead and got the Medium, one mattress for all sleeping positions Back, Side and stomach sleepers, everybody wins.
Update 3/23/18
Brooklyn Bedding added coils to their signature mattress.  Now that it is a hybrid mattress what do I think?  I LOVE it, such a huge improvement.  It's a bit more expensive, but well worth the additional costs.
Here's a quick reference on how to chose the level of comfort that's just right for you:
Soft
The SOFT comfort level offers an ultra-plush comfort that cradles and hugs your body but doesn't sacrifice support.
Perfect For…
Side Sleepers
Back Sleepers
Stomach Sleepers
I don't think this is the ideal firmness level for a stomach sleeper, however, the BME has a really sturdy feel so a stomach sleeper may be able to use this level.
Medium
The MEDIUM comfort level is our most popular firmness that offers a luxurious plush feel with a firm support.
Perfect For…
Side Sleepers
Back Sleepers
Stomach Sleepers
The BME is pretty firm at the medium level, so a side sleeper would prefer the soft level, but could get away with the medium level.
Firm
Our FIRM comfort level is supportive and comfortable yet allows little depression when laying on the mattress.
Perfect For…
Side Sleepers
Back Sleepers
Stomach Sleepers
Stomach Sleepers should be in heaven at this level.  If you like a sturdy/firm mattress the #bestmattressever is going to be a solid choice for you.  Unfortunately, a side sleeper would likely be very uncomfortable at the firm level.  Of course, that's why they offer 3 options!
If you are in Phoenix, they have a showroom near Grand Ave and Camelback.  If you have driven by you will see this on the outside.
Just to the left of this you will see another huge sign that says open to the public.  They likely won't give you the full tour, but you will be able to see most of the mattresses that they make.
Quilted Breathable Cover
A breathable and quilted pillow top cover that sleeps cool and offers luxurious cloud-like comfort. Their cover is quilted in-house using only the highest quality fabrics.  The feel of the cover just screams quality.
TitanFlex™ Foam
TitanFlex™ is made with open cell material and includes thermal titanium beads. TitaniumGel™ will help to alleviate any body heat before it becomes trapped in the mattress. TitaniumGel™ also helps to increase the overall durability of the foam, making it the longest lasting hyper-elastic material on the market.
Poly Foam Core
A well-designed and quality core significantly affects the durability and longevity of a mattress. A high density, supportive base foam; Perfect for longevity yet still comfortable so you don't bottom out. No matter the weight range, this core will not sag prematurely and will last 20+ years.
Pros of the BME
It has handles on both sides of the mattress.
You won't find this quality of a mattress at this price anywhere in the market.  Brooklyn Bedding has a major cost advantage by producing their mattresses in the factory they own.  They can ship directly to your door without throwing a middleman into the mix.  These costs savings are passed to the consumer in the form of high quality materials.
This is very sturdy, you would need to be very large to sink into the #bestmattressever.
Cons of the BME
Is it too much to ask to put little handles on the box?  I know it's a small detail, but I'm a small person.
By design it just isn't compatible with an adjustable bed frame.  The quilted cover is too firmly attached to the top layer to allow the flexibility that an adjustable frame requires.  Is this a deal breaker?  Well, only if you are on an adjustable frame.  Let's face it, today most of us aren't on one, however, my feeling is that there will be many more people adapting to adjustable frames in the future.
Who Should buy the BME?
As a value proposition it is going to be very difficult to beat the #bestmattressever.  Factory owned direct to the consumer is the way of the future.  You can feel the quality of this mattress the second it leaps out of the box.
The ideal buyer is going to be someone searching for a firm mattress that will hold up for many years.  I need to stress this, if you don't like firm mattresses the only level of the #bestmattressever that will work for you is going to be their soft level of comfort.  The medium and firm levels of the BME are firm.  You can see on the chart below where the BME fits.
What kind of bed frame can I use with the #bestmattressever?
Platform beds or slatted beds are going to be your best options for the BME.  The traditional boxsprings we have been using are probably going to start fading away, but they would work with the BME.
Brooklyn Bedding offers an adjustable frame for $399 in queen size.  It doesn't have some of the bells and whistles that some of the other frames have, but it comes at an amazing price.  Unfortunately, the BME's quilted cover is glued to the top titan flex foam layer.  Therefore, if you adjust the bed frame the cover and the foam layer below it are going to scrunch up.  Even though their adjustable frame is a steal at that price, it's not going to be the best option with the BME.
Current Brooklyn Bedding Coupon Code
20% off Brooklyn Bedding enter code nonbiased20
30% OFF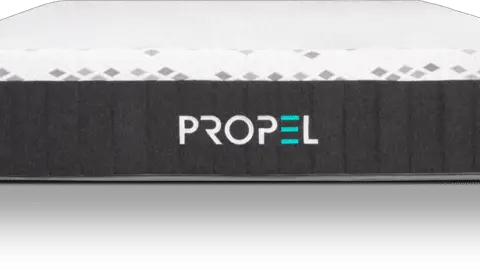 Propel by Brooklyn Bedding
30% OFF the Brooklyn Bedding Propel as final sale for discontinuation. 25% site wide with coupon code (click to reveal). 20% OFF everything else with...
Show More
30% OFF the Brooklyn Bedding Propel as final sale for discontinuation. 25% site wide with coupon code (click to reveal). 20% OFF everything else with our exclusive Promo Code NONBIASED20
Show Less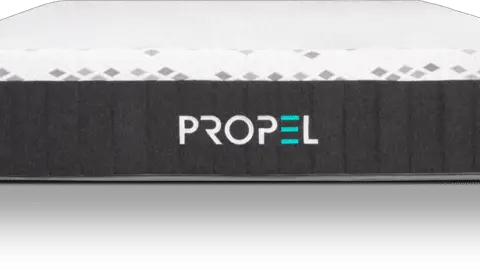 30% OFF
Propel by Brooklyn Bedding
30% OFF the Brooklyn Bedding Propel as final sale for discontinuation. 25% site wide with coupon code (click to reveal). 20% OFF everything else with our exclusive Promo Code NONBIASED20