YAASA WEIGHTED BLANKET REVIEW
It is rare to find a hand-knitted blanket that feels great and fits wide enough to cover a full Queen bed and fit 2 adults. But in the Yaasa Weighted Blanket, we have found it, and we think you might really like it too!
10% OFF Site Wide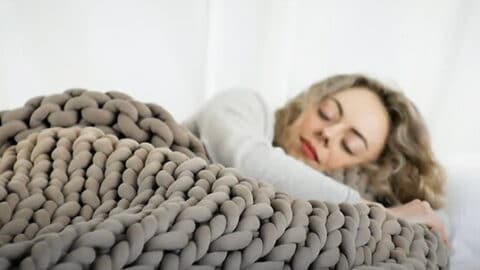 Free shipping
No return or refund
1- year warranty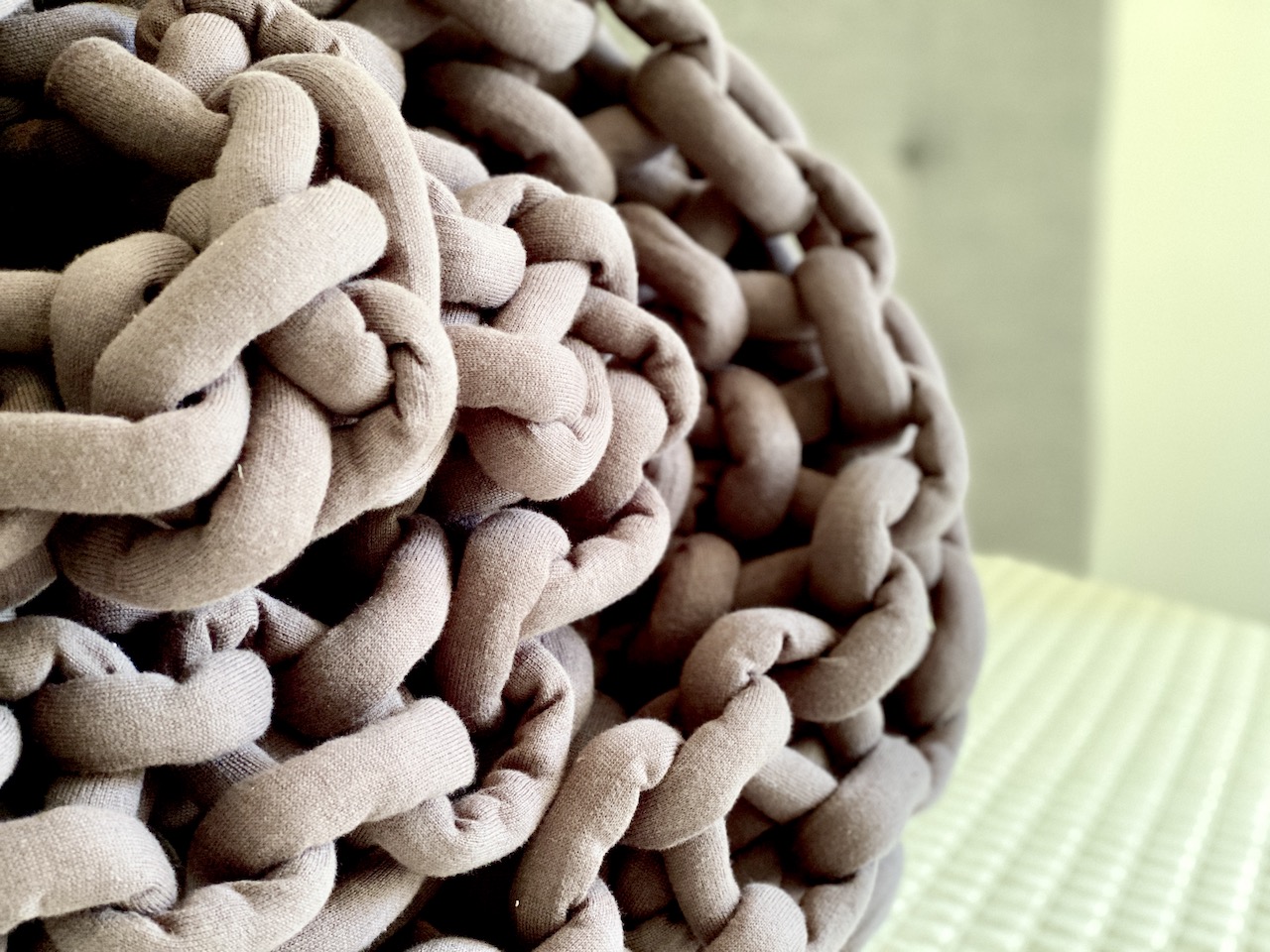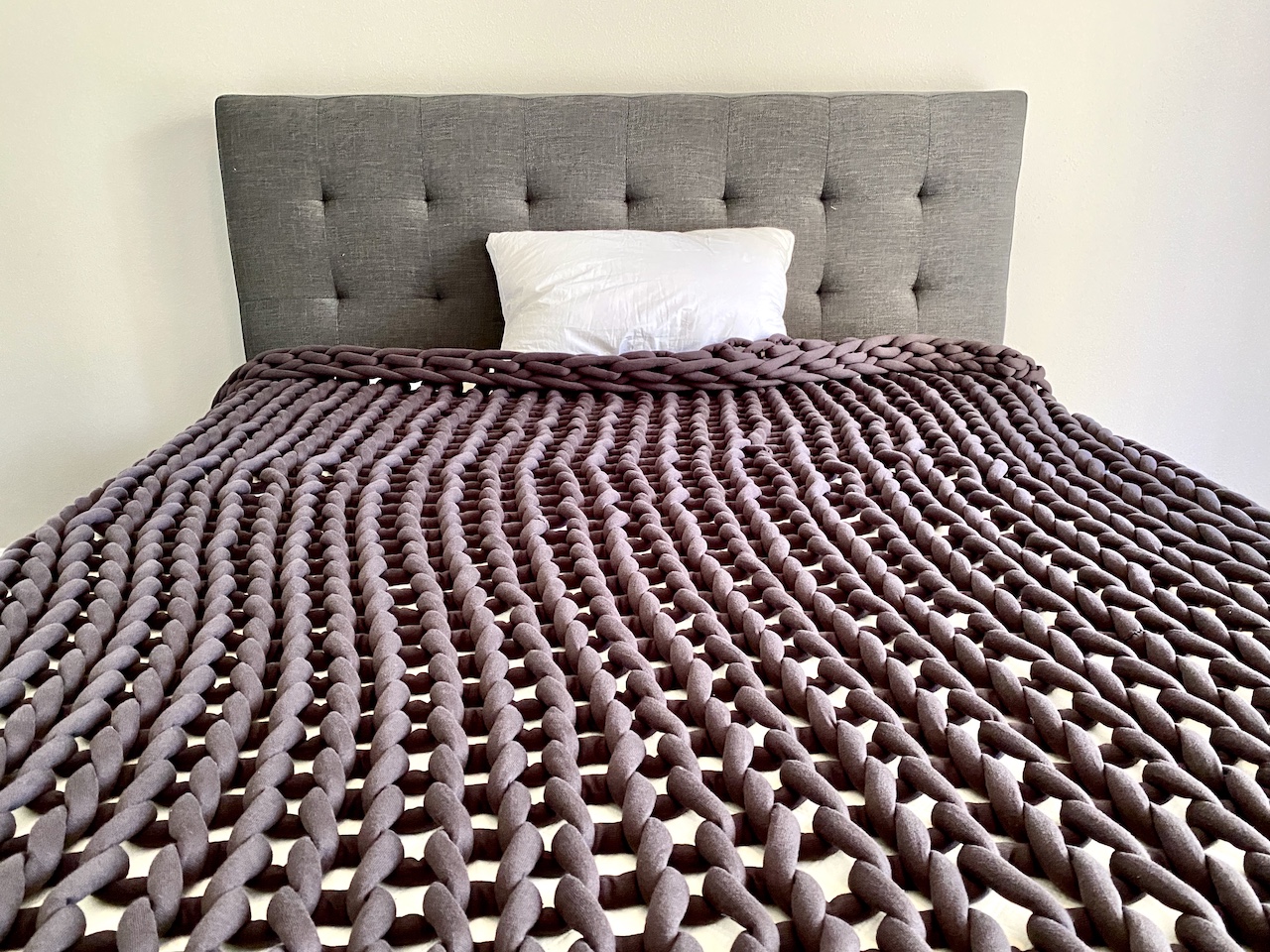 What's Inside The Yaasa Weighted Blanket
In a nutshell:
15 or 20 lbs 
300-thread count cotton outer knit cover
100% recycled polypropylene fiber filling
15 or 20-lb weighed blanket
Yaasa makes decision-making easy! Choose between a 15-lb or 20-lb weighted blanket. If you are 130 to 170'ish lbs in body weight, the 15-lb blanket will work really well. If you are over 170 lbs, or plan on sharing the weight with a partner, the 20-lb Yaasa weighted blanket will be a great option!
300-thread count cotton
I love that the blanket cover is made of 100% cotton. It is a naturally soft and breathable material, which paired with the large knits, ensures a cool night of sleep. 
100% Recycle Polypropylene Fibers
Because the Yaasa Weighted Blanket does not use filling glass pellets, the weight is comfortable and perfectly uniform. This blanket is filled with recycled materials instead, making it a better option for the environment.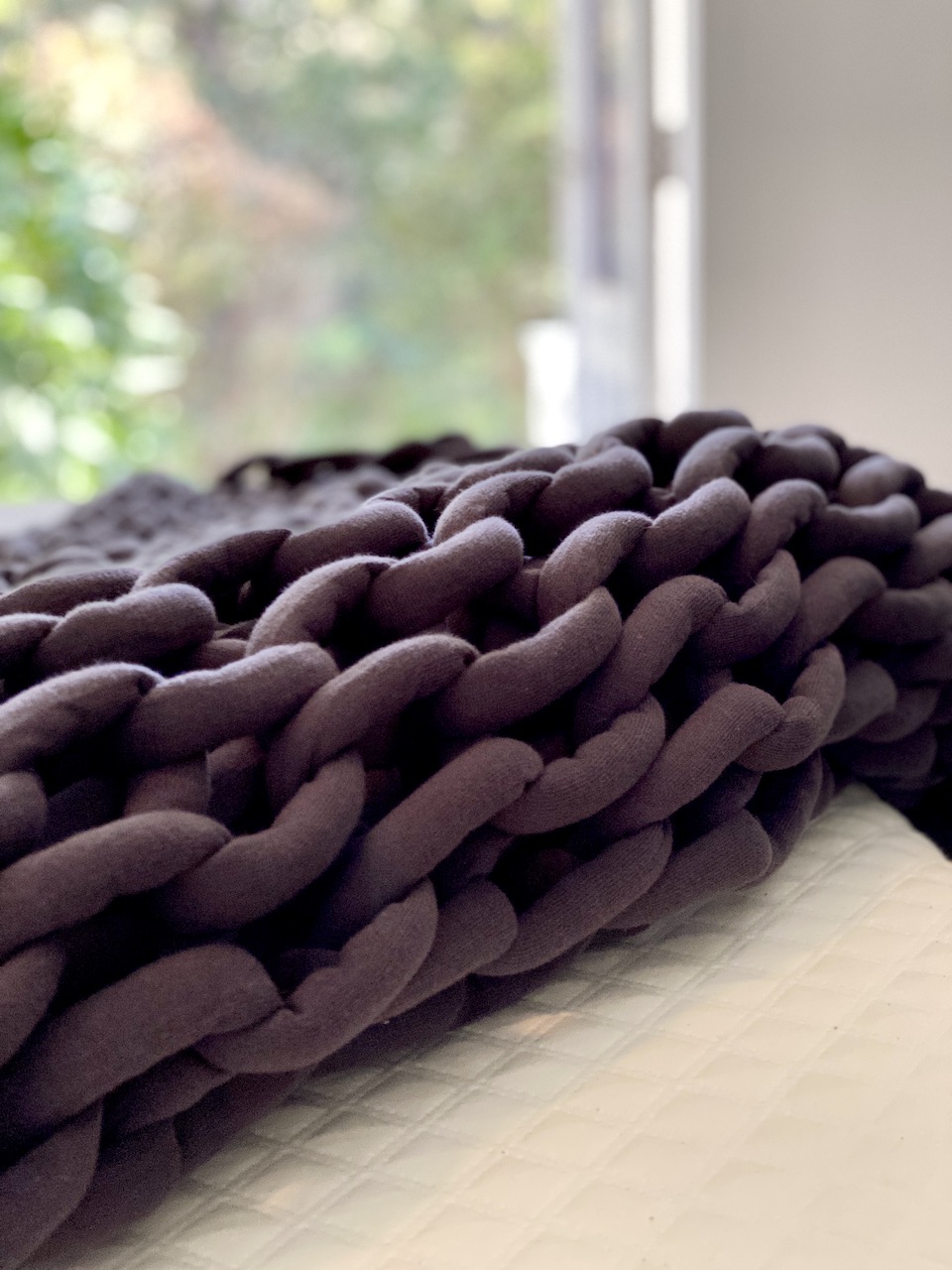 Yaasa Weighted Blanket Sleep Test
Everything we felt in one box
| Softness | Temperature | Maintenance | Breathability | Weight |
| --- | --- | --- | --- | --- |
| Since the Yaasa Weighted Blanket has a 100% cotton cover, it feels much softer than other weighted blankets we have sleep tested. It provides a cozy and contouring experience with nothing hard or firm inside of it. | The Yaasa Weighted Blanket is hand-knitted in large and wide knits, leaving plenty of air get to your body. Additionally, its cotton cover is naturally breathable and moisture-wicking. On cold nights, I recommend laying the Yaasa blanket on top of your regular duvet, as it probably wouldn't keep you warm enough on its own. But this is a great option for warm climates or hot sleepers. You get all of the weight, and none of the heat! | Yaasa recommends dry cleaning this weighted blanket, but also understands that you might want to wash it yourself. Should you decide to do so, set it on a cool cycle and lay the blanket flat to dry. Do not hang it, as that would damage the knits. | The knits are chunky and wide, and the lack of glass pellets makes the Yaasa Weighted Blanket a very breathable weighted blanket. It is a natural way to de-stress and a cozy and therapeutic way to unwind. | We sleep tested the 15-lb Yaasa Weighted Blanket, which is sized wide enough for 2 people. It is the lightest of 2 models offered by Yaasa - the heaviest is 20 lbs. The 15-lb option is the perfect weight if you are 130 to 170 lbs and plan on using the blanket on your own. If you weigh above 170ish lbs. or consistently plan on using the weighted blanket with a partner, I'd go with the 20-lb blanket. |
Yaasa Weighted Blanket Prices & Discounts
10% OFF Site Wide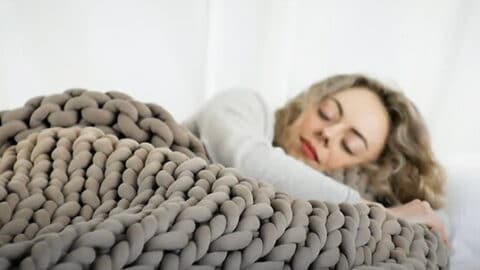 The Yaasa Weighted Blanket comes in 2 different sizes. All are hand-knitted with a cotton cover filled with recycled polypropylene fiber, making it a good choice to those seeking a cool weighted blanket. It comes at a bit of a premium, but since you can sleep 2 adults underneath it, you only need to buy one!
Below are the prices for each size. You can choose from 4 colors: 
– Ivory (off-white)
– Sand
– Mist (soft-grey – starts selling mid-Nov. 2020)
– Twilight (dark grey we sleep tested – starts selling mid-Nov. 2020)
Make sure to click the box above to claim the deepest discounts. While the Yaasa Weighted Blanket is rarely discounted, you can currently get a FREE mattress with the purchase of a Yaasa Adjustable Bed!
Price List updated: November 2020 – Pre-discounted prices
Detailed Yaasa Weighted Blanket Review Conclusion
We have been sleep testing the Yaasa Weighted Blanket for over a week now and I am a big fan of it. I love that the Yaasa blanket is wide enough (40″ for the 15-lb, 45″ for the 20-lb) to fully cover a Queen-size bed and sleep 2 grown adults. When sharing it with a partner, keep in mind that you will only be benefiting from a portion of the weight (about half) when making your weight purchase decision.
Additionally, the Yaasa Weighted Blanket is a hand-knitted blanket with a cotton cover that kept us cool at night and evenly spread its weight over the bed. The deep pressuring was felt from head to toe and provided excellent relaxation. We woke up feeling rested and ready to tackle the day ahead.
The sleek and modern design of their adjustable bed totally gave them away – Yaasa is headquartered in Sankt Gallen, Switzerland, with their U.S. headquarter located in Santa Barbara, California. 
The company was founded in 2016 with the vision to improve people's lives, and the CEO is serious about reliability, precision, and adaptability – 3 values I respect in any business. 
Yaasa focuses on becoming the world's leading adjustable furniture company, specializing in making traditionally static furniture move. They have designed an adjustable bed, adjustable desk, and chair – providing healthy and more productive environments. 
You will also find the following products in their inventory: 2 mattresses (a firm and a soft), an adjustable bed, a pillow, luxury sheets, mattress protector, the Infinity blanket and the Elements blanket. Yaasa is a well rounded business in the bedding industry and I like their mission to solve problems and make lives healthier and more comfortable. 
Find all of our Yaasa reviews HERE. 
What Is Inside The Yaasa Weighted Blanket?
The Yaasa Weighted Blanket is different than most other weighted blankets. Most are made of a gridded stitched polyester insert enclosing glass pellets. 
The Yaasa Weighted Blanket has none of the glass, no weighted insert, and no washable cover. Instead, it is handwoven in a large and chunky knit. Its cover is made of a breathable, 300-thread count, cotton that stays temperature neutral at night, thanks to its natural moisture-wicking properties. Inside the cotton cover is a recycled polypropylene filling that is sure to stay in place for an evenly distributed weight.  
How Does The Silk & Snow Weighted Blanket Sleep?
Softness
The Yaasa Weighted Blanket cries for you to come snuggle yourself in its weight and you might have a really hard time coming out of it in the morning. 
The cotton cover and those large knits are very welcoming and the filling will remain evenly spread throughout the night, adding to the sensation of everywhere softness. 
While it is not the softest weighted blanket we have ever tested, it ranks in our top 3 and is definitely softer than any glass-pellet weighted insert weighted blanket! 
Temperature
The cotton and large hand knitting style give the Yaasa Weighted Blanket a very breathable feel. Expect the therapeutic weight on you, without the heat trapping. 
This weighted blanket is made for the person looking for all of the therapeutic benefits of added weight on their health. You will feel a comfortable wave of stress exiting your body nearly instantly and be cooling off and unwinding in a matter of seconds. Your sleep cycles will deepen naturally and the increased melatonin will help you fall asleep faster.
The Yaasa Weighted Blanket works wonderfully in all weathers and seasons. In the Summer and Fall, lay it right on top of a soft 100% cotton flat sheet to stay cool throughout the night. During colder nights and months, I recommend laying it on top of your regular duvet for incredible plushness and added heat and coziness. 
Weight
With no glass pellets in it, the Yaasa blanket has a very evenly distributed weight. It feels very comfortable and I would definitely stick to the 10% of body weight rule-of-thumb when picking a weight for your blanket. 
Note however, that this blanket is wide enough to fit a Queen-size bed and you might find yourself sharing it with your partner. Should that be the case, look into the 20-lb weighted blanket since some of the weight will be shared. And if you don't know what I'm talking about, check the last session in this review. 
How Do I Care For My Yaasa Weighted Blanket?
Yaasa recommends dry cleaning the weighted blanket. 
If you're anything like me, however, you'll want a quicker washing solution and Yaasa created a product that can also be machine washed (check weight limit of your washing machine first!!!). Set your washing machine on the cool cycle and DO NOT tumble dry, NOR hang the weighted blanket to dry. That would damage the knits and the blanket itself. Simply lay it flat to dry. 
What Are The Benefits Of A Weighted Blanket?
Weighted blankets have gained in popularity over the last 5 years, and rightfully so. They provide a perfectly natural way to relax, fall asleep faster, and stay asleep deeper. 
By applying deep pressure on the body, they assist the body in producing extra melatonin – the hormone responsible for falling, and staying asleep. They also reduce the body's production of serotonin, the stress and anxiety hormone. When laying under the evenly distributed weight, your brain is tricked in thinking that it is being hugged or massaged, immediately adjusting its hormonal production for a state of well being. 
Weighted blankets are known to reduce stress and anxiety. They help children and adults with ADHD feel calmer, and were first invented to target specific mental health issues related to anxiety, autism, PTSD, and ADHD. 
Ideal Weight For Weighted Blankets
The general rule of thumb for the ideal weight for weighted blankets is 10% of your body weight, plus or minus a couple of pounds.
Let's look at an example: you weigh 150 lbs and 10% of your body weight is 15 lbs. If you add or remove a couple of pounds, the ideal weight for your weighted blanket would likely be 13 lbs to 17 lbs. 
The other way to think about this is to look at a 15-lb weighted blanket. It would comfortably soothe a person weighing between 130 and 170 pounds. 
Your preference in terms of weight and hugging sensation will impact the ideal weight for your weighted blanket. Most importantly, you need to be able to remove the blanket from your body unassisted.
10% OFF Site Wide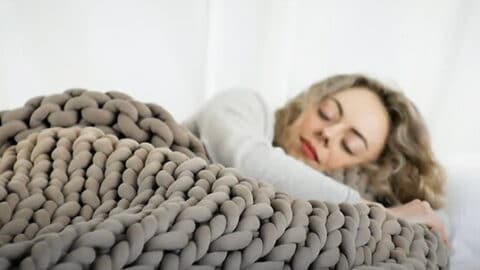 The PLUSES

The MINUSES

Sleeps cool
Handwoven soft cotton cover
Wide enough to fit 2 adults and fully cover a Queen-size bed
Several weights and colors to choose from
Ships FREE on the same of next business day
Natural way to de-stress
Breathable - no feeling of heating

All blankets are above the $200 USD, which might be a little high for some
No sleep trial, this blanket can't be returned
Share this deal with a friend!