YAASA ADJUSTABLE BED + ASSEMBLY REVIEW
Are you ready to upgrade your bedroom to the luxurious comfort of an adjustable bed? Prop yourself up to read or watch TV. Do work right from your bed. Lift your legs up after a long day. Float in zero gravity or prop up your snoring partner in the middle of the night. All of that is at your fingertips with an adjustable bed. This is our review of the Yaasa Adjustable Bed, produced by the world's leading adjustable furniture company.
10% OFF Site Wide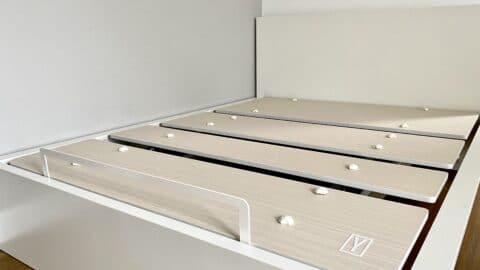 For the adjustable bed: 
Free shipping in 2-3 business days
Free returns
30-night trial
10-year limited warranty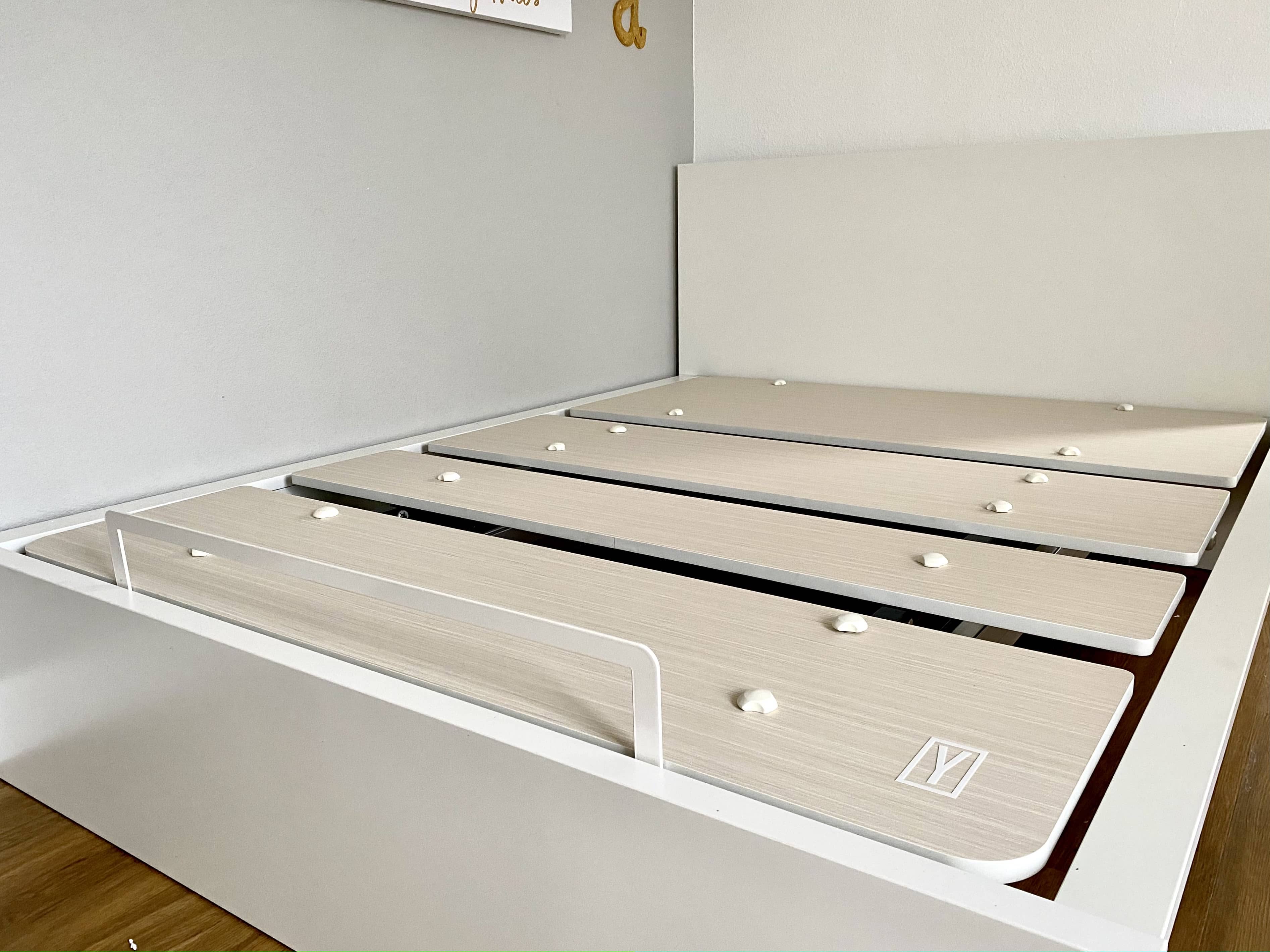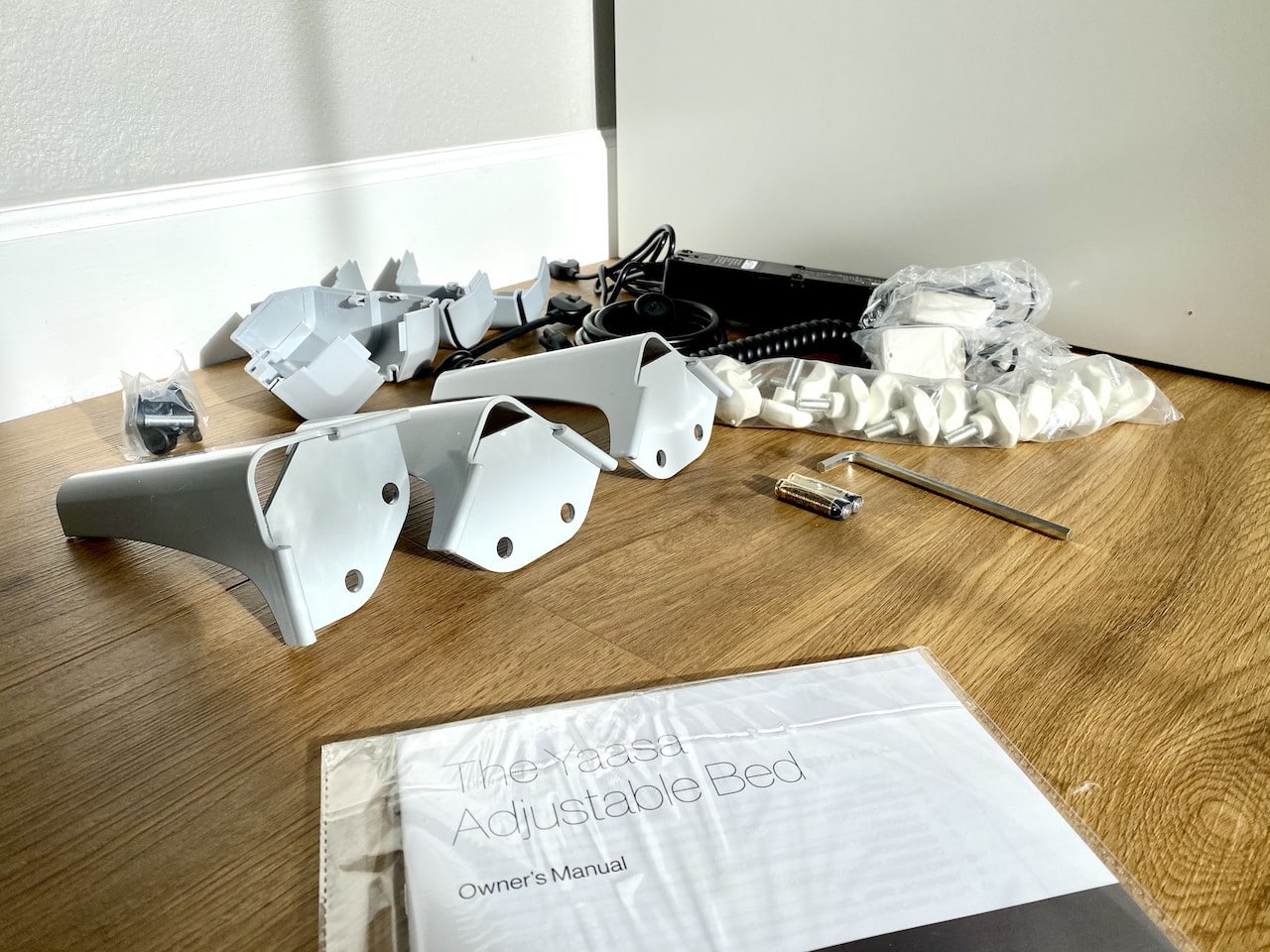 What's Inside The Yaasa Adjustable Bed
In a nutshell:
Contemporary design
Preset positions
Fits in existing frame
LED lighting
2 USB ports
Lit-up wireless remote
Contemporary Design
I love the contemporary design of the Yaasa Adjustable Bed. Yaasa is headquartered in Switzerland, with a U.S. headquarter in California. For having lived in Switzerland, I see a lot of Swiss modern design in this adjustable bed. Its aluminum frame looks great and brings sturdy elegance to the bedroom, supporting up to 700 lbs. 
Preset Positions
The Yaasa Adjustable Bed's remote comes with 2 preset positions – the anti-snore and the zero-gravity positions. You can also customize your personal favorites and preset them on your remote.
Fits In Existing Frame
The Yaasa Adjustable Bed is built slightly smaller than the actual mattress size, in order to fit within your existing frame. Simply remove your wooden slats or foundation, and replace with the Yaasa bed, add your mattress on top, and voilà!
LED Lighting + USB Ports
It's the little things that make me excited. Outside of the Yaasa Adjustable Bed looking great and running smoothly, I love the modern features it comes with: LED lights underneath the bed for a warm ambient lighting, and a USB port on either side of the frame so you can use and charge your phone in bed in full comfort.
Lit-Up Wireless Remote
Not only is the wireless remote sleek and modern in design, it also lights up when you pick it up, making it easy to adjust this Yaasa Adjustable Bed in the dark.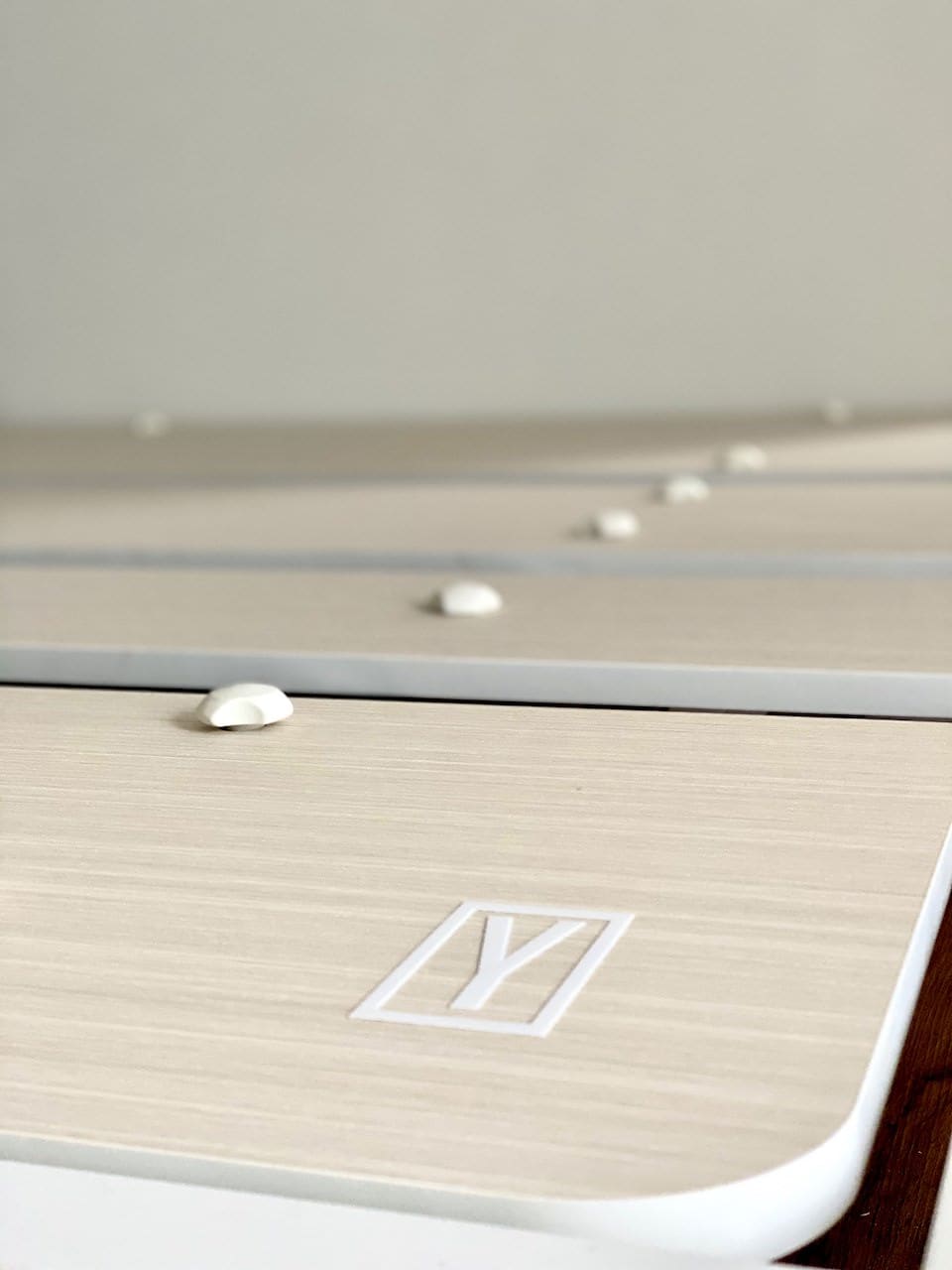 Yaasa Adjustable Bed Install & Sleep Tests
Everything we felt in one box
| Install | Final Look | Sleep Test | Compatibility | Weight Limit |
| --- | --- | --- | --- | --- |
| I am very impressed with the easy of building the Yaasa Adjustable Bed. We had prepared our electrical drill and tools and needed NONE of that! You don't even need a screwdriver!! All screws are included, as well as a little wrench. The screws are very large and we tightened them with our bare fingers. The user manual is easy to read and follow and this adjustable bed was easier to build than anything we've ever bought at IKEA! Note that the bed comes in 2 packages (3 for Split King) and you might want to be two people to carry, as each box is roughly 100 lbs. | The Yaasa Adjustable Bed has a very modern look. Its frame is aluminum, which keeps the weight down and gives it a sleek look. It comes with 4 light-colored wooden panels. While the adjustable bed will likely be hidden by your bed frame when flat, you will see the panels when raising it, and it looks really good. Note that the feet of the Yaasa Adjustable Bed are 7 inches tall, but the bed remains operable if you remove its legs, in case you need a lower fit. | We found the Yaasa Adjustable Bed to run smoothly and feel very sturdy. We felt that there was a little bit of a delay between the remote pressing and movement of the bed - nothing more than a second or so, so not really bothering. The noise of the bed is minor when operating, though we have tested more silent engines. And its movement is nice and smooth, which is what I'm looking for in an adjustable base! | The Yaasa Adjustable Bed is compatible with most modern mattresses (it also comes with a FREE mattress!). Do not use a water bed on an adjustable bed, however. Note that some traditional spring mattresses that use a border rod or wire may not be used with an adjustable base either. The most responsive mattresses will be the 100% memory foam. We tested the Yaasa Adjustable Bed with a hybrid mattress (memory foam / coil combo) and it responded really well. In terms of compatibility with bed frames, you will find that the Yaasa Adjustable Bed fits into most existing bed frames. It is built a little smaller than the mattress, in order to fit inside of your existing frame, saving you the cost of replacing your frame! | The Yaasa Adjustable Bed is designed to carry up to 700 lbs of evenly-distributed body weight. |
Yaasa Adjustable Bed Prices & Discounts
10% OFF Site Wide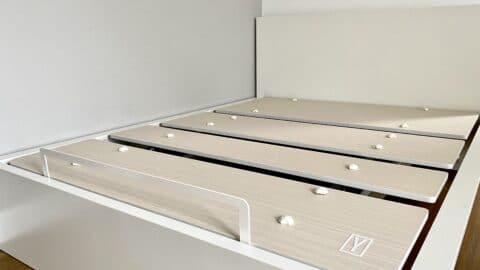 The Yaasa Adjustable Bed comes in 4 sizes, including a Split King, which, if you can afford the price and size, is a wonderful option for couples. 
My husband and I have been using a Split King for over 5 years and I would never go back. It is made of 2 Twin XL bases and mattresses and allows independent raising and lowering for each person.
In this review, we tested the Queen Adjustable Bed.
Make sure to click the box above to claim the deepest discounts.
Price List updated: November 2020 – Pre-discounted prices
Detailed Yaasa Adjusted Bed Review Conclusion
An adjustable bed can be a luxurious addition to any bedroom, while also solving problems such as snoring and back pain. There is nothing as satisfying as raising your mattress to your favorite position and reading a book or catching up on your current TV show.  
We built and sleep tested the Yaasa Adjustable Bed and loved many things about it. The install was easy, straight-forward, and took just under 30 minutes! The design is modern and sleek and I love the use of aluminum for reduced weight and added sturdiness. The Yaasa Adjustable Bed will likely fit in your current base, if you are not looking to upgrade just yet, and you should be able to use it with your current mattress (except for water beds and select traditional spring mattresses). And remember that Yaasa will send you a free mattress of your choice when ordering their adjustable bed – a $1,299 saving on a Queen, and you get to choose between Soft and Firm!
Let's look at our thoughts in more details below.
The sleek and modern design of their adjustable bed totally gave them away – Yaasa is headquartered in Sankt Gallen, Switzerland, with their U.S. headquarter located in Santa Barbara, California. 
The company was founded in 2016 with the vision to improve people's lives, and the CEO is serious about reliability, precision, and adaptability – 3 values I respect in any business. 
Yaasa focuses on becoming the world's leading adjustable furniture company, specializing in making traditionally static furniture move. They have designed an adjustable desk, bed, and chair – providing healthy and more productive environments. 
You will also find the following products in their inventory: 2 mattresses (a firm and a soft), a pillow, luxury sheets, mattress protector, an acclaimed weighted blanket, the Infinity blanket and the Elements blanket. Yaasa is a well rounded business in the bedding industry and I like their mission to solve problems and make lives healthier and more comfortable. 
Find all of our Yaasa reviews HERE. 
What Is Inside The Yaasa Adjusted Bed?
The frame of the Yaasa Adjustable Bed is made of aluminum, which gives it sturdy elegance, makes the frame lighter and strong enough to support up to 700 lbs. The panels have a light wooden look, giving this adjustable bed a clean and modern look.
I counted less than 20 screws, and some very easy parts to assemble without the use of any power tool. 
The Yaasa Adjustable Bed also comes with four 7″ feet, which can be left out if you're fitting this bed inside a low frame. 
The remote is white, skinny, and as elegant as the rest of this adjustable bed. I loved that it lights up when picked up, making quick adjustments easy in the dark! 
Lastly, the bed comes with details that just go above and beyond. A strip LED light is taped underneath the base for a nice ambient light in the evening. Two USB ports are installed – one on each side of the bed – making bedtime phone usage super convenient while charging the phone. 
How Does The Yaasa Adjustable Bed Test?
Install
Building the Yaasa Adjustable Bed was impressively easy. We had gotten our tools and power drill ready and never needed any of them. 
Thanks to its aluminum frame, the entire Queen bed weighs less than 180 lbs. It comes packaged in two boxes, which are easier to carry with a partner. The assembly is easy and straightforward-forward and took us just under 30 minutes, though we used the wrong screws in some places and had to undo / redo a couple of the steps… which was totally our fault! 
The screws are all manually screwed. The electrical connecting is a no-brainer and so easy that we actually questioned it! 
I recommend being two adults when building this bed, just to ease installing the feet and carrying inside the bed frame if you build this bed outside of the frame. But I am sure it can be built by a single person easily. And you could build it straight inside your bed frame as it honestly fits nearly all bed frames. 
Final Look
The Yaasa Adjustable Bed is one good-looking bed. The alliance of its aluminum frame with lighter wood panels, make it a modern and sleek bed. While you may not see most of the bed when set in flat position, you might actually catch a glimpse of the panels when it is lifted, and this bed definitely looks good!
Another thing I have noticed since we've been using adjustable bases for so long, is the clean look underneath the bed. While you might not look underneath your bed every day, it is nice to know that all cables are stored away and nothing is dangling down there. It actually creates a lot of space for storing bags or boxes with sheets and pillows underneath the bed! 
Sleep Test
The Yaasa Adjustable Bed behaved very nicely during our sleep tests. What I look for in an adjustable base, is a slow and smooth movement. Both the rising and lowering happened at a constant speed and very smoothly throughout the entire movement. 
Two minor details we did notice: we have tested adjustable beds that were a bit more silent. While the Yaasa Adjustable Bed wasn't loud, it was a bit louder than I had expected. And there is a small delay on the remote, between pressing the command and the bed activating. Just something to get used to and that should not be a deal breaker. 
I love that the remote includes 2 preset positions. The zero-gravity position puts you straight in that relaxing mode, and great after a long day. The second preset is an anti-snore position, which can come in very handy when dealing with snoring issues or a cold! Of course, you can customize those preset buttons with your favorite positions, and have them be just one tap away.
Another feature that we had never tested in any other adjustable beds, is the wall-sliding technology. In other words, the Yaasa Adjustable Bed slides back as the head rises, keeping your bedside table equally distant to your bed, whether raised or not. That is genius and SO convenient!
The Yaasa Adjustable Bed is a quality, sturdy, and good-looking adjustable bed! And coming with a FREE mattress, you can't quite beat that!
Compatibility
One thing I love about the Yaasa Adjustable Bed, is how universal it is. We will be looking at the mattress compatibility, as well as its bed frame compatibility. 
This adjustable base will work well with most modern mattresses. The only mattresses that should not be used on the Yaasa Adjustable Base are water mattresses. They shouldn't be used on any adjustable base as a matter of fact. Additionally, some older, traditional spring mattresses that use a border rode or wire, may not be compatible with this bed. If in doubt, contact the Yaasa support team at hello@yaasa.com or (855)622-3711. 
Remember also, that Yaasa will send you a FREE 12″ Yaasa hybrid mattress when you purchase their Adjustable Bed. You get to choose between their Firm or Soft mattress, and if you order a Split King bed, you will receive 2 Twin XL mattresses and can mix mattress firmness if your partner has a different sleep preference. As you consider the cost of the Yaasa Adjustable Bed, don't forget to factor in the cost of the mattress you are getting – currently priced at $1,299 for a Queen, and as much as $1,898 for 2 Twin XL if you order the Split King!
Let's talk compatibility with bed frames. Yaasa purposely builds its adjustable base a little smaller than the standard mattress size, to allow you to slide it right inside your existing bed frame. You probably won't have to purchase a new frame to fit around the Yaasa Adjustable Bed! If you have a slatted base, simply remove the wooden slats and, as you'll see in our assembly video at the top of the article, the Queen base fits perfectly inside our existing Queen frame!
Weight Limit
Thanks to its frame made of aluminum, the Yaasa Adjustable Bed can support up to 700 lbs of evenly-distributed weight. In other words, don't try to lift 700 lbs on just one side of the bed, but it will support 700 lbs of body weight properly laying on the bed. 
Note that the Spilt King is made of 2 Twin XL bases – each base will support up to 700 lbs. 
10% OFF Site Wide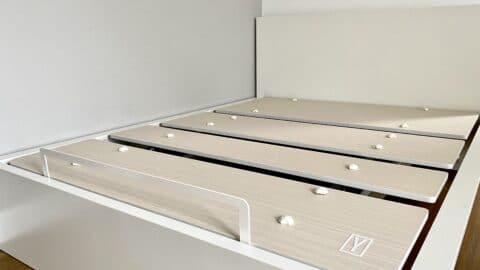 The PLUSES

The MINUSES

Elegant and modern design 
Incredibly easy to install
Comes with a FREE mattress
Smooth movement
Amazing wall-sliding technology that keeps your bedside table at the same distance whether you raise your head or not
Fits inside most existing bed frames
Works well with most modern mattresses
Two preset buttons allow you to use the zero-gravity and anti-snore positions OR to customize to your favorite positions
Comes with 2 USB ports and LED lights under the bed
Each base supports up to 700 lbs of evenly distributed weight
Yaasa sells the Split King, great for couples sleeping differently or with different schedules

Do not use with a water bed (this is true for all adjustable beds, not just Yaasa)
If you're looking for a very quiet engine due to sleep schedule differences, this one is a bit on the loud side, though nothing crazy 
Share this deal with a friend!