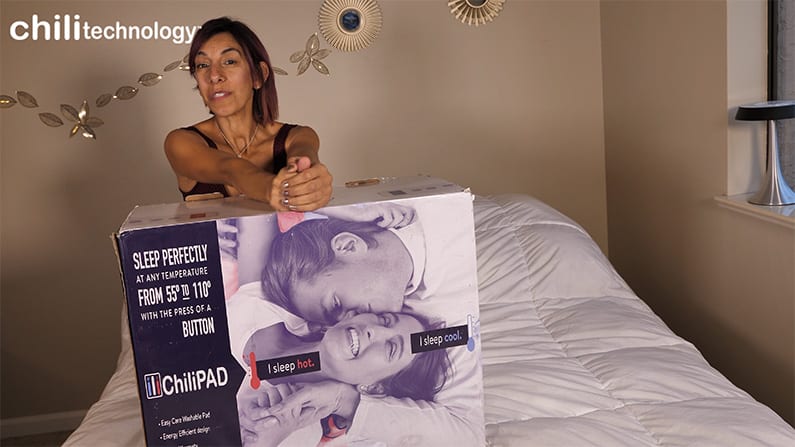 I just did the three-month deep cleaning on my ChiliPAD, and you can see how easy it was in the video at the end of this post. 
As I began my preparations for the dreaded summer season (I live in Arizona), I went to my storage area and pulled out both my ChiliPAD and my BedJet.  The BedJet does a nice job of heating, but the ChiliPAD wins the cooling contest by a landslide.  Why?  It's just the way that they are built. 
The BedJet is designed to pull up the cold air from the ground and blow it back on you.  Unfortunately, it doesn't have any cooling properties, it is just recirculating the air in your bedroom.  On the other hand, the ChiliPAD cools the water that flows through the system.  Although I have dusted them both off for the summer, there is no doubt that the ChiliPAD is going to be the one that I personally use this summer.
How does the ChiliPAD do in the Winter?
Time to heat up your bed before you jump in it, right?
The ChiliPAD Cube can heat up your bed to 110 degrees.  This is far hotter than I am comfortable with, so the unit over delivers on the heat!
But, it will be summer soon. Why would I want a bed warmer?  The ChiliPAD Cube doesn't just heat up your bed, it can cool it too.  It has the ability to go all the way down to 55 degrees.  This is way too cold for my sleeping preference, but I'm excited to try that setting this summer.
ChiliPAD has dual zone technology so if you sleep warm and your partner doesn't, you can cool your side and heat theirs.
15% OFF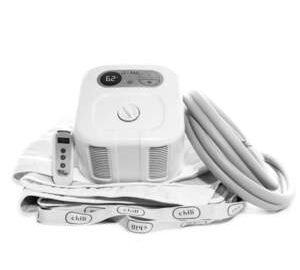 Chili Technology Company Policies
Free Shipping
2-Year Limited Warranty
30-Day Satisfaction Guarantee
What's Inside the ChiliPAD?
My ChiliPAD unit came with:
The mattress pad
2 cubes
2 remotes (they require 2 AAA batteries, not included)
Tubes to connect the water from the cube to the ChiliPAD
2 electric cords to power the cubes.
It took 23 minutes for one of my ChiliPAD Cubes to warm the water from the coldest setting of 55 degrees up to the warmest setting of 110 degrees.  That was an extreme test, as the water would be at room temperature normally.  I'm willing to bet that you don't cool or heat your house to 55 degrees, so it probably won't be that low to start.  On top of that, 110 is really hot.  I live in Arizona, so I know and understand 110.  
Since I was testing the extremes I wanted to see how hot that feels while sleeping.  After about 30 minutes of trying out 110 degrees, I picked up my remote and moved the settings into the high 80s.
At that point, I expected that the Cube would just stop warming the water and let it cool down.  To my surprise it turned on the cold setting (which is a different sound) and cooled the water to the 88 degrees I selected.  After it reached that temperature, I shut the unit off.  What really enhanced the experience is that you can still feel the residual heat way after you have turned the unit off.  
This is a pretty sharp contrast from electric blankets.  Generally, after an electric blanket has been off for awhile, it returns to room temperature.  It takes much longer for the heat to dissipate from the ChiliPAD Cube.  On the flip side, electric blankets get warmer quicker.
Here is where it got really fun.  When I had the temperature cranked up to 110, I also turned on my adjustable bed's massage feature.  I have mentioned in the past that the massage feature works best on mattresses that are more water bed like with motion transfer.  I was on one of those, Purple, and the massage feature was slushing around the water in the ChiliPad's tubes.  It's difficult to explain, but it was by far the best "hands free" massage I have ever had!
CHILIPAD PROS
Works really well with an adjustable bed massage feature
The warm setting is HOT!
The cold setting is COLD!
It definitely helped me fall asleep faster.
CHILIPAD CONS
A lot of cords and wires

Why 2 remotes?  Surely, one button could have been used to toggle between the 2 cubes.

The ChiliPAD was able to successfully regulate the temperature of my mattress by circulating water through those micro tubes smoothly. Most importantly I was able to control MY SIDE of the bed without disturbing my husband, with a touch of a button. A very important thing I must mention, the micro tubes. Those were one of my concerns. I have previously tested a product with a built-in-wire fitted sheet (for sleep tracking and bed warming), and I have to say they were annoying at times and now I have micro tubes to deal with! WRONG again.
The soft small silicone tubing, warm water combo helped me fall asleep so quickly, I couldn't even feel them. In fact, I was looking forward to sleep on the ChiliPAD every night.
It is also my aching muscles and sore body refuge. True, I am no athlete but I am a Mom chasing kids around and a person that is always on the run and all I want to do sometimes, when the day is over and my energy has drained, is relax and recharge my batteries. Back in the days I had to go see a PT just for cold therapy treatments after suffering from stiff joints and muscle aches (post baby and working at an office for long hours). The ChiliPAD Cube was able to provide me with the same benefits. Save your money because the cold therapy found in it helps improve your circadian rhythm and improve your sleep quality.
15% OFF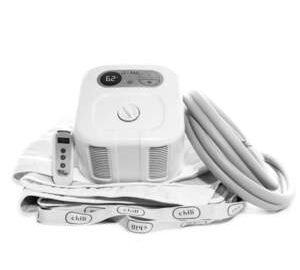 ChiliPAD Unboxing and Setup
If you have a dual zone unit, you will need to keep both units separate, and give them plenty of room to breathe.  The manufacturer suggests that you give the cube 2 feet of room to work with on each side, keep the cubes away from windows.  Hook the water tubes to the ChiliPAD, and then hook the units to a surge protector.
Once everything is hooked up, get 2 bottles of water.  The cleaner the water, the better.  The cubes will ship with some water in them, so don't worry about that.  Remove the cap on the top and turn the unit on.  The unit will start pumping water into the tubes so you will need to slowly pour water into the hole.  Expect to use two 16 ounce water bottles for each cube.
You can either set the temperature that you desire with the remote control, the one assigned to that unit, or manually change it on the cube by hitting the cold or hot buttons.  You are going to want to label the 2 remotes, something like left or right (his / hers, his / his etc.).  The remotes will be identical so if they aren't labeled it will be really easy to mess with your sleeping partner if you get a hold of the wrong remote.
The unit requires water to operate so every three months you need to change out the water.  Every month they suggest you clean it.  Here are the steps and I'll shoot a video down the road when it is time to clean mine.  Here are the cleaning instructions:
I also shot this video to show the three-month deep cleaning process.  The steps are pretty simple:
Drain the cube
Add hydrogen peroxide
Fill with distilled water
Turn it on to HI (top heat level)
Add some more water if needed
Run it for 6-8 hours
Drain it again
Fill it with distilled water
ChiliPAD Review Conclusion
After 2 years of using the ChiliPAD, here are the people whom I think would enjoy it.
People who want to be warm, no wait, people who want to be cold.  Wait couples who like to be warm and cold? 
Seriously, the need for this will cross over to many different users at many different times.  The unit needs to be flushed out every 3 months, so I would suggest using it in the Winter and Summer.  During Fall and Spring you can clean it up and store it for the upcoming cold or warm seasons.
Everyone should give the ChiliPAD a try! It works conveniently with your existing mattress, so no need to purchase a special mattress just for it. It is easy to use once you get the hold of it and fits on top of your mattress like a glove.
Chili Technology sent us this for testing purposes.  All of the opinions expressed in this review are mine.
The BedJet is probably their closest competitor.
Does Chilipad really work?
Yes, the ChiliPAD will actually cool or heat your bed to the desired temperature. Cool your bed down to 55 degrees, heat it up to 110 degrees, or anything in between. If you purchase a Dual Zone ChiliPAD system, each partner can set their own temperature for their side of the bed.
What is the Chilipad sleep system?
The ChiliPAD sleep system is made of a pad (Chili Cool Mesh) that you add on top of your mattress. It is connected via a 7-ft water tube to a cube. That cube needs to be filled with water, as it regulates the temperature of the water and distributes it through the ChiliPAD to keep your mattress as cool as 55 degrees, or as hot as 110 degrees. A Dual-Zone ChiliPAD will allow each partner to set their own temperature!
How long does it take the Chilipad to cool?
We've noticed that it takes about 30 minutes for the ChiliPAD to cool or heat to the desired temperature. We like to turn it on as we brush teeth / shower and the bed is ready by the time we slip into bed!
Is the Chilipad loud?
At a 1-foot distance from the ChiliPAD Cube, the sound will reach ~51-56 dBA - a sound level similar to a quiet office or refrigerator. Note however, that it is constant white noise that could also be used to cover street noises or be used to lull to sleep.
How do I clean my chiliPAD?
Check our ChiliPAD review for a full step-by-step, but here's the high level: Drain the cube - Add hydrogen peroxide - Fill with distilled water - Turn it on to HI (top heat level) - Add some more water if needed - Run it for 6-8 hours - Drain it again - Fill it with distilled water
ChiliPAD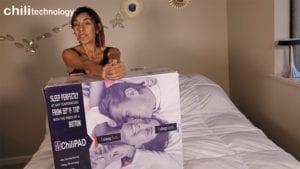 ChiliPAD - your solution to sleeping warmer, colder, and even warm and cold in the same bed, with dual zone. Set your ChiliPAD on any temperature from 55 to 110 degrees! 22% OFF with our exclusive ChiliPAD coupon!
Product Brand: Chili Technologies
Product Currency: USD
Product Price: 389
Product In-Stock: InStock