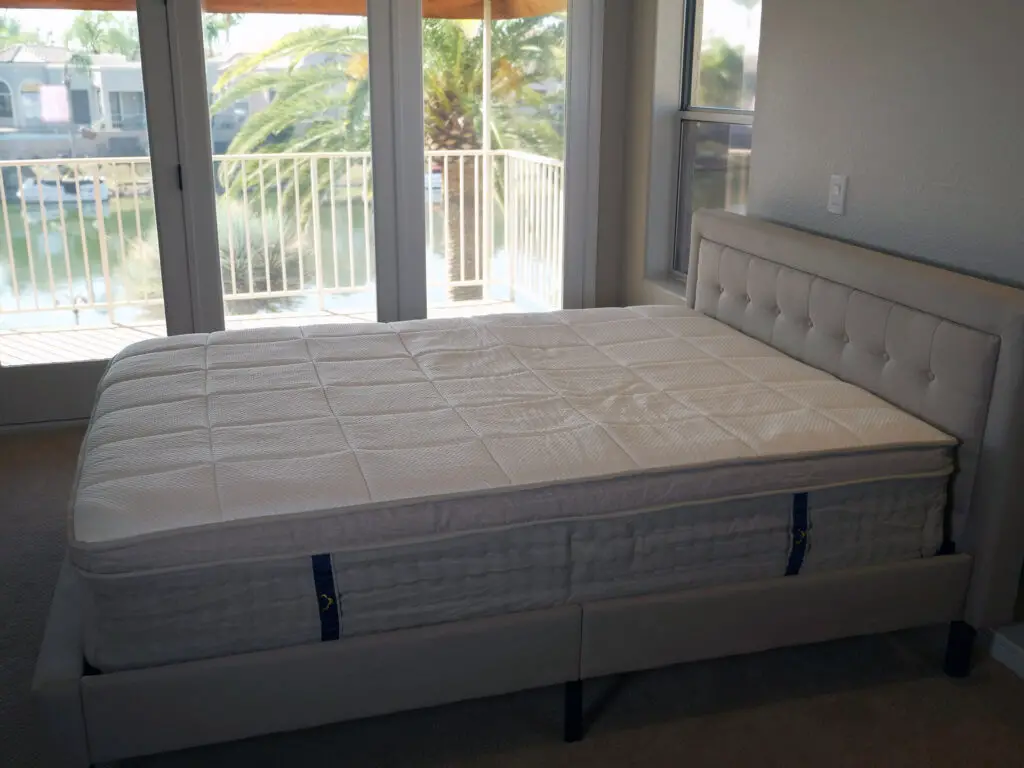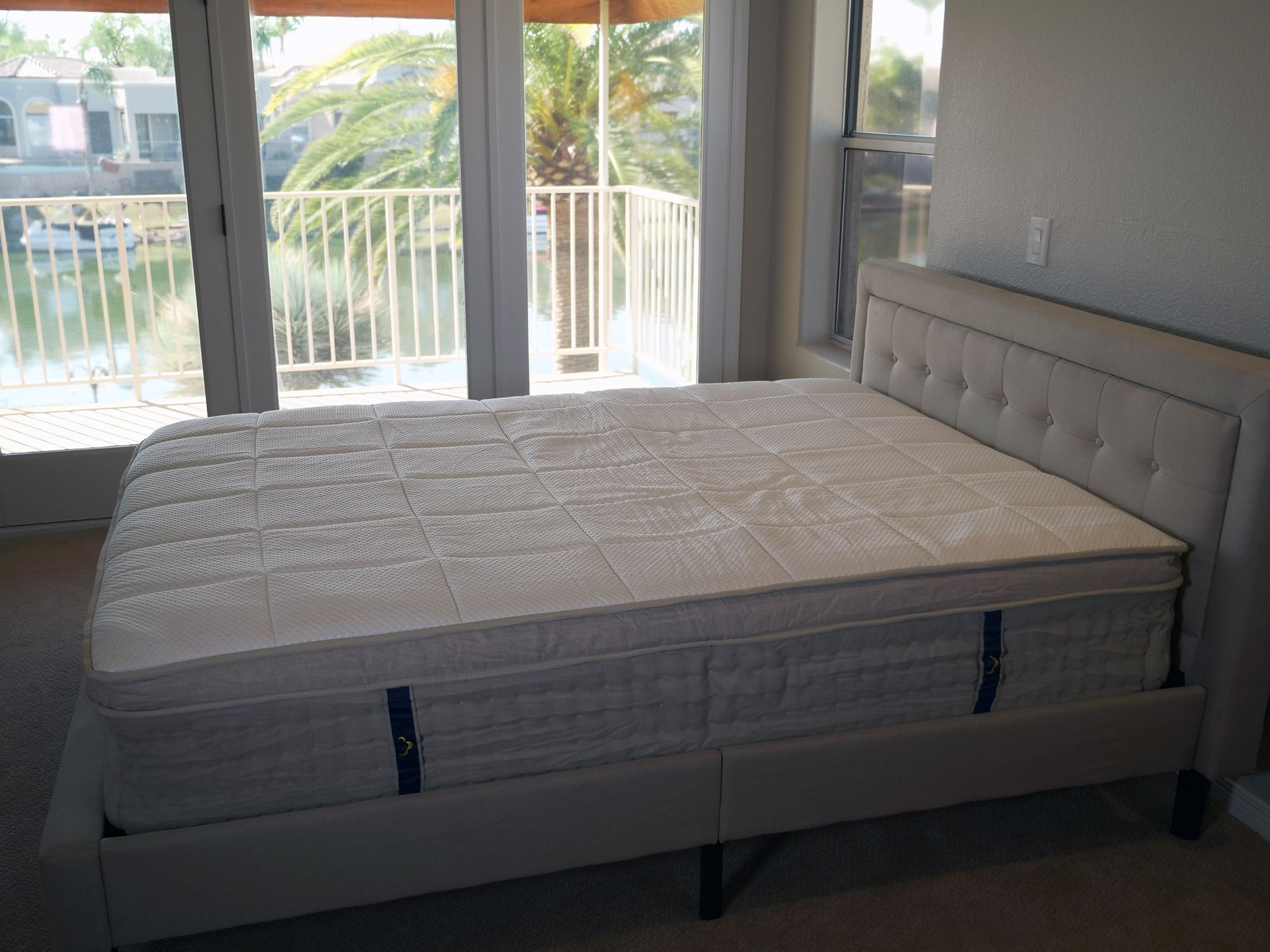 DreamCloud Premier Mattress Review (2021) - DreamCloud Mattress Review
This is one of my favorite categories, a luxury hybrid mattress review. I love the extra stability that comes from pocketed coils. I challenge you to find a mattress that is 15″ or greater, and will ship to your door at a price of $999 after the coupon below.
It's hard to do, but let's pretend that you can find one. Does that mattress come with a 365 day trial period? Does it have a lifetime warranty? I'm guessing the answer is no. That's just a few of the reasons why it is so easy to recommend the DreamCloud. Let's look at our full DreamCloud mattress review!
DreamCloud Premier Video Review
I loved my DreamCloud so much that I decided to make sure that my friend who is close to three times my size, had the chance to try it out. This video is more than a year old, and we both still have our DreamCloud mattresses in our houses. That should give you enough hints as to how this mattress holds up over time (especially under his weight).
$399 of FREE Accessories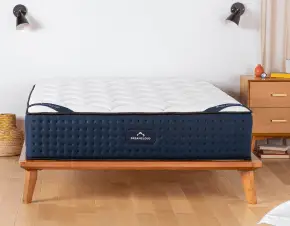 Dreamcloud Sleep
Receive a FREE Mattress Protector, Sheets, and Pillows - valued at $399
Receive a FREE Mattress Protector, Sheets, and Pillows - valued at $399
Show Less
DreamCloud Mattress Review - Here Are My Thoughts After Sleeping On The DreamCloud Premier:
You aren't going to get married to the bed, if for some reason it just doesn't work for you, contact DreamCloud and they will arrange for your mattress to get picked up and given to a local charity. There is nothing to lose on this. The company has to be extremely confident in their product to send it out with such a no-hassle experience for the customer and a whole year to try it out.
The biggest drawback that I can think of for the DreamCloud is that they may end up selling too many of these. As we have seen before, companies that are too successful at selling tend to have some growing pains. Those pains generally show up in the form of shipping delays. Currently, DreamCloud isn't experiencing shipping delays, so you can expect delivery within 5-7 business days. Mine shipped in 2 DAYS, which is unbelievable for a bed in a box!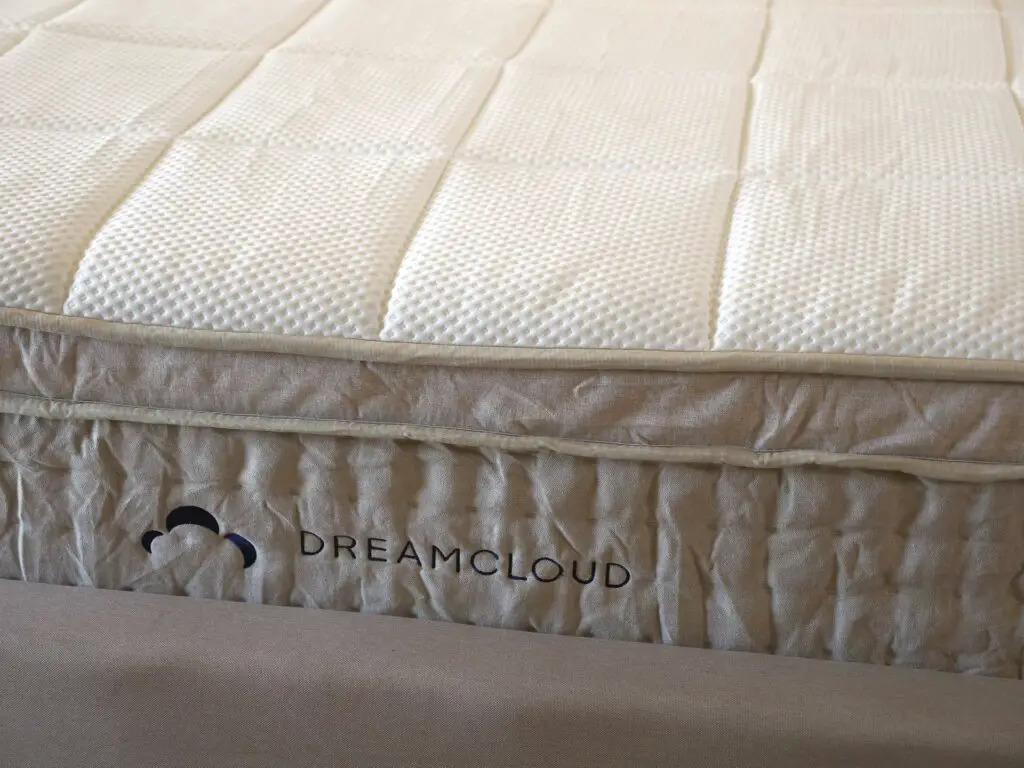 Menu:
Sleep Test Results
Who Should Buy the Mattress?
Price Table
Current Specials
Unboxing
What Is Inside the DreamCloud Premier Mattress?
My DreamCloud mattress review wouldn't be complete without stating that the DreamCloud Premier is a 15" luxury hybrid mattress combining the best of their hand crafted quilted Euro top cover, latex, memory foam, and of course coil technology, to provide the best sleep money can buy.
The DreamCloud Premier isn't messing around with the term Luxury. This hybrid mattress boasts 6 layers of cover, foam, latex and individually pocketed coils.
Let's start from the first contact with your body, the quilted Euro top cover.
The second layer is a comfort layer of cooling gel infused memory foam.
Third layer also known as support layer provides resistance and a stable foundation for a better alignment.
Fourth layer is where the real magic happens. This pocketed innerspring coil layer helps regulation for cool comfort. It's designed with edge support stability and helps reduce motion transfer for better sleep.
The base support layer provides extra stability to the layer sitting on top of it, the individually pocketed coils layer.
And finally the bottom layer, the bottom mattress cover. I am going to highlight this one because it's not just a mattress cover, it is what makes the amazing DreamCloud Premier stable and durable helping it sit in the correct place preventing it from moving around while you sleep.
They also have reinforced edges, which is something I dream about when I test out hybrid mattresses. I love the feel of "hidden" coils. I enjoy the additional support of the coils, but the DreamCloud Premier takes it up a notch by making sure that you can't feel them. It's a huge win for those of us who sit on the edge of the bed to put on our shoes and socks!
The DreamCloud Premier Hybrid mattress meets all US CPSC fire resistance and flammability standards.
DreamCloud Premier Sleep Test Discovery
I discovered 2 things today, when I moved the DreamCloud Premier into my spare bedroom (so I can test a new mattress).
It is sturdy and will stand on its side without any assistance. Many other mattresses do what I call "tacoing". They kind of collapse on themselves, and fold into the shape of a taco. Picture a mattress folding up on me. Trust me it happens. There is no chance that a DreamCloud will taco.
Here is the shocker, when was the last time you looked at the bottom of your mattress? Never… Well, you can see in my video that the bottom is way more luxurious than you would expect:
The mattress isn't flippable, but the bottom cover is nice enough that you could sleep on it if you wanted to. There is so much attention to detail put in this mattress. If you haven't caught on, this mattress SCREAMS luxury and it's been one of my favorite DreamCloud reviews to write!
DreamCloud Premier Sleep Test Results
This mattress has universal appeal, with a medium firm feel, and is good for all types of sleepers. This is my clear favorite for the hybrid category. It is also my top pick for best mattresses for big and tall people, yeah I put that to the test also with someone three times my size.
PROS
Handles on each side
Unbeatable Price
365 Day Sleep Trial
Foam encased outer edges, so you can't feel the coils
Best mattress for big and tall people
CONS
Some adjustable beds work better with thinner mattresses (Update: the DreamCloud adjustable base is strong enough to make their mattress work properly)
King-size mattresses will take 2 strong adults to set up/unbox
Who Should Buy The DreamCloud Premier?
A key difference between the DreamCloud Premier and other luxury hybrid mattresses is their lease to own program. This is a no credit check program. If you have a job, and a bank account you can get a DreamCloud and pay for it over a six month time period. This really works well with their trial period. They wouldn't have both of those generous programs if they didn't think that they were building a great product at a great price. The DreamCloud essentially earns a place in your bedroom each month. If you aren't satisfied, they will refund your money and arrange for the mattress to go to a local charity.
It works for petite people like me, but where it really shines is in the Big and Tall category. I get questions all of the time about what type of mattress is best for a person of X size and Y height. I have been searching high and low for a mattress that fits people in the big and tall group. The day I unboxed my DreamCloud Premier, I knew that it could handle a large person, so I decided to put it to the ultimate test. Enter my friend Clinton. Well, see for yourself and then I'll go through the details:
He is about 6'8″ tall and weighs in at around 350 pounds. The people at DreamCloud were confident that their bed would work for a person that big so they sent him one and let him sleep test it. Fast forward a few weeks and see how happy he is on it. Initially, he was a bit worried as his last 3 mattresses have failed on him. I assured him that he would get a luxury mattress that will hold up to his size. Is there a better fit for a giant than sleeping on a cloud?
Why You Should Consider Buying The DreamCloud Premier!
The name says it all, DreamCloud~ so dreamy !
Say goodbye to tossing and turning and grab your one-way ticket to DreamCloud. Finally, a well-crafted, sturdy, yet luxurious, and comfortable mattress at an AFFORDABLE price, all-in-one.
And as if that wasn't enough, the DreamCloud warranty is one of the strongest warranties in the mattress industry, it's Everlong. They will even re-condition and clean it for as long as you own and use it. Dream Cloud also offers 365-night trial and free shipping and returns (but this one is a keeper, there won't be any returning here).
You are one click away to getting the perfect coil and foam combo in one high-quality mattress you can finally afford. So stop dreaming of the perfect bed and get that plush cloud feel you've been looking for right now.
What Type of Bed Frame Works With The DreamCloud Premier?
Solid Platform
Solid Foundation
Slatted Base
Adjustable Frame
Floor
The thickness of the mattress, a full 15″, makes it a bit of a struggle for an adjustable base. I'm hoping that it needs a little more time to break in, but in the first week of testing, the DreamCloud is in the good tier of adjustable bed conformity.
Their everlong warranty doesn't encourage "unusual" places for your mattress. They are funny about it though, as they may add you to their affiliate program if your DreamCloud is in an unusual place.
DreamCloud Discounts
So far in 2021, The DreamCloud Premier comes with a $399 bundle for free when you use our exclusive discount code. You will find our DreamCloud discount code by clicking on any of the coupon boxes found in this article. The bundle includes $399 of sheets, pillows, and mattress protectors with your mattress purchase. There is no better mattress available at this price!
DreamCloud Mattress Review – Unboxing
A few things about unboxing:
– It is a serious workout, they packed a lot of bed into a small and very heavy bag. Make sure you invite a friend over to help you "unbag" it. Also take some pictures, I'm sure the folks at DreamCloud would love to add them to their website.
– I live in Arizona which is just a few states over from their distribution center in Washington State. My shipping time was only 2 DAYS! I'm sure if you are on the east coast, it will take a few days longer.
– Be patient and gently remove both bags, without cutting into them. Each of them can be repurposed for storage or something fun like camping.
The queen-size mattress is heavy, but I was able to move it around with my husband's help. The California King size is in another league. It is so heavy that shipping and moving it require 2 adult males. It is heavy enough that it may ship on a pallet for additional support.
I used the DreamCloud mattress in my best mattress protector video.
Make sure you check all of our DreamCloud Reviews here.
DreamCloud just released an adjustable bed. It is the first adjustable bed that works well with the DreamCloud mattress. Generally, thick mattresses don't do a great job of bending on weaker adjustable frames. Well they solved this by getting a really strong adjustable frame to move it around. Here is how they look together:
$399 of FREE Accessories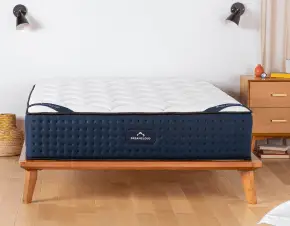 Dreamcloud Sleep
Receive a FREE Mattress Protector, Sheets, and Pillows - valued at $399
Receive a FREE Mattress Protector, Sheets, and Pillows - valued at $399
Show Less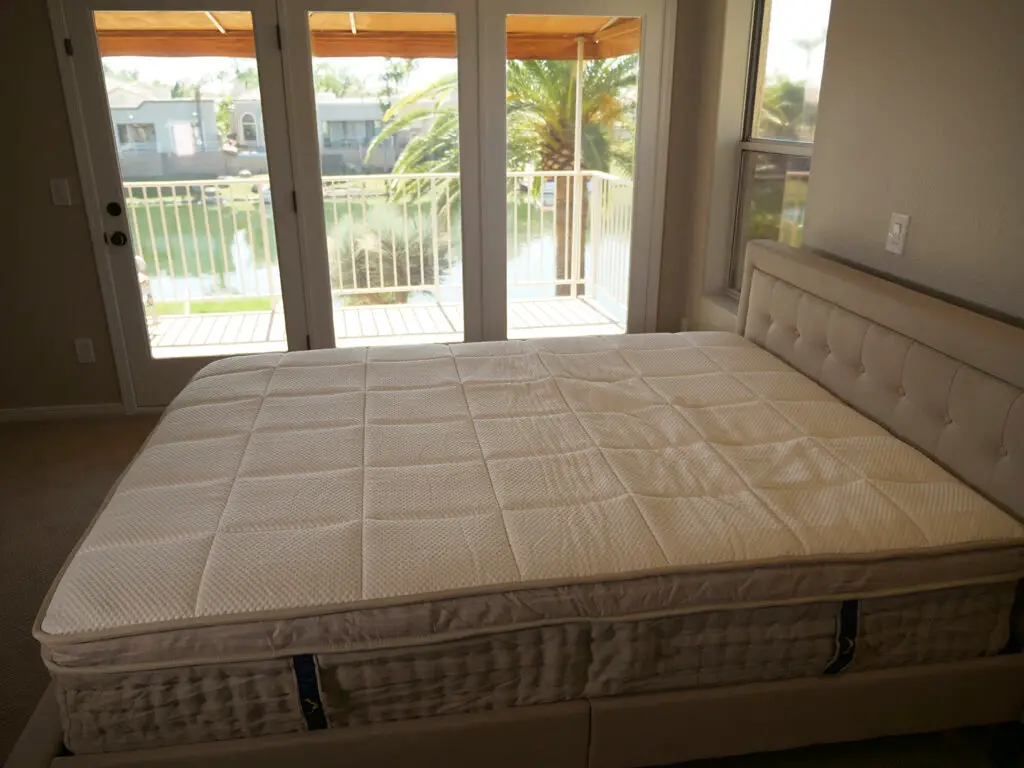 The DreamCloud Premier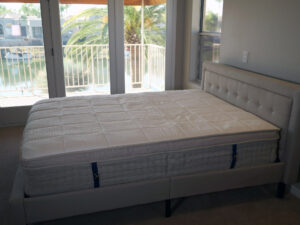 Luxury hybrid mattress that doesn't break the bank and comes with a 365-night home trial.
Product Brand: DreamCloud
Product Currency: USD
Product Price: 899
Product In-Stock: InStock