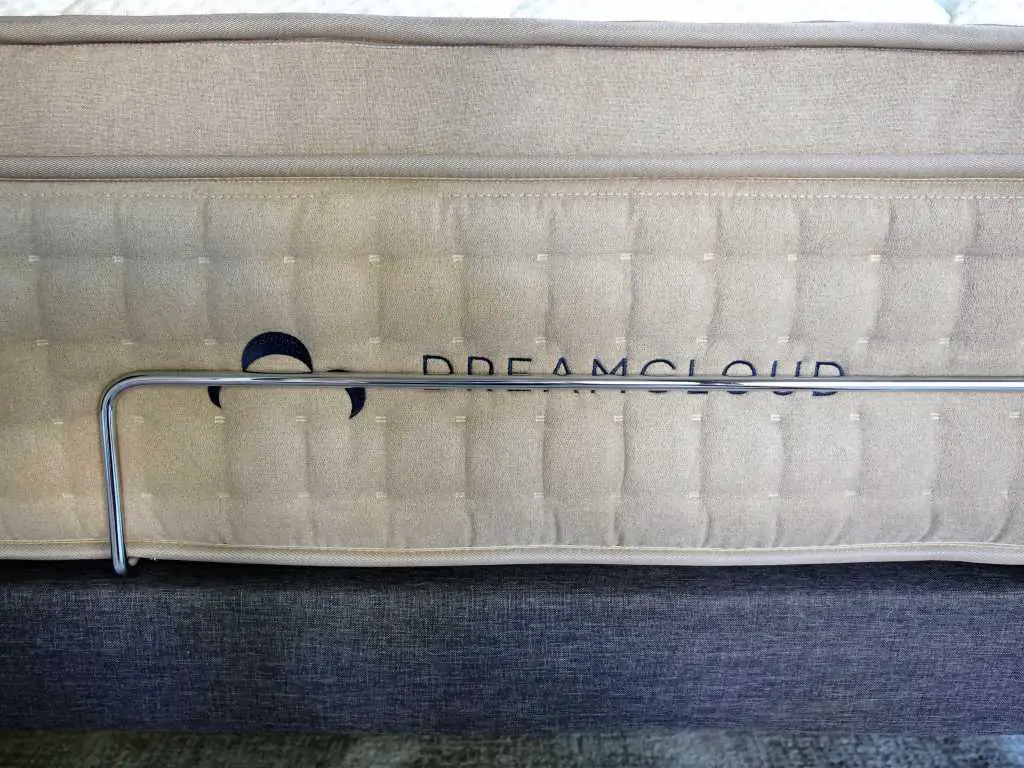 Welcome to the Future of Sleep. Introducing the DreamCloud Adjustable Bed Frame
Take your rest to the next level with fully customize-able sleep. The DreamCloud Adjustable Bed Frame is the perfect addition to your DreamCloud Mattress to help you create a luxurious bedroom experience for personal comfort.
The anti-snore feature on it has saved my marriage.  All I have to do is hit the button, the head of the bed raises up a bit and my husband's snoring goes away.
DreamCloud Adjustable Bed Frame Video
In this video I'll take you through the assembly of the adjustable bed frame.  I did the whole thing by myself.
The DreamCloud Adjustable Bed Frame is a dream come true!
Whether you spend your time in bed reading, working, or watching TV, you can preset up to three positions, and use the wireless remote to raise the head up and feet up separately, or together. It's never been easier to achieve your ideal sleep and rest positions.  Here is a bit of back story on my experience with the DreamCloud.  One of the main things that I pointed out was that the thickness of the mattress (15″) make it difficult to work with adjustable frames.  I have tried it on 3 other adjustable bases and I didn't find one that was capable of working with a beast like the DreamCloud.
So, did they make sure that their adjustable frame works with their mattress?  YES!!!  I was a bit scared that it wouldn't work, that the frame just wasn't going to be strong enough.  I couldn't have been more wrong.  The DreamCloud adjustable bed frame is the front runner for the best adjustable frame.  It has replaced the one that I had been sleeping on, and here is why:
PROS
It has tamed the beast of a mattress that is 15″ in thickness, eight layers and weighs about 100 pounds (queen size)
Dual massagers with 3 different levels for the foot and head units.
Queen size delivered to your door.  It's $999 now, I asked them to match the price of the Nectar adjustable base, and they did!
It fits inside the DreamCloud bed frame and Headboard.
CONS
USB port is on one side of the frame
Some assembly required
No under-bed light
It took me 41 minutes to put it together by myself.  I had help moving it around, and flipping it.  Unless you are a giant you will need an extra set of hands to get it set up properly.
Assembly is Required
Mine shipped in a box in 2 days and it was a bit beat up from the transit.
Before I let this scare you, I'll let you in on a secret.  The majority of the adjustable bases that I have tested come a bit beat up by the Fedex guy.  So make sure that you do an inspection of it (take pictures) to make sure that it isn't damaged.
Spoiler alert: mine was just fine, it's just a bit of a beat up box.
I know i have mentioned above that assembly is required, but If you get the white glove service they probably can assemble it and get you ready to go in about 15 minutes.  It took me 41 minutes, but I kind of slowed down to make sure I have good camera angles and what not, plus I did it alone as a challenge.  I had help lifting it and moving it, but the assembly can be done by someone of my size.
The instructions are only 8 steps and they made it just about as easy to assemble as possible.  Here is the main thing that they did; it ships in two parts.  I have received others where they are assembled before shipping and in one case the middle connection was damaged during shipping.  DreamCloud solves this problem by making you put in a bit of elbow grease.  Here are the instructions:
A couple of things that they don't mention in the assembly instructions:
you assemble it on the underbelly of the frame
Which way do the motors go? It is clear which motor is the foot motor and which is the head motor.  What's not clear is which direction do you install it, or does it matter?  I mean it's a 50-50 guess, so I either got it right or it doesn't matter if the motor part goes in the center or further away from the bed
There are six legs the short two go in the middle on the part that connects the two sides of the frame (which you assemble in step 2)
Invite a friend to help you move it into place and flip it over after you put the legs on.
Adjustable comfort
Find your perfect position for reading, working, or watching a show with a TV recline setting all at the touch of a button. Put your head up, your feet up, or both together, on the DreamCloud Adjustable Bed Frame. No matter what position you choose, you'll feel your bedroom, and your sleep, fully transformed.  The remote comes programmed to your frame, but if it isn't they have instructions on the back of the assembly instructions booklet.
Did you know that you can turn your bedroom into a spa with just a click of a button?
You heard (read), that right. Transform your bedroom into a spa.
With the DreamCloud Adjustable Bed Frame, you can unwind after a long day with 3-speed vibration head and foot massagers. Inclining your upper body can reduce potential snoring and relieve indigestion. When your lower body is raised it can improve circulation and ease pain. Get the luxury and pampering you deserve in the comfort of your own home.
Lifting Capacity
Please check back, it isn't listed on their website and it isn't in the instructions or on the law tag.
Zero Gravity, and much more
The Zero Gravity position supports your body in the position astronauts use in space to provide alignment and support. Feel like you are floating as the innovative whisper-quiet mechanism glides into place, allowing you to relax effortlessly. But that's not all, this adjustable frame also comes with
Three Programmable Memory Setting
USB plugs for comfort and convenience
Wireless remote
Luxury Three Zone Massage
TV Recline Setting
DreamCloud Adjustable Bed Frame Features
Head up only for reading or watching TV
Feet up only for a restorative pose and relaxation
Head and feet up together for supported rest
As if this amazing adjustable frame plus its features were not enough
And since the folks at Dream Cloud are so thoughtful they decided to make life even easier on us making sure that this adjustable frame is EASY TO ASSEMBLE.  They took the extra step to color code all of the pieces of the adjustable bed.
It offers a durable design without a complicated set up. No tools required as they provide the allen wrench.
The DreamCloud Adjustable Frame works with any foam, latex, or air mattress, and comes with three leg height options (3, 6 and 9 inches) to fit your bedroom space.
What they offer:
The DreamCloud Adjustable Bed Frame
Easy assembly (well this girl did it by herself), adjustable frame transforms your bedroom for plush relaxation and deep sleep.
100 or maybe 365 NIGHT TRIAL
At DreamCloud YOUR comfort comes first. That's why they give you 365 risk-free nights on the DreamCloud Adjustable Frame to decide if it's right for you.  I need to check on this but their site says both 100 night and 365 night trial.  The mattress has 365 night trial so perhaps it makes sense that it would be the full year rather than the 100.
FREE SHIPPING & RETURNS
They do offer free shipping and returns right to your door, it is a really sturdy bed so don't worry too much if your box is a bit beat up by Fedex.
REST & REJUVENATE
Personal Comfort  is DreamCloud moto. The DreamCloud Adjustable Frame provides dual support with head up and leg up options, massage, and zero gravity for ultimate customization.
The DreamCloud Adjustable Frame is available in:
Split King . 76in x 80in x 15in
The law tag says that it was manufactured by Classic Brands LLC, so my guess is that they have a distribution deal with DreamCloud.  My adjustable frame doesn't have any DreamCloud branding, although I'm willing to bet that will change as they start to sell more of these.
Current Specials
$200 off a DreamCloud mattress 
You may not have picked up on this, but I noticed that the same model of adjustable bed was sold by Nectar and I contacted the company to see if they would price match.  A day later they did, so the prices are now $100 less than they were when this product launched.  Seriously folks, I'm trying to save you guys money!
40% OFF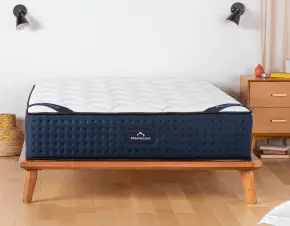 DreamCloud Mattress
40% OFF Mattresses with our exclusive coupon code (click for code)
40% OFF Mattresses with our exclusive coupon code (click for code)
Show Less
DreamCloud Adjustable Bed Frame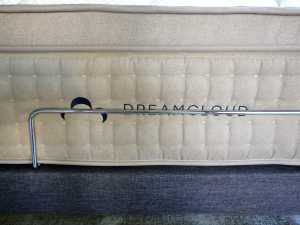 This product changed my life forever. My husband WAS a snorer. Find out how I cured his snoring problems with the DreamCloud Adjustable Bed Frame
Product SKU: Adjustable Bed Frame
Product Brand: DreamCloud
Product Currency: US
Product Price: 649
Product In-Stock: InStock