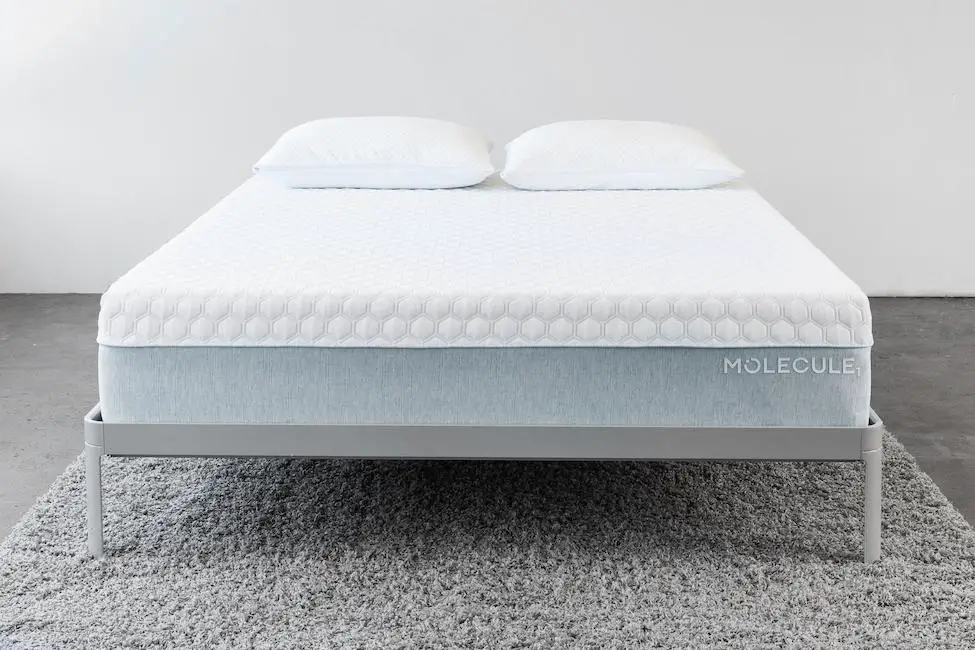 To me personally , when it comes to this subject or when I see a product targeted "for Athletes," it doesn't necessarily have to be for people who run marathons, or sprint or even gymnasts.
You can simply be a Mom. Moms have physical super powers whether they hit the gym or not. Honestly, I think some Moms have more power and energy than some athletes sometimes.
We all deserve plenty of rest at the end of the day. We all look forward to lay down on that bed that will boost our energy and prepare us for the next morning. I compare my bed to those charging pads that charge up our batteries so we ARE ABLE TO FUNCTION AGAIN. So how did the Molecule Mattress perform on the battery charging front?
Molecule Mattress Review Menu
Molecule Mattress Video Review
Below you can see the Molecule taking shape. It is in my AirB&B and the people who sleep on it always comment on how nice it sleeps.
Molecule Company Policies
Free Shipping
100-Night Sleep Trial
Hassle-Free Returns
What's Inside the Molecule Mattress?
Advanced Cover
Keeping the heat and moisture away allowing your skin to stay comfortably cool.
We all know your body temperature changes throughout the night, Molecule's advanced cover material responds dynamically to evaporate the sweat resulting into cooler night's sleep. Microban® antimicrobial treatment keeps your mattress fresh and clean. But it all depends to WHAT'S INSIDE THE MATTRESS, what's under that cover is where and what matters the most! here's a close up and more details:
MolecularFlo™
The most restorative rest happens when your body temperature is cooler. Only Molecule offers this revolutionary airy, extreme open-cell structure for consistent cooling even when compressed by your body weight. Cozy support with more than seven-times the airflow of traditional memory foam.
RecoveryFlo™
Active people need more support and airflow than traditional egg-crate foam mattresses can deliver. Ergonomically-engineered Molecule features a meticulously-engineered matrix of hexagon-and diamond-shaped channels that respond to your unique anatomy and promote airflow even at the deepest depression points. You awake refreshed with relief from sore muscles and joints.
ContourFlo™
The foundation of the Molecule mattress. A solid 7" of firm support providing healthy spine alignment. Breathable materials promote even more airflow and heat transfer.
MolecularFlo™ layer features extreme open-cell technology to keep you cool and comfortable. It is 3" thick with a density of 3 lbs. and an Indentation Force Deflection (IFD) of 7-9
RecoveryFlo™ layer features hexagon- and diamond-shaped channels for maximum targeted support and airflow. It is 2" thick with a density of 1.65 lbs. and Indentation Force Deflection (IFD) of 23
ContourFlo™ layer is the thickest layer (7") providing you with firm support for proper spine alignment. Density is 1.5 lbs. and Indentation Force Deflection (IFD) is 35
Molecule Mattress Sleep Test
The Molecule mattress sleeps fine, has plenty of hug, and I didn't get too hot while sleeping on it.  I don't run enough marathons to really test out the whole athlete recovery aspect of the mattress. But for the regular kid-chasing mom, dog-walking person, or stand-on-my-feet-all-day kind of person, the Molecule Mattress is a great option!
Molecule Mattress Discounts
Molecule tends to run a variety of promotions throughout the year.  The largest deals can be found around the main Holidays. Click the box below to benefit from the current deepest Molecule discounts!
20% OFF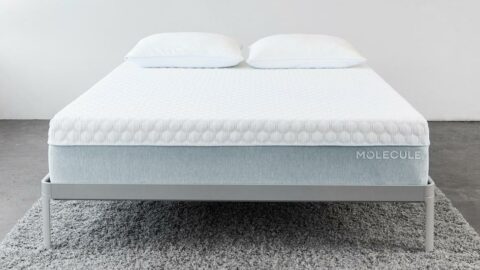 Molecule
20% OFF site wide, with coupon code (click to reveal)
20% OFF site wide, with coupon code (click to reveal)
Show Less
Molecule Mattress Review Conclusion
The Molecule Mattress is backed up by science and that's what makes it mainly different. And of course the fact that it offers your muscles and body recovery. I mean who doesn't look forward for that alone! Again, I am no athlete, but I am a MOM and I cannot wait for the end of the day so I can lay down on my mattress and let my body and brain relax like there's no tomorrow. But there's always tomorrow, and when tomorrow comes, you feel ready and all charged up and full of energy – all thanks to that mattress that hugged your body and delivered the ultimate rest you were looking for the night before… And so on!
That's also where the Molecule ambassadors come to play ( and rest). Normally, since the Molecule mattress is all about healthy living and sleeping they have contributed with a few athlete ambassadors who have tried the Molecule Mattress to recover and rest like athletes should so they can perform better and make the best out of that performance. Just to name a few of their Athlete Ambassadors:
Tom Brady
Alex Morgan
Russell Wilson
Nastia Liukin
Susan Francia
Ryan Hall
Sara Hall
And the list keeps on growing as those athletes, and many more, put their trust to recharge their muscles and give their body the ultimate recovery experience.
Some of the incredible technology happening inside the Molecule Mattress is its air-engineering, which optimizes sleep and recovery. It allows for a more rejuvenating sleep, leaving you feeling more rested in the morning.
The Molecule Mattress' cover material responds to your body temperature with evaporation and cooling. It wicks the heat and the moisture away while you sleep, ensuring a temperature-neutral sleeping experience and greatly reduces your night sweats if you are a hot sleeper!
The geometric zoned reflex layer provides targeted and adaptive support and comfort. It gives just the right amount of contouring to each part of your body by self-adjusting in three zones. The hip area gets extra support and pressure relief in the hips area, helping relieve some of those high-pressure points!
Molecule sent us this for testing purposes.  All of the opinions expressed in this review are mine.
No, fortunately it has a sleep trial so that you can test it at home. 
Molecule Mattress Review (2022) | Non Biased Reviews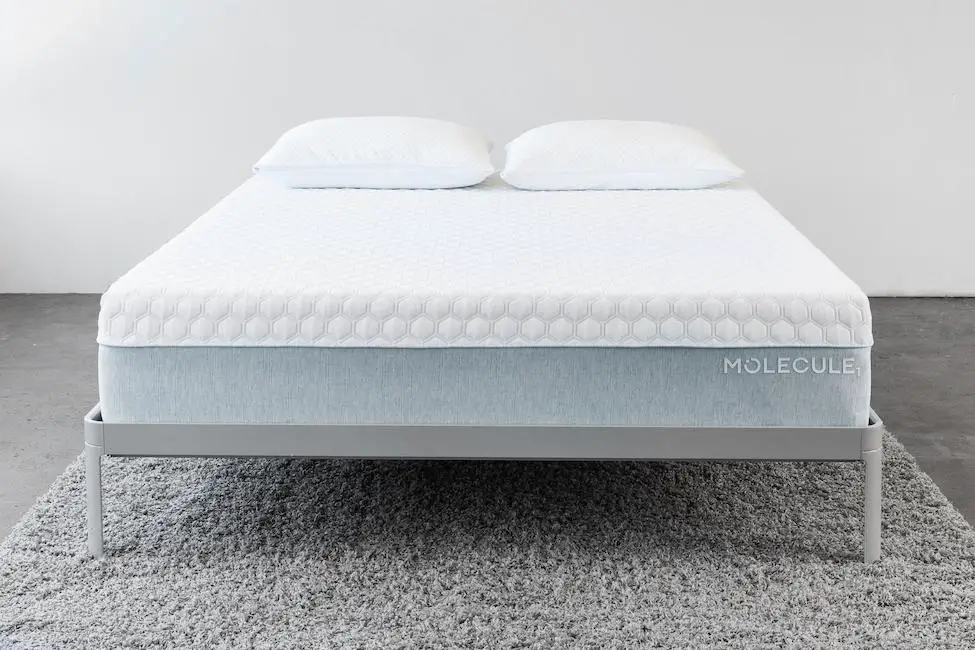 The Molecule mattress is maketed for athletes. What do Tom Brady, Alex Morgan, Rana Landreth and Russell Wilson have in common? We all have a Molecule.
Product SKU: Molecule 1 Queen
Product Brand: Molecule
Product Currency: USD
Product Price: 899
Price Valid Until: 12/31/2025
Product In-Stock: InStock