MOLECULE 1 MATTRESS REVIEW
The MOLECULE 1 Mattress might be advertised as the ideal mattress for athletes, but you do not have to be an Olympian to rip all of the benefits of the MOLECULE mattress.
You can be a regular mom, or dad, the overworking type, the stay-at-home kind, the marathon-lover or the show binging person. Everyone's body needs restorative sleep, and it is what the MOLECULE 1 mattress provides.
What's more? When buying a MOLECULE mattress, you get free shipping, a year long to try out the mattress at home and make sure you love it before committing, and a lifetime infinity warranty!
20% OFF + 2 FREE Pillows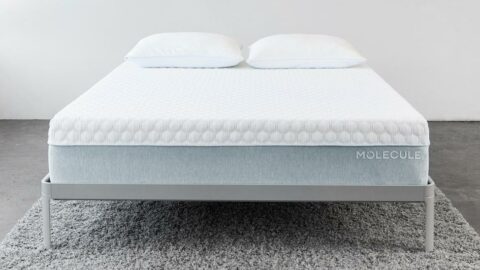 Molecule
Get 2 FREE Pillows with a mattress purchase, with coupon code (click to reveal), 20% OFF on everything else with our exclusive coupon code NBREVIEWS
Get 2 FREE Pillows with a mattress purchase, with coupon code (click to reveal), 20% OFF on everything else with our exclusive coupon code NBREVIEWS
Show Less
MOLECULE 1 Mattress Unboxing Video Review
The video above shows you the MOLECULE 1 Mattress taking shape. The mattress is compressed and shipped in a box directly to your front step.
As you unbox your mattress, make sure another adult is available if you need help moving it. Also make sure to be extra careful if using scissors or a knife, as to not cut through the mattress fabric. Using a mattress opener is recommended.
While you should give your MOLECULE 1 Mattress a couple of days to raise to its finished shape, you can safely sleep on it the same day you unbox it.
MOLECULE Company Policies
Free shipping
1-year at-home trial
Lifetime infinity warranty
Foams are all Made in the USA in eco-friendly manufacturing process
Certi-PUR US certified foams
All MOLECULE mattresses are fabricated virtually emission-free
What Is Inside The MOLECULE 1 Mattress?
Microban® Cover
The MOLECULE 1 Mattress cover is designed to keep your body heat and moisture away, allowing your skin to stay comfortably cool on hot nights.
We all know your body temperature changes throughout the night, and the MOLECULE 1 advanced cover's materials respond dynamically to wick away your sweat. As your body moisture evaporates, you experience a cooler night of sleep.
Additionally, the Microban® antimicrobial treatment keeps your mattress fresh and clean by preventing the growth of bacteria, mold, mildew, and odors.
RestoreFlo™
The most restorative rest happens when your body temperature is optimized – not too hot in the summer, and not too cool in the winter. The MOLECULE 1 Mattress offers a revolutionary airy, extreme open-cell structure for consistent cooling even when compressed by your body weight.
That 3-inch thick upper layer of foam offers cozy relief with more than seven-times the airflow of traditional memory foam. In other words, you sleep cool with optimal pressure relief in those high-pressure point areas (hips and shoulder), restoring all body parts after a long day.
RecoveryFlo™
Active people need more support and airflow than traditional egg-crate foam mattresses can deliver. The ergonomically-built MOLECULE 1 mattress features a 2-inch meticulously engineered matrix of hexagon- and diamond-shaped channels that respond to your unique anatomy and promote airflow even at the deepest depression points.
This slightly denser layer provides support to your entire body, including the high-pressure points relieved in the RestoreFlo™ layer.
You awake refreshed with relief from sore muscles and joints.
ContourFlo™
The foundation of the MOLECULE 1 Mattress, the CountourFlo™ layer is a solid 7" of firm support, providing healthy spinal alignment. A base made of breathable materials promotes even more airflow and heat transfer, for an optimal body temperature all night long. This layer also provides stability and longevity to your MOLECULE 1 Mattress.
MOLECULE 1 Prices & Discounts
20% OFF + 2 FREE Pillows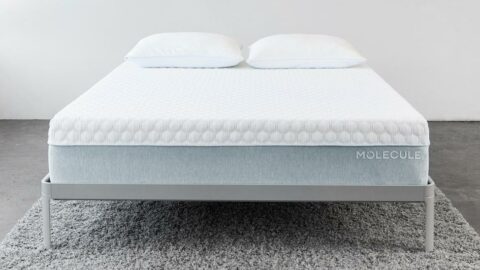 Molecule
Get 2 FREE Pillows with a mattress purchase, with coupon code (click to reveal), 20% OFF on everything else with our exclusive coupon code NBREVIEWS
Get 2 FREE Pillows with a mattress purchase, with coupon code (click to reveal), 20% OFF on everything else with our exclusive coupon code NBREVIEWS
Show Less
The MOLECULE 1 Mattress comes in all regular sizes, from Twin to California King and is priced well below most foam mattresses on the market. It is an incredible value when considering that all foams are made in the USA and that you will benefit from proprietary foams engineered to keep you cool on a night of restorative sleep.
If you are a California resident, feel free to add the free mattress removal service to your order and MOLECULE with remove your old mattress when delivering your new one.
We have negotiated an exclusive MOLECULE coupon code for our readers! Use discount code NBREVIEWS for 20% OFF your MOLECULE Mattress!
Price List updated: February 2022
MOLECULE 1 Mattress Review Conclusion
The MOLECULE 1 Mattress is backed up by science, which is what makes it different. It offers your muscles and body recovery and restorative sleep. Even if you are not an athlete, you are still looking forward to the end of the day, to lay down on your mattress and let your body and brain relax. And when the next day rolls in, you need to feel ready, pain free, rested, and charged up with energy – all thanks to that mattress that hugged your body and supported it in the right places.
We found the MOLECULE 1 Mattress to be an excellent mattress for side-sleepers. At a 6 out of 10 on the firmness scale, it works really well for those looking for that plush sink, slight body contouring, and pressure relief, without jeopardizing on support and spinal alignment.
We can highly recommend this mattress to the hot sleepers. The proprietary technology is put in place to ensure airflow through the different foam layers and allow your body to breathe and evaporate the extra moisture for a cool night of sleep.
We love that all foams are made in the USA in the most eco-conscious manufacturing way possible. All MOLECULE mattresses are virtually made emission-free, and we feel very good knowing where the foams are coming from.
Now, yes, MOLECULE does have a strong marketing push when it  comes to targeting athletes. That's where the MOLECULE ambassadors come into play. Since the MOLECULE 1 Mattress is all about healthy living and sleeping, their athlete ambassadors have tested the MOLECULE 1 Mattress for rest and recovery. They claim to perform better and recover faster. Just to name a few of their Athlete Ambassadors:
Tom Brady
Alex Morgan
Russell Wilson
Nastia Liukin
Susan Francia
Ryan Hall
Sara Hall
And the list keeps on growing as those athletes, and many more, put their trust in MOLECULE to recharge their muscles and give their body the ultimate recovery experience.
Some of the incredible technology happening inside the MOLECULE Mattress is its air-engineering, which optimizes sleep and recovery. It allows for a more rejuvenating sleep, leaving you feeling more rested in the morning.
The MOLECULE Mattress' cover material responds to your body temperature with evaporation and cooling. It wicks the heat and the moisture away while you sleep, ensuring a temperature-neutral sleeping experience and greatly reduces your night sweats if you are a hot sleeper!
The geometric zoned reflex layer provides targeted and adaptive support and comfort. It gives just the right amount of contouring to each part of your body by self-adjusting in three zones. The hip area gets extra support and pressure relief, helping relieve some of those high-pressure points!
Overall, the MOLECULE 1 Mattress is of incredible value and delivers a very comfortable night of sleep for side-sleepers, as well as some lighter-weight back sleepers.
Most frequent questions and answers
Share this deal with a friend!
Molecule 1 Mattress Review 2023 | Non Biased Reviews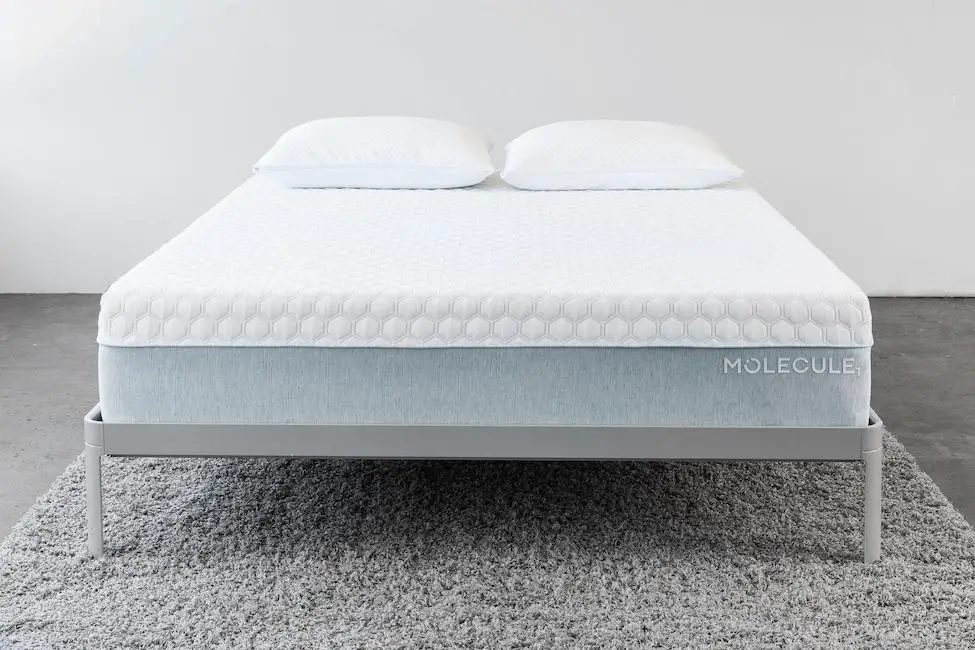 The Molecule 1 Mattress is marketed for athletes. What do Tom Brady, Alex Morgan, and the average parents have in common? All have a Molecule 1 Mattress.
Product SKU: Molecule 1
Product Brand: Molecule
Product Currency: USD
Product Price: 699
Product In-Stock: InStock