Are you looking for an adjustable pillow you can customize to your favorite sleeping position and change with the seasons? Sleepgram is 3 pillows-in-one and the perfect amount of cloud-like fluff for the stomach, side, and back-sleepers! Customize it, wash it, hug it, and enjoy a down-alternative pillow with none of the odor or the guilt. 
Sleepgram Company Policies
Free shipping
Free returns in the U.S.
Lifetime warranty
100-night guarantee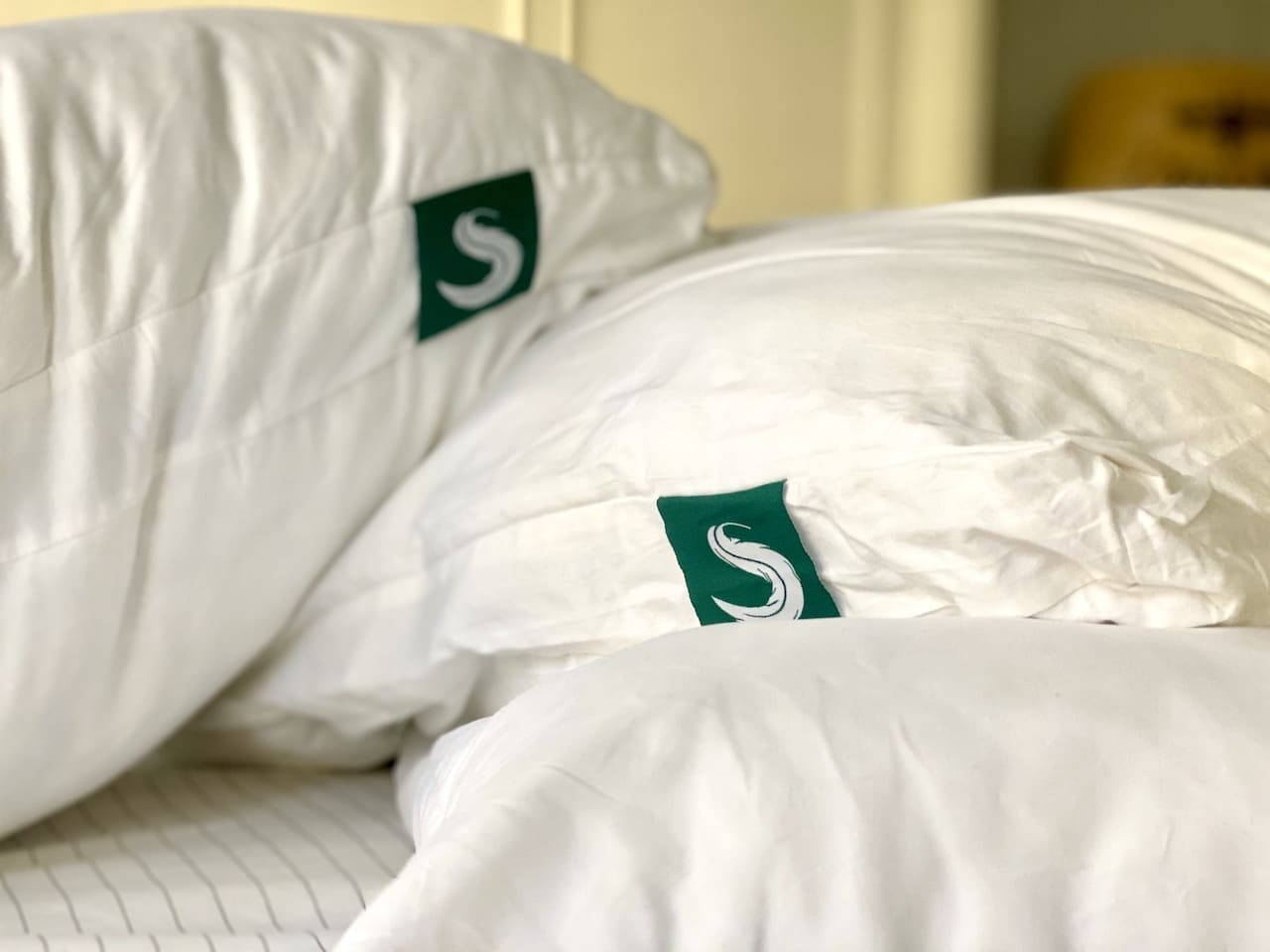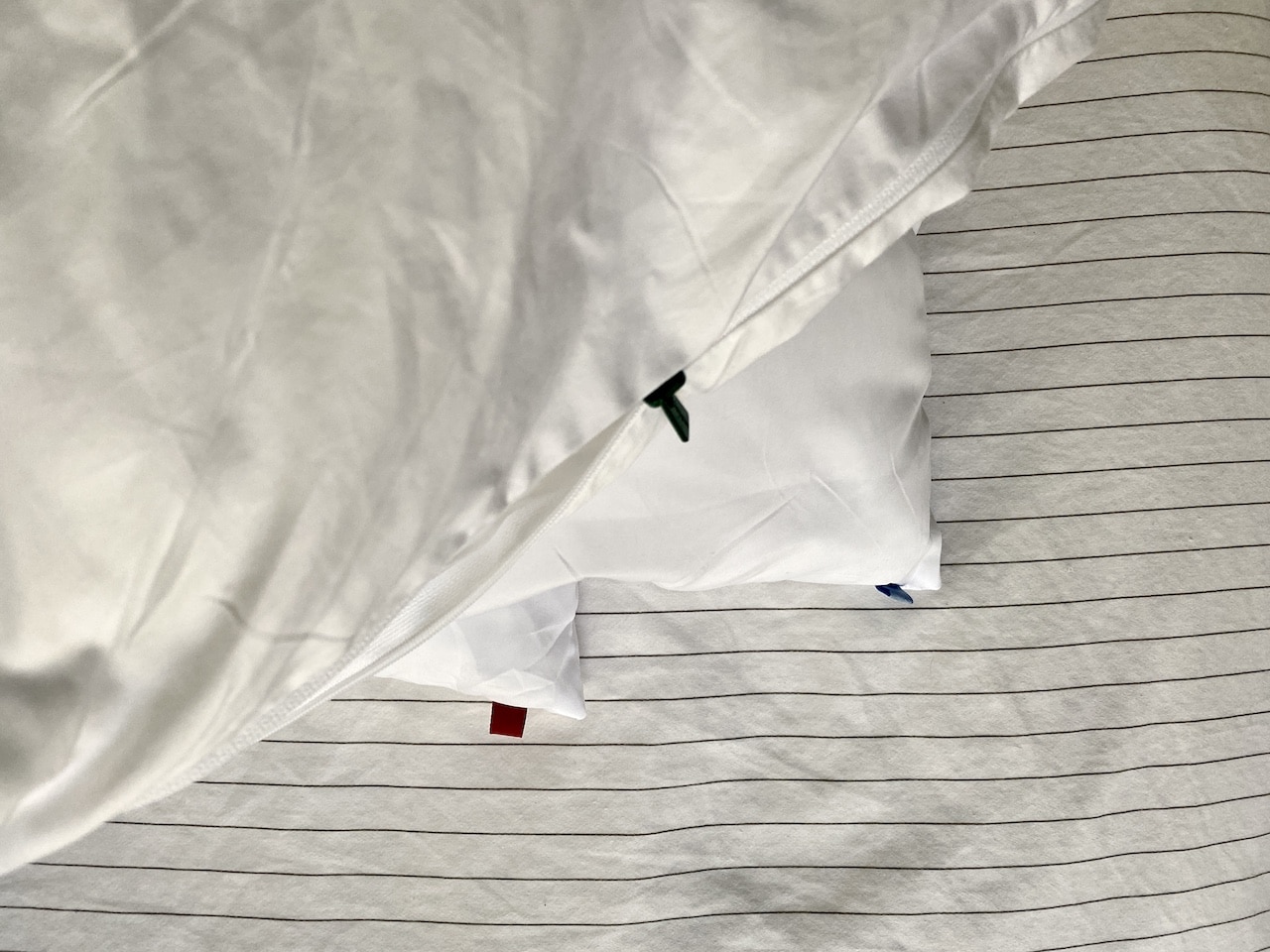 What's Inside The Sleepgram Pillow
In a nutshell:
2″-gusset washable cover
2 pillow inserts of different sizes 
Cotton cover / down-alternative inserts
The Washable Cover
The Sleepgram Pillow comes with a zippable and washable cover. Made of 100% cotton, easily unzip it and clean it to get rid of dirt, dust mites, and allergens. 
The Inner Pillows
The Sleepgram pillow comes with 2 inner pillows of different sizes. The blue-tag pillow is a thinner option, great for stomach-sleepers looking for some fluff. The red-tag pillow is a thicker option, ideal for the back and combo sleepers. Add both pillows inside the cover for the thickest option and perfect for the side-sleepers looking for more neck clearance.
The Materials
Sleepgram uses 100% cotton for its pillow cover and cooling fibers inside the cover. The 2 pillow inserts are filled with premium polyester microfiber fill. The anti-allergy and anti-bacterial technologies used by Sleepgram, mean that your sleep remains healthy and you will wake up to no puffiness, rashes, or acne!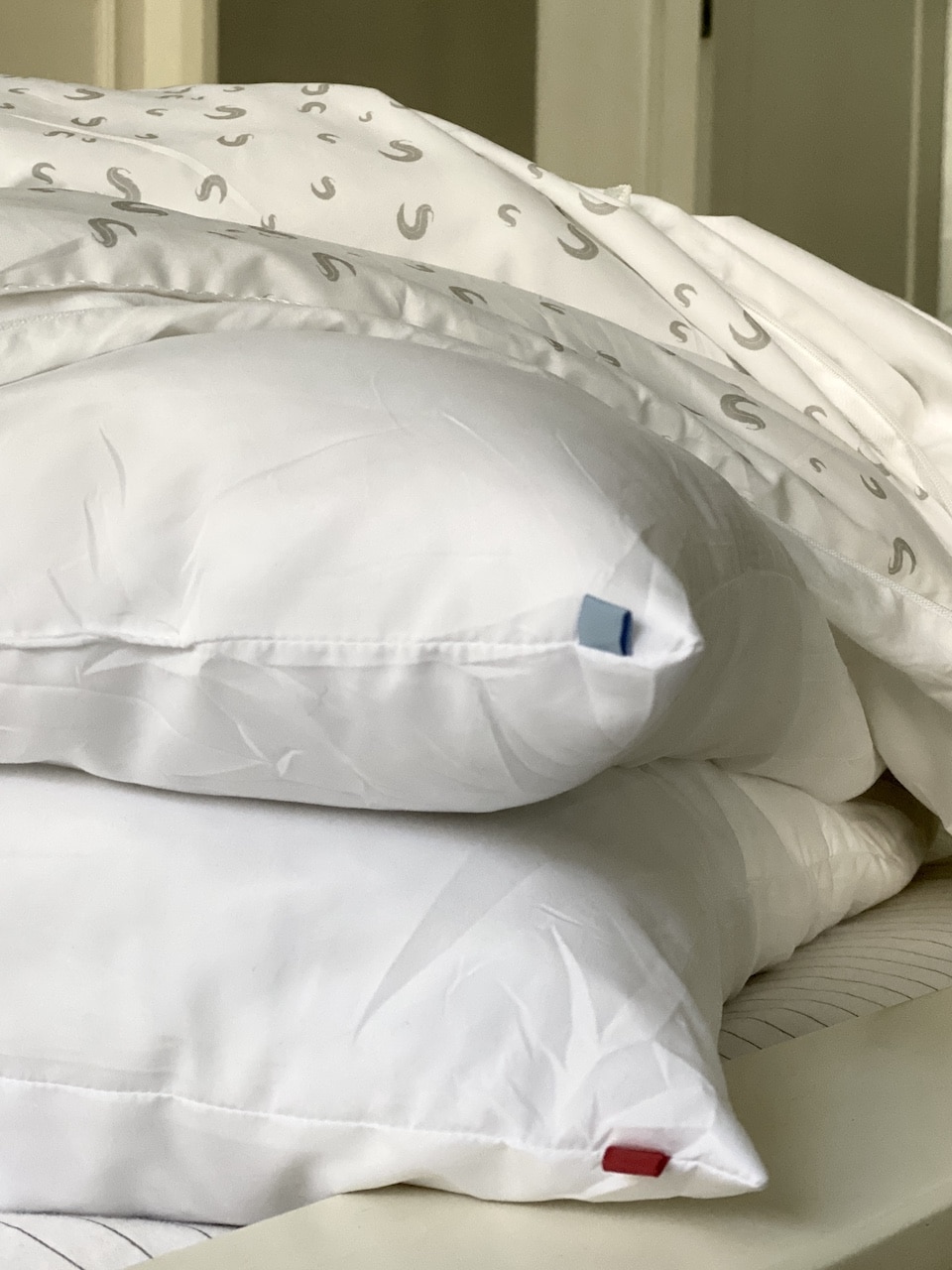 Sleepgram Pillow Sleep Tests
Everything we felt in one box
| Firmness | Temperature | Maintenance | Sleeping Style | Materials |
| --- | --- | --- | --- | --- |
| The Sleepgram pillow is a customizable pillow that can be adjusted to 3 levels of firmness. It comes with 2 inner pillows that can be used independently inside the Sleepgram pillow cover to create a soft or medium pillow, or together, for the firmest option. | The Sleepgram pillow cover is made of 100% long-staple cotton with cooling fibers to keep you temperature-neutral throughout the night. The 2 pillow inserts are made with high-quality fibers, that have breathable properties to ensure you don't overheat. This pillow, no matter the insert(s) used, slept very temperature neutral. | The Sleepgram cover is made of 100% cotton and filled with 2 inches of cooling fibers, which makes it machine washable, and super easy to keep clean and free of dust mites night after night. I recommend spot cleaning the pillow inserts as needed, but wouldn't expect them getting dirty as they reside inside the Sleepgram cover. | Since you can adjust the Sleepgram pillow, it comfortably sleeps all kinds of sleepers. If you are a stomach-sleeper looking for very little profile, you will probably find the Sleepgram pillow too thick and fluffy, and you are the only person I might not recommend this pillow to. But if you are a stomach-sleeper enjoying some fluff and the feel of laying your head on a cloud, use the blue-tag insert inside the cover. Back and combo-sleepers will prefer the Sleepgram red-tag inner pillow, while side-sleepers who prefer lots of neck clearance and fluff, will enjoy adding both inserts inside the cover. | Sleepgram makes a down-alternative pillow that carries all of the fluff of down, with none of the smell or guilt. It comes in 3 pieces - The cover is made of 100% long-staple cotton and filled with 2 inches of cooling fibers for a soft and fluffy cloud-like feeling. The smaller Sleepgram pillow insert has a soft feel from being filled with Sleepgram's low friction fibers. It is the insert I use and you truly have the feeling of laying your head on a cloud! The thicker insert carries medium firmness and is filled with silky fibers that are supportive, yet breathable. |
Sleepgram Pillow Prices & Discounts
The Sleepgram pillow comes in 2 sizes – Standard Queen and King. The Standard pillow fits in a standard queen-size pillowcase (18″ x 26″), while the king pillow fits in a king-size pillowcase (18″ x 33″).
Sleepgram's price policy includes bundle discounts:
Make sure to click the links, or box, above to claim the deepest discounts.
Price List updated: January 2021 – pre-discounted prices
Detailed Sleepgram Pillow Review Conclusion
The Sleepgram pillow is a great pillow that is nearly sure to fit your sleeping style and preference. 
I love that you are getting 3 pillows for the price of one. If you're sleeping style changes with the seasons, or if you have conditions that have you sleep in different ways throughout the year, the Sleepgram is super easy and quick to customize to your current sleeping needs. 
Note that, upon receiving the pillow, you should be disassembling its 3 pieces and running them through your dryer for 10 minutes to ensure that they fluff up to their full potential. 
Why don't we look in more detail, at what makes the Sleepgram pillow the most huggable pillow on the planet?!
I love Sleepgram's mission: "to make sleep a happier experience for everyone." They understand that for many, going to bed is a source of anxiety and fear, as they know sleep won't come easy. 
So Sleepgram developed a pillow from honest and premium products, without the premium price tag, to ensure its users lay their heads on a cloud of happiness that fits their sleeping style every night. The Sleepgram pillow is customizable, hypoallergenic, cruelty-free, washable, and affordable.
Sleepgram has also developed pillowcases (cotton and silk), comforter, sheets, duvet cover, weighted blanket, knee pillow, and mattress protector. 
Find all of our Sleepgram reviews HERE. 
What Is Inside The Sleepgram Pillow?
Let's look at the three parts that make up the Sleepgram Pillow, independently: 
1- The outer cover of the Sleepgram pillow is 2 inches thick. The cover itself is made of 100% long-staple cotton, for a machine-washable option.  Inside, the 2-inch gusset is filled with cooling fibers to ensure a temperature-neutral night of sleep.
2- The thinner of the 2 inner pillows comes with a blue tag for easy identification. It is the smaller of the 2 inserts and filled with Sleepgram's low friction fibers for a soft and fluffy feel. That insert offers contouring and soft comfort.
3- The thicker pillow is red tagged and filled with silky fibers. That inner pillow is thicker and firmer, yet breathable and provides support to the neck and head.
The materials used in the Sleepgram pillow have anti-allergen and anti-bacterial properties that prevent waking up with puffiness, rashes, or acne. They ensure that you get a nice and healthy night of sleep. And because you can machine wash the cover easily, you are getting rid of dust mites and other dirt on your pillow!
How Does The Sleepgram Pillow Sleep?
Firmness
The Sleepgram pillow is designed for most sleepers, since you are able to adjust it to your own needs and preference.
If you are a stomach-sleeper who enjoys some fluff and contouring, simply insert the blue-tag inner pillow to the Sleepgram cover. This is the softest and thinnest configuration for the Sleepgram pillow. If you are a stomach-sleeper who prefers a nearly-flat pillow, however, you will find that the Sleepgram pillow is too thick for you, even in its thinnest form. Worst case, I guess you could use just the cover, with no insert, and enjoy the 2-inch gusset on its own. 
If you are a back or combo-sleeper, insert the red-tagged inner pillow in the cover, for a firmer and more supportive option. 
If you are an exclusive side-sleeper who needs more neck clearance, and is looking for head and neck support for good spine alignment, add both inserts to the cover for the firmest option. 
Overall, the Sleepgram pillow is fairly thick and comes with lots of softness and fluff. It truly feels like you are laying your head on a soft cloud.
Temperature
The Sleepgram pillow sleeps temperature-neutral, thanks to its cover's cooling fiber fill. It ensures, together with the naturally moisture-wicking 100% cotton, that your head lays on a cooler surface throughout the night. 
The premium fibers used inside the inner pillows are breathable and add to the feeling of cool sleep!
Maintenance
The outer cover is 100% cotton and filled with cooling fibers, making it easy to machine wash with the rest of your linens. It can also be dried on a cool dryer cycle. 
The inner pillow inserts can be spot-washed as required. Simply use a cloth, water, and mild detergent to remove the occasional dirt. I would not, however, expect them to get dirty as they are enclosed inside a 2-inch thick pillow cover.
Sleeping Style
The Sleepgram pillow adapts to most sleeping styles and preferences. 
Insert the blue-tagged thinner insert if you are a stomach sleeper, or a back sleeper who prefers a thinner pillow. If you are a stomach-sleeper who likes low-profile, nearly-flat, pillows, the Sleepgram will not be a good option for you. In its thinnest form, this pillow still provides a good amount of fluff and contouring, leaving you with the very comfortable feeling of sleeping on a cloud. 
Insert the red-tagged pillow if you are a back or combo-sleeper (back to side). This medium firmness provides a firmer option with spinal support – ideal if you switch positions at night. 
Lastly, insert both the blue and red-tagged inner pillows if you are a strictly side-sleeper and enjoy a thick and fluffy pillow. This option gives you a thick and firm pillow, that provides you with extra neck and spinal support. If you are someone looking for large neck clearance, this will be your most favorite combination and a great pillow for your needs. 
I personally liked the thinner, blue-tagged, pillow, and I keep the red insert nearby to prop up my head while watching TV!
How Do I Care For My Sleepgram Pillow?
When you are ready to wash the Sleepgram cover, simply remove the inner pillow(s) from the cover, zip it back up, and wash it with your regular load of linen laundry. You will also find a tag inside the pillow cover, with all cleaning instructions.
Being able to clean your Sleepgram pillow cover so easily means that you can wave goodbye to dust mites and all dirt concerns, for a clean and healthy night of sleep!
As far as the pillow inserts are concerned, I would not expect them to get dirty, as they lay inside the 2-inch thick pillow cover. Should you need to clean them, spot clean with a cloth and mild detergent + water.
The PLUSES

The MINUSES

Adjustable to each sleeper's style and preference
Easily machine washable
Anti-allergic / anti-bacterial
Uses breathable and cooling fibers to provide a cool sleeping surface
The 100% cotton pillow cover is naturally moisture-wicking and contributes to the temperature neutrality
Cruelty free: all fibers used in the Sleepgram pillow are down-alternative
No smell of anima

If you are a stomach-sleeper who like a low profile, no contouring pillow, I recommend looking for a thinner pillow option
Share this deal with a friend!