Meet Rana
We all live busy lives, sometimes we don't seem to be able to catch up.  With work, kids, homework, playdates, and house chores we are simply too busy to make it all happen and feel rested at the same time.  This is when we decided to create Non-Biased Reviews.  We wanted to find ways to relax and reduce our levels of stress.
A few years ago we lived in a house on a very busy street, so we just kind of accepted that sleeping a full 7-8 hours just wasn't part of life.  When we moved into our current house, all of the traffic noise was gone so shouldn't we be getting 8-9 hours of sleep magically?  We didn't realize that we weren't sleeping as much as we had thought, until we purchased a fitness/sleep tracker.  The first time you wake up and see how many minutes you were awake, or just in light sleep, it hits you that something is wrong in your life.  So here we were, not sleeping much and waking up with back pain.  There's no way that the dips and mountains in our mattress were contributing to our sleep problems right???
Naturally, finding the right mattress for us should help.  So we started a quest to try out as many as we can.  We buy many of the products that we test, so that we can stay unbiased in our analysis of each product.  However, some of the products we test are provided to us for free so that we can test them.  We highlight which ones were paid for and which ones were free in our reviews.  Mattresses that we receive for free go through the same testing and review process as those that we pay for.
Running Non-Biased reviews isn't cheap, so we have decided to use links to allow our viewers the opportunity to purchase all of the products that we review.  These links don't cost the viewer anything, yet will help us recover our costs if the viewer ends up purchasing the products from our links.
People frequently ask me which products that I personally use, so I try to keep a current list of the products I'm testing and ones that I am just using because I like them.
No manufacturer can get preferential treatment or a boost to their reviews.
Rana was recently on ABC World News Tonight, you can read about it here.
If you would like me to test your product please email me (rana@nonbiasedreviews.com), or call me (480) 627-9926.  I can't guarantee that every product that I test will make it on my site.
My shipping address is:
7864 E Horseshoe Ln
Scottsdale, AZ 85250
Summary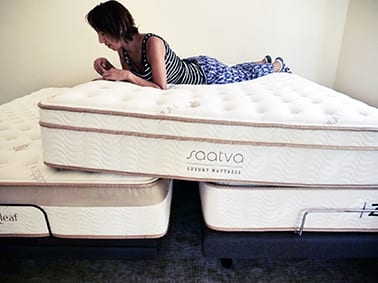 Article Name
Description
We test sleep related products from mattresses to pillows, bed frames and sheets. Please contact us if you would like us to test your products.
Author
Publisher Name
Publisher Logo