GHOSTBED RV MATTRESS REVIEW
Whether you are a new or experienced RVer, a weekend warrior or full-timer, you deserve a comfortable and healthy night of sleep to tackle the next day's adventures! RVs are notorious for the poor quality mattress they are delivered with, and I love seeing more companies entering this niche in need!
We tested and reviewed the GhostBed RV Mattress – currently available in RV King and RV Queen (also known as Short King and Short Queen). But if you live the van life, or need any specific size outside of those 2 standard RV mattress sizes, GhostBed will gladly handcraft a custom-made RV mattress for an extra $600!
Let's look at the  GhostBed RV Mattress in more detail!
50% OFF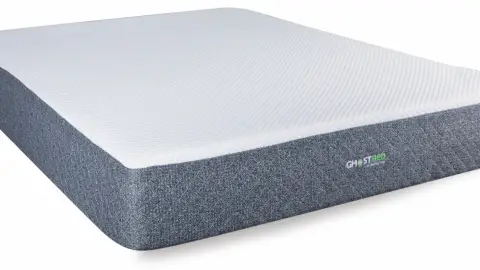 GhostBed Company Policies
Made in the USA
20-year warranty
101-night at-home sleep trial
Free shipping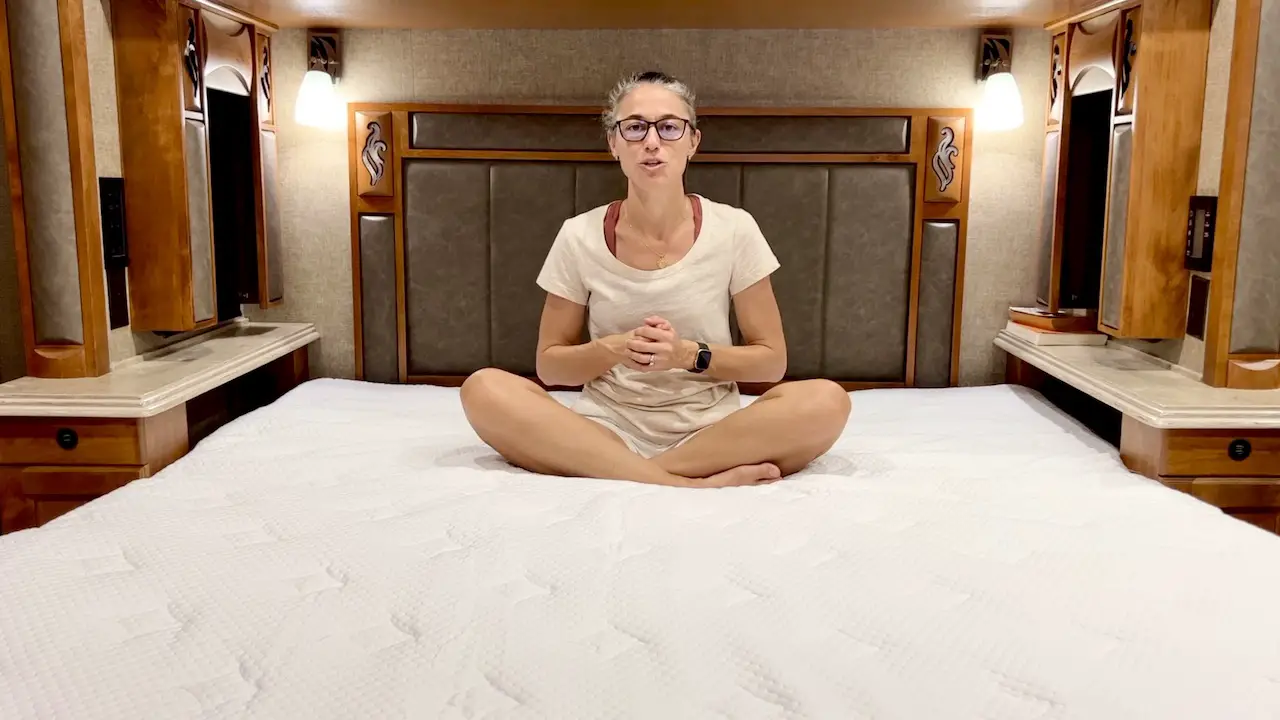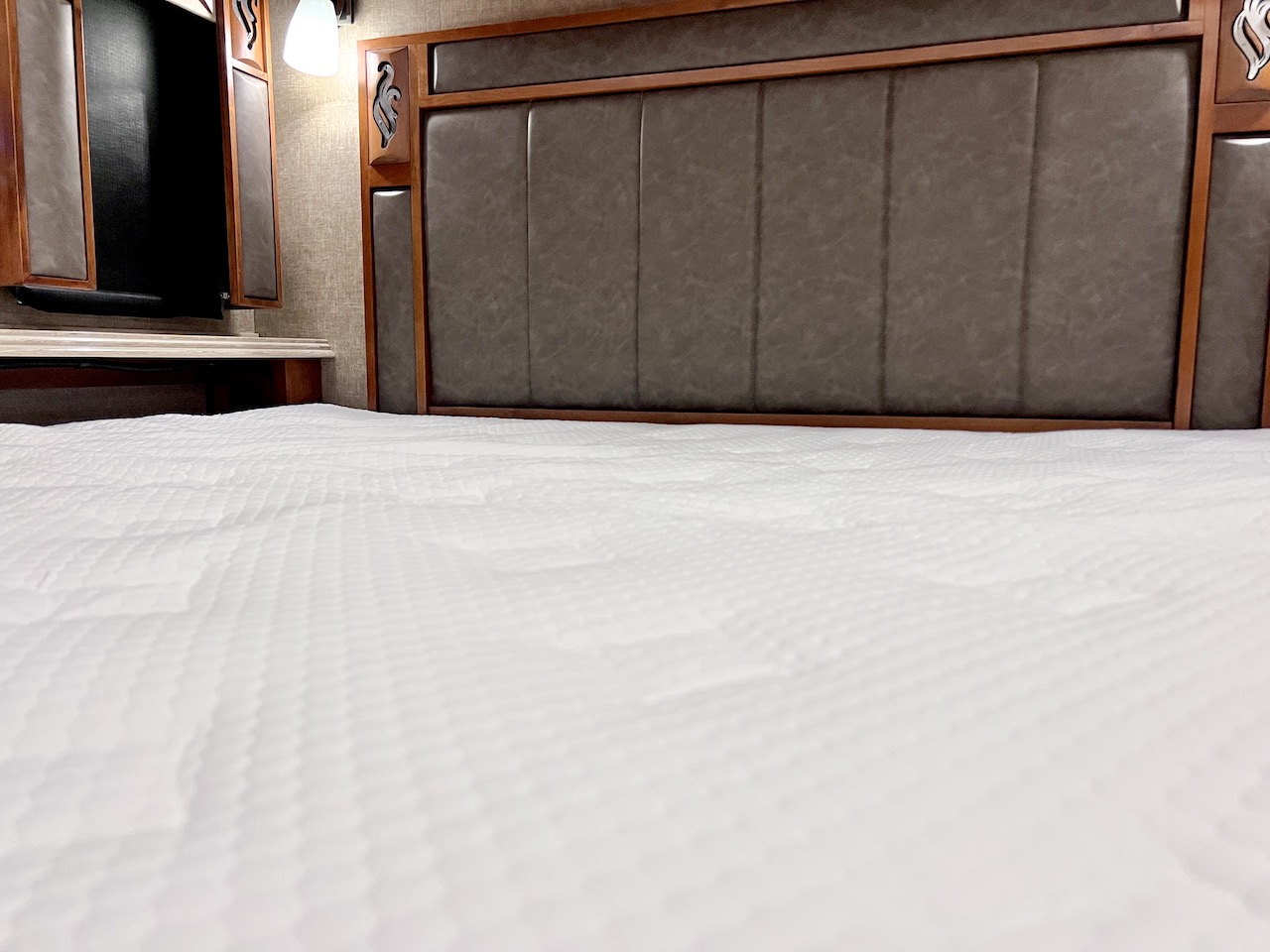 What's Inside The GhostBed RV Mattress
In a nutshell:
10″ in 3 layers
RV sizes + custom sizes
Cooling gel memory foam
High-density foam
10-year accidental protection
10″ In 3 Layers
You do not want a very thick mattress in your RV. A lighter mattress will always be key – for both the health of your slide outs, as well as your towing capabilities. Because you typically have lower ceilings, a thinner mattress will be best all around. The GhostBed RV Mattress is 10 inches thicks, which is perfect, and made of 3 layers – 2 layers of engineered foams and a thick mattress cover. 
RV Sizes + Custom Sizes
Most RVs are built for RV mattresses. You will identify them as Short Queen / King or RV Queen / King. Those terms are interchangeable and describe a mattress of regular width but shorter length, giving you more space to navigate around your bed.
The GhostBed RV Mattress is available in Short King and Short Queen, as well as a custom-size for an extra $600 charge.
Cooling Gel Memory Foam
The GhostBed RV Mattress is made of 2 layers of foam. Because RVing can be uncomfortably hot, the upper layer of foam in infused with cooling gel, helping you sleep cool on the warmest of nights. No worries, the mattress will not keep you cold on colder nights. 
High-density Foam
The thickest, and bottom-most layer of foam, is made of high-density foam, which gives the GhostBed RV Mattress stability and durability. This is also the layer that gives your body support and spinal alignment, ensuring a healthy night of sleep. 
10-Year Accidental Protection
This is amazing peace of mind!! GhostBed is the only manufacturer that I have ever seen include a 10-year accidental protection on your RV mattress purchase! Valued at $299, your purchase is covered against events such as stains from pets, humans, food, beverages, ink; accidents from children; holes, rips, and burns, and structural damage of the mattress.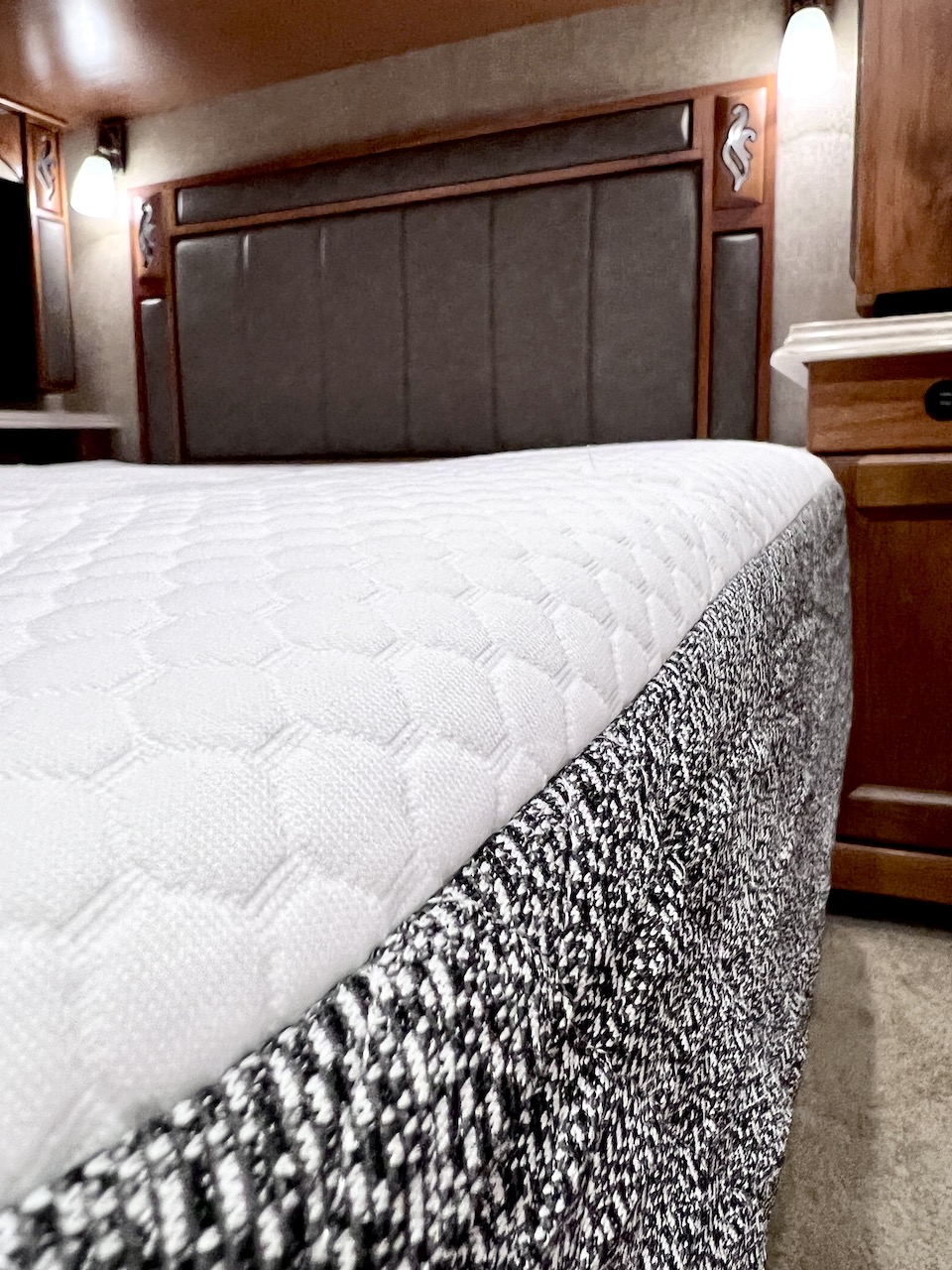 GhostBed RV Mattress Sleep Tests
Everything we felt in one box
| Firmness | Temperature | Maintenance | Sleeping Style | Bed Base |
| --- | --- | --- | --- | --- |
| We rated the GhostBed RV Mattress a 7 out of 10 on the firmness scale, where 10 is the firmest of mattresses. This ranks the GhostBed mattress as just a little firmer than average (6 to 6.5). If you are looking for a great mixture of pressure relief with spine-aligning support, you will surely enjoy this firmness level. | Thanks to its upper layer of open-cell cooling gel-infused foam and a breathable mattress cover, the GhostBed RV Mattress is engineered to keep you cool on warm nights. The foam is pierced by millions of air bubbles, which allow for airflow and air exchange through the mattress, while the cooling gel-infused foam pulls your excess body heat into the foams, preventing you from over heating. | In case of a stain, try to tend to it as quickly as possible. Blot excess liquid with a cloth, then gently spot clean with a clean cloth, clear water, and mild detergent. Never rub, as that could spread the stain further. I always recommend protecting your investment with a mattress protector! | The GhostBed RV Mattress is a great mattress for people of all sleeping styles. We recommend it for all back and stomach sleepers, as it provides the firmness needed to align your body and spine. Side sleepers who prefer a firmer mattress will also do really well. If you're in for the deep sink, the GhostBed will be too firm for you. | You can lay your GhostBed RV Mattress on any flat base, which works well in RVs where you typically have a flat wooden base. |
GhostBed RV Mattress Prices & Discounts
50% OFF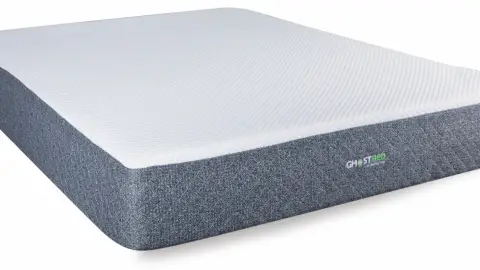 GhostBed offers two kinds of RV mattresses – the all-foam GhostBed RV mattress, which is the one reviewed here; and the GhostBed RV Hybrid, which adds a layer of coils to GhostBed's foams. You might be interested in the hybrid mattress if you are looking for a little stronger support and reinforced edges for easy in-and-out and the feeling of a wider sleeping area. 
Today, GhostBed offers its RV mattresses as Short Queen (or RV Queen) and Short King (or RV King). RV mattress sizes are regular household width, but 6 to 9 inches shorter to give you more space to navigate around your bedroom.  
If you are living the van life or have specific dimensions you're working with, don't fret. We love that GhostBed gives you the option to customize your mattress size for an extra $600!
Note that on top of the RV mattress, GhostBed includes a 10-year accidental coverage, valued at $299. This plan protects you against stains such as pet, human, food, beverage, inks, kids; rips, tears, burns; and structural breakdowns of the mattress.
Make sure to click the box above to claim the deepest GhostBed discounts.
Price List updated: October 2022 – pre-discounted prices
Detailed GhostBed RV Mattress Review Conclusion
You do not have to settle for less than comfort when you hit the road. RV manufacturers are known to put in low quality mattresses in their rigs, and it is often campers' #1 complaint. With more and more brands designing RV mattresses, we are super excited to see one of our favorite mattress manufacturers on the RV market! What is not to love about a mattress made in the USA and designed and handcrafted for RVers by a family-owned team of passionate mattress makers!
In a nutshell, we loved testing the GhostBed RV Mattress so much than we have decided to keep it in our Class A. We traveled in our rig full-time for 13 months, but whether you are in for the weekends, the kids' school breaks, a fun retirement, or a full-time adventure on our U.S. roads, please upgrade to a quality mattress. You spend 1/3 of your life laying on your bed (maybe more while RVing), and sleeping on a mattress like the GhostBed mattress will ensure that your body lays in a healthy positions, for full recovery and rest!
GhostBed was founded by Marc Werner, a man with passion, a problem solver, and 5th generation inventor. You might recognize his name and associate it with the Werner ladders we've all come to own. 
In 2001, after three neck surgeries and a life lived in constant pain, Marc realized that no mattress was helping him alleviate his pain and sleeping was of no relief. He decided to found Nature's Sleep, his first mattress company. 
An engineering mind at heart, he quickly changed the way the mattress industry operates. Mattress stores felt pushy and more frustrating than helpful. He wanted a pressure-free mattress shopping experience and launched the shop-from-home mattress model. GhostBed was born! Shopped online and delivered to your home, in a box.
Today, GhostBed is backed up by 35 years of mattress design experience and uses only top-quality and innovative materials, from aerated latex, to gel memory foam infused covers, the proprietary 3-D matrix, and the one-of-a-kind ship-in-a-box foundation. 
When you purchase a GhostBed mattress, you benefit from industry-leading 20 to 25-year warranties. Marc stands behind each one of his products and reads every single review he receives. GhostBed is his pride and I am confident in saying that their customer service is one of the best in the mattress industry. Have an issue, or a question? I promise it will be answered and you will receive personalized attention and answers. I was at the headquarters when a customer called in, and I was more than impressed by the way the team handled it!
Find all of our GhostBed reviews here. 
What Is Inside The GhostBed RV Mattress?
The GhostBed RV Mattress is a 10-inch thick mattress, designed specifically to serve the needs of RVers, whether you travel in a Class A, Class C, a van, fifth wheel, or travel trailer. You name it, GhostBed can do it! 
This RV mattress is an all-foam mattress made of 3 parts – a thick and soft mattress cover, and 2 layers of foam, one of which sleeps cool and conforms to your body, and a firmer layer of foam at the bottom, to align your spine and bring stability to your mattress. 
GhostBed hit it just right with a mattress that sleeps nearly all sleepers comfortably and gives RVers a cool and restorative night of healthy sleep, at a price point they can afford.
Let's take a look at each layer in more detail! 
Plush Mattress Cover

The GhostBed RV Mattress cover is a thick and soft cover made of a blend of viscose and polyester. 
Thanks to its extra stretchy properties, the mattress is the first barrier against motion transfer. It moves with the moving partner, without pulling from underneath his/her partner. 
We have loved how thick, soft, and cozy it feels. Using a bee hive stitch, it looks modern and adds to the mattress' coziness. 
Lastly, the materials used in the GhostBed mattress cover are naturally antimicrobial and resistant to mold, mildew, and bacteria. This is an important factor to consider when purchasing a new RV mattress, as it can be a concern, especially in humid climates, when you store your rig without plugging into power. Choosing a mattress with a cover resistant to mold and mildew can make a world of a difference! 
2″ Gel Memory Foam

Being an all-foam mattress, you will find 2 layers of foam in the GhostBed RV Mattress. 
The upper one, and closest to your body, is 2 inches of gel memory foam. We will be discussing two properties of this layer – its open-cell technology and its cooling gel infusion. 
GhostBed made several residential mattresses and has always focused on creating a temperature-neutral sleeping experience. Hot sleepers, this is for you! In this RV Mattress, GhostBed uses a cooling gel-infused memory foam that draws your excess body heat and transfers it away from your body during the night. 
But this layer is also an open-cell memory foam, which means that it is pierced by millions of air holes that allow for proper air circulation through the mattress. In other words, your body heat is dispersed outward into the lower layer of foam and through the mattress cover, while cool bedroom air comes in and raises to your body. 
This top layer of foam is going to be pressure reliving. Your body will sink in those 2 inches and feel contoured by a comfortable layer which, unlike more memory foams, does not trap the heat. This is a great layer for the heavier parts of your body to receive the pressure relief they need to recover from a long day of driving, working, or adventuring. 
8″ High-Density Memory Foam

The bottom, and thickest, layer of foam is made of high-density memory foam. It provides, not only stability and durability to your mattress, but the support your body needs to lay in a healthy position, and excellent motion control. 
After decompressing in the upper 2 inches of foam, your body and its high pressure areas (hips and shoulders) hit this denser foam, which aligns your spine and bones from head to toe. But because it is still foam, you do not feel excessive firmness in any way, and this foam will support all body weights and shapes. 
We love that layer for its motion transfer control. You will not be woken up by a moving partner on the GhostBed RV Mattress!
How Does The GhostBed RV Mattress Sleep?
Firmness
We rated the GhostBed RV Mattress a 7 out of 10 on the firmness scale. An average firmness is between 6 and 6.5, making the GhostBed mattress a slightly firmer mattress than average. 
If you are someone looking for extreme plushness, this mattress will be too firm for you. It is however, in our opinion, the healthiest firmness for a mattress. It allows proper body positioning and alignment of your spine and bone structure, to position your body in a healthy position and prevent you from waking up with pains and aches. 
Sleeping Style
We recommend the GhostBed RV Mattress to all sleepers, unless you have a personal preference for very plush mattresses. 
We feel that this RV mattress is best suited for back and stomach sleepers of all sizes. It allows for support down the entire body and respects the natural curvature of your spine.
My husband and I weigh 130 and 210 lbs respectively, and are able to test mattresses for more body types. We are both combo sleepers and have both slept on our side on this mattress. We both found it very comfortable for side-sleepers, though we do have a personal preference for mattresses with more support, rather than less. 
Most side-sleepers will fare really well on this mattress, and we highly recommend it. Again, if you know that you need a very plush mattress, this one may be a little firm for you.
As always, when you get a new mattress, give at least 30 days to get used to it. Your body and muscles will need to get used to the new sleeping surface, and what may feel uncomfortable your first week of sleep, may turn out to be your favorite thing a month down the road. 
Temperature
Thanks to a breathable mattress cover and an open-cell gel memory foam layer, the GhostBed RV Mattress sleeps very temperature neutral. 
We tested it in the Florida summer heat, and did not feel hot a single second. My husband sleeps hot and had a similar experience to mine, giving this mattress a double thumbs up for cool sleep! 
Of course, temperatures change drastically depending on where you take your camper, but also from night to night, since insulation is not an RV's forte! So… will you sleep cold on a cold night? Absolutely not! 
The foam's properties and the breathability of the mattress cover allow your body to auto-regulate its own temperature. You can expect temperature neutral sleep no matter the weather outside!
Motion Transfer
With a total of 10 inches of foam, and an ultra-stretchable mattress cover, there is virtually no motion transfer on this mattress. No risk of a moving partner waking you up at night! This is also incredibly important in an RV as wind and sand tend to move your RV over night. The foams absorb most of any motion you may otherwise be feeling!
How Do I Care For The GhostBed RV Mattress?
The GhostBed RV Mattress cover is not machine washable, and I ALWAYS recommend protecting your mattress investment with a waterproof mattress protector. 
Now, one of the amazing benefits of purchasing the GhostBed RV Mattress is the free inclusion of a 10-year accidental warranty! Valued at $299 and included in your purchase, it covers events such as stains coming from pets, humans, food, beverages, ink; accidents from kids; holes, rips, and burns; and structural damage of the mattress. Do not overlook this amazing benefit. We all know that life in an RV is prone to accidents and malfunctions, and this is an amazing piece of mind! Check website for more information!
Spills and accidents unfortunately happen… If you do notice a stain on your GhostBed mattress, tend to it as quickly as possible with a clean cloth, water and a mild detergent. Spot clean the stain without rubbing it to avoid spreading it. 
50% OFF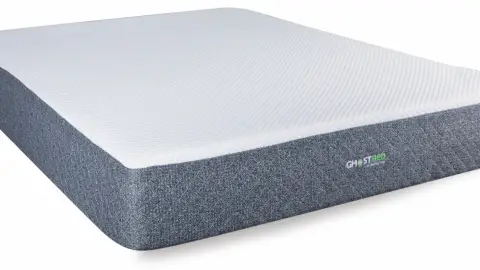 The PLUSES

The MINUSES

Sleeps cool
Designed for RVs
Ability to customize size for extra charge
Works with most sleeping styles
Fantastic for couples with different sleeping styles and preferences
Excellent motion isolation
Great spinal support
10-year accidental protection
Made in the USA

May be too firm for some side sleepers preferring a very plush mattress
Most frequent questions and answers
Share this deal with a friend!
Is the GhostBed RV Mattress comfortable?
Putting the GhostBed RV Mattress is like bringing a residential mattress into your rig, and you won't regret it. It is the healthy mix of pressure relief and spinal support.
What RV sizes does the GhostBed RV Mattress fit?
GhostBed has an all-foam and a hybrid RV mattress. Both are available in Short King and Short Queen. However, for an extra $600, GhostBed will custom make an RV mattress for you!