Did you know that the human body sweats up to 26 gallons of water per year? How much sweat & other fluids do you want getting into your mattress?
Finding the Best Mattress Protector
I just completed the process of potty training my daughter, so I can tell you that my mattress protectors have saved my mattresses countless times.  Therefore, I  have compiled a list of the best mattress protectors we have tested to help you choose.  
Mattress Protector Test Video
Here is a video where I put 6 mattress protectors to the test. Find out if the Purple, Casper, Nectar, Saferest, Nest Bedding and Brooklyn Bedding mattress protectors kept my mattresses clean. I cut a lot of the set up parts of the video that I originally released. So it is now under 11 minutes vs. 23 minutes.
I'm still doing some cleaning, what a mess! The DreamCloud and Douglas made it through without a scratch. The poor Leesa Hybrid was damaged by juice and wine, not because the mattress protector failed, but because I rolled it up wrong and the liquids spilled onto the mattress. Next step is to wash all of the mattress protectors so that I can see if they still hold their protecting qualities. I'll get you some after photos once they are clean.
#1 Nest Bedding Cooling Mattress Protector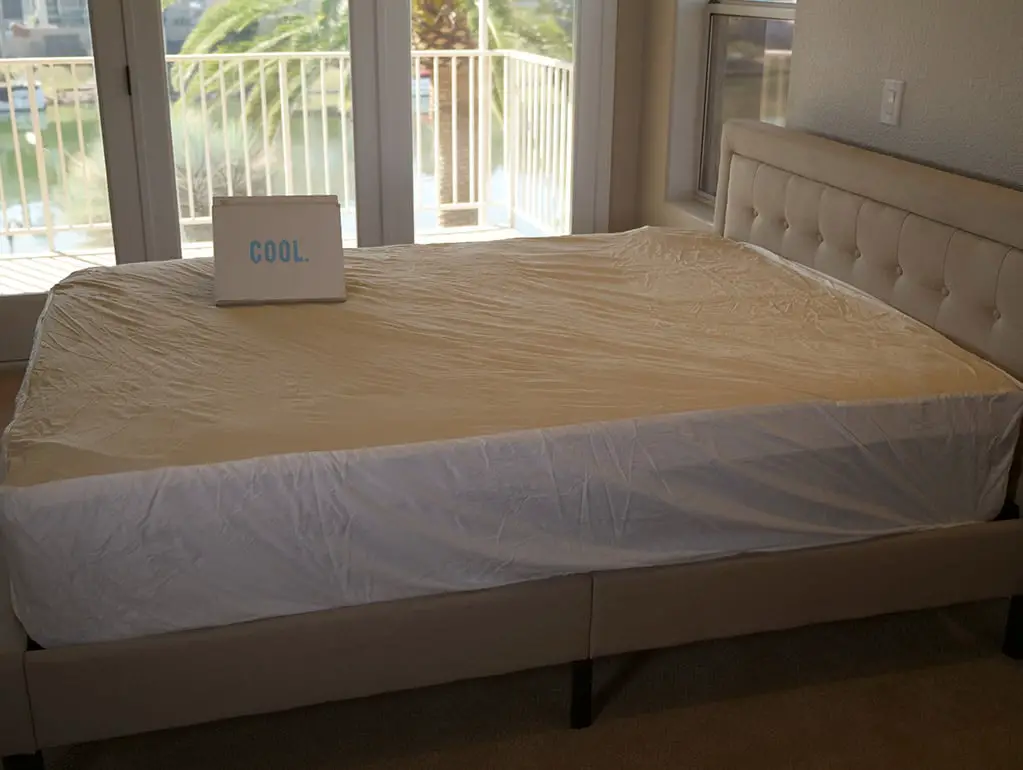 Mine somehow shipped to my next door neighbor, so I think it took 5 days to get here, but it could have been at her house for some of that time.
Nest Bedding's cooling mattress protector is my personal favorite as it incorporates cooling tech into the waterproof material. It is a bit more expensive than many of the competing products, but that cooling effect is well worth it (especially if you live somewhere warm, like I do).
The cover is cool to the touch and is quite breathable. You will notice that my daughter said, "Brrr" in the video as she was sitting on it. Trust me that wasn't scripted. The Nest Bedding protector was in the second test on the mattress in front. None of the food, or liquid penetrated the protector.
PROS
Cooling
Passed the Test
Feels Good
Doesn't Crinkle

CONS
25% off Nest Bedding Products
Nest Bedding
Take 6% off Nest Bedding Products. Or save up to 25% off During Memorial Day Savings
Take 6% off Nest Bedding Products. Or save up to 25% off During Memorial Day Savings
Show Less
#2 Purple Mattress Protector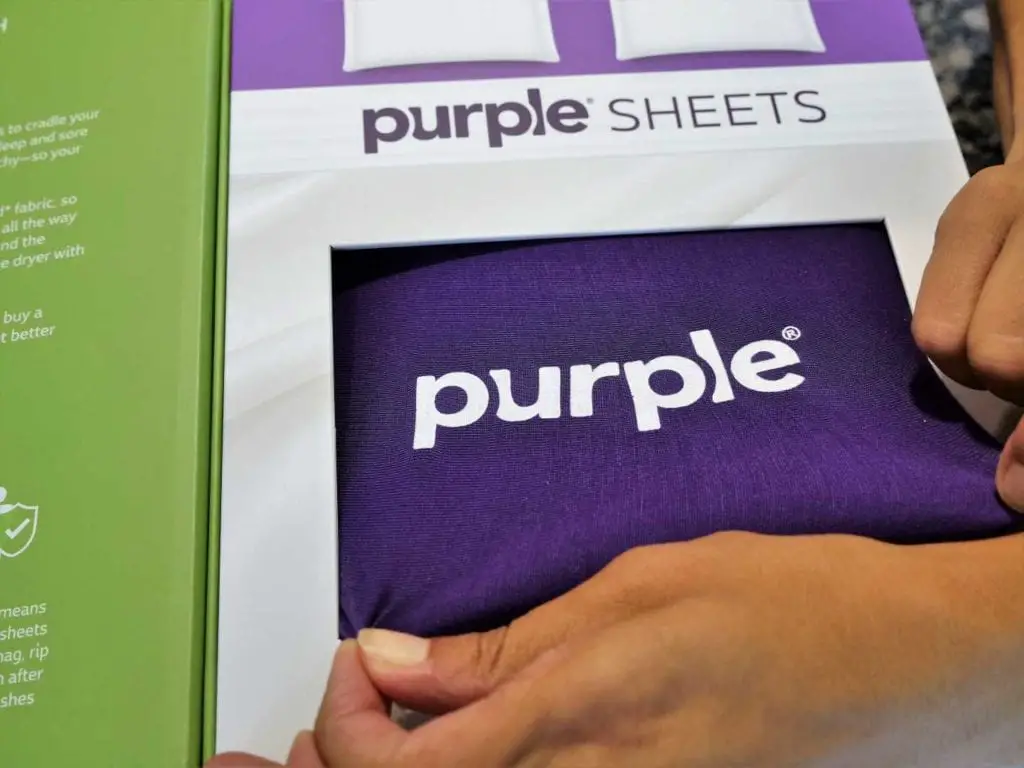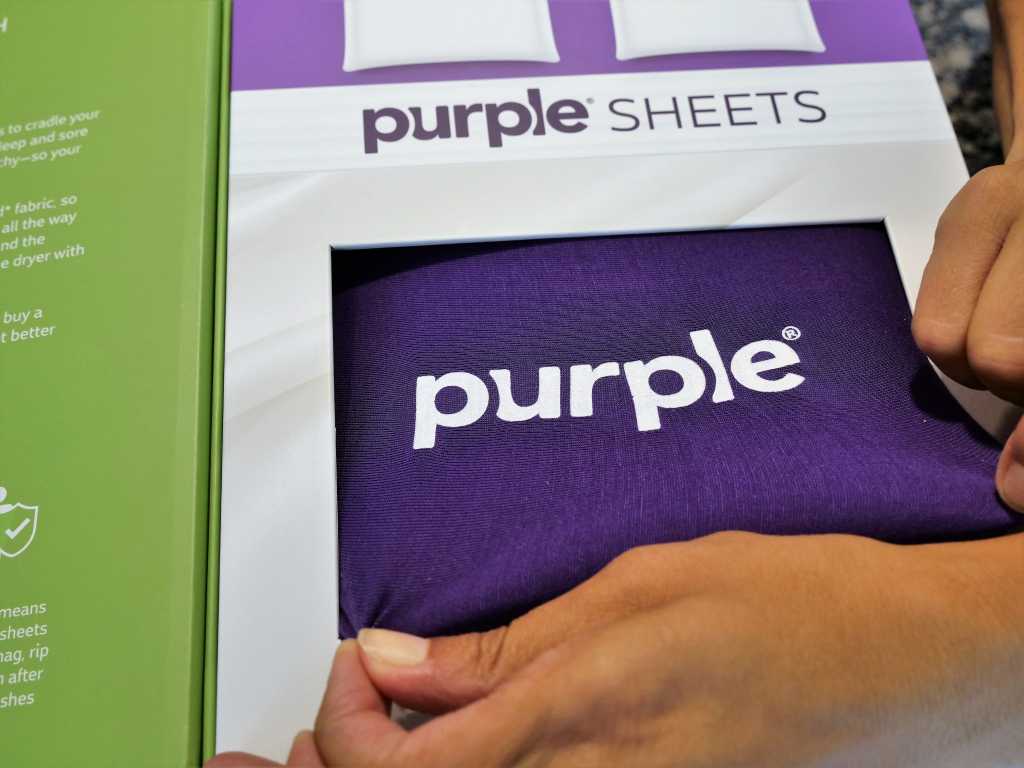 I just love their advertising campaigns, and the one that they do for the mattress protector stars Sasquatch.  The purple mattress protector is also breathable so it is cool over night, it's just not "cool to the touch".  It's also stretchy so it has a great feel.  It ships in a smaller package than all of the other mattress protectors, which was a bit of a surprise to me.  I paid $59 plus tax and it arrived in 5 days.
PROS
Stretchy (It fit over a 15″ thick hybrid mattress)
Thin/Hard to Notice
Doesn't have a "plastic" feel
Passed the Test
Affordable
Not Crinkly
CONS
I'm afraid that Sasquatch may come visit me
You saw how dirty it got with the red juice and wine on it.  I then let it sit out overnight, and washed it per the instructions on the tag.  Here are the results
#3 Brooklyn Bedding Mattress Protector
The Brooklyn Bedding mattress protector is an easy add on when you are doing your one stop shopping on their online store.  It is an affordable option and it passed the test in the video.
PROS
Attractive Price
Passed the Test
Stretchy
Doesn't Crinkle
CONS
It doesn't have the same feel as some of the more expensive options
20% Off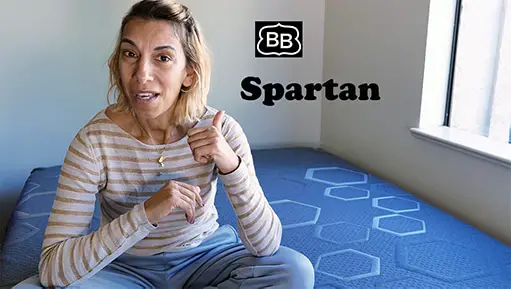 Brooklyn Bedding
Use code Nonbiased20 for 20% Off!
#4 Saferest Mattress Protector
This is Amazon's top selling mattress protector.  It passed the test and sells at a lower price than most of the others that I tested.
PROS
Attractive Price
Passed the Test
Amazon sells a ton of these
CONS
It doesn't have the same feel as some of the more expensive options
Check Price on Amazon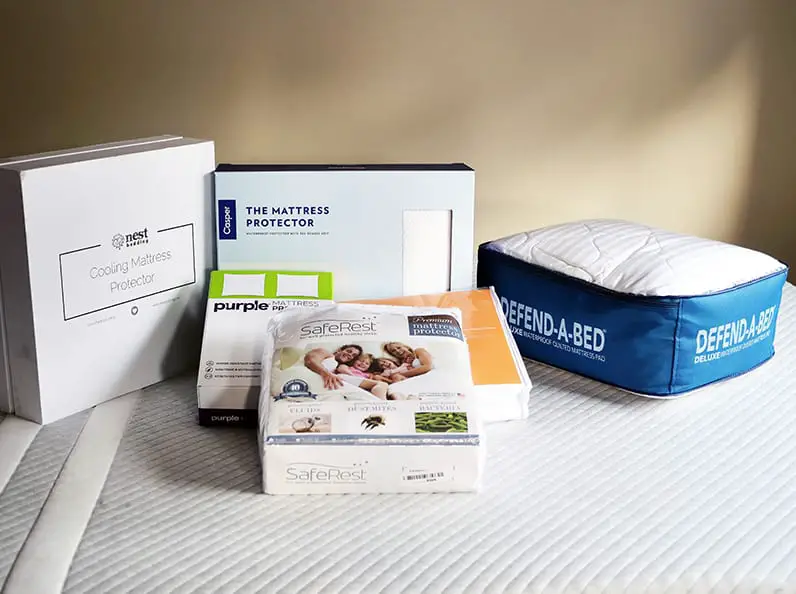 SafeRest
SafeRest Mattress Protectors are one of Amazon's best sellers
SafeRest Mattress Protectors are one of Amazon's best sellers
Show Less
#5 Nectar Mattress Protector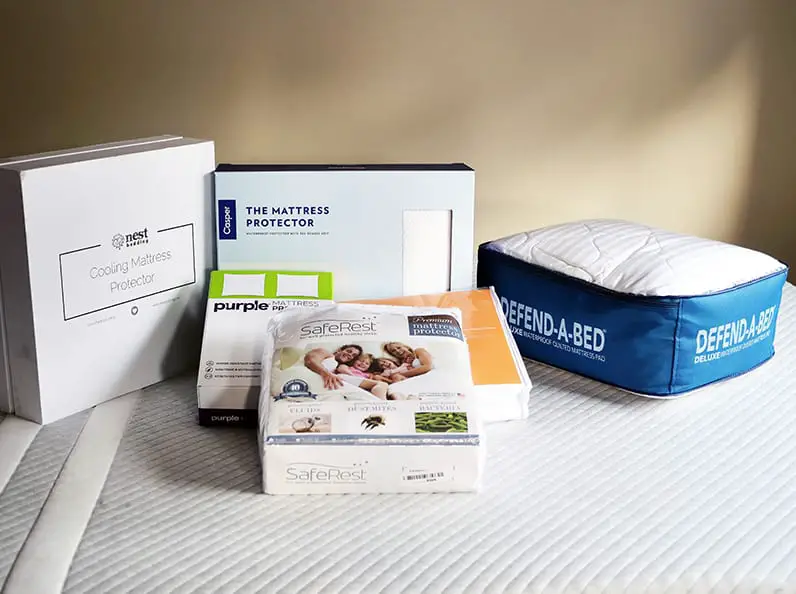 I paid $85 for it and it shipped to me in 4 days.
The Nectar protector adds an element of softness to the protection that you need.  For those of you who feel that their Nectar mattress may be a bit too firm, this will add some fluff to the feeling.
PROS
Passed the Test
It is soft
Doesn't Crinkle
CONS
Priced higher than many of the others that we tested
My preference is for a thinner cover (yours may differ)
$399 of Free Accessories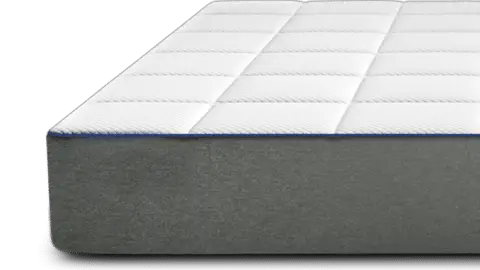 Nectar
Free mattress protector, sheet set, 2 pillows with a mattress purchase. Up to $399!
Free mattress protector, sheet set, 2 pillows with a mattress purchase. Up to $399!
Show Less
#6 Casper Mattress Protector
I paid $90.99 after taxes for it, and it shipped to me in 4 days. Here are a couple of pictures of the Casper mattress protector:
One of the best features of Casper mattress protector is that you can feel it through the box at your local Target.  This is a huge advantage, as Target has other mattress protectors to choose from.  Right before I shot the best mattress protector video, I considered buying another one from Target.  However, when I went up to the Casper display, I had the opportunity to feel it before I made the purchase (although I ultimately ordered it online so I could test the shipping time).  That was the deciding feature for me when I opted to include it and not the target brand.
PROS
You can feel it at Target
Passed the Test
Doesn't Crinkle
CONS
Priced higher than many of the others that we tested
I didn't love the feel of it when compared to the others
Best Material & Type of Mattress Protector
The two main things that you have to look for in a mattress protector are:
Waterproof
Breathable
If it's not waterproof all of the sweat will work into your mattress. Oh, waterproofing your mattress is also an important thing to have when you are potty training your little ones.
It's also important to get a breathable mattress protector so that your sweat doesn't just pool on you.
Cool
Feel
The feel of a mattress protector is what makes it so hard for me to commit to one.  New mattresses show up at my door step often, so when I'm testing them I really want to feel the mattress.  There is no getting around this; a mattress protector will take away some of that awesome feel of a new mattress.  This means that you have to do your own cost vs benefit analysis.  Does the better feel without a protector outweigh the damage that you do to your mattress every night?  You have to decide for yourself!
Is a Mattress Protector Necessary?
Most mattress retailers have warranties up to 10 years, but if you read the fine print there are many things that can void their warranties.  Here is an excerpt of the Purple mattress warranty, note I have highlighted the things that could be prevented by a mattress protector:
"This warranty shall not apply if Purple determines in its reasonable discretion that the mattress or foundation has been damaged, abused, or neglected; it shall be reasonable without limitation to make such determination if the following are present: Tears, stains, odors, unsanitary conditions, folds, footprints, burns, cuts, or signs of jumping on the bed, rodents, insect damage or other infestation, damage from liquids or gels or blood or bodily fluids or other fluids, or damage from weather or sun exposure. Purple highly recommends the use of a very stretchy, breathable mattress protector because without such protection your mattress may not be clean enough or undamaged enough to have this warranty apply. Please note that a non-stretchy or non-breathable mattress protector (or non-stretchy tight sheets) will negate much of the benefit of The Purple® Bed."
As you can see from my video above, all of the mattress protectors that were tested kept liquids off of the mattresses that I used for testing.  In the first 30 seconds of the video you can see the wine and juice pooling in the tufted sections of the mattress closest to the camera (DreamCloud).  The Purple mattress protector that was on that mattress collected all of the liquid and after a few minutes not a drop went through.
I don't have any rodents or "other infestation" to test on, so I'll just take the manufacturers' word that they prevent it.  This is a case where I'll trust the FTC to regulate for false advertising.  There is no way I'm going to acquire an infestation just to see if my mattress protectors can keep them away from my mattresses.
How to Care For and Clean a Mattress Protector
They are all washing machine safe. I have been using a Nest Bedding mattress protector on my daughter's bed for over a year now. I wash it frequently, although she is getting better at the night time bed-wetting thing, and it still maintains the protective qualities that I'm looking for.
The day after this test, I used a garden hose to rinse off the ice cream and other stuff from all of the protectors that were in my video. I then let them dry off and put them into the washing machine. Why this extra step? Well, the spills that I usually get aren't nearly as bad as a full ice cream sundae.
Why Did I Risk These Mattresses?
I have had a few people ask me why I risked those particular mattresses when I tested these protectors.  Well, let me give you the back story on how I selected them: The Douglas mattress (the one on the right of the video) isn't sold in the US, so I'm not allowed to keep it.  Before it gets shipped off to be recycled, I figured it wouldn't hurt if it were damaged. The Leesa Hybrid mattress (in the back left of the video) has already been damaged by my daughter…  The cover is removable and I have washed it, but I can see the pee stains that have seeped into the foam, so it has been scheduled for a trip to the recycle station as well.  Side note, that is what started me on this quest to find the best mattress protector.  I couldn't believe that I was dumb enough to allow my three year old to nap on it without one.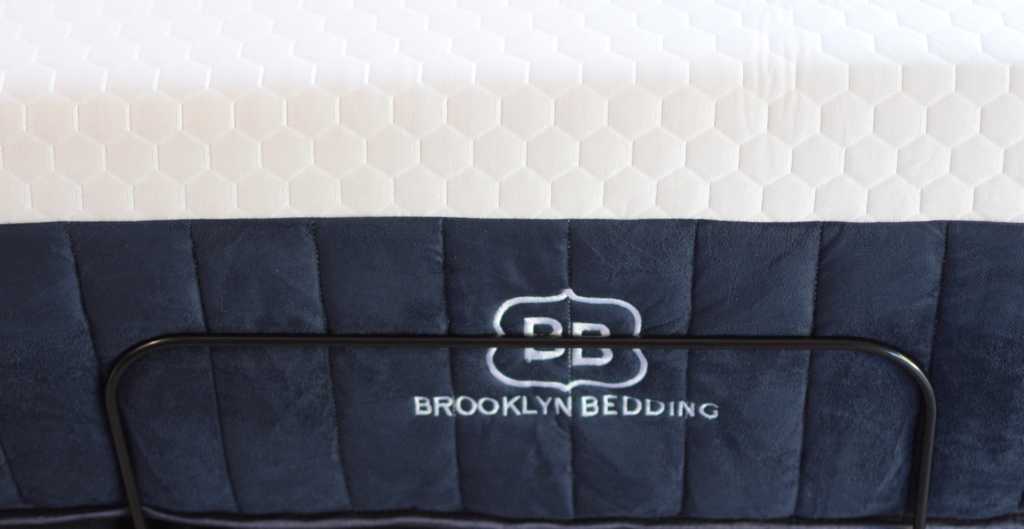 Brooklyn Bedding Aurora Mattress Review The most striking feature of the Brooklyn Bedding Aurora Mattress is the cover.  It is cool to the touch and...
Read More