QUICKZIP SHEETS REVIEW - KIDS CORNER
This is our Kids Corner review of the QuickZip Sheets. Click HERE for our review of the Euro Pack Split King Sateen QuickZip Sheets. In this article, we are reviewing an option that works really well for kids: the Twin Percale QuickZip Sheets.
QuickZip Company Policies
Free shipping on U.S. orders
Free returns for 30 days (in the U.S.)
$8 gift wrap and hand-written note option
The YKK zippers are guaranteed for the life of the bedding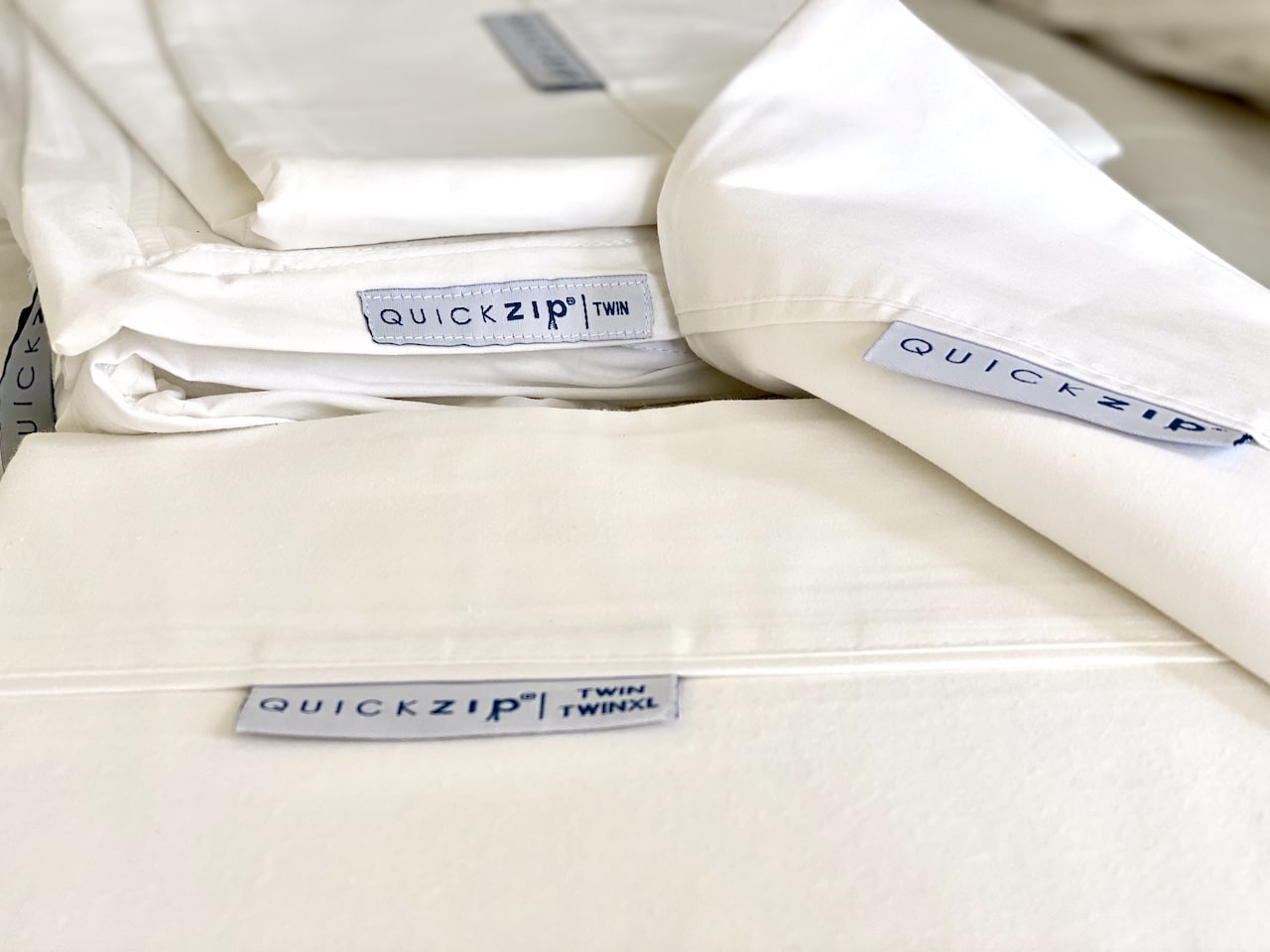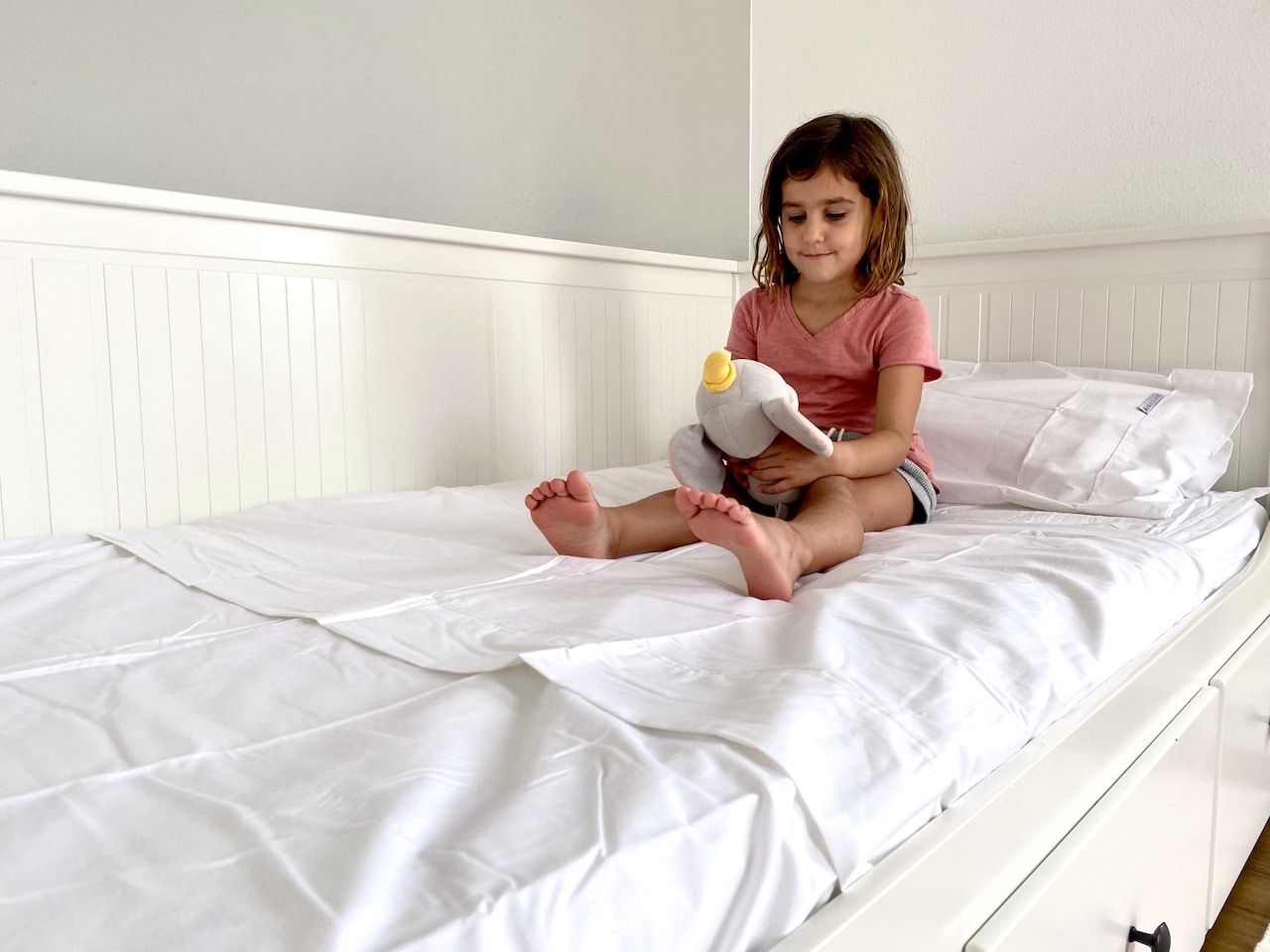 What's Inside The QuickZip Sheets
The Percale sheets in a nutshell:
100% long-staple cotton
OEKO-TEX-certified cotton
Cool and light feeling
Matte finish
2 options for Twin: fits 11″ and 15″ deep mattresses
Percale Cotton
This is a review of the Percale QuickZip Sheets. They are 100% OEKO-TEX-certified cotton, which means that no harmful chemicals were used. The Percale sheets have a light and cool feeling, with a matte finish. Each wash will soften the cotton and they are a great choice for hot sleepers.
Mattress Size
If buying a Twin QuickZip Sheet set, choose between the 11″ and 15″ mattress depth. The Crib sheets fit standard American crib mattresses. All other sizes fit between a 15″ and a 17.5″ depth. 
Pack Options
There are four pack options to choose from, so you never pay for more than you need!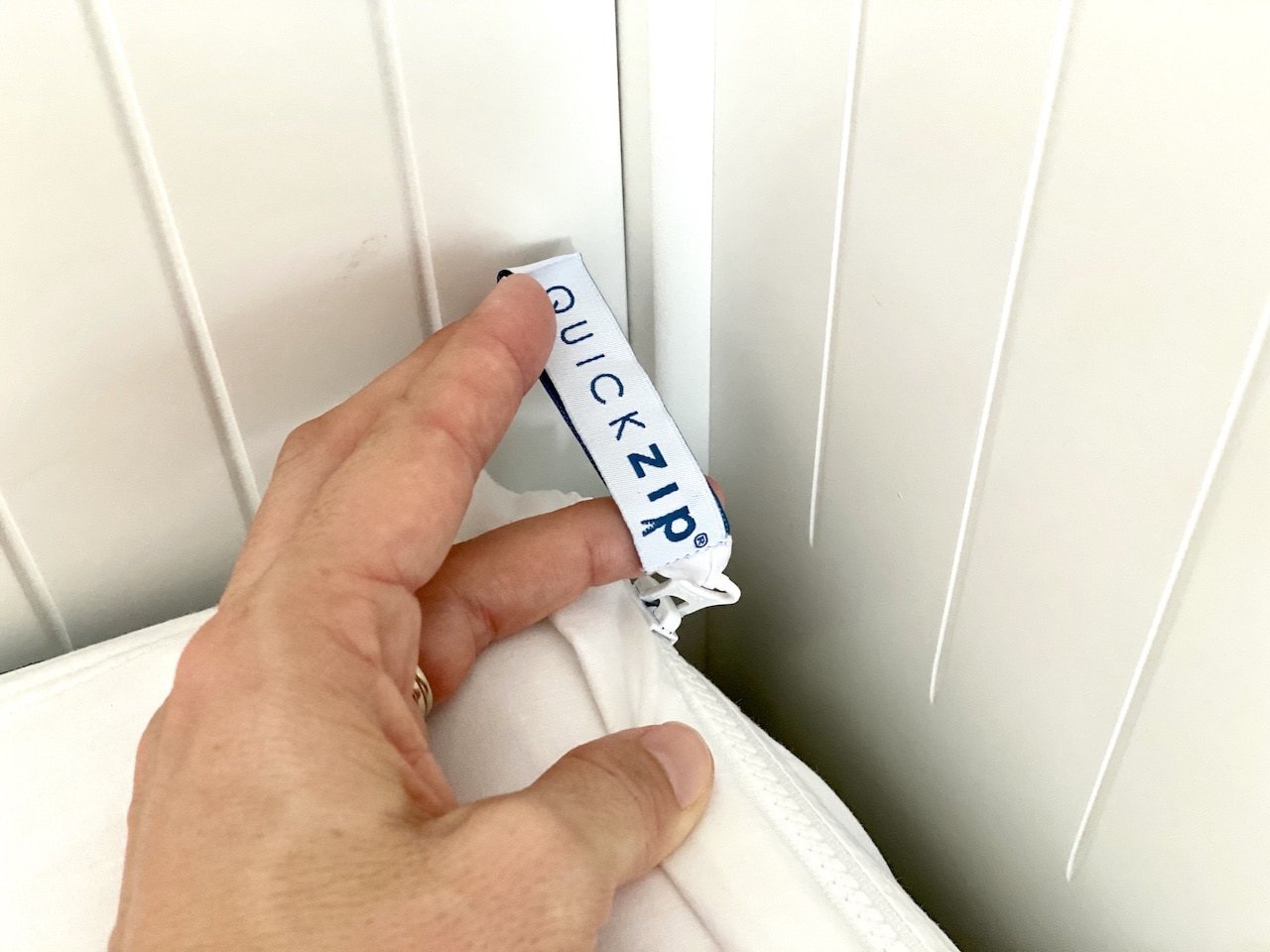 QuickZip Sheets Sleep Tests
Everything we felt in one box
| Softness | Temperature | Maintenance | Options | Mattress Sizes |
| --- | --- | --- | --- | --- |
| I am rating the softness a 6 out of 10. Percale cotton is thin and not necessarily the softest of cottons. It works great for climate control but doesn't have that thick and luxurious softness of Sateen cotton. We sleep tested the QuickZip Sateen sheets at the same time as the Percale, and they would definitely be the softer option. Those Percale sheets have a slightly crisper feel to them. | Because Percale cotton uses the simplest weave style (one thread over, one thread under), it keeps a cool and light feeling. Our little tester thought the sheets felt cold! They are indeed very light and work great for hot sleepers and on hot nights. | The QuickZip sheets are 100% cotton, which makes them easy to wash. The sheets can be washed warm in the washing machine and tumble dried on low. I recommend washing with like colors and not bleaching. The QuickZip sheets are very easy to care for, which makes them a great option for kids bedding. Accidents happen and being able to throw everything in the washing machine makes changing sheets easy and worry free. | I love all of the options offered by QuickZip. The Percale sheets come in 7 sizes, including Split King! Each size has 5 colors to choose from, and the Crib sheets come in 12 different designs. For each size, pick from 4 options (more on each below, and 3 pack options in Crib size) so you never pay for more than what you need. I love that 3 of the options do NOT include a flat sheet. Less and less people use them and it's nice to know you won't have to pay for a sheet you wouldn't be using anyways! | Each QuickZip Sheet size fits a different mattress thickness. The Twin gives you the option for an 11" and a 15" depth, while the Twin XL and Full fit up to 15" deep. The Queen fits up to 16" deep, while the King and California King fit up to 17.5" deep. That should satisfy most sleepers and fit your current mattress nicely! As far as the Crib Sheets are concerned, the Crib Zip Sheets fit standard U.S. crib mattresses 4.5-6.5" deep. |
QuickZip Sheets Prices & Discounts
QuickZip has MANY options when it comes to size and pack configuration. Since this is our Kids Corner review, I will assume that Crib and Twin are most relevant and will leave other sizes out.
For Twin, the packages work differently than for Cribs.
Basic: this is the cheapest option and includes 1 Base + 1 Zip Sheet (think of it as 1 regular fitted sheet)
Fitted Plus Spare Bundle: 1 Zip Base + 2 Zip Sheets
Classic Bundle: 1 Zip Base + 1 Zip Sheet + 1 Flat Sheet + 2 Pillowcases
Euro Bundle:  1 Zip Base + 1 Zip Sheet + 1 Duvet Cover + 2 Pillowcases
A Full Change Bundle also exists and includes 1 Zip Base + 2 Zip Sheets + 2 Flat Sheets + 4 Pillowcases for $399
Make sure to click the box above to claim the deepest discounts!
Price List updated: August 2023
Detailed QuickZip Sheets Review Conclusion
I think that the Percale QuickZip Bed Sheets are a great option for kids. But what truly sets them apart from other fitted sheets, is the zipper mechanism. It is honestly genius!! After the initial set-up, no more bending backs pulling mattresses up to fit the fitted sheet around. It also stays nice and snug the entire night and is an easy fold and store. 
Click HERE for all of our QuickZip reviews. 
QuickZip has reinvented bedding! Doing and undoing beds is no longer a hassle. QuickZip makes the process easy, quick, and painless with the use of zippers alongside the fitted base. Have you been dreading changing sheets, lifting mattresses, trying to fit that rubber band around it and hoping for a somewhat-snug result? QuickZip solves all of those pain points and has become my super hero! They allow me to change sheets more often than I ever have, since I can get our four beds switched out in just a few minutes.
While I could talk about their genius zipping fitted sheets, QuickZip has also developed a line of duvet covers that unzip and make making beds the easiest process. You can also use the QuickZip patent-pending duvet clips to hold the duvet in place, inside the cover. Those clips solve the waking-up-with-no-blanket-inside-my-cover problem (huge problem in this household, in case you couldn't tell!) and they go straight in the washing machine on laundry days, so you only have to set them up once!
All QuickZip bedding products are 100% cotton. The Percale products are a lighter, crisper option, and wonderful for hot sleepers. The Sateen has a thicker, more luxurious, and incredibly soft touch. We have not tested the Flannel sheets, but know that they are an option as well!
Overall, QuickZip has come up with a very convenient, frustration-solving, line of products. When looking for children bedding products, they make parents' lives easier, while keeping the kids comfortable and back to sleeping in no time, especially during those middle-of-the-night emergencies. 
What Is Inside The QuickZip Bed Sheets?
In this Kids Corner review, we tested the Twin Percale Basic set, made of 1 Base + 1 Zip Sheet.
Before I get into the different packs you can buy, let's look at what the QuickZip bed sheets are made of. 
Whether you pick the Percale, Sateen, or Flannel option, all sheets are 100% long-staple OEKO-TEX-certified cotton. The long staple creates a soft and strong sheet and the OEKO-TEX certification means that no harmful chemicals were used, making the sheets safe for kids (and adults). 
Let's look at what is inside the pack you purchase: 
The Crib Sheets come in 3 different packs. I think the Crib 3-Pack is a great option as it includes 1 base and 3 zip sheets. But you can also purchase just a Crib Sheet (1 Base + 1 Zip Sheet) or the Crib Deluxe for added peace of mind (1 Base + 3 Zip Sheets + 2 Felt Waterproof Mattress Pads)
All other mattress sizes come in 4 options: the Basic, Classic, Premium, and Euro. Note that if a flat sheet is important to you, only the Classic Pack (reviewed here) includes one
How Do The QuickZip Bed Sheets Sleep?
Softness
We sleep tested the Percale sheets, which I think are a great option for children. They are thin and breathable, keeping the kids cool at night. Children tend to move quite a bit at night, and unless you are in a cold climate, I would definitely recommend Percale as the best cotton for children. 
I am rating the QuickZip Percale bed sheets a 6 out of 10. You will find them neither ultra-soft, nor rough. My little sleep tester called them "soft and cold"!
Temperature
If you (or your child) are a hot sleeper, the Percale sheets will be a very good option to prevent heating at night. Those sheets are made of the simplest of cotton weaving, giving them a matte finish + cool, light, and breathable feeling – great for hot nights and/or hot sleepers.
Mattress Sizes
QuickZip sells zipping bed sheets in 7 different mattress sizes – even the harder-to-find Split King. 
If you are buying for a baby, the Crib fitted sheets are designed to fit snug on a standard American crib mattress (27″ x 52″), with a depth of 4.5 to 6.5 inches. 
For older kids, each mattress size carries a different depth and QuickZip accommodates mattresses 11 to 17.5 inches deep.
What Sets QuickZip Bed Sheets Apart?
If you're a parent, QuickZip sets the bar to a new level! They are not your typical fitted sheets and a few of my favorites are: 
revolutionary zip-on / zip-off mechanism, making changing beds a breeze – it is faster and easier than any other bed sheet on the market
a little labeling tag on each Zip Sheet and pillow case with the size of the product – I know which room to take each sheet on laundry day
top quality 100% cotton that is comfortable and healthy
super cute designs in the Crib collection
easy to add on more Zip Sheets post purchase, mix-and-match designs, and get other bedding accessories
many pack options to choose from, so you only pay for what you need
incredibly easy to fold since the Zip Sheets are flat and can be folded into perfect squares (no more fighting for a somewhat organized-looking shelf!)
How Do I Care For My QuickZip Percale Sheets?
The QuickZip Percale bed sheets are very easy to wash, and known to get softer with every wash. They also show very little shrinking with their first wash! 
As a parent, I look for products that are easy to maintain and handle. As needed, just throw the Zip Sheets in the washing machine and wash on warm.  Make sure you wash with like colors and avoid bleaching. Once washed, conveniently dry on the low tumble setting. The sheets come out clean and soft. 
20% OFF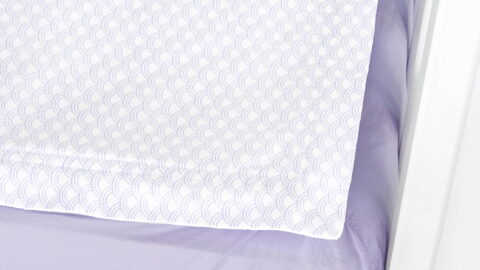 QuickZip Crib
20% OFF orders with coupon code (click to reveal), or 15% OFF the rest of the year with our featured coupon code NB15.
20% OFF orders with coupon code (click to reveal), or 15% OFF the rest of the year with our featured coupon code NB15.
Show Less
The PLUSES

The MINUSES

Easy zip-on / zip-off for speedy bed sheet changes in the middle of the night
Revolutionary technology to prevent back pain and effort when changing sheets
Easy to wash and dry
Folds neatly
Do not pop off - the QuickZip fitted base is engineered to stay in place, even on adjustable bed bases
Easy-view labeling makes every parent's life so much easier on laundry day
Many pack options to tailor to everyone's needs and mattresses
Very cute designs
Easy to add on products after original purchase as needed
Percale option is great for the hot sleepers
The Crib bed sheet sets are a great gift for are moms

The cheapest twin sheet is priced at $100, which might not fit everyone's budget
If you need a warmer and softer option, Percale might  not be for you (but QuickZip sells Sateen and Flannel)
I really can't say anything bad about QuickZip's fitted sheets... they're absolutely wonderful! 
Share this deal with a friend!