SLEEPDOG BIGDAWG RV MATTRESS REVIEW
Finding a good-quality RV mattress, or truck mattress, is no small feat. We tested the BigDawg mattress by SleepDog, and found a very comfortable mattress working with all sleep positions, that we are excited to recommend to RVers and truckers.
SleepDog has been specializing in truck mattresses, but their short queen mattress and RV king mattress are the perfect option as camper mattress.
We put it to the test in our Class A and can't wait to tell you what we thought of the SleepDog BigDawg Mattress.
25% OFF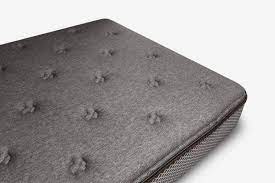 SleepDog Company Policies
2 to 5-day free shipping and returns
120-night trial
10-year warranty
100% made in the USA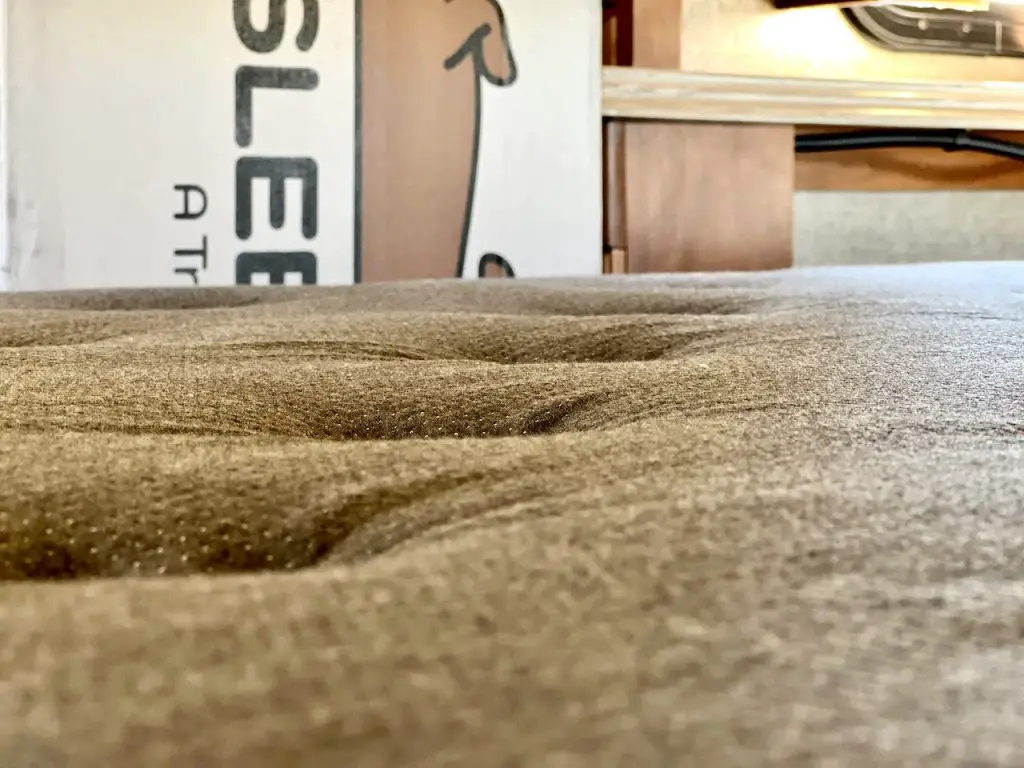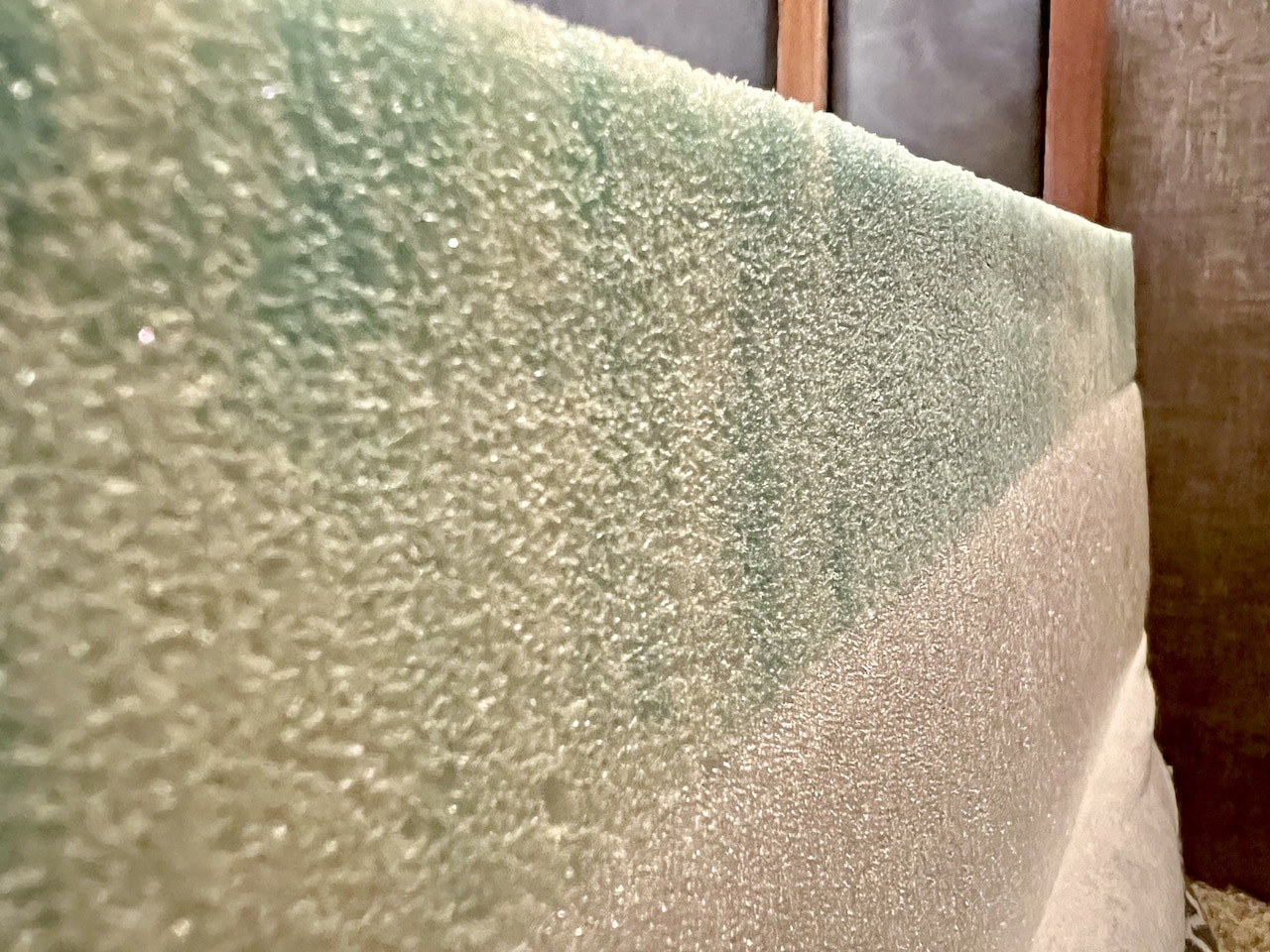 What's Inside The SleepDog BigDawg
In a nutshell:
Double-sided firmness
2″ quilted foam mattress cover
2″ 3 lb CoolRest® gel memory foam
5″ 2 lb SureAlign® high density support foam
DOT compliant
Double-Sided Firmness

The BigDawg mattress by SleepDog is a flippable mattress with a firmer and a softer side, ideal for all types of sleepers and allowing you to flip your mattress if your sleeping preference changes.
2″ Quilted Foam Mattress Cover

Only present on the soft side of the SleepDog BigDawg RV mattress, the 2-inch thick foam-infused mattress cover provides the extra plushness side-sleepers like to sink in.
2″ CoolRest® gel memory foam

The center layer in the BigDawg RV Mattress is 2 inches, or 3 pounds, of CoolRest® gel memory foam. That layer allows for cool sleep – a must in both RVs and trucks, where nights can be warmer than in residential bedrooms.
5″ SureAlign® high density support foam

The bottom layer on the soft side, but top layer on the firm side, of the SleepDog BigDawg Mattress, is 5 inches, or 2 pounds, of a firmer memory that allows your neck and back to sleep in an aligned position throughout the night.
DOT Compliant

The BigDawg Mattress by SleepDog is DOT compliant, which means that it meets the strict qualifications of the U.S. Department of Transportation for an over the road mattress – it is flexible, 4+ inches thick, rectangular in shape, and compliant with all other sleeper berth requirements, making it a safe mattress you can confidently add to your RV or truck.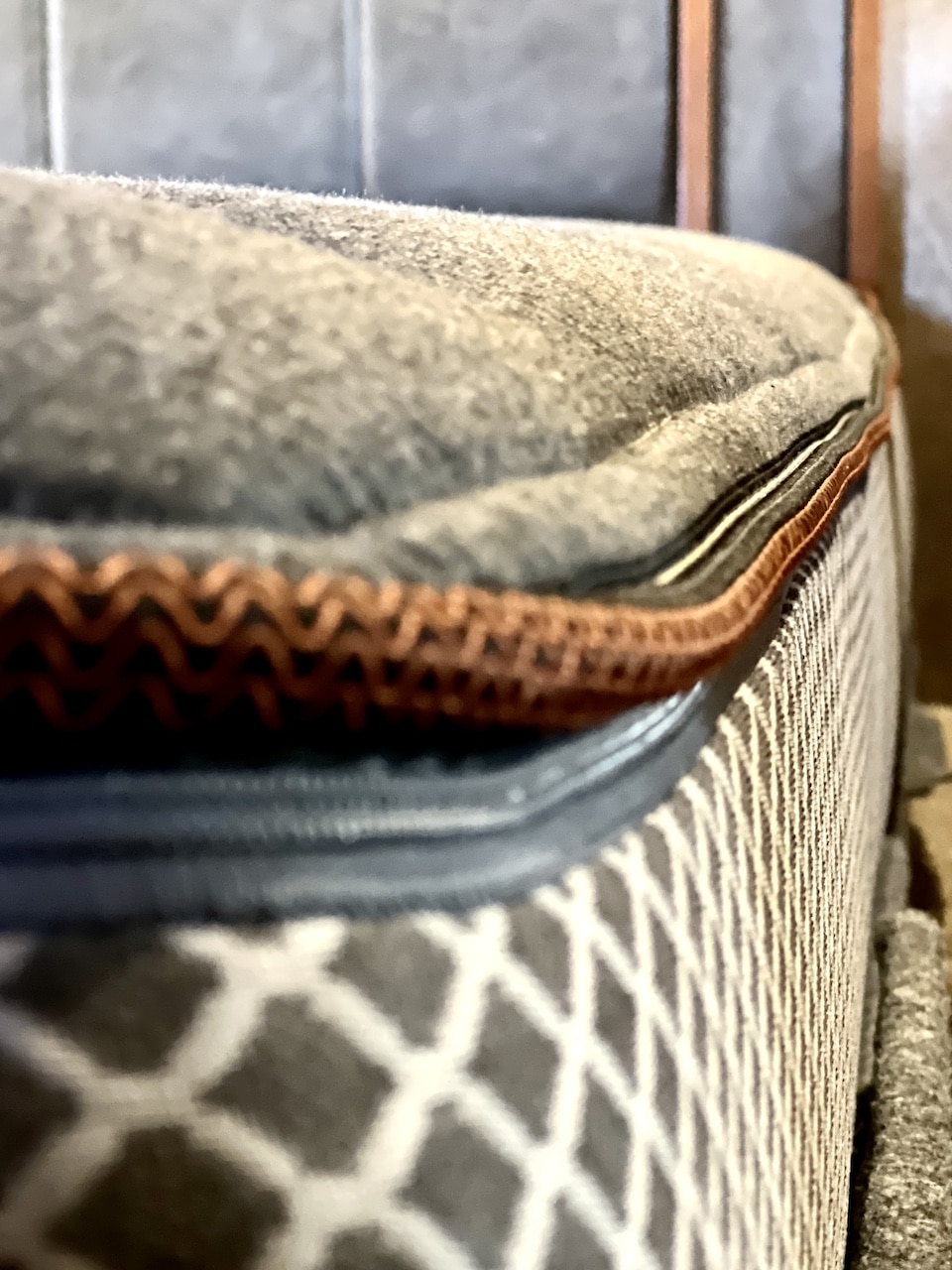 SleepDog BigDawg Sleep Tests
Everything we felt in one box
| Firmness | Temperature | Maintenance | Sleeping Style | Bed Base |
| --- | --- | --- | --- | --- |
| We love seeing flippable mattresses, and the BigDawg is one of them. The soft side of the mattress is a 6.5/10 on the firmness scale, making it about average firmness. A thick, 2-inch memory foam-infused mattress cover gives it a comfortable and plush feeling. When flipped to its firmer side, the SleepDog BigDawg Mattress is a very firm mattress. We gave it a 7.5 to 8 out of 10, making it one of the firmest mattresses on the market. | Thanks to its 2-inch center layer of CoolRest® memory foam, the BigDawg RV Mattress sleeps temperature neutral. All-foam mattresses have a reputation for sleeping hot, but SleepDog uses a proprietary foam that is gel-infused and sleeps cool even in the warmest conditions on the road. | The cover of the SleepDog BigDawg mattress can be removed, but not washed. You can spot clean the mattress with mild detergent, clear water, and a cloth. Try blotting the stain, instead of rubbing it. | Thanks for its 2 firmness levels, the BigDawg Mattress works well with all sleeping styles. The soft side of the mattress is ideal for side-sleepers, as well as lighter-weight back sleepers. The firm side is perfect for back and stomach sleepers, as well as those suffering from back pain, or heavier weight folks. | The SleepDog BigDawg Mattress can be laid on any flat surface: flat platform beds, slatted beds, boxsprings or foundation, adjustable beds, or even the ground. RVs and trucks are generally fitted with a solid foundation, ideal for the BigDawg Mattress. |
SleepDog BigDawg Prices & Discounts
25% OFF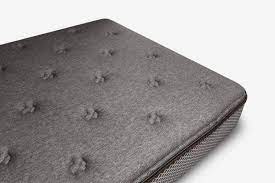 Because SleepDog specializes in truck and RV mattresses, they customize their mattress sizes for those very specific dimensions. 
For truckers, you will find the SleepDog mattress in sizes: A, B, C, and D. For RVers, shop the Short Queen Mattress, also known as RV Queen, or the RV King mattress. Additionally, SleepDog offers the BigDawg Mattress in regular household Queen. The regular Queen is 5 inches longer that the RV Queen mattress, with an equal width. If you have the extra 5 inches in your camper, it can work really well. The RV Queen and Queen sizes are priced equally.
Remember to always measure the space that you have, whether in your truck berth or in your camper / RV. I have included the sizes for each of the SleepDog sizes below for your reference. Measuring your space prior to purchasing will help you get the right size from the get-go.
Price List updated: June 2023 – PRE-DISCOUNTED PRICES

Detailed SleepDog BigDawg RV Mattress Review Conclusion
Shopping for a new RV mattress can be a frustrating and challenging process. Unfortunately, RVs generally come with less-than-stellar manufacturer mattresses and very few mattress companies caters to the needs of RVers. Finding a comfortable mattress can change your camping experience.
SleepDog has specialized in trucking mattresses and created the BigDawg mattress to cater to the broadest market. We are very impressed with its flippable property, making it attractive to all sleepers, no matter their preferred sleeping position. More importantly, SleepDog has designed a mattress that:
sleeps cool (wonderful for those hot camping summer nights)
has low off-gassing (perfect for tight spaces)
with minimal motion transfer (great for sleeping with a partner)
has a 10-year warranty and 120-night trial
ships within 2 days of ordering (nice perk for full-timers moving quickly)
We think the BigDawg mattress is one of your best options when it comes to RV and truck mattresses.
Find all of our  SleepDog reviews HERE.
SleepDog might be best known for its truck mattresses, but their specialized mattresses are designed for trucks and RV's. Their mission is to provide sleepers with comfort on the road, and we love seeing mattress companies focusing on such a niche segment of the market.
SleepDog is a brand division of BedInABox, which launched the mattresses in a box in 2006 and has delivered over 200,000 mattresses in the U.S.
With two models on the market, the SleepDog RV and Truck Mattresses are all 100% made in the USA. The memory foam used in the mattresses are manufactured in North Carolina, where all mattresses are further made. The brand understands the complexity of receiving a mattress while on the road, and ships all mattress orders within 2 days of receiving your order, to ensure that it gets to you as quickly as possible, no matter where on the road you are. 
If you are an RVer, you will find the SleepDog and BigDawg mattresses as RV Short Queen mattress and RV King mattress. If you are on the market for a trucking mattress, both SleepDog mattresses fit standard sizes in Freightliner, Volvo, Mack, Peterbilt, and Kenworth trucks. As a general rule, however, make sure to measure your berth before ordering your mattress.
All SleepDog mattresses are DOT approved and safe for road travel, meaning that they meet all Department of Transportation's stringent qualifications and are compliant for life on U.S. roads.
SleepDog also manufactures residential mattresses, a mattress protector, cooling pillow,
What Is Inside The SleepDog BigDawg RV Mattress?
The BidDawg RV Mattress by SleepDog is a 9-inch thick all-foam mattress. Made of three distinct layers of foam, it boasts a firm and a soft side. Simply flip the SleepDog BigDawg mattress to discover a whole new comfort.
2-Inch Quilted Memory Foam Mattress Cover
On its soft side, the first layer of foam is a 2-inch thick mattress cover, infused with memory foam. This top layer provides all of the pressure relief and plushness you can be looking for. This quilted mattress cover is a modern dark grey and looks good in all RVs and trucks alike.
2-Inch CoolRest® Gel Memory Foam 
The center layer is the same, whether you sleep on the soft or firm side of the BigDawg mattress. Two inches, or 3 pounds, of CoolRest® Gel Memory Foam provides further pressure relief to those high pressure areas in the hips and shoulders. Those 2 inches of foam are infused with cooling gel, helping the hottest sleepers sleep temperature-neutral. That second layer of foam provides sleepers on both sides of the mattress, very low motion transfer. In other words, your partner won't be waking you from his/her movement on this RV mattress.
5-Inch SureAlign® High Density Support Foam
The third, and last, layer in the BigDawg Mattress is 5 inches, or 2 pounds, of SureAlign® High Density Support Foam. That thickest layer of foam provides stability to the mattress on its soft side, as well as all of the support your body needs, including the high pressure areas. That firmer foam allows your entire body to rest aligned throughout the night.
That layer is also the closest to your body if you choose to sleep on the firm side of your SleepDog mattress. It provides all of the support and alignment you need in your spine and hips if you sleep on your back or stomach.
How Does The BigDawg RV Mattress Sleep?
Firmness
The BigDawg RV Mattress is a flippable mattress, allowing to choose from two firmness levels. We rated the soft side a 6.5 out of 10 on the firmness scale – making it an average firmness.
Once flipped, the firm side is actually quite firm. We rated it a 7.5 to 8 out of 10, making it one of the firmer mattresses out there.
Sleeping Style
Thanks to its flippable property, the SleepDog BigDawg is attractive to all sleeping styles!
Its soft side will probably appeal to most sleepers and we recommend it to side sleepers, as well as lower weight back sleepers. Some smaller stomach sleepers preferring softer mattresses could even appreciate the soft side.
We highly recommend the firm side of the BigDawg to stomach and back sleepers, as well as heavier folks and those suffering from back pain.
Temperature
Thanks to its cooling gel memory foam at the center of the mattress, the BigDawg RV Mattress sleeps perfectly temperature neutral. In other words, you will neither sweat, nor be cold on this SleepDog mattress, which is a terrific feat for an RV mattress, or trucking mattress.
When a camper or trucker, you know all too well that those small enclosed space get hotter and colder than residential homes. Keeping the perfect temperature in a rig or truck can be a challenger and temperatures can quickly fluctuate over night. The BigDawg Mattress is impressive in how well it performs in the heat and cold.
We highly recommend this mattress for your RV and can confidently say that you will neither suffer from hot nor cold nights, when sleeping on it. Do not shy away from it because it is all foam, its technology more than makes up for it!
Motion Transfer
As an all-foam mattress, the motion transfer is virtually nonexistent on the SleepDog BigDawg RV Mattress. With a total of 4 inches of softer foams, your partner's movements are well absorbed and will not wake you at night.
How Do I Care For The BigDawg RV Mattress?
While the BigDawg's mattress cover can be unzipped and removed, it cannot be thrown in the washing machine. The best way to tend to a stain is to use water, a mild detergent, and blot the stain with a cloth. Do not rub the stain as you'd risk making it larger. A gentle blot on fresh stains should help you clean them up. 
Is The BigDawg Mattress DOT Compliant?
Yes, the BigDawg mattress is DOT compliant and approved and passes all of the Department of Transportation's stringent qualifications with flying colors.
Instead of DOT's 4-inch minimum requirement, the BigDawg RV Mattress is 9 inches thick. It is also made of flexible foams and of rectangular shape, as well as compliant with all other sleeper berth requirements.
Anything Else That Makes The BigDawg Mattress A Great RV Mattress?
For having been a full-time RVer for months, let me let you in on what makes the BigDawg mattress by SleepDog an amazing candidate for best RV Mattress. It ships TWO DAYS after you order!!! How amazing is that? If you are on the road, you know how hard it is to receive mail and to plan deliveries.
SleepDog has been specializing in truck mattresses for years and understand the challenges of living on the road. Your mattress is shipped within two days of your order and you typically receive it in another 3 to 5 days, making planning your delivery a lot easier than with other mattress companies.
25% OFF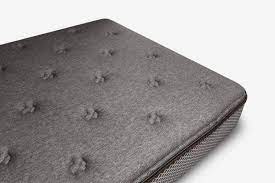 The PLUSES

The MINUSES

Flippable to fit virtually all sleeping styles
Available in 6 truck and RV mattress sizes, as well as regular queen.
Temperature-neutral sleep throughout the night and seasons, even in tight and poorly-insulated spaces
Luxurious modern-looking design
Incredibly priced for the quality
Nearly no motion transfer and ideal for sleeping with a partner who moves a lot at night
Works well with heavier folks who want to avoid sagging of their mattress 
CertiPUR-US-certified foams
100% made in the USA
Ships within 2 days after ordering

Cover is not machine washable
Is SleepDog a good mattress?
SleepDog manufactures two RV and Truck mattresses. Both are designed to fit the small space requirements of RVs and Trucks. SleepDog mattresses are high-quality all-foam mattresses made in the U.S.
Where are SleepDog mattresses made?
Both SleepDog mattresses are made in the USA. The memory foams used in the mattresses are manufactured and shipped from Mount Airy, North Carolina
Are SleepDog mattresses DOT compliant?
Yes, SleepDog mattresses are DOT compliant and can be safely used in your RV or truck.
How much does the SleepDog BigDawg mattress cost?
Costs of the SleepDog mattress varies based on size and current promotions. The BigDawg SleepDog mattress starts at $455.
Share this deal with a friend!