NATUREPEDIC 2-IN-1 ORGANIC KIDS MATTRESS REVIEW
Kids deserve the best sleeping surfaces for their growing bodies. If you value organic bedding for yourself, you are right in considering an organic kids mattress for your child. 
Naturepedic designs organic mattresses for the whole family, and has designed a flippable mattress organic mattress specifically for kids!
The best part? It grows with your child! Flip it to its waterproof side for younger kids still wetting beds and wearing diapers. As you move into the potty-trained toddler stage, flip this Naturepedic mattress to its organic cotton cover side for the most comfort. 
20% OFF + FREE Gift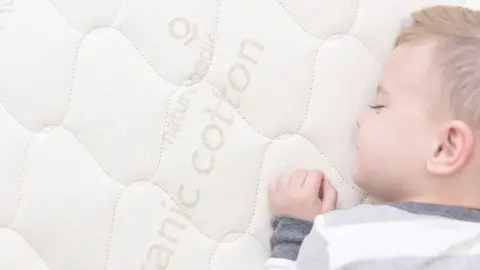 Naturepedic Company Policies
Free shipping and returns
100-night trial
25-year limited warranty
Made in the USA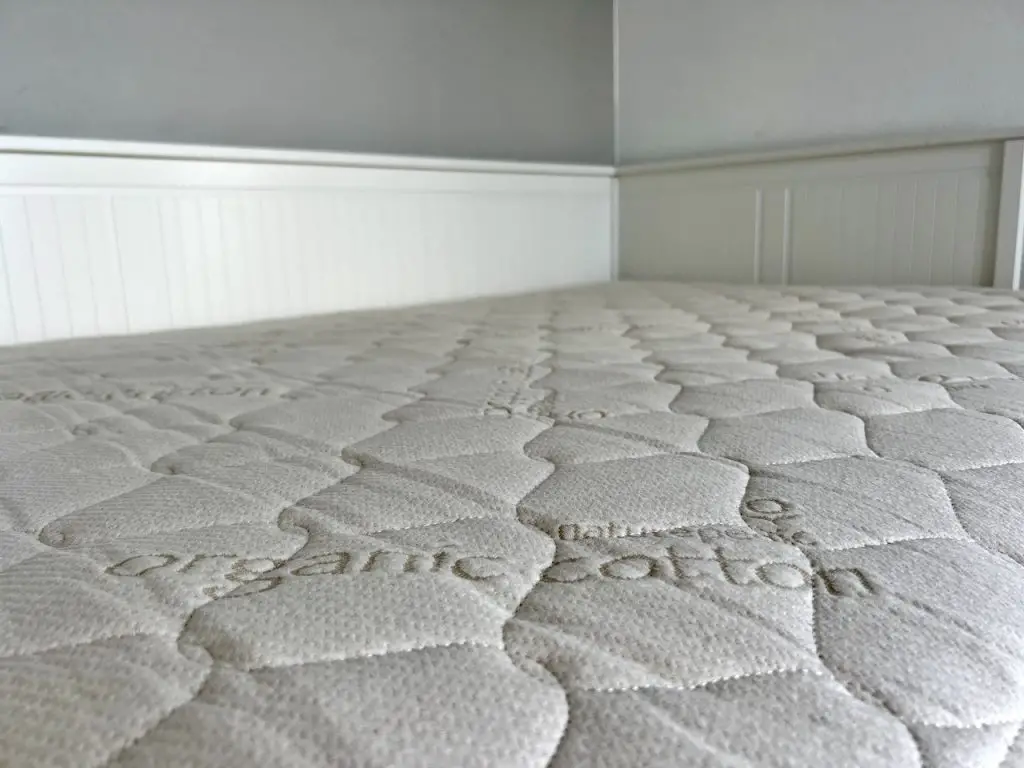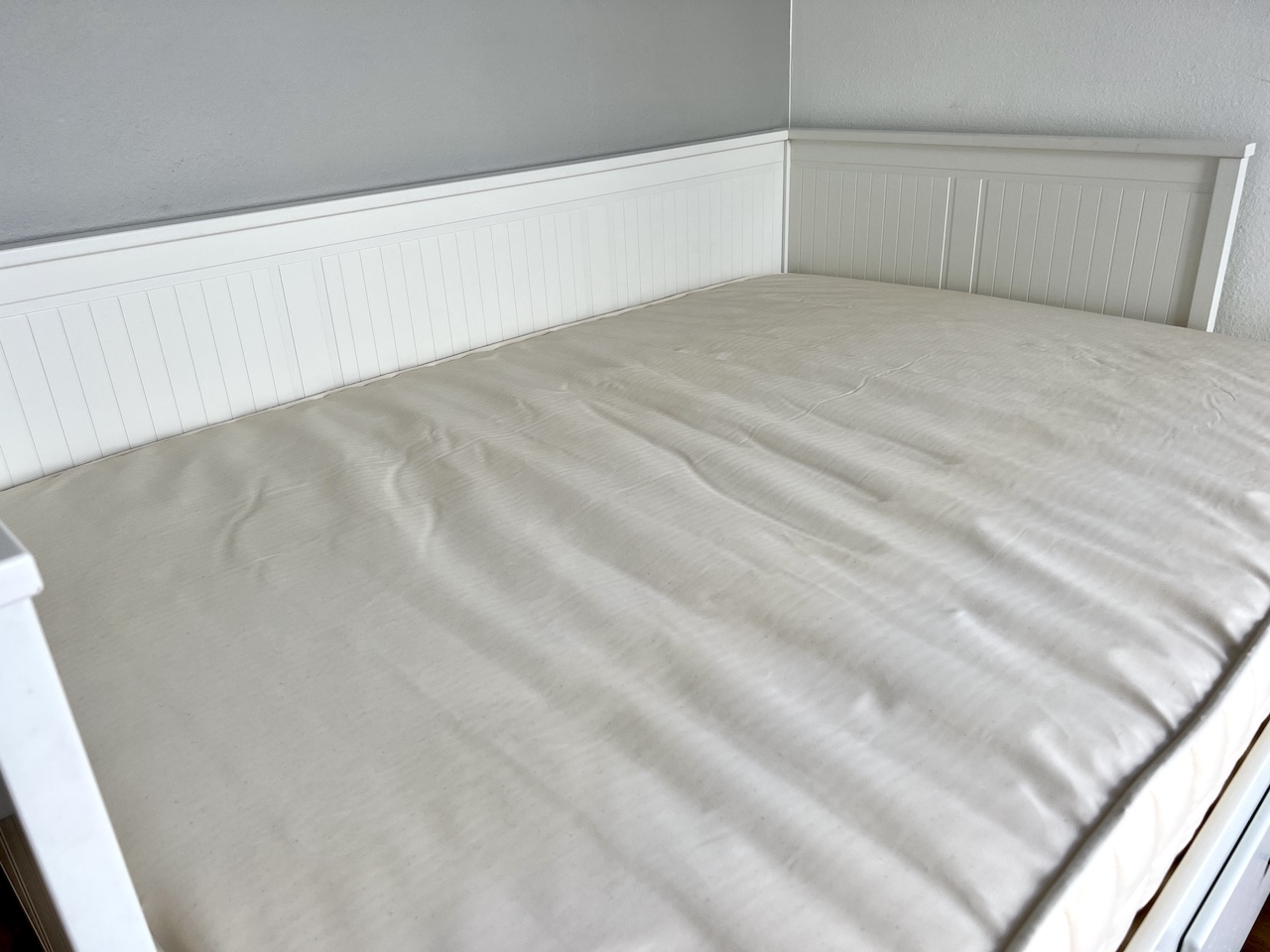 What's Inside The Naturepedic 2-In-1 Organic Kids Mattress
In a nutshell:
Flippable mattress with waterproof surface

Organic cotton layers

Innerspings
Flippable Mattress With Waterproof Surface
The Naturepedic 2-in-1 Organic Kids Mattress is a flippable mattress, growing with your child. For smaller children, who may not be fully potty-trained yet, start them on the waterproof side of the mattress, sure to protect the mattress against all accidents. As they get older, flip the mattress for a cozy organic cotton quilted cover. Both sides of the mattress include food grade covers, safe of the little bodies and mouths. 
Organic Cotton Layers
The Naturepedic Organic Kids Mattress has 2 layers of plush organic cotton layers. They make the mattress breathable, comfortable, and organic.  
Innersprings 
With 7 inches of premium steel innersprings, the children benefit from spine-aligning firmness supporting their growing bones. The innersprings allow for maximum airflow. Their excess body heat escapes down into the springs, while cool room air is brought in and cools the upper layers of organic cotton down.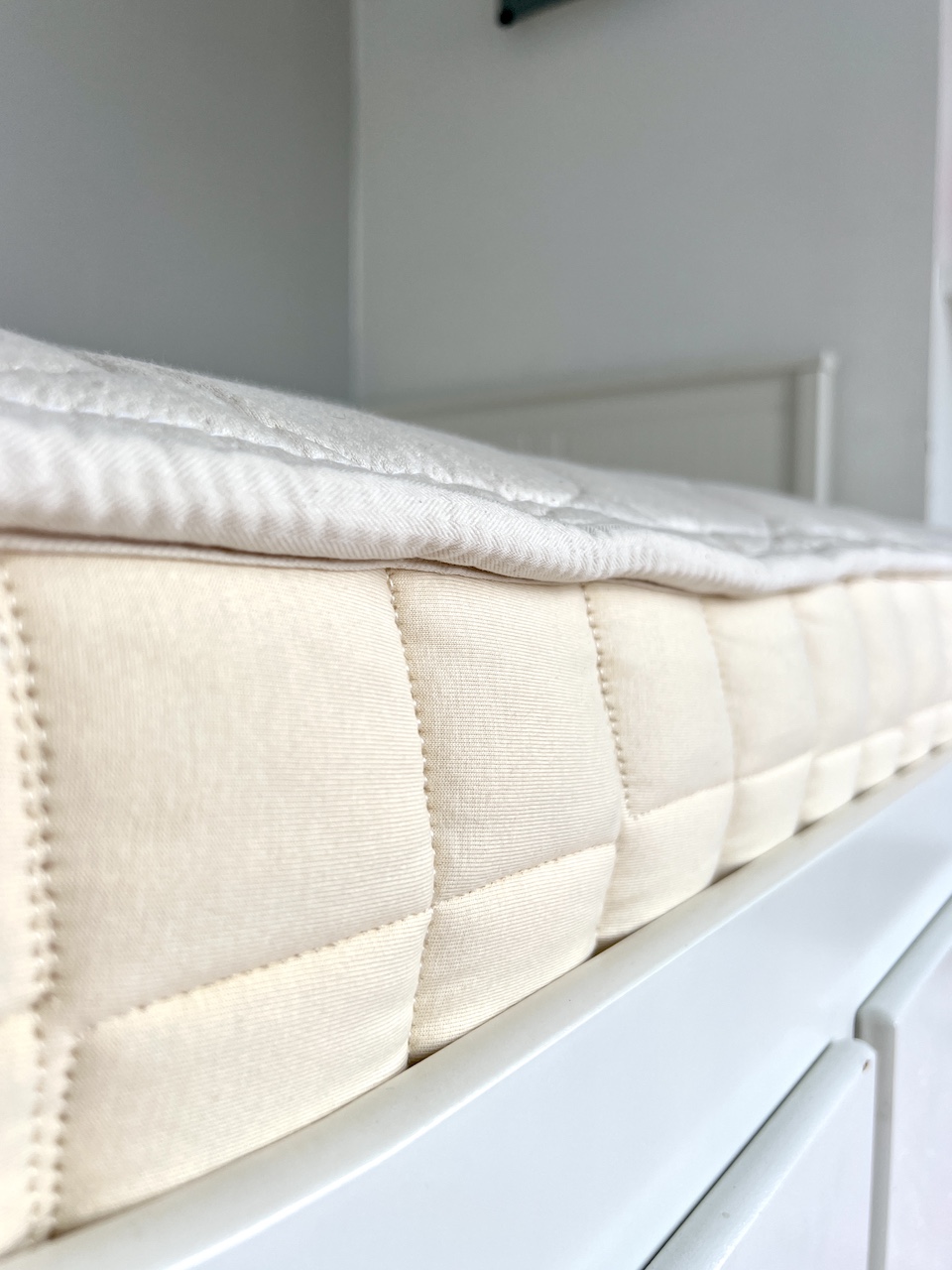 Naturepedic 2-In-1 Organic Kids Mattress Sleep Tests
Everything we felt in one box
| Firmness | Temperature | Maintenance | Sleeping Style | Bed Base |
| --- | --- | --- | --- | --- |
| We rated the Naturepedic 2-in-1 Organic Kids Mattress a 7.5 to 8 out of 10, making it a fairly firm mattress. With lower body weights, a firmer mattress has little effect on kids' sleeping positions and allows their spines and bones to be nicely aligned. It also provides a safer surface for the younger children to sleep on, especially younger kids who may find themselves rolling onto their stomachs. | Thanks for lots of air flowing through the innersprings and several layers of moisture-wicking and breathable organic cotton, the Naturepedic 2-in-1 Organic Kids Mattress sleeps very temperature neutral, and prevents hot sleeping children from sweating at night. | The cover of the Naturepedic Organic Kids mattress cannot be washed. You can spot clean the organic cotton cover with mild detergent, clear water, and a cloth. Try blotting the stain, instead of rubbing it. On the waterproof side, simply wipe off the dirty waterproof surface with a wet cloth or sponge as needed. | The Naturepedic 2-in-1 Organic Kids Mattress will work for children of all sleeping styles. If you child tends to move a lot at night s/he will find that s/he can move with ease. Because of their smaller weight, most kids will sleep comfortably on their stomach, back, and side. | The Naturepedic Organic Kids Mattress can be laid on any flat surface: flat platform beds, slatted beds, boxsprings or foundation, adjustable beds, or even the ground. |
Naturepedic 2-In-1 Organic Kids Mattress Prices & Discounts
20% OFF + FREE Gift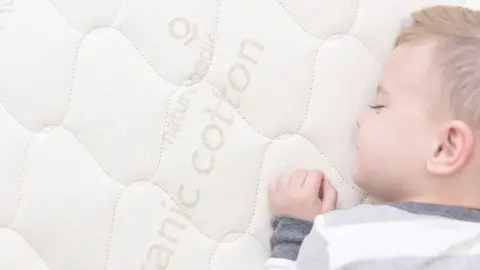 The Naturepedic 2-In-1 Organic Kids Mattress comes in all sizes kids beds are made in. From Twin to Full, including Twin Trundle and Twin Trundle Short, it is the perfect match for bunk beds if your child sleeps on one. You will notice that the Trundle sizes are an inch thinner than the Twin and Full, to reduce the weight of the mattresses.
The pricing is fair for the quality of organic products and craftsmanship found in the Naturepedic Kids Mattress, making organic bedding for kids accessible. 
Make sure to click "SHOW CODE" above to claim the deepest discounts! 
Price List updated: June 2022 – PRE-DISCOUNTED PRICES. 

Detailed Naturepedic 2-In-1 Organic Kids Mattress Review Conclusion
We are very impressed with the quality craftsmanship going into each Naturepedic Kids Mattress. You can tell that no shortcut was taken during the manufacturing process. 
The products and materials used are top quality. The mattress looks and feel beautiful, and the thoughts of adding a waterproof side to the mattress is solving parents' main problem in baby and kids mattresses. Before looking at what makes up the mattress, let's take a quick look at what you will NOT find in the Naturepedic Organic Kids Mattress: flame retardant chemicals, glues and adhesives, and polyurethane foams.
Our 7-year old tested is in love with her new mattress and has claimed it for her room! Mom and Dad are thrilled with the safe sleeping surface it provides and we love the healthy sleeping position it provides for her growing body!
Let's look at everything we found out during our test nights, in this detailed Naturepedic 2-In-1 Organic Kids Mattress review. 
Find all of our Naturepedic reviews HERE.
Naturepedic is a private-owned mattress manufacturer, and it feels! You can tell that the company takes no shortcut in manufacturing their mattresses. They are vested in providing the safest and highest-quality of certified organic mattresses for the whole family! 
The company stated when Barry Cik, with a background in environmental engineering, became unsatisfied and frustrated with his search for safe organic mattresses for his first grandchild. When he found a few organic crib mattresses, they weren't waterproof… Shortly thereafter, Naturepedic was founded. Barry and his two sons were on a mission to provide a better alternative for parents, with a non-toxic, patented food-grade waterproof surface, without various breathable options to choose from. 
From baby mattresse, Naturepedic grew into kids mattresses, and further developed adult mattresses and organic bedding, never compromising on the safe and healthy organic products. 
All organic cotton is U.S. grown and purchased directly from organic USDA-certified sources. The craftsmanship is kept in house. All mattresses are manufactured in Cleveland, Ohio, by a mix of skilled Amish and non-Amish craftsmen, who truly care for the product they put into your home. 
When you unbox a Naturepedic mattress, you see, feel, and smell the difference! 
Let's look at what exactly comes inside the Naturepedic 2-In-1 Organic Kids Mattress and understand how each layer works with your child's body to get him/her safe quality sleep. 
What Is Inside The Naturepedic 2-In-1 Organic Kids Mattress?
The Naturepedic 2-In-1 Organic Kids Mattress is a flippable mattress. As a dual-sided mattress, you choose if your child should sleep on the waterproof surface or the organic cotton quilted cover. 
The Naturepedic Organic Kids Mattress is one of the rare hybrid kid mattresses on the market. Its core is made of 7 inches of innersprings. On each side, you will find 2 layers of organic materials. Let's take a look at what is inside the Naturepedic 2-In-1 Organic Kid Mattress:
Quilted Organic Cotton Mattress Cover
If your child sleeps on the non-waterproof organic cotton side of the mattress, the closest layer to his/her skin will be a thick quilted cover, made of organic cotton and pla comfort layer. 
The organic cotton fabric and fill, found in the cover, is U.S. grown and purchased from USDA-certified sources. The pla layer is a vegan plant-based synthetic fiber that is made from non-GMO sugar cane. Because this material is used in the food packaging and medical supplies industry, it makes this mattress cover a very safe surface for your little ones, especially as their faces and mouths lay so close to it. 
1″ Organic Cotton Comfort Layer
The Naturepedic 2-In-1 Organic Kids Mattress has two 1″ organic cotton comfort layers – one of either side of the innersprings. 
They provide not only a thick layer of comfort for the little bodies to relief pressure into, as well as an inch for the innersprings to softly decompress into. 
This layer, found on both sides of the innersprings, allow for added comfort and softness. 
7″ Of Premium Innersprings
I love seeing innersprings in a kids mattress. Children's mattresses are typically all-foam constructions. Here, the 7 inches of innersprings provide stability and support for the kids' developing bodies. The springs keep their spines and bones aligned in a healthy position throughout the night. 
Lots of air gets to flow through the springs, allowing cooler room air to rise up to the cotton layers, and excess body heat to dissipate down from the body, and outwards through the innersprings. 
Waterproof Mattress Cover
Underneath the coils comes another 1″ of organic cotton comfort layer, before hitting the waterproof surface at the bottom of the mattress. This would obviously become the top layer if your child was to sleep on the waterproof side of the mattress. 
The waterproof surface is made of organic cotton, the same pla comfort layer as discussed above, and a waterproof membrane made of a proprietary material designed by Naturepedic. 
The LDPE waterproof coating is made from non-GMO sugar cane and is so pure that it meet food contact standards. Again, a very safe layer to have just underneath your child's bed sheet. 
How Does The Naturepedic 2-In-1 Organic Kids Mattress Sleep?
Firmness
We found the Naturepedic 2-in-1 Organic Kids Mattress to sleep firmer than most adult mattress we usually test. We rated it a 7.5 to 8 out of 10 on the firmness scale, for a firmer-than-average mattress. 
The firmness is essential to provide the support growing bodies need. Kids' growing bones and joints need to lay on a supportive surface that keeps them aligned and in a healthy position. 
A firmer mattress also proves safer, especially if a younger child rolls onto his/her belly. Because of the responsive layer of innersprings  used the build the Naturepedic Kids Mattress, rolling back over to their back, or switching positions, is as effortless as possible. There is no feeling to being stuck in the foam and switching position does not require extra effort – great for restless kids who move a lot at night.   
Sleeping Style
Because children are smaller-weight, even though the Naturepedic 2-in-1 Organic Kids Mattress is firmer than average, it work well for all sleeping styles. 
Whether you child is a stomach, back, or side-sleeper, he/she will have a very comfortable night of sleep. If your child is active and tosses around a lot at night, the organic cotton / innerspring combination allows them to move freely.  
Temperature
Thanks to the organic cotton used throughout the mattress, as well as 7 inches of premium innersprings, lots of air flows through the Naturepedic Kids Mattress. Fresh air is able to come in from the bedroom and raise up through the layers to the organic cotton mattress cover, keeping children from sleeping too hot at night. 
Because organic cotton is highly breathable, it absorbs the kids' excess body heat and helps it evaporate up into the room, keeping their body temperature equal, even under high temperature conditions. 
How Do I Care For The Naturepedic 2-In-1 Organic Kids Mattress?
If your child still wears diapers, wets the bed frequently, or is just starting on his/her potty-training journey, use the Naturepedic 2-in-1 Organic Kids Mattress on its waterproof side. The non-toxic waterproof layer is made of sugarcane and can be easily wiped off when dirty or accidently stained. We also recommend flipping the mattress to its waterproof side if you need to wash your waterproof mattress protector overnight, to stay safe in the event of an accident.
When using the organic cotton cover on the flipped side of the Naturepedic Organic Kids Mattress, make sure to always protect with a waterproof mattress protector. This is an advice we give everyone purchasing a new mattress, and it is especially important when a child sleeps on the mattress. 
Because the mattress cover is not removable and cannot be thrown in the washing machine, the best way to tend to a stain is to use water, a mild detergent, and blot the stain with a cloth. Do not rub the stain as you'd risk making it larger. A gentle blot on fresh stains should help you clean them up. 
Where Are Naturepedic Mattresses Manufactured?
All baby, kid, and adult Naturepedic mattresses are 100% made and manufactured in the USA. More specifically near Cleveland, OH, nearby Amish communities. Amish and non-Amish workers work together to handcraft Naturepedic mattresses with domestic and imported materials. 
20% OFF + FREE Gift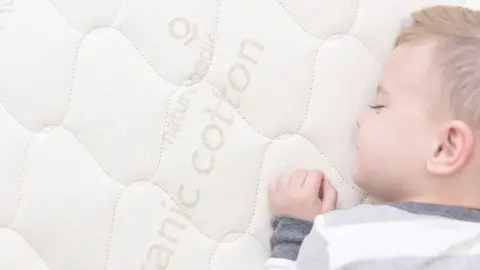 The PLUSES

The MINUSES

Organic mattress designed specifically for growing kids
Waterproof side (layer made from sugar cane)
Organic cotton cover is soft and comfortable
100% vegan
Firmer mattress to support growing bones
Available in trundle sizes for bunks
Easily added to your baby registry
Earth-smelling off-gassing
No harsh chemicals
25-year limited warranty
CertiPUR-US, GOTS, Made Safe, Greenguard, Zero Toxics certifications
100% made in the USA
How long do Naturepedic mattresses last?
The Naturepedic mattresses are built to last. Handmade by Amish and non-Amish handcrafters, they are built with utmost care. The organic cotton and premium steel, as well as the non-GMO sugar cane byproducts used in Naturepedic mattresses, make them a sure investment for well over 10 years. You benefit from a 25-year limited warranty.
Are Naturepedic mattresses worth it?
Absolutely! The quality of products going into the products is incredible. Additionally, Naturepedic mattress are hand made with care in Cleveland, Ohio, and all cotton is produced in the USA. They are priced very well for organic mattresses and well worth the investment.
Is Naturepedic a good brand?
If you are looking for organic mattresses made in the USA, a family-owned business who cares for the craftsmanship of each and every product, then YES, Naturepedic is a very good and solid brand you can trust!
Share this deal with a friend!