DREAMCLOUD MATTRESS REVIEW
In this DreamCloud Mattress review, we discuss premium materials at half the price, and an unforgettable sleep experience. That's the promise of DreamCloud. Is it holding it?
With gel memory foam, a plush Tight Top and a layer of individually wrapped coils, the DreamCloud Mattress delivers the ultimate combo: comfort and support!
Let's take a look at our thoughts after testing the DreamCloud Mattress. 
40% OFF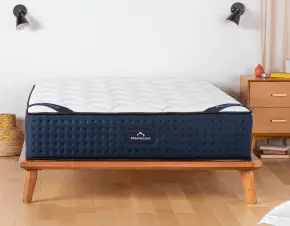 DreamCloud Mattress
40% OFF Mattresses with our exclusive coupon code (click for code)
40% OFF Mattresses with our exclusive coupon code (click for code)
Show Less
DreamCloud Company Policies
DreamCloud offers some of the best-in-industry policies when shopping for any of their mattresses.
You will always get free shipping straight to your door, and free returns should you change your mind within your trial period. 
And here is the best part… you have 365 days of at-home trial! In other words, you have a whole year to decide whether the DreamCloud mattress is the best mattress for your sleeping needs. Relax and take your time – sleep on your DreamCloud through all 4 seasons, and if you feel that it is not the right choice for you, initiate a free return with DreamCloud. 
This is the longest and most generous trial in the mattress industry. Long gone are the days of laying on a mattress for 15 seconds with a sales guy staring at you… 
Lastly, DreamCloud is so confident of the quality of the products they put in your home, that they offer a lifetime warranty on their mattresses. 
What Is Inside The DreamCloud Mattress?
The DreamCloud is 14 inches high with a 5-layer premium hybrid design. Wrapped inside a soft high-quality cashmere blend cover, is a big fluffy cloud… It seriously feels like it. But there are also layers that make this big fluffy comfy cloud feel happen.
A pressure-relief comfort layer infused with gel memory foam contours to your body shape carefully, no matter your sleep position. Below is a transition layer of foam that gives you just the right amount of snug, while starting to provide a firmer and more supportive experience for your spine and bones.
Since the DreamCloud Mattress is a hybrid mattress, you find a layer of coils under the foams. This targeted support layer is made of individually-wrapped coils that adapt to your body. 
Finally, a base layer of high-density foam gives stability and durability to the DreamCloud Mattress. 
Premium 5-layer Hybrid Design
Cashmere Blend Cover
Pressure-Activated High-Density Gel Memory Foam Top Layer
Low-Motion Transfer Supportive Foam
Heavy-Duty Gauge Edge Shield Edge Support
Individually-Encased Innerspring Coil System
High-Density Foam Solid Foundation Base
So there you have it. A combination of the best of luxury memory foams, hand crafted cashmere, tufting and coil technology to provide the best sleep money can buy. Keep in mind that the DreamCloud is exceptionally affordable. The Queen-size DreamCloud has been consistently priced just under $1,000 since its release! 
We rate it a 6 or 7 out of 10 on the firmness scale. That is just the right amount of healthy firmness for your body to feel supported, with all of the comfortable plushness and pressure relief the heavier parts in your body need. 
Buying a new mattress is definitely considered an investment. Some people think that only if you pay top dollar, can you get a top mattress. That is not true! Mattress companies have ways to cut costs through manufacturing, and some are now able to offer a luxury product and the non-luxury price! The DreamCloud is everything you want in a mattress and more.
No more aches, no more pain! Sleep well and wake up happy and healthy. A healthy night of sleep is paramount to being able to perform well the next day. 
The DreamCloud is what I call the pioneer mattress. It's exceptional and unique, and will quickly become your source of recovery and happiness. You will look forward to laying on it when the day is over and you can finally lay down on one of the most comfortable mattresses on the planet.
I love donating my mattresses when I am done testing and reviewing. It's my number one rule and it makes me happy to know that these mattresses go to families that are in need. But I'm not going to lie, this one is a keeper. Actually this one is going to be my main mattress going forward!!
DreamCloud Mattress Prices & Discounts
40% OFF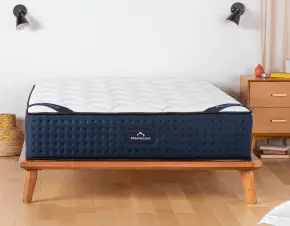 DreamCloud Mattress
40% OFF Mattresses with our exclusive coupon code (click for code)
40% OFF Mattresses with our exclusive coupon code (click for code)
Show Less
It is not easy to find a mattress that is affordable, luxurious and comfortable, all at the same time. The DreamCloud is all of this and more! Top quality materials and a mattress that is a cut above the rest for half the price.
Make sure to click the box above to claim the deepest discounts, and use discount code NONBIASED for the deepest discount!
Price List updated: August 2022
DreamCloud Review Conclusion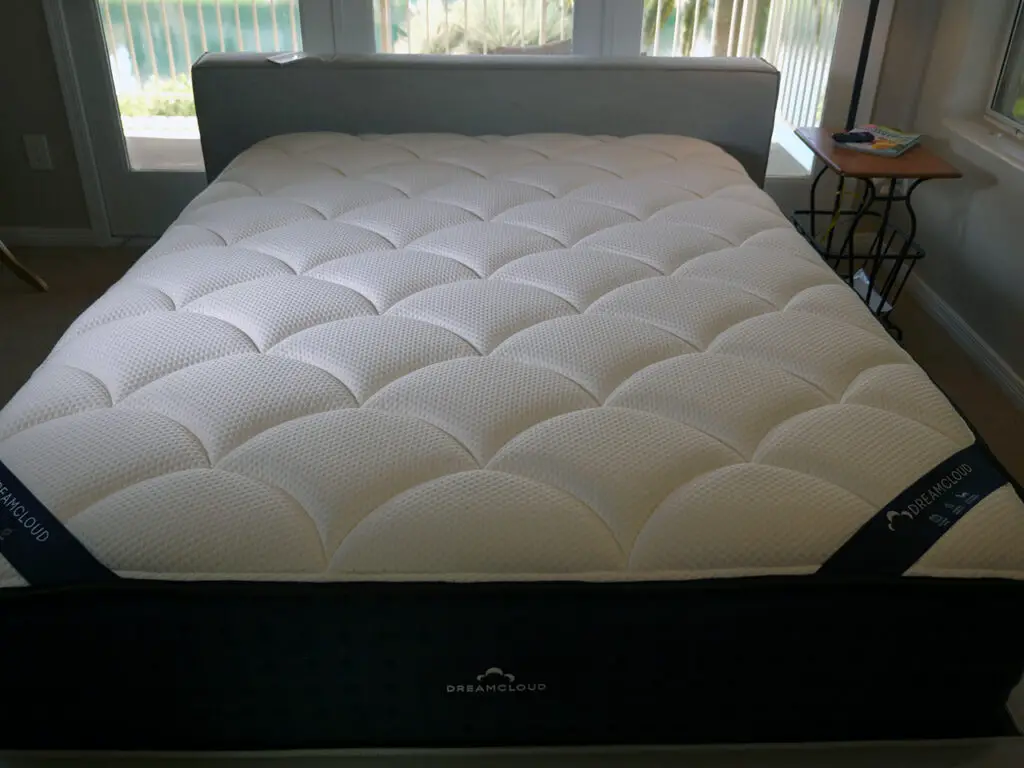 Thanks to its pressure relief and supportive properties, we can recommend the DreamCloud for most sleeping styles. Side-sleepers of all sizes will do extremely well with enough pressure relief to sleep with an aligned spine. Back and stomach sleepers up to 200 to 220 lbs will also find a comfortable sleeping position on the DreamCloud Mattress. 
You will find that the layer of individually-wrapped coils adapts nicely to your own body shape. The gel memory foam will hug the heavier parts in your body (hips and shoulders) by gently contouring to your body and problem areas.
If you share your bed with a partner who does not agree on your mattress firmness, we think there is a high chance you can both agree on the comfort of the DreamCloud. Instead of wasting your time and money trying to personalize a mattress online, give the DreamCloud a chance now! Remember that you have 365 days to make sure you both love it. The perfect luxury firmness gives you that ticket to compromise. Not too hard , not too soft, just perfect!
We loved the excellent motion transfer thanks for thick layers of foam and the individually-wrapped coils, where when one moves, the coils next to it don't. That combination of materials absorbs all motion and you won't feel anything if your partner moves or rolls around. The individually-wrapped coils do not allow vibrations to travel and the supportive foam layers drastically reduce the feeling of any movements. 
Lastly, thanks to the cooling-gel infused memory foam and a coil system that allows for air to penetrate the mattress, the DreamCloud sleeps very temperature neutral. No more waking up sweating or feeling trapped in your own body heat.  The foam and coils work together to diffuse your body heat down and outwards, with nice airflow and a foam that helps you regulate your body temperature. 
It's the one mattress fits all!
This ends our DreamCloud Mattress review. It is a very universal mattress for all types of sleepers and we are ready to bet you won't wake up (as) cranky.  
Most frequent questions and answers
DreamCloud Mattress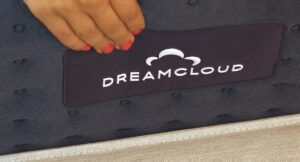 DreamCloud's all new luxury mattress at an affordable price. Our DreamCloud Mattress review - 365-day trial, lifetime warranty, and some of the best sleep ever!
Product SKU: Queen
Product Brand: DreamCloud
Product Currency: USD
Product Price: 899
Product In-Stock: InStock