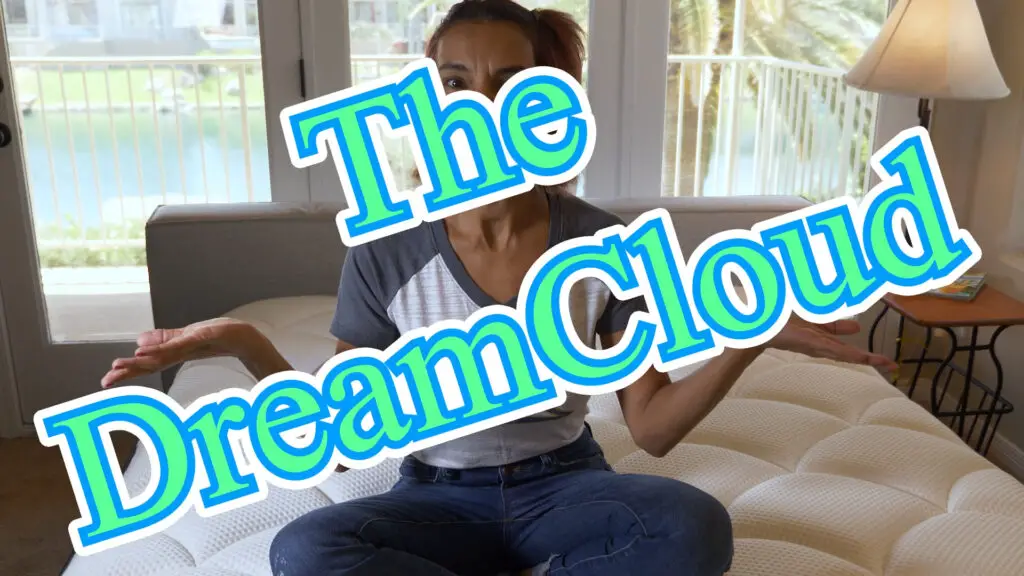 $200 OFF + $399 of FREE Accessories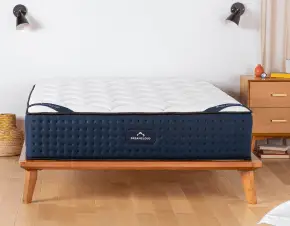 Dreamcloud Sleep
$200 OFF your DreamCloud + receive a FREE Mattress Protector, Sheets, and Pillows - valued at $399
$200 OFF your DreamCloud + receive a FREE Mattress Protector, Sheets, and Pillows - valued at $399
Show Less
DreamCloud Mattress Video Review
In this DreamCloud Mattress review, we discuss premium materials at half the price, and an unforgettable sleep experience. That's the promise of DreamCloud. Are they holding it?
With gel memory foam, a plush Tight Top and a layer of individually wrapped coils, the DreamCloud Mattress delivers the ultimate combo: Comfort and Support!
Don't need all the details? Click to jump to our DreamCloud Mattress review conclusion.
DreamCloud Company Policies
Online mattress shopping just got better, easier and more simple.
DreamCloud offers free shipping straight to your door, free returns and you have a whole year to decide if it's the right one for you or not.
And only for a limited time your purchase come with 2 free pillows, a mattress protector and $200 off! There's no better deal than this one. 
What's Inside The DreamCloud Mattress?
The DreamCloud is 15 inches high with premium 5-layer hybrid design. Wrapped inside that soft high-quality cashmere blend cover is a big fluffy cloud… It seriously feels like it. But there are also layers that make this big fluffy comfy cloud feel happen.
Pressure-relief comfort layer with gel memory foam that contours to your shape carefully, no matter your sleep position. Followed by a transition layer of foam that will give you enough snug. Just the right amount of it.
My favorite part, the targeted support layer made of individually wrapped coils that adapt to your body. And finally the essential layer. The base layer ensures that all layers above it sit perfectly, and perform like as expected: Best Performance.
Premium 5-layer Hybrid Design
Cashmere Blend Cover
Pressure Activated High Density Gel Memory Foam Top Layer
Low-Motion Transfer Supportive Foam
Heavy Duty Gauge Edge Shield Edge Support
Individually Encased Innerspring Coil System
Stay-put Foam Solid Foundation Base
So there you have it. A combination of the best of latex, memory foam, hand crafted Cashmere, tufting and coil technology to provide the best sleep money can buy- Keep in mind, the DreamCloud is exceptionally affordable. So stop over thinking about how you can't afford the perfect mattress. The DreamCloud is the perfect mattress that you can afford.
We rate it a 6 or 7 out of 10 on the firmness scale. That's just the right amount of healthy firmness for your body to feel supported, with all of the comfortable plushness. 
I am absolutely aware that a mattress is an investment. Some people think that only if you pay top dollar you get top mattress. That is not true! The DreamCloud is everything you want in a mattress and more.
No more aches, no more pain! Sleep well and wake up happy.
It is impossible for me to go on with my day or perform well if I haven't slept comfortably the night before – I bet that's your case too – it all depends on how we slept, but then we cannot sleep well if we don't have the RIGHT MATTRESS.
I don't consider the DreamCloud at this point, to be just the right mattress. Everyone can call their mattress the right one, so cliché. The DreamCloud is what I call the pioneer mattress. It's so exceptional and unique, it is my source of freshness. It's also what I look forward to when the day is over and it's finally time to lay down on the most comfortable mattress on this planet.
I love donating my mattresses when I am done testing and reviewing. It's my number one rule and it makes me happy to know that these mattresses go to families that are in need. But I'm not going to lie, this one is a keeper. Actually this one is going to be my main mattress going forward!!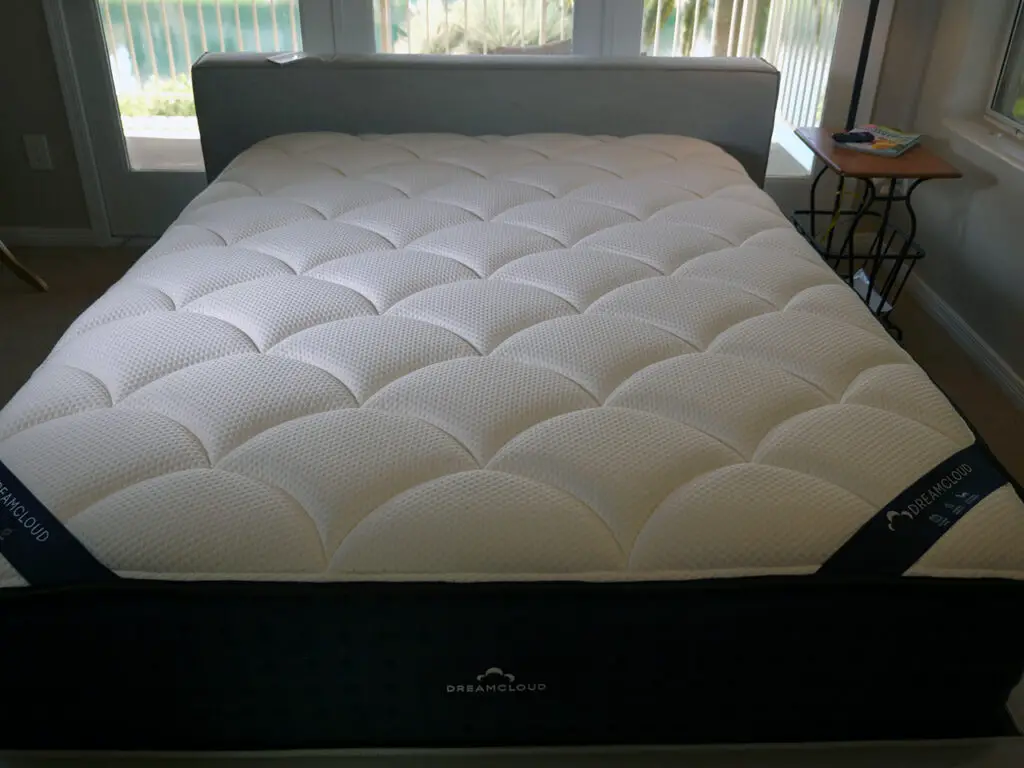 DreamCloud Price & Discounts
It's not easy to find a mattress that is affordable, luxurious and comfortable, all at the same time. The DreamCloud has all this and more! Top quality materials and a mattress that is a cut above the rest for half the price.
Price list updated: 10/9/2020
$200 OFF + $399 of FREE Accessories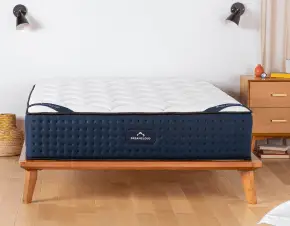 Dreamcloud Sleep
$200 OFF your DreamCloud + receive a FREE Mattress Protector, Sheets, and Pillows - valued at $399
$200 OFF your DreamCloud + receive a FREE Mattress Protector, Sheets, and Pillows - valued at $399
Show Less
DreamCloud Mattress Review Conclusion
Whether you sleep on your back, side, starfish, flamingo, with your pet by your feet… you name it! It's the DreamCloud challenge, and challenge accepted- and glorious sleep will be delivered, guaranteed! The magical layer of coils will adapt to your sleep shape no matter what. The gel memory foam will hug your hips and shoulders by gently contouring to your body and your problem areas.
Also great news if you share your bed with someone who doesn't agree on your mattress level of firmness. Instead of wasting your time and money trying to personalize a mattress online, his side and her side and what not and then at the end you both end up uncomfortably in the middle ( trust me I have tried it and hated it). GET THE DREAMCLOUD NOW! The perfect luxury firmness gives you that ticket to compromise. Not too hard rock firm, not too soft where you sink in it and can't get out. Just PERFECT!
You won't feel anything if your partner moves or rolls around, It's called the :stay-put" technology. The individually wrapped coils do not allow vibrations to travel and the supportive foam layer reduces drastically the feeling of any movements.
It's the one mattress fits all!
This ends of DreamCloud Mattress review. It is the universal mattress for all types of sleepers and get this, no more waking up cranky because it's hot. DreamCloud's gel, latex and coil system work in harmony together to diffuse body heat. The coils promote airflow while the gel foam and the quilted cover regulate your temperature.
DreamCloud Mattress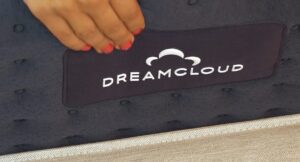 DreamCloud's all new luxury mattress at an affordable price. Our DreamCloud Mattress review - 365-day trial, lifetime warranty, and some of the best sleep ever!
Product SKU: Queen
Product Brand: DreamCloud
Product Currency: USD
Product Price: 899
Product In-Stock: InStock