Our Top Picks - Updated Yearly
Our Best Mattress For Kids list is updated yearly and designed to help parents (and grand parents) choose the safest mattress for the children in their lives.
As years go on, we are seeing incredible mattresses hit the market. They are engineered by safety and convenience in mind, making kids' sleep safer and parents' lives easier, so more time is spent enjoying your children, and less on worrying about their rest.
Let's take a look at which mattresses made this year's list of Best Mattress For Kids!
If you end up on this page, kuddos for doing that important research for the child in your life. Kids mattresses are much too often overlooked.
While us, adults, spend about 1/3 of our lives laying on our mattress, children can spend as much as 60% of their days sleeping! Nemours KidsHealth recommends that toddlers sleep 11 to 14 hours (including naps) each day, and you may be surprised that all age groups are recommended at least 8 to 10 hours of sleep, including our teenagers ages 14 to 17, with an 8 to 10 hours of sleep recommendation, and our school-aged children (6 to 13 years) recommended a healthy 9 to 12 hours of sleep. That's half for their life or more, for the first 13 years of their lives. 
Providing their growing bones with a mattress that aligns their bodies in a healthy manner is paramount to their current and future health. Not to be overlooked, the materials on which they sleep, is equally or more important. Their little noses breathe in all of the volatile substances coming out of their mattresses, sheets, and pillows, while their fragile skin is in constant touch with them. What goes into the kids mattresses we recommend is a large part of our research.
We wouldn't settle for less when it comes to our kids, and we are happy to share our industry knowledge with all of you, so that every child grows up as healthy as possible. And remember the power of a rested child! I am not a parenting expert, but I reckon that my husband and I enjoy much easier days when our three children get good nights of sleep.
Without further ado, here is this year's list of Best Mattress For Kids. Please note that this article is informational and consists, in no way, of medical advice. Personal preferences vary and we cannot ensure that any of the mattresses listed below will result in more sleep for your child. Mattresses in this list will however be some of the safest and healthiest mattresses for kids, and are based on my personal opinion and knowledge of the mattress industry.

Best Mattress For Kids 2023
Best Mattress For Kids: Non-Biased Favorite Pick​
NaturePedic 2-in-1 Organic Kids Mattress​
20% OFF + FREE Gift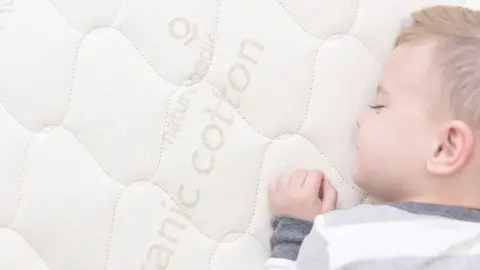 NaturePedic was born of a grand-father's frustration as he tried to buy a clean and safe crib mattress for his first grand-child! Unhappy with what he found on the mattress, he founded NaturePedic, and today makes mattresses for the whole family.
This year's #1 pick for Non-Biased Reviews' Best Mattress for Kids is the NaturePedic 2-in-1 Organic Kids Mattress. It allies 3 of the best properties you can find in a kids mattress:
– a waterproof mattress cover to speed up those middle-of-the-night emergencies
– flippable with a firmer waterproof side for toddlers coming out of their cribs and a plusher organic cotton side for children transitioning out of toddlerhood, looking for a little softer comfort
– 100% organic and natural materials that are non-toxic, vegan, include no glue, adhesives, fire retardants, chemical additives, or polyurathane foams, to ensure your child does not breathe in any of the bad stuff and his/her skin is safeguarded from chemicals typically found in mattresses
NaturePedi Sleep Trial – 100 nights
Shipping – FREE shipping and returns
Warranty – 25 years
Handcrafted in the USA by skilled Amish workers
Best Mattress For Kids - Natural Latex
Up to $700 + $50 OFF + FREE Gift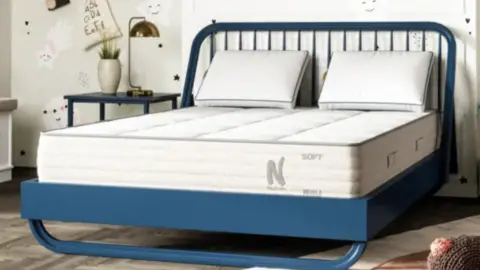 Nolah Nurture 10
Up to $700 OFF + another $50 OFF for our readers exclusively, with coupon code (click to reveal) + 2 FREE Pillows (valued at $198) with the purchase...
Show More
Up to $700 OFF + another $50 OFF for our readers exclusively, with coupon code (click to reveal) + 2 FREE Pillows (valued at $198) with the purchase of a mattress
Show Less
Nolah makes incredibly comfortable mattresses and is best known for their proprietary AirFoam. We love that Nolah branched into the kids mattress industry, releasing the Nolah Nuture 10″, designed specifically for kids, and growing with them so you won't need to buy a second mattress as they age. Here is what we love in the Nolah Nurture 10″:
– flippable firmness with a soft and a firm side to transition your toddler who needs a firmer mattress for safe sleep, to a softer mattress as his/her preference changes as s/he ages. The Nolah Nurture will accompany your child from crib to college
– all natural and safe materials with the main comfort layer of natural Talalay latex (made of biodegradable raw materials free of harmful chemicals: air, water, sustainably-sourced natural latex), organic wool and organic cotton
– ultra support thanks to a thick layer of coils, which works with the responsive latex to align your child's spine and growing bones
– sleeps cool thanks to open-cell latex and coils that let air flow through the mattress, and naturally moisture-wicking, cool-sleeping, and hypoallergienic organic cotton and wool
Nolah Sleep Trial – 120 nights
Shipping – FREE shipping
Warranty – Limited lifetime
Made in Denver, CO, USA
Best Mattress For Kids - Pressure Relief
20% OFF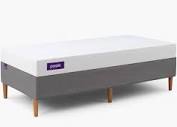 Purple Kid Mattress
20% Off Pillows, Bedding + Kids Mattress. Up to $900 OFF a Mattress + Adjustable Base set with coupon code (click to reveal), $300 to $500 OFF...
Show More
20% Off Pillows, Bedding + Kids Mattress. Up to $900 OFF a Mattress + Adjustable Base set with coupon code (click to reveal), $300 to $500 OFF collections.
Show Less
Purple is widely recognized as a mattress brand – almost a movement. Renown for its fun commercials and eye-catching purple color, the Purple mattresses are all made of the Purple proprietary polymer foam. A stretchy, almost fidgety, foam called Purple Grid, made of large holes that lets plenty of air flow through the mattress and provides a very unique sleeping experience.
As the body lays down, the Purple Grid firms up around and under the body, nicely aligning the spine and evenly spreading your weight. We find it to provide the perfect balance of pressure relief, cradling, and support, as the Grid molds itself around the body.
Here's what makes the Kids Purple Mattress a great mattress for kids:
– perfect balance of pressure relief and support, thanks to the Purple Grid that perfectly contours the child's body and provides soft comfort after their active day, and firmness to support their growing bodies
– responsive foam makes tossing around effortless, so your wiggly worm can turn and toss all night long without waking up from the extra effort some foam mattress create
– sleeps cool since the Purple Grid is more air than polymer foam, letting your child's extra body heat easily escape into the mattress and be replaced by cool room air
– non-toxic and hypoallergenic, Purple mattresses are made with recyclable, food-grade and food contact-grade materials
Note that the Kids Purple Mattress is recommended for children under 115 lbs, which mean that you may need to upgrade your growing teenager to a regular Purple mattress.
Purple Sleep Trial – 100 nights
Shipping – FREE shipping and return
Warranty – 10 years
Made in the USA
Best Mattress for Kids - Value
40% OFF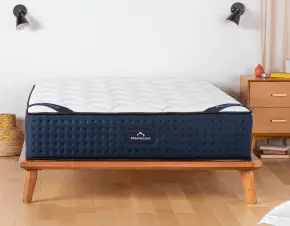 DreamCloud Mattress
40% OFF Mattresses with our exclusive coupon code (click for code)
40% OFF Mattresses with our exclusive coupon code (click for code)
Show Less
This is the only mattress on our list of Best Mattress for Kids, that is not specifically designed and marketed for kids. However, the DreamCloud Mattress has consistently ranked on our list of Best Mattresses. It allies extreme comfort and a small price, making quality of sleep accessible to many.
The DreamCloud Mattress, currently priced under $600 for a Twin, is an affordable hybrid mattress with all of the luxurious feels. We love:
– all forams are CertiPUR-US certified, guaranteeing low emissions and no harsh chemicals used in the manufacturing of the foams
– soft and cozy mattress cover made of a cashmere blend and stitched onto the top layer of soft foam for a plush and comfortable landing layer
– cool sleep with lots of air flowing through the layer of coils, a breathable mattress cover, and cooling-gel memory foam
DreamCloud Sleep Trial – 365 nights
Shipping – FREE shipping and returns
Warranty – Lifetime
Best Mattress for Kids - Toddler to Tween
20% OFF + FREE Gift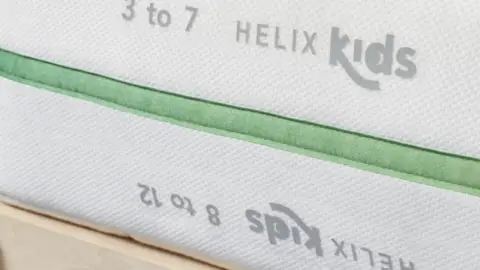 Helix Kids Mattress
20% OFF + 2 FREE Dream Pillows with Mattress Purchase ($150+ Value)
20% OFF + 2 FREE Dream Pillows with Mattress Purchase ($150+ Value)
Show Less
Here is another hybrid mattress (coil + foam design) designed for children. Helix Sleep has been manufacturing serious mattresses for many years and they have put their R&D department to work on their kids mattress, getting input from pediatricians, sleep doctors, and other subject-matter experts.
There are several reasons to love the Helix Kids mattress for your child:
– flippable mattress with a firmer side for children ages 3 to 7 and a softer side for children 8 to 12. Simply flip the mattress as your child ages to accommodate the changes in their body's needs for firmness and pressure relief
– all foams are CertiPUR-US certified and the mattress was tested for lead, phthalate, and harmful chemicals
– dual covers: the firmer side for younger children is antimicrobial (hygienic microbe shield), soft (made of Tencel), and water repellent, great for their developing immune system and for those nighttime accidents; while the cover on the softer side of the mattress is hypoallergenic (microbe shield + non-toxic water repellent), breathable, and cool to the touch
– great airflow and no-itch thanks for the breathable mattress cover made of Tencel and all of the air flowing through the 6 inches of coils. Additionally, the permanent fiber treatment on the mattress cover that combats odor-causing bacteria, is a microbe shield that protects your child, especially in case of allergies or asthma
Helix Sleep Sleep Trial – 100 nights
Shipping – FREE
Warranty – 10 years
Made in the USA
Best Mattress For Kids - Organic
Avocado Eco Organic Kids Mattress
10% OFF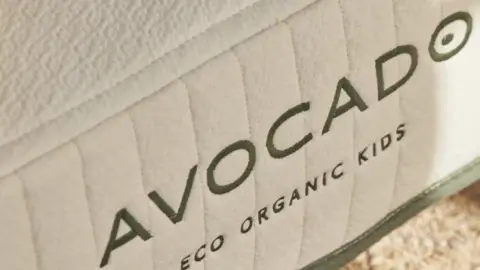 Avocado Eco Organic Kids Mattress
Save 10% OFF Mattresses and 30% OFF all Latex Mattresses, 20% OFF Adjustable Bases and Bedding, and 10% OFF Wood Furniture and more with coupon code...
Show More
Save 10% OFF Mattresses and 30% OFF all Latex Mattresses, 20% OFF Adjustable Bases and Bedding, and 10% OFF Wood Furniture and more with coupon code (click to reveal)
Show Less
When looking for an all-organic mattress, Avocado is always a good place to start (together with NaturePedic, as seen above). We love that they design mattresses handcrafted specifically for children's needs.
The Avocado Eco Organic Kids Mattress is certified organic and made in Los Angeles, CA, so you know that it is safe and healthy for your child to sleep and nap on. The beautiful thing about Avocado is that they co-own the farms that produce the raw materials used in their mattresses – rubber tree plantations and sheep herds, from which they shear the organic wool and extract the organic Dunlop latex used in their mattresses. They have 100% control over the quality of the raw materials, as well as the ethical sourcing used throughout the process.
So what else do we love about the Avocado Eco Organic Kids Mattress:
– all organic materials (outside of coils, but they are made of recycled steel): organic latex, organic cotton, organic wool. The Eco Organic Kids Mattress is free of toxic chemicals, off-gassing, chemical flame retardants, fiberglass, and polyurethane foams. It even has the MADE SAFE® non-toxic seal for safety, which only 3 mattress companies in the world qualify for. It is a rigorous scientific screening process that only allows the use of ingredients that are not known or suspected to harm human health, animals, aquatic life, or ecosystems
– easy to move on, thanks to the main comfort layer made of latex, which means that your active sleeper can toss around without extra effort, keeping them asleep longer
– sleeps cool in the summer and warm in the winter, thanks to open-cell latex that lets air exchange happen inside the mattress, and to wool, which naturally helps your body regulate its own temperature, no matter the ambient temperature
– great for younger kids, note that the Avocado Eco Organic Kids Mattress is recommended for children under 115 lbs. Beyond that, older and heavier kids will lack support for proper spine alignment while sleeping
Avocado Sleep Trial – 100 nights
Shipping – FREE shipping
Warranty – 10 years
Handcrafted in Los Angeles, CA, USA
Best Mattress Kids - Bunks & Trundles
25% OFF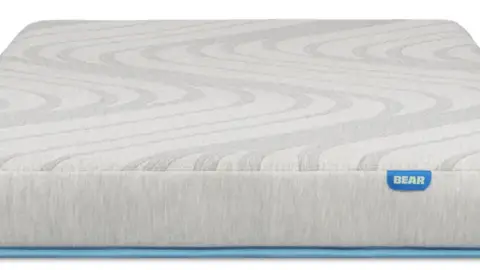 Bunk beds and trundles are often found in kids' bedrooms. They are a great way to save space and downsize, and perfect for those sleepovers and to host an army of friends and cousins. They make childhood memories! 
Finding a mattress that fits a trundle or bunk bed takes a little research, especially if you want it comfortable and healthy. We recommend bunk and trundle mattresses to be no thicker than 6 inches. The Bear Trundle Mattress fits the bill at 5 inches of thickness. 
However, when you start looking at thin mattresses, you want to make sure you don't jeopardize comfort and healthy spinal alignment. You still need your child's growing bones to sleep aligned, while their pressure points get the relief they need for a healthy night of sleep. Here's why we think the Bear Trundle Mattress is a great mattress for your bunks and trundles:
– all Certi-PUR US certified foams, even if not organic, the foams in this all-foam mattress are certified free of harmful chemicals. Bear mattresses are also free of fiberglass, which can be a dangerous materials when breathed in
– low price with the Bear Trundle Mattress often under $300 depending on the sale (regular price is right around $400) – an excellent price for a mattress made in the USA!!
– sleeps cool and hypoallergenic thanks to its cover, which uses a hypoallergenic knit fabric and lets the kids' body warmth escape through the cover and be drawn into the first layer of foam, while bringing cooler air up to them from the cooling-gel memory foam that retains cool properties throughout the night
Bear Trial – 120 nights
Shipping – FREE shipping and returns
Warranty – Limited lifetime
Made in the USA
Best Mattress For Kids 2023 - Recap
I hope you found this guide helpful. It aims at bringing you the mattresses we would feel comfortable laying our children on. If your budget allows, try to aim for an organic mattress – I promise you it makes a difference in the development and well-being on your children. If you choose a flippable mattress from this list, you are making an investment to last your child from post-crib to college, which helps financially, and may help you in affording a higher quality mattress. 
All of the mattresses on this list of Best Mattres For Kids offer safe firmness for younger children who need it to grow and develop in their early years, and a balance of softness and plush contouring for aging kids looking for more comfort.
We also hope that you find some of the mattresses' features interesting to you as parents. We all know those middle-of-the-night emergencies… and brands have come a long way, now offering waterproof or mattress-resistant mattress covers. If you ask me, I think they are worth the upgrade and higher price point, but of course, please only purchase a mattress you can afford today.
If you have any questions, please reach out! Happy zzz's to you and your littles!
What To Look For In A Kids Mattress
Children bodies are growing at a rapid rate, whether it is your toddler and teenager, they require extra support to ensure their spines and bones are aligned through the night. With children spending half, or more, of their days laying on their mattress, having a healthy mattress is of utmost importance.
Ensure the mattress is supportive of their growing bones
Ensure that your child's mattress provides ample support. Aim at getting a mattress that is at least a 6 or 7 out of 10 on the firmness scale. With firmer foams and a layer of coils, their bodies will find the support that they need to provide hips and shoulders the pressure required to align their spines with neck to romp.
Find the right balance of pressure relief
Of course, you will want to make sure your child's mattress is comfortable and plush enough to allow for their high-pressure areas (hips and shoulders) to sink in comfortably. Too hard of a mattress will mean that your side-sleepers' shoulders get too much pressure, curving their spine in an unhealthy position.
Favor mattresses with good responsiveness
Our favorite foam for children is latex. Latex is not only a natural material made from rubber tree sap (eco-conscious, sustainable, etc.), it has very responsive properties. In the mattress world, we call it bounce, meaning that the child can switch positions with ease and the mattress recovers its original shape as the child moves around. This equals to less effort to move around (which children do a lot of) and longer nights of sleep for them (and you!).
Always invest in clean materials if you can
If you choose a mattress outside of this list, please do your research and read the labels once the mattress gets to you. Not all mattress companies open up to exactly what hides in their mattresses on their website, but they have to on the labels. Stay away from harsh chemicals, fiberglass, chemical fire retardants, etc., as much as possible. Your child's nose and mouth are laying mere inches from those layers and their lungs and brains receive all of the things their inhale at night… a certified-organic mattress (whether you believe in organic or not), will always be a safe idea!
How Many Hours Of Sleep Do Kids Need At Different Ages?
According to KidsHealth.org, the number of hours of sleep kids need at different ages varies, though not by much. Including naps:
newborns until 3 months of age should sleep 14 to 17 hours
from 4 to 12 months old, kids should sleep 12 to 16 hours each day
toddlers 1 to 3 years old should sleep 11 to 14 hours
preschool kids ages 3 to 5 (the age when you will transition them from a crib to a kids mattress from our list), should sleep 10 to 13 hours, including naps
elementary and middle-school aged children, 6 to 13, should get 9 to 12 hours of sleep each day
teens 14 to 17, should sleep 8 to 10 hours
How Can I Make My Kids Mattress Last Longer
Invest in a mattress protector
We always recommend protecting your mattress investment with a mattress protector (even adults). Kids can be messy and accidents happen fast. A waterproof mattress protector will protect your mattress from spills, stains, and unfortunate accidents. We recommend a bamboo waterproof mattress protector so more comfort – it will be waterproof without creating noise and a plastiquy feel, and will only add comfort to your child's bed.
Limit the fun and bouncing
This is a fun one for parents to enforce… somehow kids like to think of mattresses as trampolines. Unfortunately, there isn't more damaging activity for a mattress. If you are looking for your kids mattress to last, prevent the children from jumping on the bed. It will damage the coils and break the foams and mattress cover, which will not only start to sleep uneven and uncomfortable, but may release toxic chemicals into the air.
Purchase a bed and mattress your kids can grow into
Many kids will want to transition from a Twin to a Full bed as they age. If you are able to, get them from Crib to Full and avoid needing to buy a new mattress and bed frame as they turn tween and teen. Another good option is to purchase a flippable mattress wit dual-sided firmness, where the firm side works through mid-elementary school and the soft side transitions the kids into middle and high school.
Add a mattress topper as needed
Some mattresses designed for kids may feel a little too firm as children start to age. Instead of purchasing a new mattress, add a quality mattress topper to adjust the firmness and comfort level of the bed. A good mattress topper will give a brand new feel to an older mattress!
Why Buy A Mattress Online?
I hear you. I am telling you that this is one of the most important purchases you will be making in the next 5 to 10 years, yet I am encouraging you to buy from a website, with no chance to see, feel, or lay on the mattress. I promise you it's worth it, though! Feel free to read over our Guide To Buying An Online Mattress, but let's also look at the benefits of buying a mattress online vs. in store:
When walking inside a mattress store, you are limited to the brands and models carried by the store. Not only are they limited, but the store needs to survive and higher margin products will probably take the store-front, which doesn't always work in favor of the buyer. However, when shopping online, you will find dozens of online mattress brands.
Now of course, more options means that you need to educate yourself a little more, to understand which mattress brands will be worth your money, and this is where I come in. I test hundreds of mattresses for you each year, and when you read the reviews of an independent mattress reviewer such as Non-Biased Reviews, you get unbiased mattress reviews. Many mattress review websites are now owned by large mattress companies, so make sure you use the services of independent mattress reviewers!
Buying a mattress can feel as stressful as buying a car these days. You walk into the mattress store and get overwhelmed with sale tactics, straight out of the car lot! Online, you get the benefit of time and peace. Once you have narrowed your choices down to a brand or mattress style, take your time to read the details and do deeper research on the brand sites and right here. See all of the brands we have reviewed so far. Any questions, feel free to email me directly at laura@nonbiasedreviews.com and I'll be happy to brainstorm ideas with you!
By purchasing a mattress online, you are cutting the middle man. You do direct business with the mattress brands and they save on labor, rent, and other overhead costs. It is a win-win and you put the savings in your pocket! You also have many more options, and while you can buy extremely luxurious and expensive mattresses online, you also have access to a large number of cheaper options!
This one might seem counterintuitive. I bet that your first resistance to buying a mattress online is linked to the lack of testing. You can't see nor touch the mattress for yourself and you're not sure whether you can truly believe the edited photos you see online. 
Think about it for a second. You walk into a mattress store, lay on a mattress, shoes on, fully clothed, with an adult salesperson staring at you, while trying to keep your kids from taking the store for a trampoline arena. You've awkwardly laid on that mattress a total of 50 seconds before making a long-term decision… 
When purchasing your mattress online, it nearly always comes with a 100 to 365-night trial. You get to sleep full nights on your investment for several weeks before deciding whether it is adapted to your sleeping needs and preferences. I recommend sleep testing your mattress for at least 30 nights before making your final decision, to give your body a chance to adjust to the new sleeping surface.
Still unhappy, most online mattress companies will arrange for your mattress to be picked up from your home and donated, and your money will be refunded. There is generally no restocking fee and most of the time, your return shipping is free as well. If you buy a Purple mattress at MattressFirm, for example, your return will be subject to MattressFirm's return policy and restocking fees. Buy directly from Purple and your return is free!
When you buy a mattress online, it ships directly to your home, most of the time for free! Nearly all mattresses ship in a box, making them easy to transport to the room of your choice. 
Forget about renting a truck or trying to tie a king-size mattress to the roof of your car, then asking a friend to come help you to get it inside. Instead, a regular carrier drops off a manageable box by your front door, you set the vacuumed mattress on your bed, rip the plastic wrap, and watch it expand in seconds!
Share this deal with a friend!