WHY DOES MY FRONT TOOTH HURT WHEN I WAKE UP
- 6 REASONS & THEIR REMEDIES​ -
Waking up with a front toothache can be a perplexing and uncomfortable experience, and you may wonder why your front tooth hurts when you wake up… 
If you've ever experienced this, know that you are not alone. Many people wake up to tooth aches and there isn't one answer for the pain. In this article, we are digging into the various reasons behind this common dental issue and exploring possible remedies to alleviate the pain. 
Understanding the causes of front tooth pain will help you take appropriate measures to maintain good oral health and seek timely professional assistance when necessary.
Note: we are not medical professionals and this does not constitute medical advice. Please, consult your dentist for proper diagnosis.

One possible reason for front tooth pain upon waking up is tooth sensitivity. Tooth sensitivity occurs when the tooth's protective enamel wears down, exposing the dentin underneath. Dentin is a sensitive layer containing microscopic tubules that lead to the nerves of the tooth. The Mayo Clinic mentions that severe enamel loss and even lead to the very painful exposure of your tooth roots…
When you eat or drink something hot, cold, sweet, or acidic, these stimuli can trigger pain signals in the nerves, leading to sensitivity and discomfort. Even simple things such as brushing your teeth, can lead to pain if some of your enamel is missing.
Remedy
To address tooth sensitivity, consider using a toothpaste designed for sensitive teeth. These toothpaste products contain ingredients that help block the tubules in the dentin, reducing sensitivity. Additionally, avoid consuming extremely hot or cold foods and drinks, and maintain good oral hygiene to preserve your enamel. Visit your dentist for proper diagnosis, and s/he might apply a layer of fluoride or resin to further strengthen your teeth and prevent pain.
2- Bruxism (Teeth Grinding)
Bruxism, or teeth grinding, is a common condition where individuals clench or grind their teeth, often unknowingly, during sleep. The medical community assumes that stress led by anger, pain, and frustration, and certain personality types are the culprit to tooth grinding.
Over time, this can lead to tooth wear, fractures, and sensitivity, resulting in morning tooth pain. In more severe cases, bruxism can lead to facial pain, headaches, popping of the jaw
Remedy
If you suspect bruxism or notice flattened tips of your teeth, consult your dentist. They may recommend wearing a nightguard, a custom-made appliance that provides a protective barrier between your upper and lower teeth, to prevent grinding and reduce tooth pain.
Surprisingly, tooth pain can sometimes be related to sinus issues. The roots of your upper front teeth are in close proximity to your sinus cavities. Additionally, your sinuses are connected to your dental cavities, and as the tissues in those spaces become inflamed, pain in the tooth area can incur. 
When you have sinusitis, inflammation or infection of the sinus cavities, the increased pressure can cause referred pain to your front teeth, making them feel sensitive or painful when you wake up.
Remedy
Treating sinusitis with decongestants, nasal sprays, and warm compresses can help alleviate the pressure and ease the tooth pain. If the pain persists, consult your healthcare professional for further evaluation and treatment.
Tooth decay evolves through several stages of severity. Usually starting as a simple untreated cavity, that started from bacteria in the mouth, tooth decay grows into a larger issues that affect deeper layers of the teeth. 
Untreated tooth decay can cause significant pain and discomfort, particularly when left unattended for an extended period. Cavities that reach the nerve of the tooth can lead to persistent and severe pain, which may be more noticeable when you wake up in the morning.
Remedy
Regular dental check-ups and cleanings are essential to catch tooth decay early on. Make sure to brush your teeth after every meal and floss once a day. Additionally, if you are a frequent snacker, try to eat a sugar-free gum after snacking or drinking sweet drinks. If you suspect a cavity, visit your dentist promptly for appropriate treatment, such as fillings or root canal therapy, to address the issue and prevent further pain.
5- Gum Recession and Periodontal Disease
Gum recession occurs when the gum tissue surrounding the teeth pulls back, exposing more of the tooth's root – it can affect one or more teeth. This can result from aggressive brushing, gum disease, or aging. Some experience gum recession naturally, and can see it appear at a young age, though 88% of cases affect people 65 years old or older.
When the root surface becomes exposed, it can lead to sensitivity and pain, especially during sleep when your mouth might dry out, exacerbating the discomfort.
Remedy
Adopt gentle brushing techniques and use a soft-bristled toothbrush to prevent further gum recession. Brushing gently means not pushing hard on the toothbrush as you brush your teeth, and not moving the toothbrush too quickly. Similarly when using an electric toothbrush, make sure you do not press on your teeth too hard.
If gum disease is the underlying cause, your dentist may recommend a deep cleaning or other periodontal treatments to address the issue and promote gum health.
A dental abscess is a pus-filled pocket caused by a bacterial infection in the teeth or gum. You may find an abscess in or around your teeth, your gums, or the bone that holds your teeth in place. 
If the abscess is located near your front tooth, you may experience significant pain that becomes more noticeable upon waking.
Remedy
Dental abscesses require immediate attention, as they cannot get better on their own, and can lead to serious complications if left untreated. Contact your dentist as soon as possible if you suspect a dental abscess for proper evaluation and treatment, which may include antibiotics and drainage of the abscess.
Why Does My Front Tooth Hurt When I Wake Up?
Waking up with front tooth pain can be bothersome, but understanding the potential causes and their remedies will help you feel better quicker. For most of the causes outlined above, addressing the issue promptly is key, and it is important to note that some ailments require medical attention to heal.
Tooth sensitivity, bruxism, sinusitis, tooth decay, gum recession, and dental abscesses are some of the common reasons for morning tooth pain. Practicing good oral hygiene, using sensitive toothpaste, wearing a
nightguard
if necessary, and seeking professional dental care when needed are essential steps to maintain healthy teeth and gums and alleviate front tooth pain effectively. Remember to schedule regular dental check-ups to catch any dental issues early on and prevent further complications. Your smile, and mornings, will thank you for it!
Most frequent questions and answers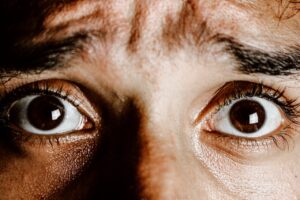 Kids Corner
SHOULD YOU WAKE SOMEONE UP FROM A NIGHTMARE Nightmares are unsettling and distressing dreams that can affect individuals of all ages. Whether you are the
Read More »
What causes front tooth pain when waking up?
Front tooth pain upon waking can be caused by various factors, including tooth sensitivity, bruxism (teeth grinding), sinusitis, tooth decay, gum recession, and dental abscesses. Each of these conditions affects the teeth and surrounding structures differently, leading to discomfort and pain.
How can I differentiate between tooth sensitivity and other dental issues?
Tooth sensitivity usually manifests as a sharp, transient pain when exposed to temperature extremes or acidic/sweet foods. If the pain is persistent, or if you notice other symptoms such as swelling or gum tenderness, it may be indicative of a different dental problem that requires professional evaluation.
What can I do to alleviate tooth sensitivity?
For tooth sensitivity, consider using toothpaste designed for sensitive teeth, which contains ingredients to reduce sensitivity. Avoid consuming extremely hot or cold foods and drinks, and maintain good oral hygiene practices to protect your enamel.
Can teeth grinding be the reason for my front tooth pain?
Yes, bruxism (teeth grinding) can cause front tooth pain, especially when the grinding wears down the enamel or causes fractures. Waking up with a sore jaw or experiencing dull tooth pain can be indicators of bruxism.
How can I prevent tooth grinding?
If you suspect bruxism, consult your dentist for a proper diagnosis. They may recommend wearing a nightguard, a custom-made appliance that provides a protective barrier between your upper and lower teeth, preventing grinding and reducing tooth pain.
Share this deal with a friend!