Our Top Picks - Updated Yearly
Have you been wondering about the best mattress on Amazon? We get it! We would too. Buying on the largest global marketplace comes with an array of benefits. Their customer service is incredible, returns are easy, shipping is quick, and there is peace of mind coming with an Amazon purchase.
And guess what? Some of our favorite mattresses-in-a-box are sold on Amazon. We will give you a nice mix of those traditional brands, as well as some more budget-friendly options. And in a world of uncertainty, we made sure that all of the mattresses on our list of Best Mattress on Amazon are shipped and received in under a week from ordering!
Let's take a look at which mattresses made this year's list of Best Mattress On Amazon!
Best Mattress On Amazon 2023
Best Organic Mattress On Amazon: Non-Biased Favorite Pick
Pure Green Organic Latex by Sleep On Latex
CHECK ON AMAZON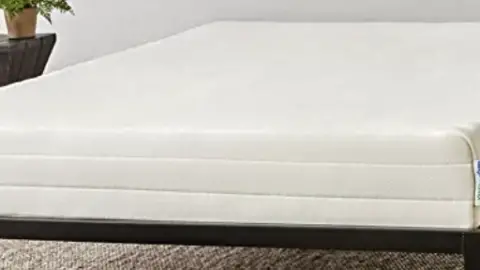 Amazon can be a surprising marketplace. While you may find an increasing number of questionably-sourced products, you may also find a pearl. And the Pure Green Organic Latex mattress by SleepOnLatex is the shiniest of pearls and this year's pick for Best Mattress on Amazon.
What we love:
– you are buying from a small business who cares. Sleep On Latex is Climate Pledge Friendly, Fair For Life certified, GOLS and GOTS certified organic, and OEKO-Tex certified – certifying clean products for you and our planet, no harsh chemicals, and a socially- and environmentally-responsible supply chain
– the Pure Green Organic Latex mattress uses only organic and natural products. The 2 main comfort layers are made of 4″ of 100% natural latex foam each, while its mattress cover is made of organic cotton and organic wool from New Zealand
– the Pure Organic Latex mattress is durable, sleeps medium firm (great for most sleeping styles and couples with different sleeping preferences), is great for sex, sleeps healthy (perfect for those with allergies and skin conditions), and cool (thanks to perforated latex foam that lets air flow through)
– Priced right around $1,000, it is one of the most expensive mattresses on our list of Best Mattress on Amazon, however, it also offers one of the best values! Similar products typically sell around $1,500-$2,000 online
Amazon Star Rating – 4.5/5
Sleep On Latex Sleep Trial – 30 nights
Made in the USA – designed and manufactured in Chicago

Best Pillowtop Mattress on Amazon
SweetNight 12" Pillowtop Siesta
CHECK ON AMAZON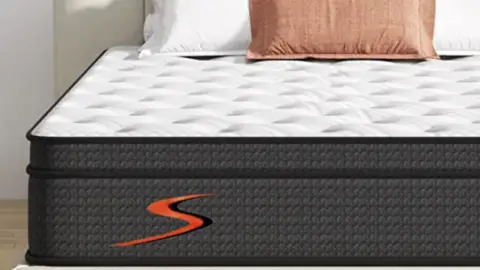 SweetNight is a brand that we know and trust from outside Amazon. While their mattresses are currently unavailable on their website (due to supply chain issues), you are lucky to be able to buy some of them on Amazon.
What we love:
– the SweetNight 12″ Pillowtop is one of the rare pillowtop mattresses available on Amazon. A pillowtop mattress has a thick and quilted mattress cover that gives it all of the feels on a luxurious hotel. It is a great mattress for those looking for extra comfort and slight body contouring
– the price of the 12″ is under $500, which is incredible, but if you have your eyes set on the SweetNight Siesta and want to save on purchase price, choose the 10″ version and save nearly $60
– perfect balance of pressure relief and support, thanks to pressure-relieving foams and a thick layer of individually-wrapped coils that keep your spine in healthy alignment
– this gel bamboo hybrid mattress by SweetNight has a well engineered comfort layer to sleep cool at night. The memory foam is infused with cooling gel and bamboo charcoal. It draws extra heat away from your body, dissipating i=it into the lower layers, while allowing cool bedroom air to rise up to the top, thanks to the airy coil layer
Amazon Star Rating – 4.9/5
SweetNight Sleep Trial – 100 nights
Warranty – 10 years
Made in Indonesia

Best Mattress on Amazon for Hot Sleepers
CHECK ON AMAZON
GhostBed is a very successful mattress company, which was started by Marc Werner in an attempt to make pillows and beds that slept comfortably without compromising a healthy position. GhostBed sells most of their mattresses directly on their site, however, they have a few models sold exclusively on Amazon, at a lower price point, making this award-winning brand more accessible to more sleepers.
The GhostBed Ultimate 10″ is an all-foam mattress, offered at an incredible price – currently under $400 for a Queen. All GhostBed mattresses benefit from proprietary foam layers, engineered over years of research and development, and the GhostBed Ultimate is no exception.
As the body lays down, the Purple Grid firms up around and under the body, nicely aligning the spine and evenly spreading your weight. We find it to provide the perfect balance of pressure relief, cradling, and support, as the Grid molds itself around the body.
What we love:
– 3 layers of foam working together to deliver cool sleep, pressure relief, and spinal alignment, for a medium-firm feel that work with most side and back sleepers, or lower-weight stomach sleepers who enjoy a slightly softer mattress. Expect gentle contouring plushness with a responsive transition layer that makes tossing around easy, and a strong foundation of spine-aligning high-density foam
– the GhostBed Ultimate 10″ is designed to sleep cool. The cooling gel-infused memory foam is open cell (pierced by billions of air holes) to let air flow through and cool your body down. Additionally, the Ghost Ice mattress cover is cold to the touch, and does not overheat at night, giving your body the ability to regulate its own temperature and sleep cool, even on hot nights
– incredible price for a mattress made in the USA with CertiPUR-US certified foams, and benefiting from the GhostBed research
Amazon Star Rating: 4.3/10
GhostBed Sleep Trial – 30 nights
Warranty – need to contact GhostBed
Made in the USA
Best All-Foam Mattress on Amazon
CHECK ON AMAZON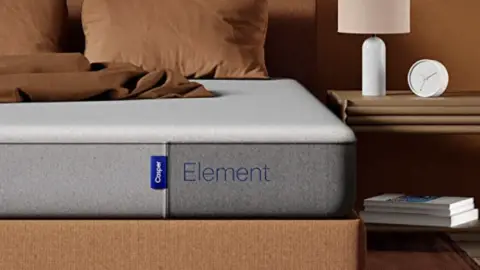 Casper is another beloved American mattress manufacturer, who designs and manufactures its mattresses in the USA. Similarly to GhostBed, they have a line of mattresses selling only on Amazon, including the Casper Sleep Element.
What we love:
– modern design includes a grey mattress cover that is removable so you can throw it in your washing machine for a clean mattress whenever you need it. This makes it a perfect mattress for with allergies, asthma, skin or hair conditions
– designed to prevent overheating, the first layer of foam is open cell. By being perforated by billions of air bubbles, the Casper Sleep Element pulls your excess body heat away from your body, and allows for air exchange so you never have to sweat on your mattress
– if you love the feel of all-foam mattresses, this is going to be one of the most comfortable mattresses you will sleep on. Enjoy pressure relief, virtually no motion transfer (so you are not awaken by your moving partner, pet, or kid), and the cozy comfort only all-foam mattresses carry, for a cozy and comfortable night of sleep
– soft on the planet. Casper uses at least 121 recycled plastic bottles in each of their mattresses, making you contribute to the environment through your purchase
Amazon Star Rating: 4.5/10
Casper Sleep Trial – 100 nights
Warranty – need to contact Casper
Made in the USA
Best Mattress on Amazon for Pressure Relief
CHECK ON AMAZON
Here's another mattress-in-the-box company selling one their most popular mattresses on Amazon. The Leesa Original is not a cheap mattress – you're looking at around $1,000 for the Queen -, but you will benefit from the same promos as on the Leesa website. 
While Leesa sells several of their mattresses on Amazon, we are focusing on budget and presenting the 10-inch all-foam to you. But you can easily upgrade for the 12″, or even their hybrid model.
What we love:
– the three layers are made of CertiPUR-US certified foams, which offer a great amount of pressure relief, without compromising on spinal support. The first layer is responsive enough, so you never feel stuck in your mattress and can move with ease, while the second thicker layer provides the pressure relief side-sleepers, and those with a preference for softer mattresses need
– most all-foam mattresses are known to hold your body's heat and sleep hot. The Leesa Original is built with a breathable cotton cover, which allows for cooler sleep, while its foam are engineered to retain less heat than traditional all-foam mattresses
– if you like a cozy sleep, and that contouring feeling that comes with all-foam mattresses, you will love the cradling and welcoming contouring that comes with the 2 upper layers in the Leesa Original
– lastly, we love seeing mattresses made in the USA, as it gives an extra layer of control to the companies and we know exactly what goes into their mattresses. Additionally, Leesa Sleep is a B Corp company, which donates a mattress to a family in need, for every 10 mattresses sold
Amazon Star Rating: 4.2/5
Leesa Sleep Sleep Trial – 100 nights
Shipping – FREE
Warranty – 10 years
Made in the USA
Best Hypoallergenic Mattress on Amazon
CHECK ON AMAZON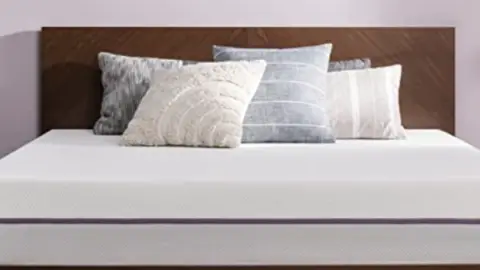 Purple on Amazon
Purple Mattress with 2" of Purple Grid, sold on Amazon
Purple Mattress with 2" of Purple Grid, sold on Amazon
Show Less
The Purple Mattress is the most expensive on our list, but if you suffer from allergies and/or skin conditions, you are probably not looking to save money on a mattress your entire body lays on 10 hours each day. You will save about $200 by choosing the New Day Mattress option, but we think the Purple Mattress is worth its price.
The Purple Mattress has been a favorite of Americans for many years, and became a big hit with its egg commecial. It Purple Grid – a hypoallergenic polymer layer with huge holes to let plenty of air flow through the mattress – will relieve all of the pressure, so much so that you can drop on the Purple Mattress with an egg attached below your body, without breaking the egg!
What we love:
– we have rated it as best hypoallergenic mattress on Amazon, so let's get started with the materials used inside the Purple Mattress. The first 2 inches of the mattresses are made with Purple's very own GelFlex Grid, made with recyclable, food-grade and food contact–grade material that are both CertiPUR-US and Clean Air GOLD certified. Not only does Purple make its mattresses in the USA, it also uses US-made materials, further controlling the quality of the materials going into their mattresses. Even the lower of foam is hypoallergenic, and thanks to the incredible amount of air flowing through the mattress, you will find that it retains less dust mites, mold, and mildew than nearly all other mattresses – a great option for those suffering from allergies!
– the Purple Mattress has a very unique feel, unlike any other mattresses we have tested (the Purple Grid is their proprietary material after all, made from machines Purple builds themselves!). You will find that the Purple Mattress perfectly conforms to your body. As you first sit on the mattress, you will notice lots of pressure relief, immediately replaced by support as you lay down. The Grid perfectly contours your body, giving it the most perfect balance of pressure relief and spinal support. The Grid also makes it easy to move around, without ever feeling stuck in your mattress
– if you are a hot sleeper, the Purple Mattress is for you. It's foam and Grid are open cell. Its Grid is actually more air than polymer, letting warm air from your body escape down into the foam and being replaced by cooler room air. Expect temperature-neutral sleep on the Purple Mattress
– Purple has an outstanding customer service if you ever need to file a warranty claim. They resolve issues quickly and with minimal disruption to your sleep
Amazon Star Rating: 4.5/5
Purple Sleep Trial – 100 nights
Shipping – FREE shipping
Warranty – 10 years
Made in the USA
Best Value Mattress on Amazon
CHECK ON AMAZON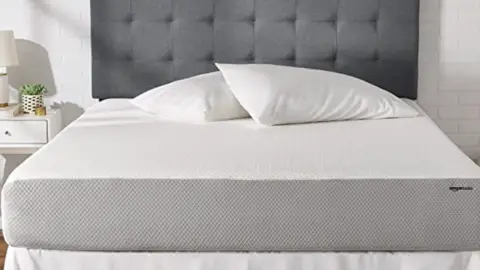 Would it even be a list of Best Mattress on Amazon if we did not review Amazon's very own mattress? With several options to choose from, we are introducing the Amazon Basics 10″ mattress to you.
If Amazon gets one thing right, it is value. You will get a Queen-size 10-inch all-foam mattress for just over $300 in medium-firm feel. And guess what… for that price, it sleeps very comfortable and Amazon matches industry standards in terms of sleep trial (their warranty is minimal however). You will save about $50 by selecting the 8-inch mattress, and even more when their 6-inch is available, though we recommend at least 10 inches for healthy sleep (unless you are trying to fill a trundle, in which case the 6-inch will work best).
Please note that, unfortunately, 34% of the mattress cover is made of fiberglass, which can be dangerous to health if it breaks and is inhaled long term.
What we love:
– choose your own firmness. If you like a soft mattress with more pressure relief, and best for side-sleepers, choose the Plush Feel at checkout. The Medium Firm Feel is an average firmness, and will work best with most sleepers (heavier stomach-sleepers may find it too soft)
– the Amazon Basics 10″ mattress is made of 3 layers of foams. You will find it to provide a good balance of pressure relief and support, as well as to isolate motion really well, so you are not disturbed by your moving partners at night
– all foams are Certi-PUR US certified, ensuring no harsh chemicals are used in the making of the Amazon Basics Mattress. The top layer of foam is the main comfort layer, which is available in two firmness levels. The second layer of foam is open cell – pierced by millions of little holes to ensure you don't sleep hot, while the third layer offers stability and healthy spinal alignment.
Amazon Star Rating: 4.4/5
Amazon Basics Trial – 100 nights
Shipping – FREE shipping
Warranty – 1 year
Made in Taiwan

Best Mattress on Amazon for Side Sleepers
CHECK ON AMAZON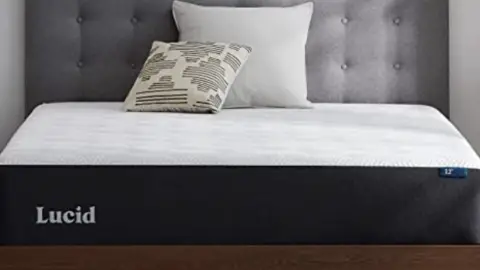 With nearly two thirds of Americans sleeping on their sides, we need to give you a good option on Amazon. If you sleep on your side, you require more pressure relief than other sleepers, especially in those high-pressure areas (hips and shoulders). That is to avoid those heavier parts of your body from getting crushed and thus, your spine from becoming misaligned. Check our list of Best Mattress For Side-Sleepers here.
For the side-sleepers out there, we think that the Lucid 12″ All-Foam mattress is an excellent option – we recommend ordering the Plush version, unless you have back issues, a personal preference for firmer mattresses, or sleep with a partner who favors a different sleeping position, in which case the Medium version can work too.
What we love:
– if price is a big deciding factor for you, the Lucid 12″ All-Foam mattress is priced to compete on Amazon. Sourced and manufactured in China, you should be able to get it delivered to your home for under $500 for a Queen

– Lucid uses an interesting material in their mattresses – bamboo charcoal foam – which the Plush has a 6.5-inch base made out of. It helps keep your mattress clean and smelling fresh, and has natural hypoallergenic properties
– we like all-foam mattresses for their pressure relieving properties, however, we very much dislike feeling stuck in the foam. Thankfully, the Lucid 12″ All-Foam Plush mattress boasts a 1.5-inch layer of very responsive foam, which feels like latex, allowing you to move effortlessly. That layer does provide great pressure relief, important for side-sleepers, while the bamboo charcoal foam adds the support the body needs to sleep in a healthy position
– lastly, the second layer of foam is infused with cooling gel to ensure that you do not overheat on the mattress at night
Amazon Star Rating: 4.5/5
Lucid Trial – 100 nights
Shipping – FREE shipping
Warranty – 10 years
Made in China
Best Mattress on Amazon for Stomach and Back Sleepers
CHECK ON AMAZON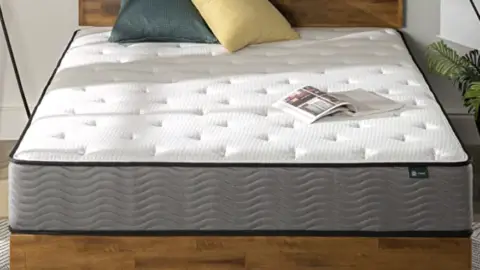 We wouldn't leave the stomach and back-sleepers wondering. Though they only make up 16%  and 10% of sleepers, respectively, they have specifications that need to be met for their bodies to sleep in a healthy position. They require more support, and a generally firmer mattress than side-sleepers. Check our list of Best Mattress for Stomach-Sleepers here.
The Zinus Support Plus was designed to add support to sleepers, helping to align their spines, while providing comfortable plushness so they don't feel like they are laying on a wooden plank.
What we love:
– the Zinus Support Plus is designed to be supportive. Thanks for a strong layer of coils, your body is supported and your spine and bones are aligned, which is important in preventing your spine from bending in ways that will disrupt your sleep and create on-going pains and aches
– the Zinus Support Plus has three layers of dense foam on top of its layer of pocketed coils, which provide a firmer, yet cozy, transition into the springs. The foams work together to provide mild contouring, as well as just the right amount of pressure relief for your joints to relax into those first few inches of mattress
– as with several of the mattresses on this list, the Zinus Support Plus mattress is designed to be sold on Amazon. Built in Indonesia, Zinus is able to offer its 10-inch Queen mattress for just over $400. A 12- and 14-inch version of the mattress are available, with some added plushness in the mattress cover
Amazon Star Rating: 4.4/5
Zinus Trial – 30 nights
Shipping – FREE shipping
Warranty – 10 years
Made in Indonesia

Best Mattress on Amazon for Bunks and Trundles
CHECK ON AMAZON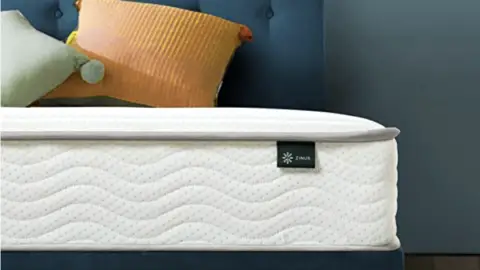 Zinus 6 on Amazon
Zinus' 6" foam and spring mattress available on Amazon, perfect for kids, bunks, and trundles
Zinus' 6" foam and spring mattress available on Amazon, perfect for kids, bunks, and trundles
Show Less
Trundle and bunk beds require thinner mattresses to conform to the size and weight specifications of those beds. A 6-inch mattress is typically recommended to ensure the trundle slides easily and the top bunk is not too heavy for the structure.
The Zinus 6″ mattress foam mattress will work really well for those tight spaces, while boasting CertiPUR-US certified foams and the comfort of a hybrid mattress.
What we love:
– the Zinus 6″ mattress is available in all of the sizes trundles and bunks come in: narrow twin, twin, twin XL, and full. You can also order it in queen and short queen (a great option for your RV or for smaller spaces)

– a hybrid mattress, the Zinus 6″ comes with a 1 inch (2 layers) of comfortable foam, on top of 5 inches of coils. This actually makes the mattress a viable option for adults, not just children. While we would not recommend it for adults as an everyday mattress, it can definitely work as a couple-of-nights option
– just as with any other Zinus mattresses, the Zinus 6″ is made of CertiPUR-US certified foams, which guarantee that they are free of harsh chemicals
Amazon Star Rating: 4.3/5
Lucid Trial – 30 nights
Shipping – FREE shipping
Warranty – 10 years
Made in Indonesia

Best Mattress On Amazon 2023 - Recap
This guide was written to give you more options. We focused this list of Best Mattress on Amazon around value. While we always recommend purchasing from the manufacturers, buying a mattress on Amazon gives you access to Amazon's top customer service and fast shipping. We only included mattresses currently available, and which can be received within a week of ordering.
Many mattresses sold on Amazon are manufactured in China, Indonesia, and Taiwan. Always use caution and double check all tags upon receipt to ensure they are safe to use. Many unfortunately use fiberglass in their mattress cover, which can become dangerous when broken and volatile. Thankfully, however, the mattress industry is raising and all mattresses on this list uses exclusively CertiPUR-US certified foams.
We do recommend airing on the side of caution and going with mattresses around the $1,000 mark, coming from reputable brands who also sell outside of Amazon. However, if budget is a big factor in your decision-making, please ensure you do your research upon receiving your mattress. Most companies will not disclose everything that goes into their mattress on Amazon, however, tags attached to the mattresses will give you an in-depth look into what your mattress is made of.
Why Buy A Mattress Online?
So why am I encouraging you to buy your mattress online, with no chance to see, feel, or lay on the mattress. I promise you it's worth it! Feel free to read over our Guide To Buying An Online Mattress, but let's also look at the benefits of buying a mattress online vs. in store:
When walking inside a mattress store, you are limited to the brands and models carried by the store. Not only are they limited, but the store needs to survive and higher margin products will probably take the store-front, which doesn't always work in favor of the buyer. However, when shopping online, you will find dozens of online mattress brands.
Now of course, more options means that you need to educate yourself a little more, to understand which mattress brands will be worth your money, and this is where I come in. I test hundreds of mattresses for you each year, and when you read the reviews of an independent mattress reviewer such as Non-Biased Reviews, you get unbiased mattress reviews. Many mattress review websites are now owned by large mattress companies, so make sure you use the services of independent mattress reviewers!
Buying a mattress can feel as stressful as buying a car these days. You walk into the mattress store and get overwhelmed with sale tactics, straight out of the car lot! Online, you get the benefit of time and peace. Once you have narrowed your choices down to a brand or mattress style, take your time to read the details and do deeper research on the brand sites and right here. See all of the brands we have reviewed so far. Any questions, feel free to email me directly at laura@nonbiasedreviews.com and I'll be happy to brainstorm ideas with you!
By purchasing a mattress online, you do direct business with the mattress brands and they save on labor, rent, and other overhead costs. It is a win-win and you put the savings in your pocket! You also have many more options, and while you can buy extremely luxurious and expensive mattresses online, you also have access to a large number of cheaper options!
This one might seem counterintuitive. I bet that your first resistance to buying a mattress online is linked to the lack of testing. You can't see nor touch the mattress for yourself and you're not sure whether you can truly believe the edited photos you see online. 
Think about it for a second. You walk into a mattress store, lay on a mattress, shoes on, fully clothed, with an adult salesperson staring at you, while trying to keep your kids from taking the store for a trampoline arena. You've awkwardly laid on that mattress a total of 50 seconds before making a long-term decision… 
When purchasing your mattress online, it nearly always comes with a 100 to 365-night trial and we love that mattresses sold on Amazon are keeping up with industry standards. You get to sleep full nights on your investment for several weeks (at least 30 days on Amazon, but up to 100 days!) before deciding whether it is adapted to your sleeping needs and preferences. If the trial is longer than 30 days, I recommend sleep testing your mattress for at least 30 nights before making your final decision, to give your body a chance to adjust to the new sleeping surface.
Still unhappy, most online mattress companies will arrange for your mattress to be picked up from your home and donated, and your money will be refunded. There is generally no restocking fee and most of the time, your return shipping is free as well. If you buy a Purple mattress at MattressFirm, for example, your return will be subject to MattressFirm's return policy and restocking fees. Buy directly from Purple and your return is free!
When you buy a mattress on Amazon, it ships directly to your home, free of charge! All mattresses on this list ship in a box, making them easy to transport to the room of your choice. Simply unpack and watch your new mattress unfold under your eyes.
Forget about renting a truck or trying to tie a king-size mattress to the roof of your car, then asking a friend to come help you to get it inside. Instead, Amazon or a regular carrier drops off a manageable box by your front door, you set the vacuumed mattress on your bed, rip the plastic wrap, and watch it expand in seconds!
Share this deal with a friend!