OKIOKI UPHOLSTERED BED REVIEW
There's nothing quite like walking into a neat and cozy bedroom. That moment when the stress exits your body as you enter you personal haven. Well… getting that Pinterest-perfect bedroom does take a bit of coordinating and finding the right furniture. Today, we're reviewing the OkiOki Upholstered Bed Frame and Headboard. Ready to hear what we think about it?
15% OFF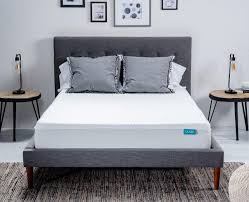 For the Upholstered Bed: 
100-night trial period
Free shipping and returns
3-year warranty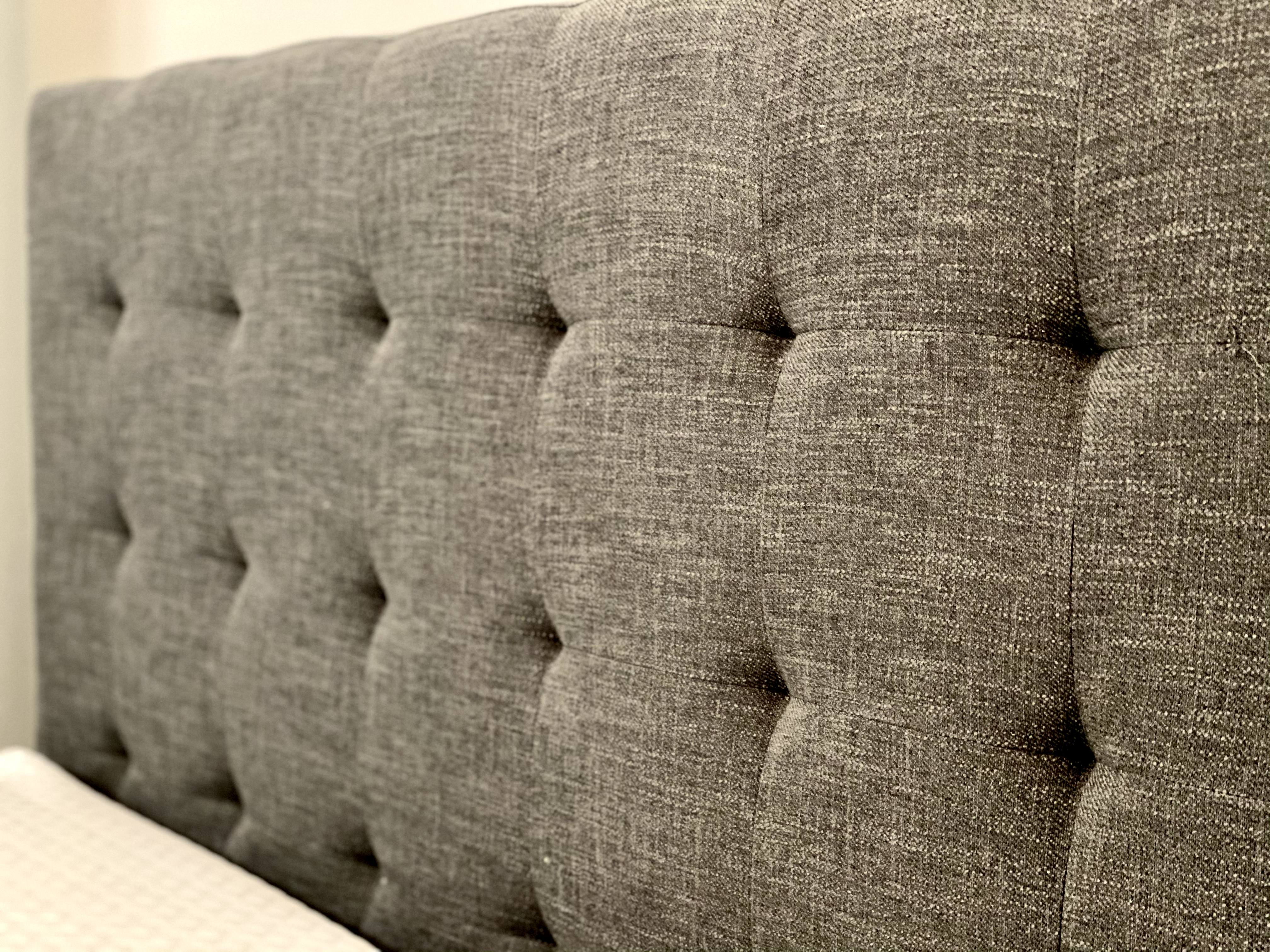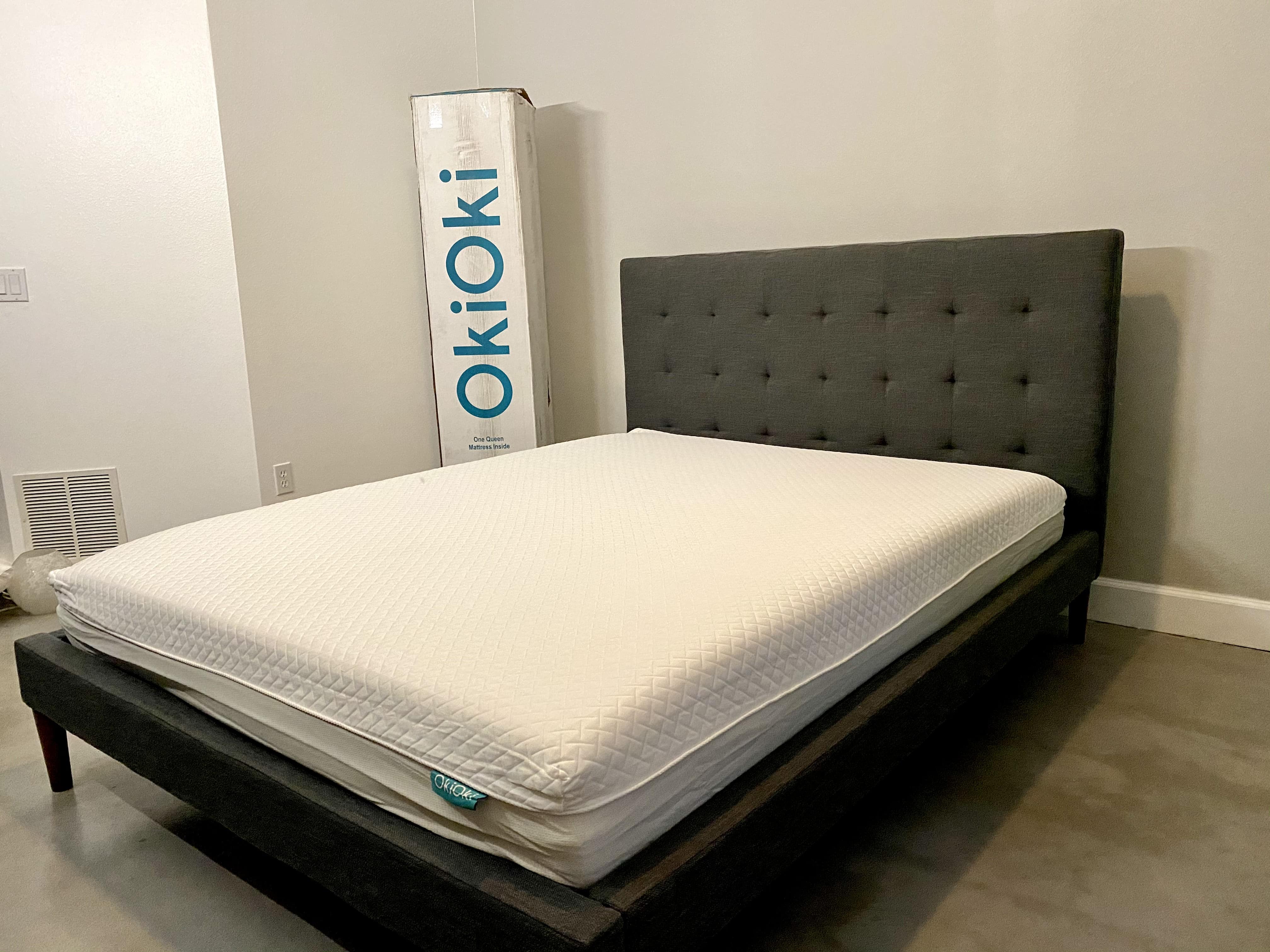 What's Inside The OkiOki Upholstered Bed
In a nutshell:
Upholstered cushion headboard, footboard, and side bars
Wooden bed feet
A support beam and wooden slats
Upholstered Cushion
The OkiOki Upholstered Bed has quite the refined look. OkiOki did not just create an upholstered headboard. The cushiony style continues along the sides of the bed frame and its footboard, giving this OkiOki bed a rich and luxurious look. The upholstered bed comes in a darker and a lighter shade of grey, for a modern and clean look.
Wooden Bed Feet
Adding warmth to the sense of modern luxury, OkiOki designed wooden feet made of Acadia wood and engineered wood with an Acacia wood veneer. I love the industrial, yet warm and comfortable look this gives to the bed. My favorite part of the bed feet, though? The integrated felt pads! No more scratching of the floors. Better, yet? No more lifting a heavy bed and mattress once a year, to replace the cheap store-bought felt pieces. Those feet come with a plush and thick felt added to their bottom, protecting your floors in all corners. 
Platform Bed
No need for a foundation or box springs with this platform bed frame. The OkiOki Upholstered Bed uses a cost-efficient alternative, and one that has been used in Europe for decades. The wooden slats get you rid of noisy springs and help ventilate your mattress, reducing the buildup of allergens and mildew. You will find that the OkiOki Upholstered Bed sits lower to the ground, due to the slatted platform, and you can directly add your mattress to the wooden slats and call it a bed!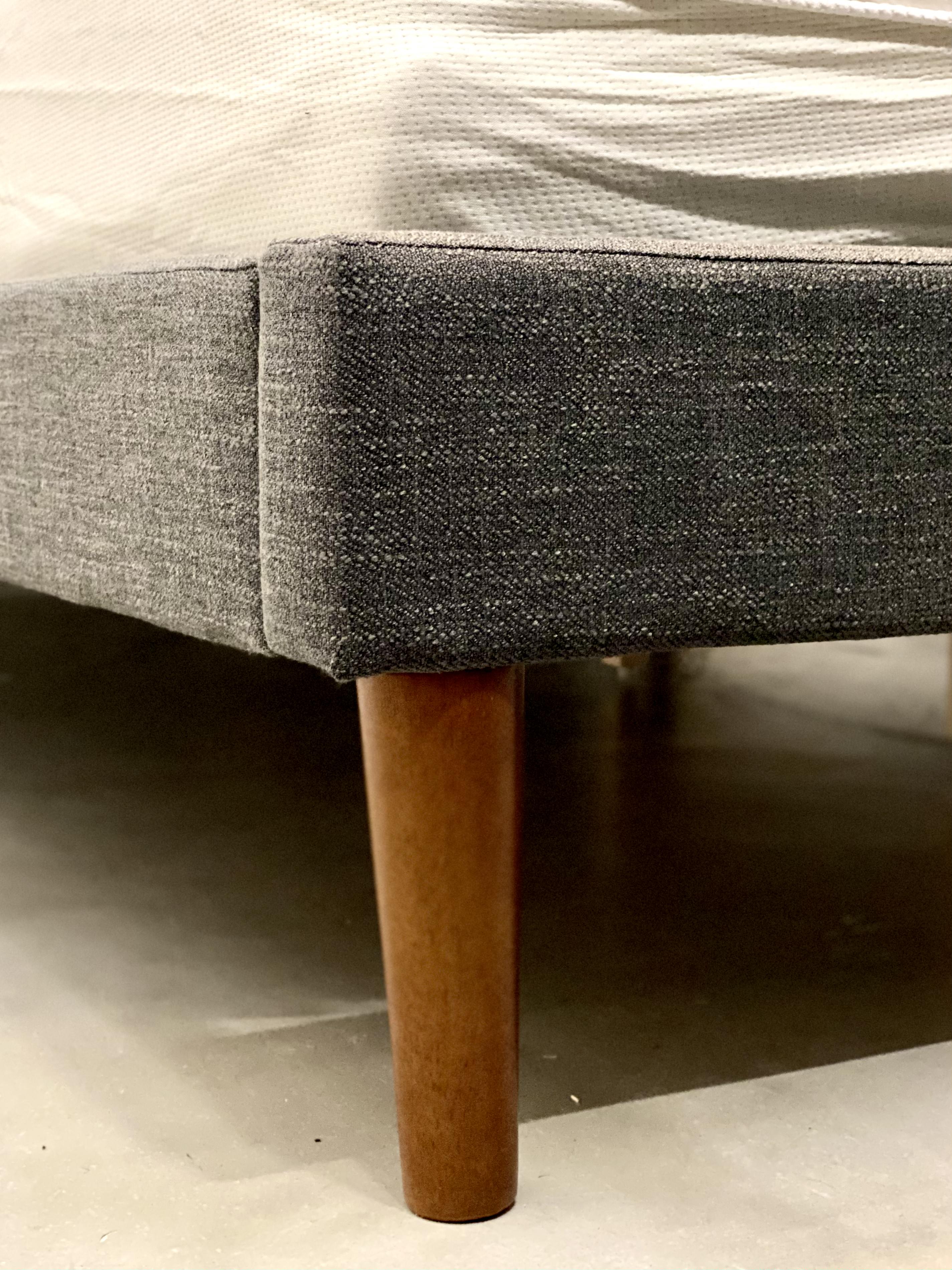 OkiOki Upholstered Install & Sleep Tests
Everything we felt in one box
| Install | Final Look | Sleep Test | Maintenance | Bed Base |
| --- | --- | --- | --- | --- |
| Forget the IKEA headaches and do not dread building this OkiOki Upholstered Bed frame and headboard. The directions are clear and easy to follow. The bed is delivered in two boxes and not extremely heavy, and while you could build it on your own, using a partner can be helpful for final assembly. There are few steps in the process - all are well explained and I recommend having a power screwdriver to a little extra help. I would count about 20 minutes for the whole process. | The bed looks really good once built. We reviewed the Charcoal model, but it comes in Light Grey as well. The cushion has a nice finish to it and I think that the cushioned side bars and footboard add unity and luxury to the piece. Overall, the grey, coupled with Acacia wooden feet, give this Upholstered Bed sophisticated elegance, in a modern and industrial look, while remaining comfortable and welcoming. If your interior has clean and modern lines, in the white and grey tones, this bed will look fantastic. | We found the OkiOki Upholstered Bed to be a little wobblier than we would have liked when first laying on it. Once the body weight is on, the feet of the middle beam add stability and this becomes less of an issue. I also think that screwing the wooden slats into the sidebars would help with stability. This is however not a deal breaker, and the bed looks safe and sturdy. It will support up to 800 lbs of weight, thanks to a middle beam with feet, that adds stability once weight is put on the bed. Adding to the comfort is the cushiony headboard, which makes resting your head a lot comfier than on wood, metal, or a wall! | It is recommended to keep the headboard away from cooling and heating elements. As far as cleaning goes, and if you must, simply use a non-agressive mild soap, water, and a cloth. Blot the stain instead of rubbing it, to avoid spreading the stain. You can also regularly vacuum and steam clean the upholstery to keep your OkiOki Upholstered Bed clean. | The OkiOki Upholstered Bed comes as a platform bed with wooden slats. No need to add box springs or a foundation - simply lay your mattress right on the wooden slats. They are supportive and solid, and easy to install. OkiOki uses two sets of wooden slats, which are easily fixable to the velcro on both side bars. The wooden slats are cost effective, and have been used in other countries for decades. |
OkiOki Upholstered Prices & Discounts
15% OFF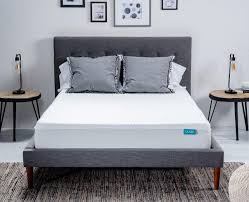 The OkiOki Upholstered Bed comes in three sizes – Full, Queen, and King. Each size comes in a Light Grey or Charcoal. We are reviewing the Charcoal Queen model here.
OkiOki prides itself in being a straight-forward bedding company. Per their website, they bring "honesty and transparency to the mattress industry." They take pride in developing mattresses similar to their competition, at much lower prices. Their Upholstered Bed is priced very well and below their competition as well.
Make sure to click the box above to claim the deepest discounts.
Price List updated: November 2020 – Pre-discounted prices
Detailed OkiOki Upholstered Bed Review Conclusion
I am a big fan of how quick and easy the building process was on this OkiOki Upholstered Bed. In about 20 minutes, we had an elegant bed ready for its mattress. 
If you are looking to elevate the look of your bedroom and turn it into a sophisticated modern haven, I think you would really enjoy the clean design of this headboard and bed frame. Just add a mattress, a few pillows, maybe one of OkiOki's cute bedside tables, and you will get yourself a seriously good-looking bedroom. 
Let's look at our thoughts in more details below.
Find all of our OkiOki reviews HERE.
The founders of OkiOki started the company out of frustration for their industry. They noticed questionable marketing approaches of their competitors, as well as climbing prices, and wanted a company based on high quality products at fair and transparent prices. 
They have developed 4 mattresses – unhappy with an industry trying to fit all sleepers on one mattress. They believe that each sleeper has a different set of needs and preferences, and their 4 mattress have been tailored to contain the highest quality foams, coils, and features, at prices much below their competitors'.
OkiOki has developed the: 
OkiSoft: 100% memory foam, designed for side-sleepers
OkiEasy: a memory foam/ coil combo, designed for side-sleepers
OkiFlex: a memory foam / coil combo, designed for back and stomach-sleepers
OkiFirm: 100% memory foam, designed for back and stomach-sleepers
OkiOki also offers foundations, bedding accessories, night stands, dressers, and sofas. 
What Is Inside The OkiOki Upholstered Bed?
The headboard, side bars, and footboard are covered in ultra-thick upholster. The tuft headboard is filled with polyurethane foam and the cover is made of polyester fibers.
The middle support beam is supported by three wooden feet for extra support of the mattress and wooden slats. The three feet are spread across the wooden beam and covered with a plastic piece at their bottom, to protect your flooring. Additionally, OkiOki ensured that those support feet are far from the edge of the bed, to avoid those unexpected and painful toe stubs!
The 4 feet of the bed are kiln-dried solid acacia wood and engineered wood with an Acacia wood veneer. They are covered in an oil-based Acorn finish for a darker touch with just a bit of a shine. They bring in the warmth for a great balance of modern grey and warm wood.
How Does The OkiOki Upholstered Bed Test?
Install
I was very impressed with the install process on the OkiOki Upholstered Bed. The directions are straight-forward and easy to follow.
The bed is shipped in two boxes. One box is the headboard, the second box has the side bars, footboard, middle beam, wooden slats, and nuts and bolts. Each box is fairly light to transport and can be picked up by one adult. While it is easier to build this bed with a partner, the OkiOki Upholstered Bed is light enough for 1 person to manage on his/her own! 
You will be saving time with a power screwdriver. But you could also do with a regular screwdriver.
Overall, we spend around 20 minutes unpacking and building this bed as 2 adults and some little hands for extra support 🙂 
Final Look
The OkiOki Upholstered Bed has a sophisticated and elegant design, that looks a lot more luxurious than the price suggests. 
The OkiOki Upholstered Bed can be purchased in Light Grey or Charcoal. Both models come with Acacia feet covered in oil-based Acorn finish, bringing some natural warmth to the modern grey color. The overall look is an elegant modern design, with a touch of industrial, that remains soft and welcoming. 
Sleep Test
We loved the soft cushion to rest our heads before falling asleep. The bed is soft and welcoming, and there is no more banging heads on your headboard with this OkiOki bed frame and headboard. 
We found the OkiOki Upholstered Bed a little wobbly when first sitting on it. Screwing the wooden slats in the side bars would probably add stability. Additionally, once laying on the bed, the middle beam goes down and its three feet touch the ground, bringing more grounding to the bed, and stabilizing it further. 
Maintenance
In order to keep your headboard clean throughout the year, vacuum and steam clean it regularly. 
Should you need to clean a stain, use a cloth, water, and mild soap to blot the stain. Never rub the stain to avoid spreading it. 
It is also recommended to keep the bed away from heating and cooling sources. 
Bed Base
I love that what is coming in the OkiOki Upholstered Bed box is a one-and-done deal. This bed is a platform bed and comes with two sets of wooden slats. 
Each set will get you to half of the bed frame, making those slats super easy to install. They velcro right onto the side bars and you can readjust if needed. The velcro secures the slats in place, but you could also decide to screw them into the side bars for more stability.
All you need to do, is add your mattress to this upholstered bed. No need for box springs or a foundation! 
How Do I Care For The OkiOki Upholstered Bed?
If you choose the Lighter Grey option, you might need to clean the headboard more frequently than the Charcoal model. However, both might suffer from the occasional spill and constant head rubs.
Should you need to address a stain, use a mild soap, water, and a clean cloth. Make sure you only blot the stain – do not rub it to avoid spreading it. In between cleaning up spills, try vacuuming and steam cleaning the fabric regularly to keep your upholstered bed clean.
15% OFF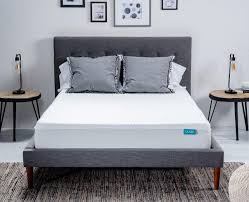 The PLUSES

The MINUSES

Sophisticated design
Love the two grey's it comes in
Soft headboard 
Comes with wooden slats - no need to add a foundation or box springs
Accessible pricing 
OkiOki sells bedside tables for a matching full bedroom

The structure is a little wobbly
Only comes in two shades of grey 
If you are looking for a traditional look, the OkiOki Upholstered Bed has more of a contemporary look. Check out the OkiOki Mid-Century Bed!
Share this deal with a friend!