BROOKLYN BEDDING AURORA LUXE REVIEW
Are you a hot sleeper, maybe sleeping on your side, looking for soft contouring and strong body support? The Brooklyn Bedding Aurora Luxe mattress might be for you! We've tested it and are ready to tell you all about it! This is our Brooklyn Aurora Mattress Review – updated December 2020 for its current version, formerly Aurora Hybrid.
If you are looking for a cozy mattress that naturally works with your body to keep you cool and comfortable, and been wondering what the hype is about with copper mattresses, you are in the right place! We are looking at each layer and telling you exactly who the Brooklyn Bedding Aurora Luxe is for. 
25% OFF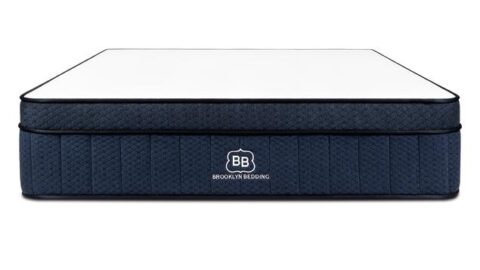 Brooklyn Bedding Company Policies
Free shipping and returns
120-night home trial
10-year warranty
Made in the U.S.A.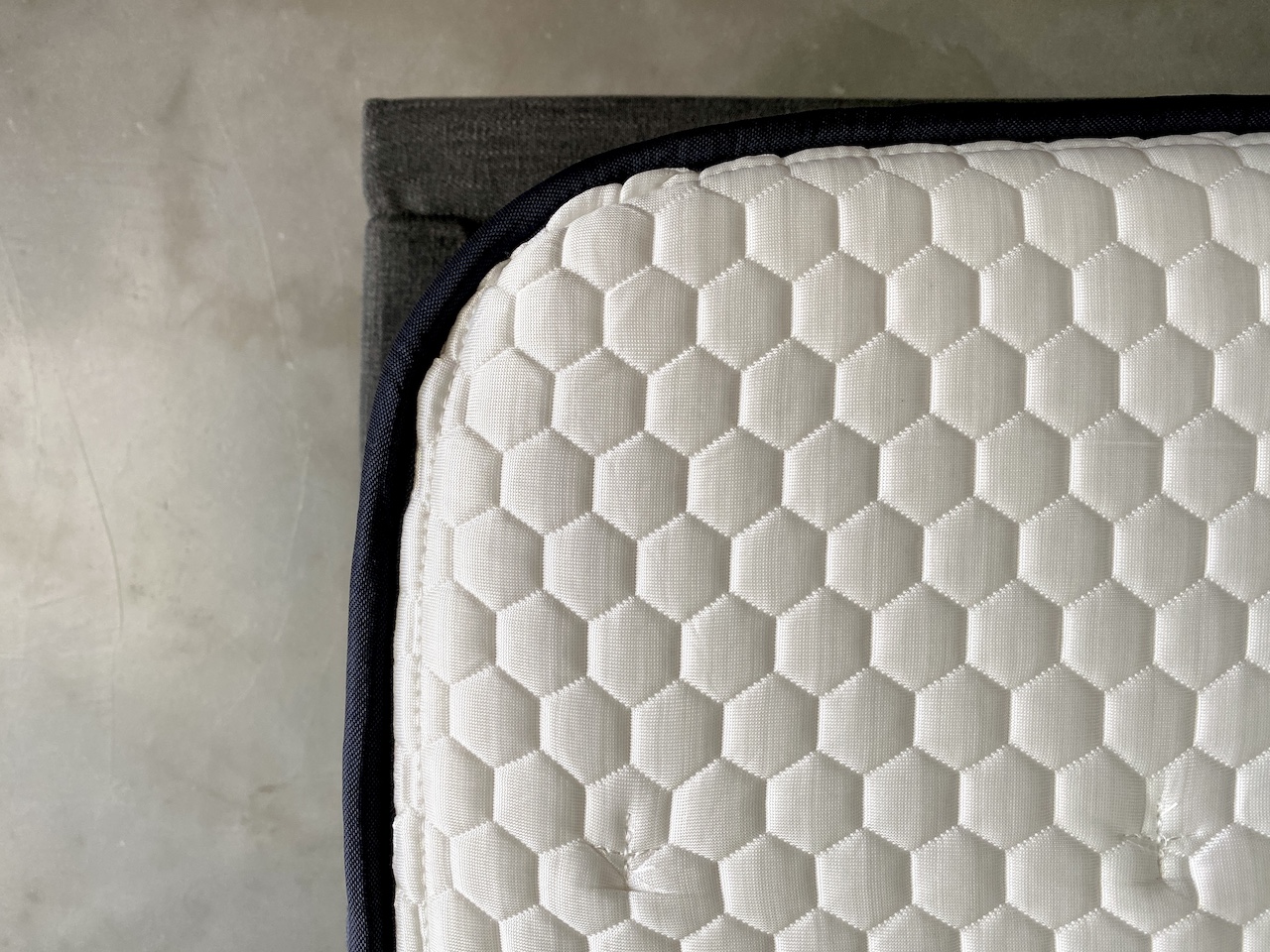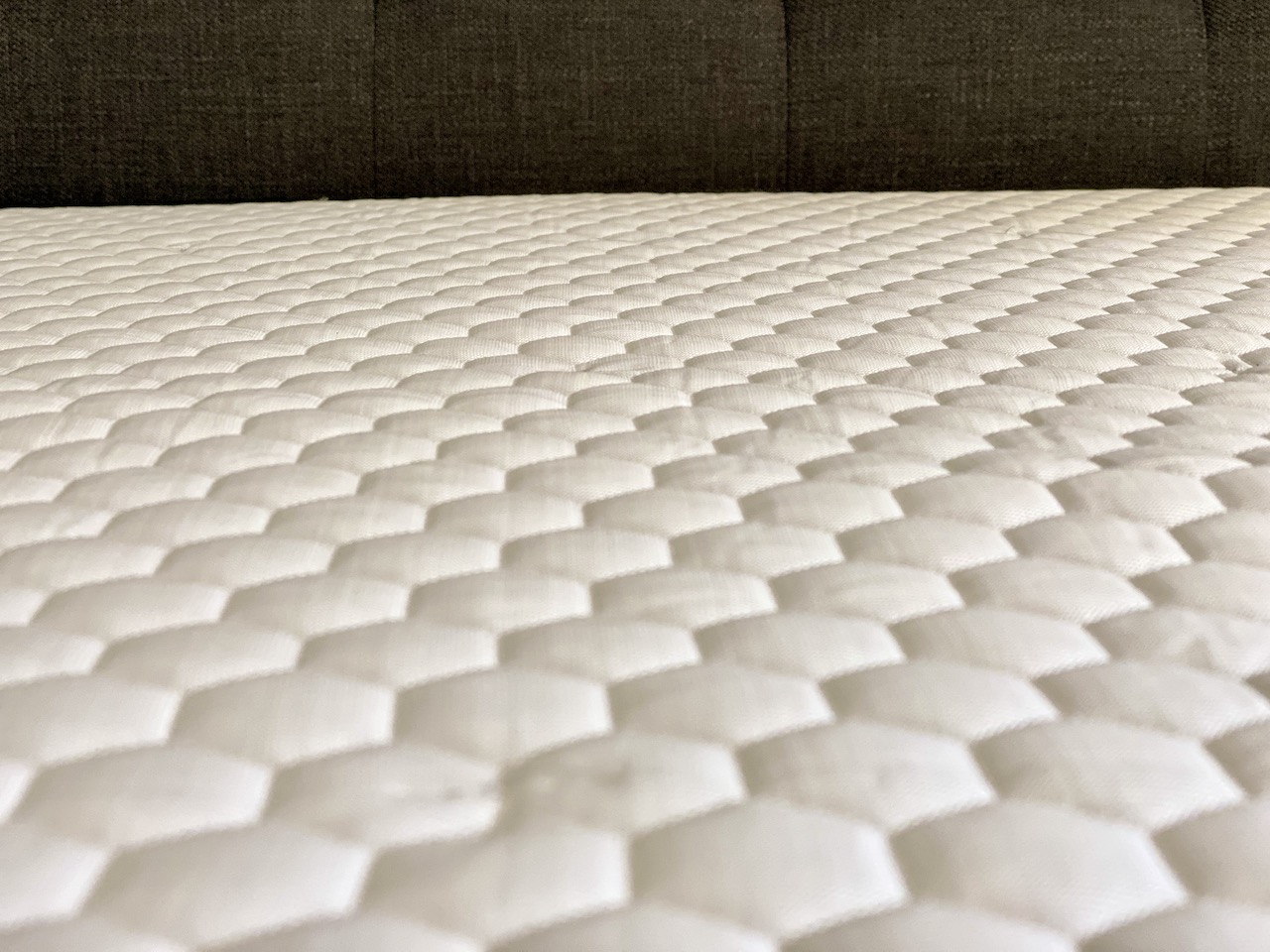 What's Inside The Brooklyn Aurora
In a nutshell:
Cooling cover
1.5″ copper-infused foam
2″ TitanFlex

™

foam 
1″ transition memory foam
8″ pocketed coils
1″ high-density foam
Cooling Cover
Brooklyn Bedding uses a cooling fabric in its Aurora cover. The cover is fairly soft, ensuring reduced motion transfer. It also delivers the full benefits of the TitanCool™ located in the foam below
1.5″ CopperFlex™ Foam
The layer closest to your body is infused with copper for a cool and antibacterial sleeping surface and paired with TitanCool™, an engineering wonder that maintains your skin temperature at a constant 88 degrees
2″ TitanFlex™ Foam
Another proprietary foam of Brooklyn Bedding's, this layer is hyper elastic for responsiveness, so you never feel stuck in the mattress
1″ Transition Memory Foam
While you are not very likely to feel this layer, it provides deep pressure relief and has the contouring properties of memory foam. It is also a nice transition layer before the coils 
8″ Pocketed Coils
The pocketed coils provide strong support to your body and allow air to circulate and reach the upper foam layers, while conducting your body heat out of the mattress
1″ High-Density Foam 
This bottom layer protects the coils and gives them a gentle layer to compress into, reducing the bounce and adding life to the mattress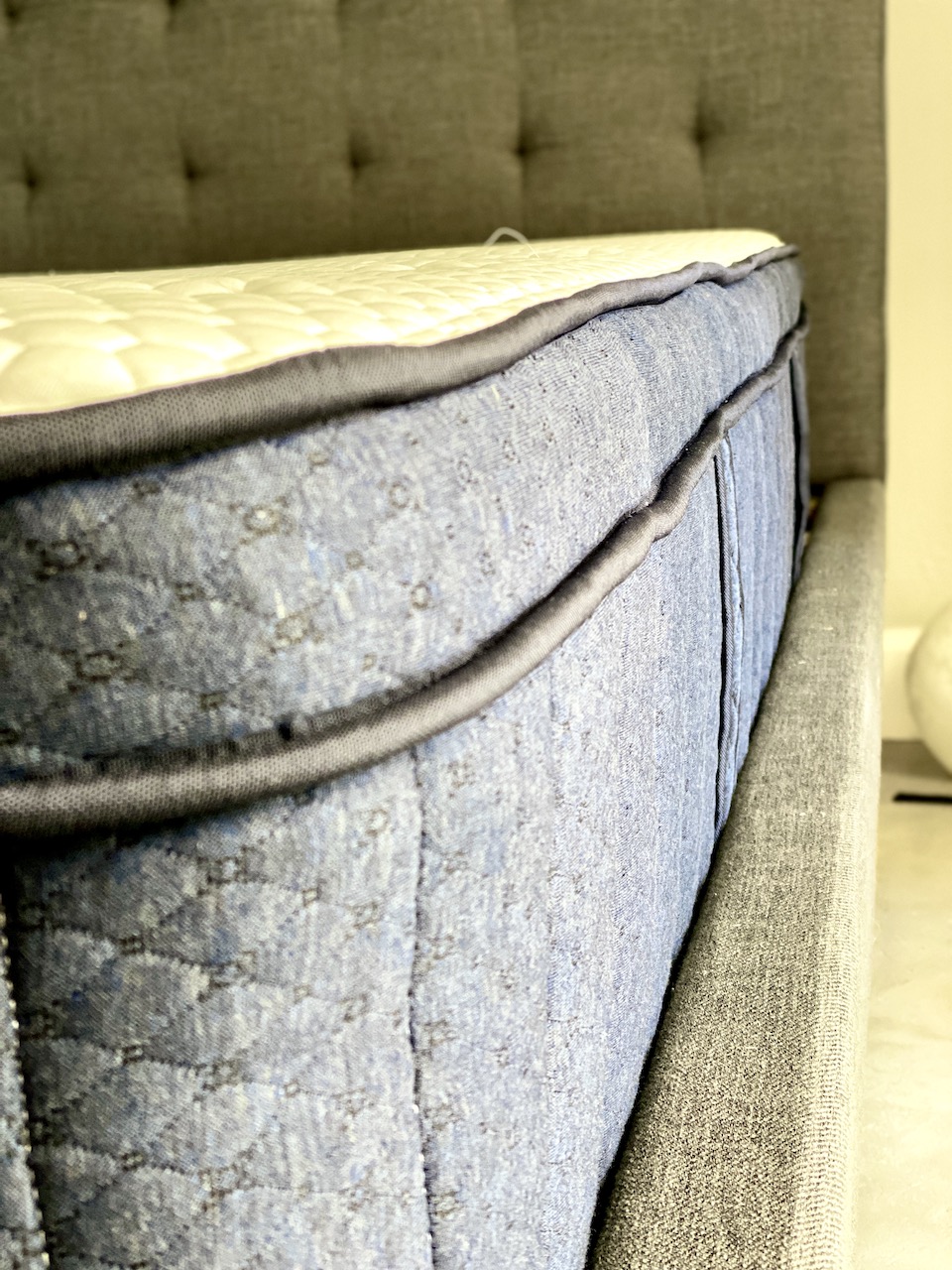 Brooklyn Bedding Aurora Luxe Sleep Tests
Everything we felt in one box
| Firmness | Temperature | Maintenance | Sleeping Style | Bed Base |
| --- | --- | --- | --- | --- |
| The Brooklyn Aurora comes in 3 firmness levels. We tested the Medium firmness and found it to be on the softer side. With 4.5 inches of foam before reaching the pocketed coils, it gives plenty of space for the body to benefit from deep pressure relief. The foams, however, are fairly responsive and you will love the extra softness without ever being stuck in the mattress. | This is where the Brooklyn Aurora shines! The top layers of the mattress are engineered to keep you cool at night. The impressive TitanCool™ is infused with cooling gel beads that liquify when your skin temperature is above 88 degrees, to relieve you from heat. Under 88 degrees, the beads solidify back up to ensure the perfect skin temperature. It is reactive throughout the night and, coupled with a copper-infused top layer of foam and a cooling fabric cover, ensures that you stay cool at night. | As with many mattresses, which cover can't be removed, I recommend the use of a mattress protector. Should you need to clean a stain, use cloth, water, and a mild detergent to bloat the stain. Do not rub it. | The Brooklyn Aurora Medium Firmness mattress is ideal for side sleepers. It provides deep pressure relief and gives plenty of space for the hips and shoulders to comfortably sink in for ideal spine alignment. A back-sleeper under 180-200 lbs will also find a comfortable mattress in it. It is however too soft for stomach-sleepers and heavier back-sleepers, for whom the Brooklyn Aurora Firm Mattress would be a better option. | You will need a support system for the Brooklyn Bedding Aurora Luxe mattress. As long as there is minimal to no flex, you are good to go: slatted, platform, box springs, and even the floor will work. |
Brooklyn Bedding Aurora Prices & Discounts
25% OFF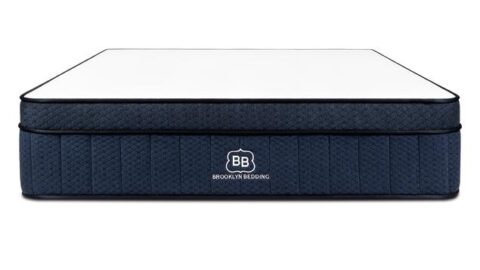 The Brooklyn Bedding Aurora Luxe mattress is a technological wonder in the world of mattresses. It uses several proprietary materials throughout its 6 layers and works with your body to make you feel cool and comfortable. This engineering beauty is luxurious and priced very fairly for the quality it provides, especially after discounts!
If you are not ready for the powered cooling beds, this is going to be one of the best mattresses to stay at just the right temperature. Whether you sleep hot, or cold, the Brooklyn Bedding Aurora mattress will naturally adjust to your body heat and provide you with a comfortable night of sleep.
Also note that if you need a custom size, outside of the 6 common sizes below, you can contact Brooklyn Bedding's support for more information and pricing.  You can also order the following custom sizes right from the website: Short Queen (also known as RV Queen 60×74), RV King (72 x 80) and RV Bunk (42 x 80).
Price List updated: January 2022 – Pre-discounted prices
Detailed Brooklyn Aurora Mattress Review Conclusion
The Brooklyn Bedding Aurora mattress is a little piece of engineering beauty, meant to provide the perfect sleeping condition for rested nights of sleep. It is the perfect mattress if you are a hot sleeper looking for cooler nights, and deeply relieves pressure points if you are a side-sleeper, while still comfortable enough for many back-sleepers. Couples with different sleeping styles will find a good option in the Brooklyn Aurora.
Brooklyn Bedding was founded in 1995 and really came out once they launched their first mattress-in-a-box. 
They design and manufacture all of their mattresses (6 models currently) in their Arizona manufacturing facility, leaving their products 100% Made in the USA.
With incredible engineering, mattress and sleep research, and clear attention to detail, Brooklyn Bedding has developed several patented materials that come together to relieve your body of pains and aches, and provide some of the highest sleep quality you'll ever experience. 
Their 120-night home trial, and 10-year warranty, speak highly of the quality of their mattresses. They know they're shipping you a great product and they stand behind their mattresses for 10 years!
What Is Inside The Brooklyn Bedding Aurora Luxe?
The Brooklyn Aurora Luxe Luxury Cooling Mattress is made of 6 layers, engineered to work together to provide a cool and pressure-relieving night of sleep. Let's look at each one in more detail: 
The Cover
The Brooklyn Aurora's cover is made of advanced fabric that helps conduct the coolness delivered by the TitanCool™ material below it. It feels thick and luxurious, and is just loose enough to reduce motion transfer.
1.5″ CopperFlex™ Foam
The first layer of foam is 1.5 inches deep and patented CopperFlex™ paired with TitanCool™. 
That foam is infused with copper, which is known as a cooler and anti-bacterial material. It is also paired with TitanCool™, a proprietary material engineered by Brooklyn Bedding, which feels like the "Bedding of the Future." 
The first impression when sitting / laying on the Brooklyn Bedding Aurora mattress, is very different than anything else you have tested before. You can almost feel the TitanCool™ technology and its beads under your body. Within seconds, however, they have liquified upon contact with your warm skin. Their aim is to keep your skin temperature at the ideal 88-degree temperature it needs to sleep comfortably. It achieves that by liquifying and solidifying its cooling gel beads based on the response it receives from your skin. If that's not genius and fully customizing of your body, I don't know what is! 
2″ TitanFlex™ Foam
The TitanFlex™ foam works with the CopperFlex™ foam to give your body the responsiveness it needs to move freely in the mattress. There is no feeling of being stuck in the 4.5 inches of foam of the Brooklyn Aurora. The responsiveness also means less heat-trapping sagging over time. 
1″ Transition Memory Foam
This layer acts as transition. You are not really likely to feel it, but it holds the contouring properties of memory foam and provide transition and comfort before your body reaches the coils. 
8″ Pocketed Coils
The Brooklyn Aurora has up to 1,032 individually-pocketed coils, which provide a great air flow system to the mattress. Not only cooling the upper layers of foam, but also channeling your body heat down the mattress. 
Each coil works independently to limit motion transfer, while providing the body with strong support. 
1″ Base Support Foam 
The bottom-most layer is an inch of memory foam, which gives a soft surface for the coils to compress and adds life to the Brooklyn Bedding Aurora Luxe mattress.
How Does The Brooklyn Aurora Sleep?
Firmness
The Brooklyn Aurora is a little softer than the medium firmness on the market. Its 4.5 inches of foam provide a soft and cozy sink with body contouring and deep pressure relief, with enough responsiveness to never feel stuck in the mattress. 
Sleeping Style
The Aurora is absolutely ideal for the side-sleepers. Its softness allows the hips and shoulders to sink in just enough, before getting to the support provided by the coils. Once the body lays flat, or on its side, you feel all body parts raising to a near-floating position. If you are a lighter back-sleeper, the Aurora will feel comfortable as well. 
Heavier back-sleepers, as well as stomach-sleepers, should consider the firm version of the Aurora for added support and to limit the risk of strain on the hips and lower back region. 
Temperature
This is the Brooklyn Bedding Aurora's bread and butter – a cool night of sleep. 88 degrees to be exact. The patented TitanCool™ is a cooling wonder that responds to your skin's temperature to help you regulate your body for a cool night of sleep. It is one of the coolest sleep you'll ever get, without requiring the need for power!
Motion Transfer
The Brooklyn Bedding Aurora Luxe mattress does extremely well with motion transfer. The combination of a cover that is not too tight or elastic, the hundreds of individually-pockets coils, and highly responsive foams, make this mattress ideal if you have a moving partner. I wouldn't expect you to be woken up by his/her movement. 
How Do I Care For The Brooklyn Bedding Aurora Mattress?
The cover is not washable and I recommend using a mattress protector to protect against staining. 
Should you need to clean a stain, simply use a cloth with water and mild detergent and blot the stain, do not rub it. 
What Should I Know About The Brooklyn Bedding Return Policy?
Brooklyn Bedding offers a generous 120-night home trial. This speaks highly about how much they think you'll love their mattresses. They do, however, request that you test sleep the mattress for at least 30 nights before initiating the return. In reality, it takes time for your body to adjust to a new mattress, especially when switching from a different sleeping surface (i.e., pillow top to foam, etc.). It can also take 30 to 45 nights for the mattress to break in and fully reach its optimal softness and aeration. 
If after the first 30 nights, you are still unhappy with the Brooklyn Aurora, you have until 120 nights after receipt of the mattress, to return it.
Additionally, each customer is only allowed 1 return per calendar year. 
25% OFF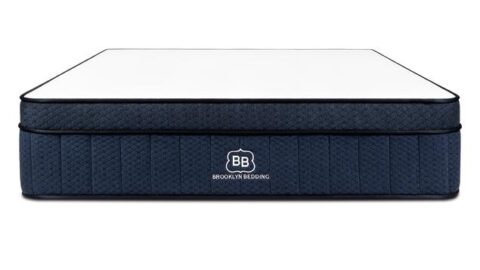 The PLUSES

The MINUSES

Stays cool throughout the night
Soft and contouring upper foam layers
Deep pressure relief of the hips and shoulder areas
Enough responsiveness to never feel stuck
Strong support evenly spreads body weight
Very limited motion transfer
Great option for side-sleepers
Designed to hold up to 950 lbs
Made in the U.S.A.

If you're a stomach-sleeper, look into the Firm option. The Medium will be too soft, with too much hip sinkage 
If you're a slightly heavier back-sleeper, you'll probably get too much hip sink, and the Firm option would be a better option
Share this deal with a friend!
Brooklyn Aurora Mattress Review 2023 | Non Biased Reviews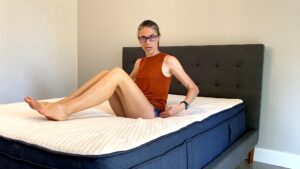 Are you a hot sleeper looking for a cooling luxury hybrid mattress? This is our Brooklyn Aurora Mattress review. Could this be the right mattress for you?
Product Brand: Brooklyn Bedding
Product Currency: USD
Product Price: 999
Product In-Stock: InStock