Saatva has three distinct mattress types and let's face it not all of them are going to be perfect for everyone.  That is what makes their product differentiation so great.  First we are going to discuss each of the mattresses, then we will discuss which mattresses are best for different types of sleepers.
Saatva
A luxury innerspring mattress.  The second you lay on it you think, ooh this feels like a hotel quality mattress. Engineered with a coil-on-coil system for better lumbar support.
Loom & Leaf
A top of the line memory foam mattress.  There are some memory foam mattresses that are more expensive, but you probably won't find one of higher quality at this price. The Loom & Leaf is also what I like to call their " Elevated" take on memory foam.
Zenhaven
100% pure American Talalay Latex.  It has two firmness levels built into it.  This also helps to explain why they have such a cute logo.  If you flip the bed upside down the logo is the same, it's kind of like a palindrome.
They are all American made (well except the ones that they sell in Canada) and the second you touch any of them you will understand how high the quality and attention to detail is in the manufacturing process.
Explains also why Premium Quality , such as those three mattresses, cannot be stuffed in a box!
Don't worry, you don't have to lift a finger. Every Saatva mattress comes with Free White Glove Delivery plus old mattress removal if needed.
Menu:
Sleep Test Results: SAATVA
Saatva Mattress is built with a specific high quality feature called " coil on coil" construction. I think the layer the plays a big chunk in the mattress construction is their top coil unit. It's made out of individually wrapped high quality coils that contours the sleeper's body perfectly making motion transfer almost non existing which leads to undisturbed night's sleep.
Fun Fact: All Saatva Coils are tempered three times and oven baked. 
There's no hiding here I have slept good on the Saatva Mattress. I wish I could take it with me everywhere I go. I know I have compared it to Luxurious Hotel Mattresses but I think it is a notch better!
PROS
Perfect combo of Support and comfort.
Great response to your body movement.
Edge support tells you how sturdy this mattress is.
And of course that Organic Cotton Cover.
For a mattress with such high quality you can't go wrong with the price!
Made in the USA.
CONS
Didn't comform well to my adjustable base
Saatva comes in three different levels of firmness. 
Plush Soft:
If you prefer to sleep on your side and sometimes your back
If you like to feel enveloped in your bed and linens
Have trouble with your arms falling asleep before you do
If you prefer a soft mattress
Luxury Firm:
It's the perfect mattress for couples with different sleep needs.
If you are looking for the Goldilocks bed. Not too firm. Not too soft.
If you switch sleeping positions often in the night.
If you are looking for the luxury hotel experience at home.
Firm:
If you prefer to sleep on your back or stomach
Prefer a mattress that you float on top of instead of sink into
If your health professional recommends a firm mattress
If you prefer a firmer mattress
Sleep Test Results: LOOM & LEAF
The Loom and Leaf felt great when I slept on my back. That elevated fell you get when lay down is absolutely there. it's like you're floating! And I love it. I couldn't stop thinking how comfortable it is as I switched between my stomach and back. Unfortunately I switch mainly from back to side, but I had to try stomach sleeping just to give you the results.
Sleeping on my side on the Loom & Leaf, for a good amount of time, I felt the need of switching instantly to my back where I felt more pressure relief. That sends me a message right there, a little too firm for someone like me ( small, not too heavy), works better if you are back or stomach sleeper or even switch in between.
PROS
Echo friendly.
No bad smell or off-gassing.
Again, great quality at a great price.
Works great if you are a fan of stable memory foam.
Made in the USA.
CONS
Doesn't sleep cool.
Does not work with an adjustable base.
Not bouncy! For me personally, it was a little too firm.
With Loom & Leaf you get to chose from two comfort levels. 
Loom & Leaf Relaxed Firm:
Their flagship comfort level — It sits in that perfect spot between not-too-hard and not-too-soft. It's made for sleepers who like a just-right feel; or prefer to sleep on their side, back or stomach; or simply switch sleeping positions mostly in the night.
Loom & Leaf Firm:
If you prefer a very firm feel, this level of comfort is for you.  It's almost like custom made especially if you like to sleep on your back or stomach. It almost reminds me when Health Professionals recommend sleeping on a good firm mattress! That's exactly what it sounds like.
Sleep Test Results: ZENHAVEN
Whether it was Luxury Plush or Gentle Firm, the Zenhaven was my #1 Mattress from the Saatva Collection! So many reasons why but I will cut to the chase:
Forget about worrying and wondering if you like a Firm or Soft mattress. With Zenhaven You get two levels of comfort IN ONE MATTRESS. Where one side in perfectly Plush, which means comfort for all sleepers, Back, side and stomach or any type of crazy sleeping position you prefer! It has that perfect, on point body support that keeps you sound asleep at night and happy when you are awake.
The other side is called "Gentle Firm". Not too soft where you sink through the layers and need the feel to call someone to pull you out, no quick sand mattress in here! Not too firm, where you wake up with soar bones. Just the perfect GENTLE FIRM level of comfort. Even typing about the Zenhaven makes me all excited and happy – and wanting to go take a nap on it right after I am done-. I mean not everyday you will find that ideal mattress with the perfect combo. Right there you have saved yourself tons of money if you are thinking about getting a Zenhaven. Two Different Comfort levels in a Single High Quality mattress.
So where is this all coming from? Thanks to that 100% Pure Talalay Latex – another reason why I love the Zenhaven- In a few words Zenhaven is simply more comfortable and luxurious. The elevating almost weightless sensation Talalay latex provides is what sets it apart.
PROS
Sleeps cool.
Immediate response to your body ( on both sides).
Works great on adjustable beds.
Perfect bounce & support. Thanks to its key ingredient pure Talalay Latex
Great two in one mattress at a great price!
Made in the USA
CONS
The only downside I can think of is that it's heavy! be careful when trying to move it around. It will fall on you.
A couple of things to keep in mind and to help you decide better:
Inner spring and latex mattresses tend to sleep cooler than memory foam mattresses. Although the Loom & Leaf offers a convoluted cooling layer of foam and the medical grade spinal gel panel, the Saatva will naturally sleep cooler.
Inner spring and latex mattresses allow customers to change positions easily and with more frequency throughout the night. While memory foam mattresses tend to be best for sleepers who prefer to sleep in limited positions as it offers a deeper more conforming embrace.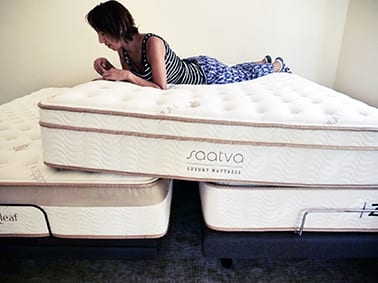 Saatva is available with 3 levels of comfort to chose from.
The Plush Soft is for you, If you belong in the light-weight body types area and prefer to sleep on your side.
Firm level is ideal for heavier body types and stomach or back sleepers
And in between you have the ideal comfort level if you like to switch your sleeping positions! The individually, carefully wrapped coils layer makes this mattress one of the best in this industry.
Loom & Leaf is made for sleepers who simply like a mattress with nothing but foam feel!
Zenhaven with its 2 in 1 comfort technology makes choosing the right mattress a lot easier.
Luxury Plush and Gentle Firm levels of comfort, in one high quality American made mattress. One for all!
In the rare case that the comfort level originally decided on isn't the right for you, the mattress can be flipped to the desired comfort level.
Free White Glove Delivery
Free White Glove Delivery
Free White Glove Delivery
I have never seen a sale or discount on the Saatva websites.  That doesn't mean that they don't have discounts or specials, it's just that I haven't seen one.  This is a pretty clear signal that they are confident with their pricing, and they know their place in the market.
The good news is that I'll give you a $25 gift card if you use the links below to purchase any of these Saatva mattresses.
$25 Gift Card From Me
Thinking about buying the items we have reviewed? Help Non-Biased Reviews out if you do. Just click on any of the seller links above and the seller will contribute a portion of the sale to help support this site. It won't cost you anything extra and is a simple way to help us fund more items to review. Thank You!