Canadian sleepers, the Endy Mattress is for you! We found a mattress made in Canada, by Canadians, for Canadians! 
What if I told you that all mattress sizes, all the way to King and California King, are priced under CAD $1,000? And that the Endy Mattress ships free to all Canadian provinces?
Ready to hear everything we have to say about it? 
Free shipping and returns to all Canadian provinces (no shipping to the U.S.)
100-night trial
15-year warranty
100% made in Canada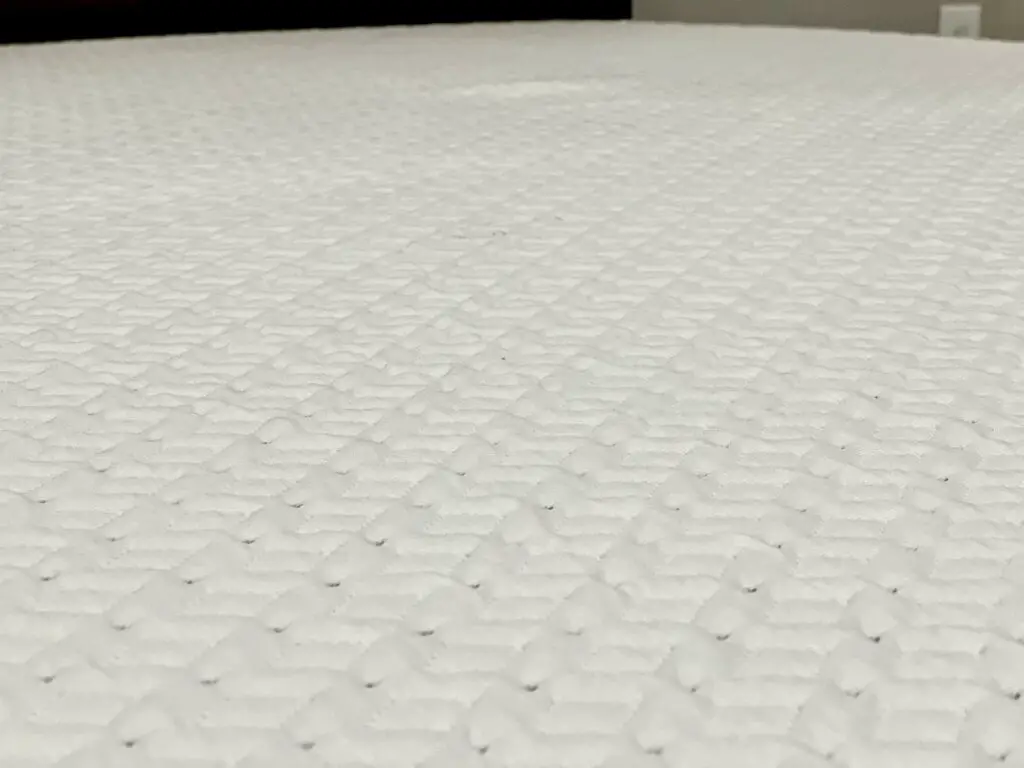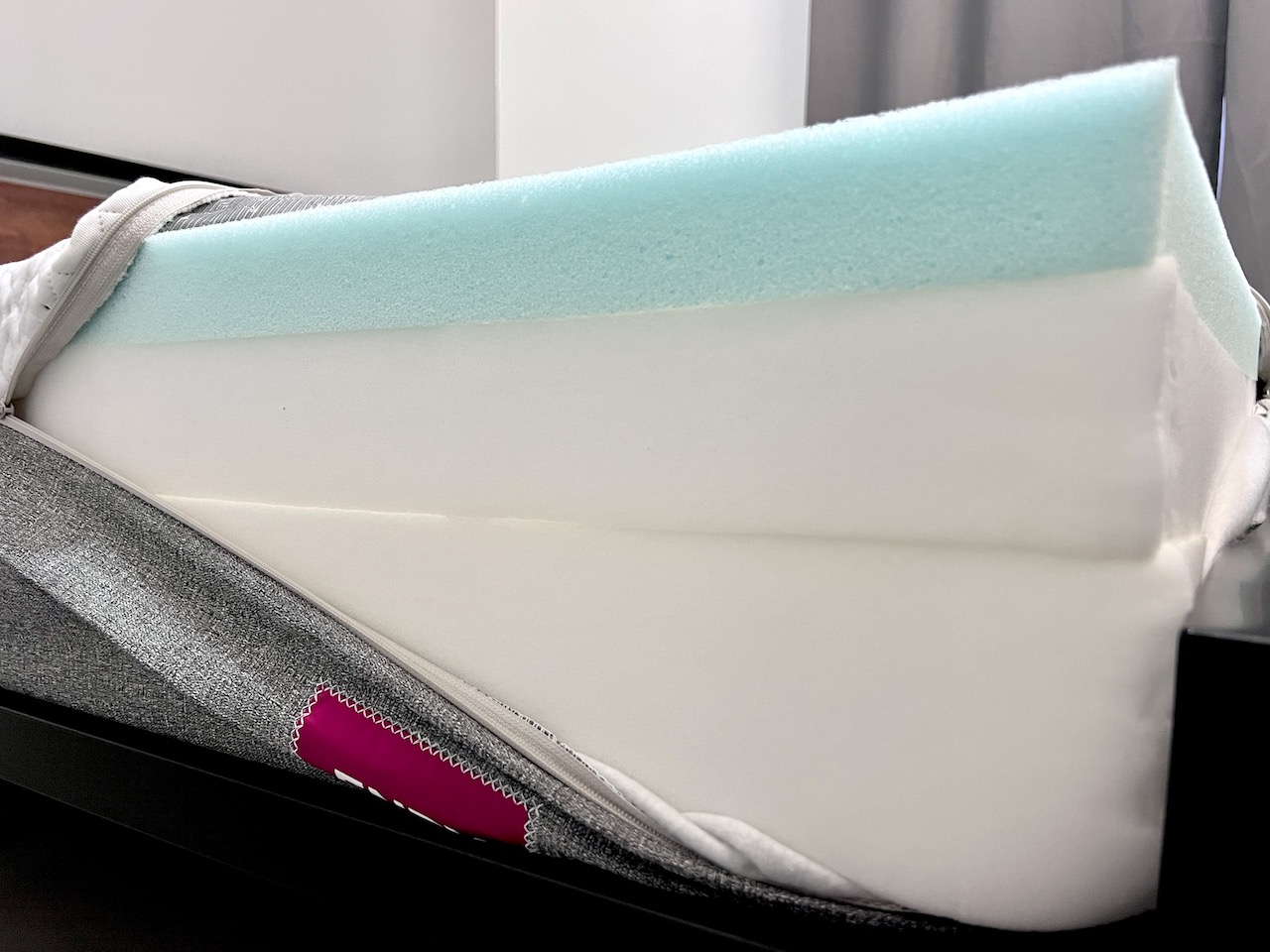 What's Inside The Endy Mattress
In a nutshell:
3 layers of foam + quilted cover
Made in Canada for Canadians
Sleeps all
3 Layers Of Foam + Quilted Cover
The Endy Mattress is made of 3 layers of foam, encase in its machine-washable quilted cover. 
All foams are CertiPUR-US certified, latex free, and poured in Ontario and Québec. The quilted cover is soft and stretchable, made of polyester and spandex. All materials are Greenguard Gold, ensuring low chemical and pollutant emissions. 
The foams work together to deliver pressure relief and spinal support, as well as cool sleep and responsiveness to never feel stuck.
Made In Canada For Canadians
We love seeing a mattress made entirely in Canada, from the pouring of foams to the handcrafting, boxing, and shipping. 
What impressed us the most is the foam design. All foams are designed to sustain the wild changes in temperature experienced in Canada.  Those foams keep their  properties and you can expect a mattress that sleeps the same, no matter how cold or hot the weather is!
Sleeps All!

We can recommend the Endy Mattress to all sleepers. The foams provide enough pressure relief and support, to sleep side, back, and stomach-sleepers healthily and comfortably. This makes the Endy Mattress a great mattress for couples, even when partners can't agree on their comfort level.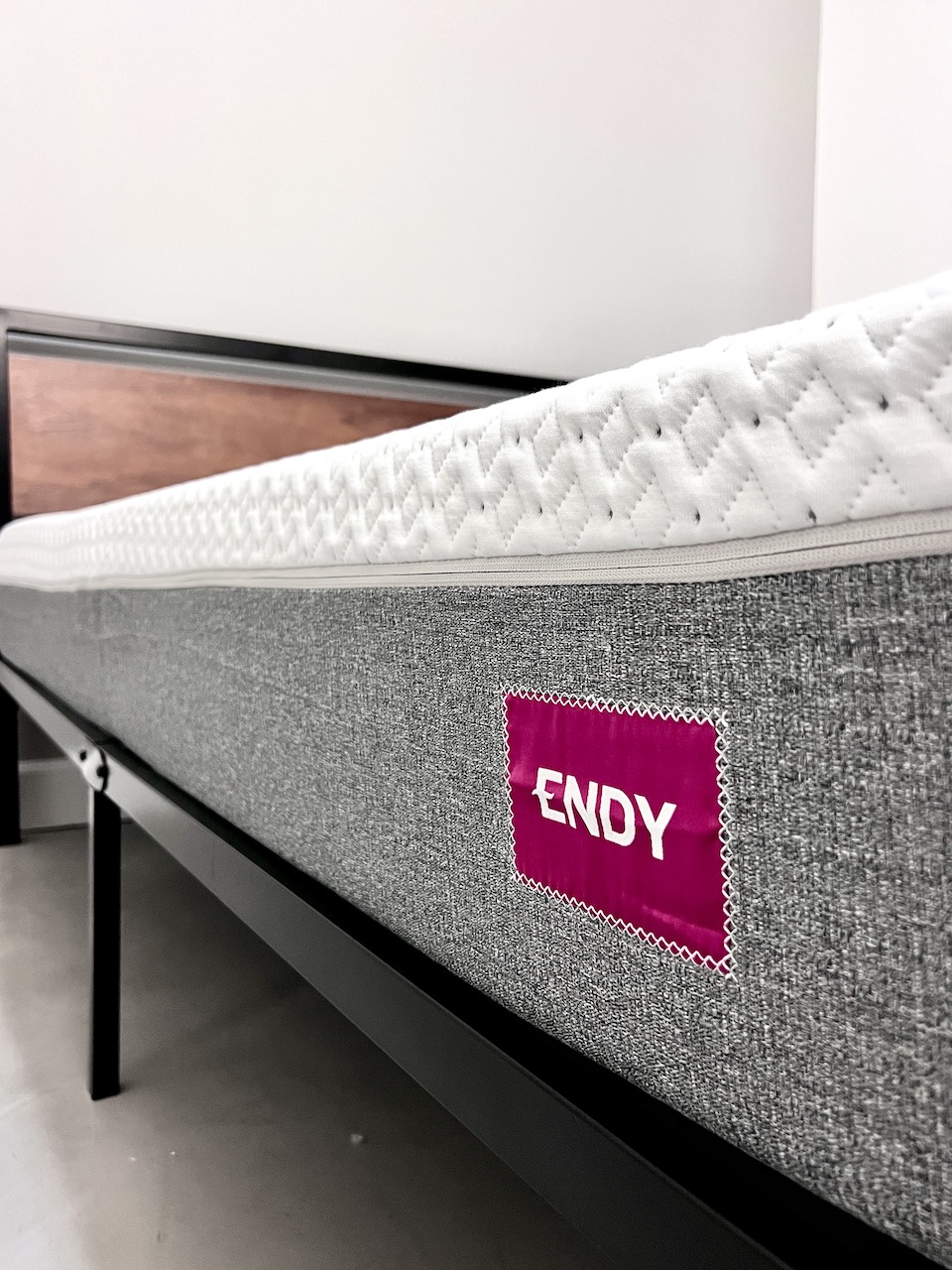 Endy Mattress Sleep Tests
Everything we felt in one box
| Firmness | Temperature | Maintenance | Sleeping Style | Bed Base |
| --- | --- | --- | --- | --- |
| We rated the Endy Mattress a 6.5 to 7 out of 10 on the firmness scale, making it a mattress just a tad firmer than average. It provides the right amount of firmness for a healthy spinal position during sleep, and can sustain sleepers of all weights. | Thanks to a thick upper layer of open-cell foam, punctured by millions of air bubbles, the Endy Mattress sleeps very temperature-neutral. We tested it in the Florida summer and did not suffer from the heat at all! The air holes allow for your excess body heat to flow into the mattress, while cool room air flows back up to the surface, helping your body self regulate its own temperature. | We love that the Endy's mattress cover is machine washable! Simply unzip it in case of a large stain, and wash it on cold, then air dry. For smaller stains, we recommend spot cleaning with clean water, a cloth, and some mild detergent. | Thanks to its balance between pressure relief and support, we recommend the Endy Mattress to all sleepers. Side-sleepers of all weights will sleep very comfortably, unless you have a preference for a very plush mattress. Back sleepers of all weights, as well as stomach sleepers up to 200 lbs will do really well on this mattress too. | The Endy Mattress can be laid on any flat surface: flat platform beds, slatted beds, boxsprings or foundation, adjustable beds, or even the ground. |
The Endy Mattress Prices & Discounts
The Endy Mattress comes at an incredible price! Just thinking of a Canada-made mattress under CAD $1,000 in ALL sizes, is unbelievable!
Another important factor to consider, is the FREE shipping to all Canadian provinces. And because the End Mattress is entirely made, and shipped from, Canada, you are not dealing with shipping delays or border / custom issues. 
One last thing to point out, is its smaller weight. At just 70 lbs, thanks to lighter weight and more breathable foams, the Endy Mattress is easy to set up without the help of a second adult, and easy to move from house to house.
Note that your Endy Mattress comes with a 15-year warranty, as well 100 nights of at-home trial to make sure you absolutely love it!
Make sure to click "SHOW CODE" above to claim the deepest Endy discounts!
Price List updated: September 2022 – PRE-DISCOUNTED PRICES 

Detailed Endy Mattress Review Conclusion
Endy has designed one of the best-value mattress on the Canadian market today. For once, I can say that it is a shame for Americans south of the border, as they are truly missing out on a beautiful mattress. 
Incredibly well priced, and beautifully crafted, it is a mattress made by Canadians, for Canadians. The foams are engineered for the sometimes brutal Canadian weather, and give you a consistent sleeping experience throughout all seasons. 
The three layers of foam work very well together to provide excellent pressure relief and spinal support. Expect healthy spine-aligning sleep, coupled with the pressure relief your body needs, no matter your sleeping position. Let's take a closer look at what goes into the Endy Mattress and what we discovered during our sleep tests!
Find all of our Endy reviews HERE.
Endy is a Canadian story, all the way! The founders rightfully thought that Canadians were under-served in the mattress industry. With so many choices in the United States, Canadians faced high prices, long wait times, and frequent custom barriers. 
Their goal? Getting it just right for Canadians! And they did just that! They focused on Canadians and the unique requirements of a country facing challenging weather conditions. 
At Endy, all mattresses (all-foam and hybrid) are manufactured entirely in Canada. All foams and textiles are sourced in Canada – the foams are poured in Ontario and Québec and designed with quality and detail in mind. Teams of specialized tradespeople then assemble, handcraft, package, and ship FREE of charge to all Canadian provinces. The FREE shipping is very unique, as even FREE shipping to Canada usually offers exclusions to more remote provinces. 
By controlling the entire supply chain and doing most everything in house, Endy is able to keep prices under control and pass on the savings to their customers. You will not find a showroom, or stores, putting more savings into your pockets!
What Is Inside The Endy Mattress?
The  Endy Mattress is made of a total of 4 layers, with 3 layers of CertiPUR-US certified foam, encased in a stretchy and cozy washable mattress cover.
It is designed to provide the ultimate comfort with pressure relief and spine-aligning support, as well as a solution for hot sleepers to sleep without breaking a sweat.
Note that all three foams are engineered by Endy to respond to drastic changes in temperatures. You can expect the foams to keep their consistent comfort properties no matter the time of year and outdoor temperature you are experiencing. Many foams in the mattress industry, tend to harden in cooler temperature and loosen up on warmer nights, giving you a very different sleeping experience based on the season.
Let's take a closer look at what makes the Endy Mattress. We reviewed the all-foam mattress, but note that Endy also manufactures a hybrid mattress for those looking for a little more support. 
All foams used in Endy mattresses are CertiPUR-US certified and Greenguard Gold, making them free of harsh chemicals and with low pollutant and chemical emissions into your bedroom air.
Quilted Cover
The closest layer to your body is the Endy mattress cover. Made of polyester and spandex, it is ultra-stretchable. We loved the mattress cover for its ability to isolate motion, thanks to its four-way stretch property. When one partner moves, the cover moves with him/her instead of pulling from underneath the other partner. 
The Endy's mattress cover feels soft and we felt that it worked with the below layers of foam to achieve a temperature-neutral sleep. 
Our favorite property of the Endy mattress cover, however, is the fact that you can easily unzip it and machine wash it. The zipper is very easy to operate (unlike many other mattresses), and washing the mattress cover is easy and convenient: simply machine wash on cold and on its own, and air dry. 
Endy Comfort Foam
The upper layer of foam in the Endy Mattress is the Endy Comfort Foam. Located closest to your body, and right underneath the mattress cover, the comfort foam is an open-cell foam that provides pressure relief, while already providing support thanks to its responsiveness. 
An open cell foam is pierced by millions of holes from air bubbles. Those air holes allow for your excess body heat to be pulled away from your body and down into the foam layers. At the same time, the air holes conduct cool air from the room, up to your body, allowing for heat exchange and self-regulating body temperature throughout the night. 
One of our favorite properties of the Endy Comfort Foam is its responsiveness. A responsive foam is important in order to not feel stuck in the foam. As your body moves, tosses, and turns, a responsive foam bounces back up to its original shape, helping you move effortlessly, and providing a consistent sleeping surface for your body.
There is nothing worse than the feeling of being stuck in your mattress, which is a common complaint of foam mattresses, and the Endy Mattress performed incredibly well on that front. 
Transition Foam
The second layer of foam in the Endy Mattress is made of a transition foam, that transitions your body from pressure relief to support. 
That foam provides extra pressure relief, giving your body 2 layers of foam for the heavier parts of your body to sink in, before hitting a firmer foam. 
Because the transition foam is rather soft and not as responsive, it acts as a barrier to motion transfer. Thanks to its motion absorbing properties, we never felt the movement of a partner, and you can expect an undisturbed sleep, even with the bounciest of partners!  
Support Foam
The bottom layer of foam is the thickest in the mattress. It is made of high-density foam, which provides stability and durability to the Endy Mattress. 
Once your body reaches the support foam, it meets a firm foam that acts as support for your entire spine, bones, and those heavier body parts that required the extra pressure relief. The support foam is firm enough to nicely align your spine, no matter your sleep position, and set your body in a healthy sleep position!
How Does The Endy Mattress Sleep?
Firmness
We rated the Endy Mattress a 6.5 to 7 out of 10 on the firmness scale, where 10 would be the firmest. This places the Endy Mattress just a bit above the average mattress (typically 6/10). The thick layer of high-density foam gives this mattress its firmness rating, but we found it to have the perfect balance of pressure relief and cradling vs. firmness and support! 
If you are someone seeking a very plush mattress to sink in deep, you will find the Endy Mattress to be a little too firm. For most sleepers however, it offers the right amount of cradling and support, and a very healthy firmness level. 
Sleeping Style
We love the Endy Mattress for its versatility! We can undoubtedly recommend it to all sleepers, making it an easy mattress to choose for couples, especially those with different sleeping styles. 
We recommend the Endy Mattress to side sleepers of all weights. The first two layers of foam offer the perfect amount of pressure relief for those high-pressure areas (hips and shoulders), while keeping the spine aligned in a healthy position, thanks to the firmer foam at the base of the mattress. 
Back sleepers of all weights will love the Endy Mattress, which gives them cradling down the spine and plushness around the heavier parts in their hips and shoulders. 
We can recommend the Endy Mattress to stomach sleepers under 200 lbs. Heavier-weight stomach sleepers should consider adding a layer of support and look into the Endy Hybrid Mattress. 
Temperature
Thanks to the large amount of air flowing through the upper layer of Endy Comfort Foam, the Endy Mattress did not sleep warm. We tested it in Florida summer heat and never felt like it was retaining any body heat or sleeping hot! 
If you are in a cold area of Canada, know that the Endy Mattress sleeps temperature neutral. It helps your body regulate its own temperature, so you neither sleep hot on hot nights, nor cold on cold nights.
Motion Transfer
The Endy Mattress performed beautifully on the motion transfer test. You will not be disturbed by the movements of your partner, as all motion is absorbed by the upper two layers of foams, then further dispersed into the thicker high-density foam.
How Do I Care For The Endy Mattress?
The cover of the Endy Mattress can be unzipped and thrown into the washing machine. If you are dealing with a larger stain, or need to clean your mattress for its yearly maintenance, simply unzip the cover and wash it on cold and on its own. It is best to air dry it before zipping it back up. 
This makes caring for the Endy Mattress easy and stress-free.
Note that when dealing with smaller stains, it is recommended to simply use a clean cloth, water, and a mild detergent, to blot stains. Do not rub as that will increase the chance of spreading the stain. 
The PLUSES

The MINUSES

Perfect for couples!
Great for all sleeping positions
Virtually no motion transfer
Temperature-neutral sleep
Easy maintenance with machine washable mattress cover
Incredible value! 
FREE shipping to all Canadian provinces
100% made in Canada
Foams designed for Canada's specific weather needs
CertiPUR-US and Greenguard Gold certified foams

Does not ship to the U.S.
Share this deal with a friend!